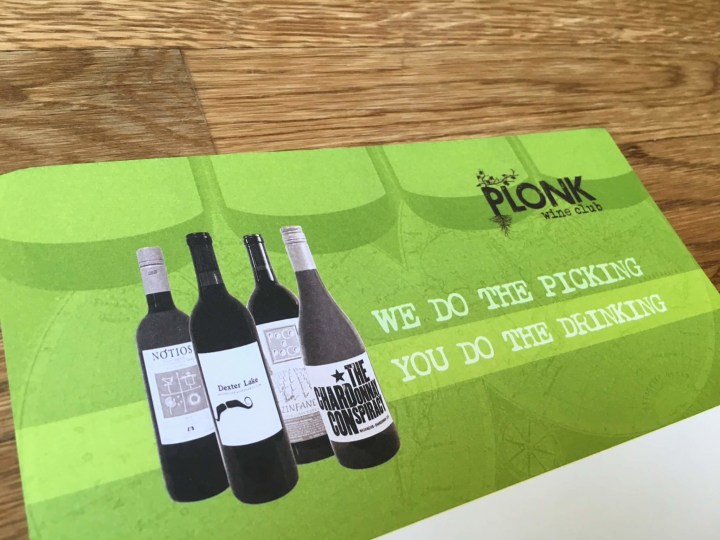 Plonk Wine Club is a wine subscription box offering 2, 4, or 12 bottles per month in either a red, white, or mixed shipment. Plonk specializes in curated artisanal, small batch, rare, and sustainably grown boutique wines.
April, finally. I feel like spring has been a long time coming this year, and here in the South, it's almost over already.  Well, April is great unless you live somewhere where it's the Cruelest Month. This year, April also coincides with a variety of religious holidays, which often involves getting together with family, and that is a terrific time to try some new wine. Let's go.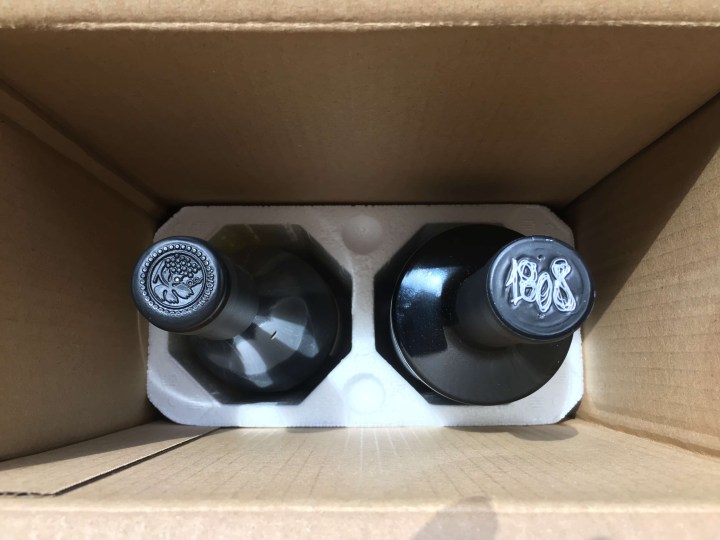 DEAL: Save $10 on your first box! Use coupon code NEWMEMBER.
This month, I received the 2-bottle mix. Plonk prides itself on finding small batch, organic, and other interesting wines that you might not discover on your own. Each wine comes with informative tasting notes and recipe ideas, which now come in postcard form instead of a printed sheet. You can get full recipes at the Plonk website.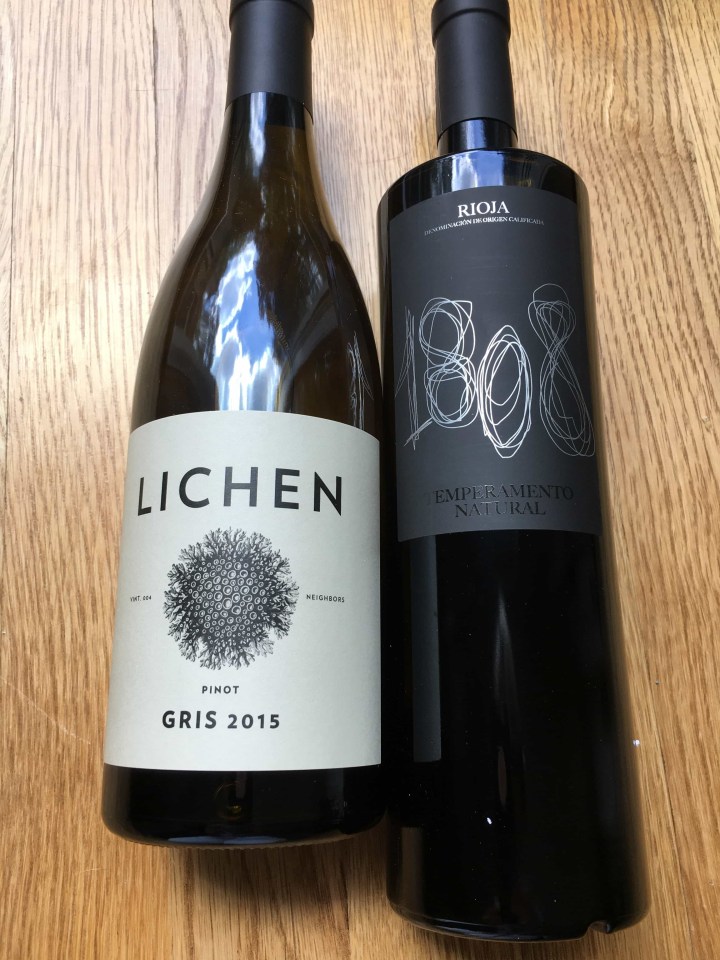 The first wine was the 2015 Lichen Pinot Gris.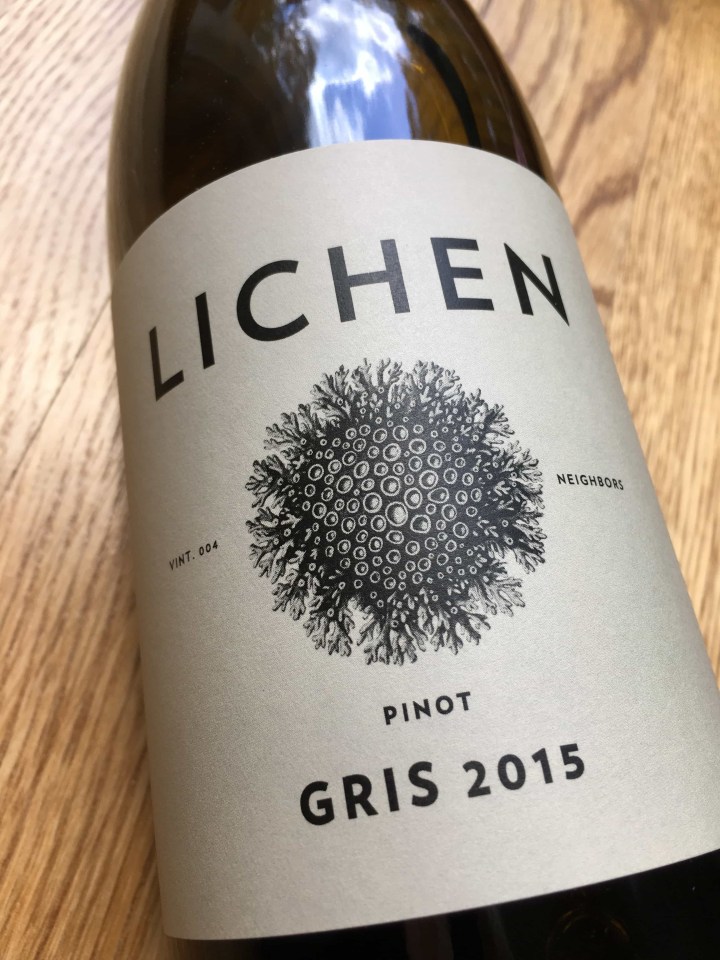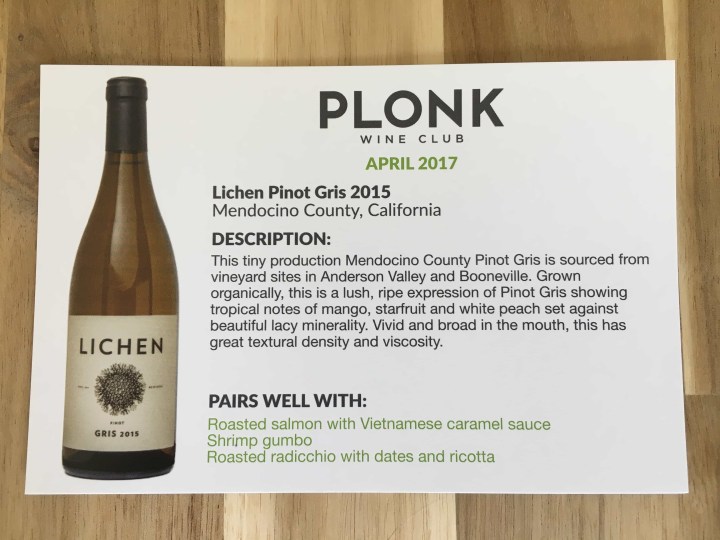 I don't think I've ever reviewed a Pinot Gris! This wine (same as a Pinot Grigio, natch), is a terrific spring wine, because it's lighter than a Chard but not as ephemeral as, say, a Sancerre or a Rose. This version of Pinot Gris is very "American," in that is leans toward the peachy, melony version of the varietal, rather than the more European citrus-heavy version. The wine is a nice light yellow in the glass with a more substantial mouth-feel than you might expect from the color. It's very peachy on the nose, but the flavor is undergirded with a mineral heft that keeps it from being too fruity.  It finishes lightly with an almost salty note. This is such a fun wine! It went great with the eggplant-and-tomato-chicken we had with it, and it would also pair wonderfully with any seafood, or light apps. It would be awesome with a risotto.  Serve it pretty cold.
Our next wine was the 2014 1808 Temperamento Natural Rioja Crianza.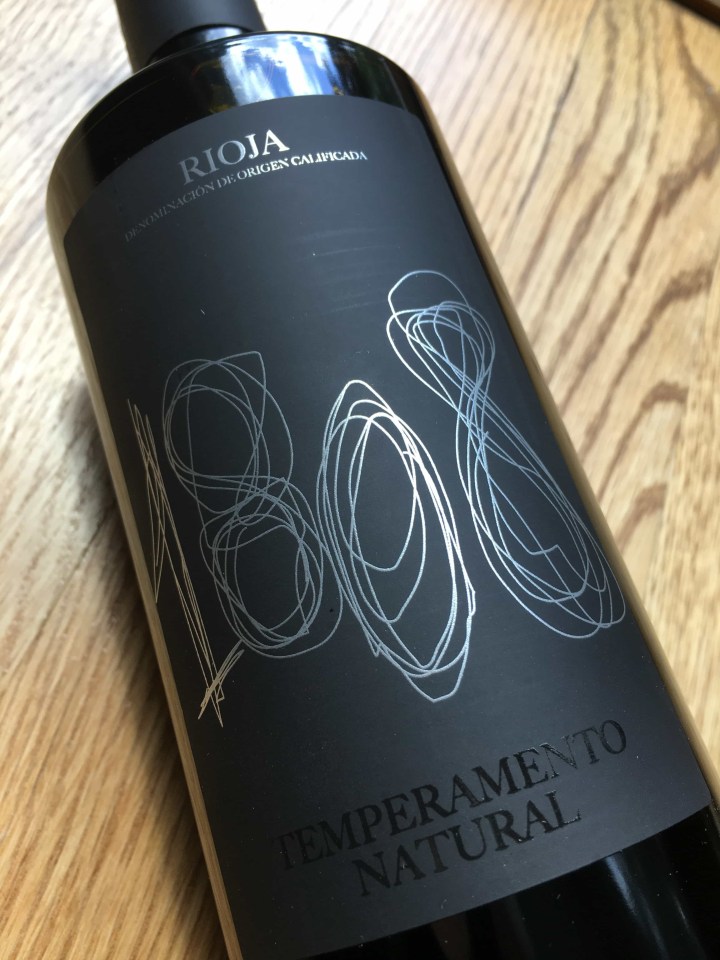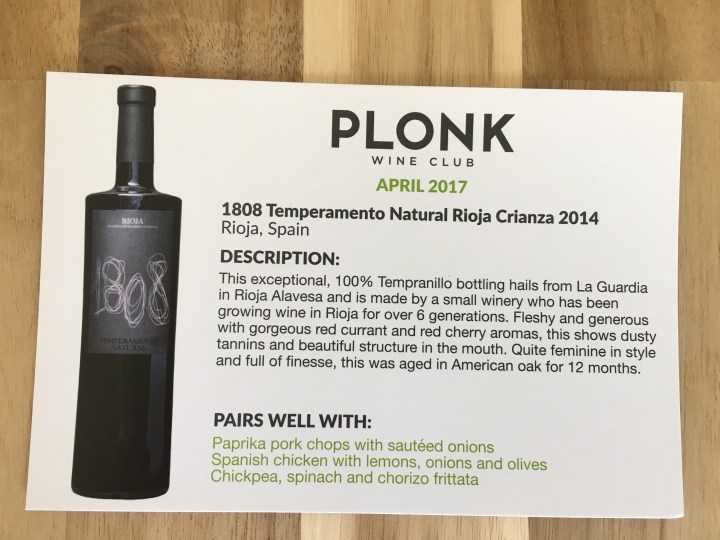 Rioja is another wine I don't see a lot of in wine subscriptions. This is one thing I really like about Plonk – you get things in the box that you don't see all the time. If you've had Tempranillo, you've had Rioja, but possibly not with the regional distinction. This particular Rioja is Crianza, which is one tier up from "new" Tempranillo, and one/two tiers down from serious, oak-aged Rioja. The Crianza has spent a little time in oak, so it's more complex than the base wine, but it retains some fruit and acid from the grapes. This particular Rioja is magenta in the glass and somewhat lighter than typical in the mouth. It has a nice dark fruit flavor to start that finishes with a terrific backbone of tannin and ends very dry. It is not as assertive as a Rioja can be, and is a great wine for your Pinot Noir-loving friends to try.  We had this with pork roast, but it would go well with any light to medium-bodied meal. Try it with eggs? We drank this at cool room temperature, which seemed right.
And that does it for April! A couple of interesting wines this month. And, really, what more can you ask for from the Cruelest Month? I really look forward to getting my Plonk box each month for the thoughtful and interesting wines. I can't wait to see what we get next month!
What do you think about Plonk? Is your April particularly cruel? Tell us in the comments below!