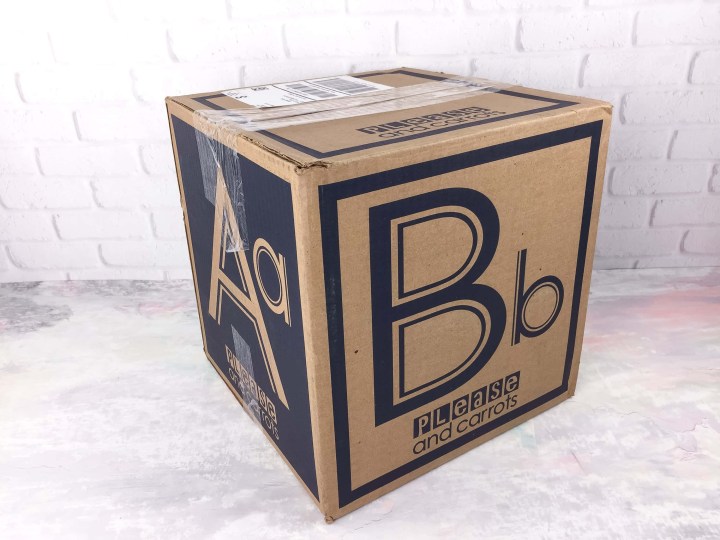 Please and Carrots is a quarterly subscription that delivers educational toys for kids. The subscription costs $99.00 per per quarter, and each box is filled with developmental toys that are approved by child psychologists.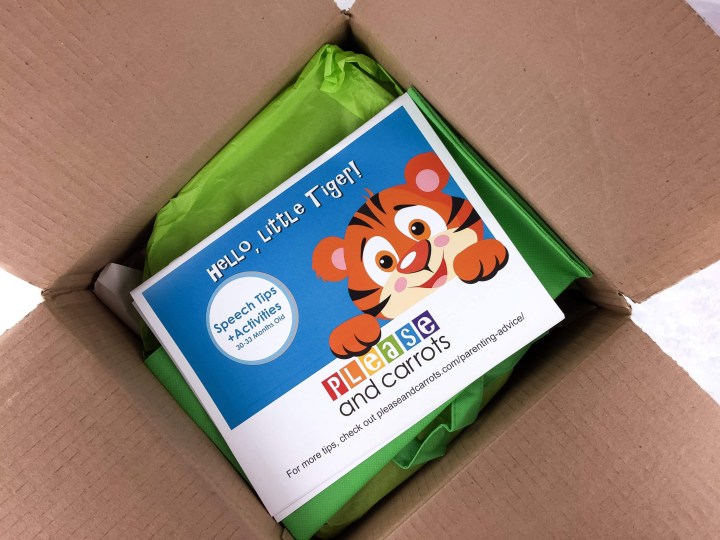 The information card is fun and colorful. It shows you a list of all the toys in the box and highlights the developmental proficiency the toy or game helps development.
The box also comes with fun activities. The activity this month is "Bandaids Fix Everything." It goes beyond the items included in the box, making this an all-around learning and development box, not just a toy drop.
 A booklet is included that homes in on specific areas of your child's development, offering tips and games. Even more advice is available on the Please and Carrots site.
 This card drilled down on the developmental markers for 30-33 month olds regarding speech, with tips on encouraging continued development. The tips are provided by a speech-language pathologist.
Activity: Play in the Dark – this card includes both active and wind-down time activities that development fine motor skills and visual discrimination.
Activity: You're Getting Hot – this one helps your child work on following directions and analyzing and describing the world around them.
Activity: Spaghetti Art – this creative activity also reinforces direction following.
Everything in my box! With all the activities, you probably forgot there were actually toys in this box, too!
This cute Please and Carrots Eco Bag tote was included.
 It is a nice reminder to your child of just how special they are.
 The pictures are pretty and bold, and there is an illustration on every page to draw your kid's eye.
The text is in the form of a long poem with a simple, AA BB rhyme scheme.
 The eight pieces screw together. Each pair of shapes has a complementary color scheme – your child can pair up the similar shapes or mix them up.
 The base of the set is a tough, felt-ish mat that fits together as a four-piece puzzle. Assembling it is an activity in itself, but the multi-piece format also makes storage easier.
The colorful animals stand up on their own.
 Each animal has a hole drilled through it big enough for the included string to pass through.
 Threading the animals helps keep the set intact and also provides some manual dexterity / eye-hand coordination work. You can also group or order the animals by color!
 Each pin features a different adorable animal! The bowling ball looks like a circus ball.
 The ball has three indents to make it easier to grasp. They are shallow enough to make getting fingers stuck an impossibility.
 Every piece is soft and squeezable plastic – gentle to handle and easy to clean.
The packaging is also reusable as a storage and carry case – super handy for keeping the set intact!
This subscription is really great for toddlers. Everything is selected by child psychologists with age-suitability in mind, and the supporting materials offer even more professional-approved games and activities that focus on developing your child's mind. The toys are simple, fun, and high-quality, and it is comforting to know that they are helping your child grow their mind.