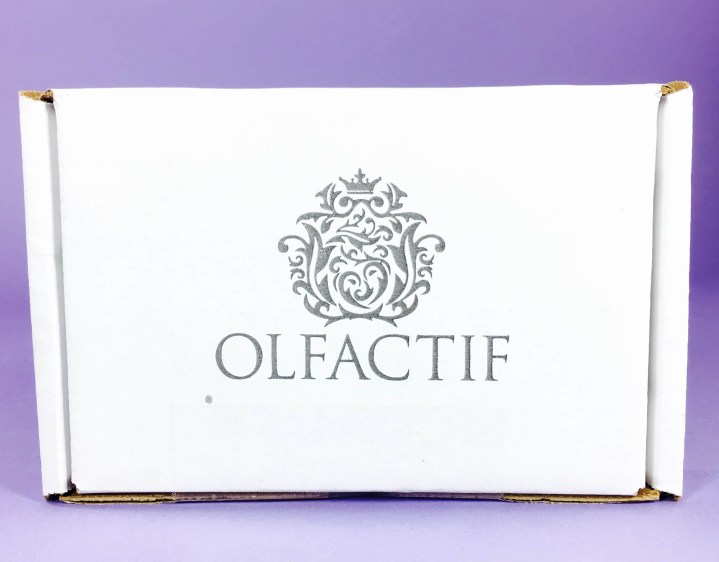 Olfactif is a monthly fragrance sampler subscription box that sends hard-to-find niche perfumes. Every month you'll receive 3 samples, each of which contains 15-20 applications of an independently designed perfume. Along with every $18 subscription box you receive, your account will be credited with an $18 voucher to use on fragrances from the store. If you purchase a full bottle of perfume each month, the subscription sampler is free.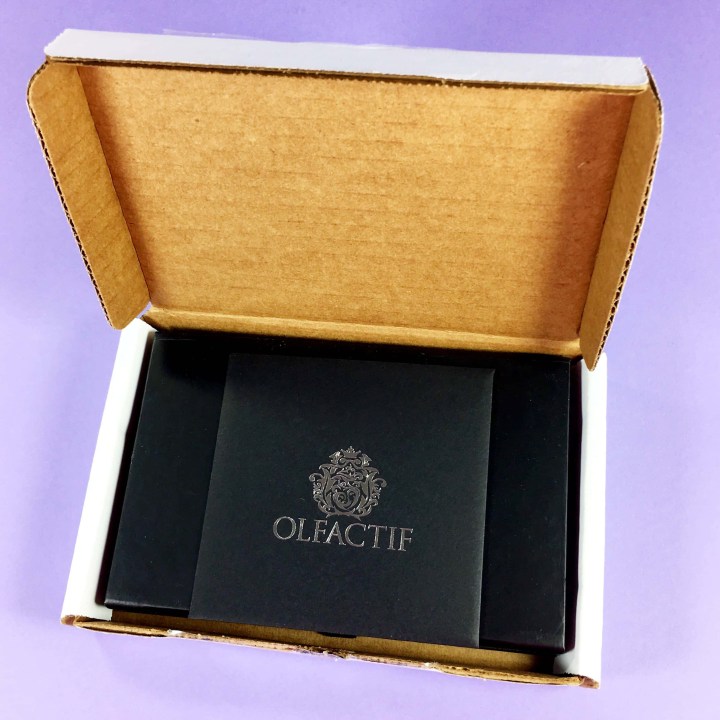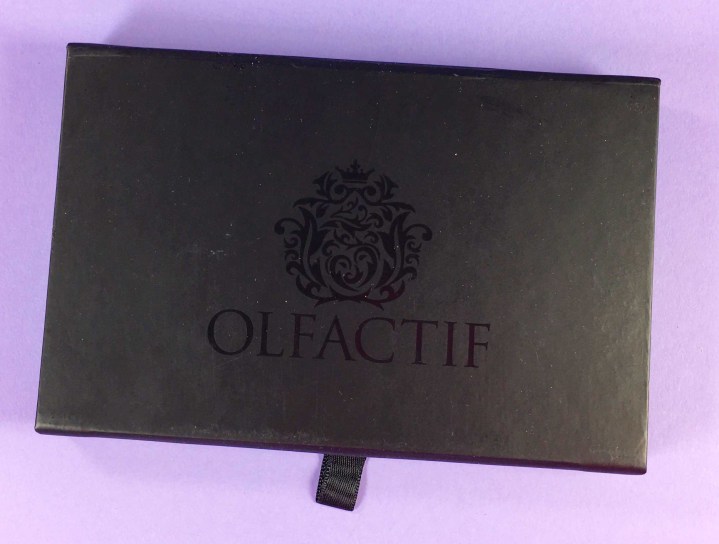 Olfactif focuses on niche fragrances – unique scents produced with higher quality and harder-to-find ingredients than you would encounter in a department store. They offer both a unisex scent sampler (for women and adventurous men) and a men's fragrance sampler with more masculine scents. You can check out our reviews of Olfactif Men here.
BONUS: This month Olfactif sent a bonus code to save 20% off of the price of any bottle (or bottles) this month, just check your shipping email!
Opening my Olfactif box is like opening a special present: the presentation is simple and elegant. I also received three testers so I could spray the scent and get a feel for it, however, the scents sometimes smell radically different on my skin than they do on paper!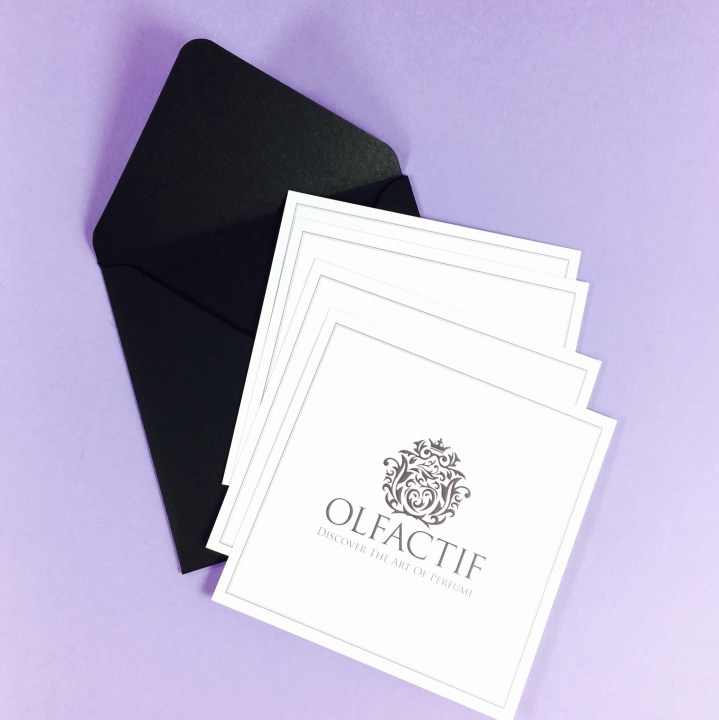 There was a beautiful embossed envelope that had 4 cards inside. Each scent has a card that offers suggestions on how best to appreciate the fragrances.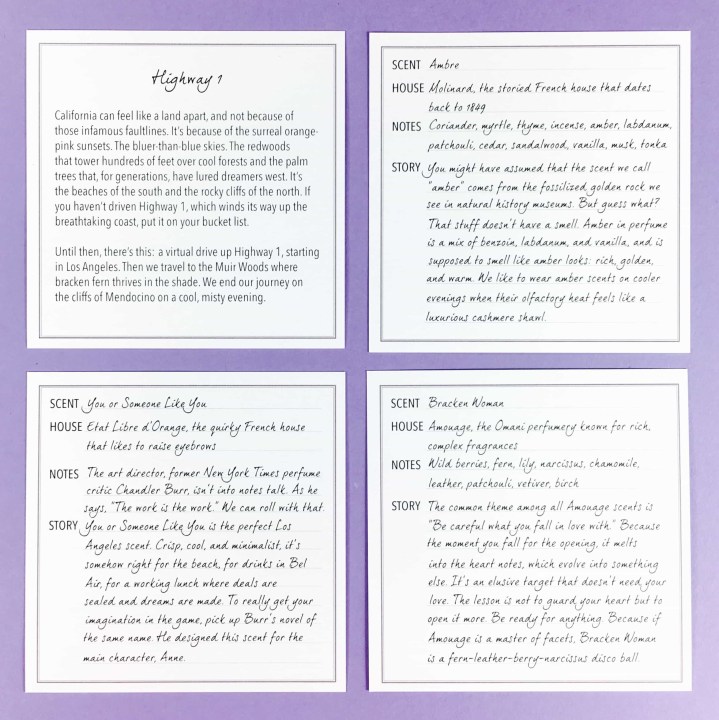 Since scents develop over time on the body, don't just assume your first experience will be your last! Spritz the fragrance on and smell it at different times to fully appreciate all that the artist intended to express through the scent.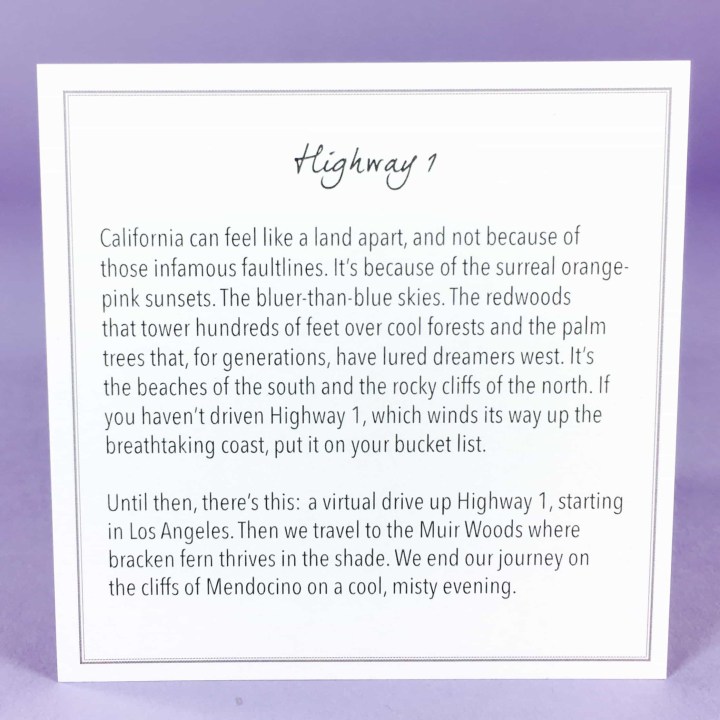 The unisex theme this month was "Highway 1." As a Southern California native I was looking forward to seeing what Olfactif had to say about the place where I grew up. Personally, I think California smells like a combination of lemonade, orange blossoms, and sunscreen!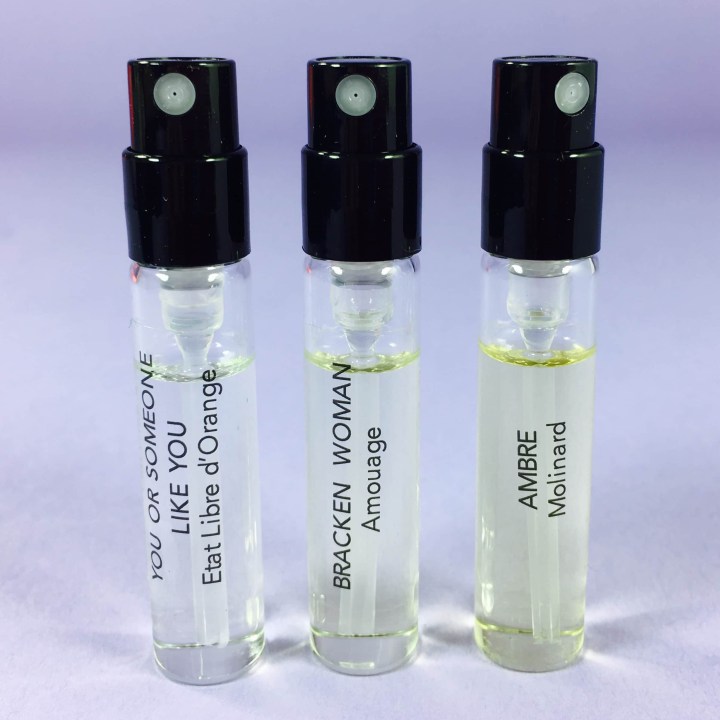 The three scents chosen this month a very different from one another and from mall perfumes. The information card gives the scent notes of each perfume, but keep in mind that fragrances may smell completely different on everyone due to our unique chemistry.
Olfactif April 2017 Highway 1 box (all prices listed are for full bottles, available for purchase from Olfactif):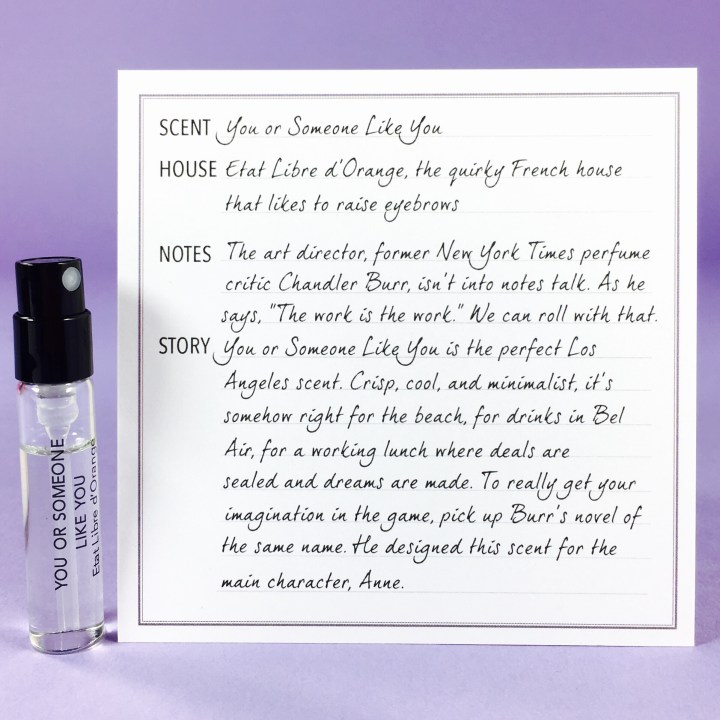 You or Someone Like You by Etat Libre d'Orange ($90 for full sized bottle) This scent doesn't come with notes, since the artist feels like that is a "reductionist" way to look at the perfume as a whole. I had to look up the word reductionist and I took it to mean "oversimplifying." I am going to oversimplify it for you here: green, clean, with notes of citrus and spearmint. Mojitoesque.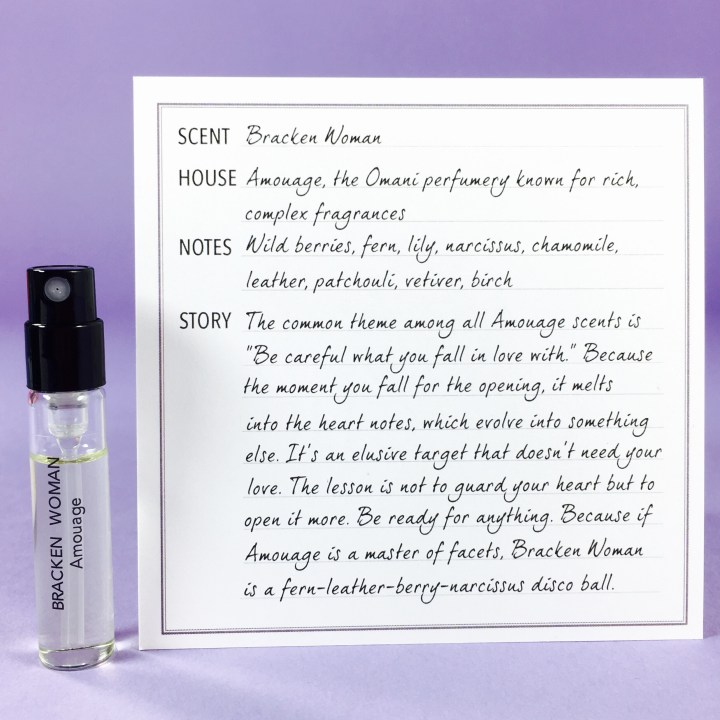 Bracken Woman by Amouage ($320 for full sized bottle) is also a (very) green and clean scent with notes of bracken (AKA fern), berries, and birch. It was warm and slightly sweet and soapy but here's the weird part – it reminded me of tacos! My daughter agreed, my husband said "pizza", and my co-workers thought I was crazy. I was put off by this but then again, California has the best Mexican food in the world so it kind of makes sense!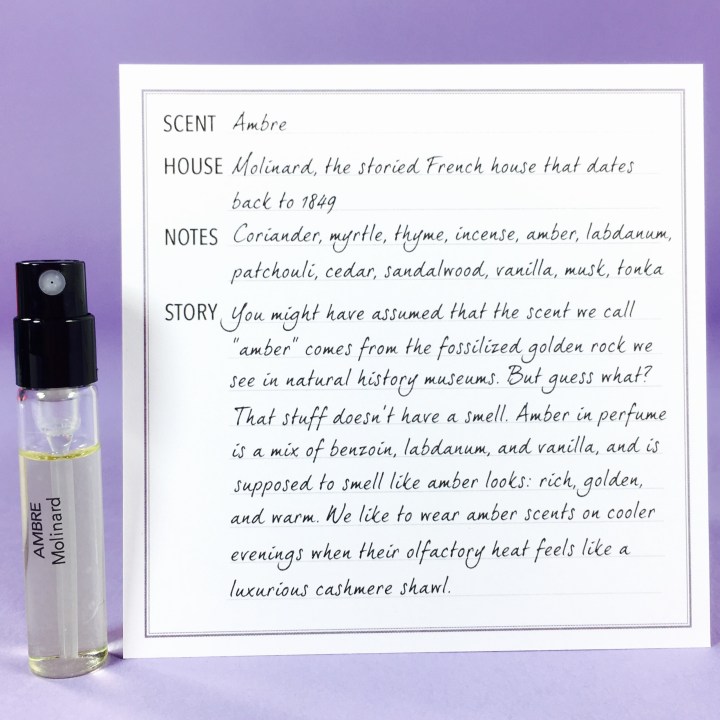 Ambre by Molinard ($65 for full sized bottle) is a warm oriental fragrance that smells like a blend of vanilla, spices, and leather. According to Olfactif, true amber (fossilized tree resin) doesn't have a smell, so when a scent says it has amber notes, they are talking about a rich warmth that is comprised of benzoin (oil from the Styrax tree), labdanum (resin from the rockrose shrub), and vanilla. Longevity was short but it did remind me of cooler days so I will save it to wear next winter.
Well, I didn't find a standout scent this month and I don't think they took me on a trip back to my home state but then again California is huge and I lived in the southern half so maybe someone from the top half of the state might enjoy them more? Since Highway 1 runs along the coast I would have loved a scent reminiscent of the beach. The scents were definitely unique and I loved exploring perfumes that I otherwise would never have discovered. They definitely don't smell like the ones at Sephora and I adore their uniqueness. I change my fragrance daily and may match it to the weather, my outfit, or how I am feeling in the morning so this subscription is perfect for people who can't commit to one fragrance or who are looking for something spectacular and out of the ordinary.
Have you tried Olfactif yet? What are your favorite types of scents?