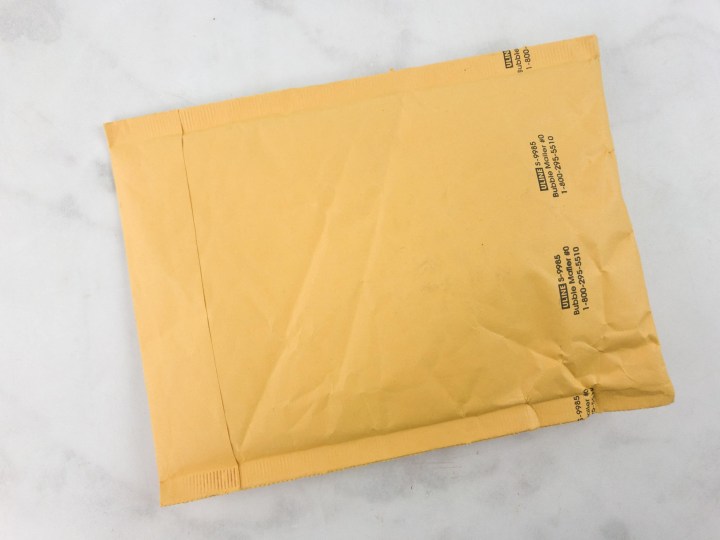 The Vanishing Cabinet by Notoriously Morbid Cosmetics is a monthly themed beauty subscription for $13.25 per month. Subscribers receive 4 to 5 themed items, ranging from eyeshadow, blush, lipstick, and more. There is a terribly long waitlist – months and months and months. If you're interested in this subscription, we suggest signing up for the waitlist.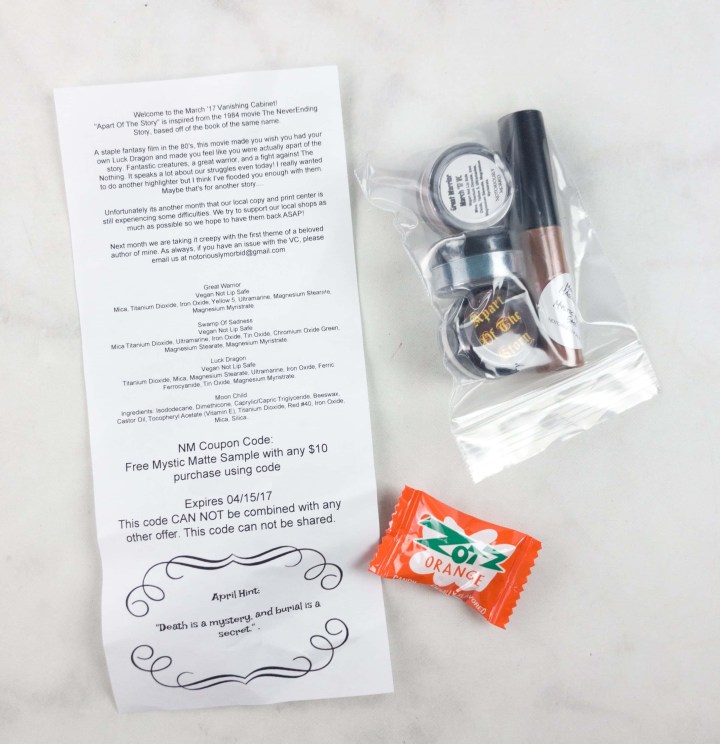 Notoriously Morbid creates unique cosmetics for those slightly morbid at heart. Their products are mostly mineral based with really fun names, colors, and lots of glitter and holos.
TIP: Check the drop-down under subscriptions on their site (it's not a permanent link) for the current Vanishing Cabinet if you want to try to buy this exact month.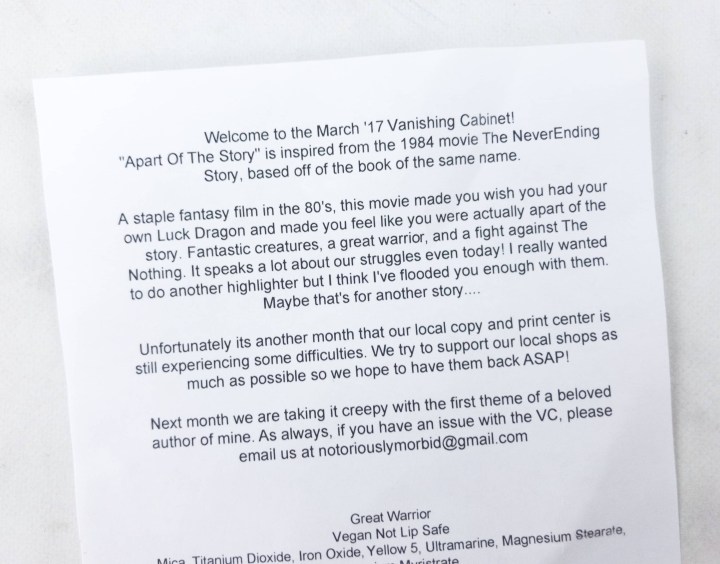 The theme of the month is "Apart Of The Story." This month is inspired by the 1984 movie, "The NeverEnding Story" based off of the book of the same name. Yeah, you can hear it in your head. So can I!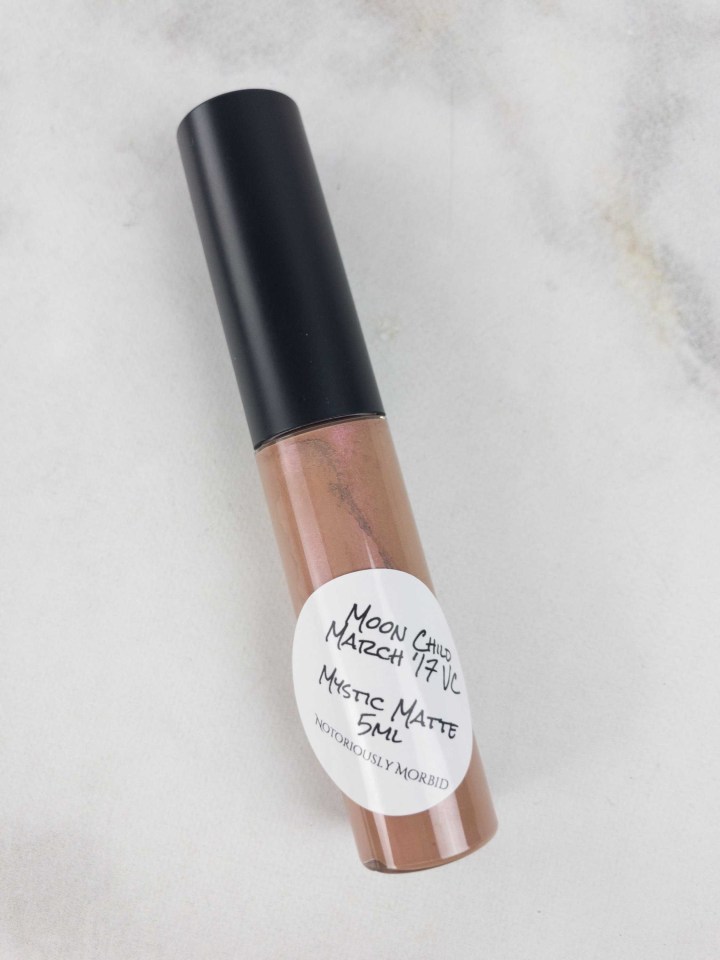 Moon Child Mystic Matte Lipstick: This taupey brown is an interesting nude shade with a soft pink shimmer that you might see when worn.
I've been trying out their Mystic Monthly so I'm super familiar with their matte lipstick formula now – it stays great, isn't drying, and is fun all around!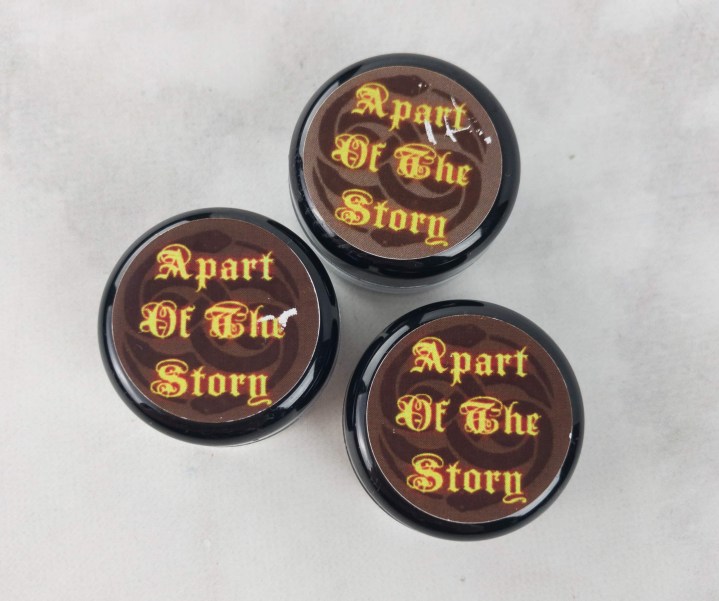 I always nick up the shadow labels when removing the plastic.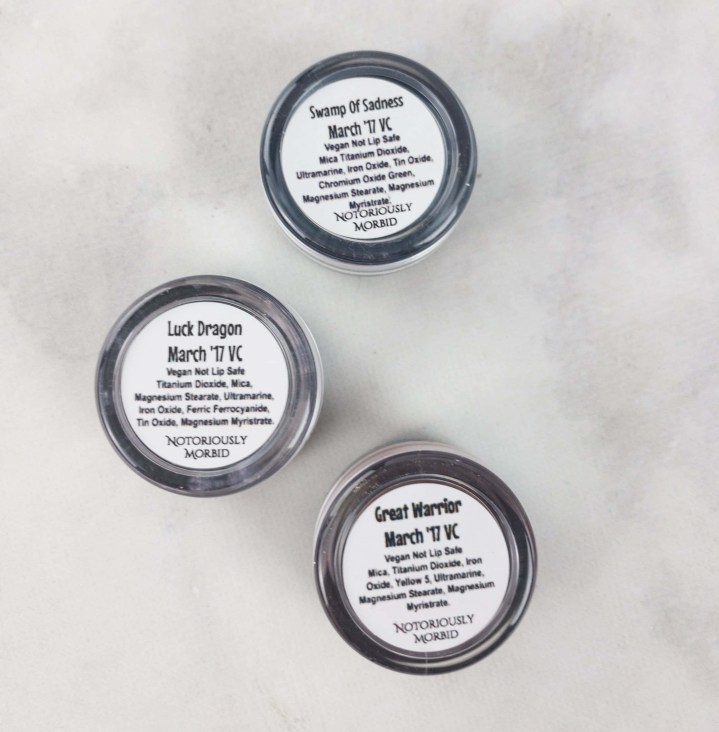 Each shadow comes with the ingredients listed on the back plus an indication whether the product is lip safe.
Swamp Of Sadness Mineral Eye Shadow: A pretty blue with a blue shimmer! Clearly inspired by the ethereal blue of the Swamp of Sadness scenes. Don't get me started about Artax.
Luck Dragon Mineral Eye Shadow: I would have called this bone, until I applied it wet – and noticed that it has a lilac hue! It's totally Falkor colored.
Great Warrior Mineral Eye Shadow: This shadow applied SO differently than I expected! It bordered on burnt sienna as applied! I think maybe it's Atreyu's hair color?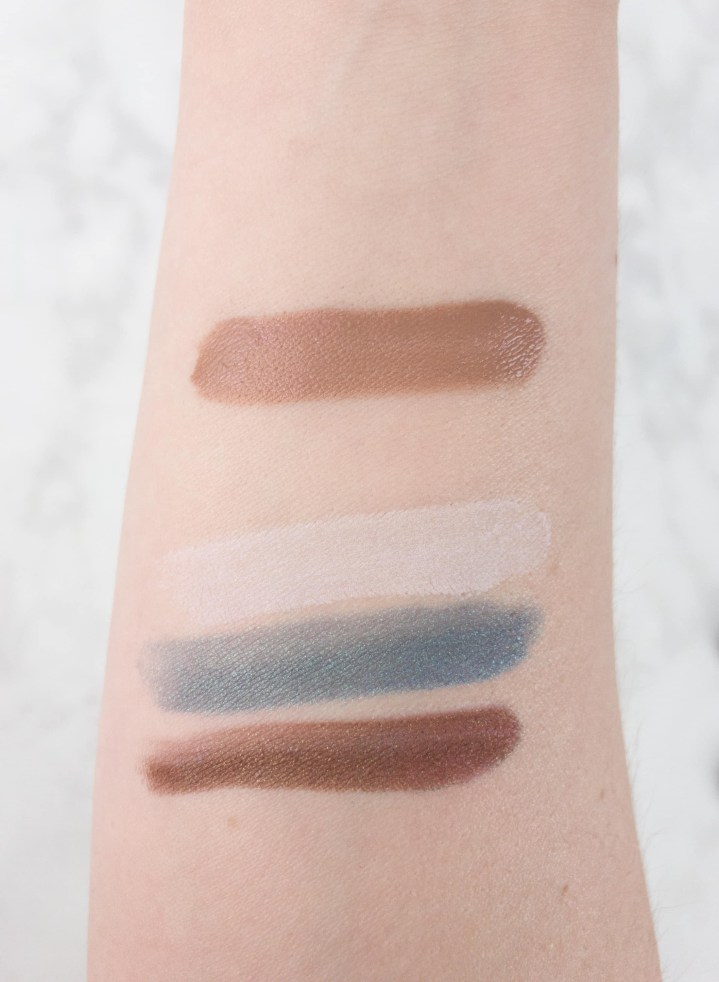 Top: lip swatch, then the 3 shadows swatched (no primer).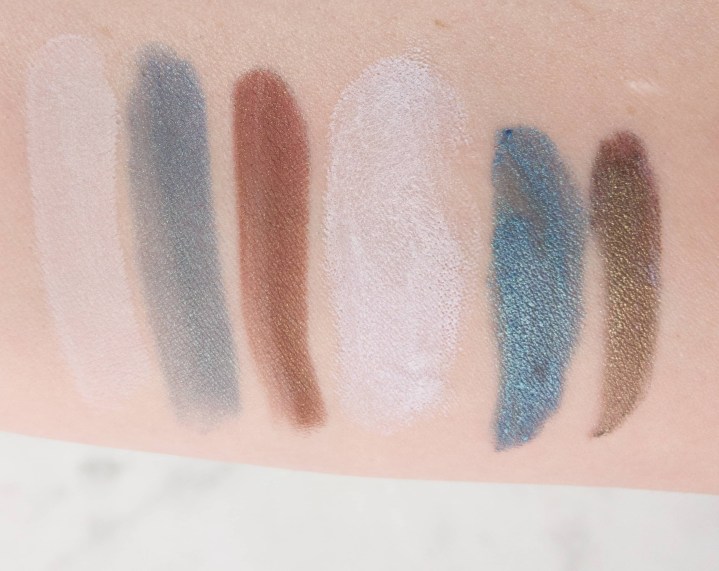 The same three swatches, plus the 3 shadows applied with water. I'm always amazed at the different looks you can achieve with the same shadow by using a primer or medium when you apply it.
Another fun month, and a great value with 3 shadows, and a lipstick! I loved thinking about one of my childhood favorites too (but totally, beware the rewatch!).
Instead, just listen 🙂
What do you think of Notoriously Morbid's Vanishing Cabinet?