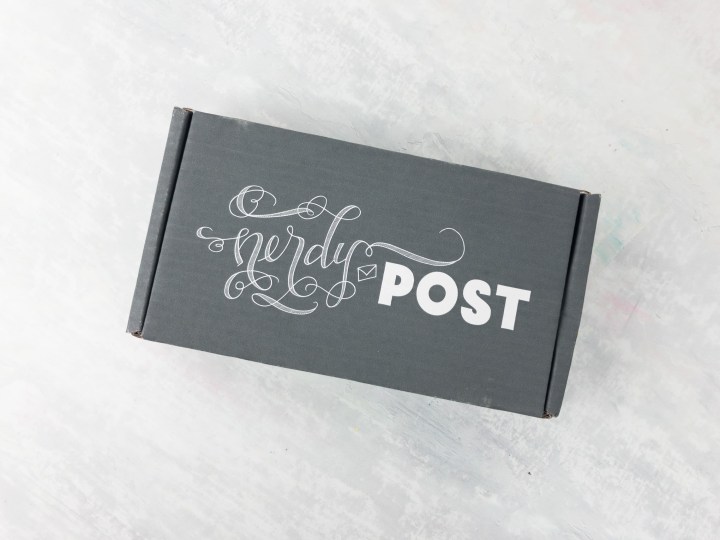 Nerdy Post is a subscription that sends original, hand lettered stationery, posters, prints, stickers, and other paper ephemera around a different theme each month! Not into that month's fandom? You can easily skip your shipment. While most items are created by Alexis Lampley, the owner of Nerdy Post, they've been including items from other artists and shops, too!
They now have Nerdy Tees, too, a matching shirt subscription. We're hoping to see the tee as an add-on option to this subscription soon! See the tee for April here!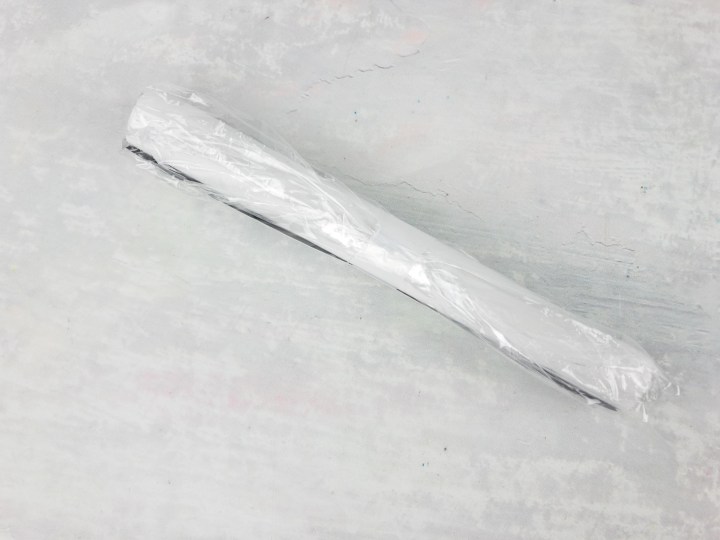 Everything is packed nicely into a box to protect all the contents. We failed to take a photo of that, but we took a picture of the poster. Hooray!
DEAL: Save 10% on your first month of Nerdy Post! Use coupon code NERDYNEWBIE. Does not apply to Nerdy Tees box.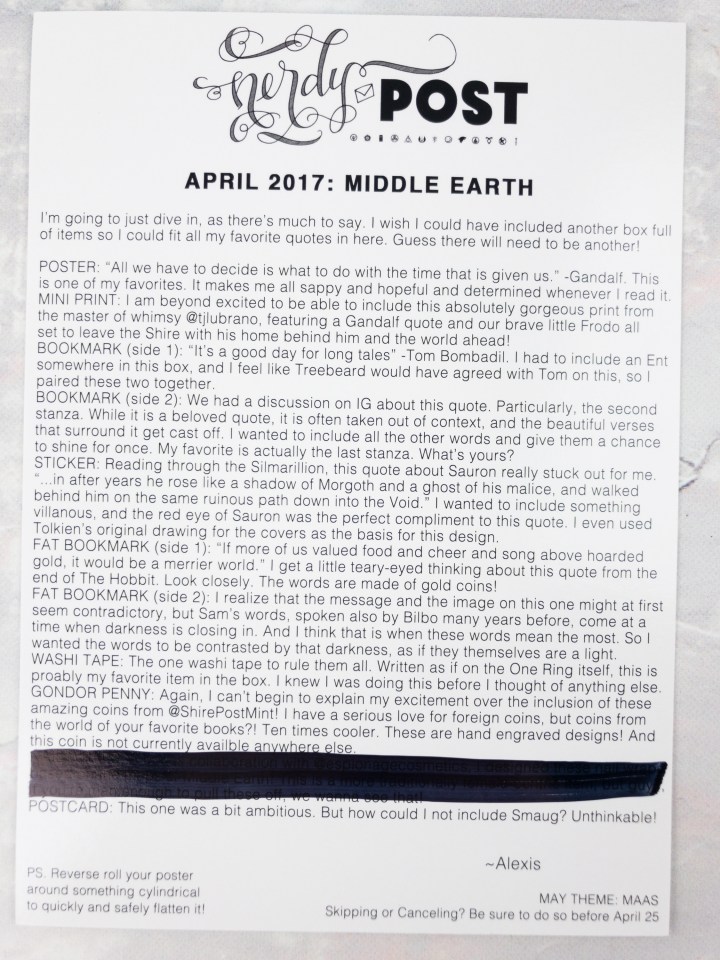 The theme for April is Middle Earth! The information card gives you a list of all the items in the box and a bit of an idea into the creation process.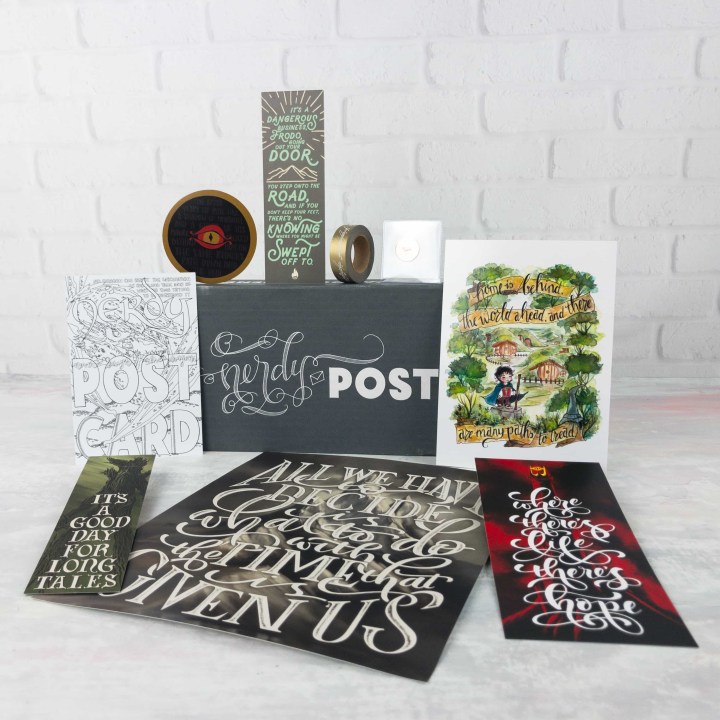 Everything in my April box!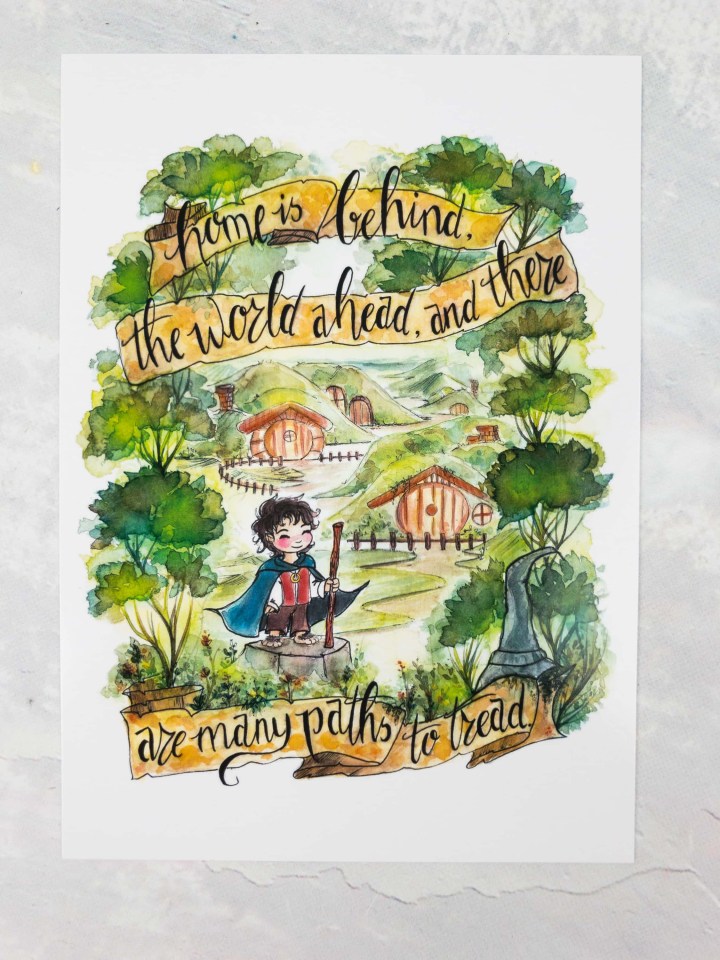 Gandalf Quote and Frodo Artwork Miniprint: This is actually the front side of the information card! I love this print from TJ Lubrano (find her on Instagram or Etsy) – and the fact that Nerdy Post is incorporating lots of artists into their boxes. It's really becoming something special, just like this sweet print, which shows Frodo in the Shire and a quote from the Walking Song: Home is behind, the world ahead, and there are many paths to tread.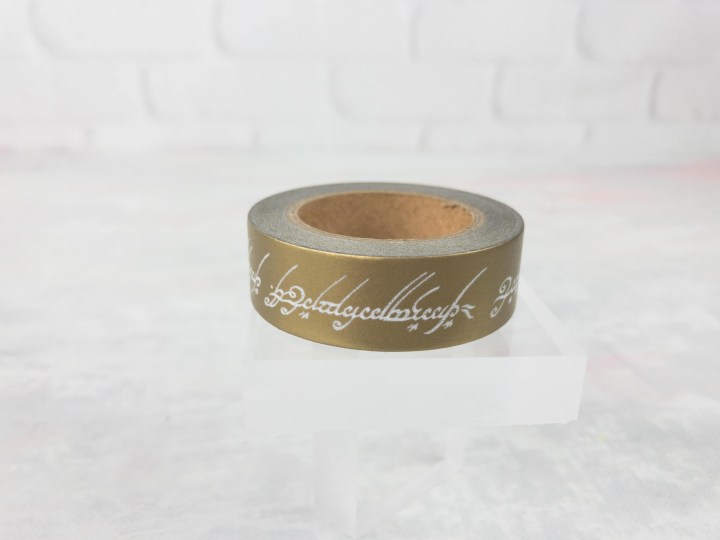 The One Washi Tape To Rule Them All: This is actually genius. Absolutely genius.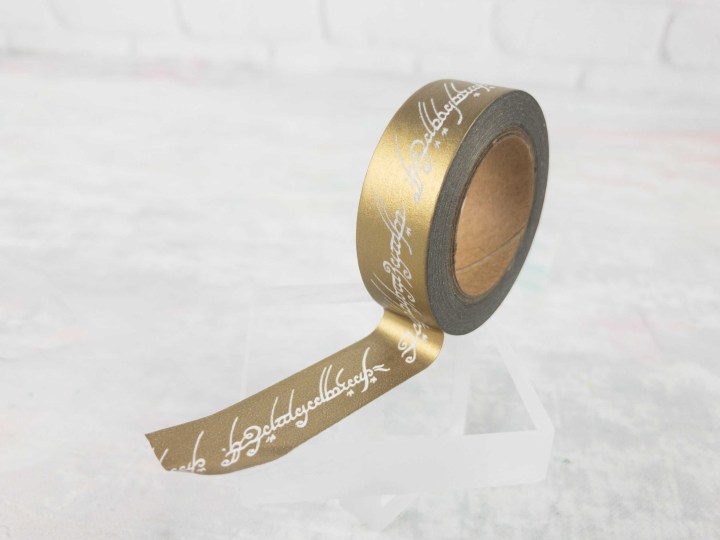 The Tengwar script is just as it is on the ring. I can think of SO MANY ridiculously nerdy things to do with this tape. I can't wait!
Also note that the dude took these photos and he isn't a geek at all. We won't blame him for the upside downish nature of the pics.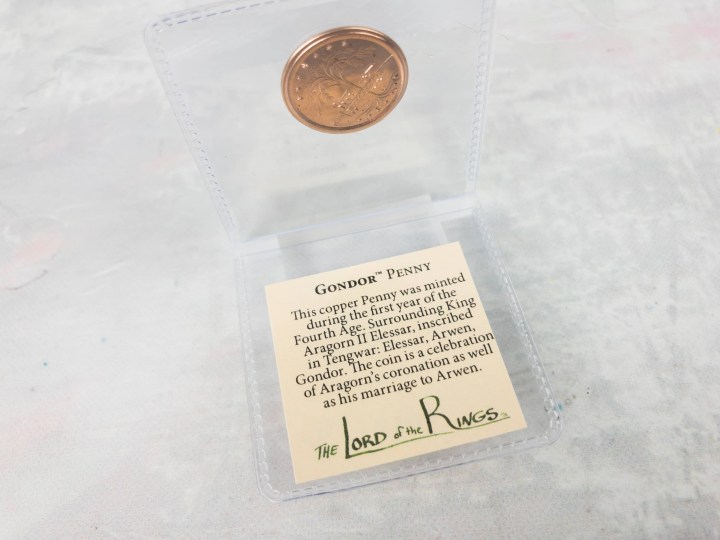 Gondor Penny from Shire Post Mint: How amazing is it that there's a Shire Post item in here? This color minting is currently exclusive to this box, too.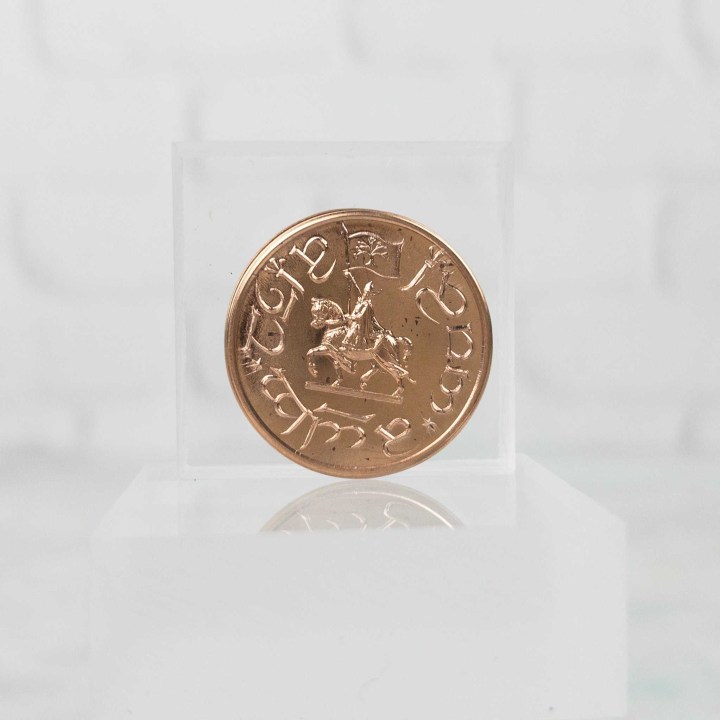 Made to commemorate the crowning of Aragorn II Elessar and the restoration of the throne, this side of the coin features Aragorn on horseback. The coin is dated year 1 of the Fourth Age and is inscribed in Tengwar.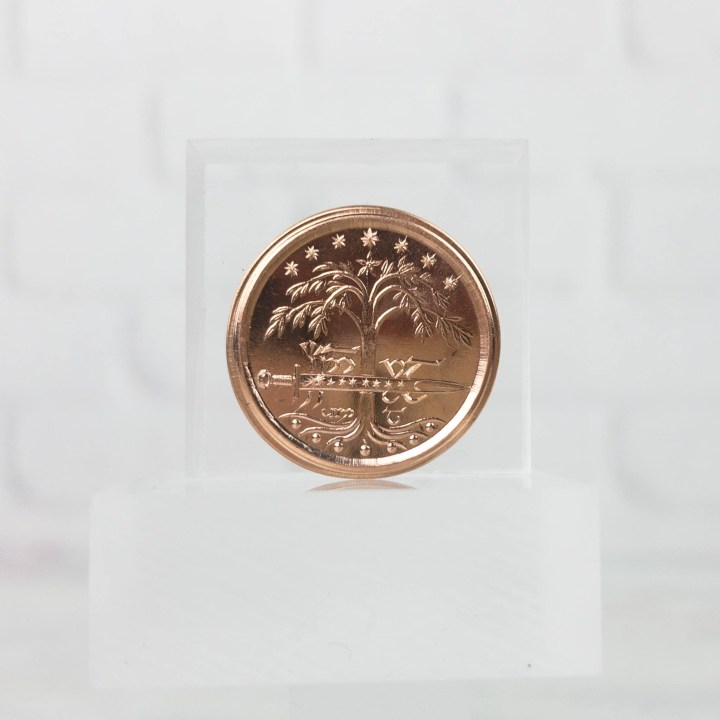 The White Tree of Gondor with his sword Andúril on the reverse. It's about .8″ across.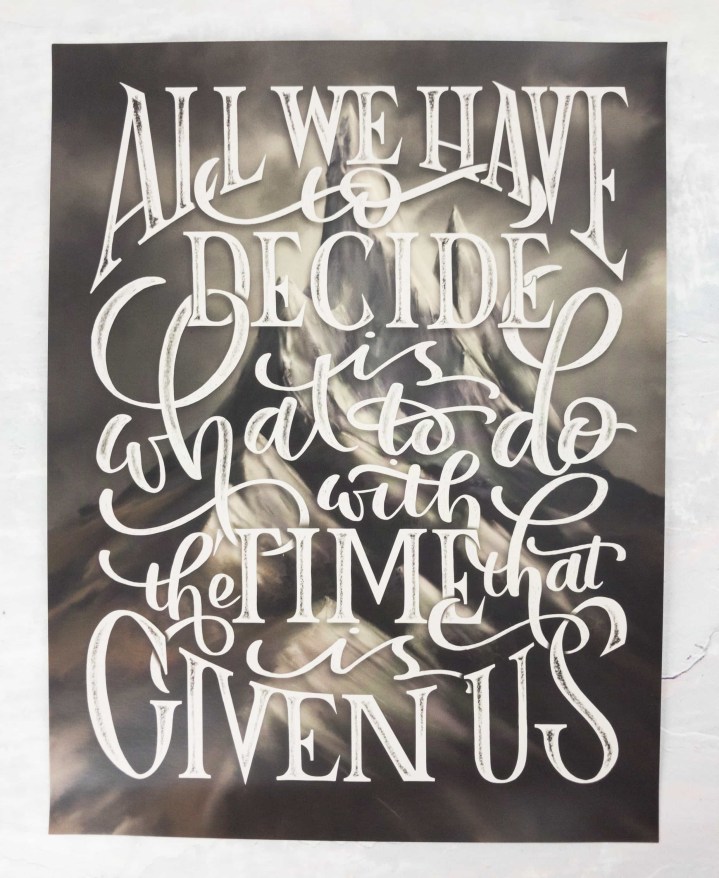 Poster – "All We Have To Decide Is What To Do With The Time That Is Given Us" I had a hard time reading this one, even from far away. It's not my favorite.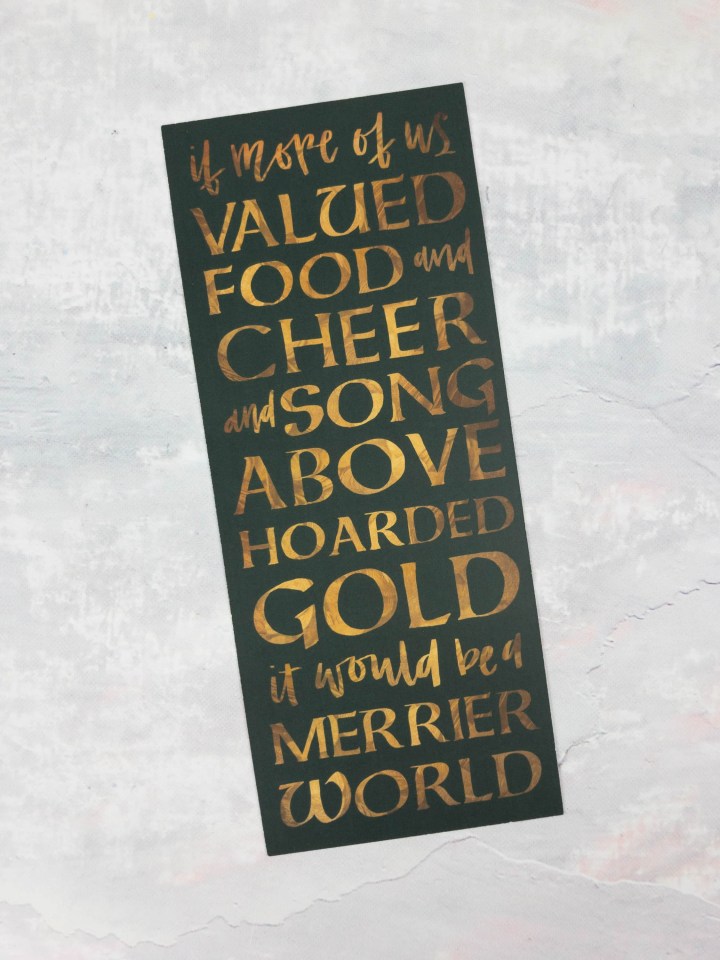 Fat Bookmark – "If More Of Us Valued Food And Cheer And Song Above Hoarded Gold, It Would Be A Merrier World" From the end of The Hobbit – the words are made of gold coins! So much detail!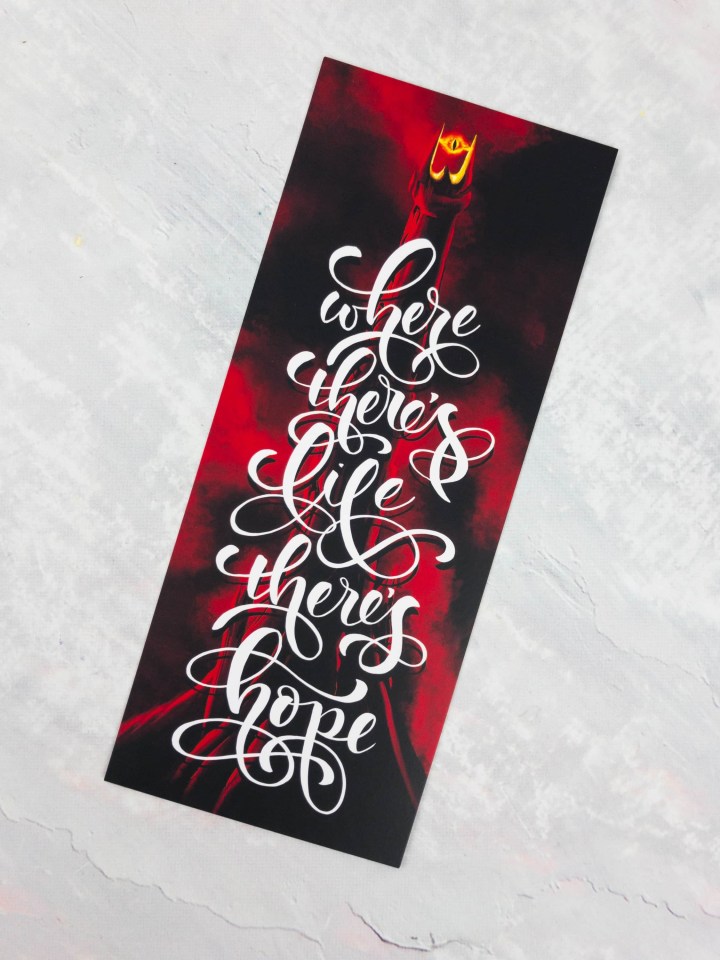 Fat Bookmark (other side) "Where There's Life, There's Hope" The life in Sam's quote is a light against the red darkness. Such a great bookmark!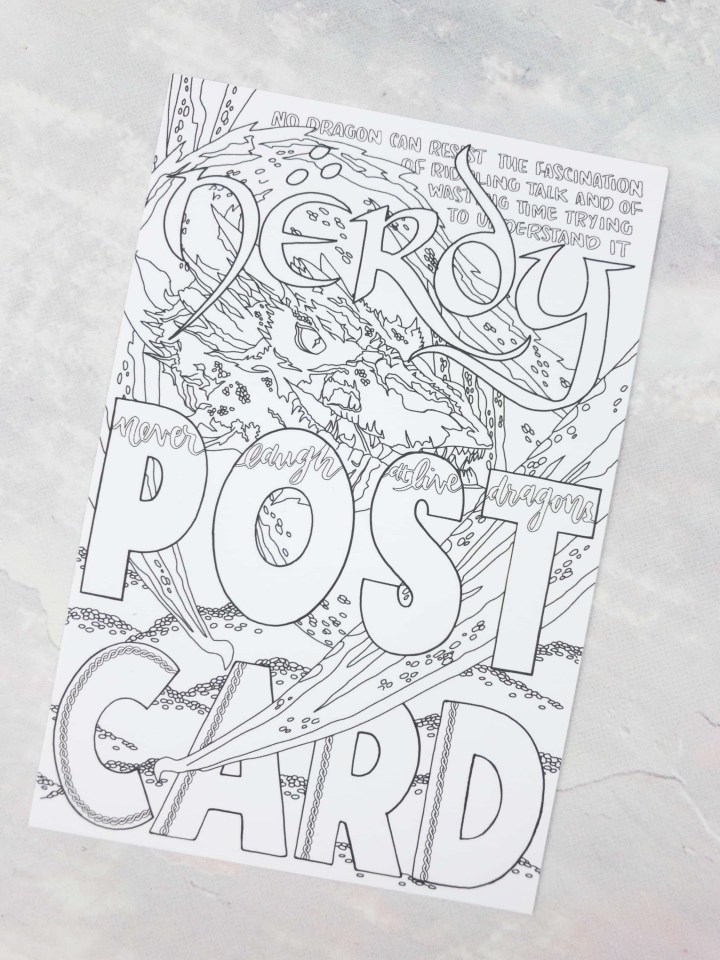 Nerdy Post Card: Every box includes a postcard to color in. This one has Smaug! It's highly detailed with a great pile of gold plus careful braids over the bottom letters.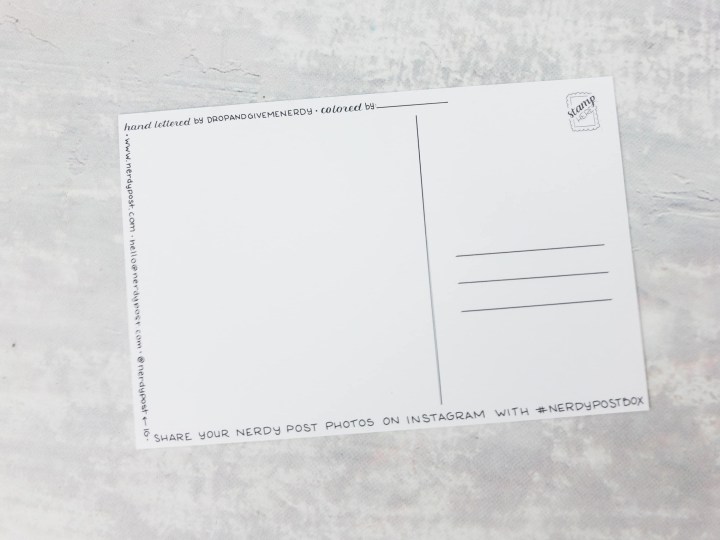 This one's amazing!
Eye of Sauron Sticker: "In after years he rose like a shadow of Morgoth and a ghost of his malice, and walked behind him on the same ruinous path down the Void." This illustration is based on Tokien's original drawing for the covers. I love the retro villain style here – and I'm not into villains!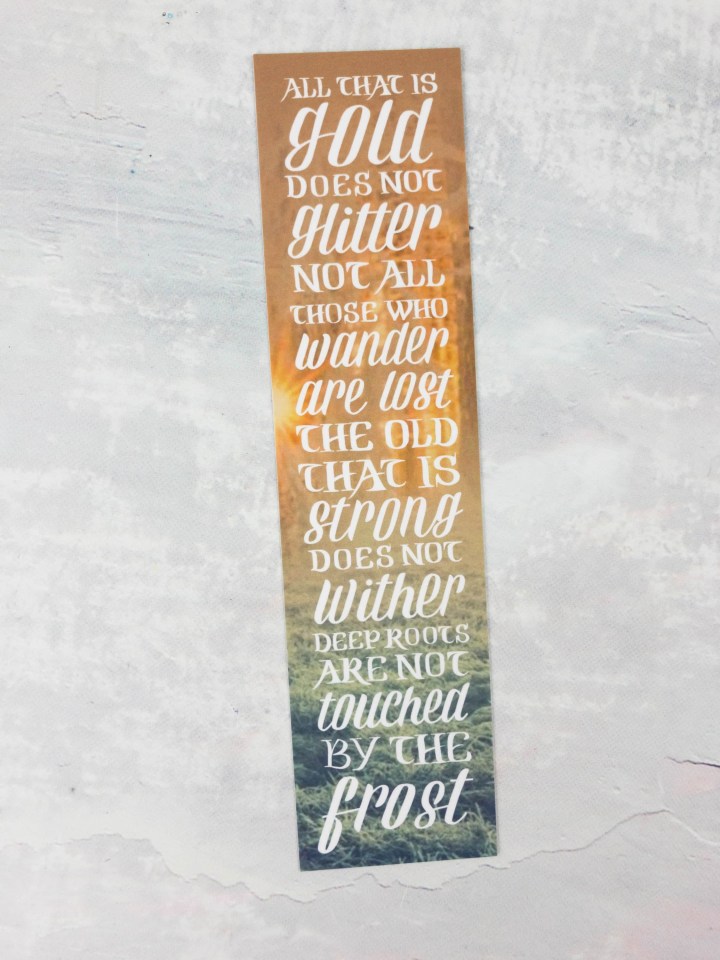 Bookmark: "All That Gold…" I think this side is absolutely stunning and the lettering matches the quote perfectly. Alexis (the owner) says that the second stanza is actually her favorite, so I've included it below!
All that is gold does not glitter,
Not all those who wander are lost;
The old that is strong does not wither,
Deep roots are not reached by the frost.
From the ashes a fire shall be woken,
A light from the shadows shall spring;
Renewed shall be blade that was broken,
The crownless again shall be king.
Bookmark (side 2): "It's A Good Day For Long Tales" An Ent paired with a Tom Bombadil quote! Bombadil is a bit of an odd character so I think he's fitting to be paired with Treebeard.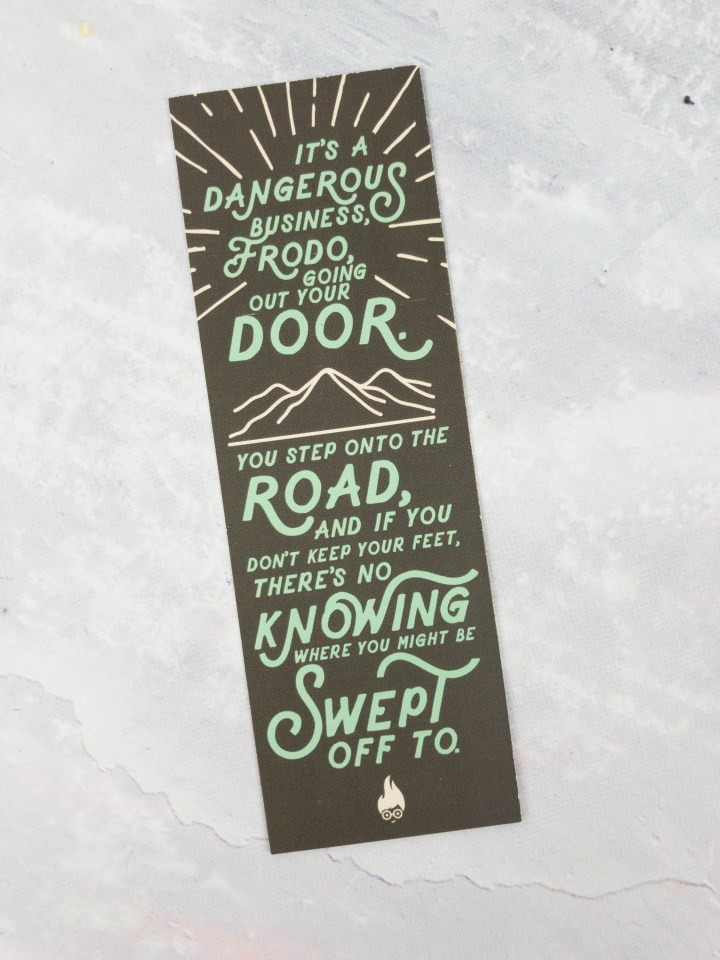 Bookmark/Code: This is actually the reverse side of a coupon, but I love it! "It's a dangerous business, Frodo, going out your door. You step onto the road, and if you don't keep your feet, there's no knowing where you might be swept off to."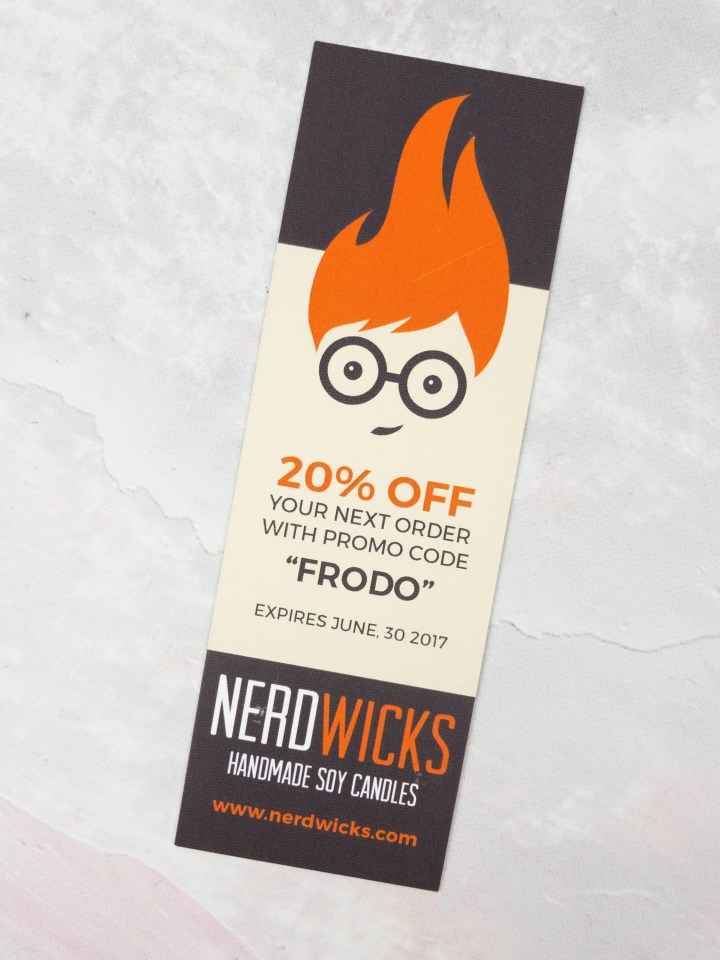 Nerd Wicks Promo Code – Save 20% on NerdWick's Etsy shop with code FRODO! Puking Pastilles candle? I think I might!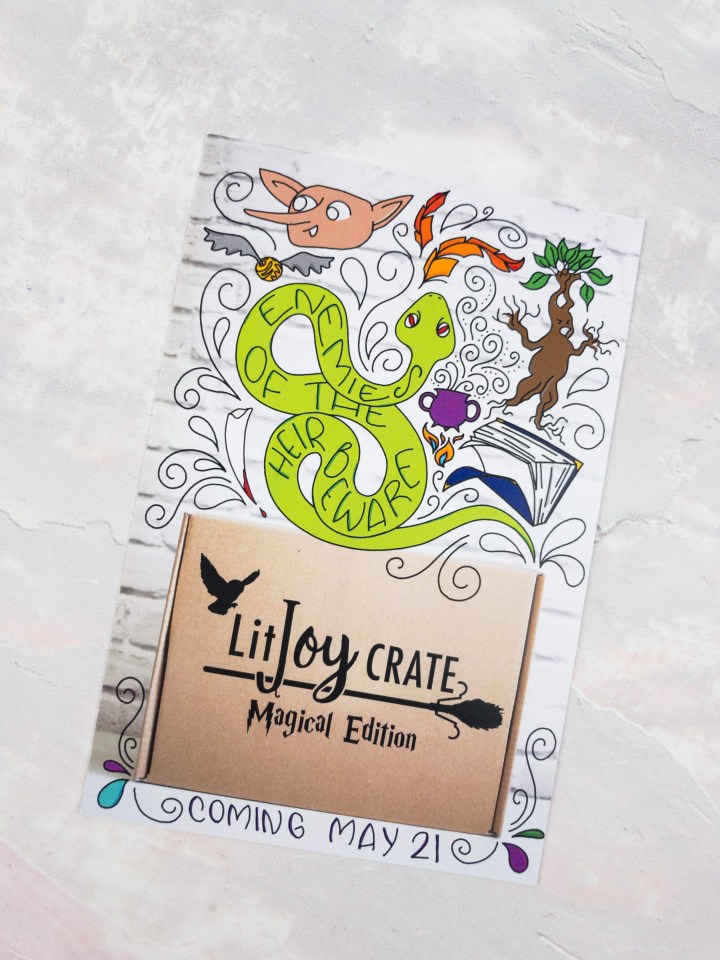 Litjoy Crate Magical Edition Box preview for May. If you want a reminder, hit the notify button here!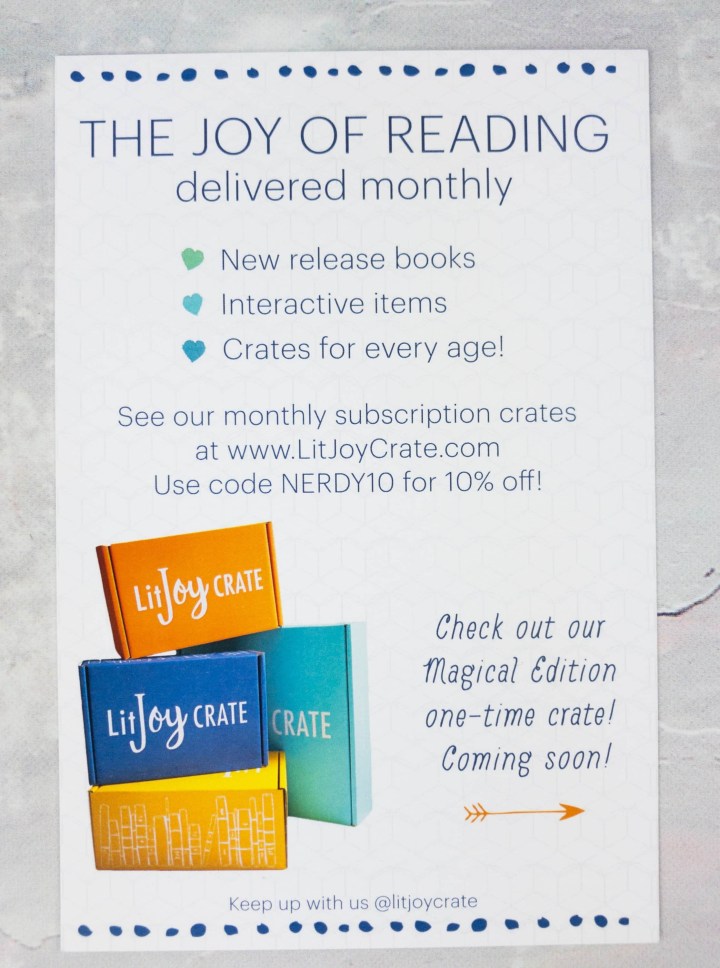 Litjoy Crate Coupon – save 10% with code NERDY10
My first thought was this box was a bit bookmark heavy, but considering the washi & the coin in the box, I'm more than happy. I think the One True Washi is right up there with the Hodor Door Stop! This is definitely a subscription to watch for spoilers on – if you're in love with that fandom, you need the box!