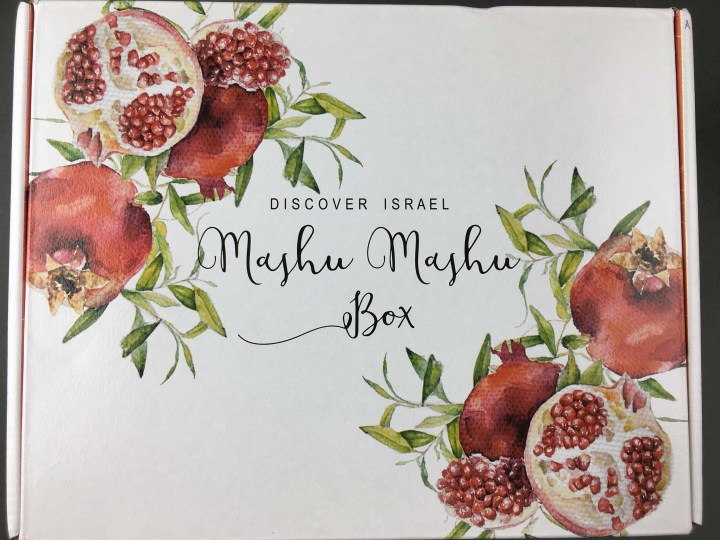 Mashu Mashu Box is a curated subscription box that features hand-picked goodies from Israel. Monthly boxes usually include food, beauty products, and lifestyle items, and focus on natural, organic, and kosher products. It's like travelling through Israel without leaving your home!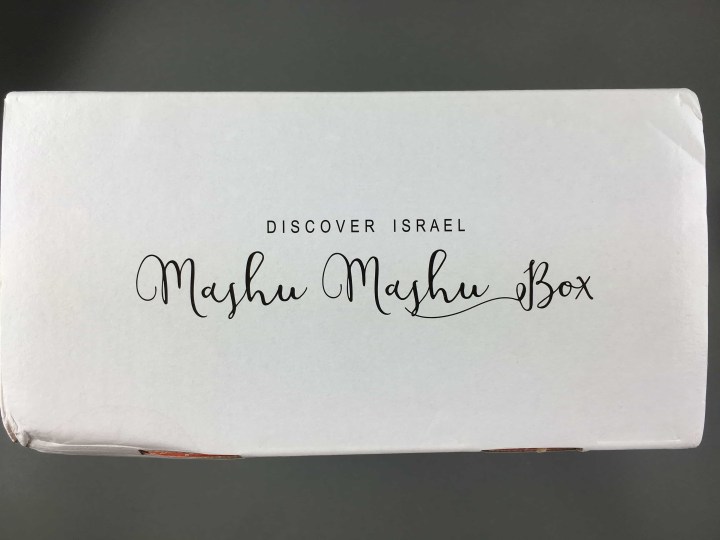 There are three types of plans available: The Mini Box ($32.58/month) with 3-5 items, The Advanced Box ($70.61/month) with 6-7 items, and The Lux Box ($141.41.month) with 7-11 items.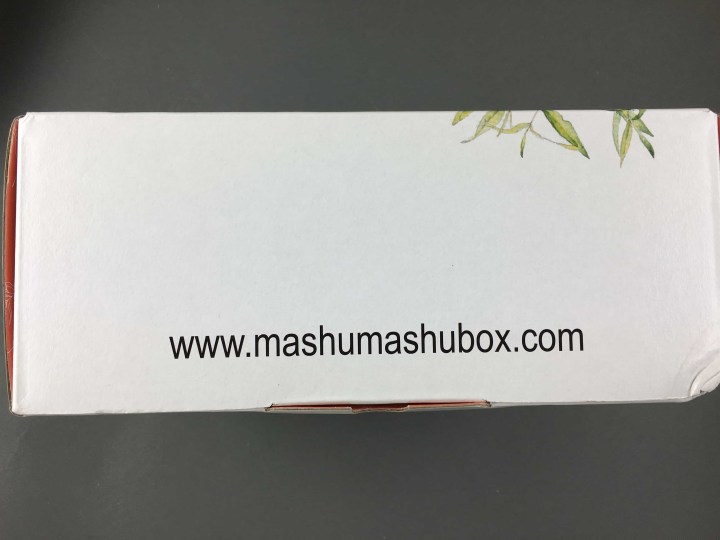 DEAL:
  Get 10% off your first box. Use coupon code 
hello10
.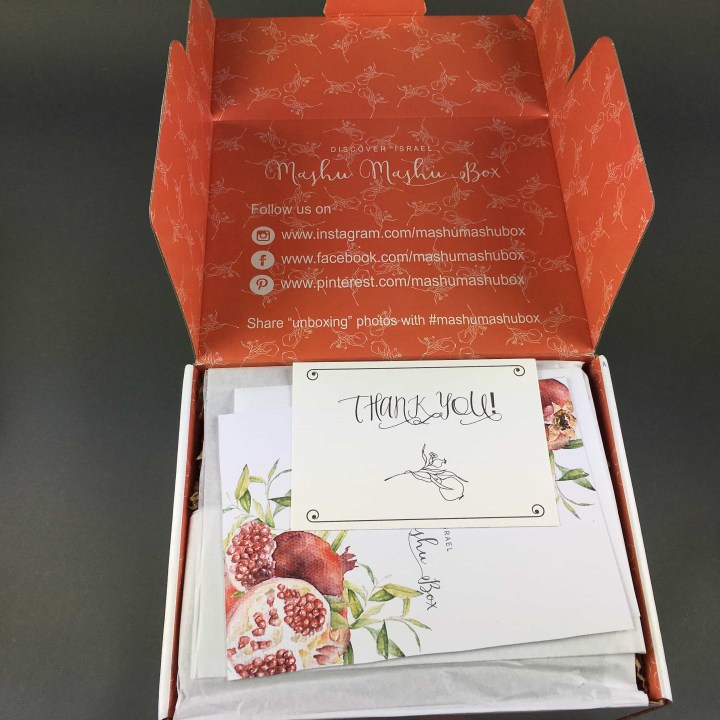 The interior of the box is bright orange and included information on how to reach Mashu Mashu Box through social media.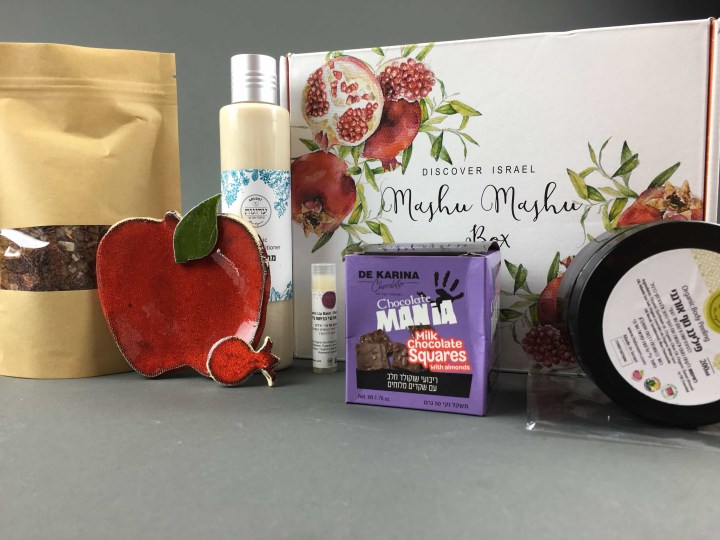 Everything in my February 2017 Mashu Mashu Box!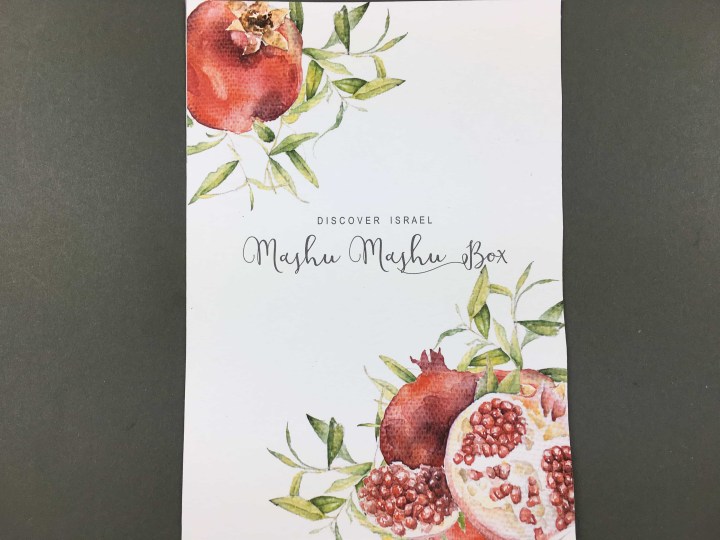 Loving the font and the watercolor illustrations of pomegranate, a fruit which you can easily find in Israel during Fall feasts. It is also a symbol of Rosh HaShana or the Jewish new year.
The box included a card that listed description and ingredients of the products we received this month.
We also got a short thank you message from the curator of Mashu Mashu Box.
First up is a Honey Plate from ALEH Boutique, a handcrafted plate that will surely standout on any dining table. These are made by the residents of a charitable organization in Israel called ALEH during their therapeutic vocational workshops. Purchasing an item from them will benefit children and young adults with severe multiple disabilities. Other subscribers might receive the plates in a different color or design.
This Pomegranate Magnet is also made by the special children of ALEH. Made from ceramic and painted to perfection, I think this will look good on our refrigerator!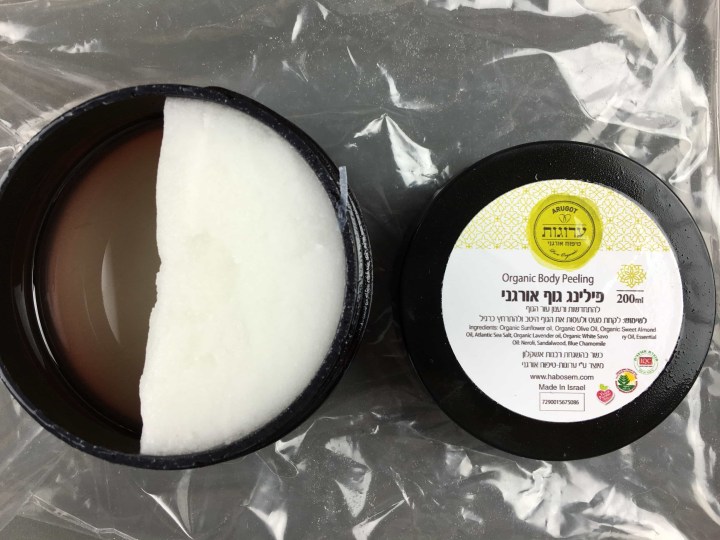 This Organic Body Peeling by Arugot smells so good! It's a body scrub made with organic sunflower oil, organic olive oil, organic sweet almond oil, Atlantic sea salt, organic beeswax, organic lavender oil, organic white savory oil, essential oil: neroli, sandalwood, and blue chamomile. Upon opening the jar, we saw that it had separated into a solid part and a liquid part – maybe because of shipping conditions, but it is still perfectly fine to use. The scrub didn't only make me smell good, it also made my skin feel soft and nourished!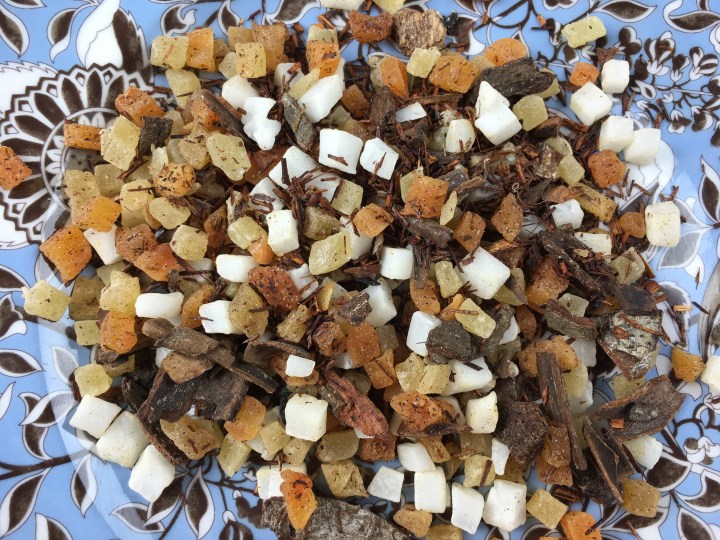 I wish there was a label on the pack or a description on the card about this Fruit Tea Blend, so I know about what it's made of. And also just in case we fall in love with this tea and need to order some more. It smells really nice, by the way!
Yay, chocolates! Chocolate Mania by De Karina are milk chocolate squares with salted almonds. It is from one of the most popular boutique chocolatiers in Israel!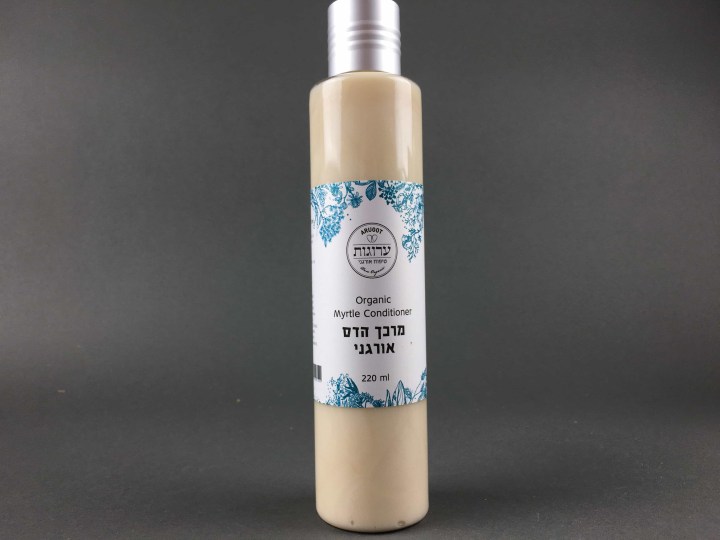 This Organic Myrtle Hair Conditioner by Arugot is a mixture of organic olive oil, organic coconut oil, organic shea butter and wheat protein. Ideal for dry and damaged hair, and can be used with color-treated hair as well. Subscription boxes tend to send shampoo more frequently than conditioners, so for subscription box addicts this item is particularly welcome! This brief article covers the symbolism and significance of myrtle, which is widespread in Israel!
Organic Lip – Rosewood Balm by Arugot feels good on the lips. It has organic sunflower oil, organic shea butter, organic beeswax, organic lavender extract, organic calendula extract, organic lavender essential oil, and organic rosewood essential oil. I like how it makes my lips feel soft and moisturized! Rosewood oil is floral with a hint of spiciness.
Mashu Mashu Box made me want to know more about Israel. I loved the items in this month's box and I appreciate that they try to include a little bit of everything – from snacks to housewares to beauty products. The items selected were definitely curated with care, and we are hoping that future boxes might have even more information about how the ingredients or items are unique or representative of Israel – in addition to being a great taste of home for those who have moved away, this is a fantastic box for lots of people to reconnect with their heritage or even just find out more about a country they may not know a lot about!