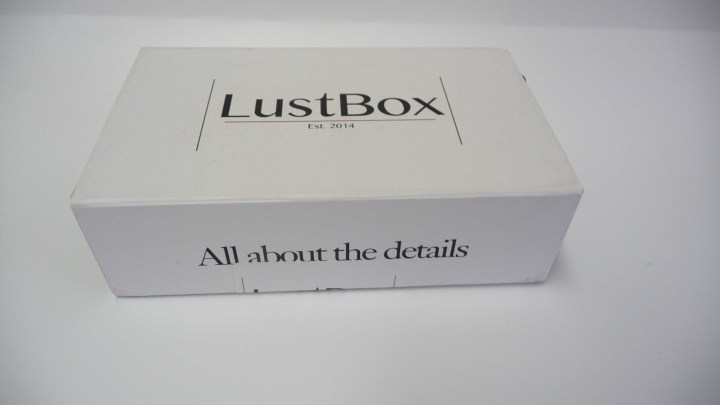 LustBox is a monthly subscription box that provides high-quality accessories for men. You get stylists to help you accessorize your wardrobe. Your box will include 4 items or accessories, such as ties, socks, colognes, lapel pins. Oh yeah, and shipping is free. You can choose to have a monthly subscription at the cost of $40 or a one-time box at $43.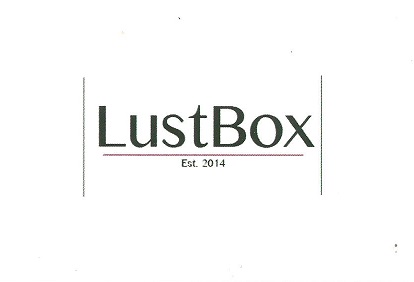 DEAL: Get $10 off your first-month subscription! Use coupon code BORG.
Each box contains an insert showing what items are in the box, cost, and where to order if you like that item.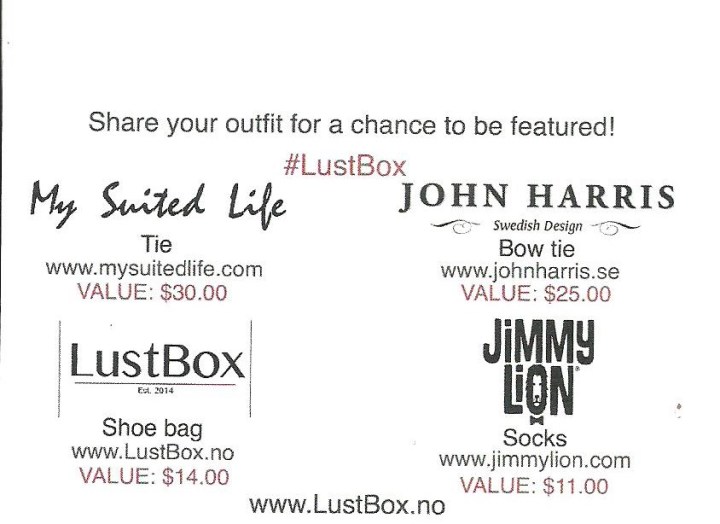 For April we received some really nice items: tie, bow tie, shoe bag, and a nifty pair of socks.
My youngest son loves when this box arrives. He thinks he is a supermodel when he tries all the items on. Well to this momma, he is!
Our first item is a tie from My Suited Life ($30). I love seeing the new ties that come in each box. Each one with their own unique pattern and "personality." My son loves that his tie collection is steadily growing. He's just running out of outfits to wear them all with. We both liked this particular tie for its simplicity. The green is dark in nature  (picture doesn't do it justice). It is long enough for my tall son also. YEAH!!!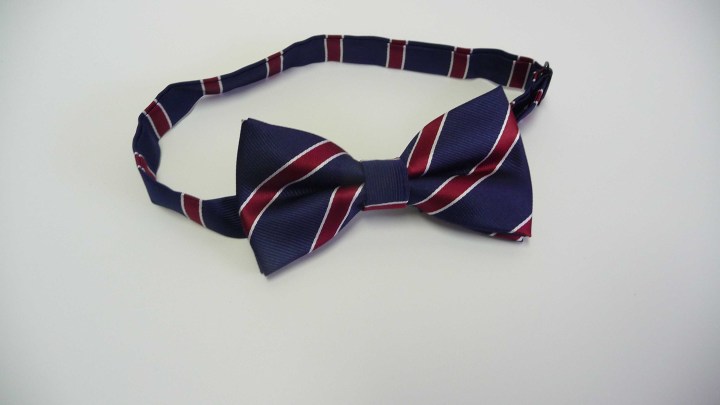 The next item in the box is an accessory my son has been looking forward to owning; a bow tie from John Harris ($25). He loved this bow tie. He likes the fact that it is adjustable (and already tied).  The tie came in a simple red, white, and blue design. It can be worn for casual wear or business attire. Do you remember the first time you saw a bow tie? It reminds us of the good ole days when things were simpler and men dressed to impress.
Our next item is a great item to have when packing for your next business trip. It is a shoe bag from Lust Box ($14).  Simply slide your dress shoes inside the bag and place inside your suitcase. No worrying about scuffing up your shoes or getting your shirts or ties dirty inside the suitcase.
So as you know my son and I have a funky sock collection and this month the box included another great pair of socks. The socks came from Jimmy Lion ($11). The socks have a nighttime New York City scene on them complete with the taxis. LOVE them! I tried to steal them but my son hid them in his room. These socks will definitely give your next outfit a bit of playfulness to it. You can't be serious all the time.
My son loves this box and I love seeing him dapper up in the items. Who doesn't like a well-dressed man? Let us know what style you like!