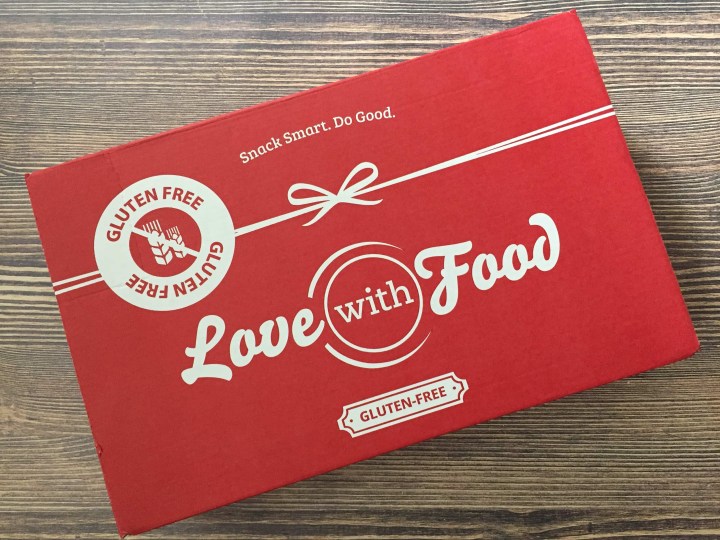 Love with Food is a popular snack subscription that also carries a gluten-free option! It is a fun snack discovery subscription available in three versions: classic tasting box, deluxe/family size, and gluten-free. This version is the gluten-free box, but you can see our reviews of the other versions too. You might not know it from all of the more adventurous Japanese snack boxes I review, but I actually do have a sensitivity for gluten (along with a laundry list of other ingredients) so I have to be careful how much of it I consume. When Love With Food started shipping internationally, this was great news for me!
DEAL: You can save 25% on your first Gluten-Free box by using this link, no coupon code required!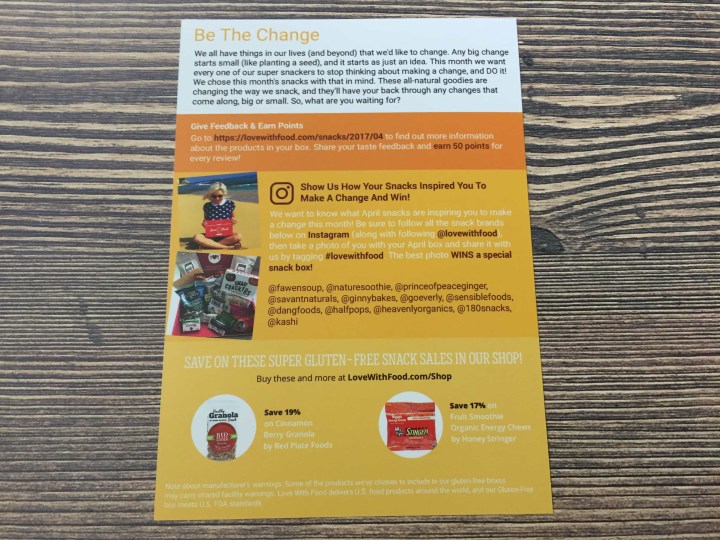 My box always arrives mid-month. They don't include details on the product card, but the info is available on their website.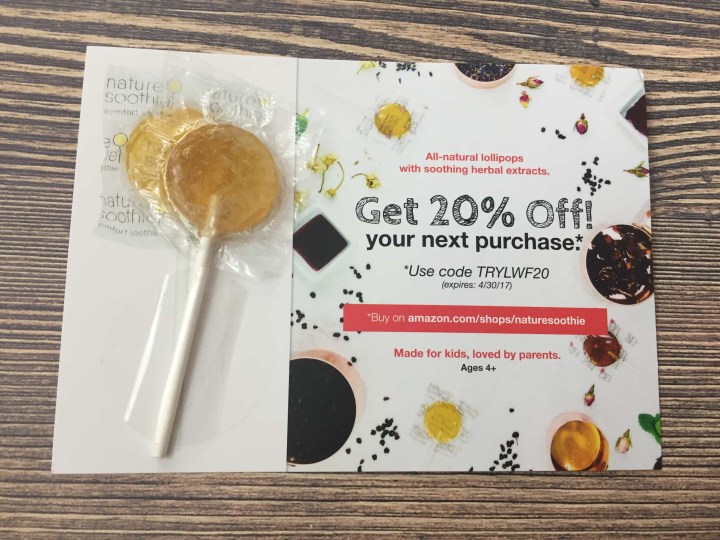 Herbal Lollipop: Lollipops loaded with immune boosting goodies like elderberry, chamomile, honey, and lemon.
Almond Pops with Blueberries: Little almond clusters with blueberries! These have rice in them as well.
Dried Apples: Basic dried apples. These were actually one of my favourite snacks this month even if they are quite simple!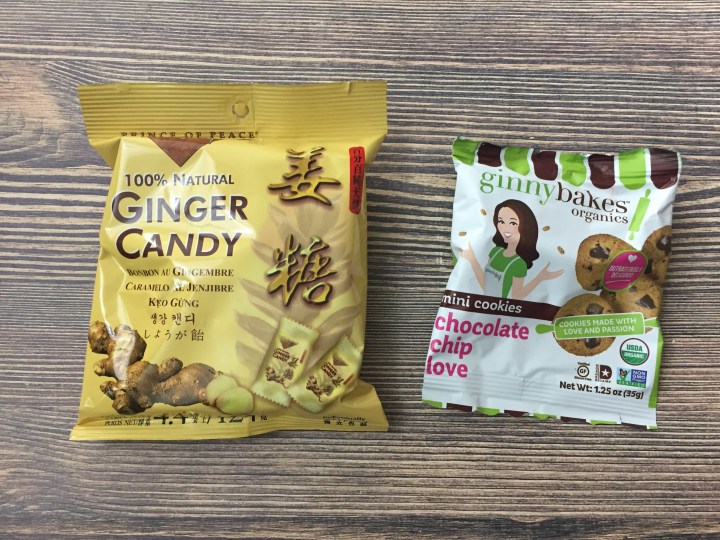 Ginger Candy: Ginger is great for upset stomachs and nausea. I hate ginger so these will be given to my sister; she's into more natural healing and I'm sure she'll appreciate them.
Ginny Bakes Mini Cookies: LOVE! I have always wanted to try these. They are small chocolate chip cookies. Crumbly and crunchy and this more than satisfies my craving.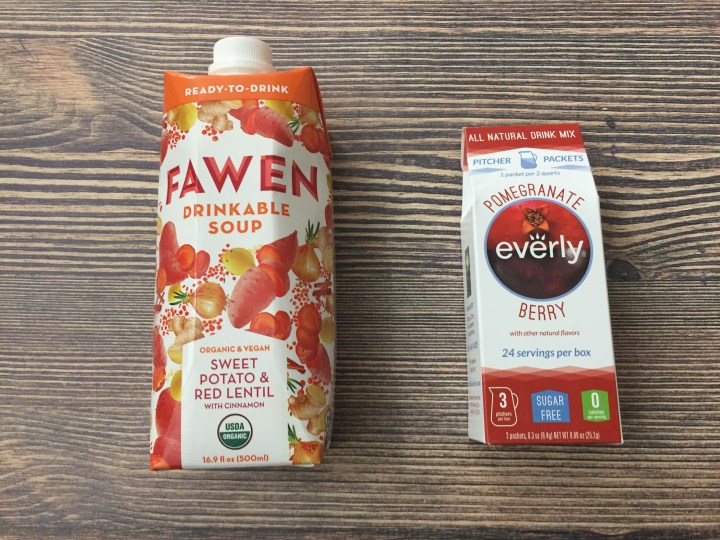 Fawen Drinkable Soup: I'm not sure how I feel about drinkable soup! I will pop this into a bowl and eat it like a normal person.
Everly Pomegranate Berry Water Enhancer: Water enhancers are nice in theory but they are always loaded with sugar. This one is sugar-free and is sweetened with stevia.
Dang Salted Cocoa Coconut Chips: OH MY GOD. Coconut chips covered in cocoa powder. Thank Thor they sent two bags of these because these are amazing. I inhaled them. Probably the best thing I have ever gotten in an LWF box. I need a crate of these.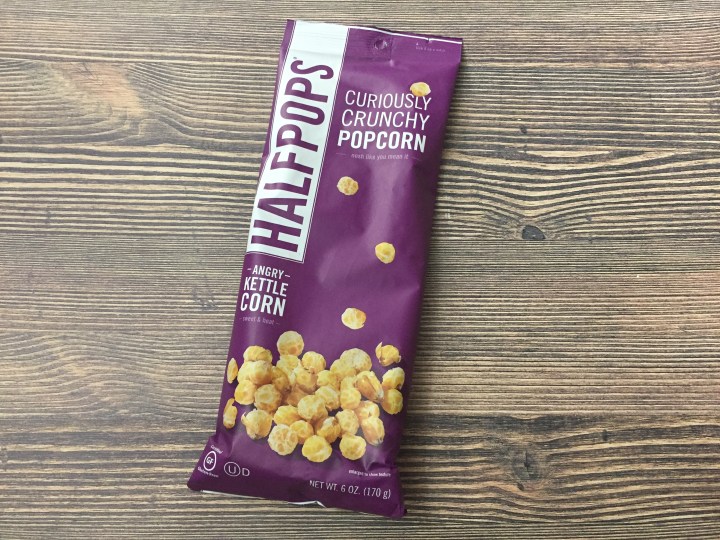 HalfPops Angry Kettle Corn: Okay so I actually really hate popcorn kernels. I like the fluffy bits. So when I read the back of this packaging I was skeptical. But these are puffed, so they're not rock hard. They're crunchy and soft at the same time.
Savi Crisp Chocolate Protein Bar: A combination of protein powder and brown rice to give you a boost. This does contain soy so I can't enjoy it but I know people who will.
Kashi Chewy Nut Butter Bar: Oats, almond butter, dark chocolate, and vanilla — aka a lot of deliciousness in one bar. This is that salty and sweet combo that I crave.
Heavenly Organics Dark Chocolate Honey Pattie: This contains only two ingredients — chocolate and raw white honey.
This month's LWF included some awesome treats. I am obsessed with the salted chocolate coconut chips!
What is your favorite Love with Food item from this month's box? Share below and let us know!