L'Epicerie Box delivers the best gourmet food from France directly to you door every month. Camille and Petronille, two French foodies, curates a monthly box filled with high-quality and local French goodies for only $55.95 per month.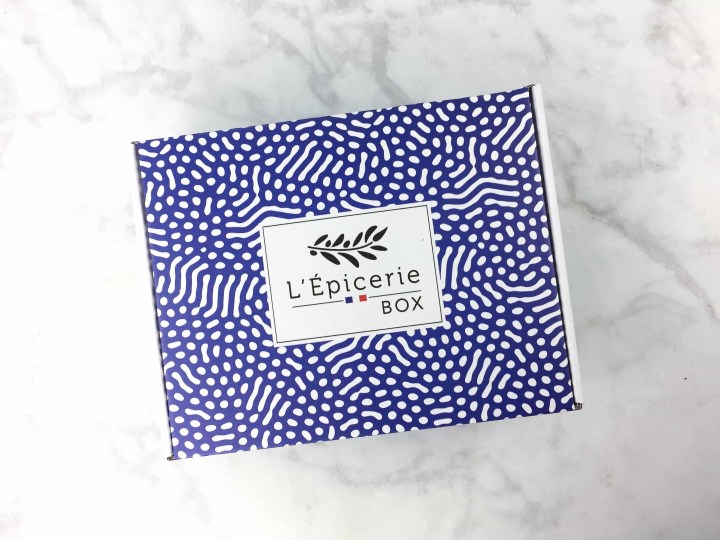 Within the outer shipping box is a pretty box containing your treats.
DEAL: Save 25% on your first box! Use coupon code LAUNCH. Save 10% on your subscription as long as it lasts! Use coupon code LAUNCH10.
The items, cushioned gently with black squiggles, fill the box.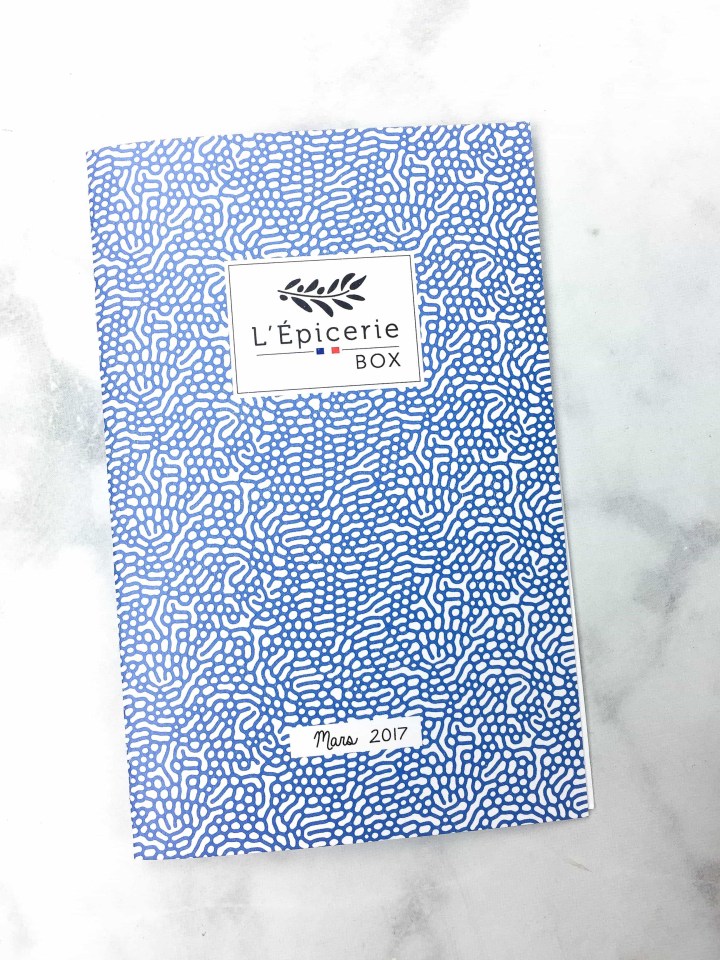 An information card lists of all the tasty French items inside.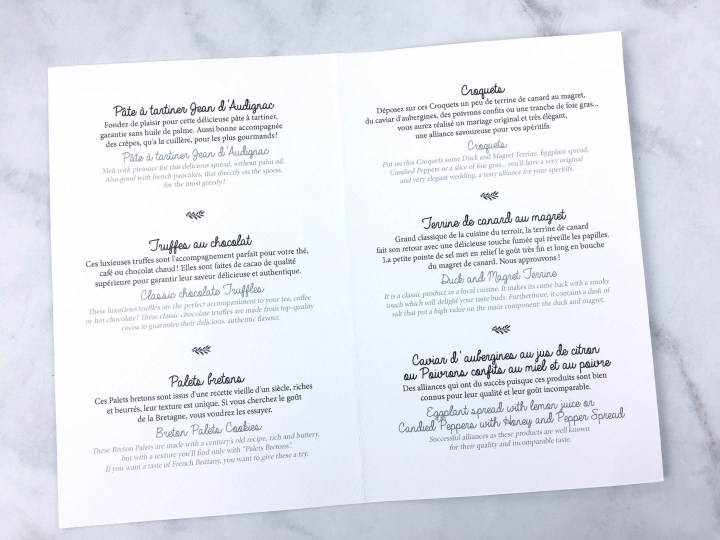 The information card is in French and English. I like this approach – translations found in authentic, foreign food boxes can be choppy – here you get the translation, but the original sentiment is preserved for those Francophones among us.
There's also a recipe printed at the back of the card. It's for Buns a la pate a tartiner, an upgrade on the classic cinnamon bun. This recipe calls for Nutella (or the elegant Pate a Tartiner Jean d'Audignac in our box!).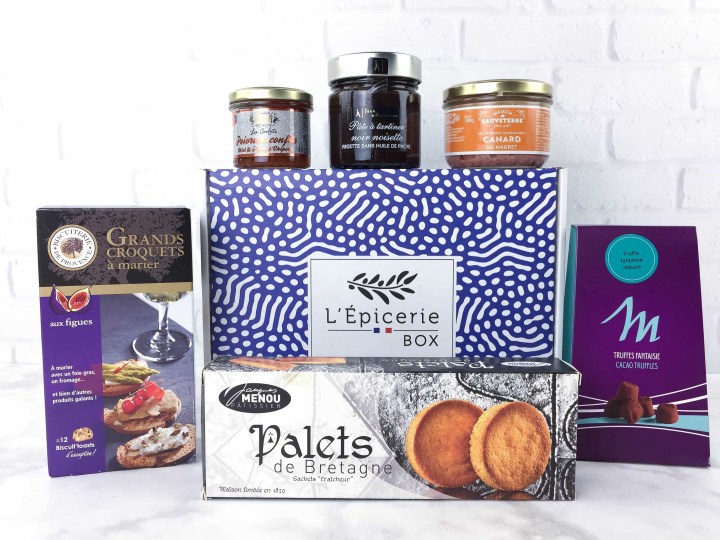 Everything in my March 2017 L'Epicerie Box!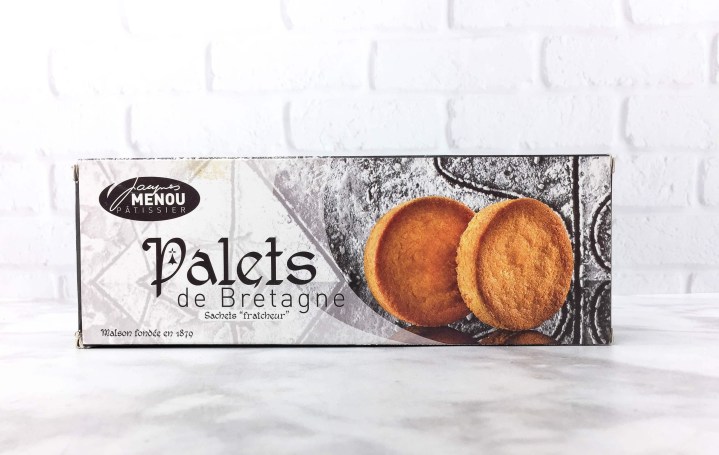 Jayme Menou Patissier Bretons Palets Cookies: Thick, egg and butter cookies from French Brittany. Thick, yet crisp and light textured, these cookies are made with precious few ingredients by a fifth generation family cookie factory.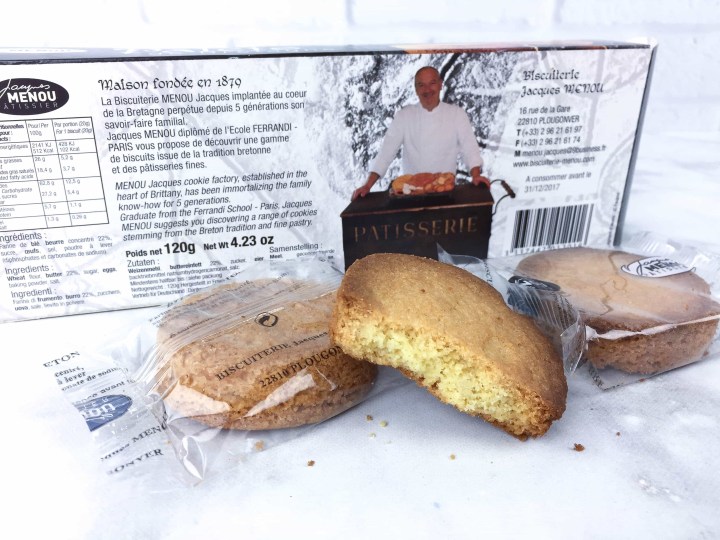 Each is individually wrapped for freshness. It's a good thing, too – I think I would eat the whole box at once if they were not! They have the rich flavor I associate with patisserie – the flavor of the fresh eggs really comes through.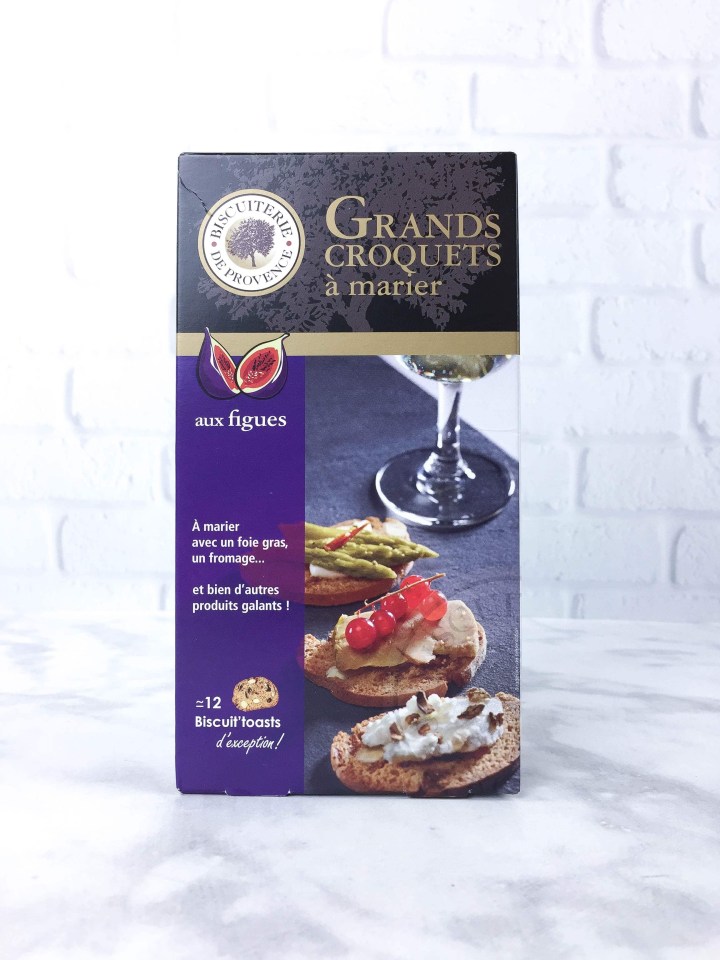 Biscuiterie De Provence Croquets: These crunchy toast are made of a flavorful and slightly sweet brown bread, speckled with chunks of fig and slabs of almond. The fruit and nuts make the bread suitable for pairing with sweet toppings, but they are an even better complement for pates and cheeses.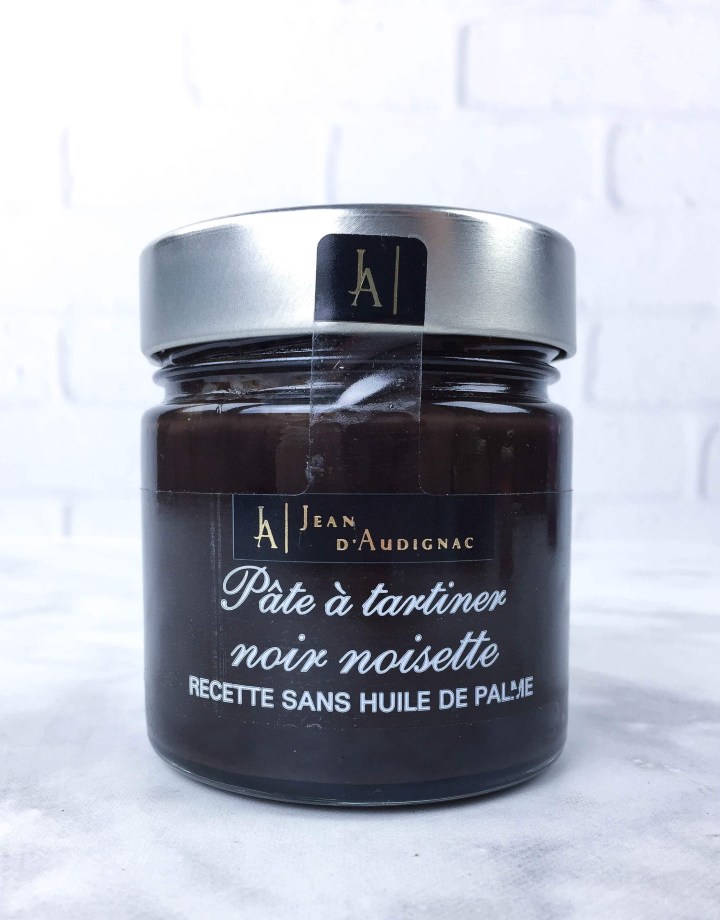 Pate a tartiner Jean d'Audignac: Similar in concept to the popular Nutella, this spread combines dark cocoa with creamed hazelnuts. This version has a leg up on the competition, though, as this recipe does not incorporate any palm oil, and the cocoa has a much darker, richer taste.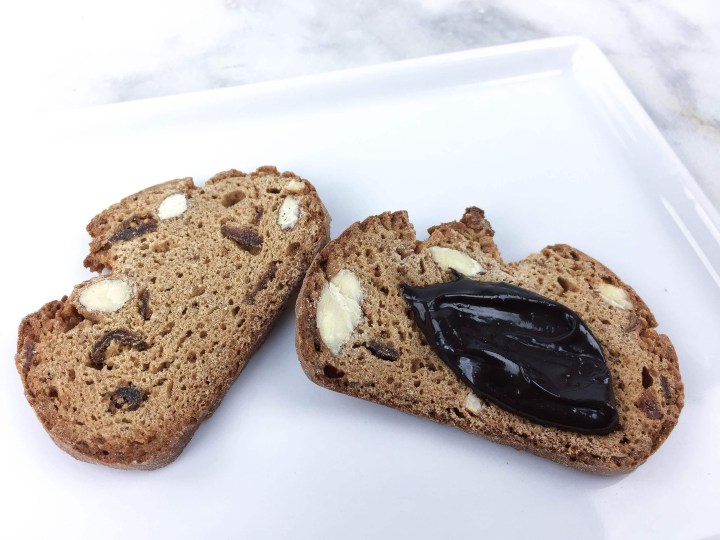 We spread some of the black hazelnut spread on the croquets. The rustic, crispy slices were dry enough to handle the spread without becoming soggy or tearing. The spread was incredibly dark and had a lovely cocoa flavor. Its consistency was of a tremendously thick fudge, but it didn't solidify completely like Nutella does when left in the jar.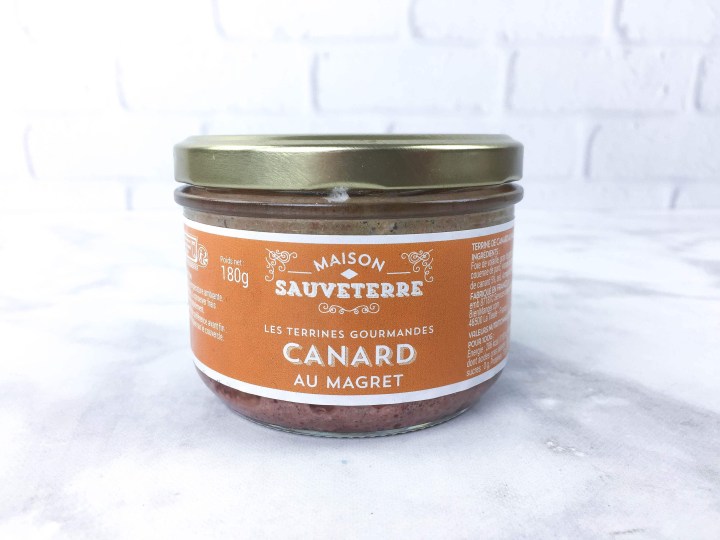 Maison Sauveterre Duck and Magret Terrine: This terrine is a combination of different meats – it's not a pate of wholly magret (breast of a moulard duck). While there is some magret for richness of flavor, the main part of the spread is poultry liver, duck meat (presumably white pekin), and pork skin.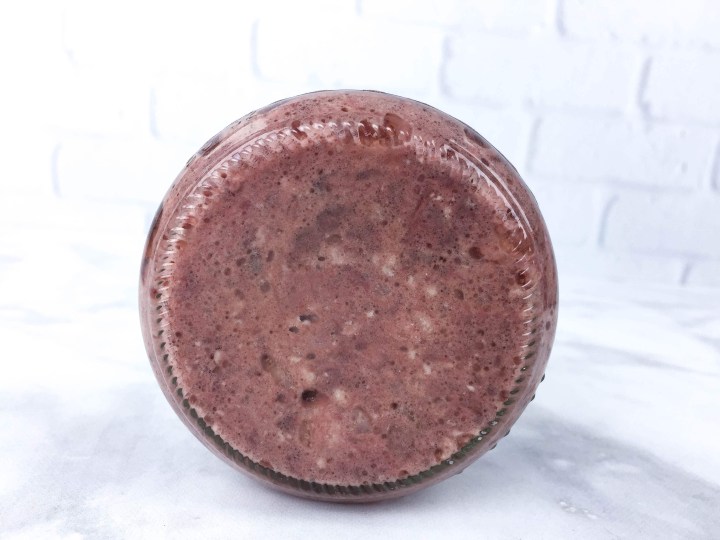 The terrine comprises small morsels of the prized magret suspended in whipped liver and pork rind, flavored with a splash of Armagnac.
L'Atelier Bernard Marot Candied Peppers With Honey And Pepper Spread: A beautiful accompaniment for meats and cheeses, this confit resembles a sweet pepper jelly in flavor.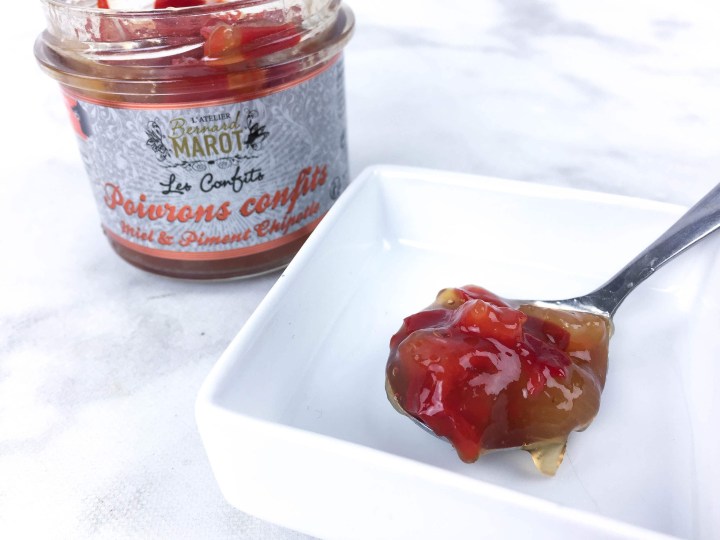 Though it contains chipotle, the peppers don't really provide heat, just a pleasant richness of flavor, balancing the poignancy of the honey. The combination is well-suited for use with cheese, as it lends complexity without bearing overpowering flavors or sweetness. The texture is looser than a jelly and spreads easily.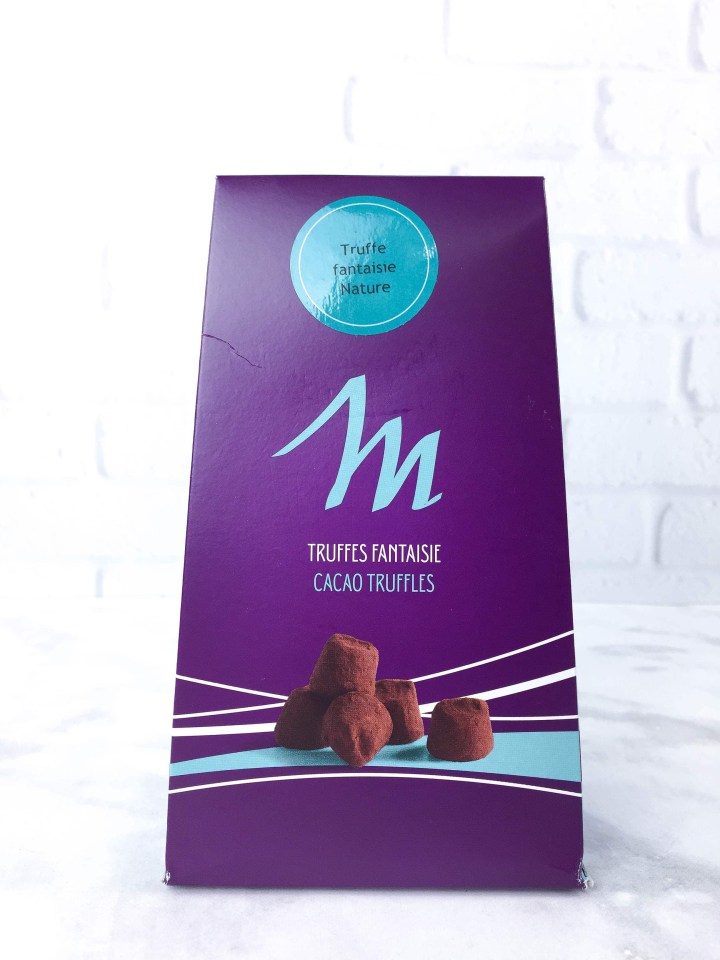 Truffles Fantaisie Classic Chocolate Truffles: These truffles appear to have been snipped from a roll and dusted in fine cocoa powder. Having avoided over-handling, their creaminess and lightness of texture is consistent throughout, and they do not suffer the dense texture rolled truffles often acquire.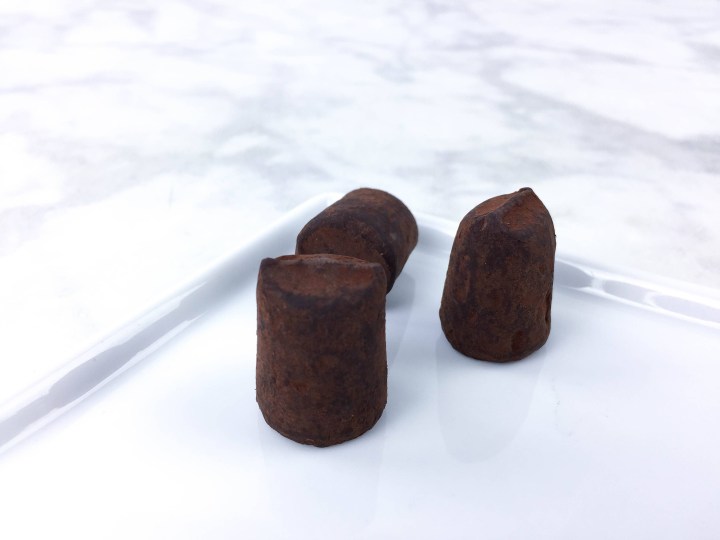 The flavor is very deep and dark – these truffles are a fine exemplar of the French preference for chocolate – dark, bold, sweetened just enough to erase any trace of bitterness. Perhaps most emblematically, the texture is flawlessly smooth and creamy, melting within your mouth.
This selection was very enjoyable. I loved the authenticity and quality of the selections – they really spoke of French food culture, and I could tell that they are products the curators themselves enjoyed. The composition of the box was well thought out, as well, with a combination of items that would enable one to set out a delightful spread straight from the box:  one could serve duck tartine on croquet with pepper confit, followed by Bretons Palets with pate de tartiner noir noissette, and finish out with heavenly truffle. Grab a bottle of French wine, and you have a perfect evening of conversation and French gastronomy!