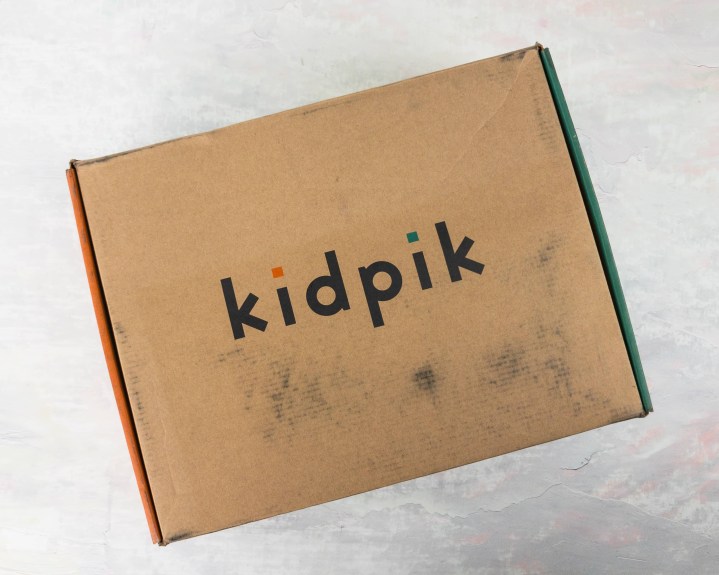 Kidpik is a styling subscription box for girls sizes 4-14 that is offered with no subscription, styling, or shipping fees. (It's like Stitch Fix for girls, but with no styling fee!) Kidpik can now we purchased once a season, twice a season or monthly. The box will be sent at no cost and you'll only be charged once you pick the items you want to keep. There's also no return fee to send items back, so your daughter can ultimately decide which items are hers to keep.
If you don't like what they've sent your daughter, they give you 7 days to pick the items you want to keep or return. Login to complete checkout  within a week, if not, your credit card will be charged for the box. A 30% discount will automatically apply upon checkout.
My daughter chose the colors and styles she wanted for her box in an extensive style profile that covered styles, colors, types of clothing, length of outfits, and complete sizing information. The survey is simple and my 8-year-old was able to fill out the entire thing by herself (and she was so excited about it!).
The entire box, with the keep-it-all discount, is on average $85, with 5-7 high quality items included. If you decide to keep everything, each item will cost approximately $12.50.
Everything was packed really neatly and anything that could possibly snag clothing is packed in sturdy reusable bags.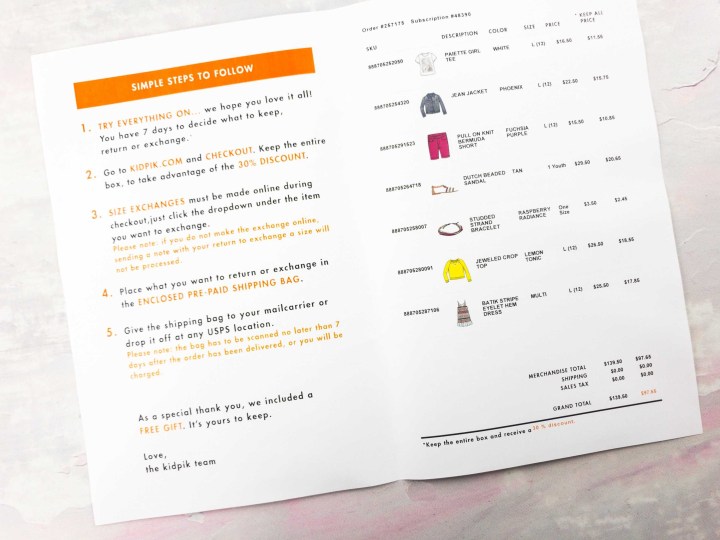 The box includes a list of the items, their prices, and the broken out price for each item if you keep the entire box. These prices are super reasonable and the shopping is devastatingly easy.
The total for this box was $97.65 – about $16.25 per apparel item, including the shoes.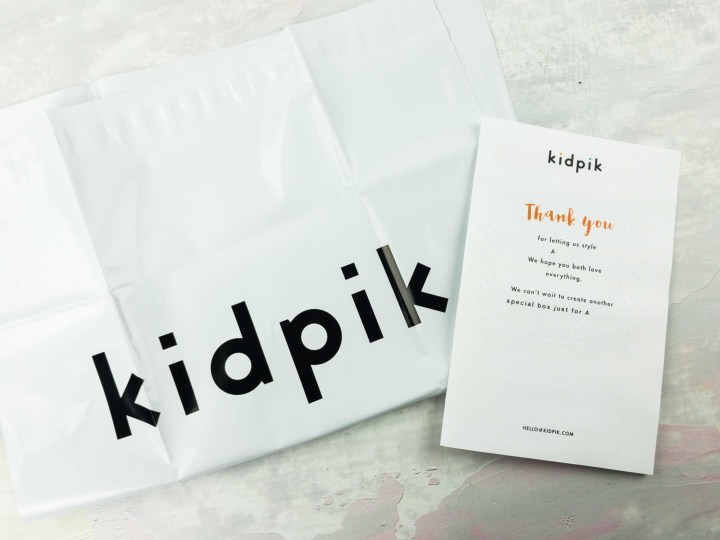 The box includes a return envelope and item list.
When you checkout you can get a 30% discount by keeping the entire box. If there are items you kept because it was cheaper but don't want, you can return them in the envelope. So if it makes sense to keep the entire box, just return anything you don't want, and Kidpik will donate it for you!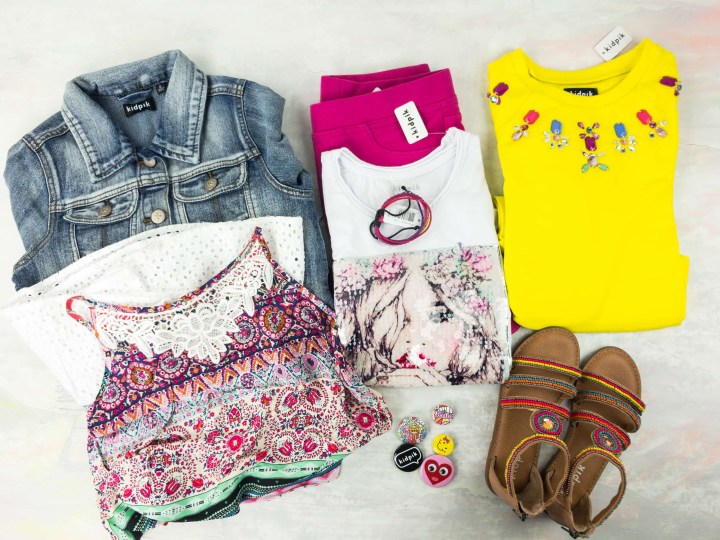 All the items in the box! I adjusted my daughter's style profile for more girly items this quarter – she's getting into those tween years and has been selecting items from her closet with a little more flair.
Kidpik also added other bonus items inside the box. These are fun buttons and we loved the colors! This bonus item is free to keep whether you keep anything or not.
Shoes are always packed up in a tote bag.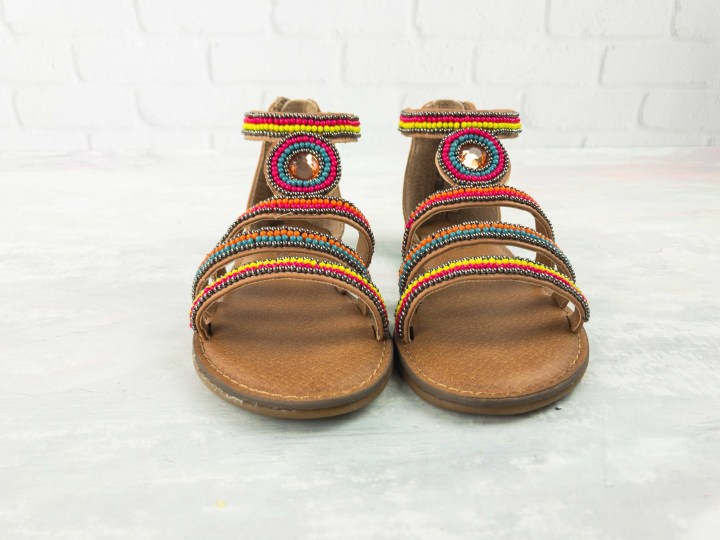 Dutch Beaded Sandal ($29.50)
The beaded details on these sandals are so cute! They are easy to get on, too, with zipper entry in the back. I love that kidpik always sends shoes my daughter loves to wear.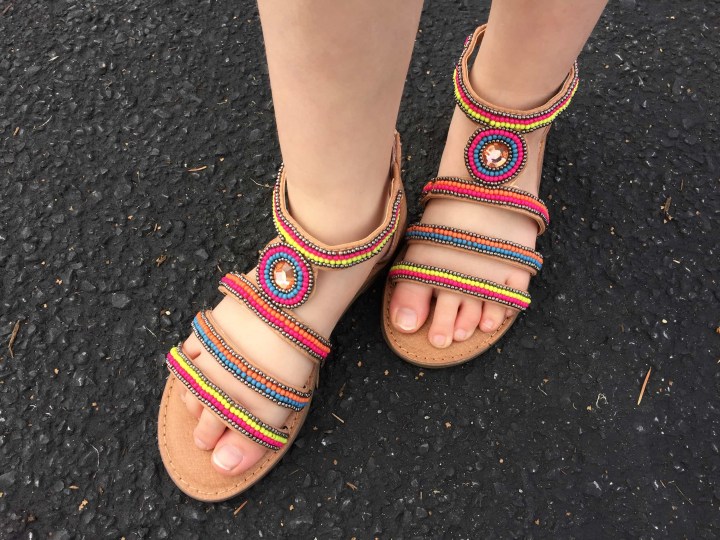 Bright and colorful! She wouldn't take them off – a total hit!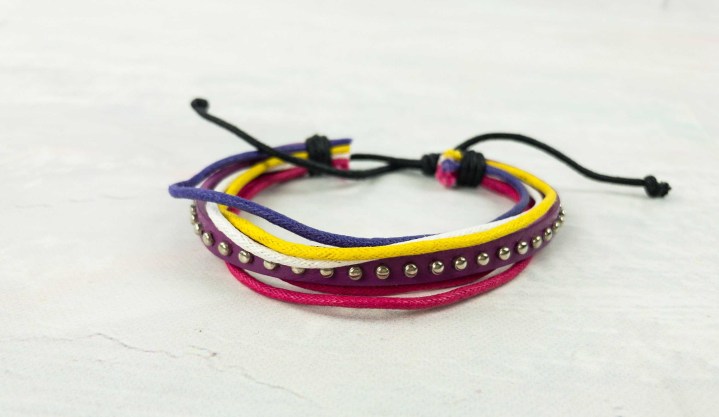 Studded Strand Bracelet ($3.50) A cute accessory that matches all the items in the box! It's adjustable at the wrist and a great way to finish off an outfit.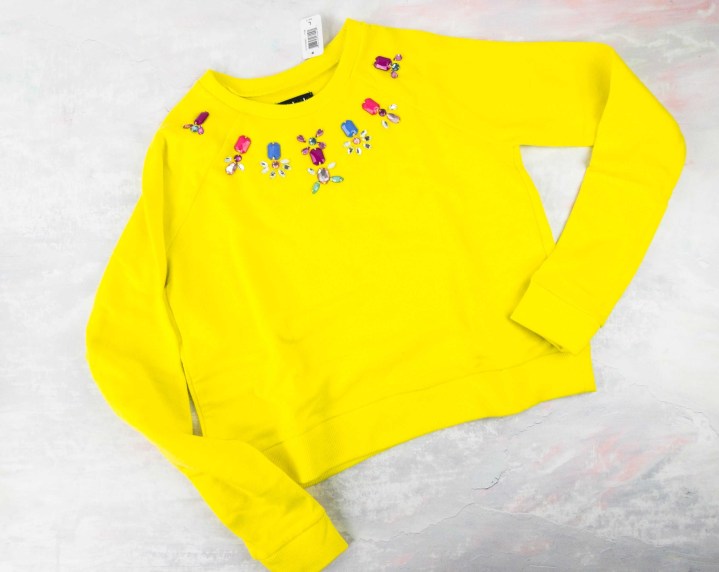 Jeweled Crop Top ($26.50) This yellow is wowza! It totally fits my daughter's personality and the kidpik style survey nailed all the items. This fun knit cropped sweater is great for spring, plus the statement necklace like jewels on top are too cute!
Paillette Girl Tee ($16.50) I am not as sure about this shirt. It's cute, but between the white shirt and the design I probably wouldn't select it myself. The print is screeened on and covered in flashy sequins.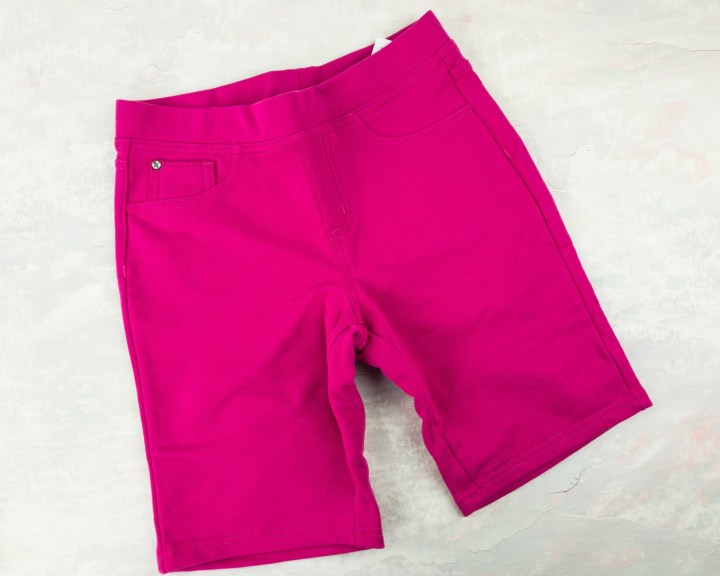 Pull-On Knit Bermuda Short ($15.50) These shorts! They are totally awesome. They are made of knit fabric and go to the knee. The fit is tailored though and they look fantastic. I will probably buy more at kidpik basics.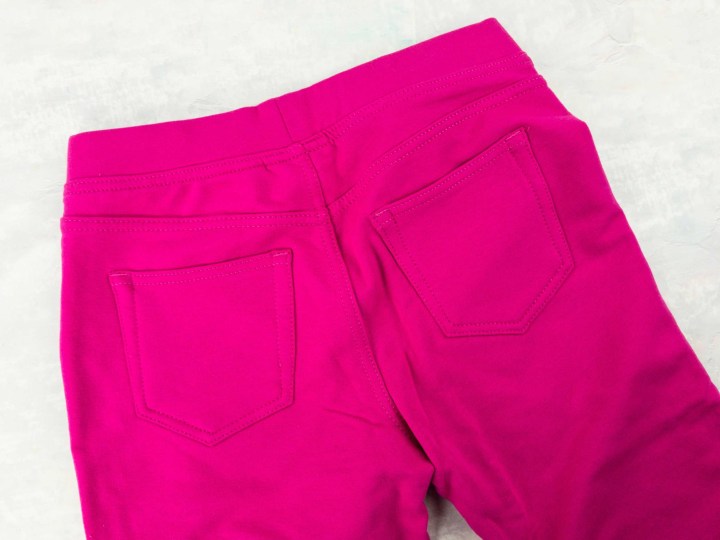 The front pockets are actually fake but the back ones are real.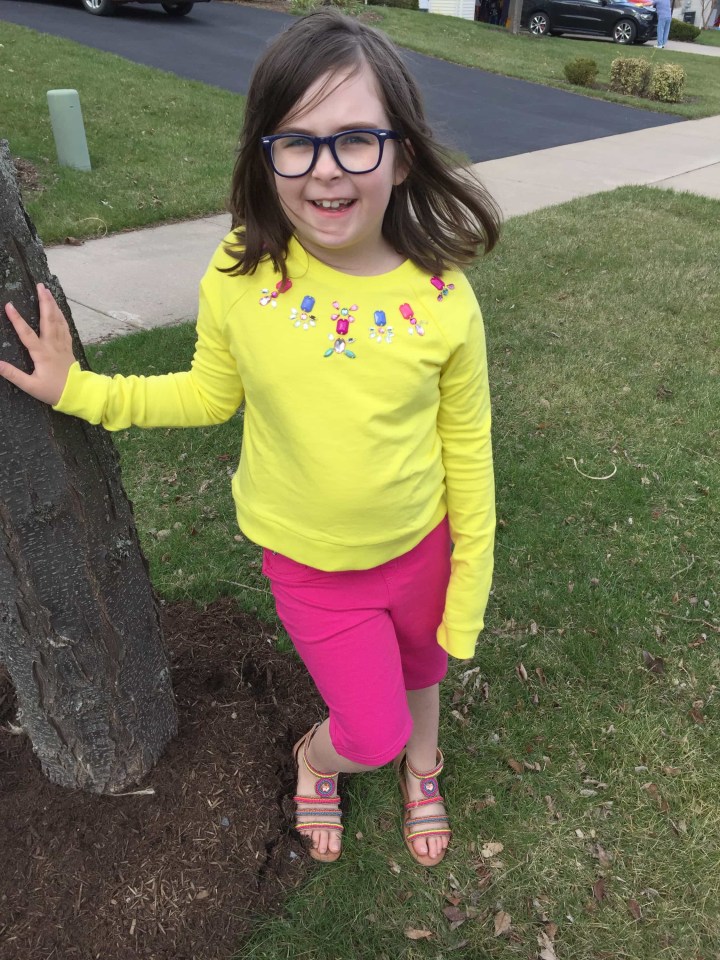 This outfit is too cute!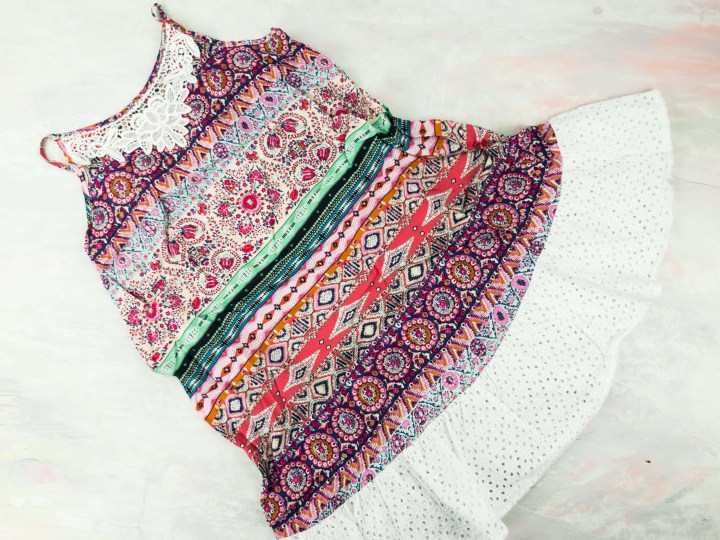 Batik Stripe Eyelet Hem Dress ($25.50) This dress is so darling, with so many details! It's light and flowy with thin straps, and a great batik print, as well as a lace accent on top and a fun eyelet decorative hem!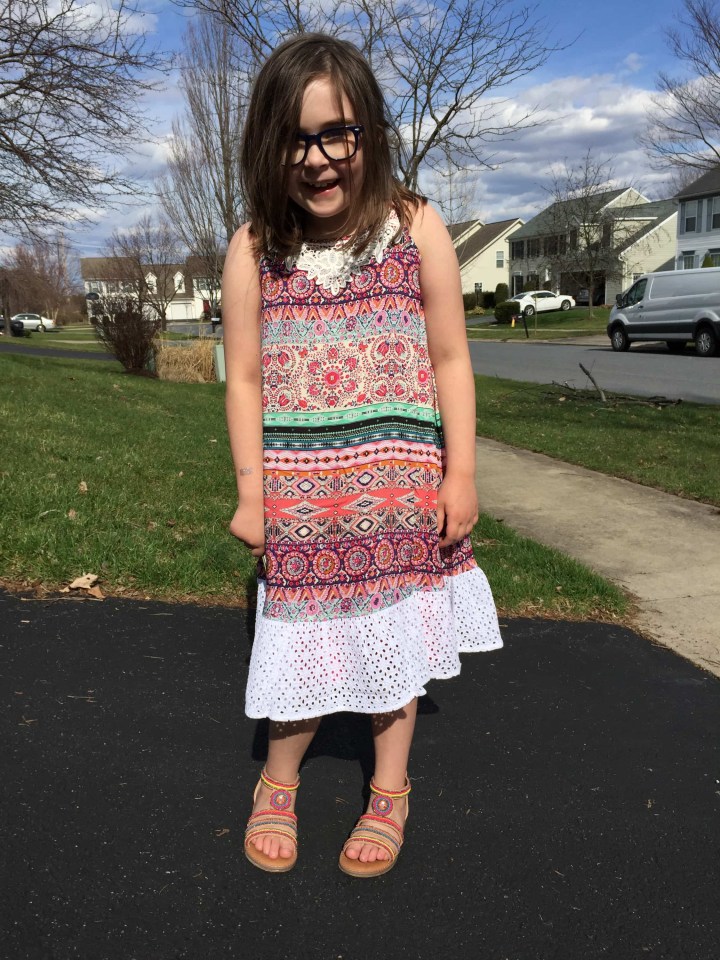 She loved it, and wouldn't take this outfit off either!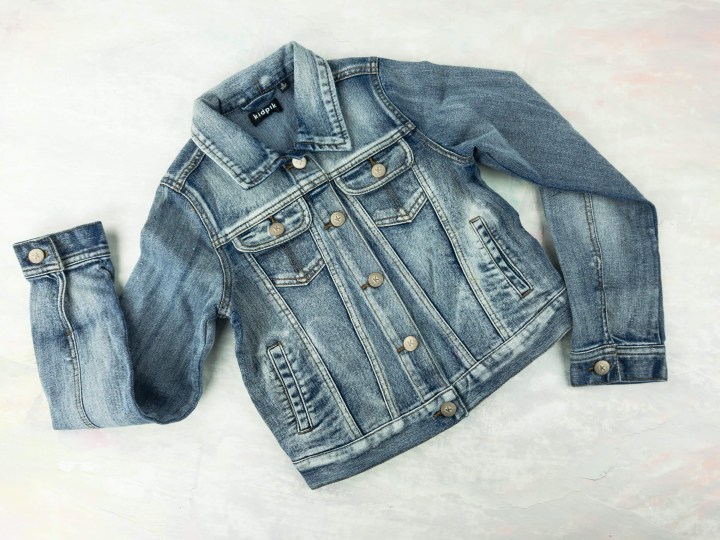 Jean Jacket ($22.50) And, just in case it's a bit too chilly for the dress or other spring wear, a fun denim jacket was in the box too! This is a stretchy denim, so it's nice and comfy.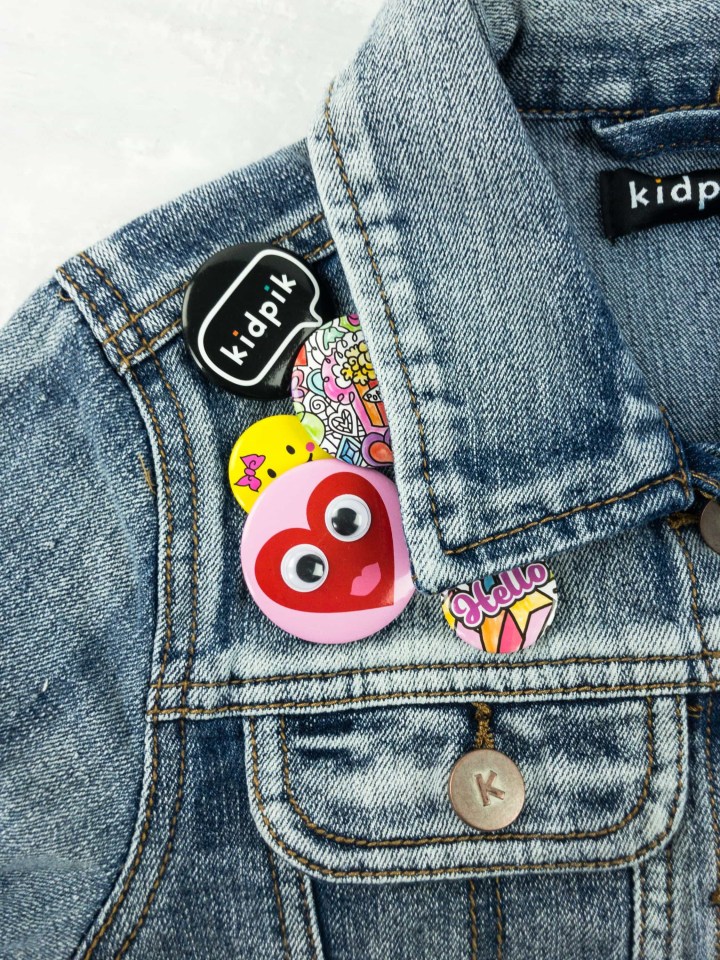 We accessorized with those rad buttons!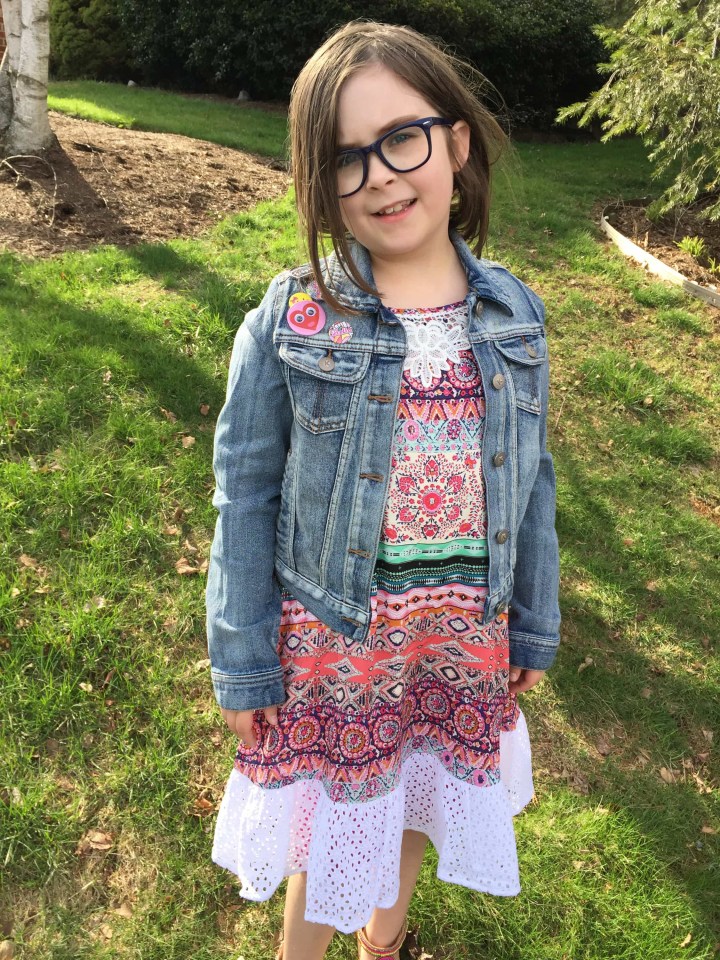 This look is just so cute, and perfectly her!  Plus the jean jacket provides the perfect canvas for her growing collection of buttons & pins.
What do you think about Kidpik? We absolutely love it! My 8 year old is just so excited when this box arrives because she loves it, too. Everything in the box is totally mom & girl approved, the quality and styles are fantastic, and so is the price. I'm also super happy that I have to do zero work to shop for her clothes. We highly recommend trying it out, especially with no styling, subscription, or shipping fees.