Home Chef is a meal in a box subscription – every week, you choose from a variety of recipes and have all the ingredients and preparation instructions delivered to your door. The basic concept is the same as other weekly meal delivery services, but it has its own unique features and recipes. Their meal options include include many great Asian, Indian, African, and South American inspired dishes, along with more traditional American home-style and steakhouse fare.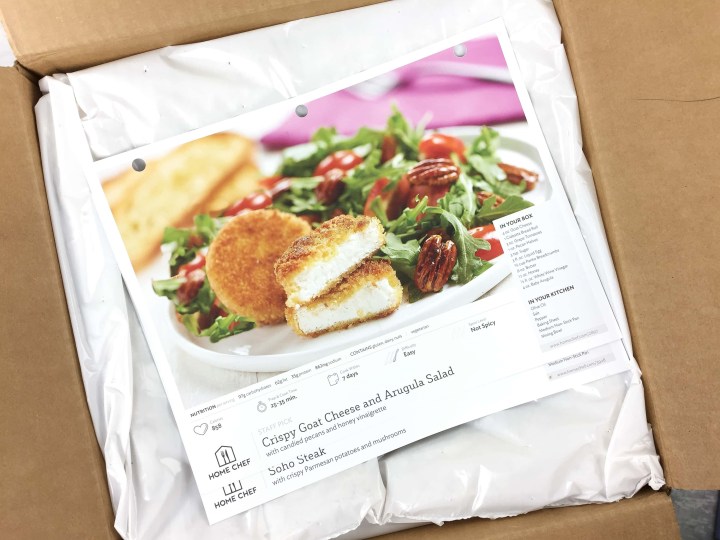 Meal selections are suggested automatically according to a profile you fill out noting your family's preferences, but you can change your selections any time. Home Chef offers an incredible 10 selections available for 2, 4, or 6 people, a breakfast choice, a smoothie choice, and a fruit basket selection. The portions are huge, and this is currently the least expensive and has the most choice out of any similar major subscriptions (for 2 people) – $9.95 per person per selection (they typically have one meal a week that's a premium meal).
DEAL: Get $30 of free food when you sign up – just use this link to get the deal!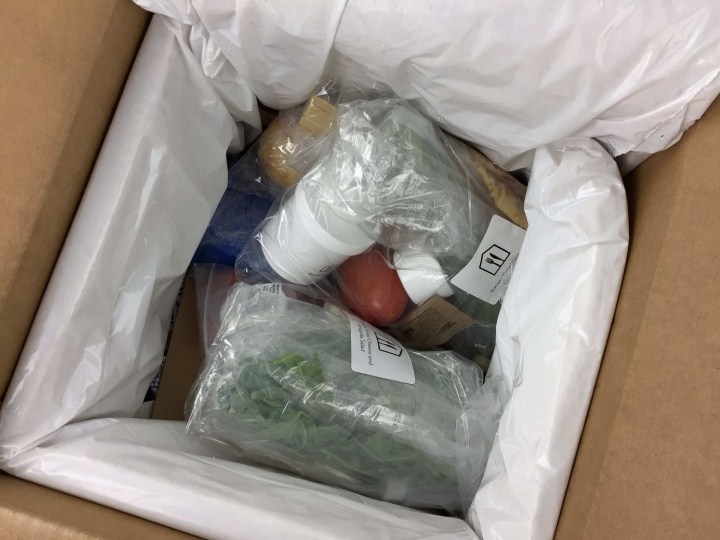 The food is packed in puffy, padded cooler pads, with each meal packed in a separate bag containing nearly everything needed to make a complete meal. The box is always packed with several ice packs.
The recipe cards display prep time, difficulty, a "best cooked by" time frame, and even a spice level. There is also a list of stuff you may need from your own kitchen such as cookware and salt and pepper. You have to have a basic kitchen set-up (stove/oven, cookware, etc.), but a couple tablespoons of cooking oil and salt and pepper are usually the only ingredients you have to have at home – they even include liquid egg (instead of expecting you to have eggs on hand), and oil for shallow-frying when a recipe calls for more than a few tablespoons worth.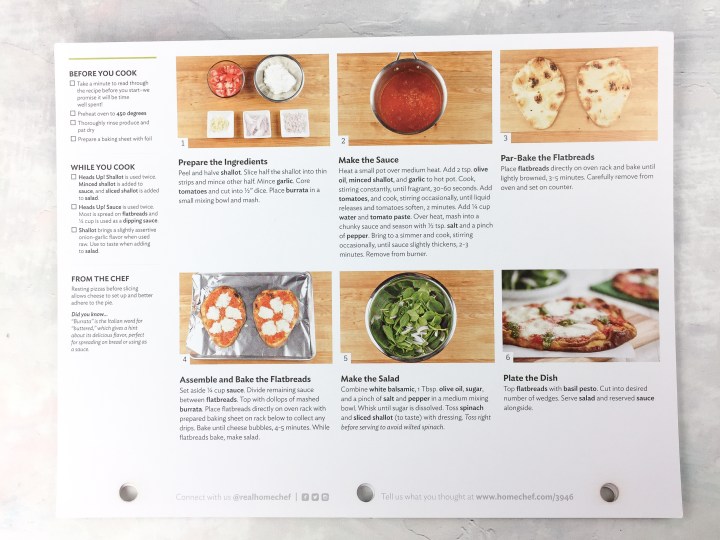 The back of the card has the actual recipe guidance, complete with pictures and bold-facing of ingredients. The recipes are accompanied by pro-tips and explanations of cooking terminology and techniques. The tips appear in a sidebar so they don't clutter the actual recipe. I love that they include a heads-up for when ingredients are divided and used in different parts of the dish.
The prep is done is a sensible order – items with long lead times are started first, chopping is done all at once when it makes sense to do so, but they'll also have you do some of the latter stage prep while other food is cooking, shortening the overall prep time. The recipe cards have pre-punched holes so you can store them in a recipe binder, but we usually prefer to just wait till the recipe is offered again instead of attempting to gather the ingredients to recreate it ourselves.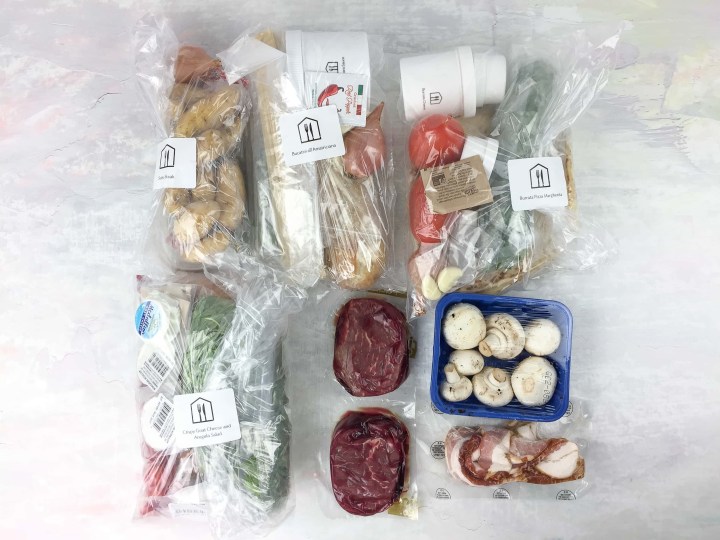 All of the provided ingredients for our four recipes this week. Each recipe was packed separately, and neatly, in its own bag, except for a few larger items. Unless otherwise noted, each of the pictures of prepared food below shows one of two servings made by each recipe.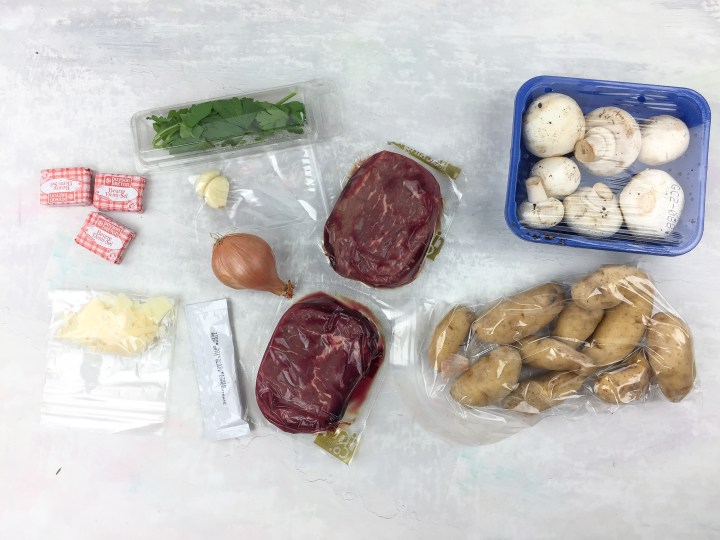 Soho Steak With Crispy Parmesan Potatoes And Mushrooms. 35-45 minutes, easy, 550 calories per serving.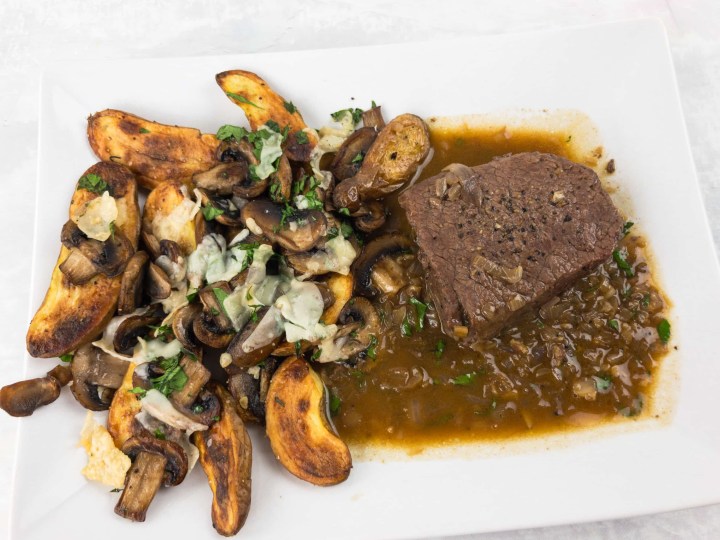 This version of always-welcome steak and potatoes mixes it up by dressing the roasted fingerlings with fried mushrooms, Parmesan, and parsley.  The delicious steak was accompanied by a rich shallot and garlic infused demi-glace.  We enjoyed this dish – I liked the way the texture combiation created by jumbling the vegetable and starch together. It was also easy to make and needed only a single pan and one baking sheet to cook everything.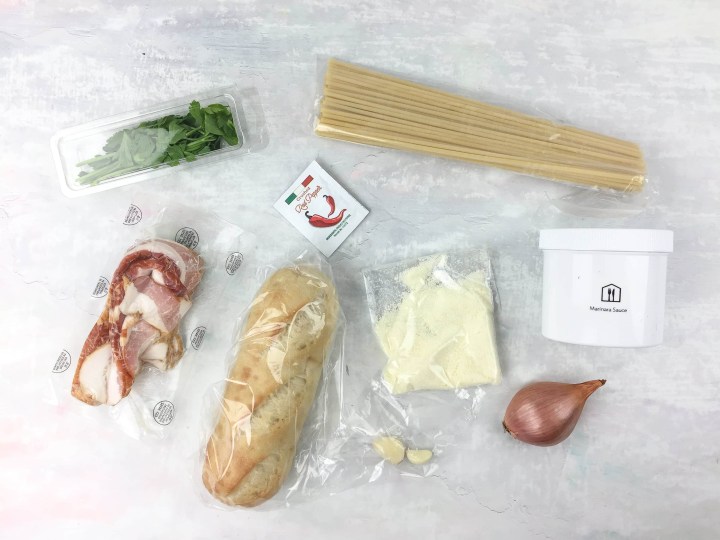 Bucatini All'Amatriciana With Bacon And Pecorino Garlic Bread. 30-40 minutes, easy, 924 calories per serving.
This meal was a big surprise, turning pasta into an impressively flavorful meal. The dish incorporated an entire package of bacon (only a small portion is on top as garnish, the rest is mixed in), and spiced up the sauce with shallot, garlic, and red pepper. The pasta used was bucatini, so each strand added texture and bite beyond that of spaghetti. The inclusion of garlic Parm bread made for a very filling meal. The bacon added a bit of prep (pre-frying), but the dish was still a breeze to make. Pictured is the full, two-serving recipe.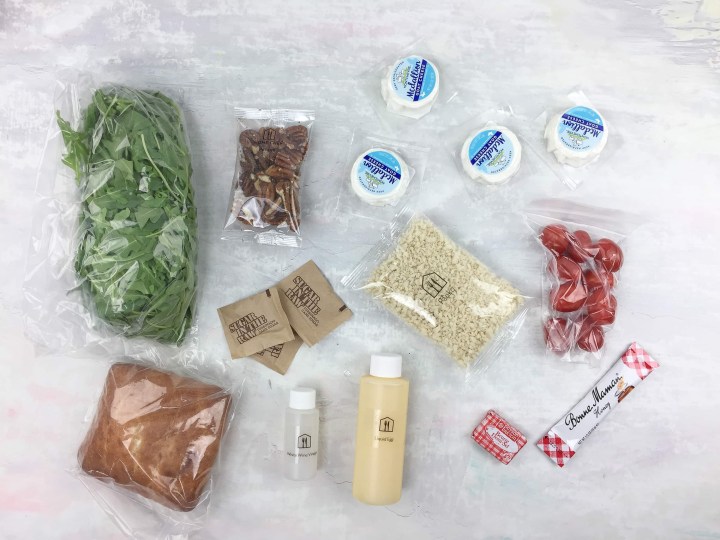 Crispy Goat Cheese And Arugula Salad With Candied Pecans And Honey Vinaigrette. 25-35 minutes, easy, 858 calories per serving.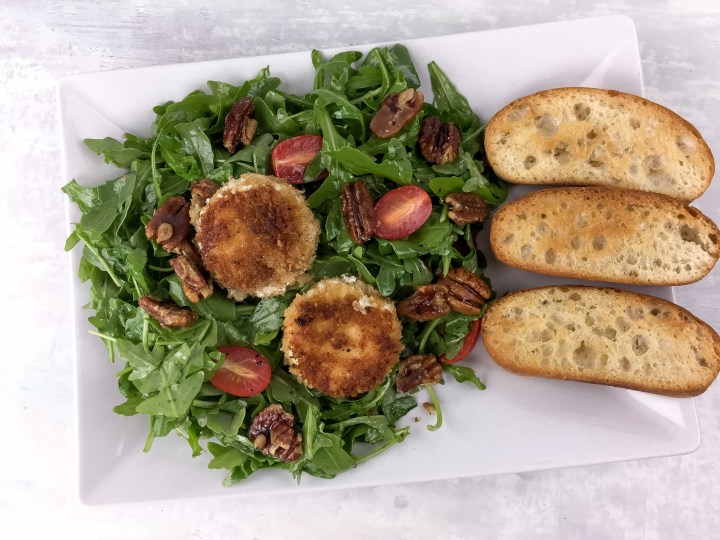 I really enjoyed this meal as a pleasant, well-conceived salad dinner that still managed to be very satisfying. It took a lot of effort to prepare, for such a simple dish. The candied pecans were an annoyance, and swapping out prepared nuts would have been a welcome change.  [Note from the Editor: my husband lies, this salad was perfect] They were, however, very tasty, as were the crispy goat cheese disks. The cheese preparation worked very well – I was expecting a bit of disaster, given the delicate structure of goat cheese, but the recipe had me freeze them before breading, and that held them together until the breading had cooked into a shell. The crostini were an excellent help in eating the melty cheese. Despite the effort involved, this dish was well worth it!
Burrata Pizza Margherita With Fresh Tomato Sauce And Balsamic Greens. 25-35 minutes, easy, 651 calories per serving.
This meal was so easy to prepare that I think they added the making of homemade sauce just to make the prep more interesting. The base of the pizza was formed by naan, which is extremely well-suited to this application. Simple, yet very flavorful, this dish managed to achieve a very artisan flavor without much work. Having some extra sauce for dipping was great, too!
Home Chef is very convenient and easy to do – though they include difficulty ratings on the meals, none require extraordinary skill, and the more "complicated" dishes usually just involve an extra step or two – all the meals are easy for anyone with modest cooking skills. The great number of delicious and interesting meal options makes it our go-to meal subscription for everyday eating.
Have you tried Home Chef? What did you think of your meals?