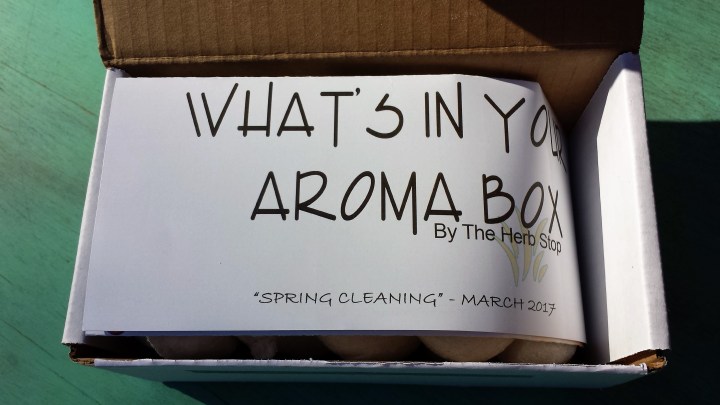 Herb Stop is a locally owned small business out of Pine, Arizona that offers the Aroma Box, a monthly essential oils subscription box. Master Herbalists Leilah Breitler and Natalie Hajdu strive to ensure that all their ingredients come from reliable and ethical sources. Love that! And, all their essential oils are 100% pure.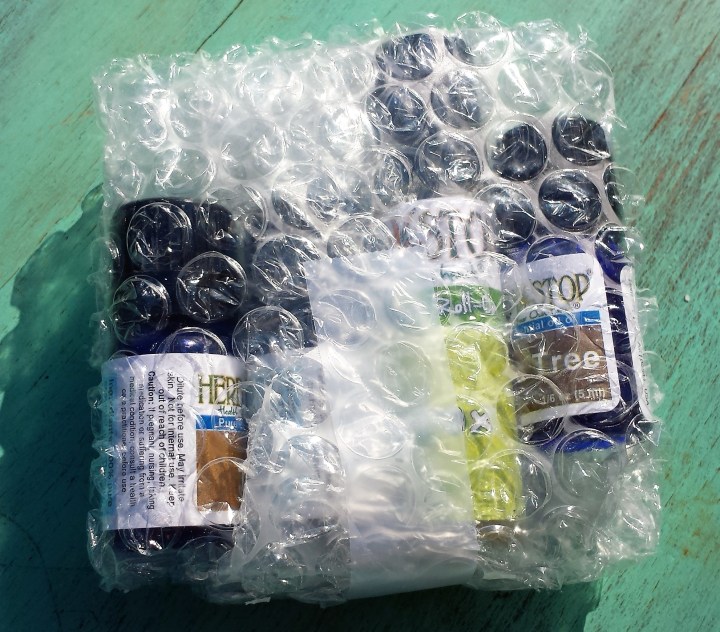 For the phenomenal price of $19.99 (including shipping!!!), you get 4 bottles of essential oils (1/3 oz or 1/6 oz each), essential oil blends or roll-on essential oil  blends. Along with your aromas, you will receive a description of each oil, 3 tips on using each oil, as well as any safety information. Seriously, it's just $19.99 for all of this!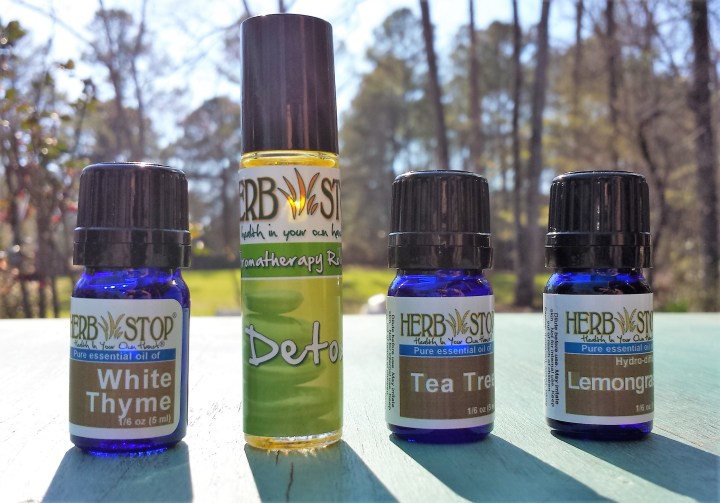 FYI – The Aroma Box is always available through the end of the month!
DEAL: Save 15% on your first box with coupon code HELLO15.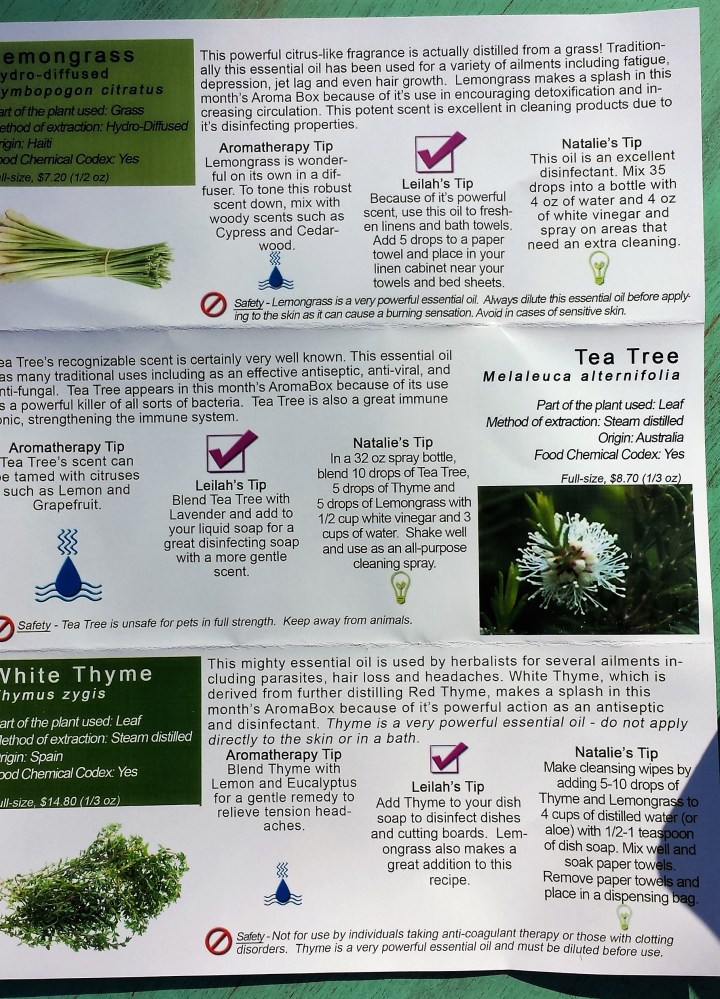 This card stock sheet gives you a detailed description of each of the oils.
Each oil is described and then it gives you an aromatherapy tip, a tip from Leilah (the Master Herbalist), a tip from Natalie (the other Master Herbalist), and any safety precautions. There is a nice color picture of each herb and the details are easy enough for the newest essential oil enthusiast to understand. I am keeping all of these in a file for reference. They have some great information!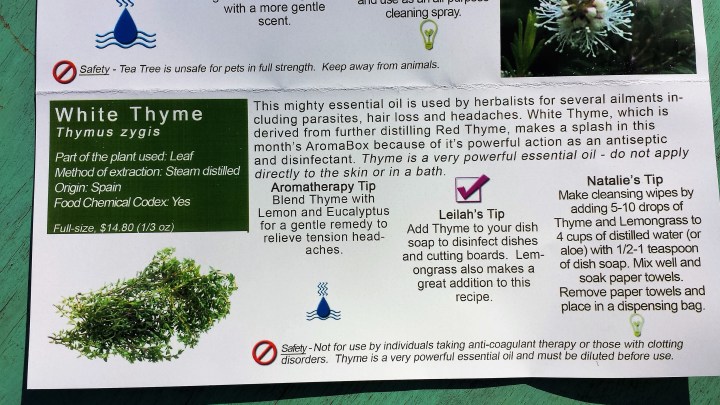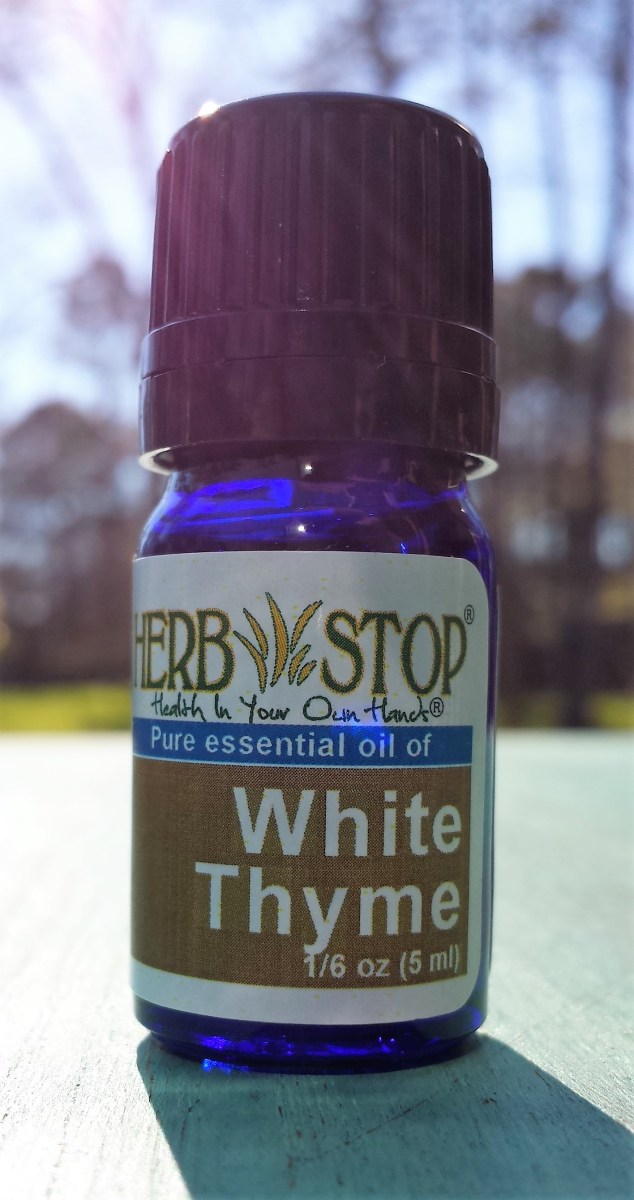 The first of the three oils in the box was White Thyme 1/6 oz. The full is size 1/3 oz bottle is $14.80. "This mighty essential oil is used by herbalists for several ailments including parasites, hair loss and headaches. White Thyme, which is derived from further distilling Red Thyme, makes a splash in this month's Aroma Box because of it's powerful action as an antiseptic and disinfectant. Thyme is a very powerful essential oil – do not apply directly to the skin or in a bath."
Natalie's Tip for this oil was my favorite. "Make cleansing wipes by adding 5-10 drops of Thyme and Lemongrass to 4 cups of distilled water (or aloe) with 1/2 to 1 teaspoon of dish soap. Mix well and soak paper towels. Remove paper towels and place in a dispensing bag."
This oil smells like an Italian villa in spring. Disclaimer: I have never been to Italy. But, I am sure that it smells like this oil. And, I was just talking with my mom about remedies for hair loss and low and behold, this is oil can be used for treating hair loss! I googled it, and you just add a couples drops to a couple tablespoons of a carrier oil and massage it into your scalp, then wait 30 minutes and wash it out. She is faunching to try it.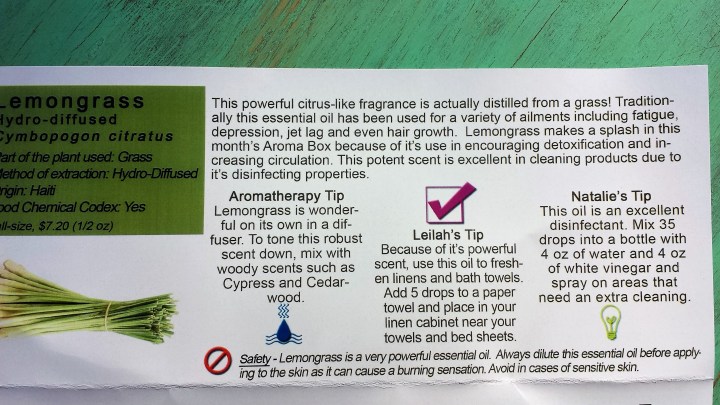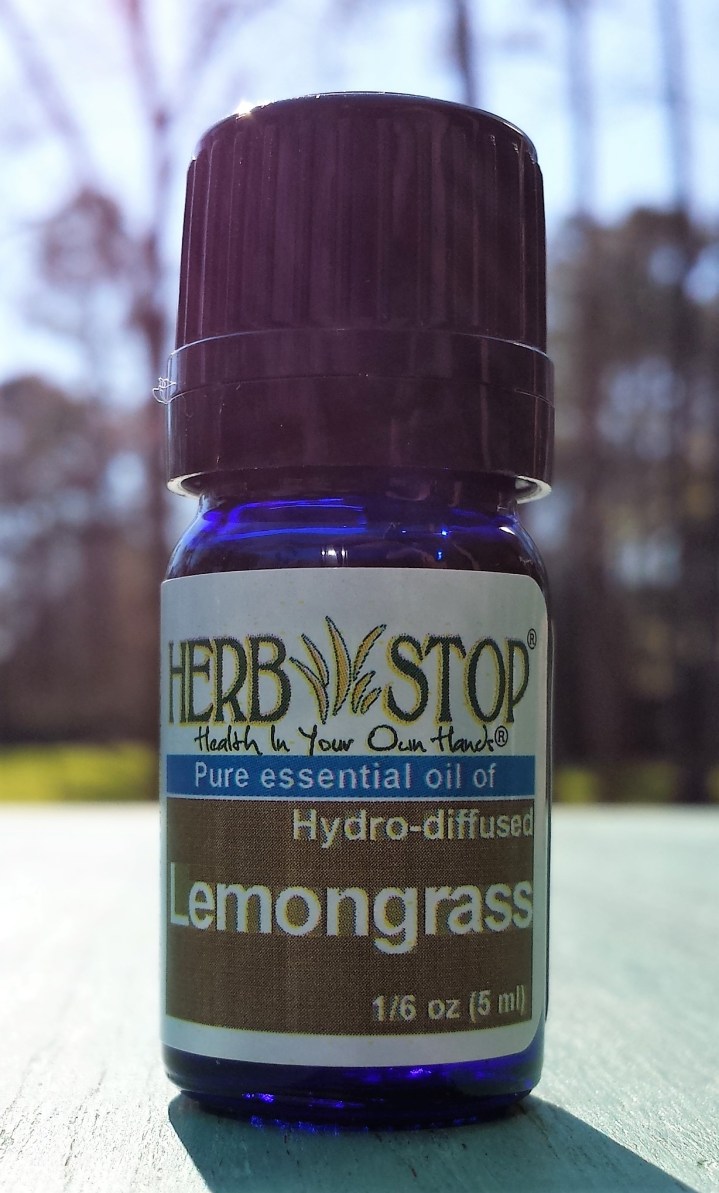 The second oil is Lemongrass 1/6 oz. The full size is 1/2 oz for $7.20. "This powerful citrus-like fragrance is actually distilled from a grass! Traditionally this essential oil has been used for a variety of ailments including fatigue, depression, jet lag and even hair growth. Lemongrass makes a splash in this month's Aroma Box because of it's use in encouraging detoxification and increasing circulation. This potent scent is excellent in cleaning products due to it's disinfecting properties."
This one smells divine. The Aromatherapy Tip on this one says, "Lemongrass is wonderful on it's own in a diffuser.  To tone this robust scent down, mix with woody scents such as Cypress and Cedarwood."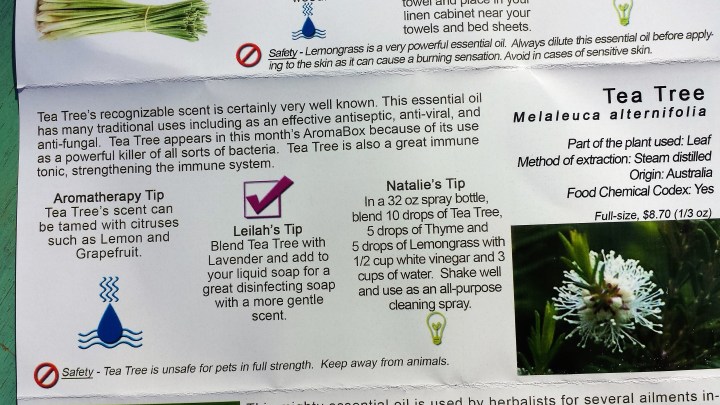 Tea Tree oil (1/6 oz) is the last of our three oils. (The full size is 1/3 oz for $8.70.) "Tea Tree's recognizable scent is certainly very well known. This essential oil has many traditional uses including as an effective antiseptic, anti-viral, and anti-fungal. Tea Tree appears in this month's Aroma Box because of it's use as a powerful killer of all sorts of bacteria. Tea Tree is also a great immune tonic, strengthening the immune system."
Leilah's tip on this one recommends that you "blend Tea Tree with Lavender and add to your liquid soap for a great disinfecting soap with a more gently scent."
I love adding a few drops of Tea Tree Oil to my shampoo. It smells great and gives your scalp a little tingle.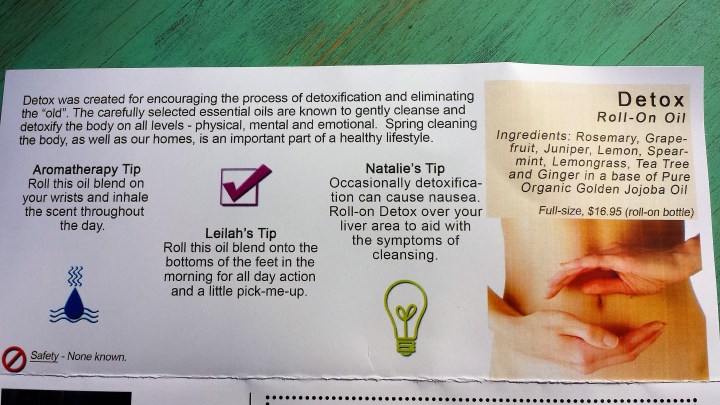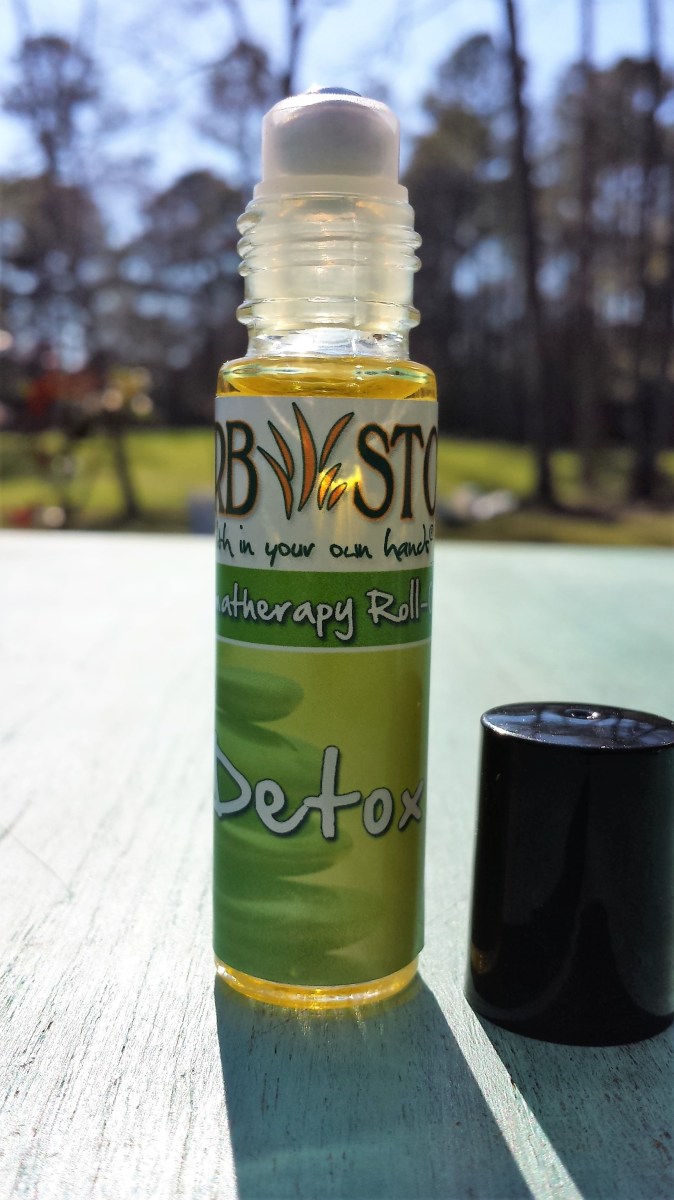 This month's roll-on is called Detox and is made up of Rosemary, Grapefruit, Juniper, Lemon, Spearmint, Lemongrass, Tea Tree and Ginger in a base of Pure Organic Golden Jojoba Oil. ($16.95) "Detox was created for encouraging the process of detoxification and eliminating the "old". The carefully selected essential oils are known to gently cleanse and detoxify the body on all levels – physical, mental and emotional. Spring cleaning the body, as well as our homes, is an important part of a healthy lifestyle."
March's Herb Stop Aroma Box is full of great smelling oils! I love this box! They send pure, useful oils with great tips on how to use them at a phenomenal price. Where else can you get three oils and a roll-on for $19.99, including shipping?
What did you think of the Aroma Box?
Visit Aroma Box by The Herb Stop to subscribe or find out more!