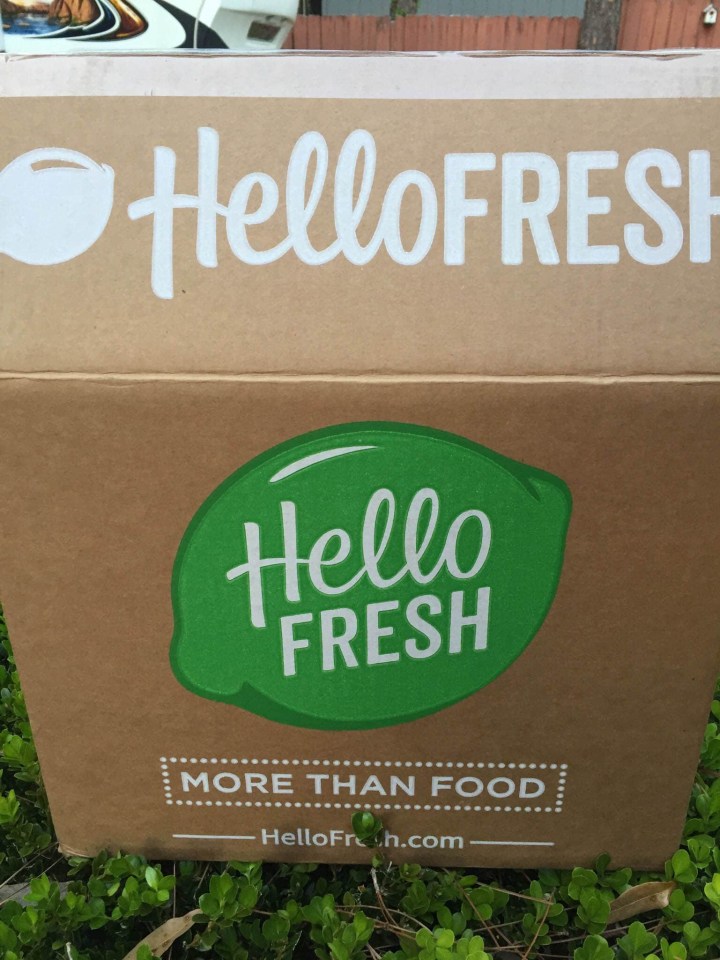 Hello Fresh is a meal kit subscription box with complete recipes and ingredients to make 3 meals every week, with each meal feeding either two or four people, depending on the plan you choose.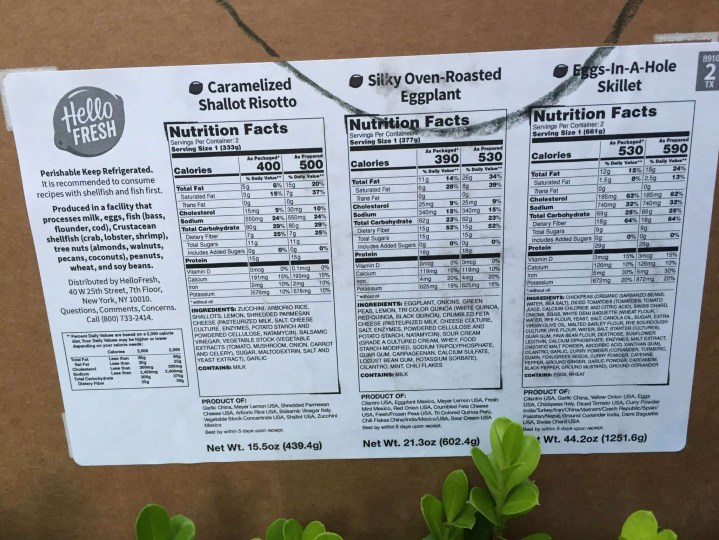 Though it is a subscription, you can pause your deliveries when needed – whether you are out of town, have other dinner plans, or just aren't in love with that week's selections. The standard subscription provides high-quality meats (free-range chicken, antibiotic meats, etc.) to use in the recipes.  
DEAL: Currently, you can save $40 off your first box with coupon code 7UT7K8.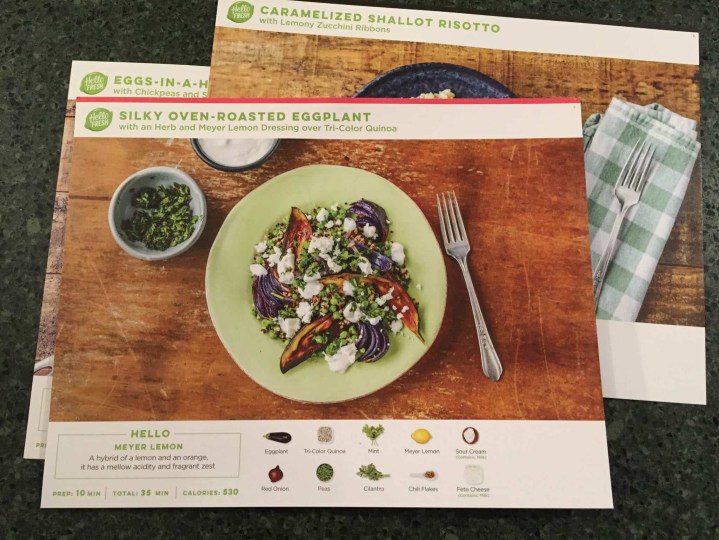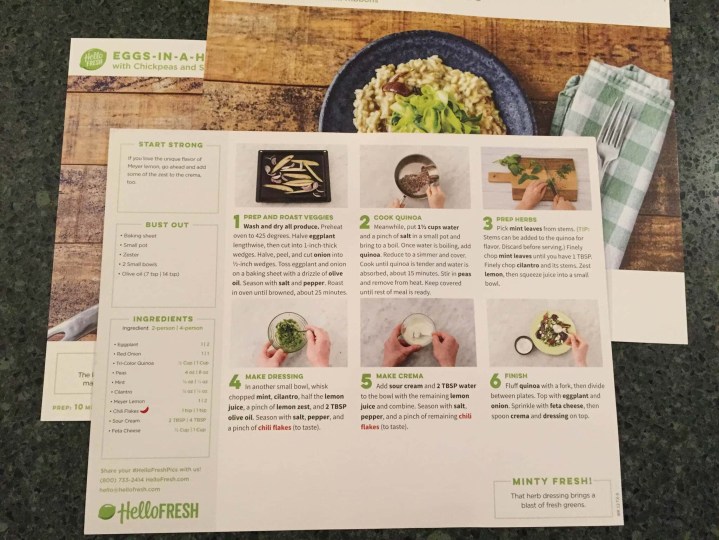 Hello Fresh has great instructions, and they are easy to follow even if you are an inexperienced cook. There are even some kitchen tips included in the information card.
Though we do eat meat, we cook vegetarian three times a week. Thankfully, Hello Fresh has a vegetarian subscription for both casual and dedicated vegetarians.

The boxes used by Hello Fresh keep all the ingredients for the recipes in order, and they stack nicely in the fridge. Within each box, everything but the largest vegetables is separately packaged and is packed at the bottom. Condiments and canned goods are provided in high-end, commercial packaging. Hello Fresh usually provides spices in their own, pre-measured branded packaging.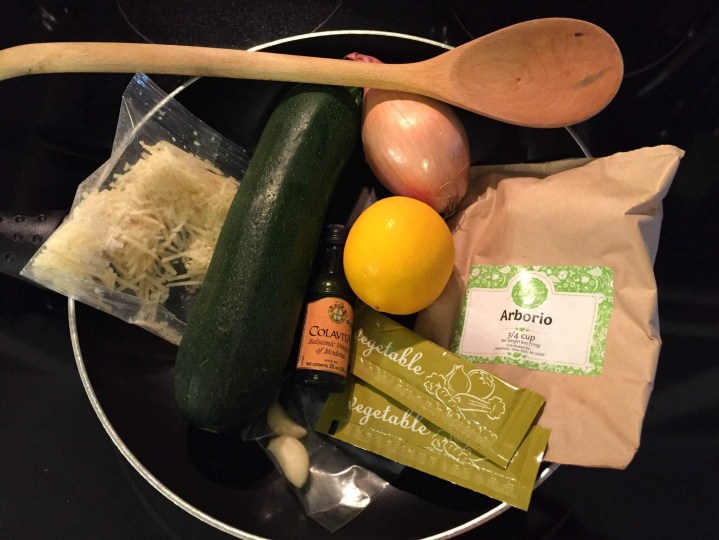 Caramelized Shallot Risotto With Lemony Zucchini Ribbons. 40 minutes, level 1, 500 calories per serving.
It's spring break here in our fair county so I've been off camping with the grandkids and asked my neighbor, my dad, to unbox my Hello Fresh box when it came. So my pictures of the unpacking are a little different. Different is good.
And speaking of different, I made this recipe a little different from the actual directions.
If truth be told, it was a little of an oops and partially on purpose. Instead of using a vegetable peeler for the zucchini, I used one of those slicer gadgets. One that I've had for years and really don't like, it's a wonder I haven't sliced part of a finger off! So anyway, I vertically sliced the whole zucchini and then read I wasn't supposed to slice the core, that was to be finely chopped. Here's the oops. Oh well, too late, I just cooked the zucchini as per the rest of the directions and the dinner tasted wonderful in spite of having an oops moment. The good thing about the zucchini in the slicer is that the slices were thicker and I really liked them this way.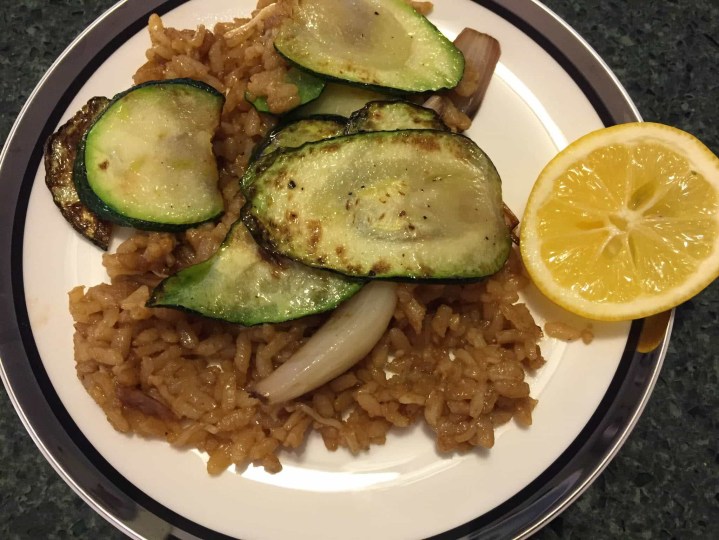 This was a new way to caramelize shallots and my husband really liked the taste of them. I loved the zucchini. Put it all together and you have a very tasty dish.
Eggs-In-A-Hole Skillet With Chickpeas And Swiss Chard. 30 minutes, level 1, 590 calories per serving.
Before I discuss this meal, I just thought I'd write a little note about the pictures. The pictures were taken by me, no one else. I'm certainly not a photographer and the pictures of the food… it's eaten right after I take the pictures. I often have to wipe my lens of the fog created by the hot food. It's not sitting around cooling off while I design a photograph. Nor am I rearranging the herbs or cheese after I've tossed it on.
It was Friday, my daughter was sick, I had her 2 kids and had to cook dinner. They wanted pizza and I'm just grandma and don't care if I spoil them. Easy enough, the oven had to be on anyway for this meal. So throw the pizza in, chop, chop, cook, cook, slice bread, take pizza out and put bread in. I think the hardest part was deciding if I wanted sunny side up eggs or not. Not for me but my husband did. So cook the eggs, mine was scrambled so it's not pretty in the pictures. Literally, that's all I did with this meal.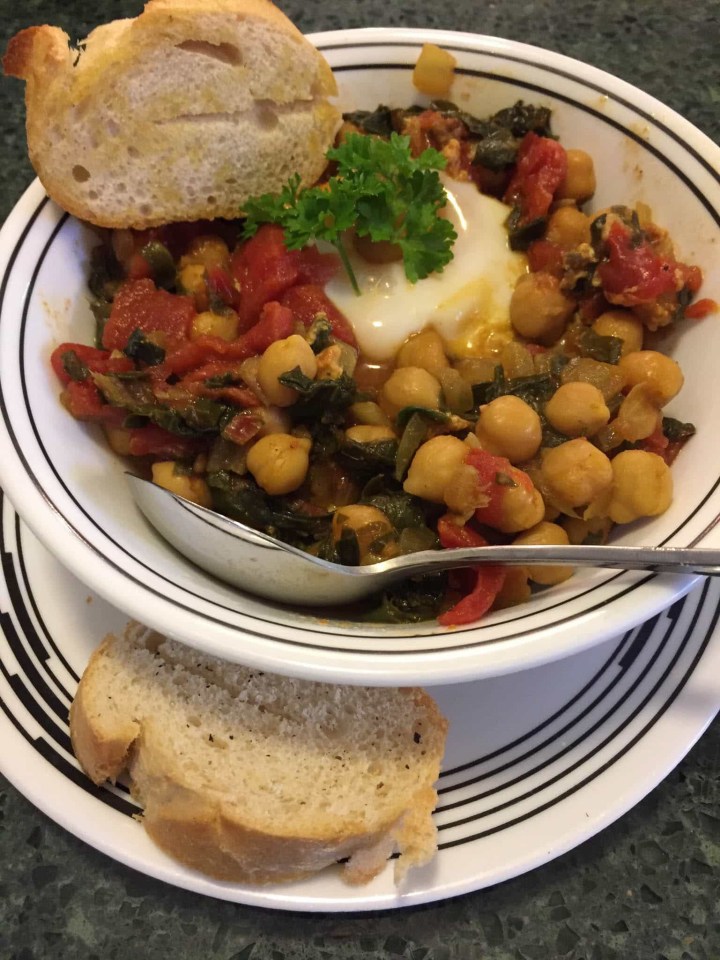 It was quick and easy and very delicious. It also included Swiss chard, a vegetable I don't think I've ever eaten. My grandma had a small garden and I remember her picking and eating it which brought back memories which started a wonderful conversation with my husband at dinner. So for me, this dinner was a huge winner. You just can't go wrong with good food and good memories.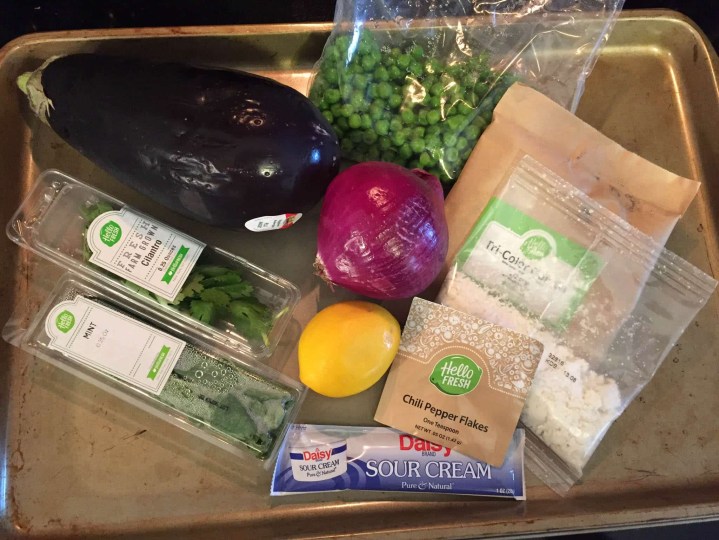 Silky Oven-Roasted Eggplant With An Herb And Meyer Lemon Dressing Over Tri-Color Quinoa. 35 minutes, level 1, 530 calories per serving.
Tonight we had my 15-year-old granddaughter over with her 17-year-old boyfriend. I knew my granddaughter wouldn't like this dish but of course, I offered some to her and then to her boyfriend. She turned me down flat but much to my surprise her boyfriend took a large pile. Be still, my beating heart! A teen who will try new things! He loved it. Said it was delicious and it was. He ate every bite and so did we.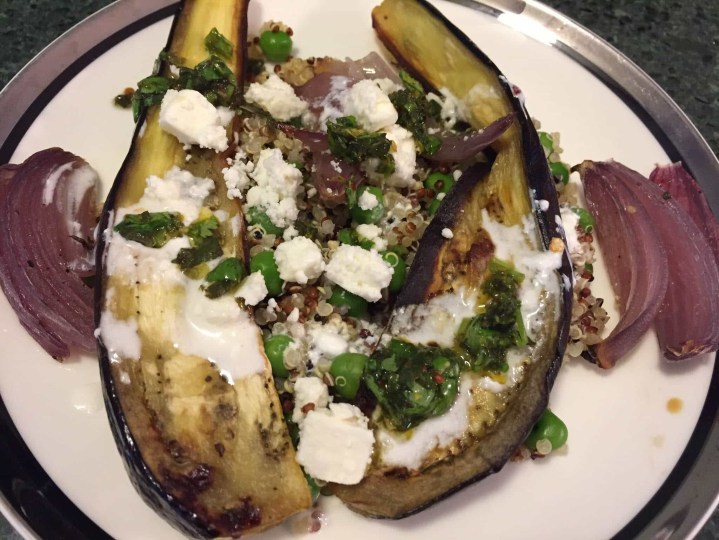 For me, I love the smooth crunch (is that such a thing?) of the frozen peas along with the roasted onions and eggplant. BUT, the dressing and crema, WOW, those added so much flavor. It was a burst of many flavors in my mouth. Yum, yum, yum.
Thanks, Hello Fresh for an easy to cook, great tasting meal.