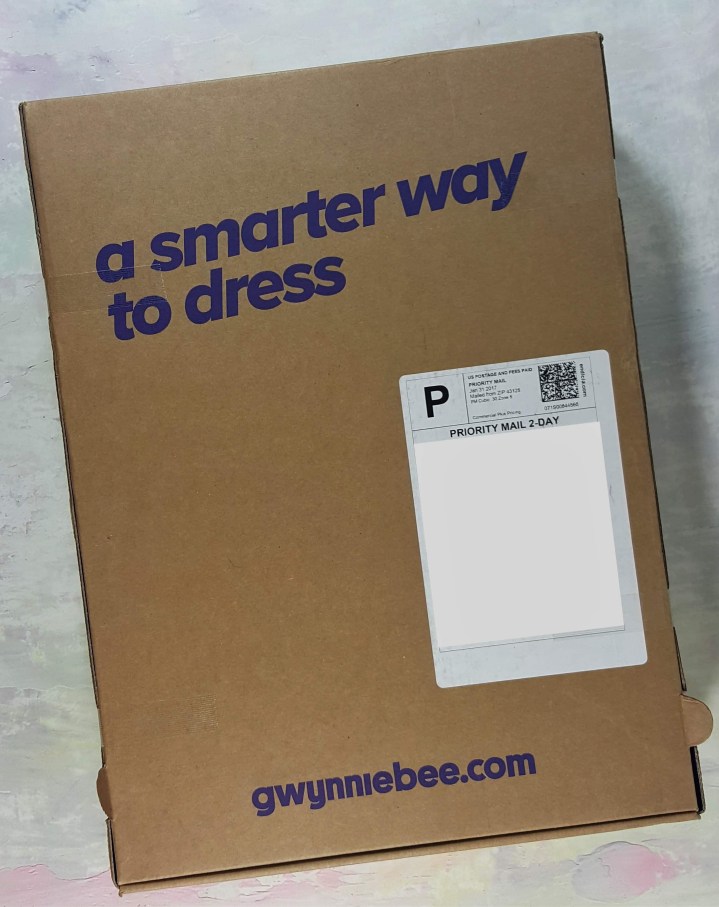 Gwynnie Bee is a clothing rental subscription service for sizes 10-32. To start, browse through the numerous apparel pieces and add items to your closet. After you've selected 25+ items, Gwynnie Bee will send you the first three that are available. There is also a feature that lets you prioritize items, so you can have some control over which items are more likely to arrive. Wear for as long as you like, and then return the pieces to get more!
I opened up to find a discount code for Try the World Pantry. For more details on this subscription, click here.
DEAL: Currently, when you sign up for Gwynnie Bee you can get your first month for FREE, (no code needed, just use the link) which is an awesome way to just try it out and see if you love it.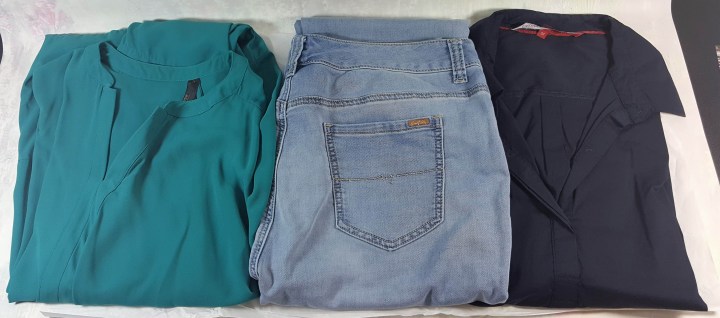 Here are my three pieces – 2 tops and a pair of jeans.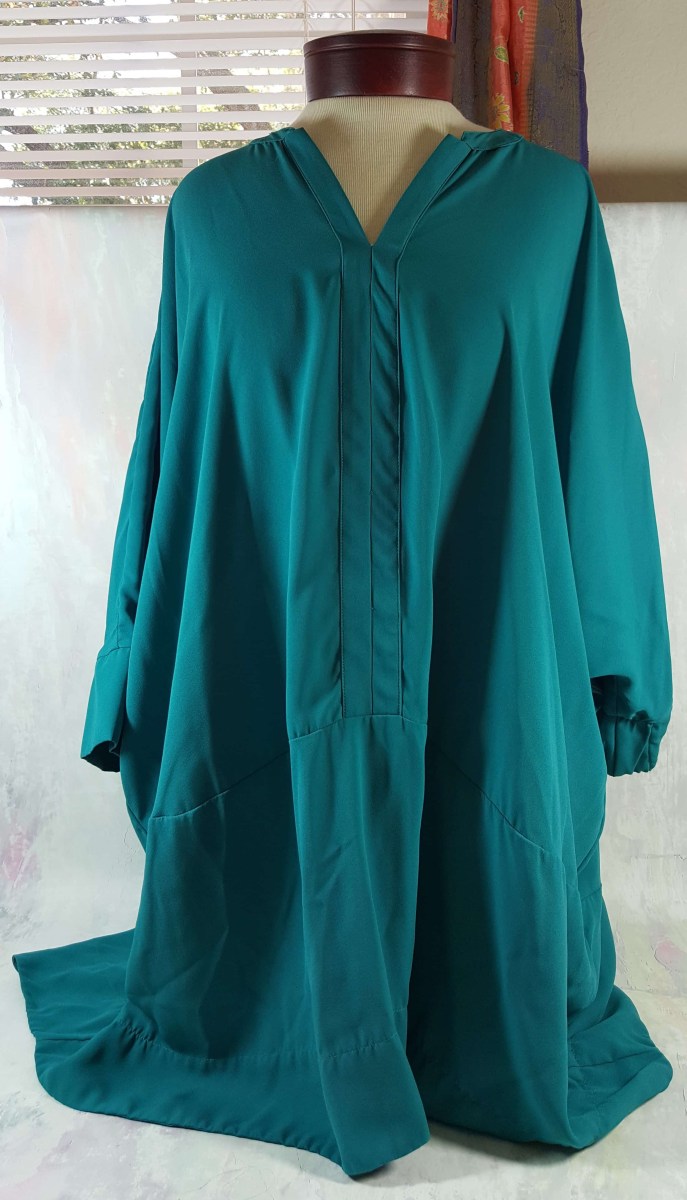 Dolman Pullover – Green | Melissa McCarthy for Seven7 (cost to buy $23.50): From the Melissa McCarthy for Seven7 line, this is a crepe blouse with notched jewel neck and three-quarter dolman sleeves. It also features a high-low hem. Pair with jeans, black skinnies, or shorts for a easy everyday look. 
This top was OK on me. I think the sizing runs big – I compared my measurements against the size chart since I haven't worn anything from this brand. The top was extra boxy on me.
Girlfriend Cropped Jean – Darling Wash | Melissa McCarthy for Seven7 (cost to buy $39.50): Also from the Melissa McCarthy collection, these jeans are a stretch-cotton classic five-pocket cropped jean. These midrise jeans are styled with turned up cuffs for a youthful, at-ease look that breathes cool-girl attitude into your weekend repertoire. 
I really liked the relaxed fit of these jeans – true to size. I don't often wear a lighter wash, but made an exception for this pair and loved them.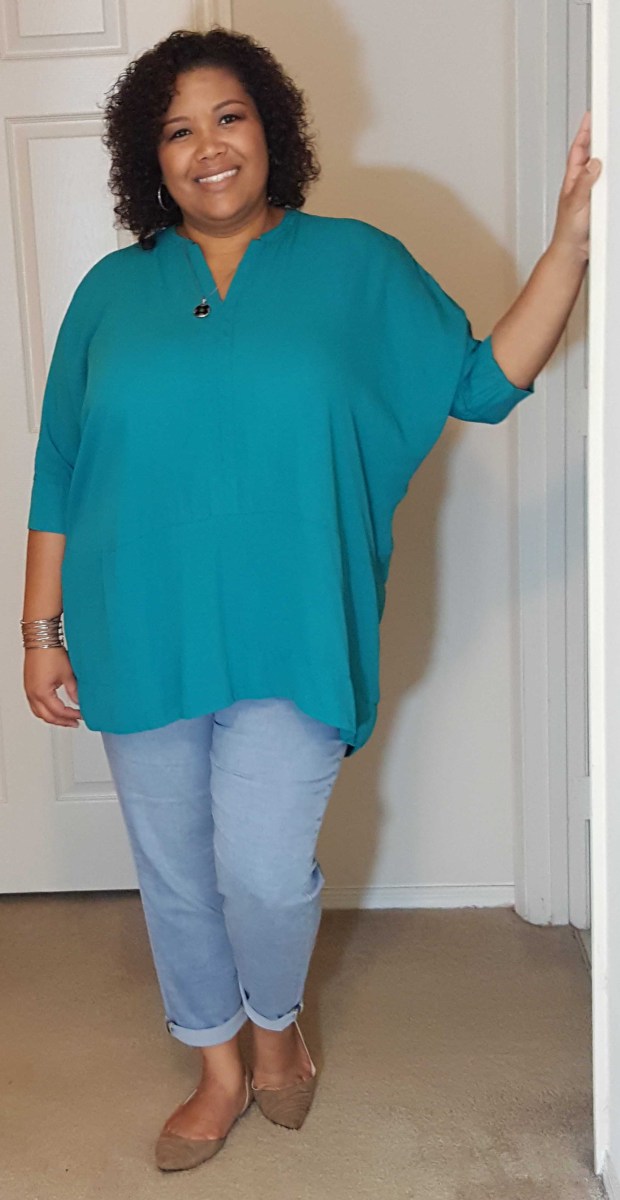 I paired the two Melissa McCarthy pieces together for a casual look. I think I may re-closet this top in a smaller size.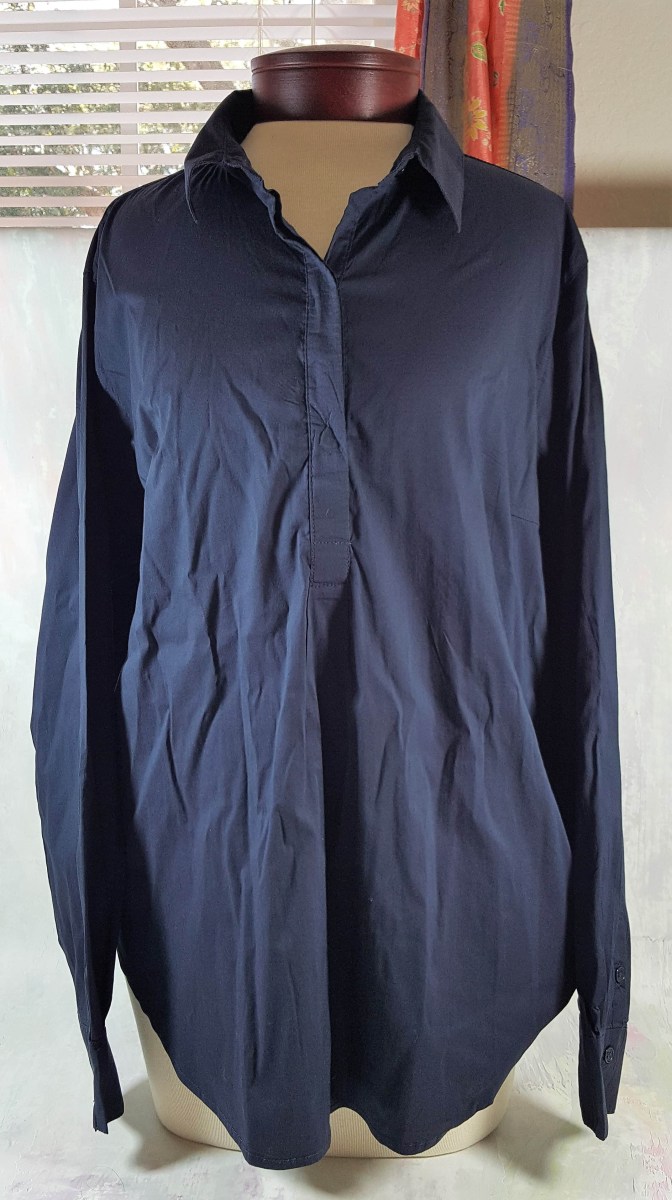 Ebro Front-Pleat Stripe Shirt – Midnight Navy | Universal Standard (cost to buy $37.00): Rendered in stretch-cotton, this modern take on the classic buttoned shirt delivers high-style with plenty of understated cool. A sharp choice for the office, pair with tapered trousers or a pencil skirt for a chic standout. 
I really wanted to like this top, but the sides were too high. Whenever I raised my arms, my spare tire was visible. ?Plus, I didn't know that it has black side panels.

I styled this top with a skirt from my Dia & Co. box. As long as I don't have to reach for anything, this is a good office look.
Half of the fun in my Gwynnie Bee box is the surprise of what arrives. Even though I pick all of the pieces, its delivery to me is random. I also like that I can keep the pieces for as long as I want and have the option to buy the ones that I love at a discounted price.
What did you think of my fashion choices? Share your thoughts with a comment below.