Graze is a weekly snack box (you can opt to get it bi-weekly too or every month) with 8 individual servings of prepackaged fresh and healthy snacks. With over 100 snacks available, you can rate the snacks you receive online to help customize your box.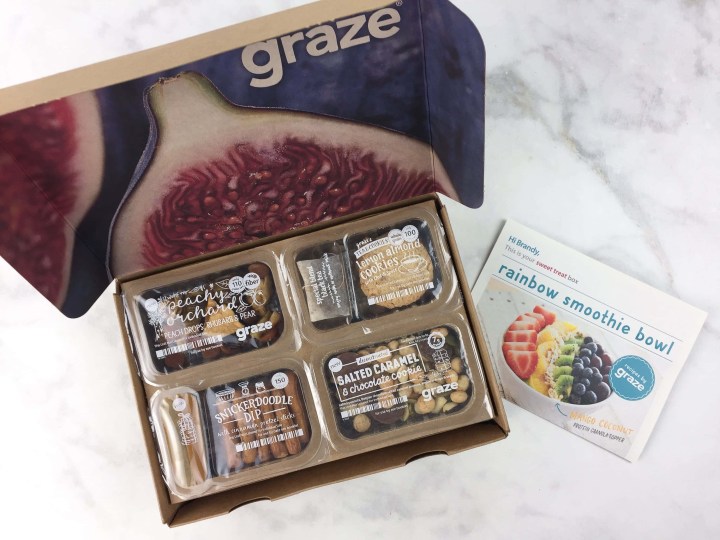 DEAL: You can get an individually sized (4 count) box free for your first box in a Graze subscription ($1 shipping).
After you get your free box, pick up more free and almost free subscription boxes here!
Graze also has all sorts of themed boxes that help you whittle down your snack preferences into the box that you really want!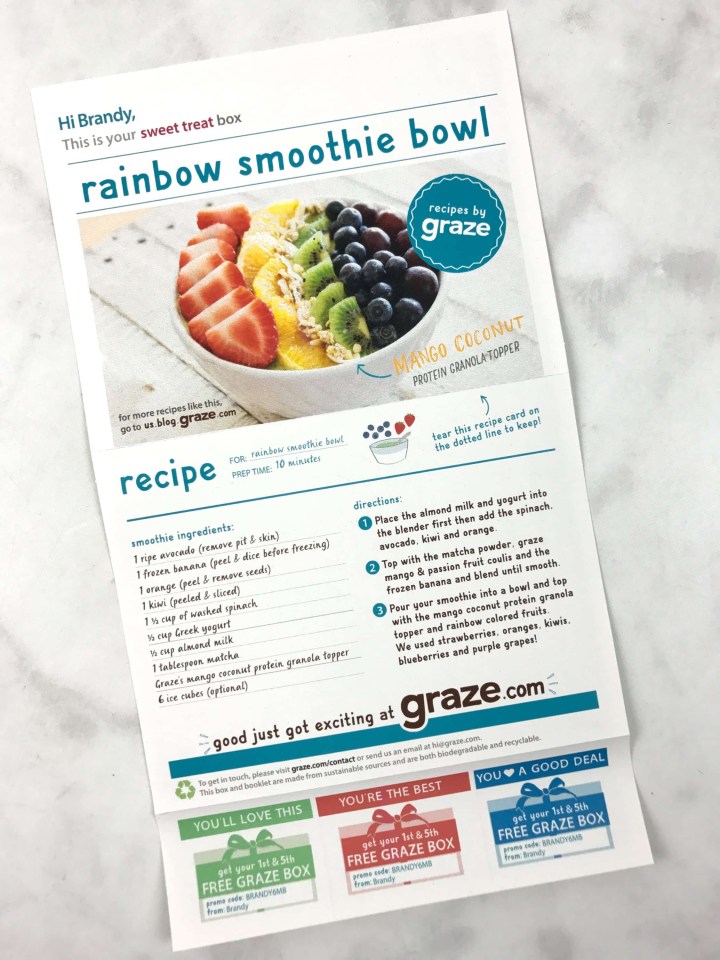 We got a Sweet Treat pack!
Nutrition info is included on each of the selections. You will see a host of healthy ingredients and no weird stuff. The expiration dates for the snacks are printed on this sheet, too.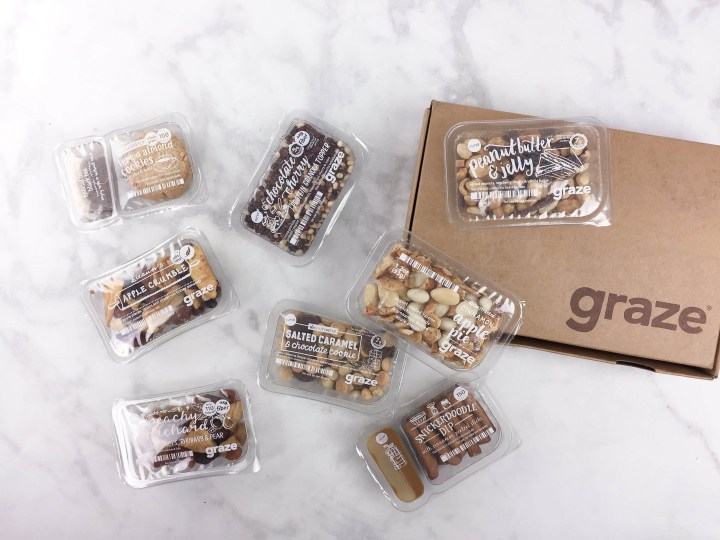 Everything is packed in neatly, and all the snacks are perfectly portable. Our family divvies them up for emergency breakfasts, special snacks, and desk snacks – depending on the family member! Most of these went to our daughter, who loves Graze and is too sweet to resist.
Snickerdoodle Dip With Cinnamon Pretzel Sticks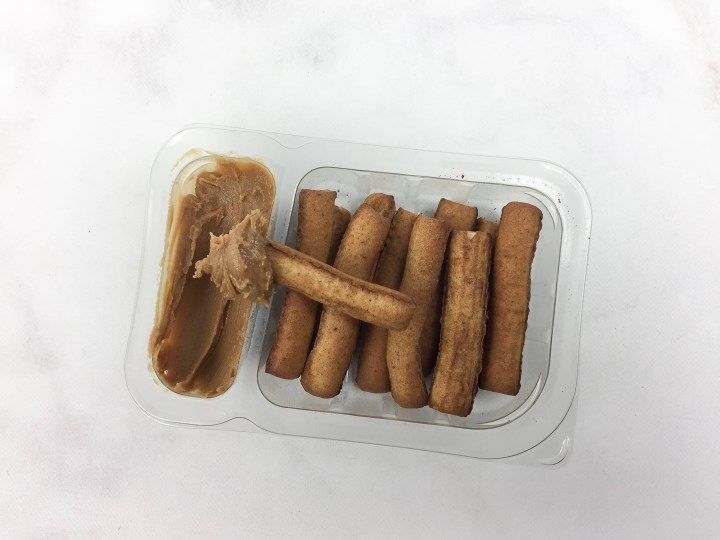 A perennial fave – I can't get enough of these! They have little cinnamon pretzel dippers paired with a snickerdoodle cookie dip, and it's to DIE for. We totally also buy these in the Graze Shop!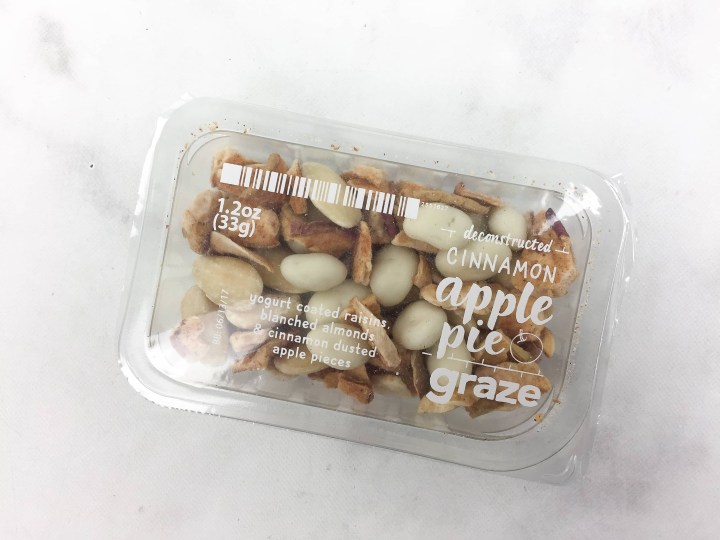 Deconstructed Cinnamon Apple Pie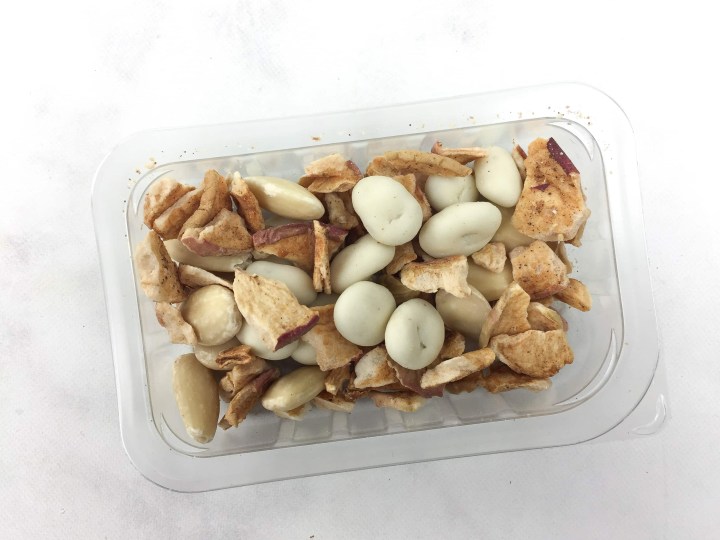 Yogurt coated raisins, blanched almonds, and cinnamon dusted apple pieces.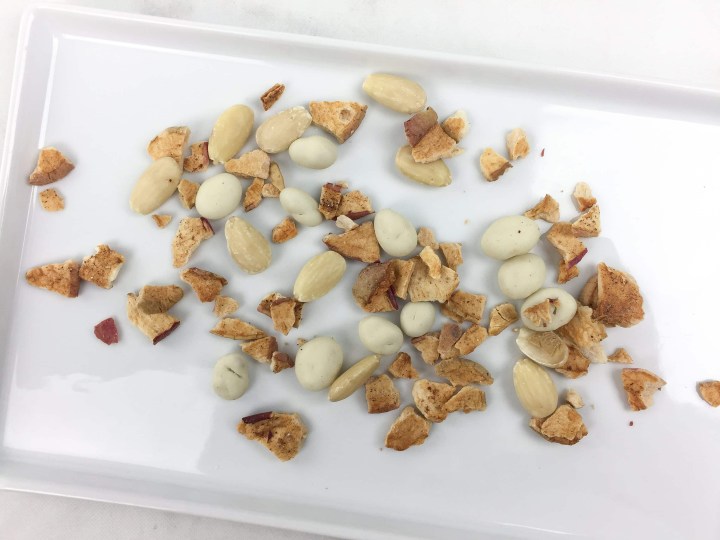 This blend is fantastic. I love the blanched, untoasted almonds and the apple pieces are cinnamony and lightly chewy. My favorite part is that the yogurt coated raisins don't contain any high fructose corn syrup.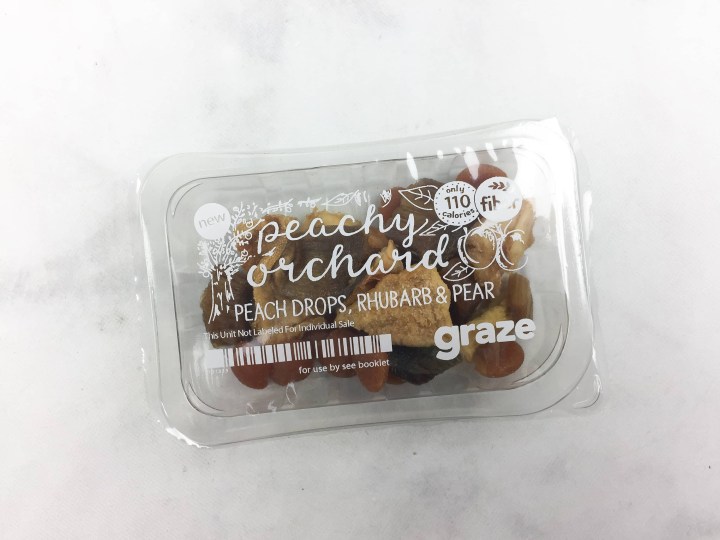 Peachy Orchard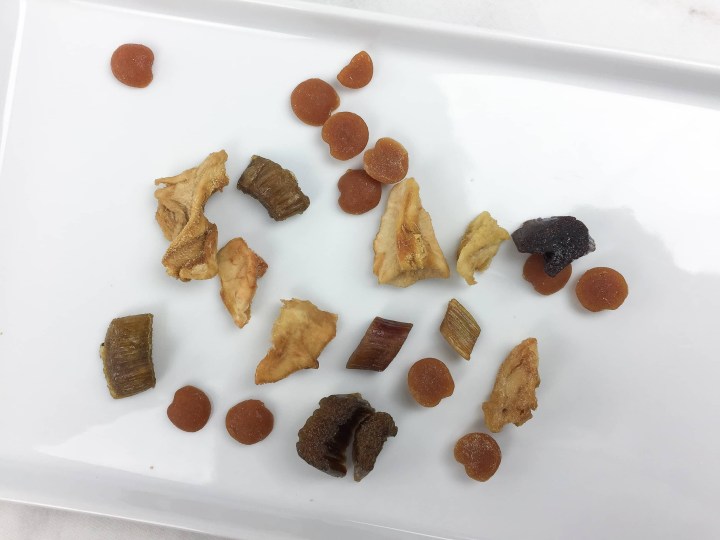 I admit I'm totally addicted to the gummy peach pieces in this mix. The rhubarb and pear don't look like much, but the combo is fantastic.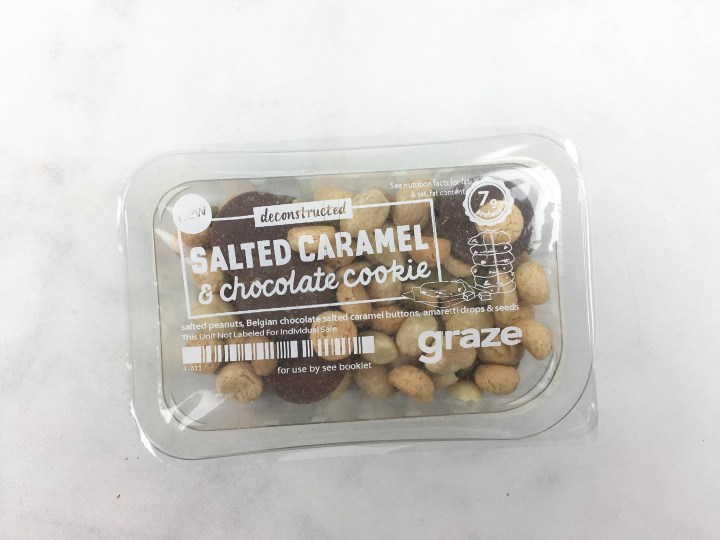 Deconstructed Salted Caramel & Chocolate Cookie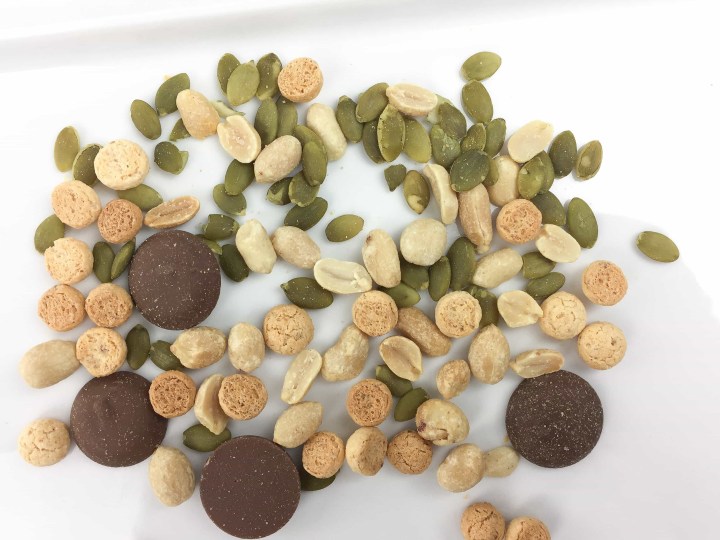 More deconstructed goodness! You can see that the mix contains a load of pepitas, which isn't apparent by just looking at the container – they're nutty, tasty, and nutritious. I like to eat about half of this mixed all up and half of it by individual ingredient. I feel I get the best of both worlds that way. And Belgian chocolate salted caramel ?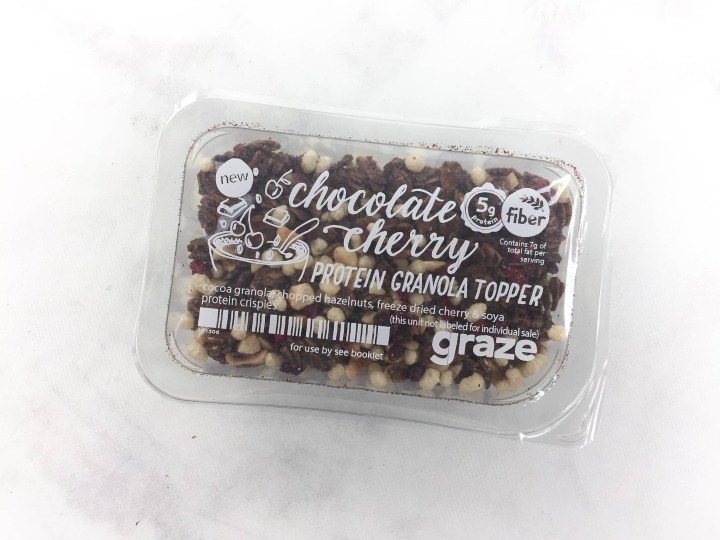 Chocolate Cherry Protein Granola Topper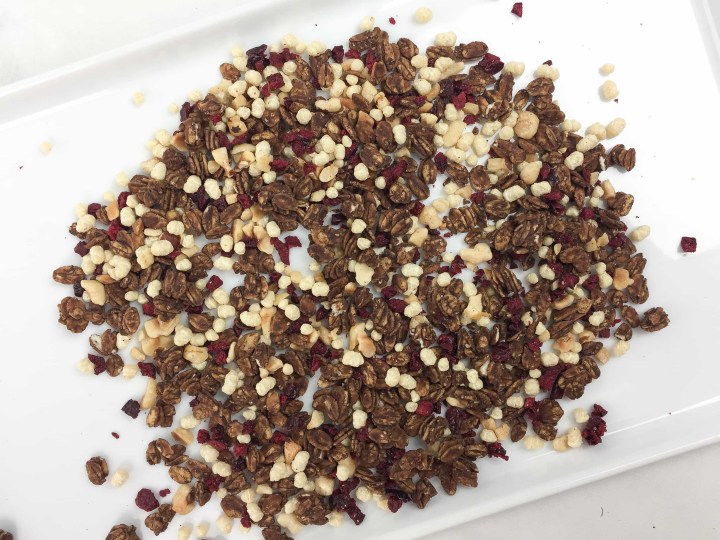 This is a GREAT healthy combo that always seems like such a treat – it's a mix of cocoa granola, chopped hazelnuts, freeze-dried cherry pieces and soy protein crisps. I love how this mix in particular is basically all the same size, I think it makes it work really great as a topper. It's delicious – we like to decorate our yogurt with it.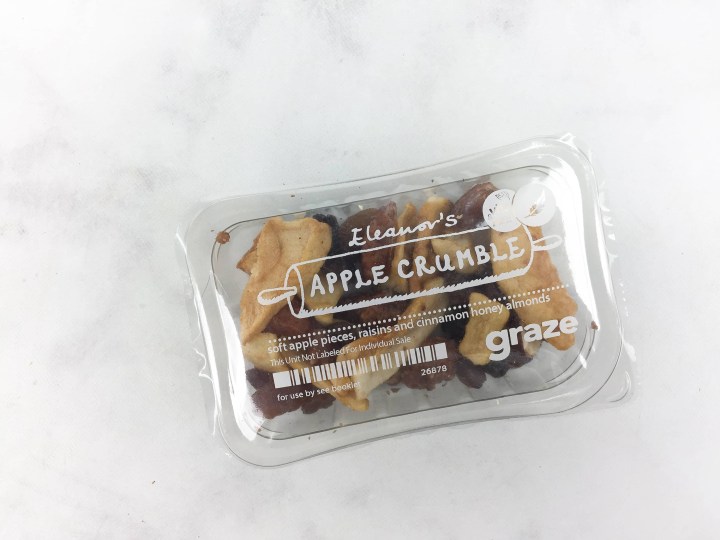 Eleanor's Apple Crumble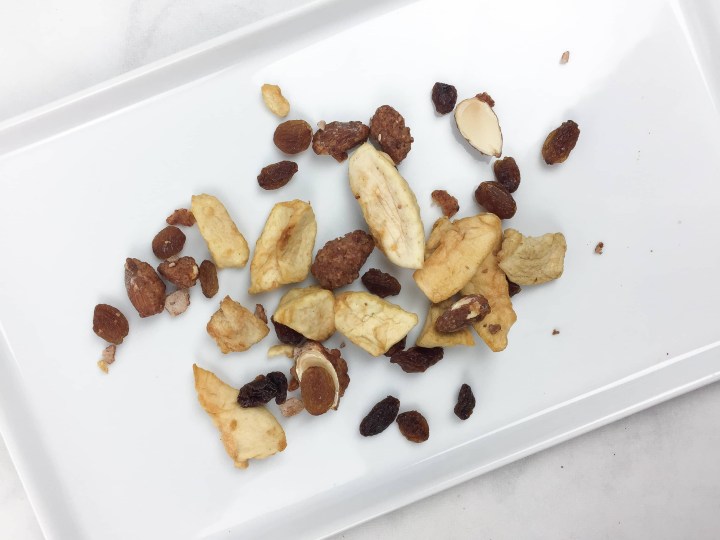 This one really puts the sweet in the sweet treat box, with soft apple pieces, caramelised honey and cinnamon almonds and raisins. The almonds are totally encrusted with honey and cinnamon and are quite a goodie.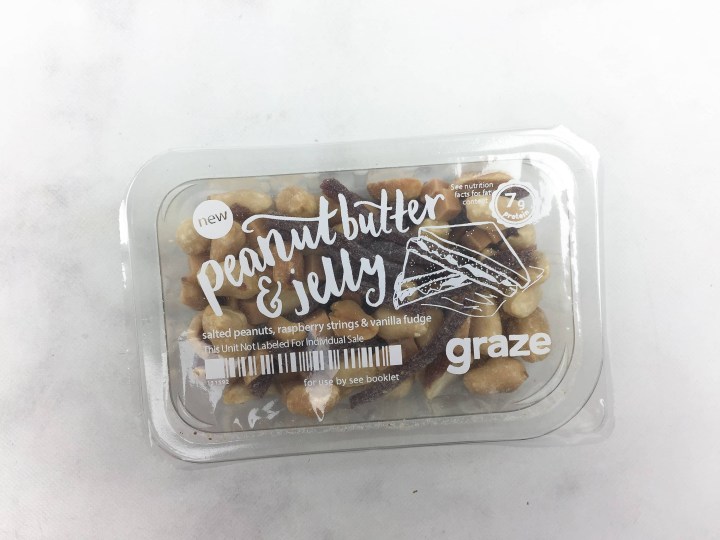 Peanut Butter & Jelly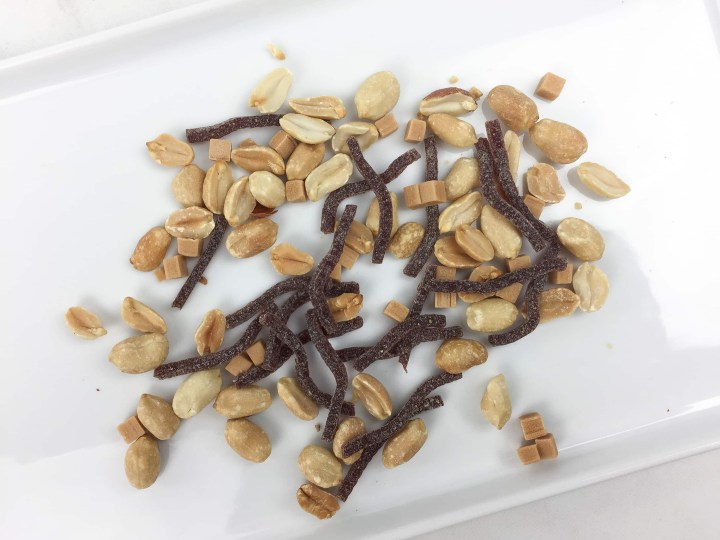 This snack is all about FUN – raspberry strings, vanilla fudge, and peanuts. I love the way the strings impart a jellied flavor to the rest of the items. This is so good, I need to make sure I rate it highly in my account so I can keep getting it!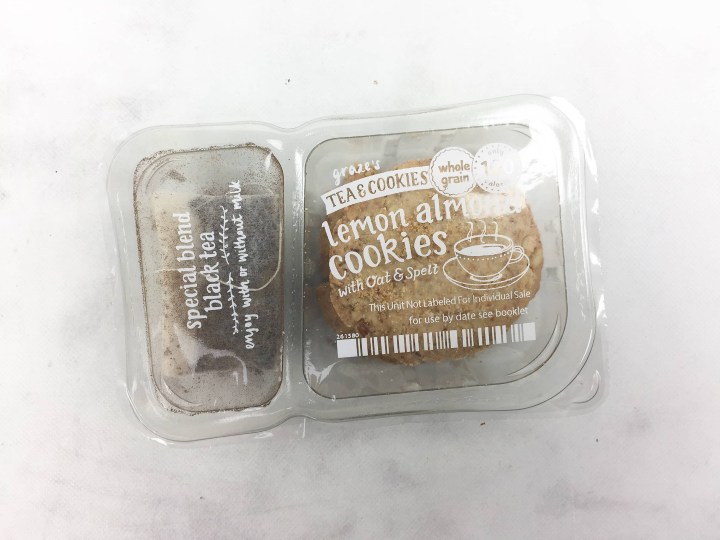 Tea & Cookies Lemon Almond Cookies With Oat & Spelt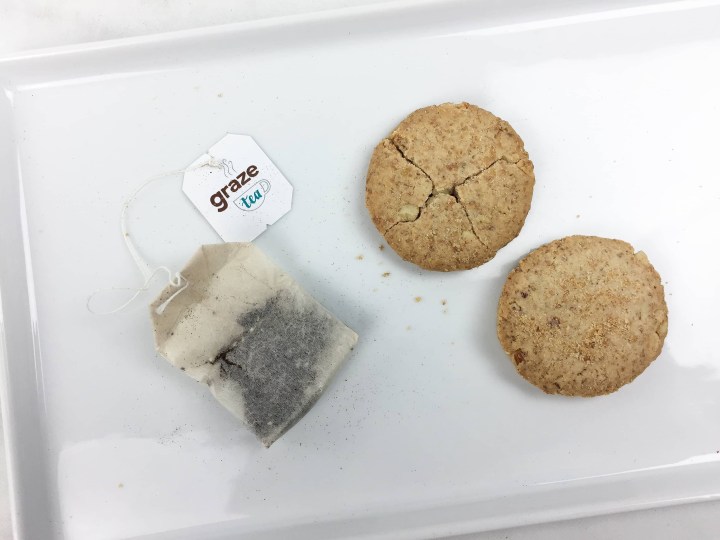 These little cookies are nutty and tasty, and the perfect pair with Graze's black tea – Assam and Kenyan tea leaves with bergamot. A fun afternoon pick-me-up!
Speaking of an afternoon pick me up, I switched my next box to try that version out. I love getting the sweet treat box for myself, but it's time to switch it up! I love how Graze in particular keeps me out of the vending machines at work – everything is just the right size and not overboard, plus the ingredients seem to hold me until my next meal, even with a sweeter treat.