Gobble is a weekly dinner kit subscription box. Each prepped and portioned meal is $11.95 per person at regular price. Gobble currently ships to California, Nevada, Washington, Oregon, Arizona, Idaho, and Utah.
What's cool about Gobble is that they do the prep work for you!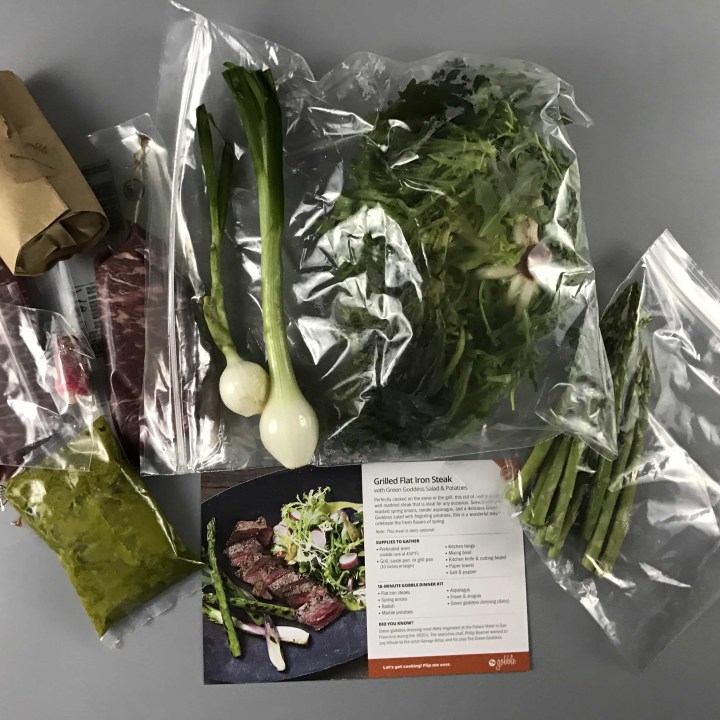 Each recipe comes with a high-quality recipe card, side one includes the household items that you'll need to prepare your meal, the contents of each dinner kit and a little bit of trivia. Side two has simple to follow directions that are as easy as one, two three. Gobble promises that dinner prep is only 10 minutes with their kits. That's a really small amount of time to prepare dinner in. All the ingredients neatly packaged with labels and individualized so there is no cross-contamination.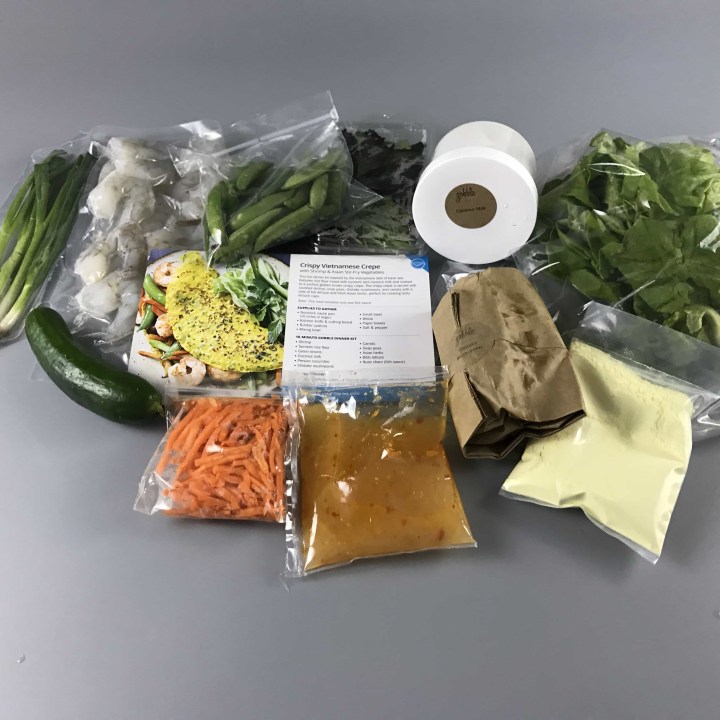 Everything I need to create Crispy Vietnamese Crepes with Shrimp and Asian Stir-Fry Vegetables.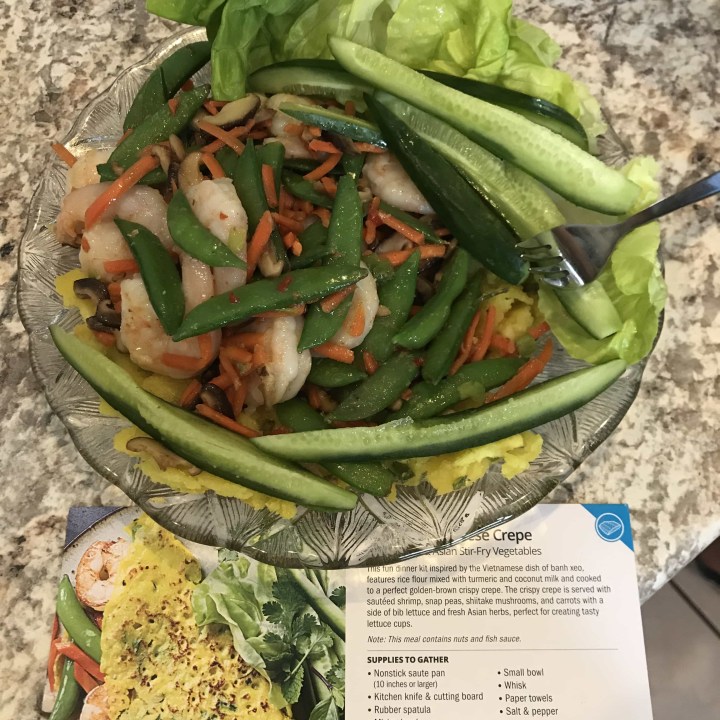 Unfortunately, the crepe didn't come out very well, it crumbled, I'm not sure if I added too much oil or if it was too thick. Either way, the texture of the crepe wasn't for my taste buds but the shrimp and vegetables were divine and I ate both helpings alone. This was the perfect way to try a new dish, everything was there and I don't have any leftover ingredients to gather dust in the cabinet.
Chicken Enchiladas Verde ingredients, please note we didn't use the cilantro as it was a slimy mess that I wasn't even game to open.
Mexican food is a family favorite so I was a little worried about this menu, it was in no way as spicy as the green sauce I make. The taste was fabulous minus the spice and therefore made my father a very happy dinner guest. The pinto beans were very plain to me and I would have tried throwing them into the enchiladas if I had known just to mask the non-existent flavor. As a huge avocado fan, I was happy that the avocado was firm yet ripe.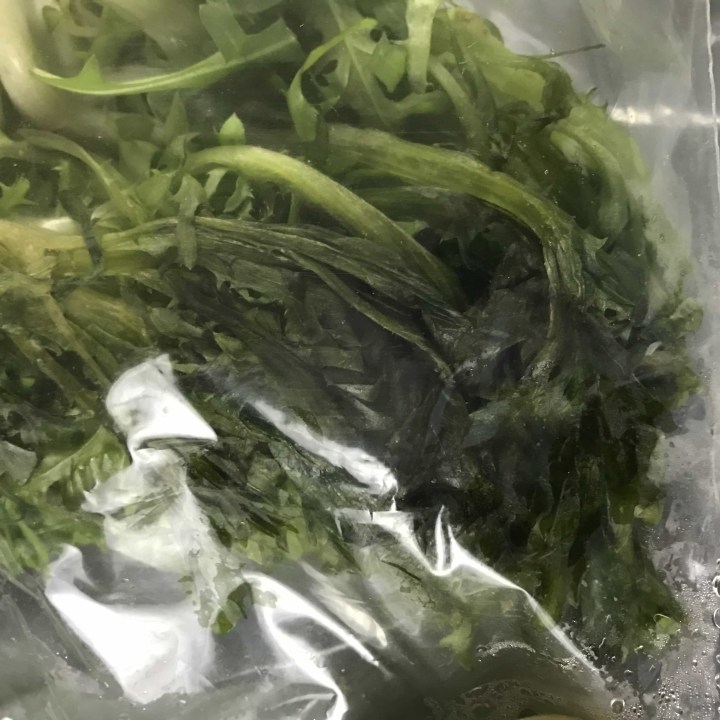 The frisee and arugula were slimy and tossed into the trash bin before I could even think about making the Grilled Flat Iron Steak with Green Goddess Salad and Potatoes.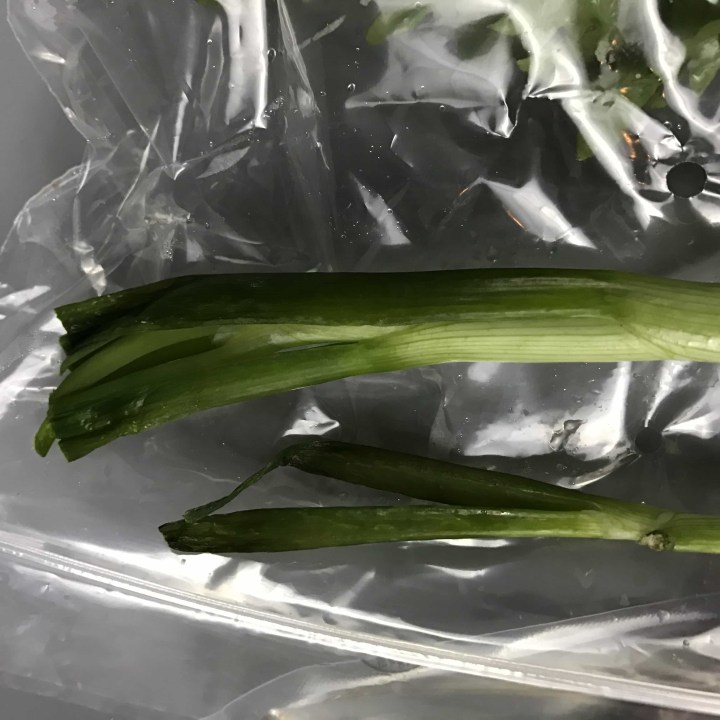 The spring onions were also less than fresh. With so many of the essential ingredients being less than perfect we didn't even attempt to make the last meal. I did, however, grill the steaks and eat them, but I was disappointed with the "fresh" ingredients and just reverted to an old standby for dinner that night which was very disappointing considering this was the meal I was most looking forward too.
 Gobble is a wonderful meal kit subscription but it does need some improvements. The box arrived on my doorstep still cold despite the low 90's temperatures we have been having in Arizona. With the exception of the delicate greens, every other ingredient was picture perfect, I think the heavy ice packs were the downfall of the fragile greens. Three steps to a healthy beautiful meal was amazing, 10 minute prep time for each meal because all the measuring and most of the prepping is done for me. I love that the directions are so easy to follow, it makes anyone who can read look like an amazing cook. I really do hope that there is a better way to pack the sensitive items so they are usable, I hate feeling like I need to run to the store just to make dinner and hope that Gobble keeps sending me yummy meals that the entire family will eat.