FaceTory  is a monthly sheet mask subscription service. For only $4.95 per month plus shipping, you'll get 4 of Korean sheet masks (FOUR-ever Fresh) – OR pay $14.95 + free shipping to get 7 masks each month (SEVEN LUX). It's a fun, easy and affordable way to discover the newest sheet masks in the market.
This is a review of the FOUR-ever Fresh subscription.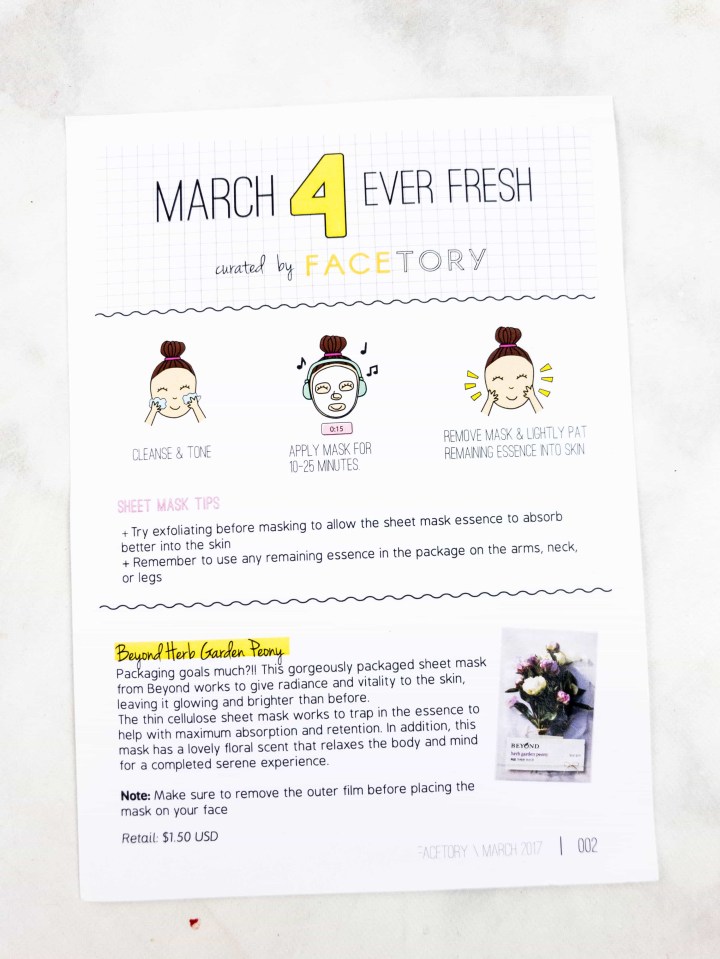 The information card gives you a list of the items, its description and retail value. There's also instructions on how to apply your masks properly, and how to use the extra essence!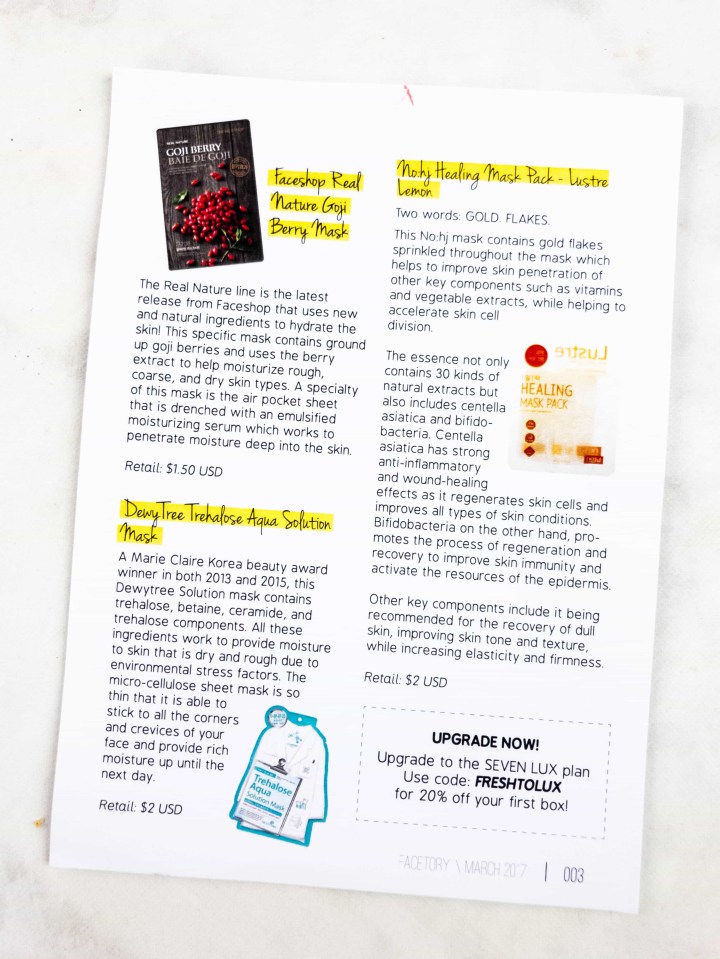 DEAL: Get 10% off your first order. Use coupon code EMAILSIGNUP10. Limited to one-time use per customer.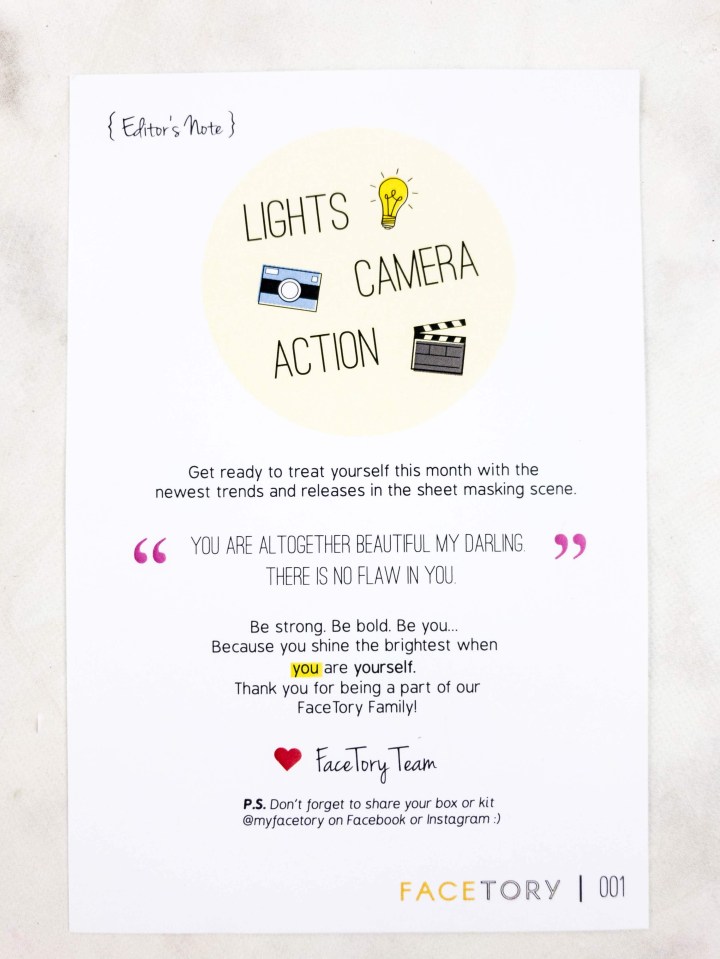 A short note from the FaceTory Team.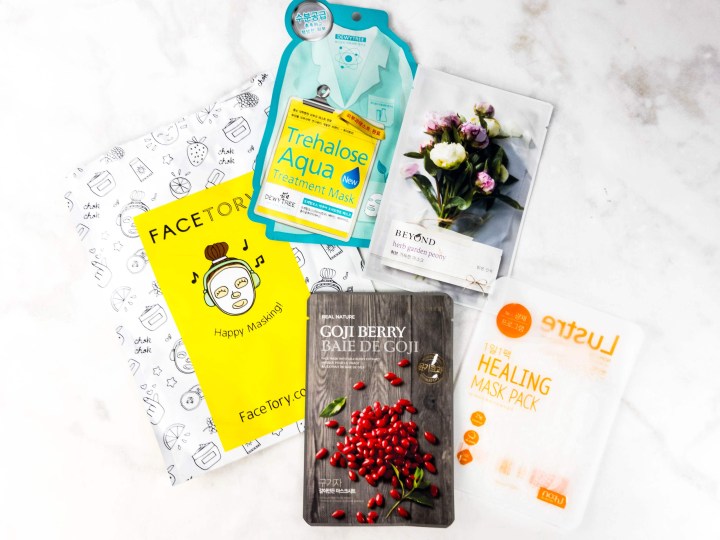 Everything in my March 2017 FaceTory Four-Ever Fresh bag!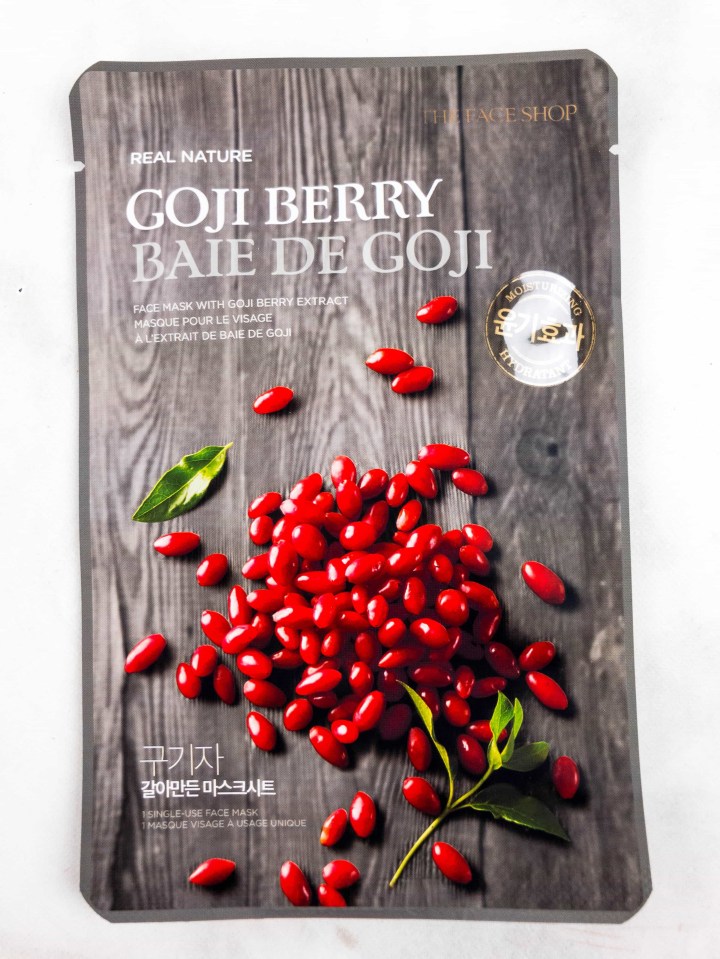 Faceshop Real Nature Goji Berry Mask ($1.50 on card, $2.98 on Amazon)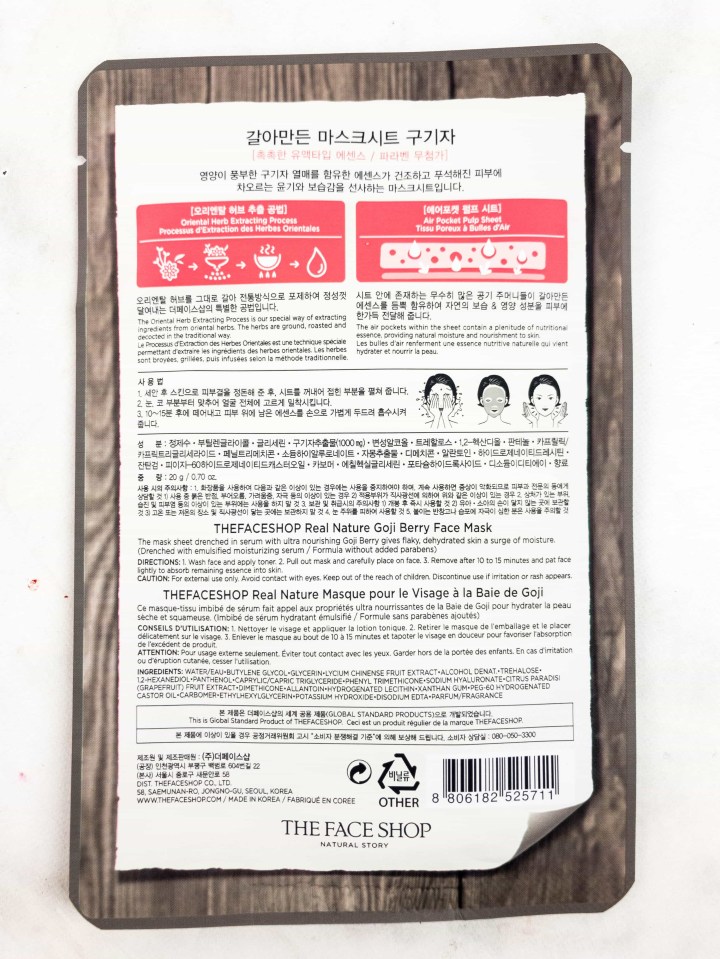 This mask uses goji berry extract and really has a lot of essence! I think that might be due to the air pocket sheet they show on the back.I liked how this mask was focused on using natural ingredients – until I read the ingredients!
No:hj Healing Mask Pack in Lustre Lemon ($2) This mask is just SOPPING with essence! It has a rather thin sheet but it's textured and holds the liquid extremely well. I guess that's why it advertises the air sheet and 25g essence on the front.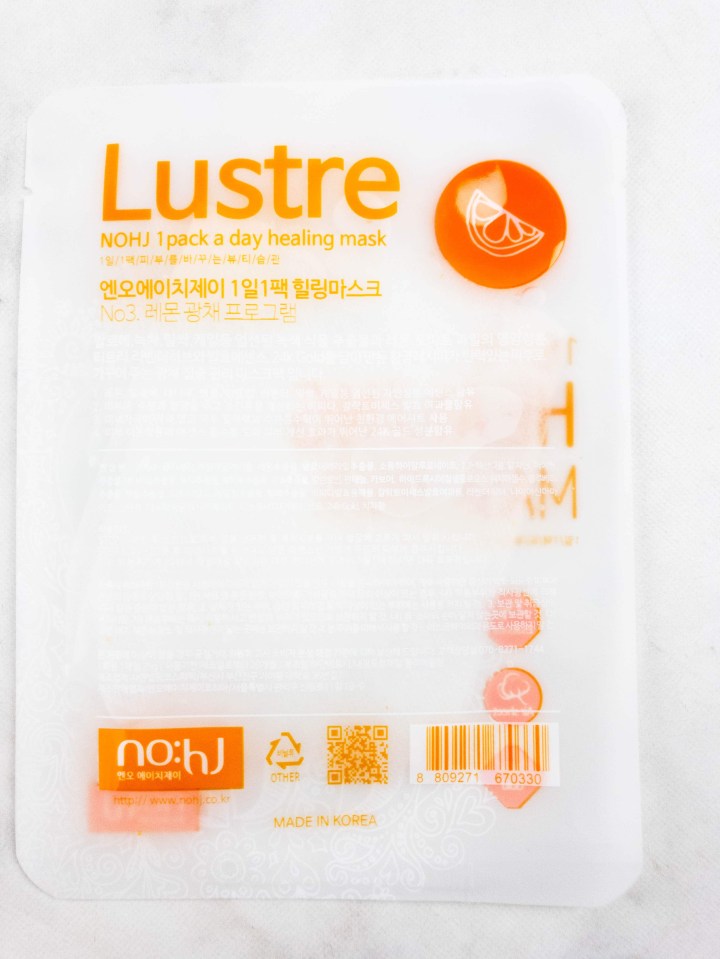 It's unreadable in person too! This mask uses gold flakes to improve skin penetration, which I think is not likely scientifically supported but there it is. The mask uses 30 kidns of extracts including ones for anti-inflammatory and wound-healing effects as welas bifidobacteria to promote regeneration and improve skin immunity all to increase elasticity and firmness and improve skin tone and texture.
This was my favorite mask in the box – it was completely non-irritating (despite it being lemon, it has no lemon scent) and the volume of essence was a bonus. After applying the mask for 15-20 minutes (I had to look it up online – I inspected the unreadable pack with a flashlight and it's not on the card) I even saved the extra essence (the bag sort of self-seals) for a clay mask!
Beyond Herb Garden Peony Mask ($1.50)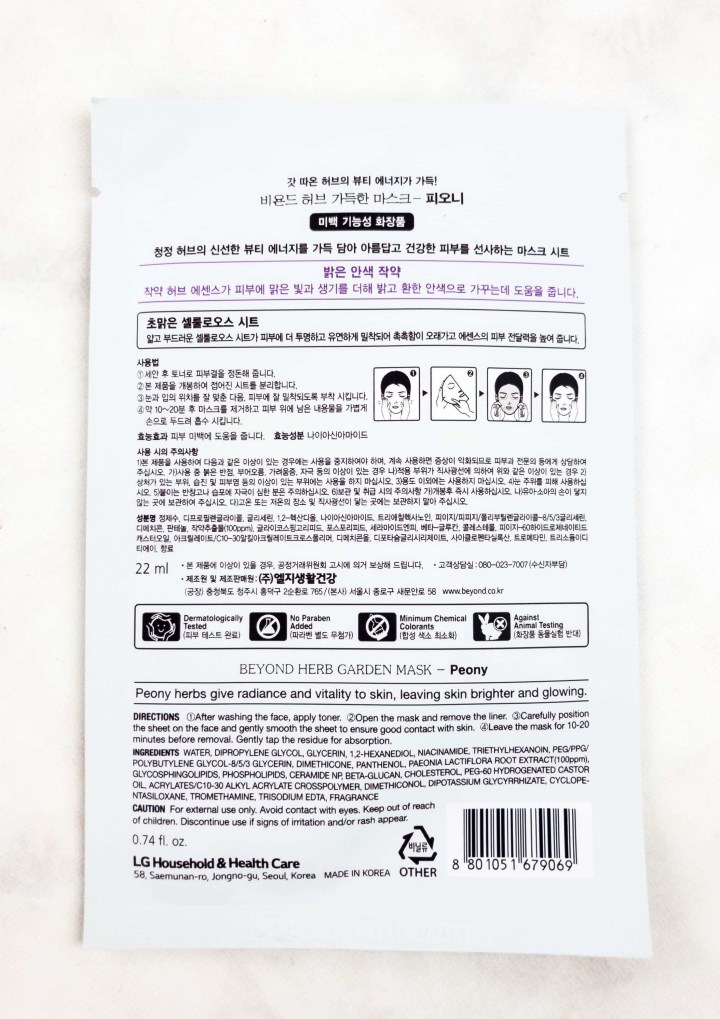 The essence for this mask was thick and rich and really clung to the mask – and to my skin! It has a great peony scent, and although it's artificial, it didn't seem to bug my sensitive eyes. There was a note on the card about removing the outer film on the mask, but mine didn't have one. Unfortunately my mask dried out really fast – perhaps the fastest of any mask I've ever used.
DewyTree Trehalose Aqua Solution Mask ($2 on card, $2.60 on website) This mask is a Marie Claire Korea beauty award winner in 2013 and 2015 – those are some serious chops! This mask contains trehalose, betaine, and ceramides.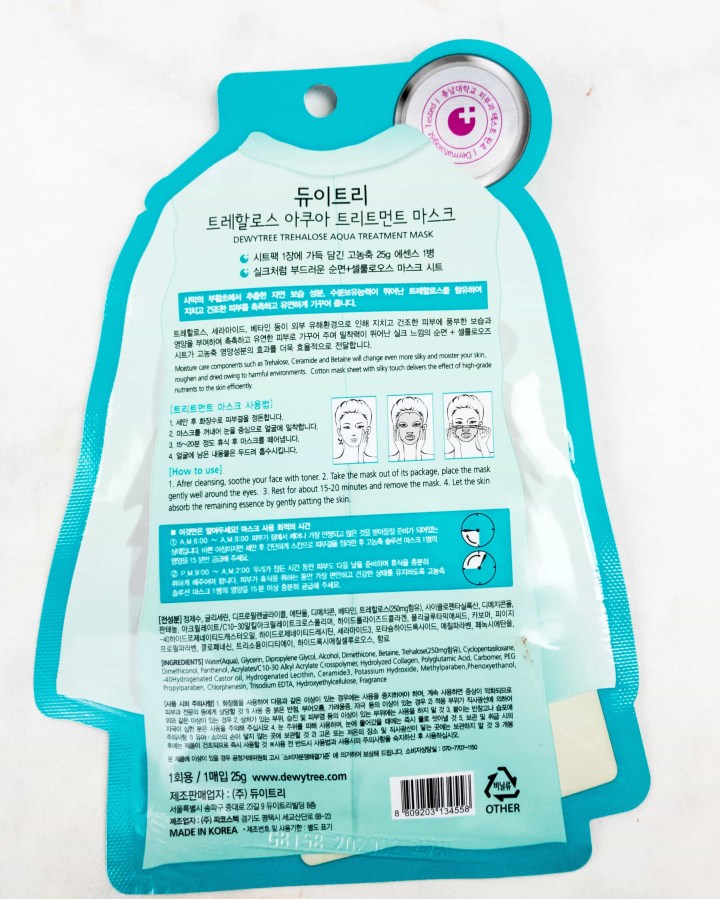 They recommend a 15 minute application period in the morning, or 20 at night – unusual! This mask (as far as I can tell) is designed for moderate moisture treatment and the card lauds that the sheet mask is so thin that it can stick to all the crevices of your face. The mask is lightly scented, and I wasn't a big fan of that, but otherwise I found it refreshing and moisturizing!
This was a fun, inexpensive box but they recently raised the rates. For value for money, I prefer the more luxe 7-mask box – these masks were focused almost solely on hydration, and the 7 mask box had more premium ingredients. As I noted the No:hj was my favorite mask – probably because it was unscented and didn't bother my eyes a single bit. I would really like to see FaceTory included the suggested amount of time for each mask on the card rather than the general 10-25 minutes they suggest. Other than that it's a fun and inexpensive low-key way to mask on!