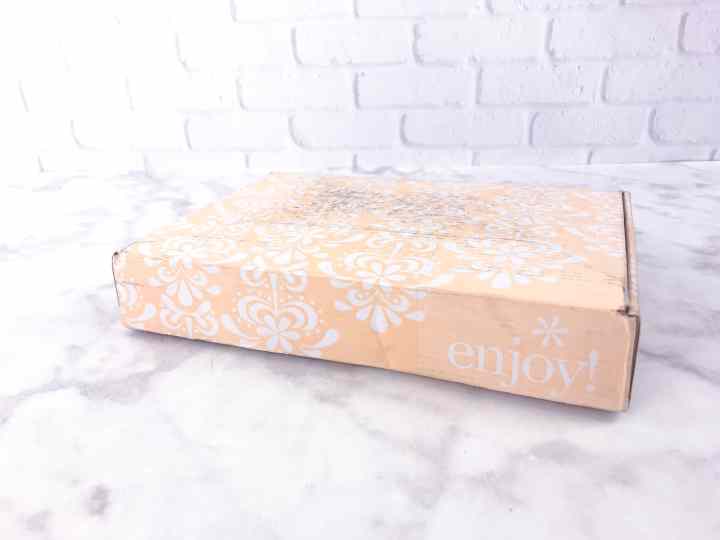 Erin Condren's Seasonal Surprise Box is a new quarterly planner accessories and stationery box featuring early access items, popular accessories, and exclusive surprises from Erin Condren. This box isn't available by subscription; you must purchase each box individually.
In addition to the main EC site, you can now shop a selection of non-personalized Erin Condren items on Amazon! Many, if not most, are discounted, and they all have free prime shipping!
DEAL: FYI – if you use this referral link to register for the site, you'll get a $10 coupon code emailed to you. It may not work on the box purchase. You cannot use the code if you buy anything first, but you can use it on pretty much anything on the site.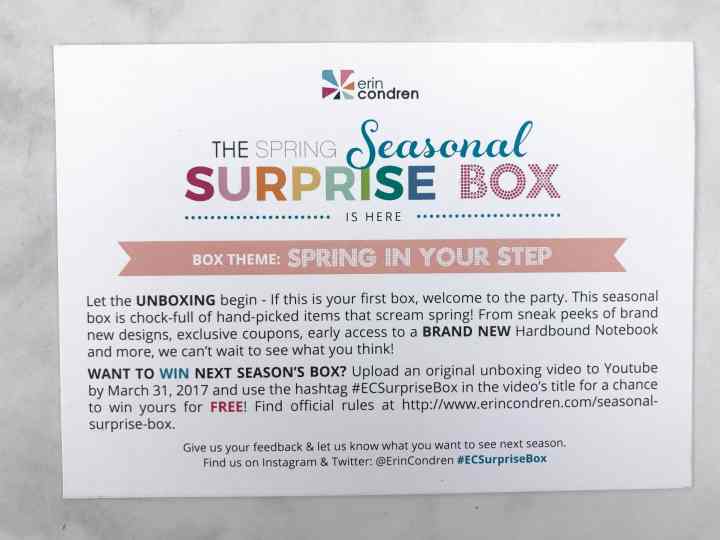 The theme for this box is "Spring In Your Step."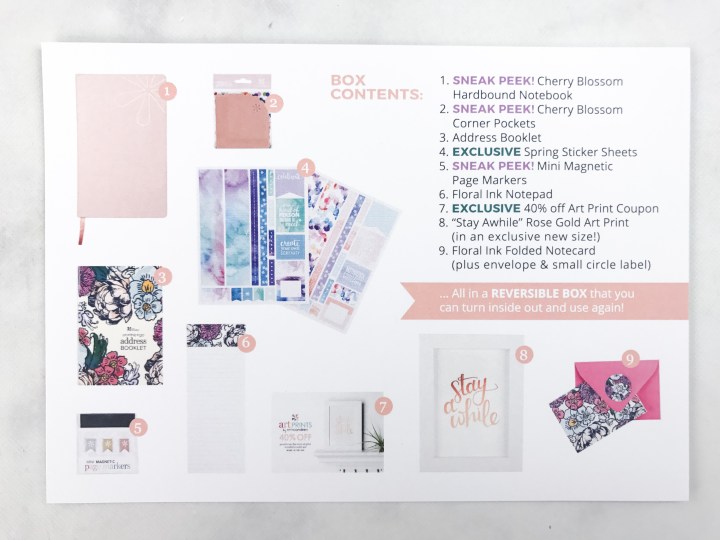 The information card gives you a picture list of all the items included. It's so fun and colorful!
Everything in my Spring box! The box is reversible to make a cute little storage case for your goodies!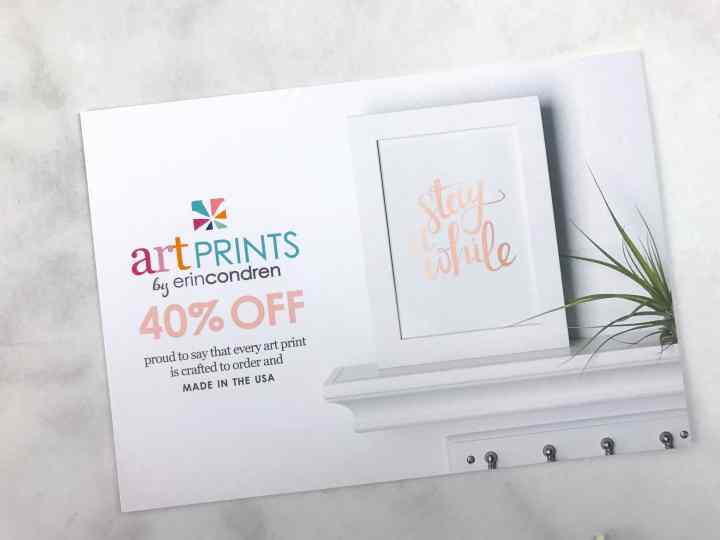 Exclusive – 40% off Art Print Coupon: This coupon was listed as one of the box items. I did indeed use my coupon before I forgot, but I wouldn't consider it an item. The total discount was $23.20 and my framed 11″x14″ rose gold pineapple art print was $44.75 shipped.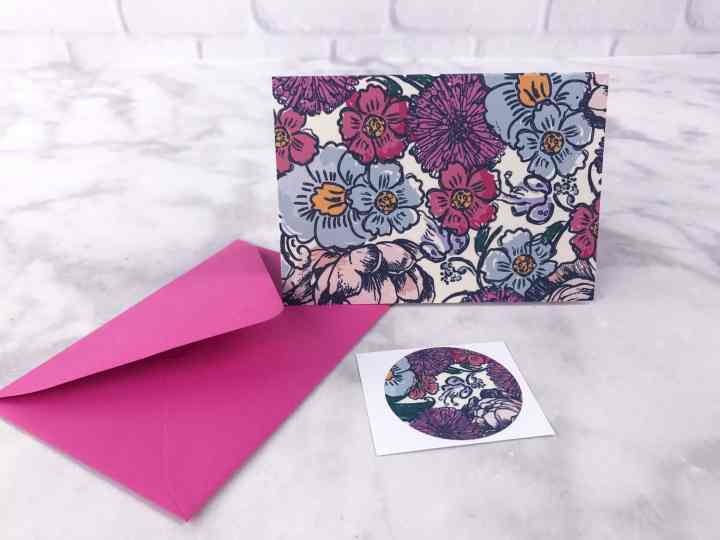 Floral Ink Folded Notecard With Envelope & Small Circle Label ($1.50) Such a pretty, floral breath of spring! The colors on this one are super vibrant.
I love how the motif even goes to the inside! We used this card to write a thank you note to a friend!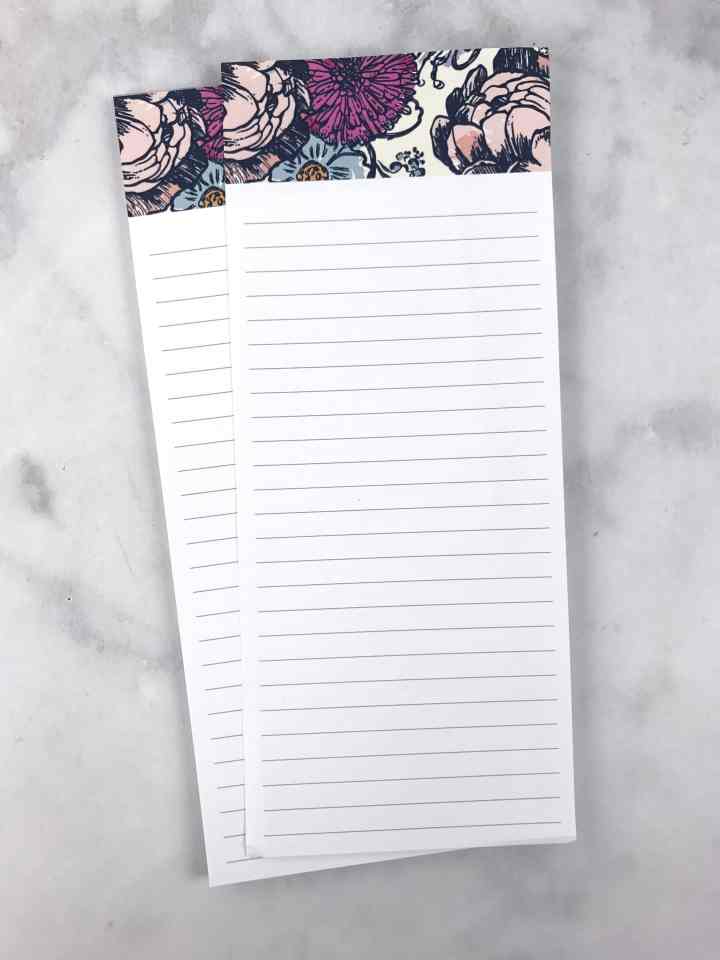 Floral Ink Notepad ($15) List makers, rejoice! This 4″ x 9″ notepad is perfect for making any sort of list. The paper is thick and durable and it's a perfect way to plan.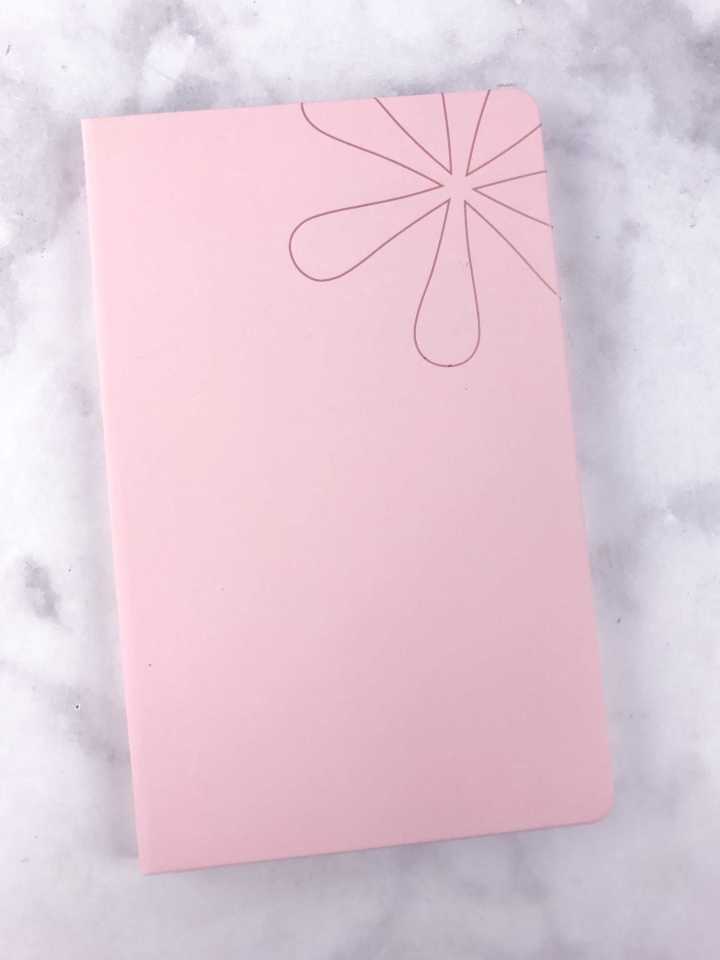 Sneak Peek: Cherry Blossom Hardbound Notebook ($15) This was a sneak peek of the new Erin Condren line of hardbound notebooks! They are 5″ x 8″ with college-ruled lined pages and feature the signature EC asterisk in a coordinating metallic.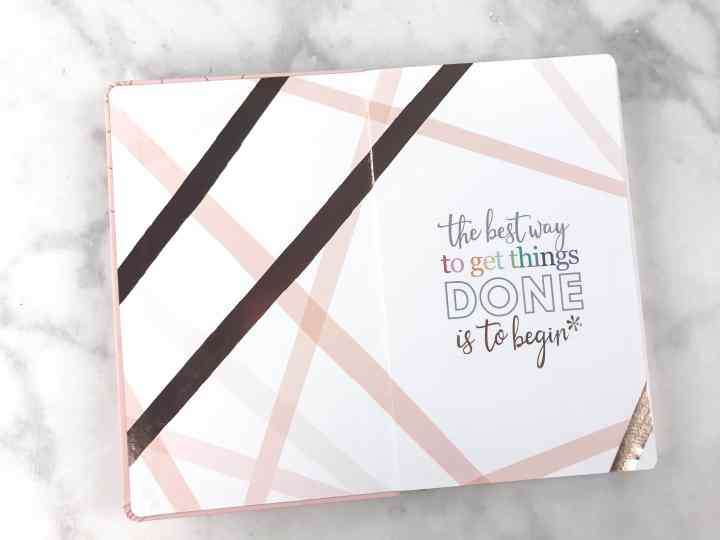 A cute metallic paper stripes design is inside.
A pretty satin ribbon keeps your place, plus there was a coupon for 10% off – SAVE10NOTEBOOK. The edges are foiled, too, with different colors on the top tabs.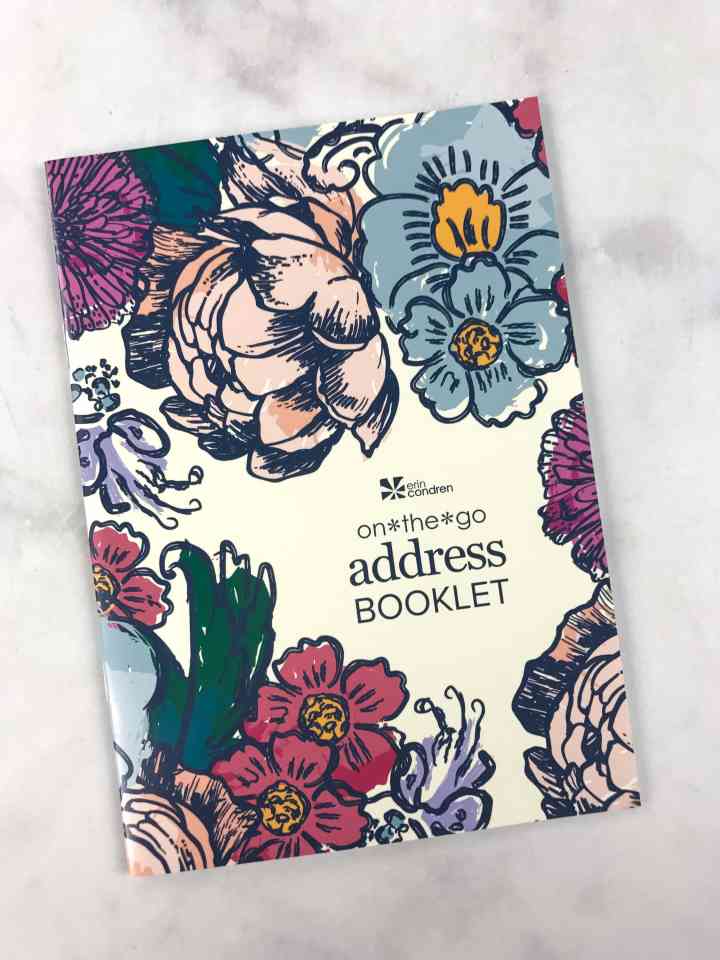 Floral Address Booklet ($6) I'm 100% digital when it comes to addresses, so I'm passing off this address book to my kids, so they can keep track of their little friends' addresses and birthdays! Otherwise, I'd probably use it for a babysitter.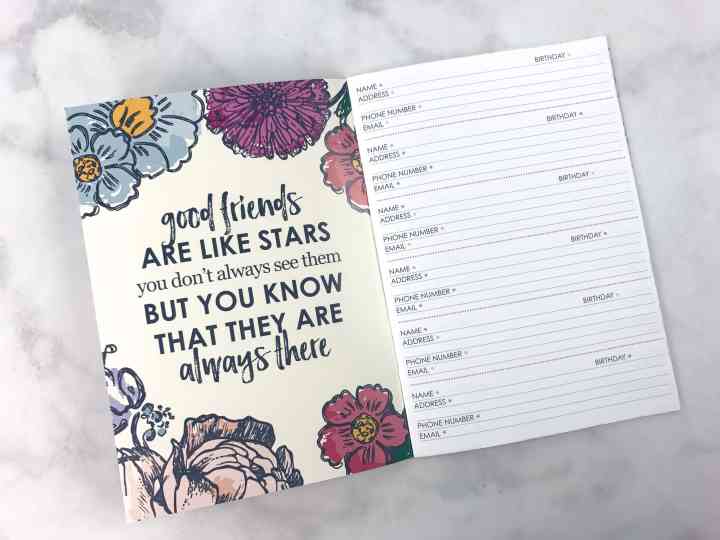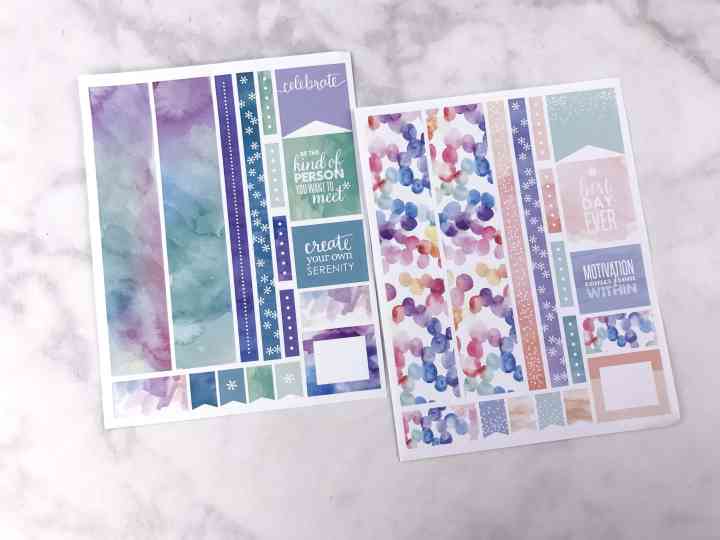 Exclusive – Spring Sticker Sheets ($2.31) These two sheets of stickers were exclusive to the box! Some are great for borders, others take the place of washi tape. Everything fits perfectly into an EC planner, but you can use them on anything – and you can write on them too!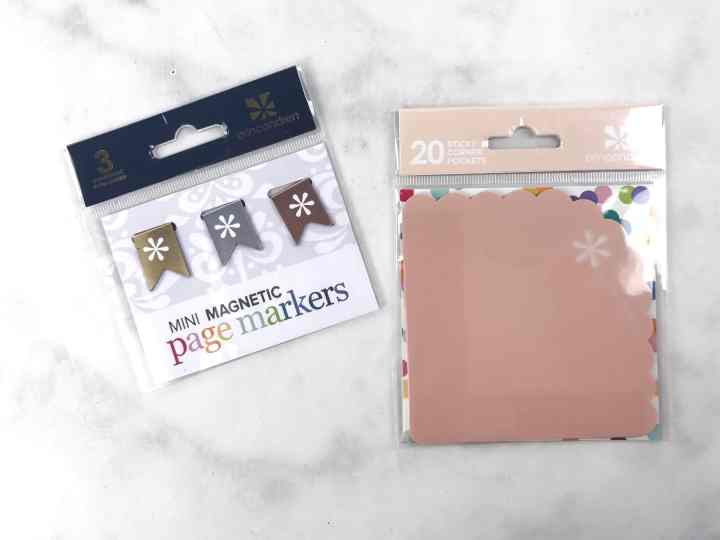 Sneak Peek – Mini Magnetic Page Markers ($4)
Sneak Peek – Cherry Blossom Corner Pockets ($5)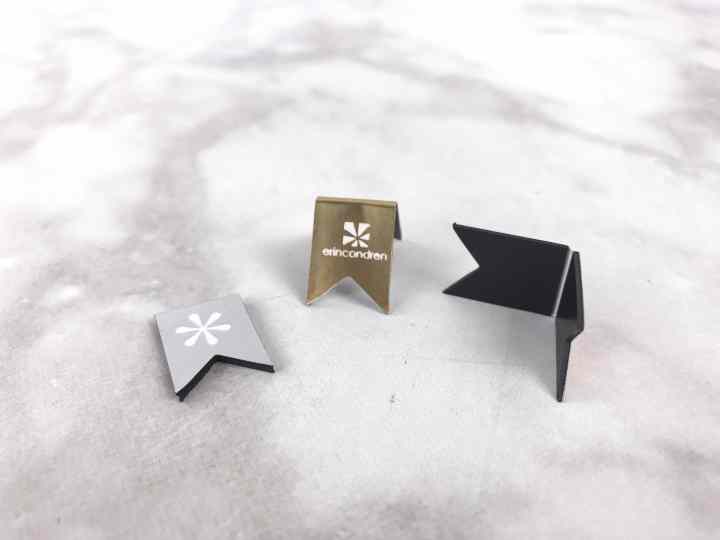 These cute little magnets attach right to the page to keep your place. Three metallic page markers were included – silver, gold, and rose gold!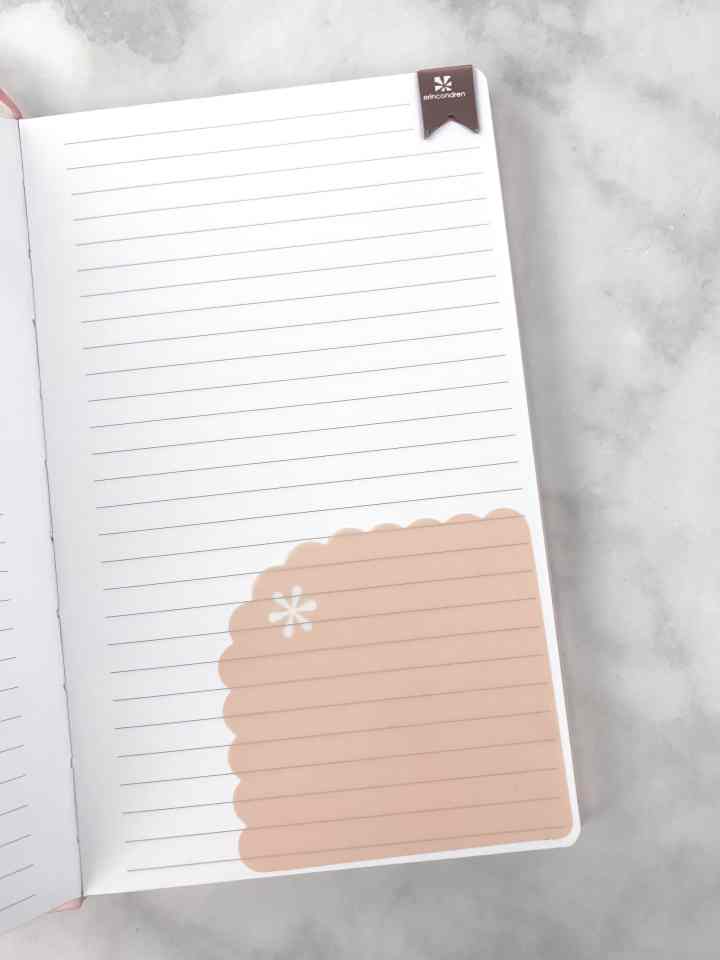 I used rose gold to match my pretty pink notebook. I have found that Erin Condren is really super innovative with their paper accessories, and I think these sticky corner pockets are SO cool.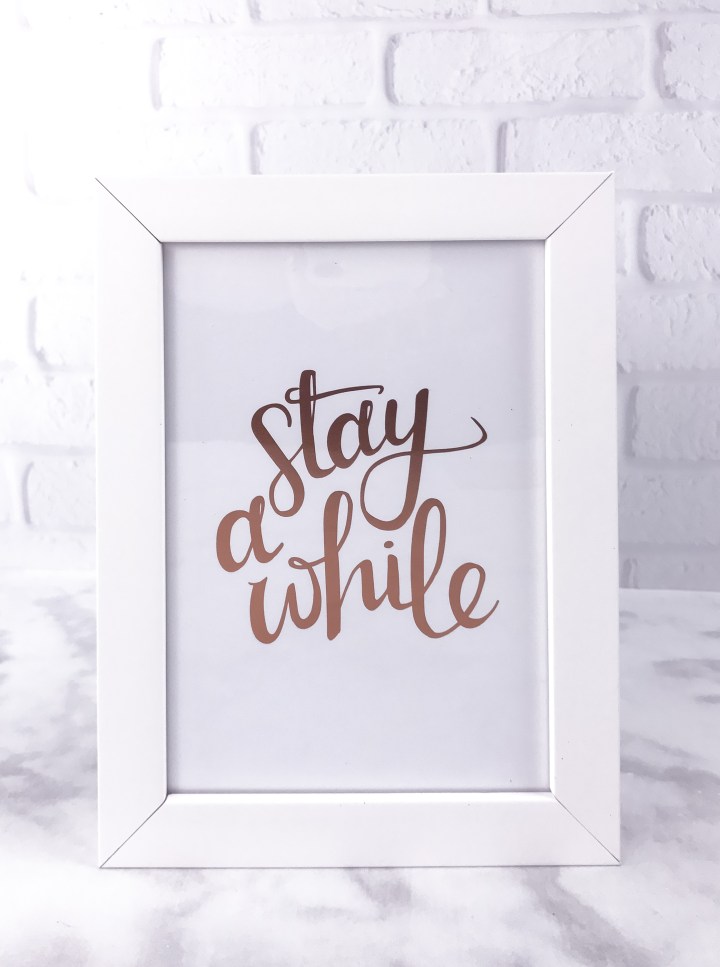 "Stay Awhile" Rose Gold Art Print ($30?) While the design isn't exclusive to the box, this cute size is (around 8″ x 6″).
The construction of the frame was fabulous – and nice and wide for setting on a desk or on a picture ledge. This totally sold me into using my coupon!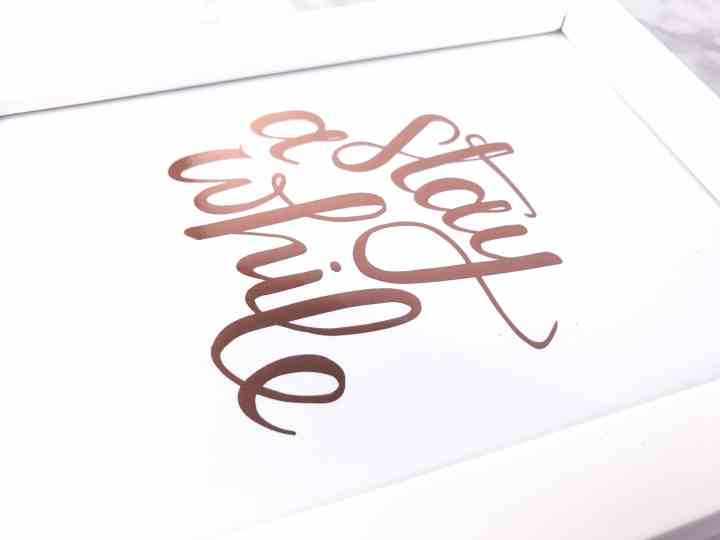 I love the rose gold foiling! And I have to laugh – I actually know more than one person who decided to pop this in the bathroom!
I loved this fabulous installment of the box! I thought it was perhaps a little more universal than the planner-focused first box, and with easy to adapt items like the journal and list pad, I'll use everything. Excluding the value of the coupon for the art print and estimating the framed print, I came up with about $79 in value! As always, some of the Erin Condren prices are out of control ($15 for a list pad!) but unlike some other subscriptions I can guarantee people actually pay those prices – I think the value was fantastic for this $35 box!
What did you think of the box?