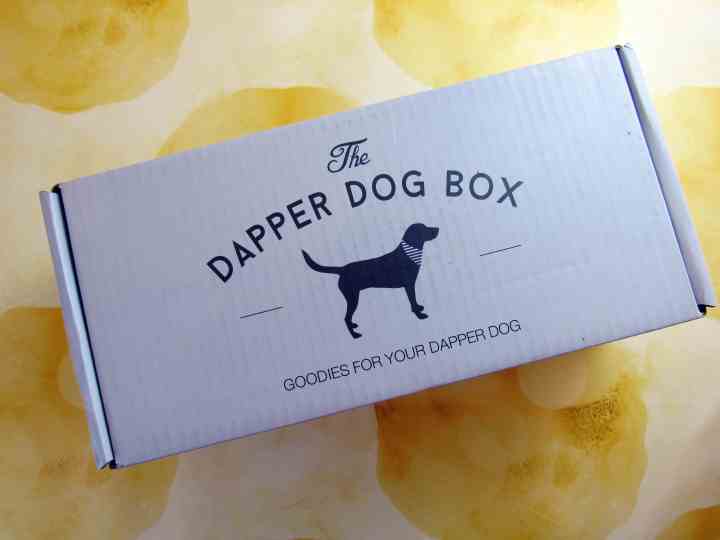 The Dapper Dog Box is the box for your best friend in the world. Organic and natural items are hand-picked for your dog based on a personalized survey. The Dapper Dog Box sources from passionate small companies that love dogs. $1.00 from each purchased box is donated to rescues. The regular sized box has 4-6 items with an average $50.00 value. The mini box has 3 items. Both versions offer free shipping. The personalized survey offers five different dog sizes, grain or no grain, and a section to discuss more about your dog such as allergies, heavy chewer etc.
DEAL: Take $10 off your first purchase with coupon code HELLODAPPER.
Our pups are excited to be celebrating Pupchella 2017! They love the idea of a dog-friendly Coachella.
The information card contains the items, descriptions, and prices. $1.00 from every box this month went to help rescue dogs find their forever home.
Here are the items in the April Dapper Dog Box. This review is for the large dog box.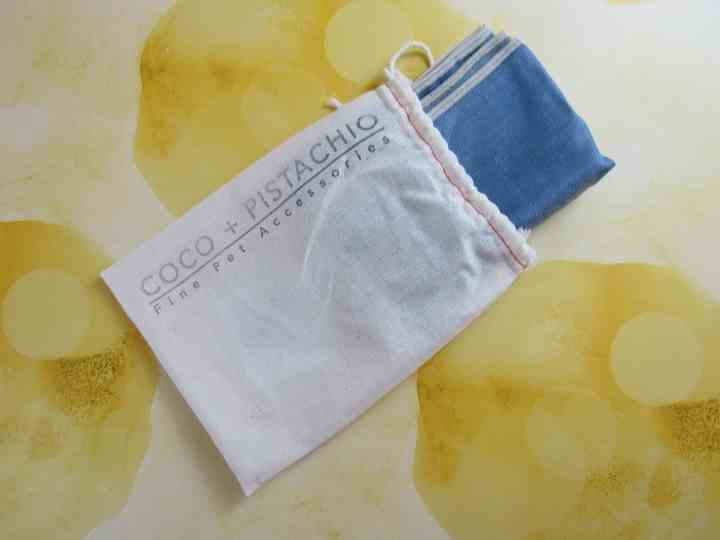 You can't attend Pupchella without sporting a fashionable look. The Coco + Pistachio Azure Light Blue Denim Chambray Bandana ($32.00) is made from soft cotton and comes with a dust cover.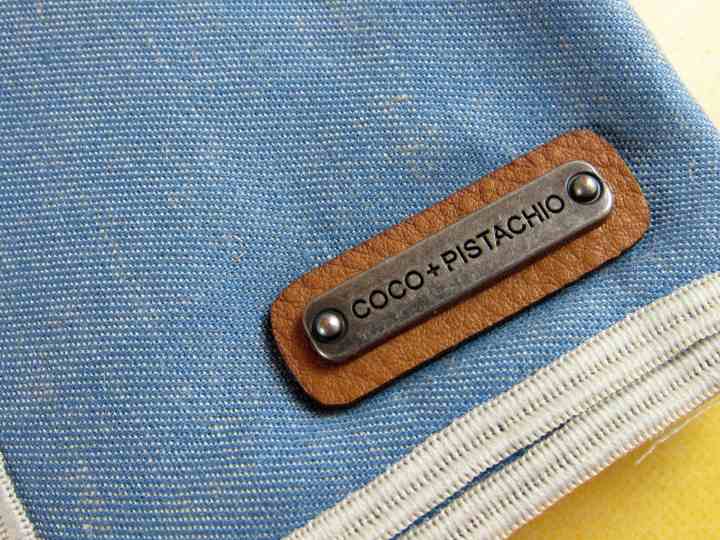 The bandanas can be monogrammed. They also have a wedding collection for hounds and felines.
The bandana fit both of my larger dogs. The dogs liked the well-made bandana which did not interfere with their play.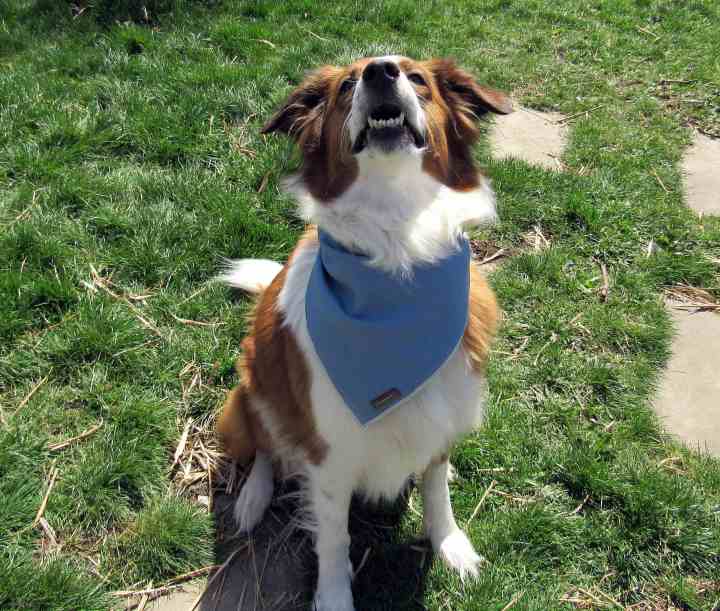 Daisy is barking at me because I am holding an irresistible Barkworthies Salmon Skin Chew. She refused to pose nicely because she wanted to eat the chew.
The Barkworthies Salmon Skin Chew ($3.50) was enjoyed by all three dogs. The made in Australia chew is made from salmon skin.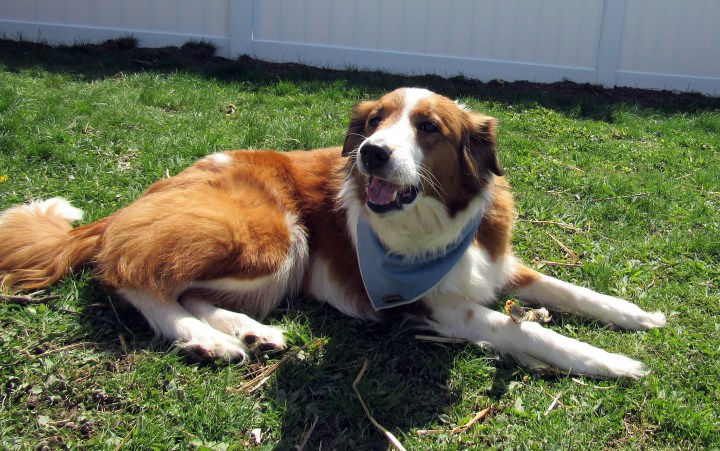 Daisy ate about a third of the chew. Then Odie and Bella came out to assist Daisy in reviewing the box. Odie picked up the chew, and Bella jumped up and grabbed most of it from his mouth.
Bella is something else. She also refused to wear her bandana from the November 2016 Box. She can be a handful at times, but we love her!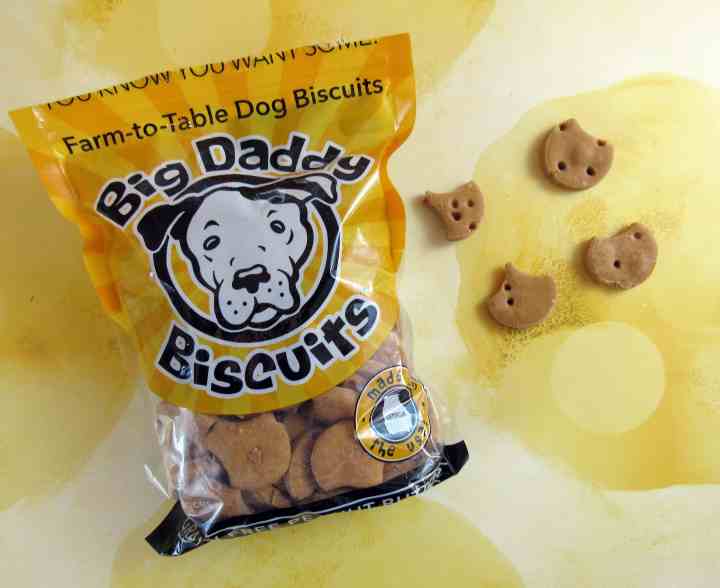 Odie was all over the Big Daddy Grain-Free Peanut Butter Biscuits (7.5 oz, $7.00). Big Doggy Biscuits are made with sustainable and organic ingredients sourced locally in Atlanta, Georgia. The human-grade treats are made in small batches. They even offer a three-month subscription plan.
Even Little Lamb loved the Dog Loves Kale Treats (7 oz, $8.99). I used the price from the card because I could only find prices for the 6 oz packaging. The made in the USA treats are grain and wheat free.
The ZippyPaws Sushi Toy ($9.99) has two squeakers. Daisy and Odie enjoyed playing with the toy.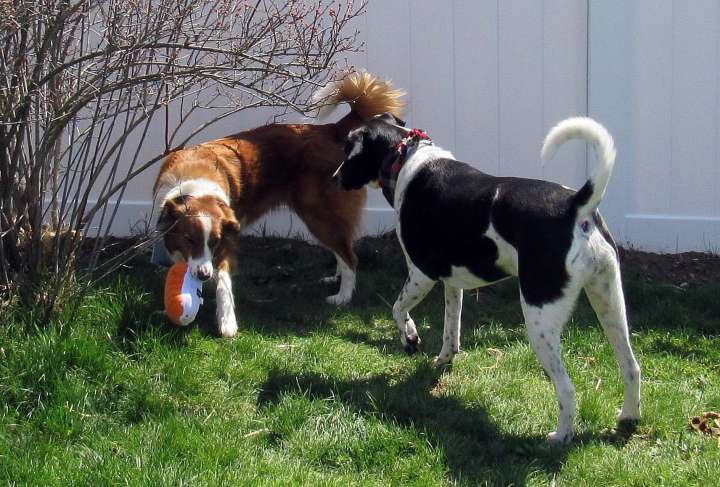 Odie is asking nicely if they can play with the toy together. She decided to play with him because it did not pass the Daisy baby test which surprised me because Zippy Paw toys are always babies.
Time to see what the doggies think of the box. Our reviewers are Bella the Mini Rat Terrier, Odie the Borader (half Labrador Retriever and half Border Collie), and Daisy the English Shepherd. Daisy is wearing the bandana from this month's box. Odie is wearing the bandana featured in the November 2016 Box.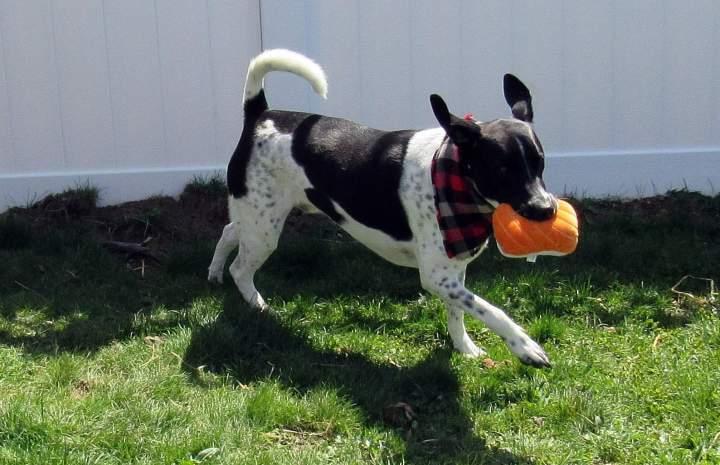 Odie was a happy boy as he galloped around the yard with the Zippy Paws Sushi.
Odie went over to Bella to see if she wanted to play. Bella was too busy eating the salmon skin chew that she swiped from Odie.
Daisy checked the toy over and decided it was not a baby.
Odie pranced over to play with Daisy. It is not often that they can play with toys together.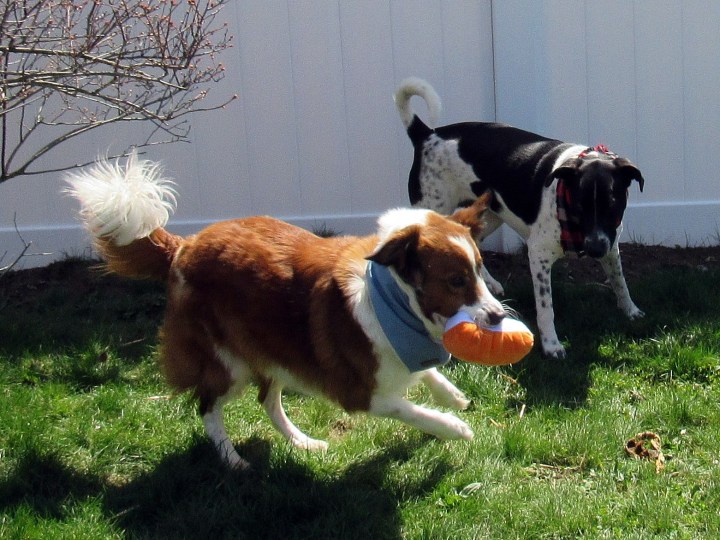 The doggies were hilarious to watch. Daisy ran around with the toy as Odie watched.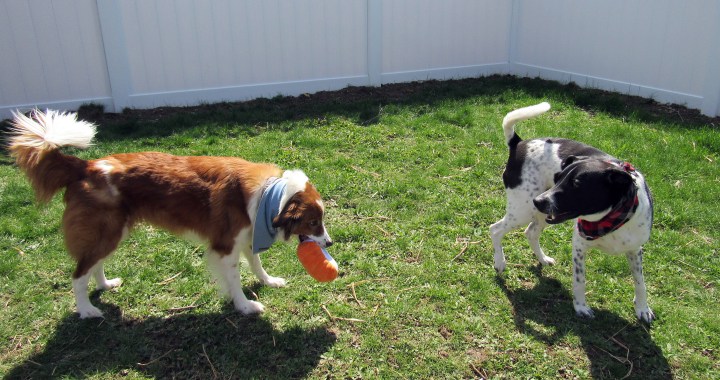 They played a game where they barked and chased each other.
Odie approached Daisy and asked her to play tug-of-war.
Daisy's eyes are bulging out at the thought of a toy being torn.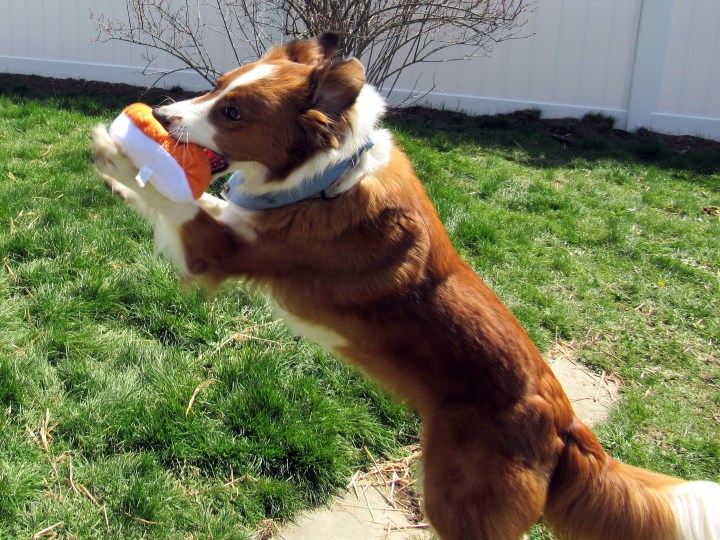 It's much more fun to play fetch.
She did play tug-of-war halfheartedly for a few minutes.
She was unimpressed. Odie doesn't care. He's happy that he played his favorite game.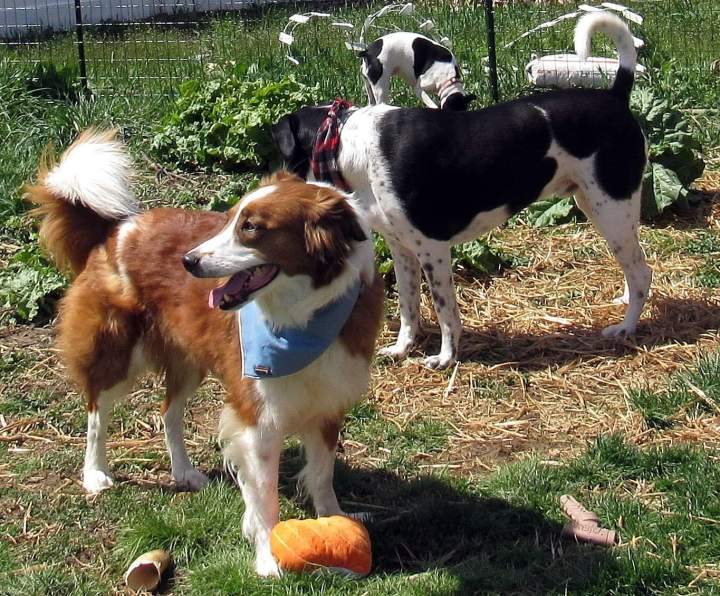 Daisy and Odie are relaxing in the rhubarb patch while Bella is sniffing by the garden. We are behind with our garden because of all the rain! All three dogs are happy and content with their outdoor play.
The doggies enjoyed their version of Pupchealla on a beautiful April Day. They were delighted with the toy, bandana, and tasty treats. It was fun to watch Daisy and Odie play doggy tag with the sushi toy. Bella was more interested in eating her salmon skin and looking for bones she buried in the yard. The product value of the box came to almost $61.00 using discounted prices which is superb for the type of items that are in the box.  It's an excellent box for dog owners that want a customized box with a focus on organic and all natural toys and treats.