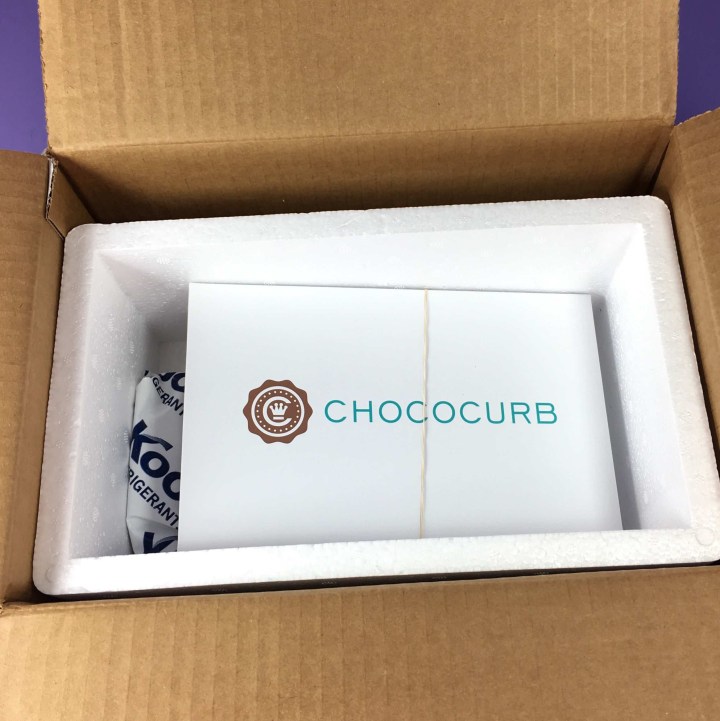 Chococurb is a monthly subscription containing extraordinary, premium, gourmet chocolates – this isn't your convenience store candy! These items can come from small, local chocolatiers or more established national brands. Every box will have something new, exciting, and absolutely delicious. You can choose from the Classic Box ($35), which contains 5-7 items, or choose the Mini ($20), which has 3 items for smaller appetites. Shipping is free during the cooler months but expect to pay for FedEx shipping in the warmer months. I am reviewing the Classic Box today!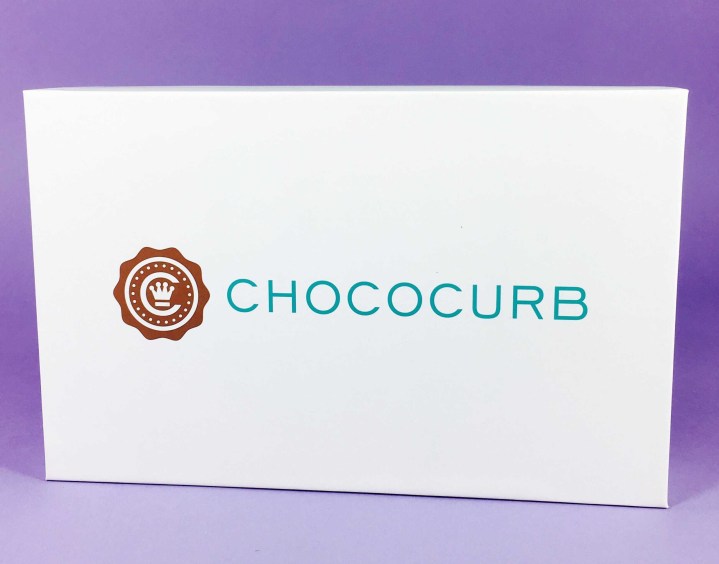 Chococurb wants to help you discover chocolate that you will love so they have a short questionnaire that you fill out to let them know your preferences.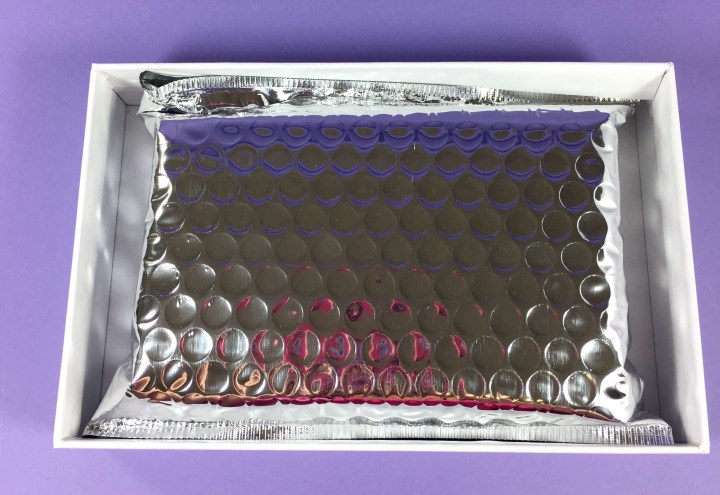 The chocolate was wrapped in insulated bubble wrap and placed inside of a box that was then placed inside of a styrofoam cooler with an ice pack (no longer cold) underneath. My box was delivered by FedEx and was in perfect shape, no signs of melting!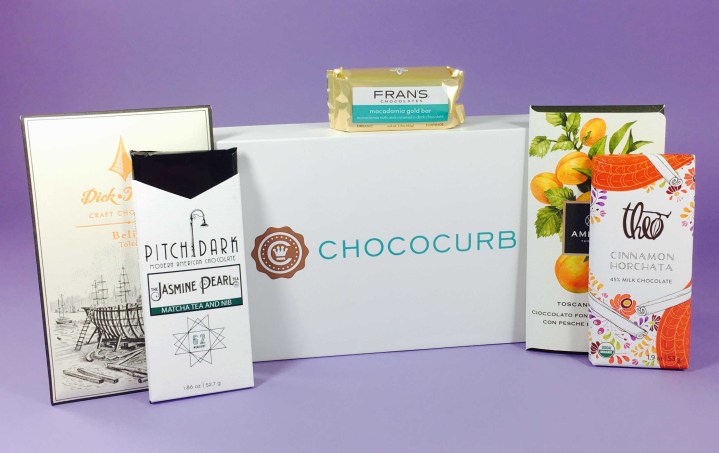 I received 5 items this month and they are all from new-to-me brands. Even the packaging of each bar looks upscale!
Fran's Chocolates Macadamia Gold Bar "This irresistible bar contains a balanced blend of buttery caramel, macadamia nuts, and dark chocolate."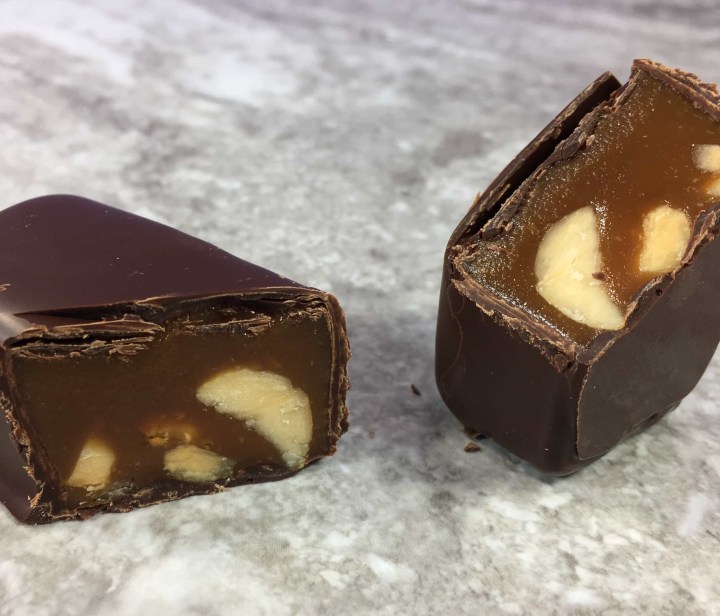 This bar was remarkable! Buttery macadamia nuts are swimming in even more buttery, super soft caramel, and fair trade dark chocolate embraces this bit of heaven. Decadent!
Dick Taylor 72% Belize, Toledo Craft Chocolate "Single origin dark chocolate crafted using cacao beans from the Toledo district of Belize."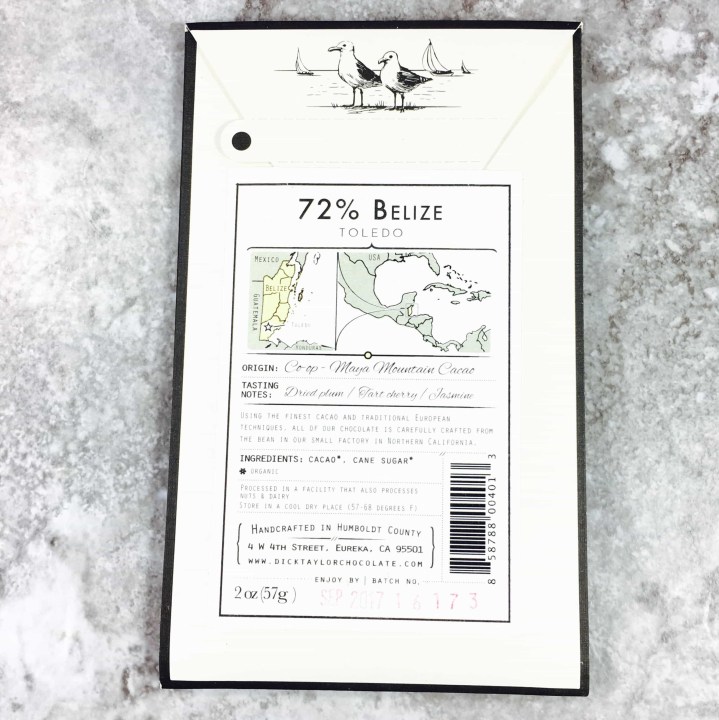 Only two organic ingredients are in this award winning, small batch dark chocolate bar: cacao and cane sugar.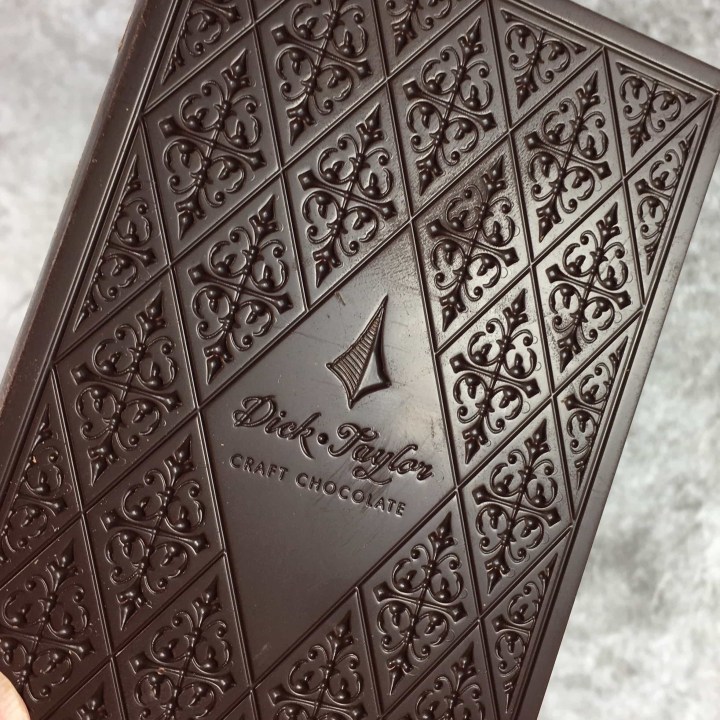 I was saddened to ruin this work of art but I had to in order to let you know how it tasted! The tasting notes listed dried plum, tart cherry, and jasmine. I tasted the cherry, but then my mind whisked me far away to my happy place.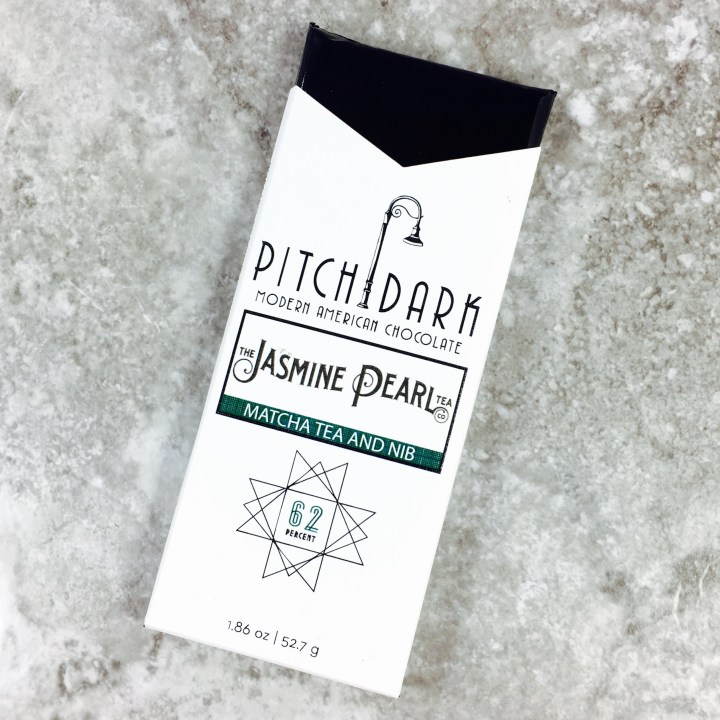 Pitch Dark Jasmine Pearl Matcha Tea and Nib Chocolate Bar "Pitch Dark tops its classic 62% chocolate with meticulously prepared matcha green tea from fellow Portlander, Jasmine Pearl Tea Co."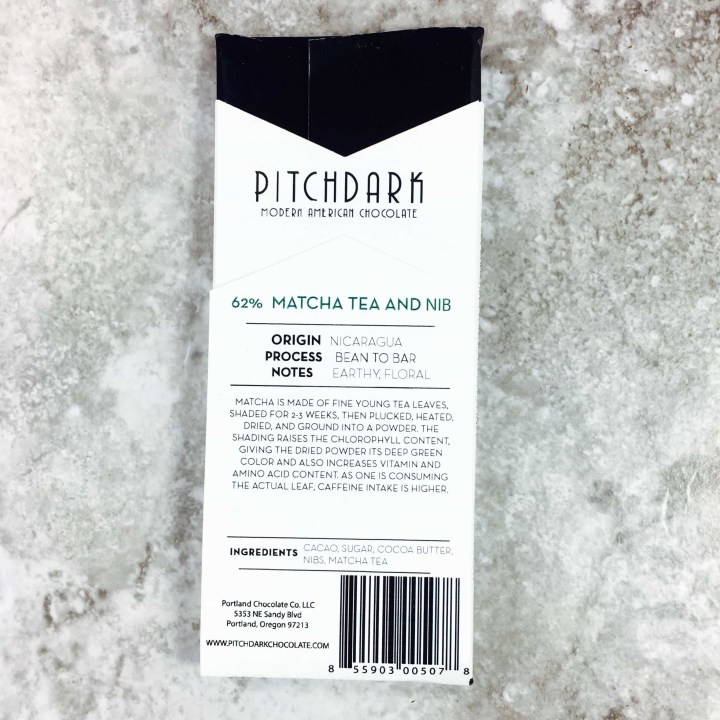 I was afraid I wouldn't like this, as matcha is one of those things I dislike.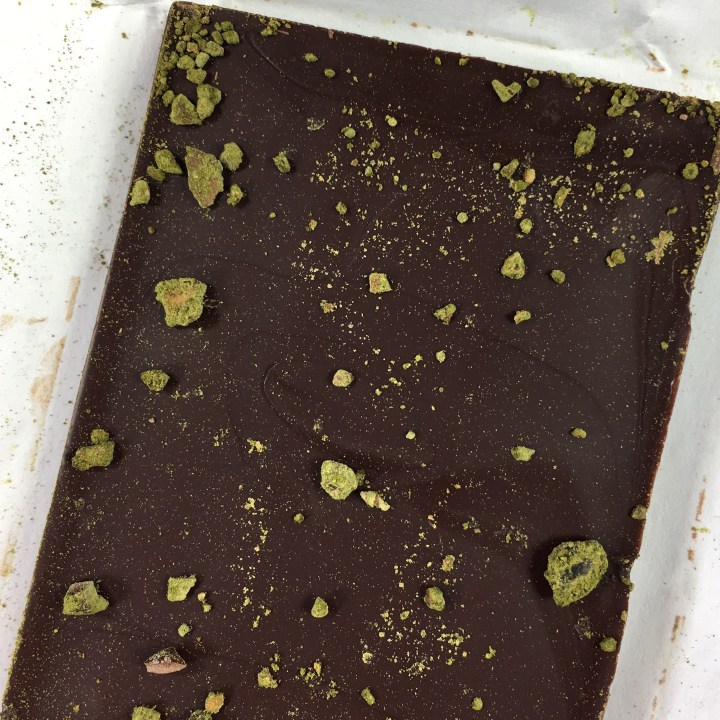 Luckily I tried it anyways and wasn't disappointed one bit. The matcha powder coats cacao nibs and they are sprinkled on the back of this deep, dark, chocolate bar. The matcha flavor is very subtle and I thought the chocolate was excellent.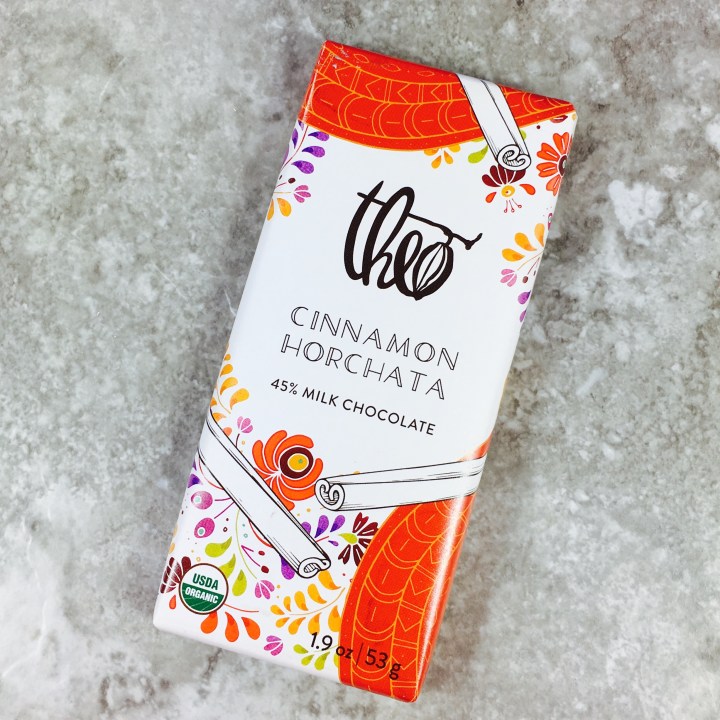 Theo Cinnamon Horchata "The sweet, creamy taste of horchata and cinnamon meets milk chocolate."
In case you weren't aware, Horchata is a drink most commonly made of rice and cinnamon. This bar has puffed brown rice and quinoa covered in cinnamon-kissed organic, fair trade milk chocolate. Why anyone would eat a Nestle Crunch Bar after this is beyond me. This is exquisite.
Amedei Toscano Blond "Italian dark chocolate embraces sweetness with chewy dried peaches and apricots."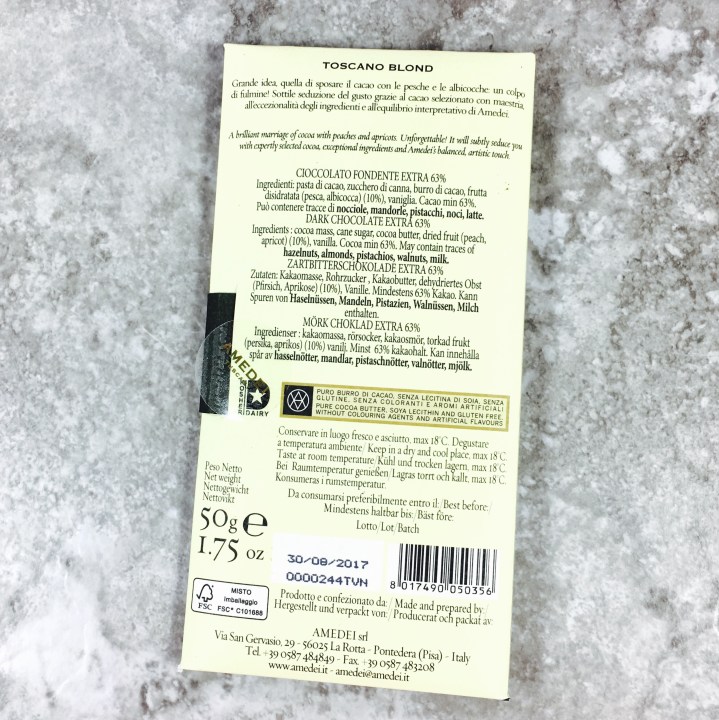 I could smell a light, fruity scent coming off of this bar before I even opened it up!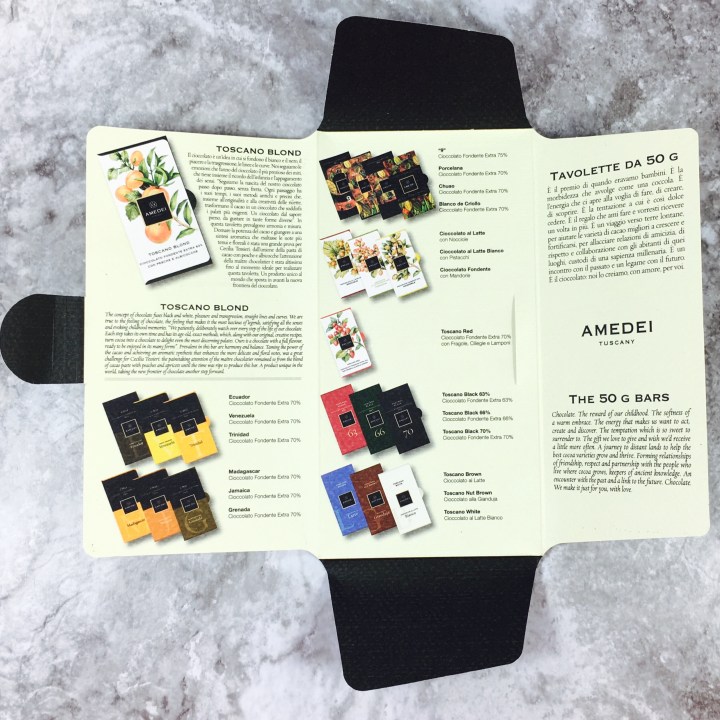 This Italian-made bar came with a fold-out brochure showing 20 more bars that I feel I need in my life.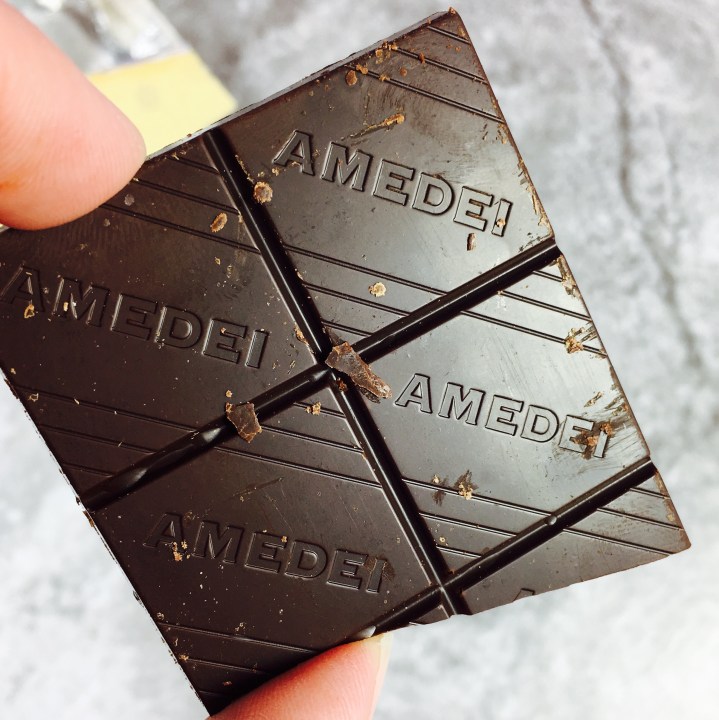 I am going to wax poetic and tell you that deep, rich dark chocolate hugs sweet peach and apricot morsels for a taste sensation that is unexpected and yet delightful. The fruit gives it a slightly crisp texture.
I don't think it's a stretch to say this is my favorite subscription box of the month and one of the best I've ever received! I love chocolate and these bars are so satisfying that just a bit is needed to fulfill your cravings/sweet tooth/PMS needs. Dark chocolate contains antioxidants and polyphenols so I'm going to think of this as a healthy snack box to justify my eating it all. The prices on Chococurb's site were less than the prices found elsewhere so it's a great value, too! For instance, Fran's Chocolates Macadamia Gold Bar is $3.75 from Chococurb, but a box of 6 from Fran's is $30 ($5 each). Check out the Chococurb website for some more excellent choices for all of your chocolate needs!
Y'all, I died and went to heaven with this box! Did you feel the same way too? Let me know in the comments!