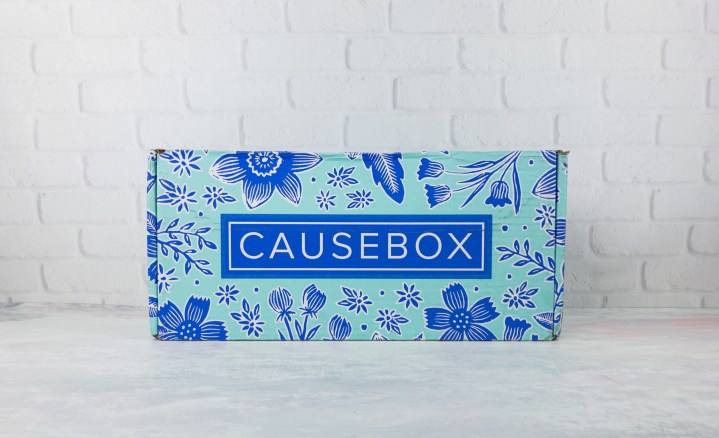 CAUSEBOX is a quarterly subscription box curated with socially conscious products for women. In each box you'll receive 5-8 seasonal lifestyle products that are focused on ethical and sustainable production, donate a percent of profits to charity, or aim to inspire and empower others.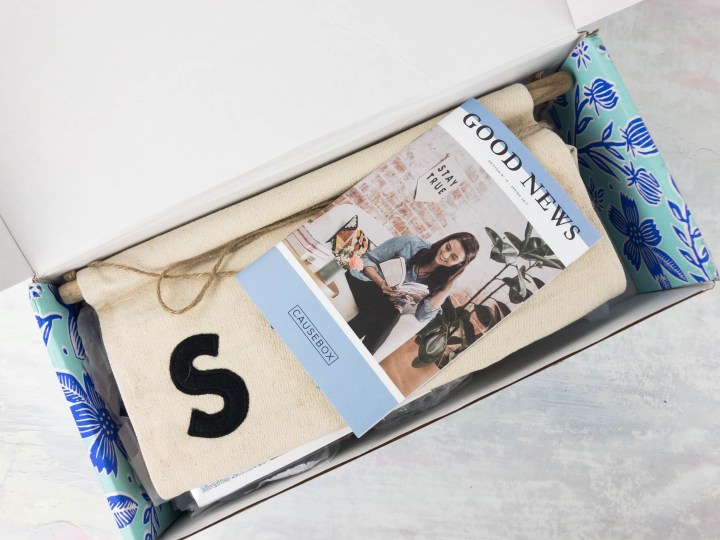 DEAL: Save $10 on your first box with coupon code WELCOME10! FYI – the current box available is Welcome Box No. 2. You can see the full spoilers for that box here. Purchasing the Welcome Box guarantees your spot for the next quarterly box.
There's a mini magazine included in this box with all the item info.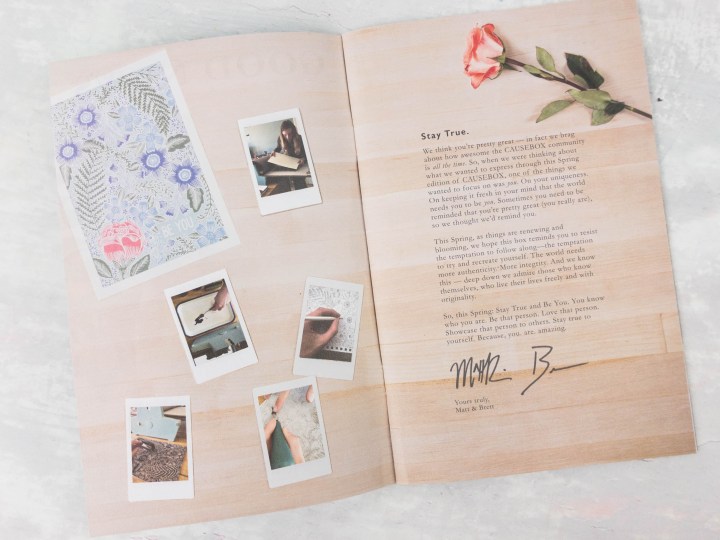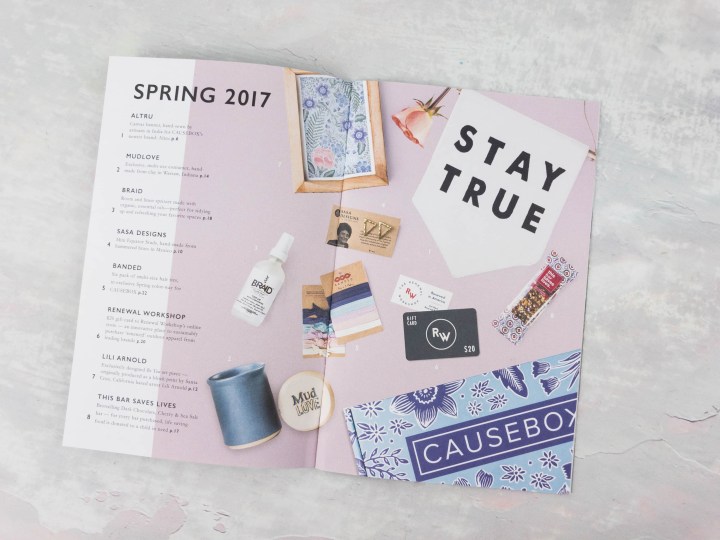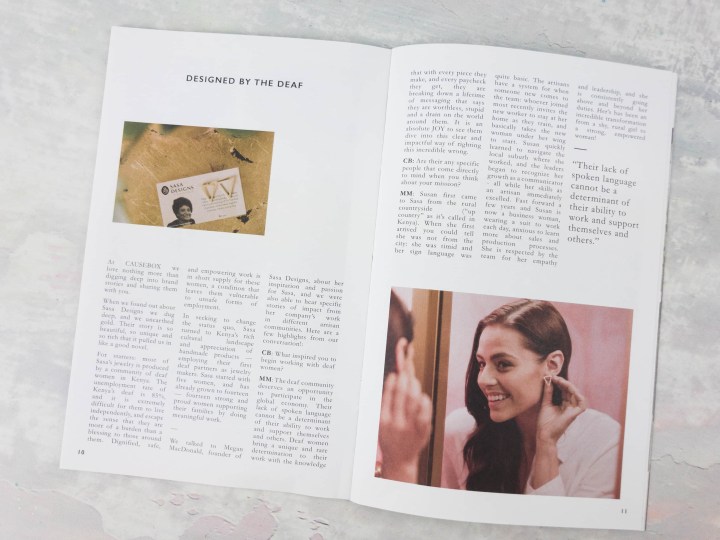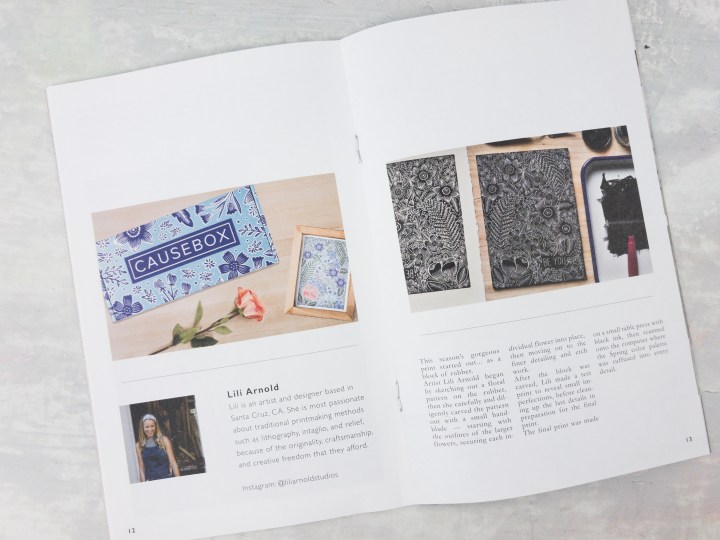 The makers of the products are also featured in the magazine, which details the stories and causes behind each item!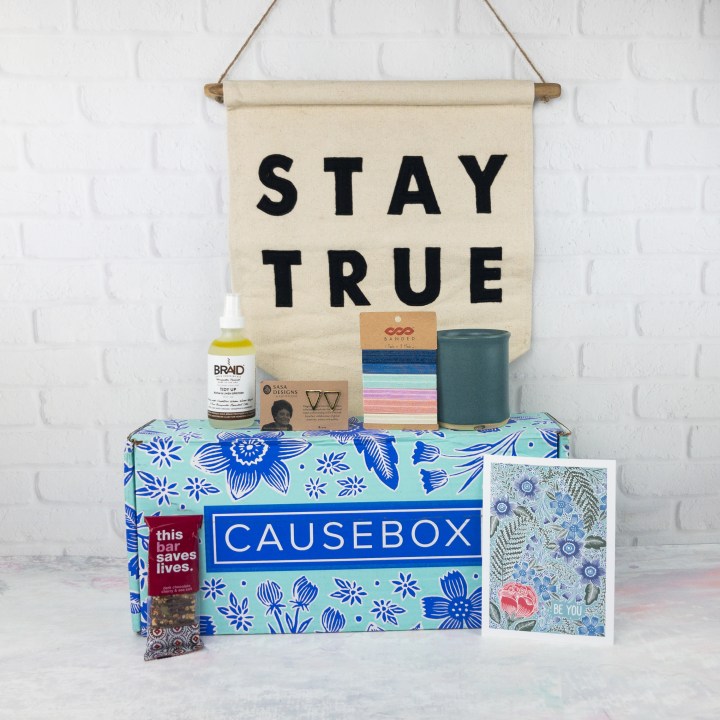 Everything in the Spring 2017 box! The meaningful items in your box will make you reflect, bring some beauty in your life, and benefit social programs.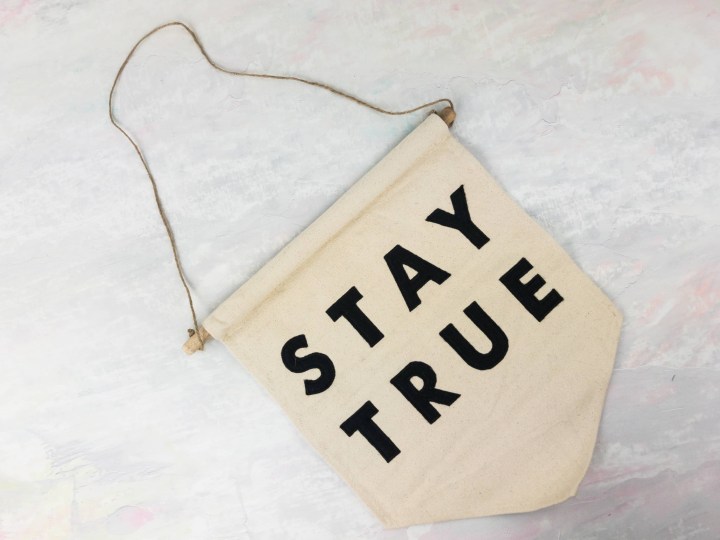 Altru "Stay True" Canvas Banner: We are in love with this! Even though it's a bit more rustic, it really goes with any decor, from modern to farmhouse to country. Plus, the message is super meaningful for us. The banner is about 14″ x 17″ and on a super sturdy canvas.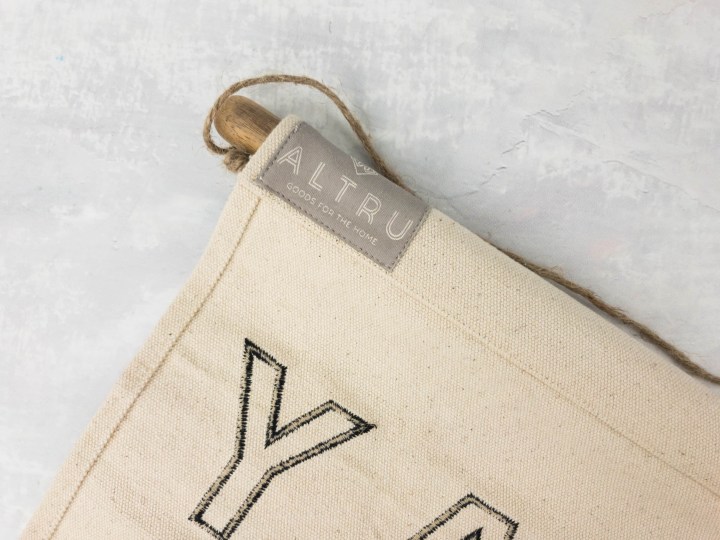 Each letter was individually cut and sewn by artisans in Jaipur. I'm really excited about this piece – I just  love everything about it.
About the artisan: Billed as the first ever CAUSEBOX Original Brand, Altru (short for altruistic) is a new collective formed to create meaningful exclusives for the box! This banner was created in partnership with Tribe Alive. Altru will be working to provide consistent growth and partnerships with a variety of collectives.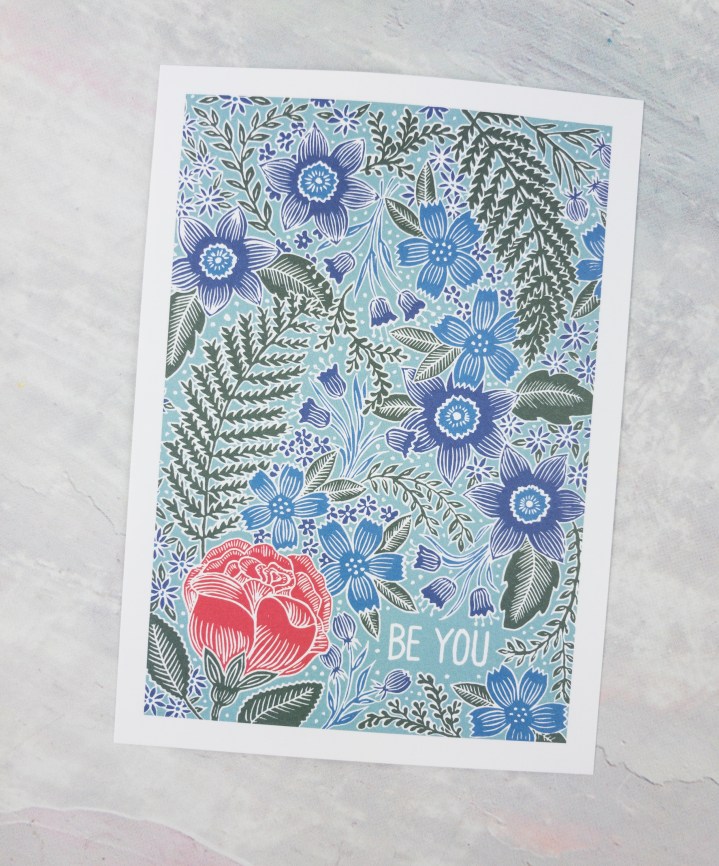 Lili Arnold Print: This print was created from a rubber hand carving, then printed by hand, digitized, and colored. The quality of her work with this traditional to digital method is stunning!
There's a new 5″ x 7″ print every season, and frames are easy to find inexpensively. I love switching mine out.
About the artist: Lili Arnold is a designer based in Santa Cruz who focuses on traditional printmaking methods.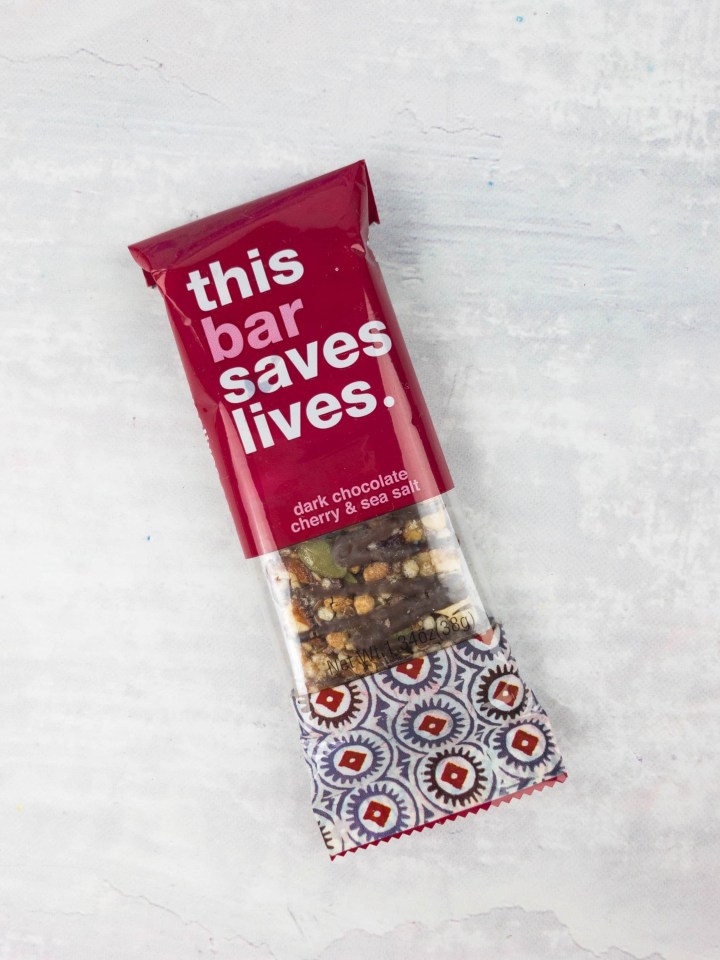 This Bar Saves Lives ($2) This bar features almonds, cherries, and cranberries, plus dark chocolate! The bars are non-GMO, gluten free, kosher, Fair Trade, and are only 160 calories (thank you rice crisps!). They're super delicious.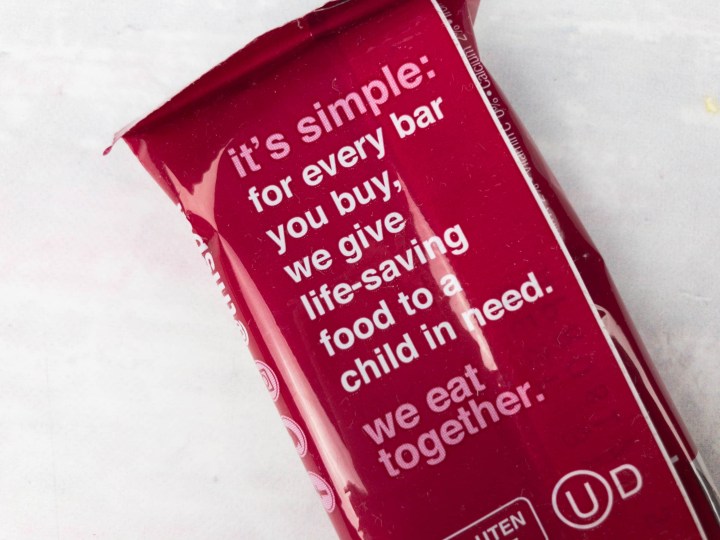 About the brand: Just like the name of the bar says, this bar saves lives! They deliver nutrient packs to children in need with every bar purchased – delivering more than 1.5 million meal packets featuring Plumpy'Nut (a super nutrient rich paste that is designed for those at risk of starvation) saving over 7,000 lives.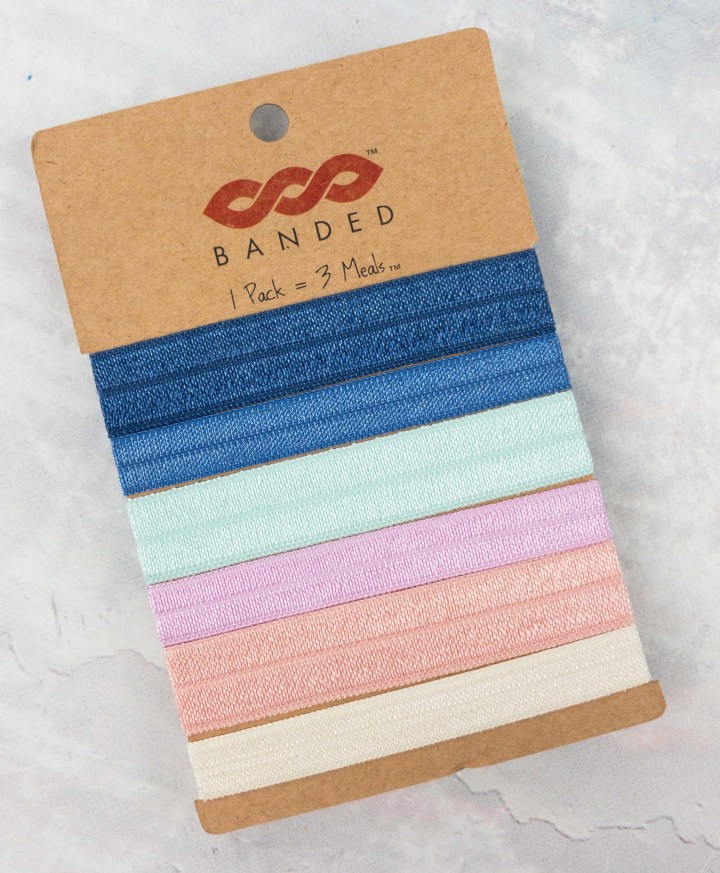 Banded Hair Ties ($7) Hair ties are always great, plus this nice muted rainbow pack is perfect for spring.
About the cause: For every product purchased Banded provides 3 meals for a child in need in Uganda through Amazima Ministries. They've donated more than 9.3 million meals since 2012.
Braid Tidy Up Room & Linen Spritzer ($20) Before I even received this box I got an email notice from CAUSEBOX that the spritzer might be faulty, and it was! I love the proactive approach.
This room & linen spritzer is so soothing! It uses citrus oil to freshen up your space and linens – lemon, lime, sweet orange, tangerine, and grapefruit!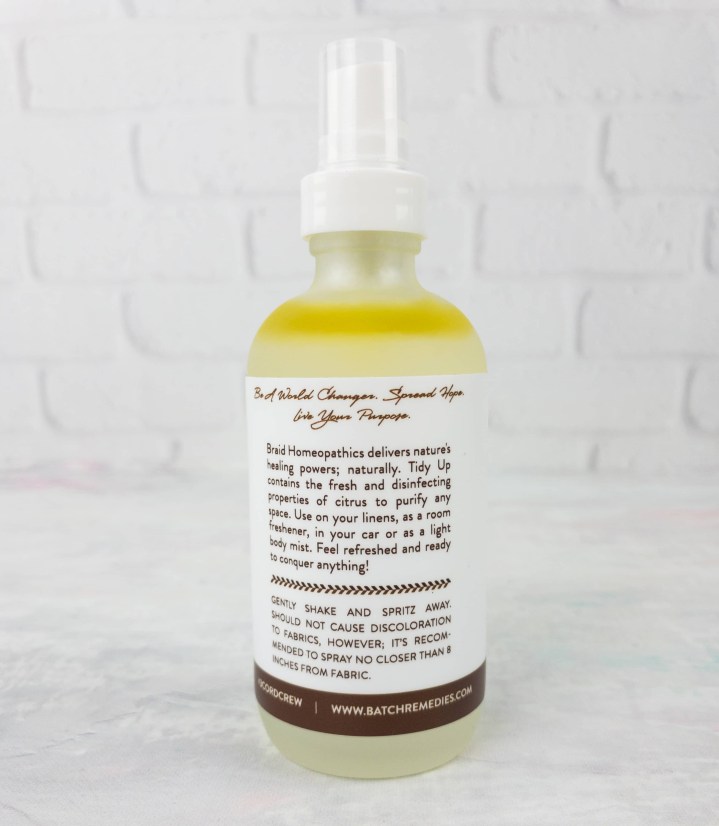 About the brand: BRAID donates 10% of profits to Hope Supply Co, which provides necessities to homeless children including toys and school supplies.
Sasa Designs by Far Fetched Mini Equator Studs ($28)
The earrings come in a handy little pouch – mesh on one side and a fun print on the other!
These earrings were designed and crafted in partnership with Far Fetched in Mexico.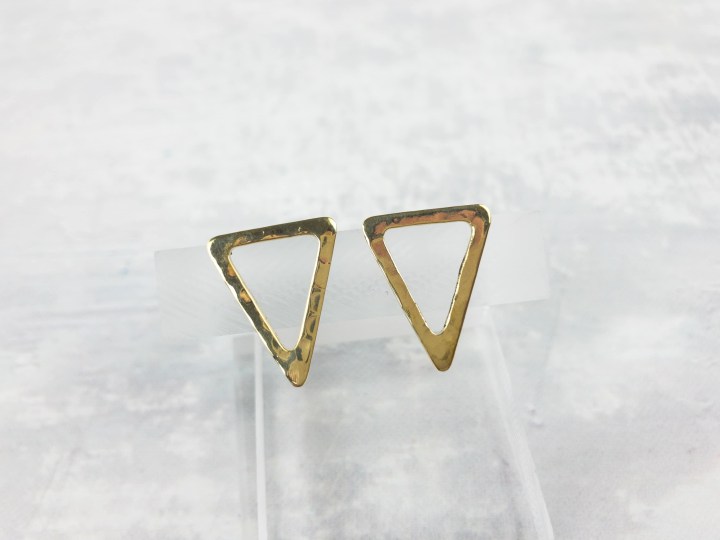 These earrings are so pretty! They're made of hammered brass and just right around 3/4″ long.
The textured surface really catches the light!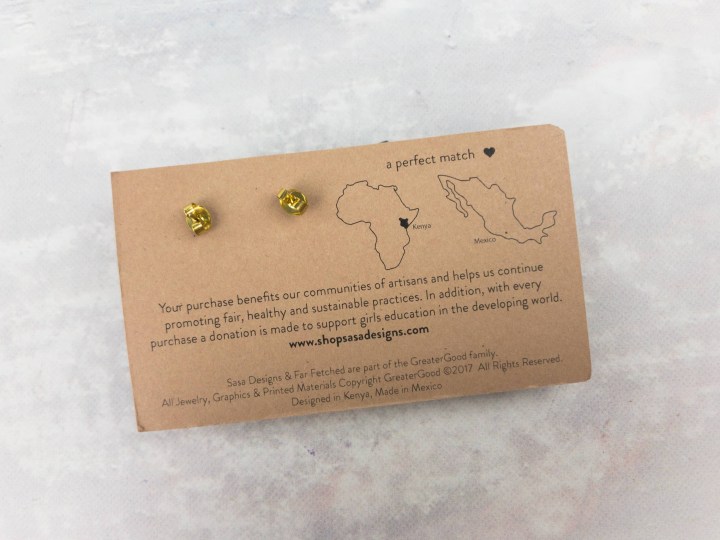 About the artisan: Sasa Designs started by partnering with a community of deaf women in Kenya and grew from there – now they focus on underserved groups in more places. Purchases support girls education in the developing world.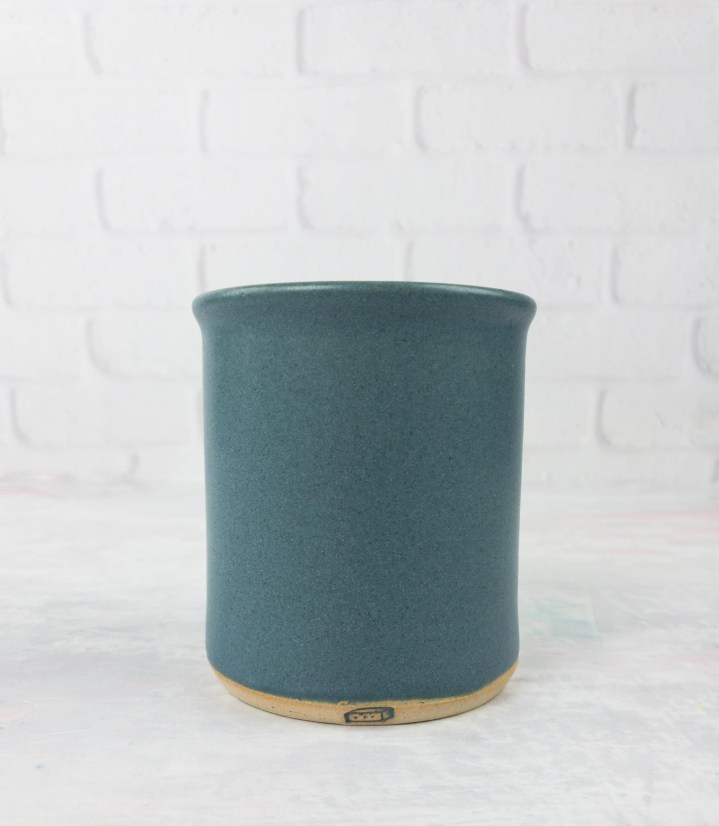 Mud Love Ceramic Container: Made exclusively for CAUSEBOX! One of the awesome things about this item is that it bears the mark of the potter who made it! The mugs that Mud Love sells are $20, so that's probably a good estimate for this piece.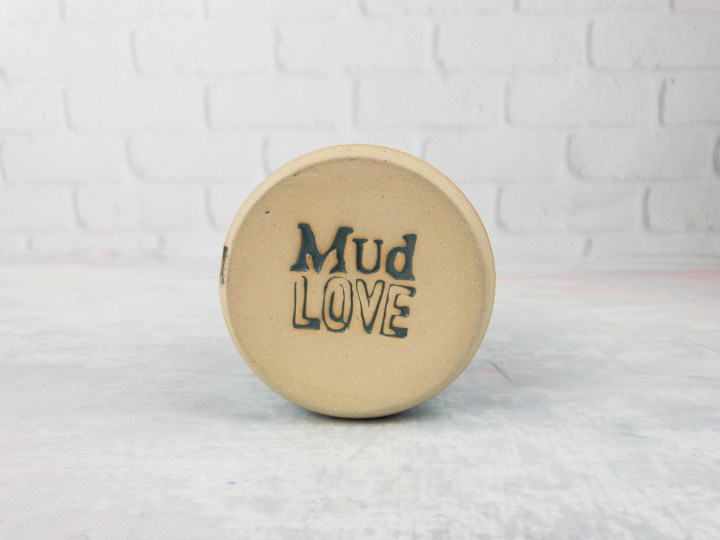 The bottom has the Mud Love mark too. The vessel is 4″ tall and about 3.5″ wide.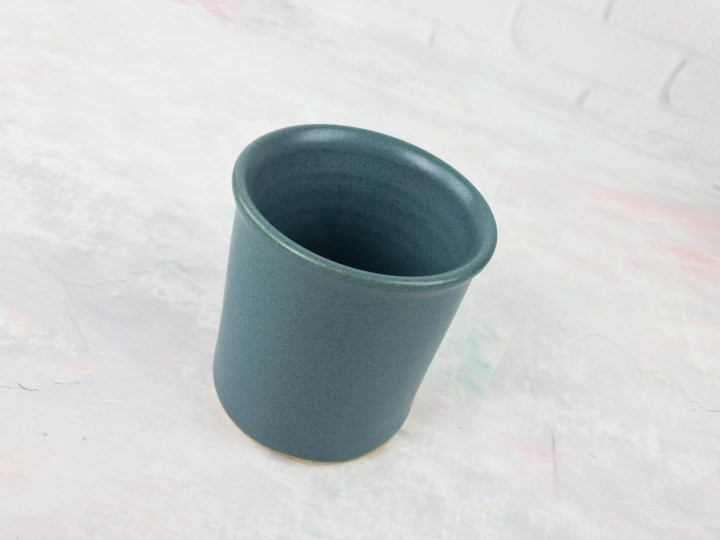 It's hand glazed all the way inside and can be used as a vase, mug, pencil cup, or whatever inspires you!
About the brand: These containers were made by expert potters in Indiana, and 20% of their profits go to Water For Good, which builds sustainable wells and water systems in the Central African Republic – over $350,000 in the past 7 years!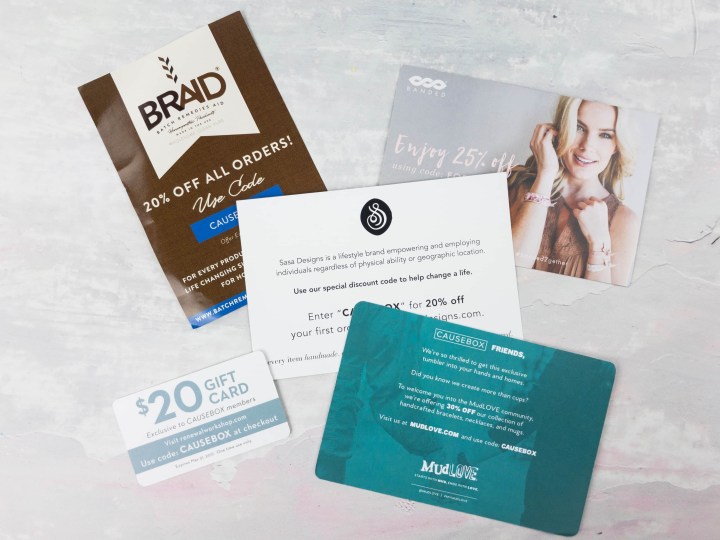 There were coupons for Braid, Banded, Sasa Designs, Mudlove, as well as a $20 gift card to Renewal Workshop, a company that patches up factory seconds by cleaning, repairing, or remaking them and sells them to avoid the fate of the landfill.
What do you think of the Spring 2017 CAUSEBOX?