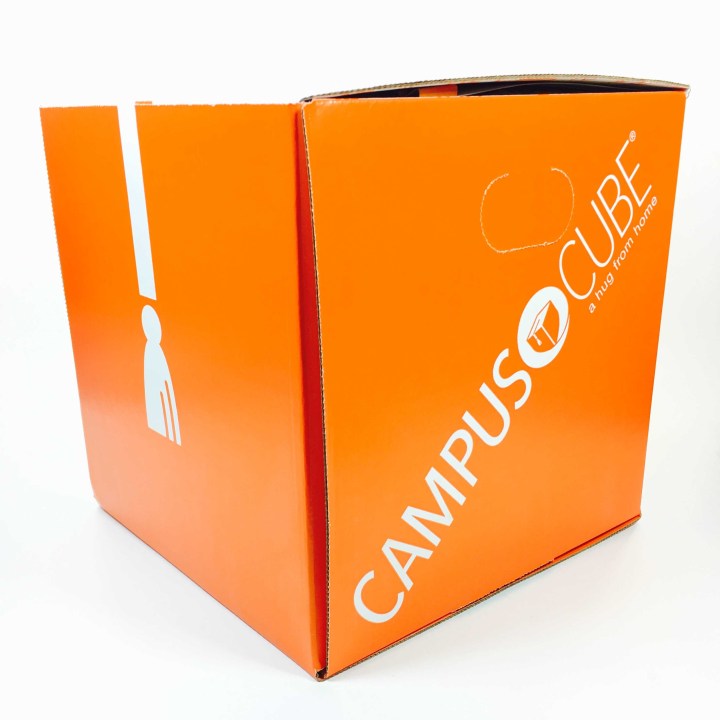 CampusCube College Care Package is a subscription box that delivers treats to your babies who have left home to start a new chapter in their lives at college. As a slacker busy working mom, I don't have time to run around gathering care package items for my daughter but now I have someone to do the picking and packing for me, at least until I get a day off so I can do it myself. CampusCube offers a version for boys or girls and I will be reviewing the items from the Girl's Sunshine Cube. My college freshman is very busy right now so my 13 year old future college student is helping me out this month!
CampusCube is $39.95 for a one-time box and includes FedEx Ground Shipping. If you want this box and the next 2 boxes (shipping mid-April and late May) the price drops to $34.99 per box.
DEAL: Take $5 off your box! Use coupon code Hello5.

Here is a sample of the personalized card your child will receive with their box. The card includes a support number that your student can call if there is a problem with their box. CampusCube offers a gluten-free box and there's a Birthday Box option and Anytime Cube as well. I also received a binder clip (more about that below).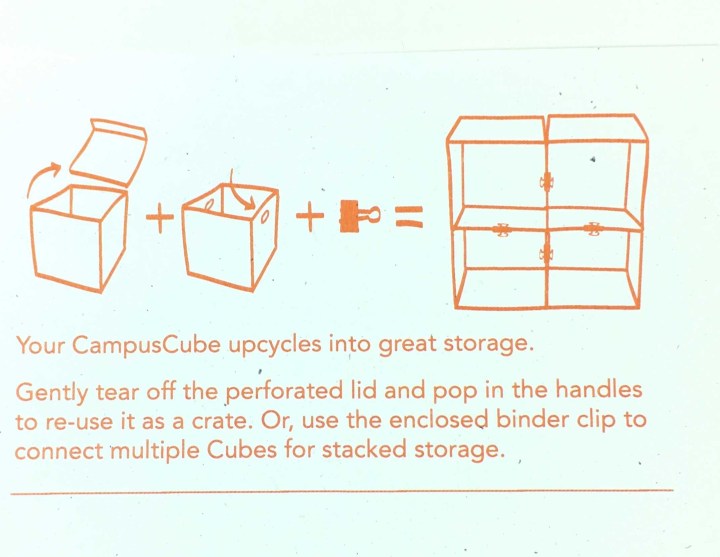 The flip side of the card gave instructions for upcycling the cube into colorful storage boxes using binder clips!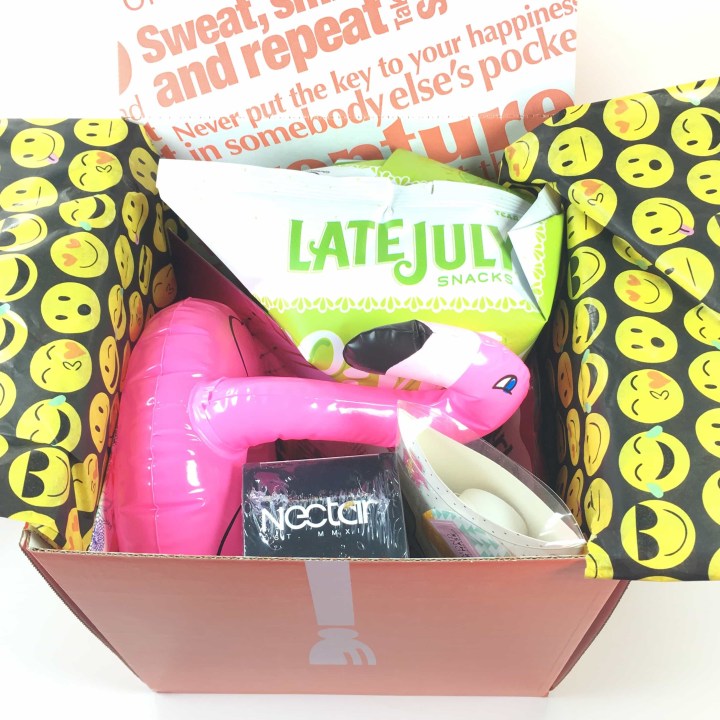 CampusCube does a wonderful job on presentation and I thought everything looked great. It was very bright and cheerful.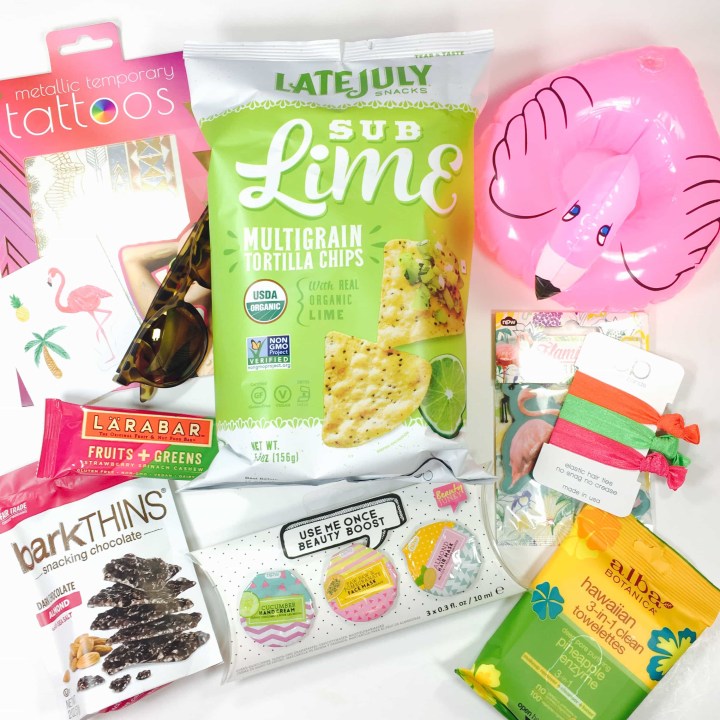 Everything in the box! CampusCube does a great job of telling you exactly what will be included in the current shipment and only shows you the boxes that are available for the rest of the current school year.
Hello Sunshine! Give your favorite student a boost during exams and send a hug full of tropical treats, pampering goodies, a great pair of Nectar Sunglasses and some fun flamingo accessories.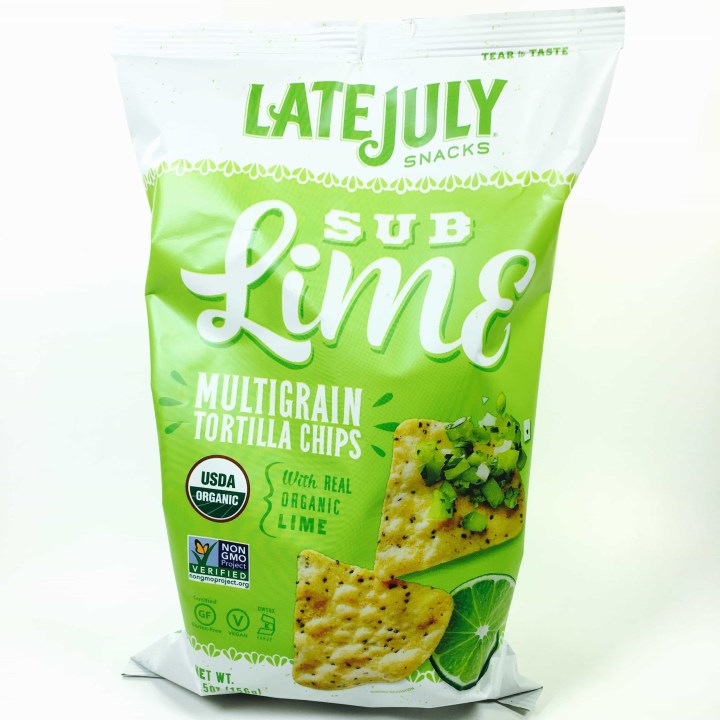 Karina and I agreed that Late July Sub Lime Multigrain Tortilla Chips are our new go-to chip! They had just the right amount of salt and a light lime flavor that wasn't fake. No weird ingredients here, just stuff I can pronounce.
Karina is a big fan of dark chocolate so barkTHINS Dark Chocolate Almond with Sea Salt was another big hit. A short ingredient list with fair-trade chocolate listed first means a lot to me as a mom, since I prefer that my kids eat real food, whether they are at home or college. I still care and hope they make good choices when they're away!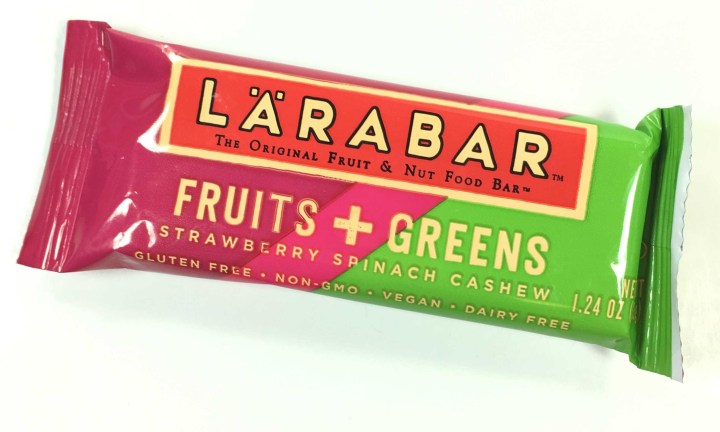 I didn't think Karina would like something like this but she loved LÄRABAR Fruits & Greens Strawberry – Spinach – Cashew. The only other ingredients besides the ones in the name are apples and apricots. I could taste the strawberries and the flavor also reminded me of dried figs, but I couldn't detect spinach or anything "green." Perfect for those trying to get their kids to eat more healthy foods.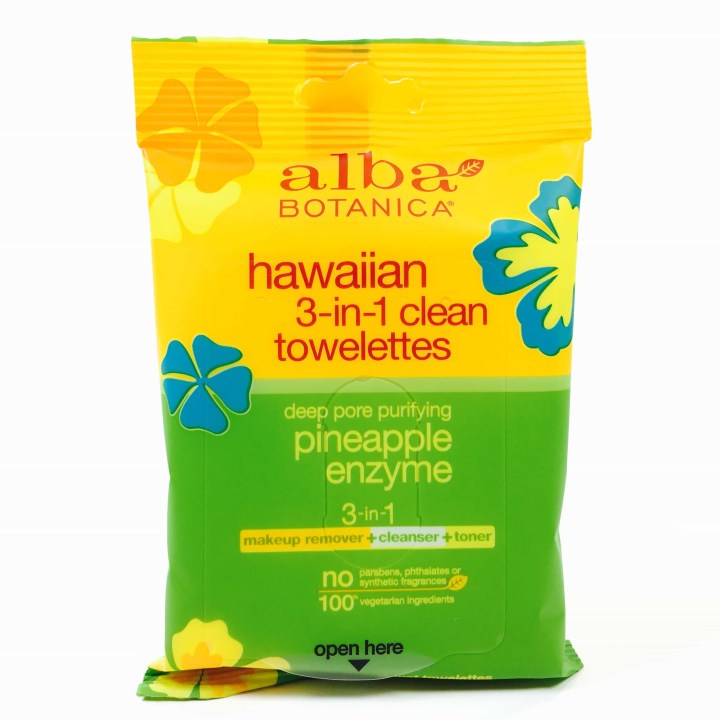 Alba Botanica Hawaiian 3-in-1 Clean Towelettes remove makeup, deep-clean pores, and tone skin in one convenient  wipe. Aloe, pineapple, and papaya extracts are featured ingredients and they have a sweet, citrus scent. Perfect for those nights when you need to get to bed in a hurry but are too tired to walk to your sink.
Festival season is here and body art is always appropriate, the shinier, the better. NPW Metallic Jewelry Temporary Tattoos includes two sheets of gold, silver, and rose gold tattoos.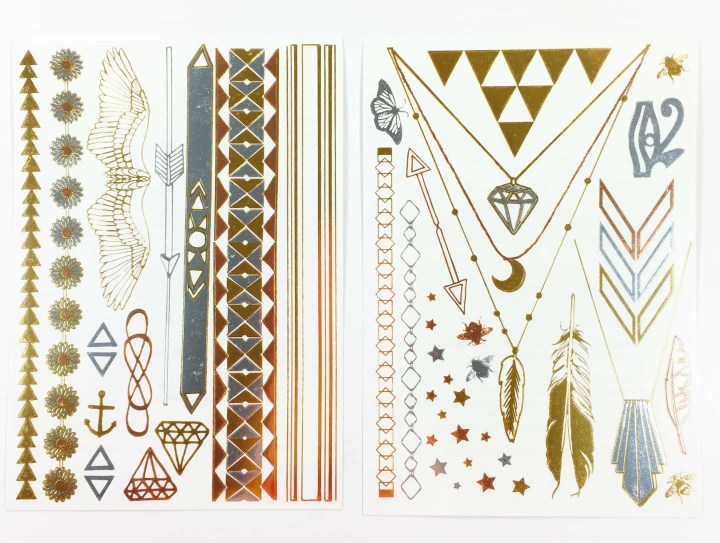 Choose from faux necklaces, bracelets, anklets, and other pieces that can be applied anywhere the sun might shine.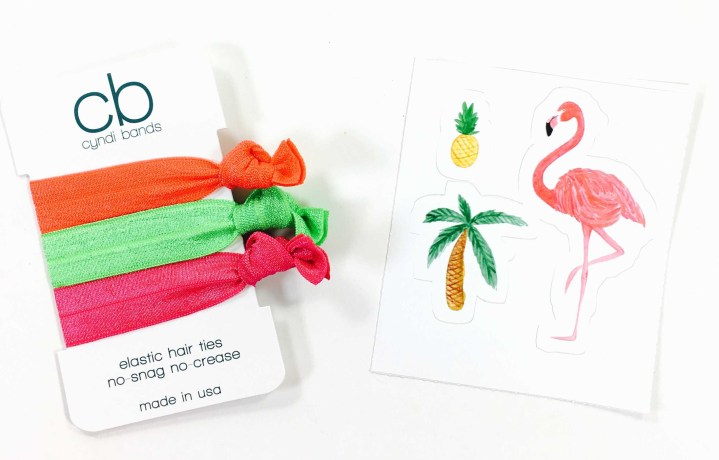 Cyndi Bands Elastic Hair Ties come in a variety of colors and are a no-snag way to style a messy bun. Redbubble Tropical Trio Stickers are die-cut vinyl stickers that can be placed on flat surfaces such as cell phones, binders, windows, wherever.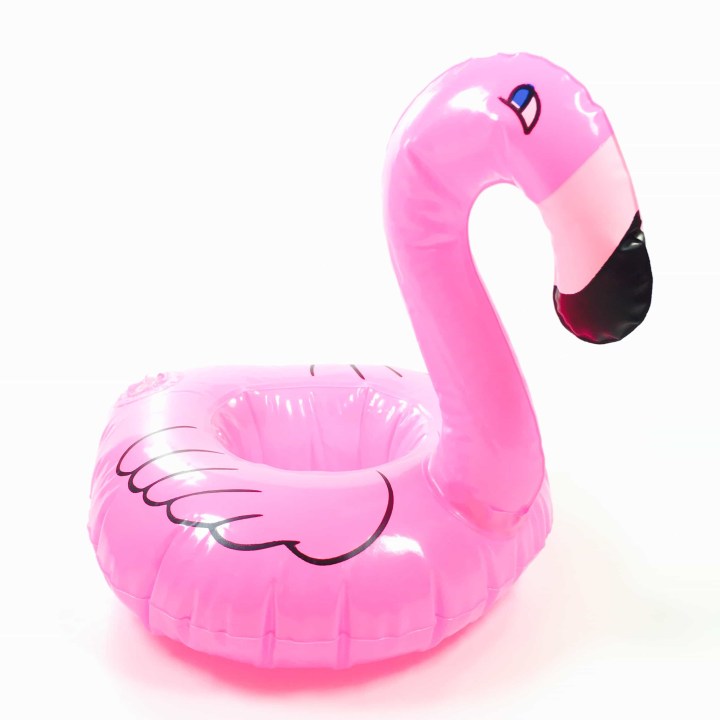 This Inflatable Flamingo Floating Coaster gives the box a cheerful hit of color and can keep your soda handy while you are busy floating in the pool.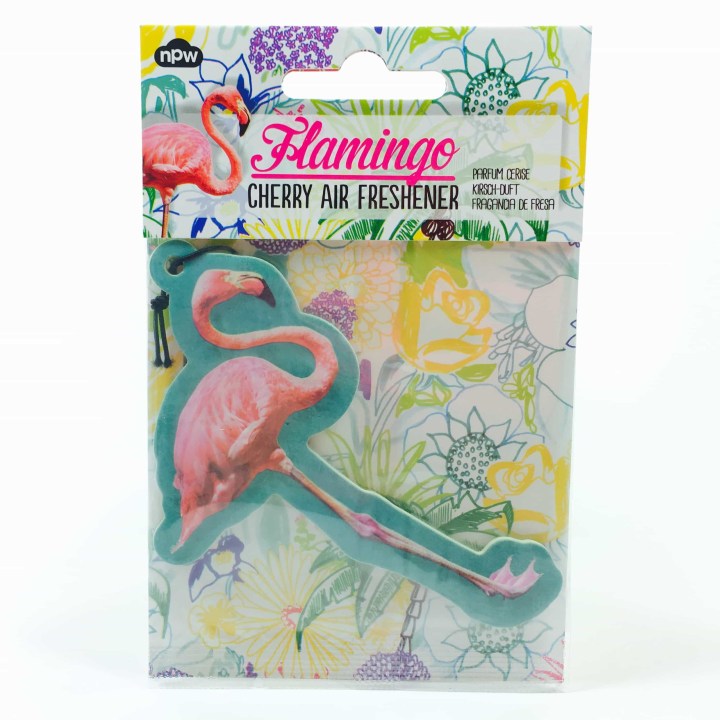 NPW Pink Flamingo Cherry Air Freshener smells exactly like a Cherry Slurpee! Keep your car or room smelling super sweet with this long-legged beauty.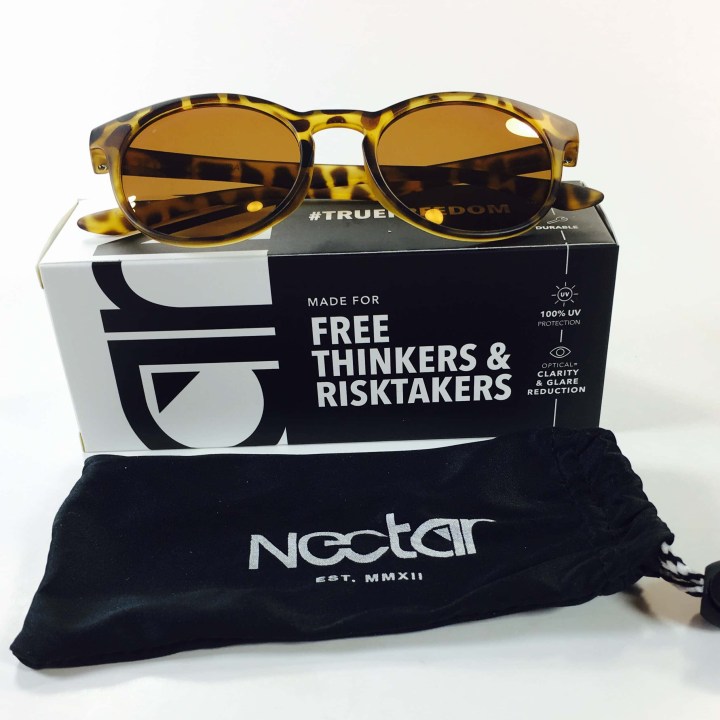 Nectar IPA Polarized Sunglasses with Microfiber Pouch These are the lightest sunglasses I have ever worn, I can barely feel them on my head! Scratch resistant, UV protection, polycarbonate frame for sturdiness. I've been wearing them for a few days and now they are my go-to sunglasses!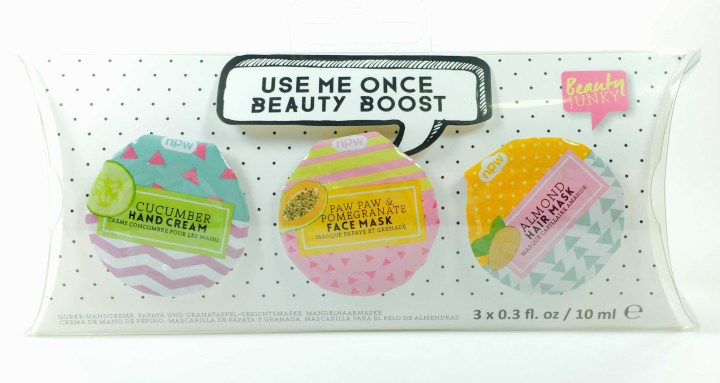 NPW Use Me Once Beauty Boost Trio Includes 3 one-time use packets for a nice spa evening when you just want to stay home and pamper yourself.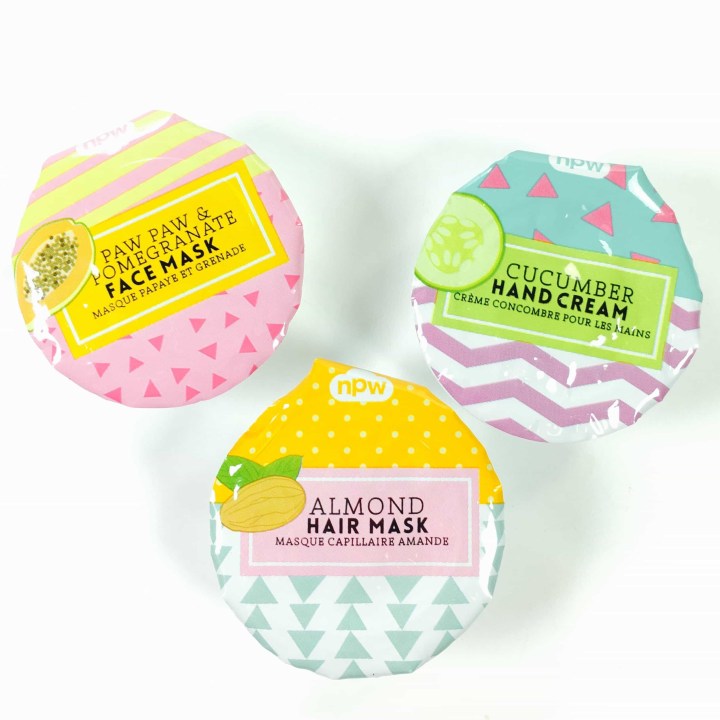 Paw Paw & Pomegranate Face Mask has kaolin clay to cleanse pores; Cucumber Hand Cream features jojoba and avocado oils to moisturize; and Almond Hair Mask has sweet almond oil and jojoba oil to moisturize dry ends and nurture the scalp.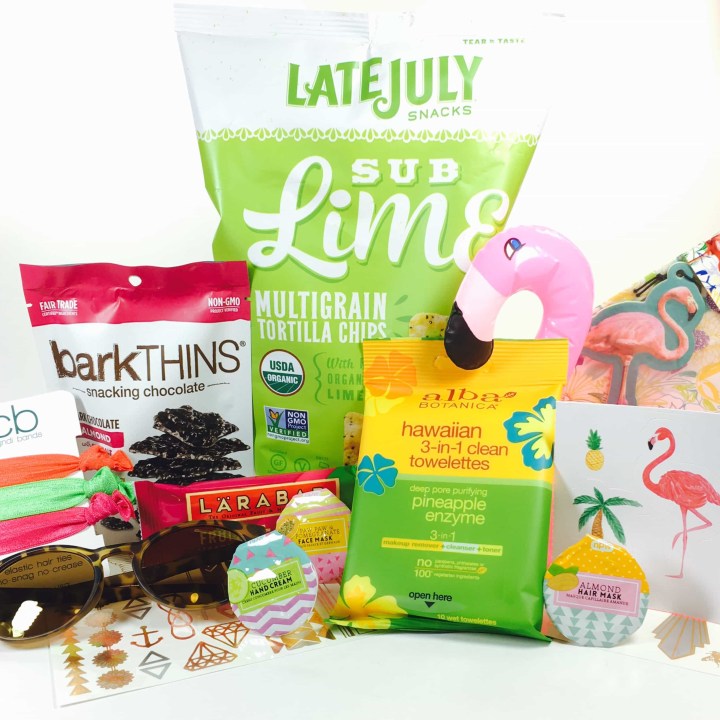 CampusCube sure puts out an awesome box! This is truly a wonderful care package of helpful items, delicious snacks, and pampering self-care treats. It had a cute theme and the items all went together perfectly, plus the presentation is one of the best! As for the value, the sunglasses alone are $30, plus, if you're a busy parent, you will save loads of time not running around and win points from your student for getting them such a cute box. Also, this box would be great not only for college students, but high school students or anyone who recently moved away from home who could use a little extra box of happiness once in a while.
What do you think of CampusCube? Let me know what types of items your student likes to receive in the comments!
Visit CampusCube College Care Package to subscribe or find out more!