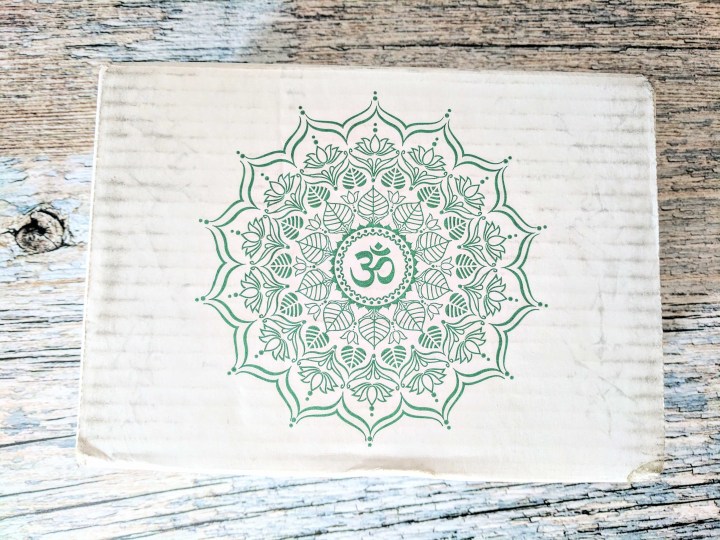 BuddhiBox is a monthly box meant to enhance yoga practice and encourage healthy living. BuddhiBox is $34.95/month for a curated mix of 4-6 samples and full-size products. This is a great box for anyone that is new to yoga or even those who are dedicated yogis. Each month, a portion of their sales goes to supporting an amazing cause. Sadly, I don't know this month's cause as their website hasn't been updated as of this review.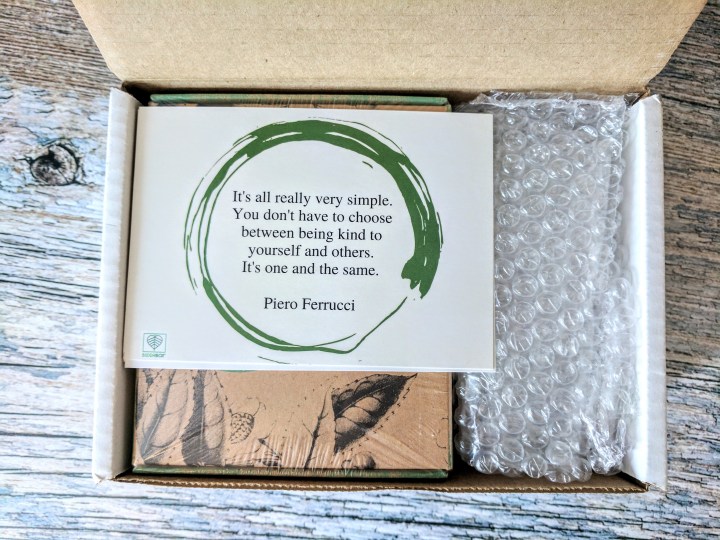 DEAL: Get $5 off your first box Use coupon code hellosub.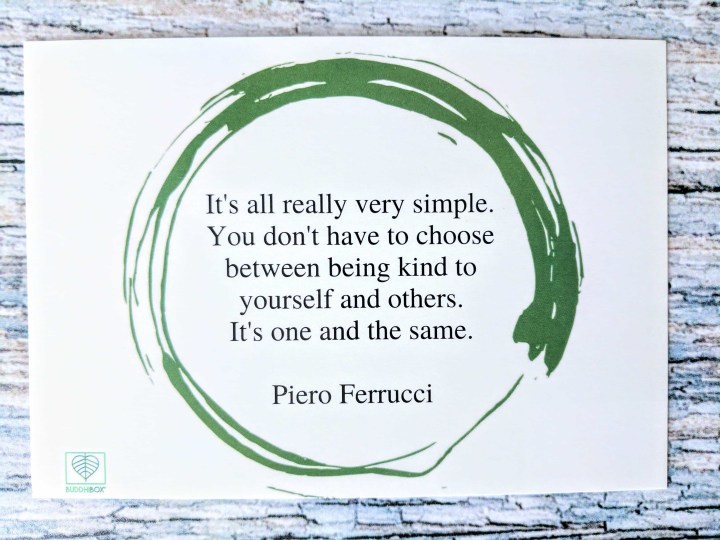 Every box comes with three cards: a quote card with a list of items on the backside, a Yoga Pose Card and a Recipe Card. the quote this month reminds us to be kind to both ourselves and others. I really love these monthly quote, I keep them up for the month to remind me to be a bit better with myself and others!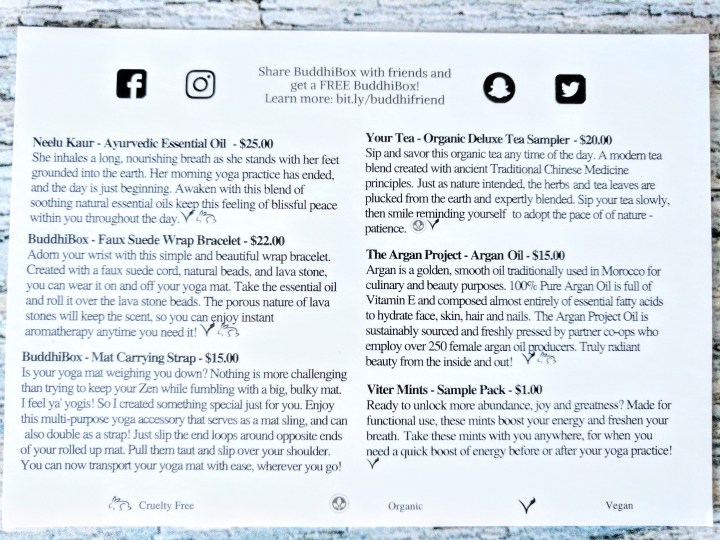 On the reverse side of the Quote Card, all the items are described. Great fact: on the info card, the items are marked when they are vegan, cruelty-free and/or organic.
The Yoga Pose Card is the triangle pose, perfect to stretches the hips, back muscles, chest and shoulders. For me, this pose challenges my balance when I do it on the right side (right hand down) and I do it with yoga blocks. Yoga blocks are a life saver you guys!
The Recipe this month is a Green Superfood Energy Bars by Milk and Honey Nutrition, with kale, chia seeds, almonds, dates and other good stuff for your body and mind. I really appreciate that they offer slight variation to make them vegan friendly (by swapping the raw honey for maple syrup) and gluten free (by making sure the oats are gluten free). I might give it a try, as I'll have access to a lot of freshly made maple syrup soon, but I've never tasted kale yet. I know, where have I been all these years!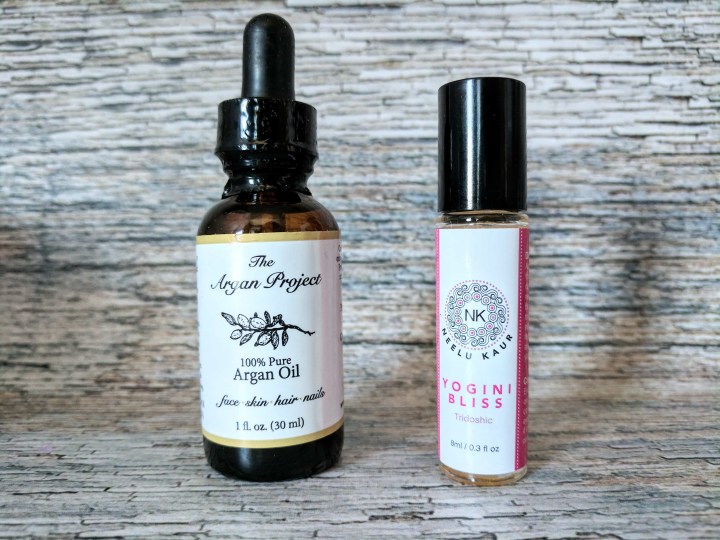 Neelu Kaur – Ayurvedic Essential Oil. Yogini Bliss. The blend is good for the three doshas and is made with jojoba, rose, natural vanilla, ylang ylang (I love the scent of ylang ylang), mandarin, geranium, cinnamon & cardamom oils. It is spicy, festive, exotic, full of warmth, and it makes you want to move. I don't know why this combination of oils makes me feel that way, but I can't stop smelling my wrist! Yogini Bliss is the right name for this blend!
The Argan Project – Argan Oil. I'm so excited to see this oil in the box as I've wanted to try Argan Oil for a while now on my face (hello dry skin and adult acne!) It is 100% argan oil and can be used to hydrate face, skin, hair and nails. One drop goes a long way, even on super dry skin (one drop was enough for one hand and finger, four drops for my face and neck). It doesn't leave my skin feeling oily or greasy, just soft and hydrated. I really like it! Fun fact: The Argan Project Oil is a co-op of female argan oil producers, helping them earn money to access education and healthcare for them and their family.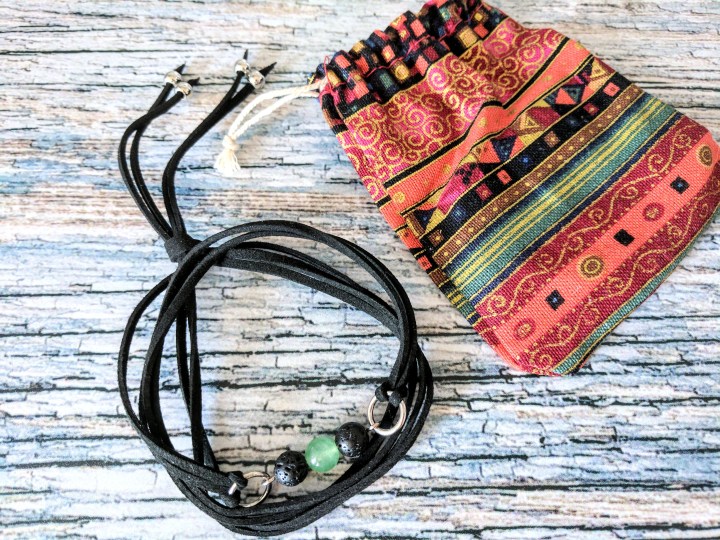 BuddhiBox – Faux Suede Wrap Bracelet. This is such a lovely wrap bracelet! I love lava beads, and I think the middle stone is an aventurine, a stone for emotional calm. Paired with the grounding lava beads, this might become a favourite! I love the little silver beads on the tips of the suede length, it adds a finishing touch. You can also put a drop of essential oil on the lava beads and it will smell good throughout the day! Funny that we also received essential oils in this box! I love the cute pouch this bracelet came in.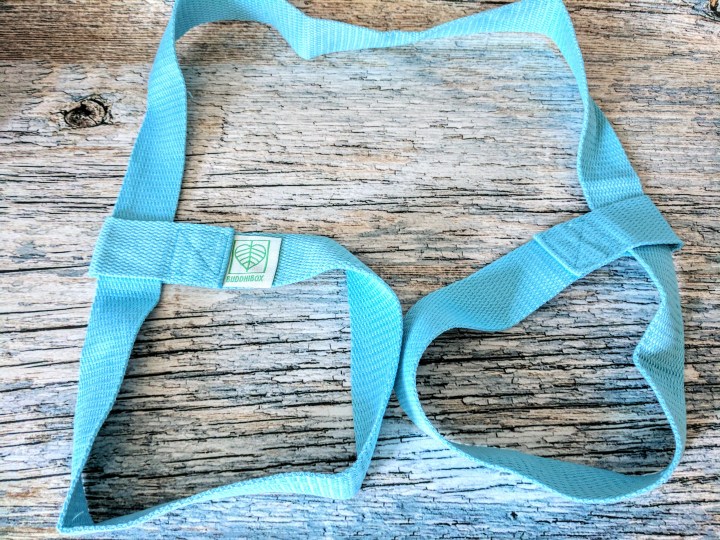 BuddhiBox – Mat Carrying Strap. I love the colour! This is such a useful item to own for any yogi out there! I have a yoga mat bag in which I can put everything I need for my class, but sometimes, I need to use a different and smaller bag, and a yoga mat carrying strap that can be used in the class to reach deeper pose is the way to go! (After showing the strap to my husband, it disappeared. He wants to get into yoga and this is a great basic item to get, after a mat of course!)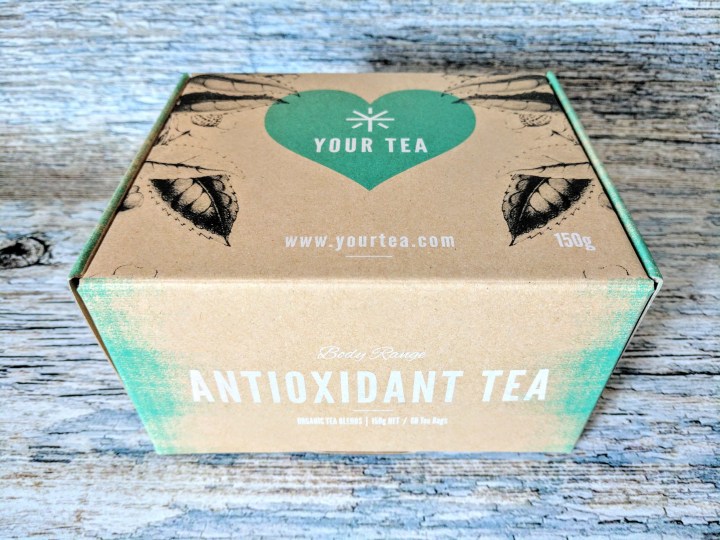 Your Tea – Organic Deluxe Tea Sampler. I actually received the Antioxidant Tea, and it smells great.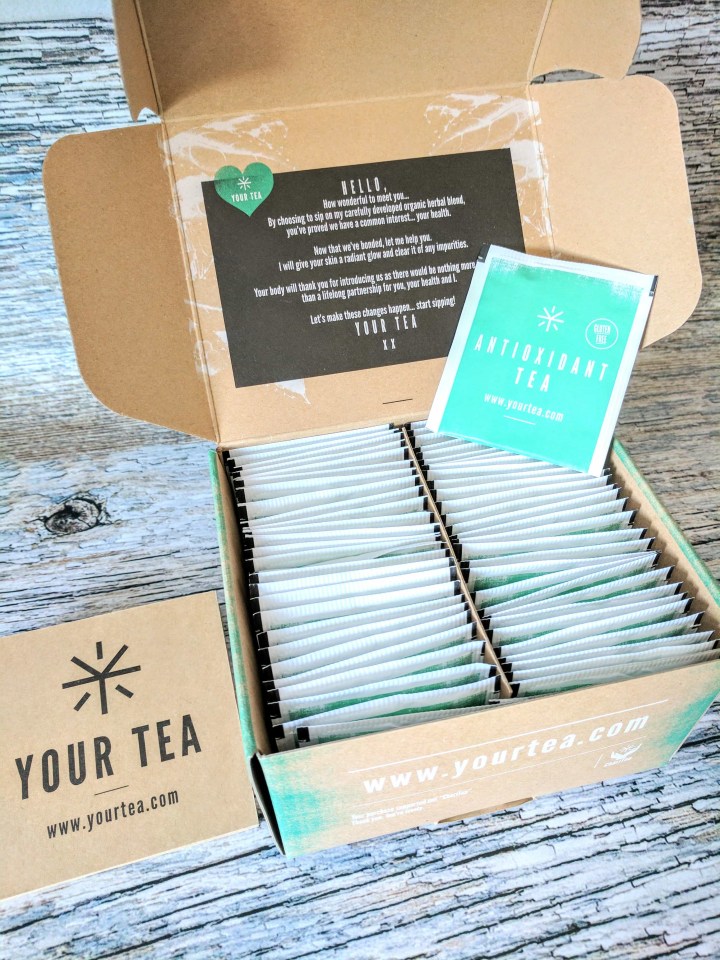 My only problem with this tea (I love tea) is that there is no easy way to find a list of the ingredients. I tried to access their website, but I can't find this tea because of a bug. I've managed to find through their Instagram that two of the ingredients in this blend are Ginko Biloba and Eucommia Ulmoides Oilver, a small tree native of China, and can help in fat loss, treats dizziness, headaches and promotes circulation. Quite a powerful mix of ingredients!
Viter Mints – Sample Pack. Getting the boost from coffee but with a fresh breath? Count me in!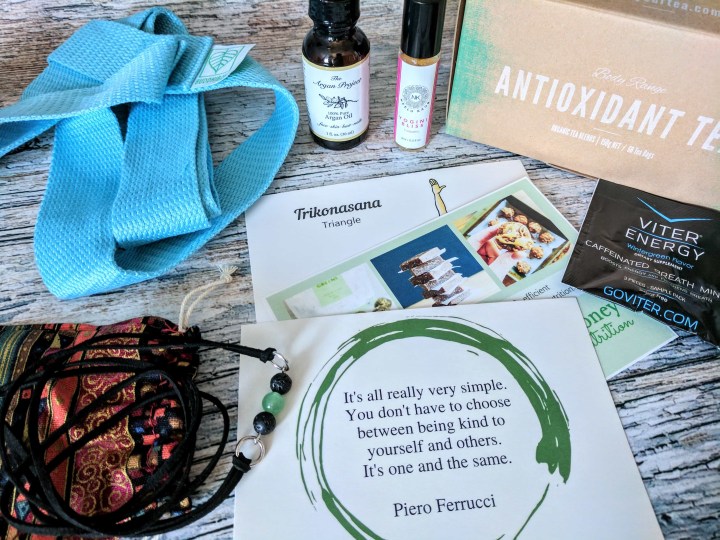 I love my BuddhiBox! So much that my husband is as curious as I am to see what kind of goodies will be in there! And this month didn't disappoint either! I like that we always get something yoga-practice related (like the strap, my husband has already claimed it), a piece of jewelry, some beauty items and something to drink or a snack. I always enjoy the yoga pose card, it gives me a specific pose to get better at throughout the month, and the recipe card is great to remind us to stay healthy!
What did you think of April's Buddhi Box?
Namasté!
Visit BuddhiBox to subscribe or find out more!