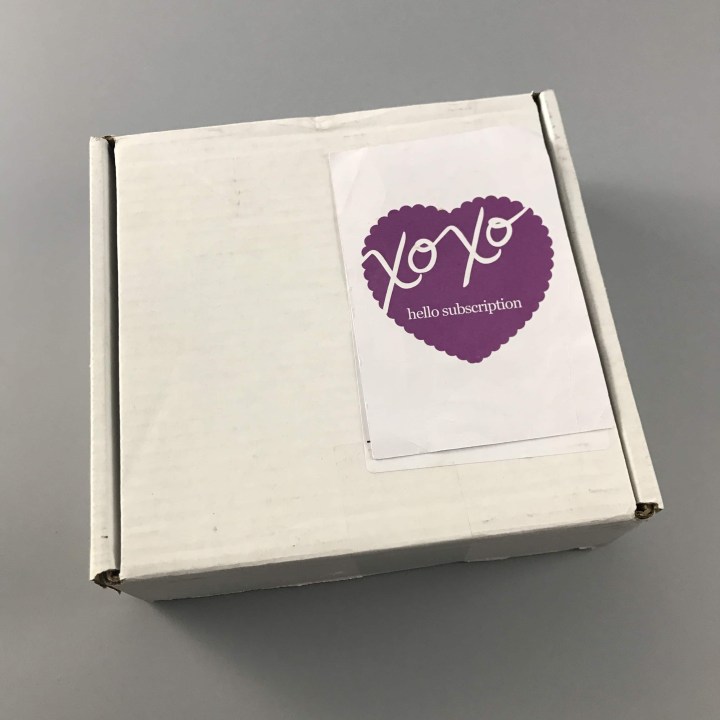 Bonjour Jolie is the way to pamper your period for as low as $16 a month – it's a monthly period/time of the month subscription box with everything you need! This box comes nicely wrapped and very discreet. The best feature is having it delivered on your schedule.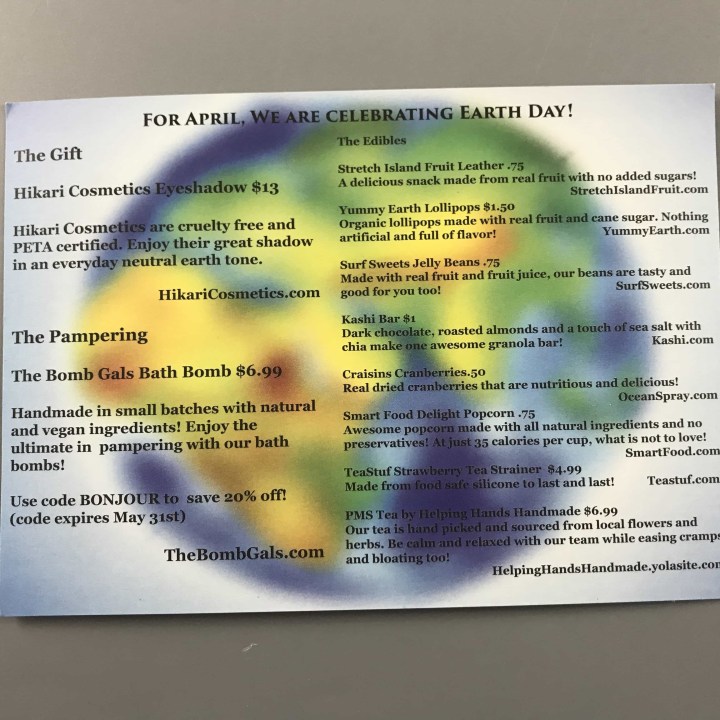 This card runs down the entire contents of the box, along with web addresses and prices. It also shows what this months theme is, Celebrating Earth Day!
U by Kotex Click. A full sized package of supplies is available or I could have mixed it up by making it a combination of pads and tampons.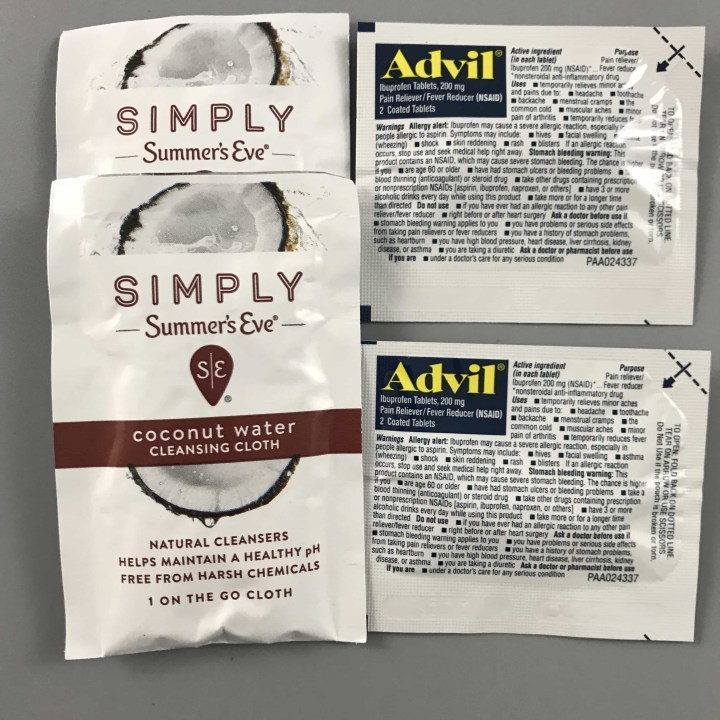 The add ons I picked are Summer's Eve Cleansing Cloths and Advil packets. I love that you don't have to choose them but they are an option, both great for the unexpected visitor and fit neatly in my purse.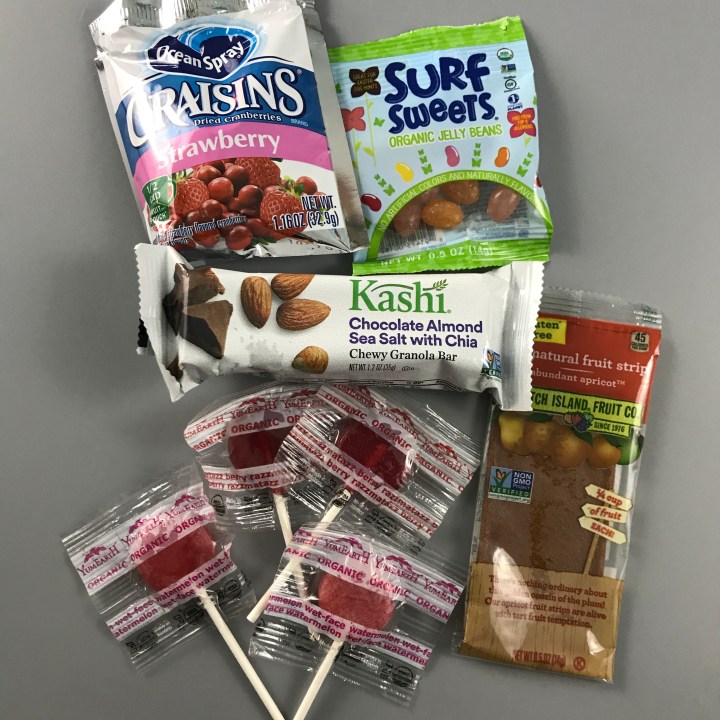 Snacks…all the best goodies for a sweet tooth fix.
Stretch Island Fruit Leather ($.75). It was a delicious snack made from real fruit without added sugars. I'd eat these for breakfast even if I wasn't in a hurry.
Yummy Earth Lollipops ($1.50). I've had these lollipops on several occasions and they are amazingly fruity. Of the two flavors the raspberry is my favorite but the watermelon is also marvelous. I'd hand these out as a Halloween treat in hopes of no one coming to my door so I could eat the leftovers.
Surf Sweets Jelly Beans ($.75). I'm not a jelly bean fan normally, but these were like eating real fruit – almost like they were good for me.
Kashi Bar ($1). Dark chocolate, roasted almonds and a touch of sea salt with chia make for one awesome granola bar! It's super sweet and has a light salty after taste, I can't wait to stock my pantry with this healthy treat.
Craisins Cranberries ($.50). Nutritious and delicious as well as strawberry flavored…yummy!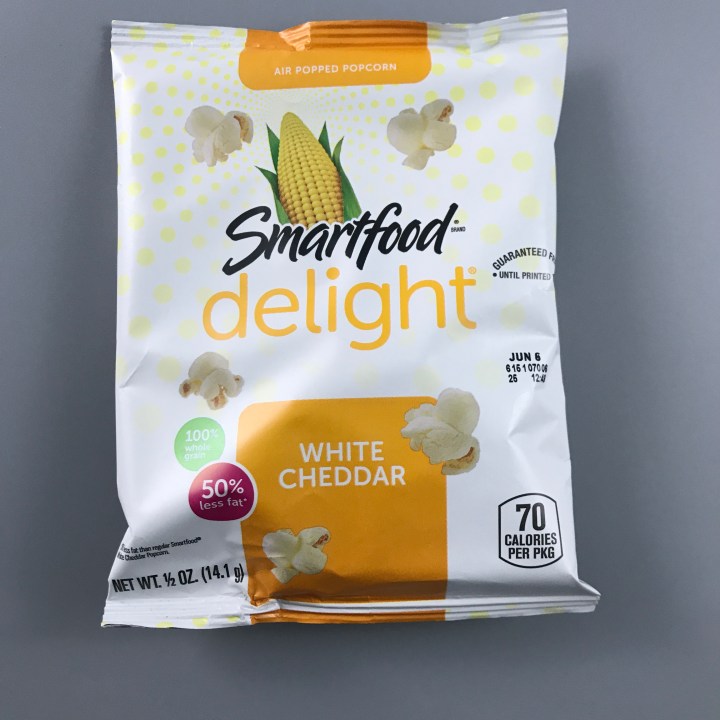 Smart Food Delight Popcorn ($.75). With only 35 calories per cup what's not to love about this air popped white cheddar snack. I wish it resembled regular Smart Food a little bit more but either way I was a happy full girl.
PMS Tea by Helping Hands Handmade ($6.99). The tea is hand picked and sourced from local flowers and herbs. Be calm and relaxed while easing cramps and bloating too.
TeaStuf Strawberry Tea Strainer ($4.99). Made from food safe silicone to last and last. I'm madly in love with this tea strainer, it's adorable and completely functional.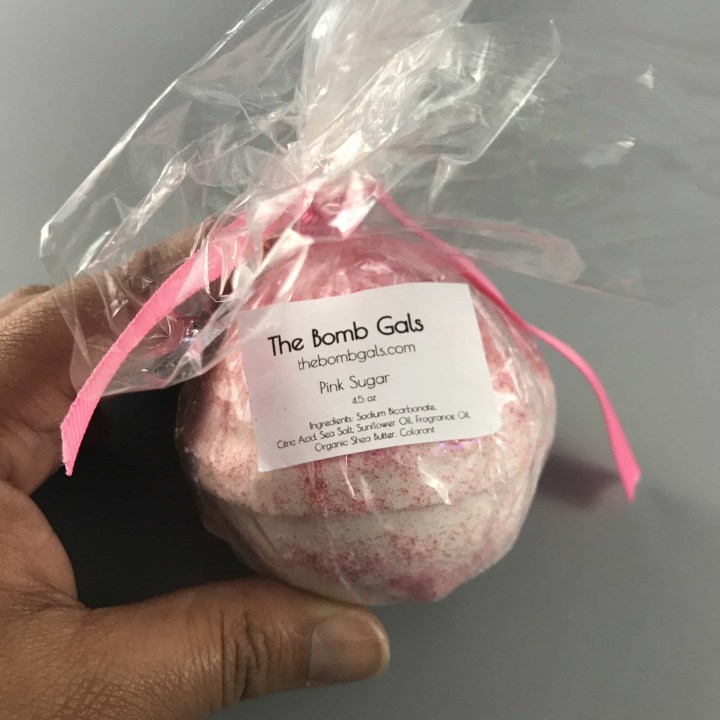 The Bomb Gals Bath Bomb ($6.99). Handmade in small batches with natural and vegan ingredients! Enjoy the ultimate in pampering with these bath bombs. This smells sweet and has a touch of glitter mixed in, it also stayed in one piece without any flaking. I'm looking forward to indulging in a nice relaxing bath.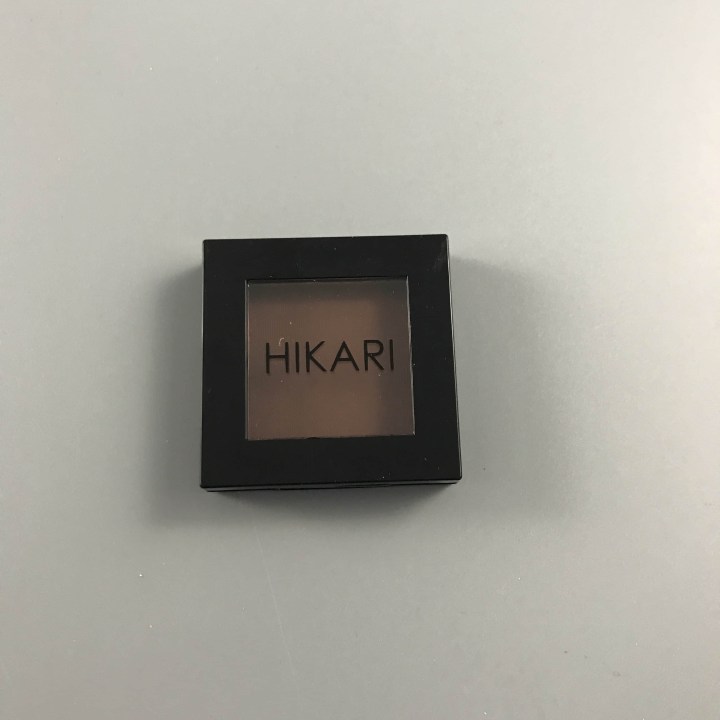 Hikari Cosmetics Eyeshadow ($13). Hikari Cosmetics are cruelty free and PETA certified. I am enjoying this everyday earth tone, it's so refreshing to get makeup that can be used everyday instead of a statement color.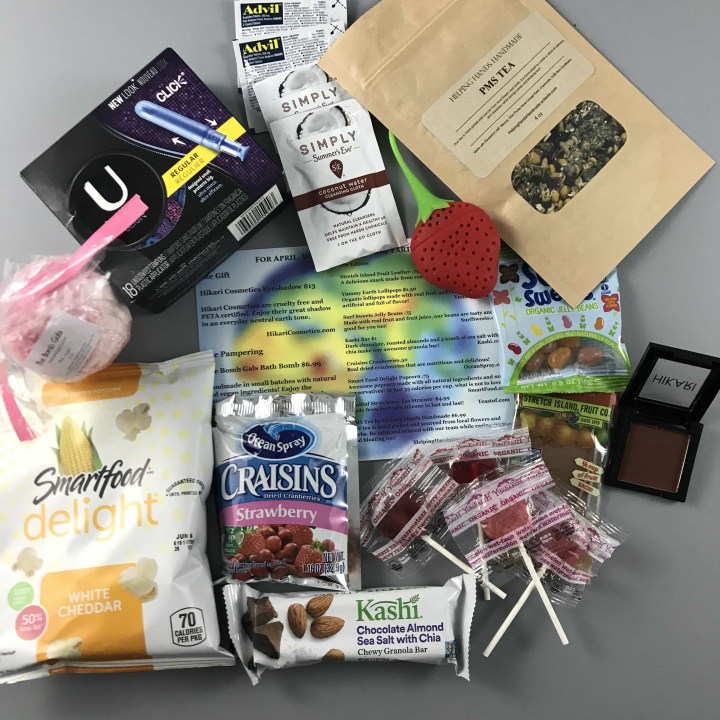 Bonjour Jolie sends the best snacks for my sweet tooth and my favorite supplies. There is nothing greater than getting all the items I need for my time of the month all in one convenient box. This month was great because it was all very earth friendly, I like products that are good for the earth and for me. I also like that there is very little filler in these boxes and what there is can be recycled.
Have you tried Bonjour Jolie?