Blockhead Box is a monthly dog subscription box for bully breeds, heavy chewers and blockhead dogs curated by Fight4Them. Fight4Them is an organization of mixed martial artists, wrestlers, and boxers bringing awareness and combating illegal dog fighting and dog abuse. Expect to receive high-quality dog treats, durable toys, and human apparel. Start off by selecting your shirt size (small to 2XL). Next, select your dog size. Lastly, select your subscription billing option. A portion of the proceeds is used to fund human education, dogs in need, and law enforcement with their subscriptions.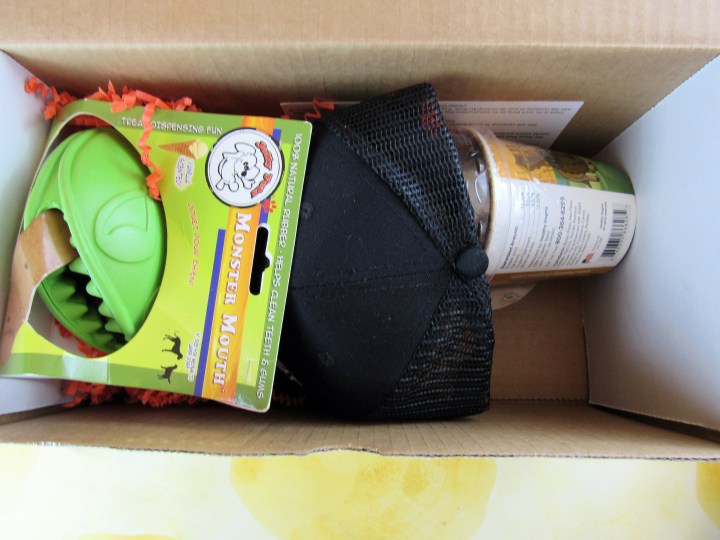 DEAL:
  Get 10% off your first order! Use coupon code 
HELLOSUB10
.
A note was included thanking the subscriber for the purchase and a reminder that no toy is indestructible. There is no information card included.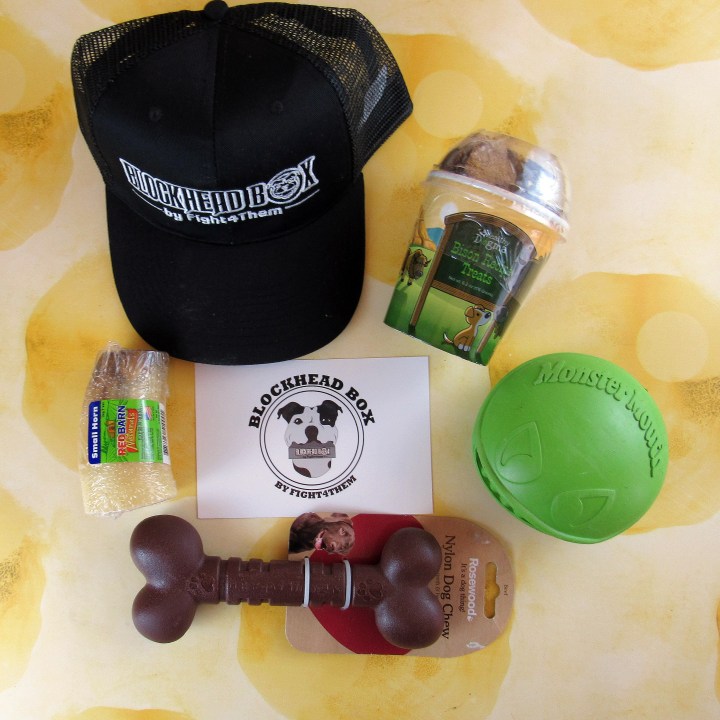 Here are the items in the March Blockhead Box for large dogs. Let the chewing begin!
Bella and Odie enjoyed chewing on the Red Barn Naturals Small Horn ($2.99). The sourced in Paraguay and made in the USA treat kept them busy for hours.
Bella loves her chews! Her size does not stop her from enjoying the large dog boxes.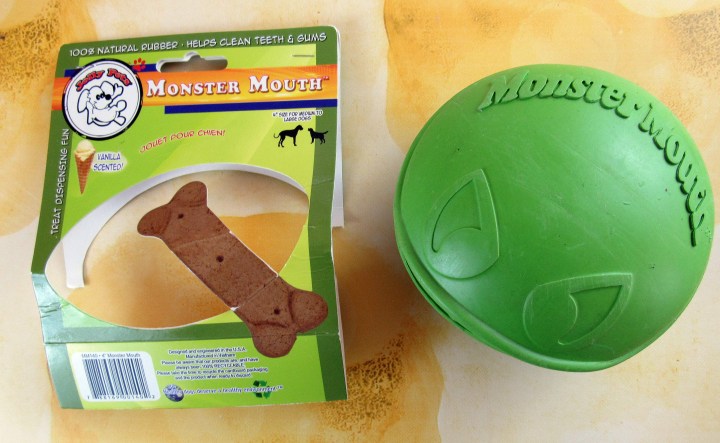 All three dogs love to play with treat puzzles. The Jolly Pets Med/Large Monster Mouth ($6.99) is a 4″ rubber monster!
The made in the USA durable toy also cleans teeth and gums.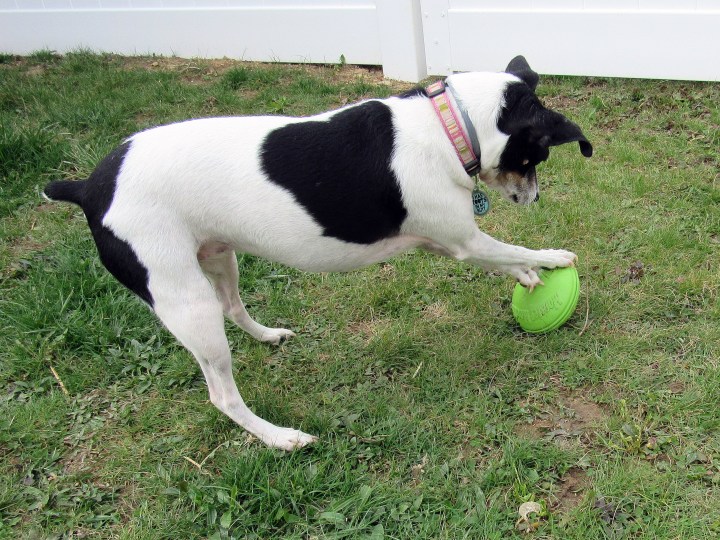 Bella is a little larger than our male cats. She's ready to tackle the monster and eat the treats.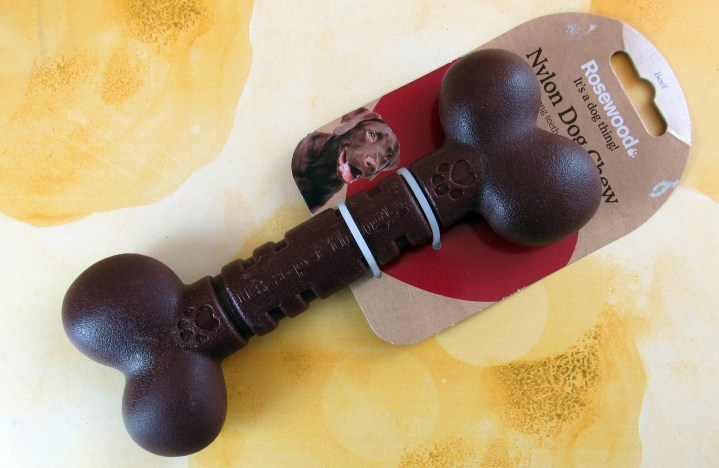 The Rosewood Nylon Dog Chew Beef Flavor Jumbo Size ($9.99) is infused with beef flavor. It is also dishwasher safe. Odie and Bella had no interest in the bone. Guess who liked the bone?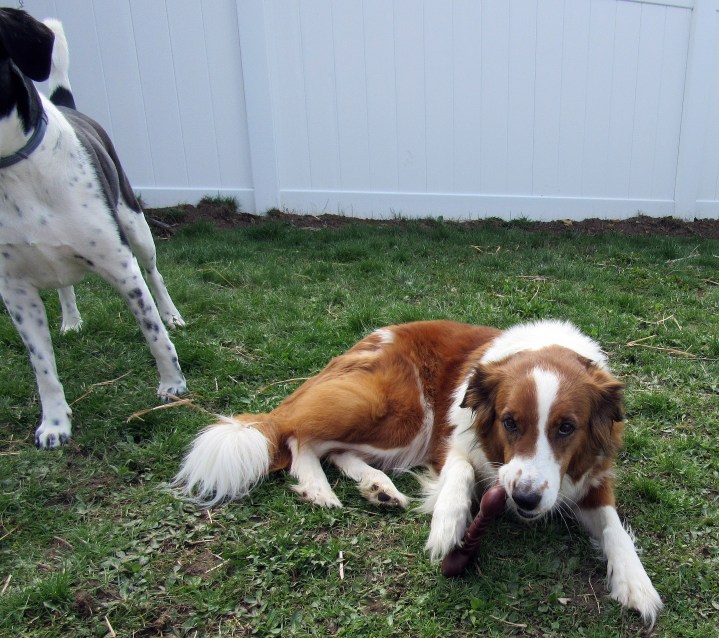 Daisy! Odie moved as I snapped the photo. The look on his face said "What is she doing in my review?" because Daisy doesn't participate in tough chewers dog box reviews.
Odie is by my feet munching on a couple of made in the USA Healthy Dogma Bison Recipe Treats (6.2 oz, $5.95). The grain and gluten-free treats were enjoyed by Odie and Bella. Daisy wants to eat the treats whose first ingredient is bison, but it has chicken fat in it.
T claimed The Blockhead Box Hat (appx $20.00) by Fight4Them. Fight4Them, the organization behind the box, is an organization of martial artists, wrestlers, boxers, and other combat athletes that are working to end dog fighting.  The merchandise has been excellent quality. I do hope they bag the hat/shirts in the future because the squiggle dust was hard to remove from the hat.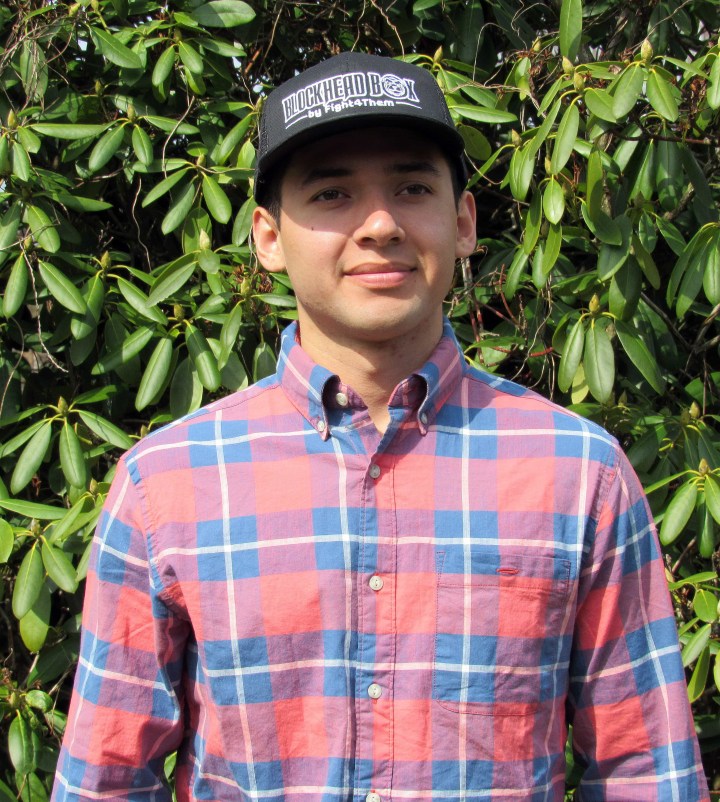 It's time for doggie photos. Odie and Bella are tag-teaming again. Odie is half Border Collie and half Labrador Retriever who destroys his toys through play. Bella is a Mini Rat Terrier that believes all toys should be ripped to pieces. Daisy, our English Shepherd, is making a guest appearance this month. She does not believe in the destruction of toys.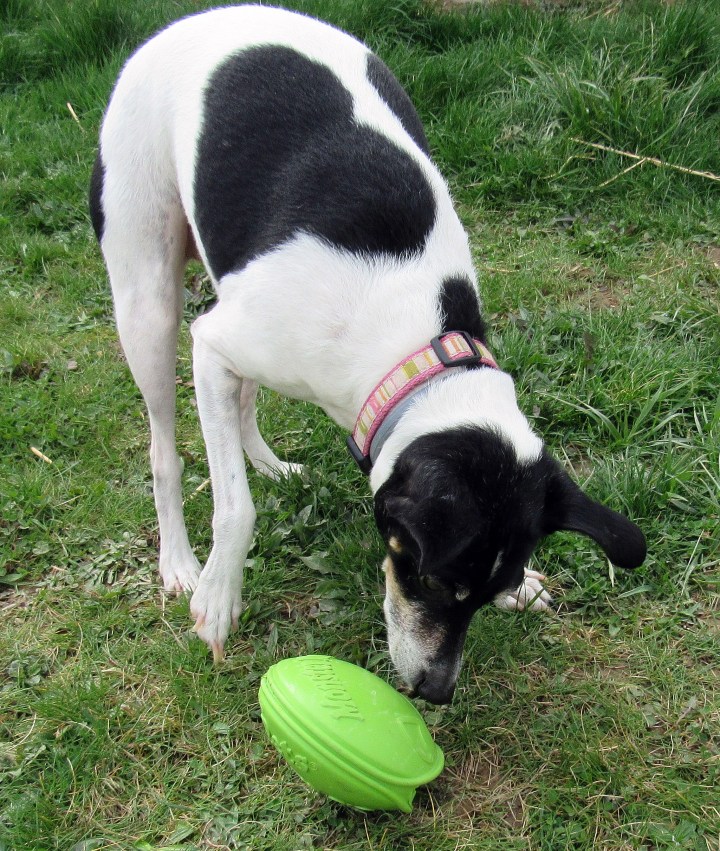 Bella is curious about the monster mouth.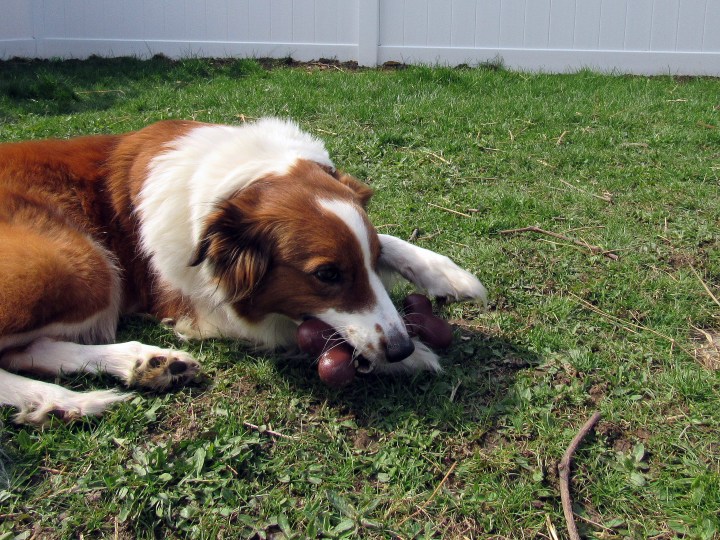 Daisy is making a guest appearance because she loves the Rosewood Nylon Dog Chew. She is a gentle chewer. The bone is an excellent size for her.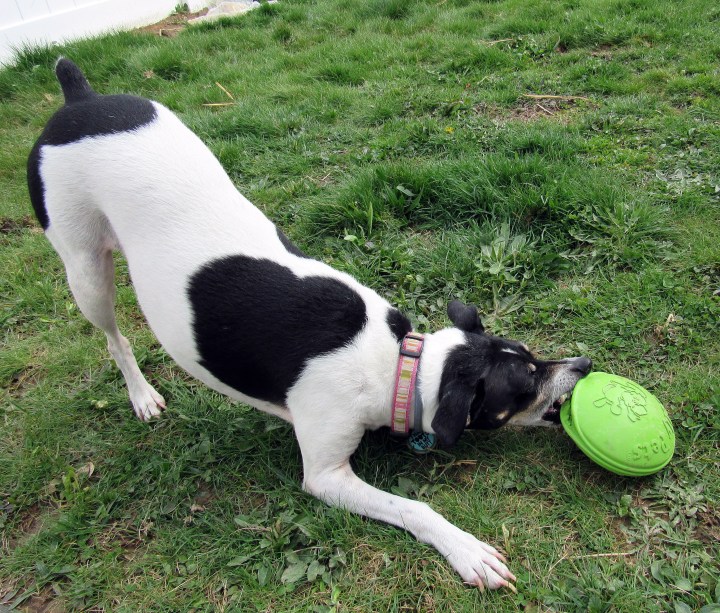 Bella is working hard to reach the treats!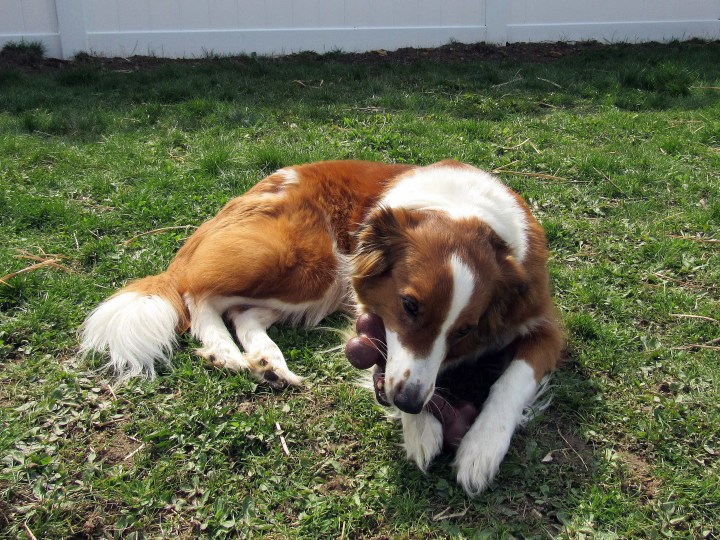 Daisy is a happy girl as she chews on her bone.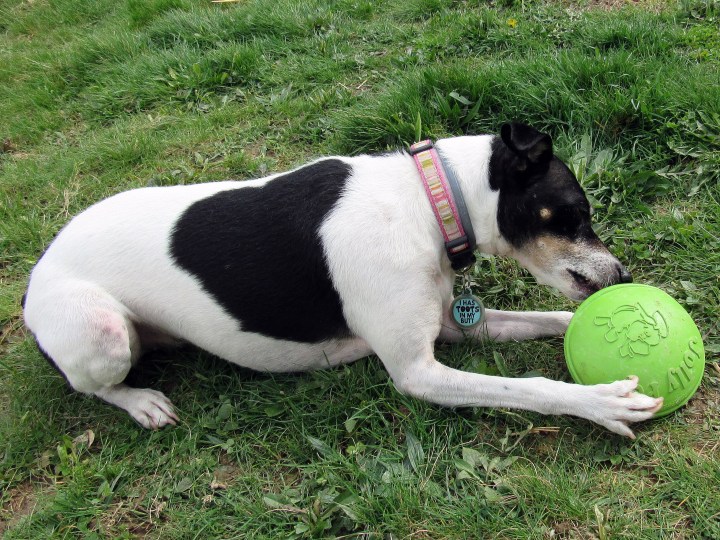 She loved pulling treats out of the monster's mouth
Odie was in a no-nonsense mood while claiming his treats. He sat down and started to pull them out immediately.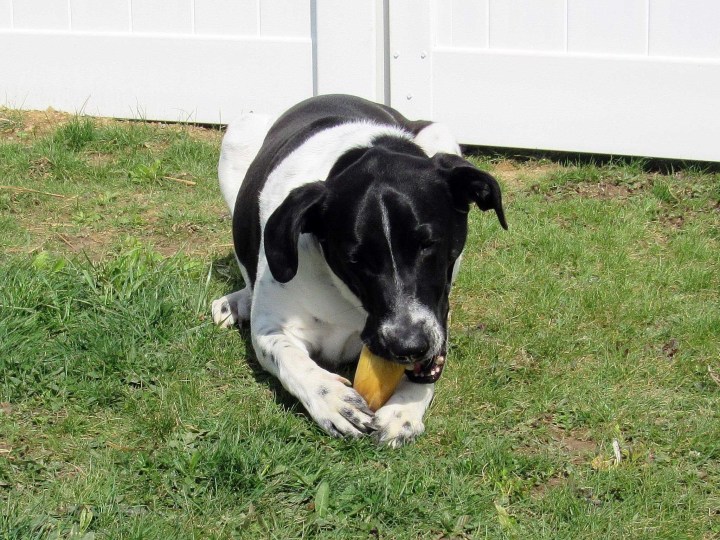 He acted the same way with the horn. It was all about chewing and finding treats on a beautiful spring day.
Our tough chewers enjoyed the March Blockhead Box. There aren't many pictures of Odie because all he wanted to do was chew which is what the box is all about! The dogs enjoyed their treats and toys. I was surprised that Daisy showed interest in the bone because she usually ignores the toys which are not babies in her eyes. Blockhead Box did an excellent job meeting Odie's heavy chewer needs and Bella's aggressive chewing needs. Blockhead box is an excellent box for aggressive and heavy chewers that want to have fun.
What do you think of the March Blockhead Box?