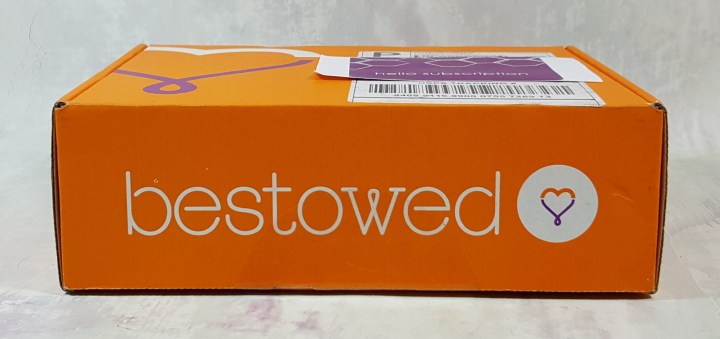 Bestowed Box is a subscription box full of healthy, nutritionist-curated items perfect for a healthy lifestyle. We like this subscription because we are able to discover new products and brands that we don't necessarily see all the time!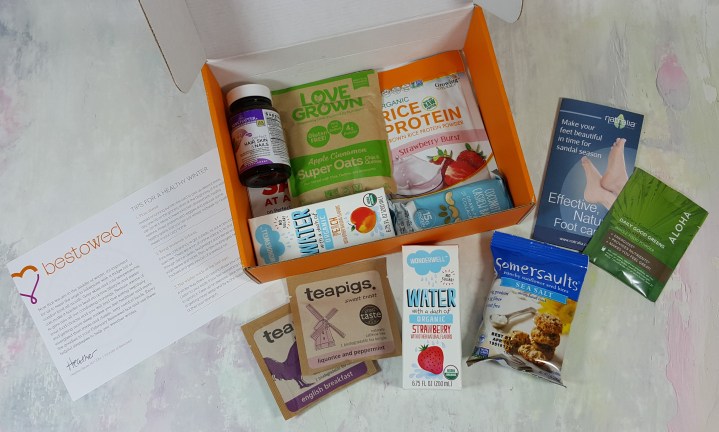 DEAL: Use code TRIAL92 to get your first box 50% off on a monthly plan, or free on 3+ month subscriptions.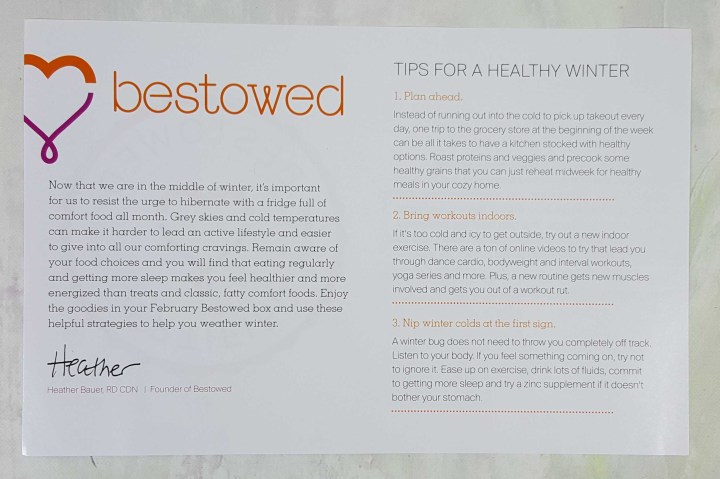 For February, Bestowed has outlined some tips to help keep you feeling healthy during the winter.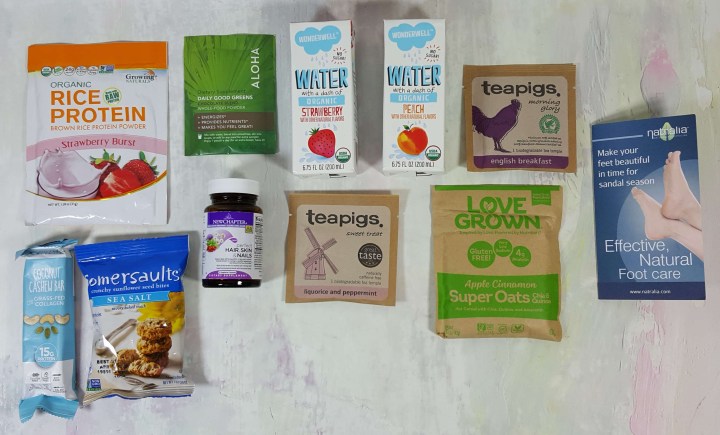 February's Bestowed Box. You get a few healthy snacks, some low or zero calorie drinkables, a supplement or two, and some literature/coupons. All box items receive the Bestowed Certified seal of approval, meaning they have been reviewed and approved to meet Bestowed's strict standards. You can learn about the products in your box by using the search tool at Bestowed.com.
**NOTE** When my February box arrived, one of the water boxes had opened and leaked on everything during shipping. Bestowed was contacted and replaced the box. There were 1 or 2 product changes, but everything was worked out. ?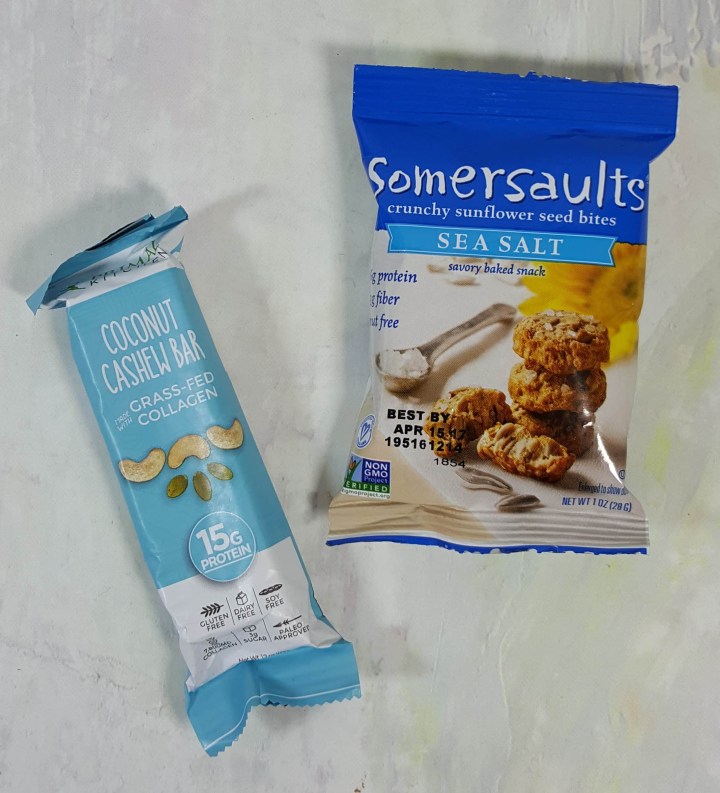 Primal Kitchen | Coconut Cashew Bars: This bar was one of the changes that came in the new box. It is a repeat from January. This was passed on to a friend who loved it. Guess, who's getting another one!?! The bar is a mix of cashews, pumpkin seeds, and a whole lot of coconut (flakes, flour, and oil). It is a good source of fiber and protein, and also has more collagen than a cup of bone broth!
Somersaults | Sunflower Seed Crunchy Bites – Sea Salt: In last month's box, I received the Dutch Cocoa version of these and loved them! These are a savory version of the crunchy bites and will definitely be in my bag as a mid-afternoon snack. They combine sunflower and sesame seeds for a nutty bite loaded with protein and fiber. Yum!
teapigs | Tea Temples – Liquorice & Peppermint and English Breakfast: teapigs is self-proclaimed as the best online tea. They use whole leaf tea and serve it in a mesh bag, or temple. I am not a fan of liquorice so the liquorice & peppermint tea will be passed on. The flavor is described as "sweet, liquorice, mint, and sweet again." The English breakfast tea is more my cuppa and considered their everyday tea. It contains a blend of Assam, Ceylon, and a Rwandan blend.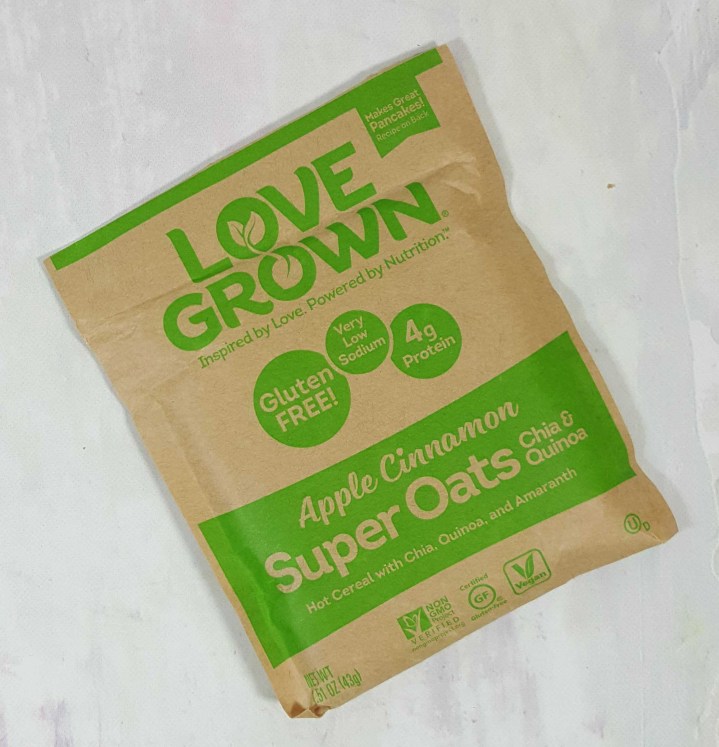 Love Grown | Super Oats – Apple Cinnamon: These oats are blended with chia, quinoa, and amaranth to boost them to super oat status. This packet also has bits of apples, brown sugar, and cinnamon. Can't wait to have these for breakfast.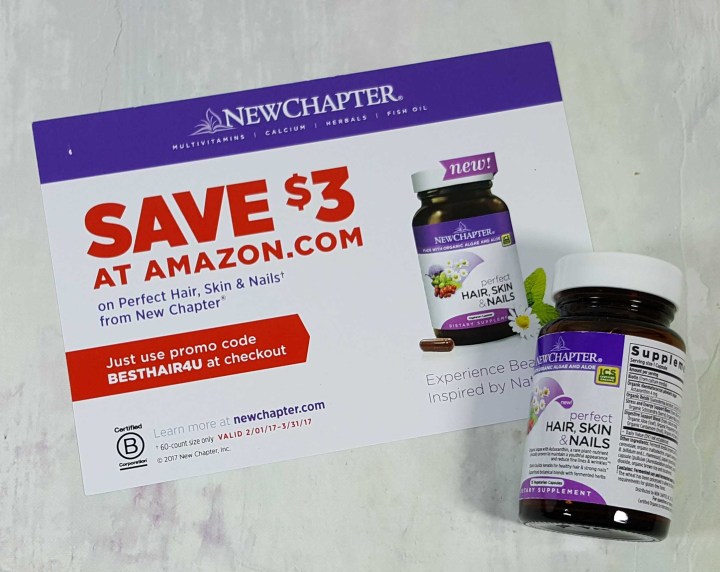 New Chapter | Perfect Hair, Skin & Nails Supplement: This vegan supplement contains organic algae with Astaxanthin (proven to maintain a youthful appearance and reduce fine lines & wrinkles), biotin (builds keratin for healthy hair & strong nails), and a superfood botanical blend. I don't have commercial worthy hair, but maybe this supplement will get me closer. This was a full-sized bottle with a 30-day supply.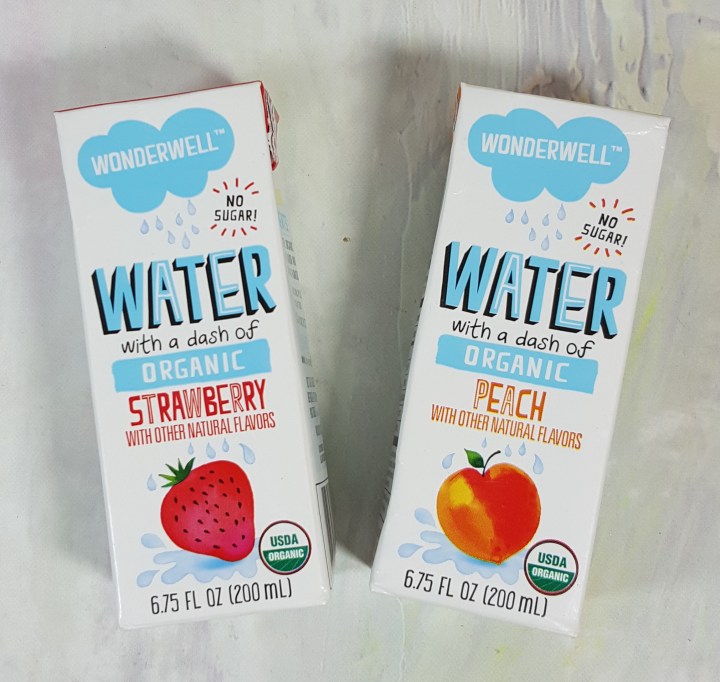 WONDER+WELL | Organic Flavored Water – Strawberry and Peach: Need a break from plain water? These drinks are free of sugar, high-fructose corn syrups, and sweeteners. They are simply water and organic fruit flavorings. I prefer drinking these chilled. The aroma that comes from them is amazing!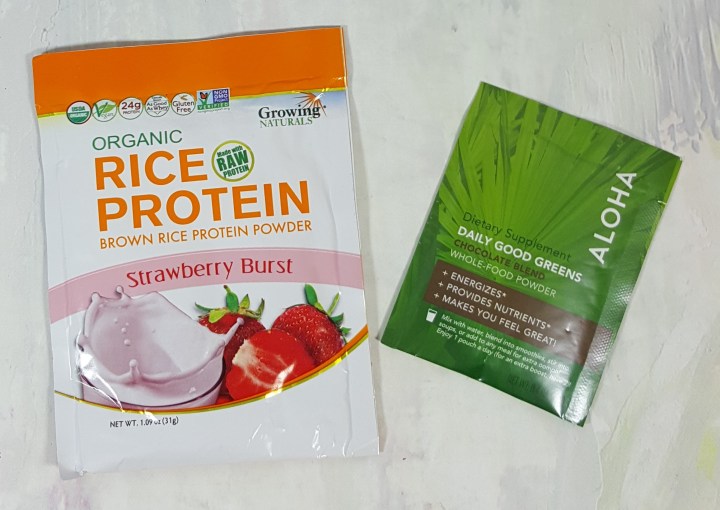 Growing Naturals | Organic Rice Protein – Strawberry Burst: This unique strawberry rice protein features 24 grams of vegan protein per serving. It's low sugar, low carb, high in iron, and non-GMO. This organic rice protein clinically tested as good as whey at building and repairing muscles. I tried this in a smoothie and found it to be a bit chalky (I used the whole packet). I probably should have tried this mixed into pancake batter (one of the serving suggestions).
Aloha | Daily Good Greens Supplement: Each packet contains a mix of all-natural vegan powder that includes dried spinach, blueberries, mushrooms, spirulina, and coconut water. It is equivalent to 2 full servings of fruit and vegetables and 200% Daily Value of Vitamin D! This sounds like it would be good stirred into a bowl of oatmeal.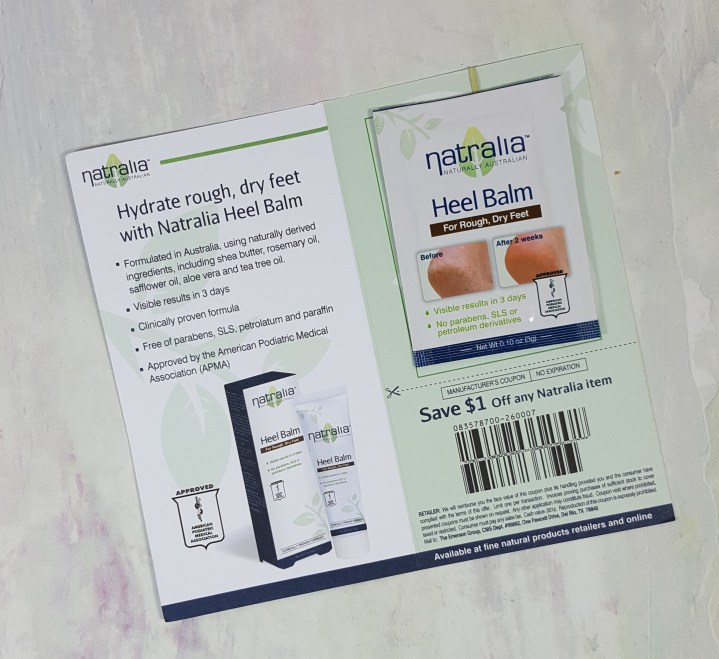 Natralia | Heel Balm: This balm contains a blend of shea butter, rosemary oil, safflower oil, and aloe vera to moisturize skin. It is also enriched with vitamin E and L-arginine which are rich in antioxidants. Natralia guarantees visible results in 3 days. This will be perfect to get my feet sandal-ready.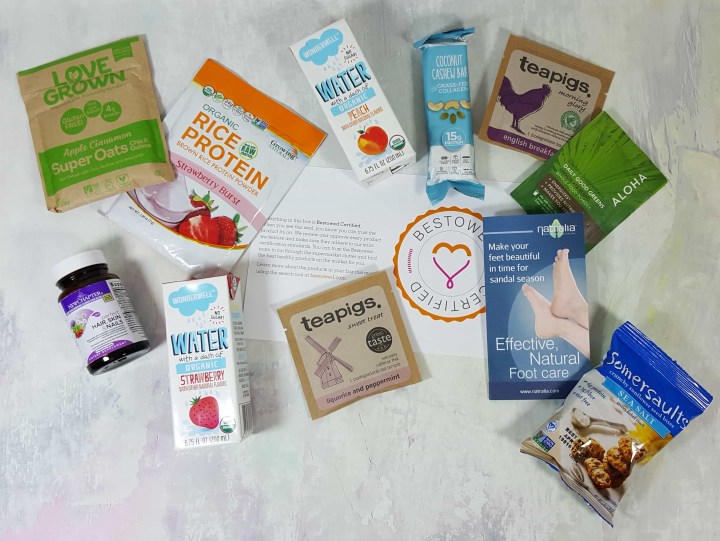 I was so happy to have my Bestowed Box replaced. There were lots of guilt-free goodies to satisfy my tastebuds and body. I am very happy to have the New Chapter hair, skin & nails supplement along with the Natralia heel balm. Plus, I can't wait to see if the Sea Salt variety of Somersaults is just as good or better than the Dutch Cocoa.
Have you tried Bestowed Box yet? What did you think of the products I received – any favorites?