America: The Box offers you all things that scream "America." Each box includes all manner of Americana: it could include anything — an American flag koozie, USA stickers, Presidential trivia booklets, red white and blue food and snack items, and so much more. The subscription is $24.95 per month.
This pile of patriotism arrives packed snugly in a box. There is so much in here that little packing material is needed.
DEAL:  Get 20% off any subscription box order. Use coupon code HS20.
Everything in my April 2017 box!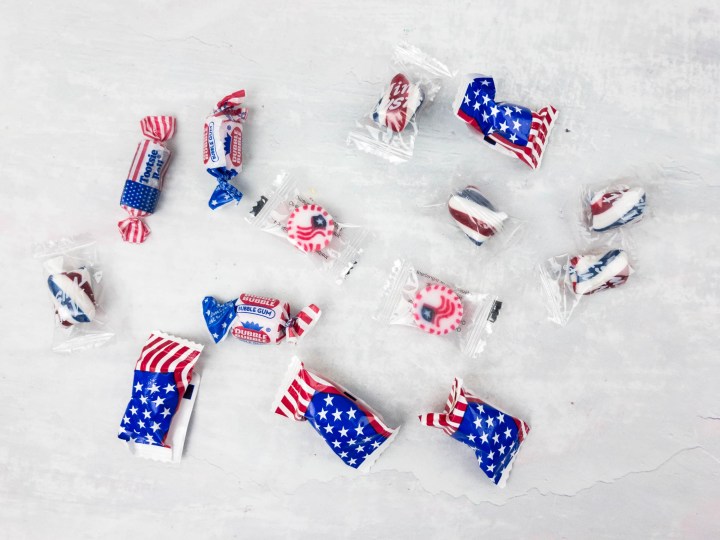 Candies! A variety of mints, hard candies, and gum. The unifying element here is the patriotic design of the wrapper or candy itself.
Chocolate Coin: A small coin with a USA shield on each side.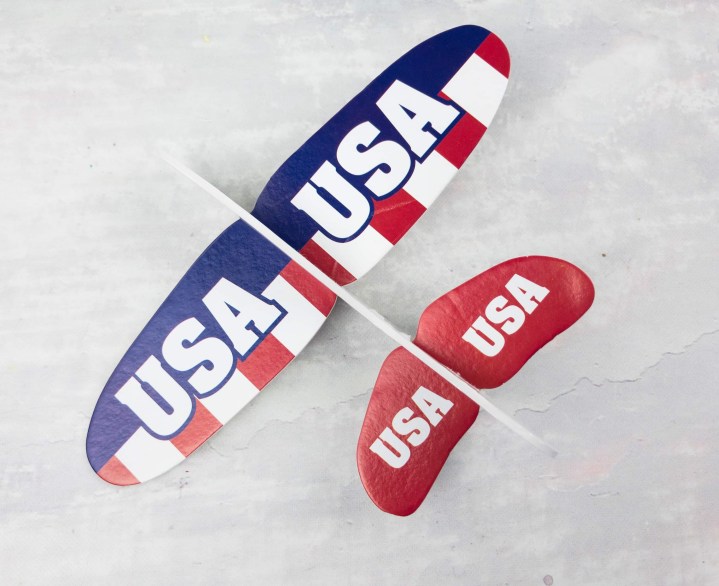 Styrofoam Gliders: lightweight gliders that assemble easily with no tools or adhesive. Each glider has a body, tail, wing, and weighted plastic tip.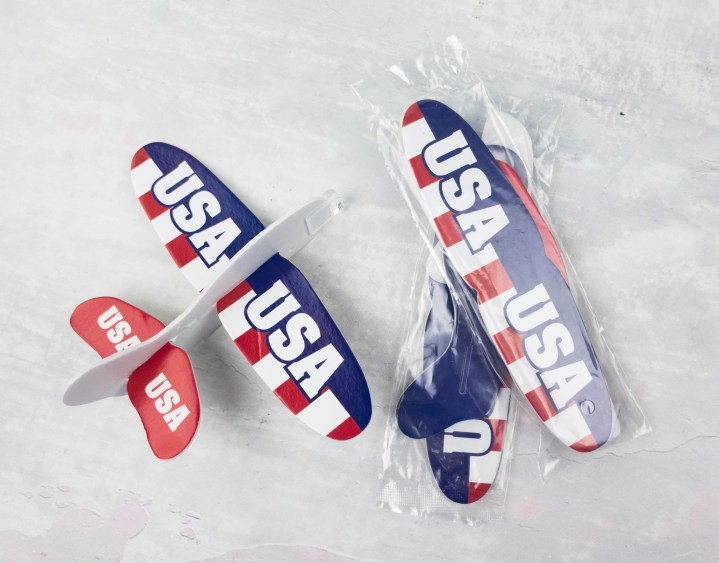 The box included three gliders.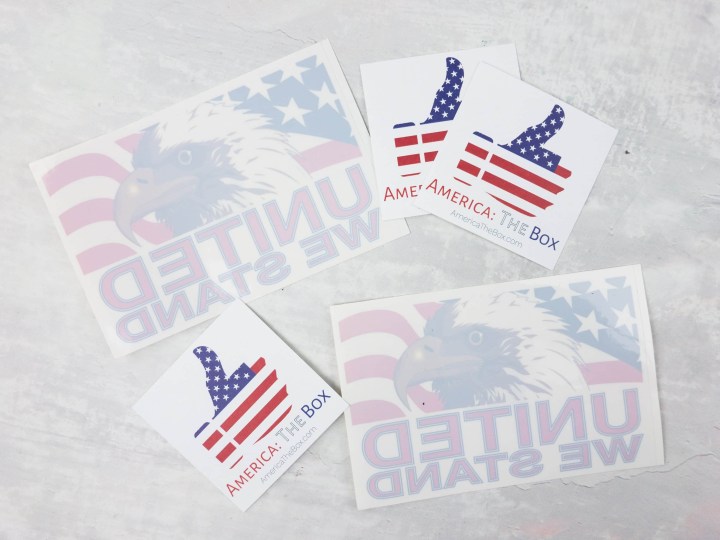 Stickers: We received three "America: The Box" stickers, plus two large (approx. 4×6″) "United We Stand" eagle and flag window stickers.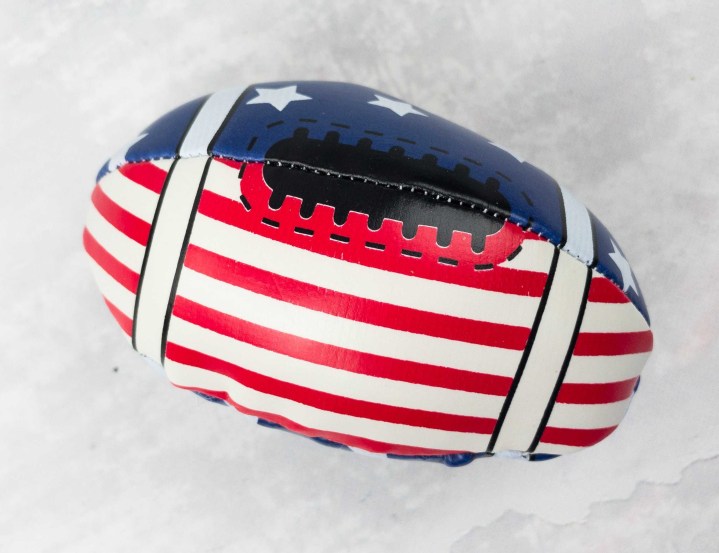 Football Plushie: A tiny stuffed final football alternating stars and stripes on its four panels.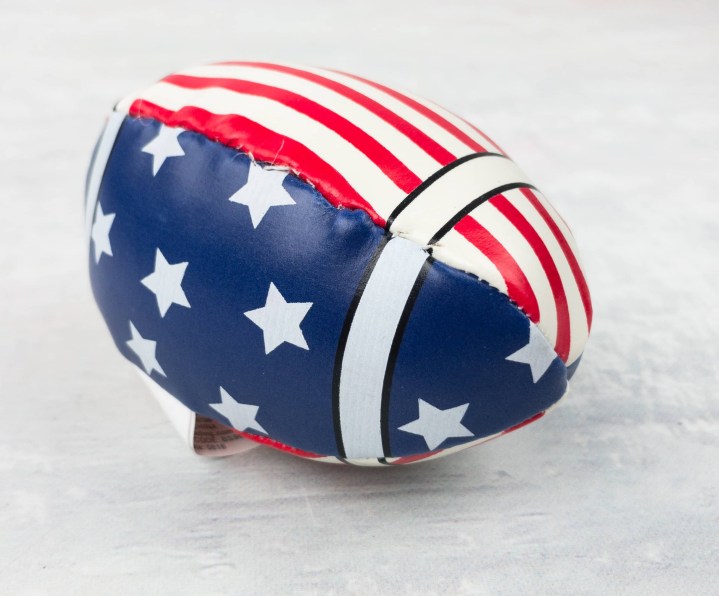 This item wasn't very well made, and some of the stitching was already split.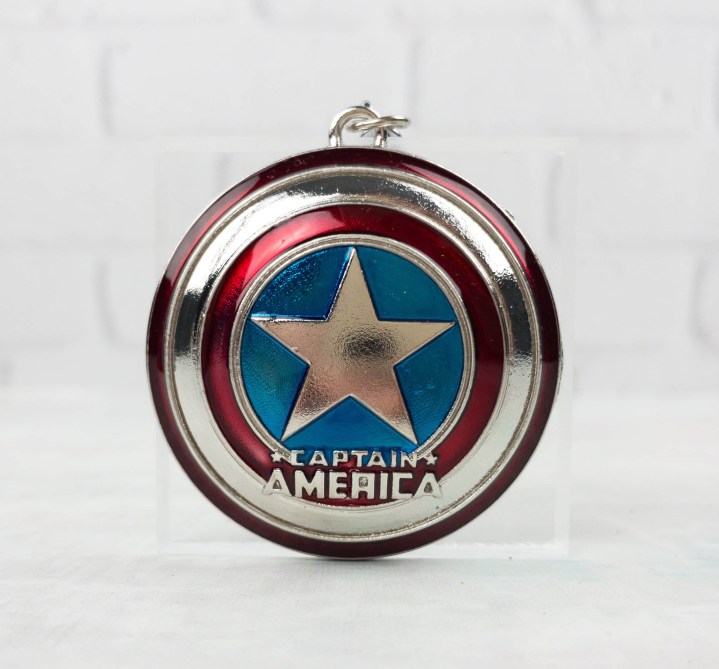 Captain America Shield Keychain: One of our favorites from the box – a solid metal Captain America Shield with keychain.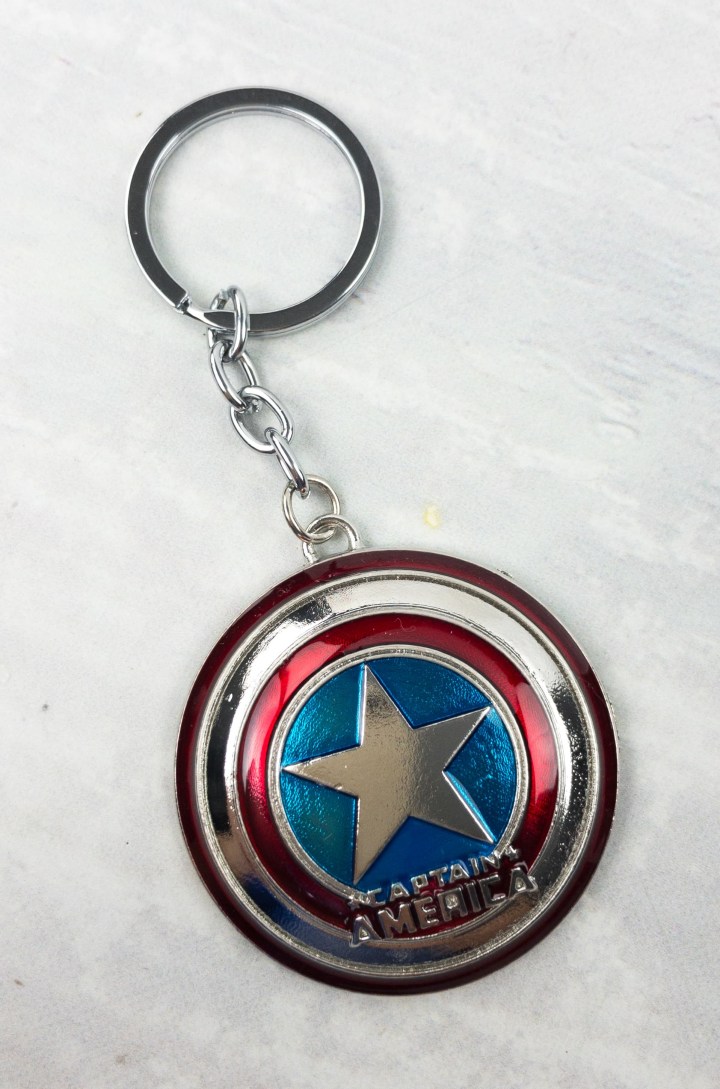 This item was well-made, with a variety of textures on the surfaces and a small, but sturdy, chain and loop.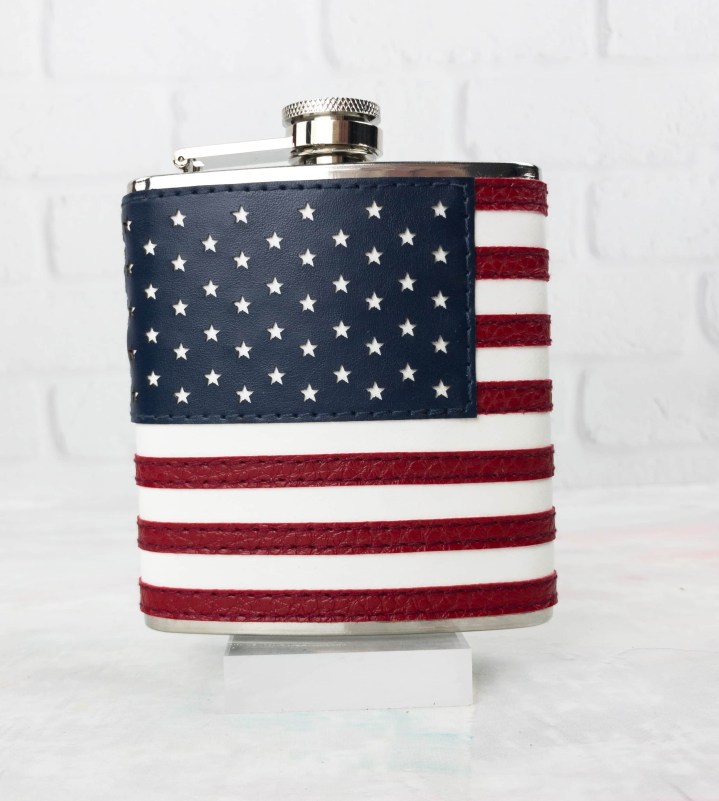 American Flag Flask: Designed for carrying spirits, this screw-top metal flask has a handsome American flag constructed of leather strips. I was actually quite impressed with the quality — each piece is sewn on, and they included the correct number of stars and stripes.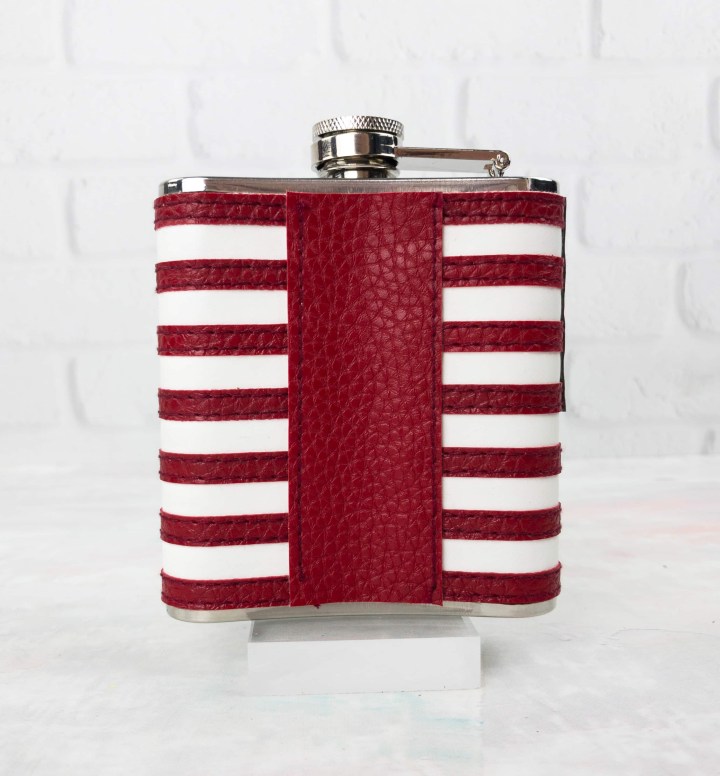 The back is concave for hip carrying. The leather is nice for adding grip and some insulation for use in Winter.

The top is attached to the flask with a hinge, so it can't get lost.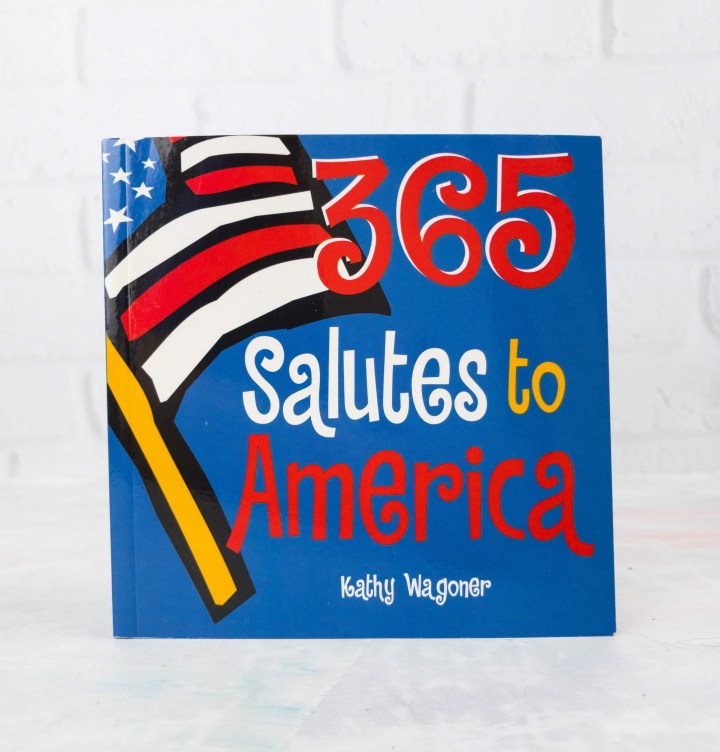 365 Salutes To America by Kathy Wagoner ($3.35): This little book contains attributed quotes relating to America and American values, one for every day of the year (unless its a leap year).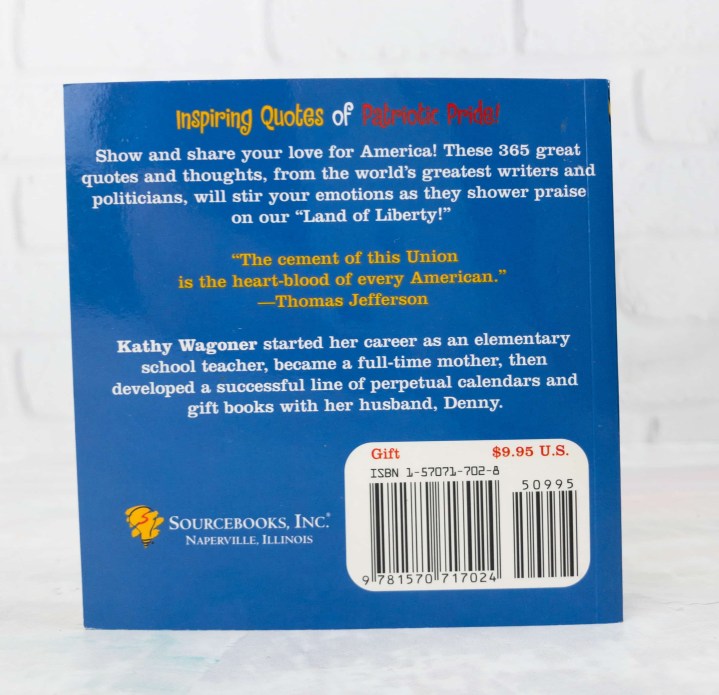 The quotes are drawn from both Americans and folks abroad commenting on the nature of the American experiment.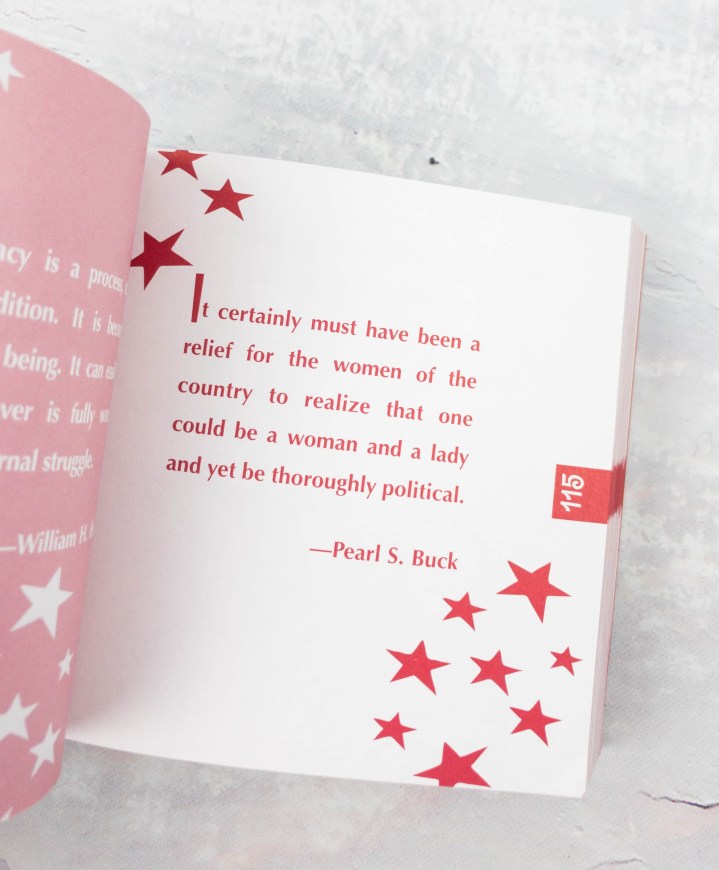 The quotes are pithy enough to warrant a daily glance.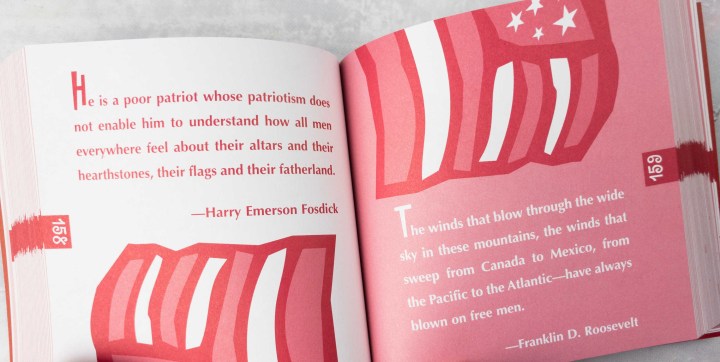 Each page has a simple, patriotic woodblock-printing style design.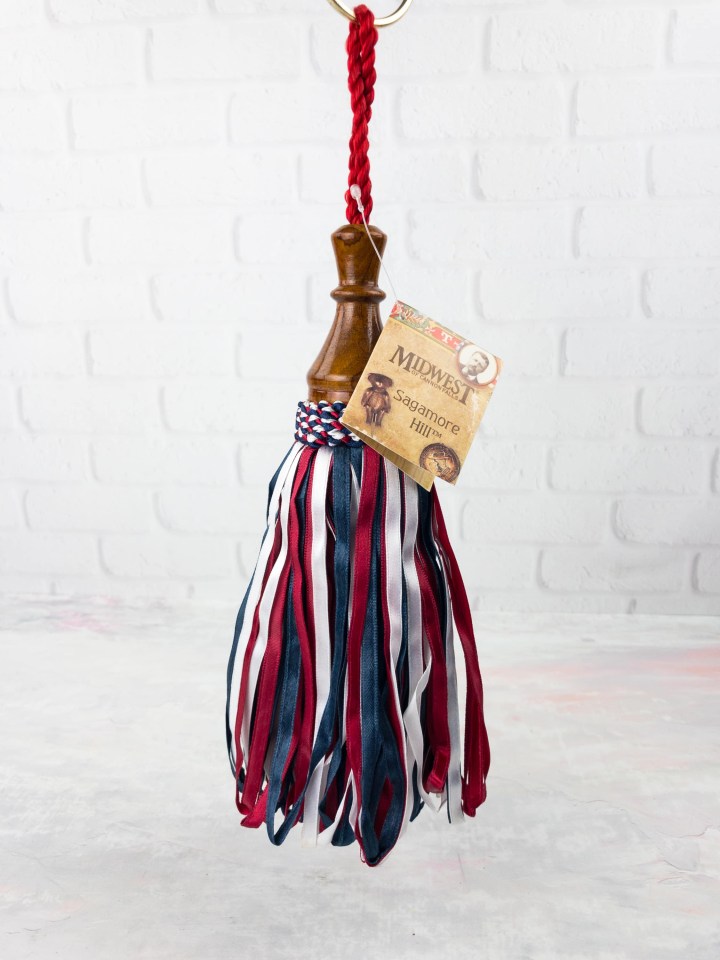 Sagamore Hill Ornament: This hefty tassel ornament is reminiscent of the flag-colored political ornaments of decades past. Sagamore Hill was home to Teddy Roosevelt, and this ornament is part of the commemorative collection released by his estate. It is quite large – the size of a handbell. Intended for a tree ornament, I think this would also be hilarious to incorporate in a graduation cap!
Tin Flag: This little flag ornament has some true Texas flavor — it is like a hybrid of the U.S. and Texas flags.
The main part of the flag is made to look like weathered painted corrugated metal.
This was an interesting box to open. It has some high quality items for the uber-patriotic, with the flask and ornaments standing out. Each box promise $50 worth of items, so the value is good if you are in frequent need of patriotic goods. A lot of the filler items are made overseas, and I would have loved to see fewer items, all of high quality and made in the U.S.A.