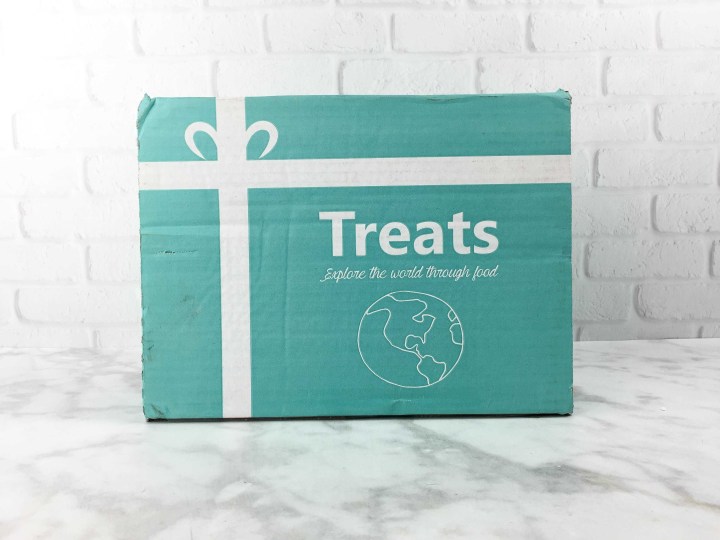 Treats is a monthly snack subscription full of snacks from around the world. You can expect to receive eclectic and interesting snacks that you've never sampled before (unless, of course, you've lived in the featured country recently)! The Standard Pack offers 4-5 snacks, while the Premium box offers 8-10. This, of course, is the Premium Box. It's quick to enroll, and you'll get your first box within a few days of when you subscribe.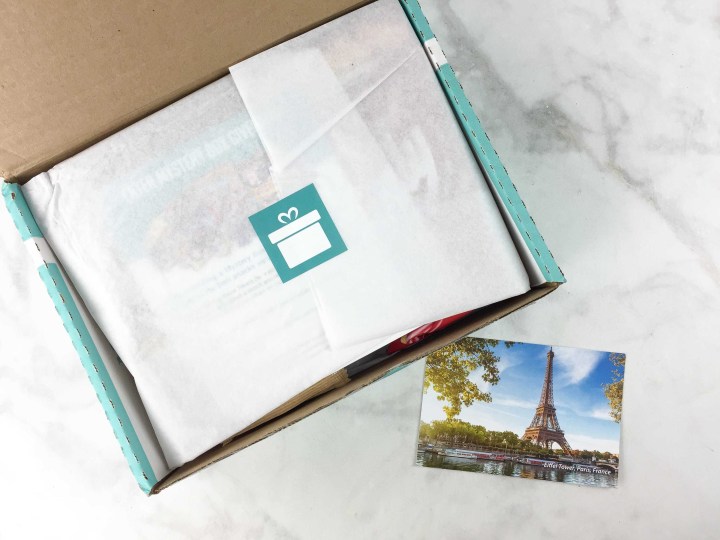 The packaging is simple and elegant. Tissue paper keeps the contents a surprise until you are ready to immerse yourself in the destination country's food culture.
DEAL: You can save 15% on your first month with coupon code HELLO15.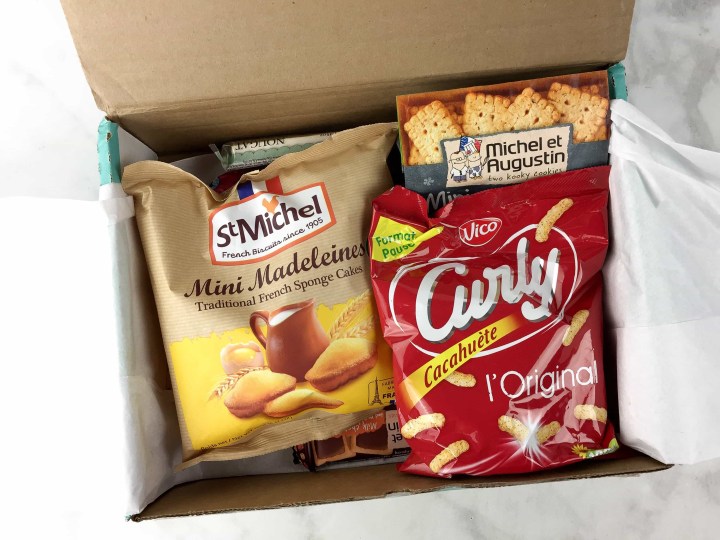 The box is filled to the top with goodies! This month's selections included several baked goodies made with a lot of butter!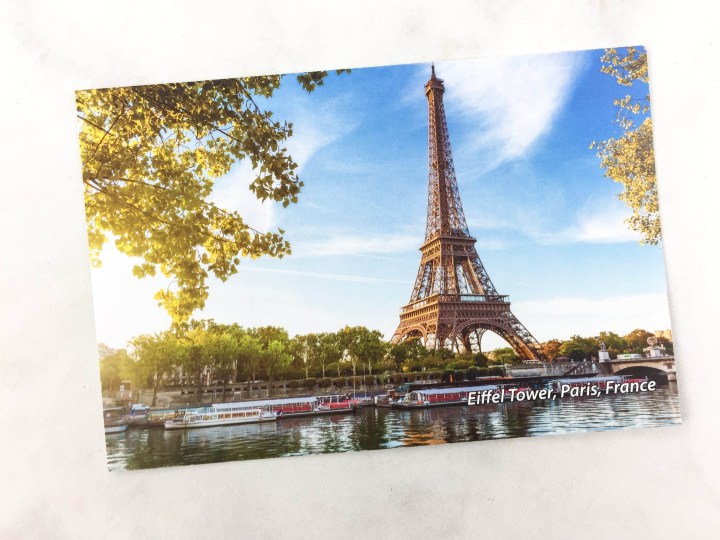 What a treat! This month's box takes us to one of the most celebrated culinary locales: France!
The back of the postcard points out some of the items with distinctly local and traditional character.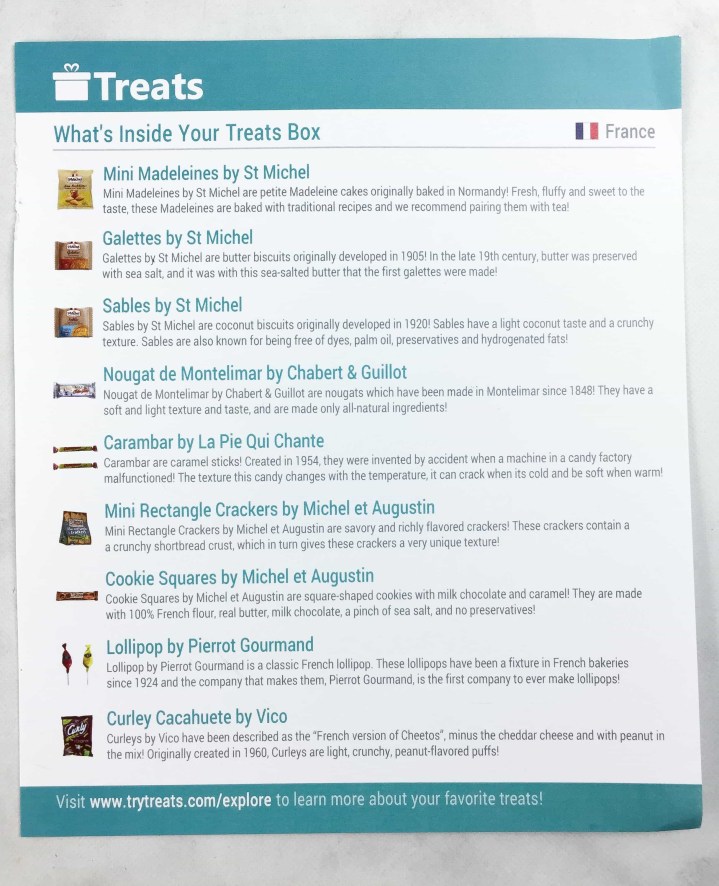 There is also a handy info card that gives the name and maker of each treat, as well as a short description of each. The blurbs give you a sense of what to expect, but you'll have to check each treat's label (and possibly hire a translator) for more detailed info on ingredients and nutrition. Even with the card, the only way to truly appreciate everything is to taste it!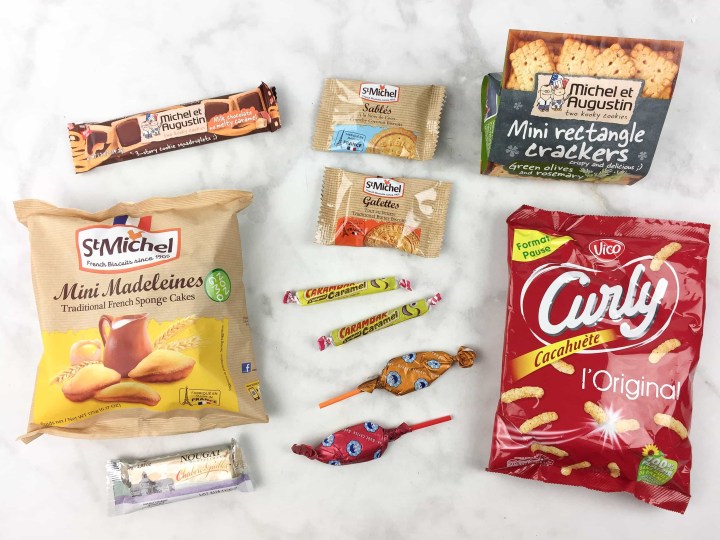 Everything in the box. The composition of each Treats collection depends on the local snacking culture, but there is usually a good mix of sweet and savory and individual and family packs. French snacks won't too odd to the American palate, but there are a couple unexpected selections in this group.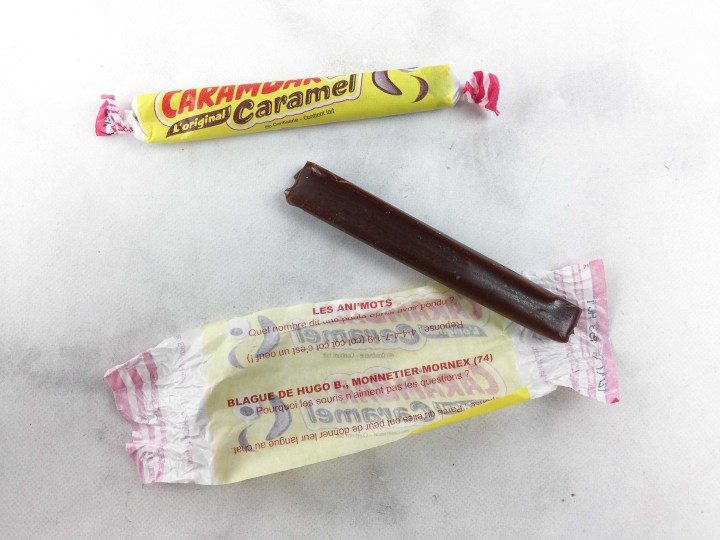 La Pie Qui Chante Carambar: Though it is dark like a Tootsie roll, this bar is not chocolate flavored – it is a very chewy caramel. The unique feature of this candy isn't the edible part, it is the wrapper. Each has jokes printed on the inside of the wrapper – some are risque enough that the candy actually comes in regular (adult) and children's versions, with the only difference being the character of the jokes inside.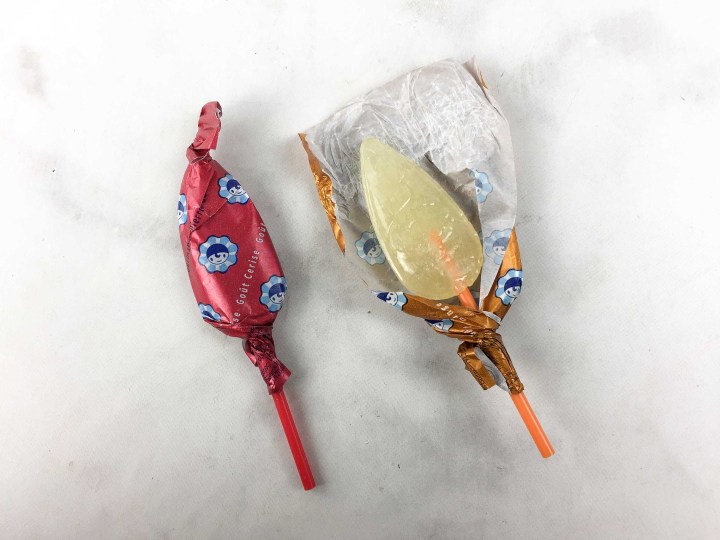 Pierrot Gourmand Lollipop: These translucent pops have bright fruit flavors that are a far cry from the artificial flavor and color seen in most candies of this kind. Pierrot Gourmand has been making these since the 1920's and claims to have originated the treat!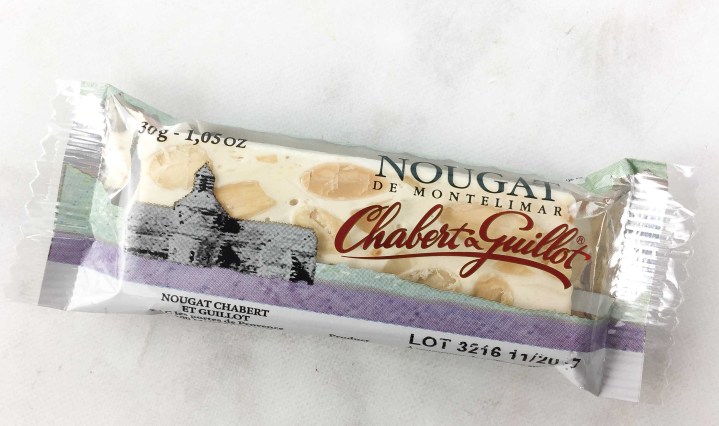 Chabert & Guillot Nougat de Montelimar: Made chiefly of sugar, almonds, and honey, this soft nougat has been made by Chabert & Guillot in Montelimar since 1848. Mild and tender, this vanilla nougat showcases the gentle crunch of the blanched almonds.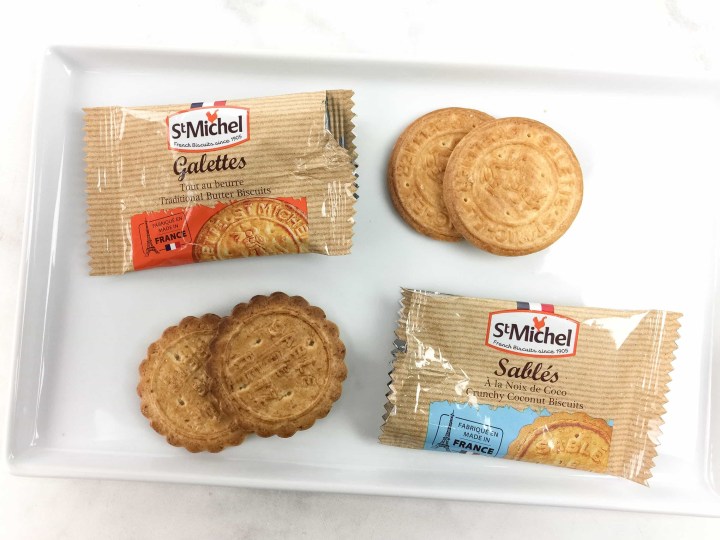 St. Michel Galettes: These cookies are buttery and rich with a delicate crispness.
St. Michel Sables: A light, crunchy, coconut cookie.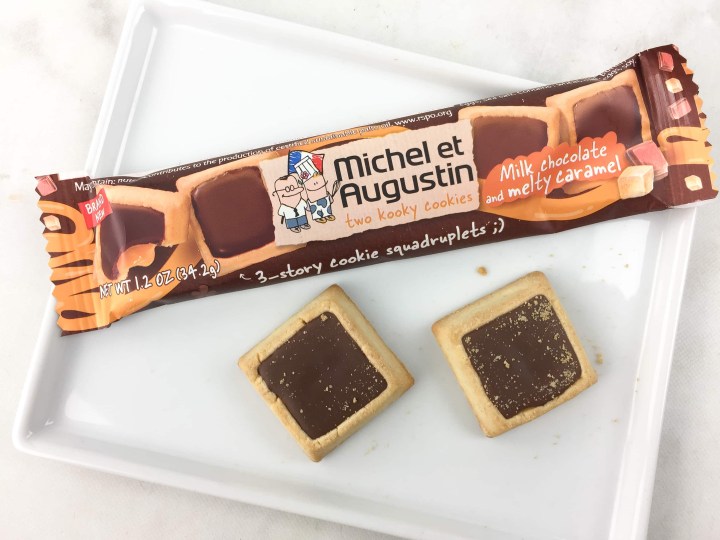 Michel et Augustin Cookie Squares: Michel et Augustin has solved the dilemma of being unable to choose between cookies and chocolates. These squares combine smooth chocolate with sweet, gooey caramel, and a crunchy butter cookie.
Michel et Augustin Mini Rectangle Crackers: One of the more unusual items in the box, these crackers are richer and more buttery than most butter cookies, yet they are flavored with the savory glow of rosemary and the briny tang of green olives.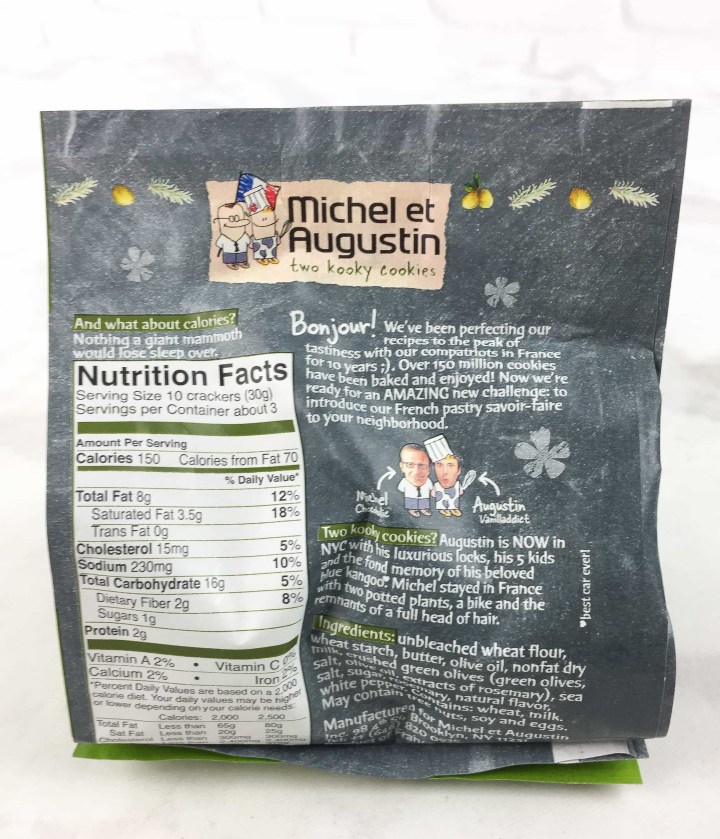 The combination is simultaneously addictive and slightly unsettling. The butteriness lingers much longer than one would expect in a cracker.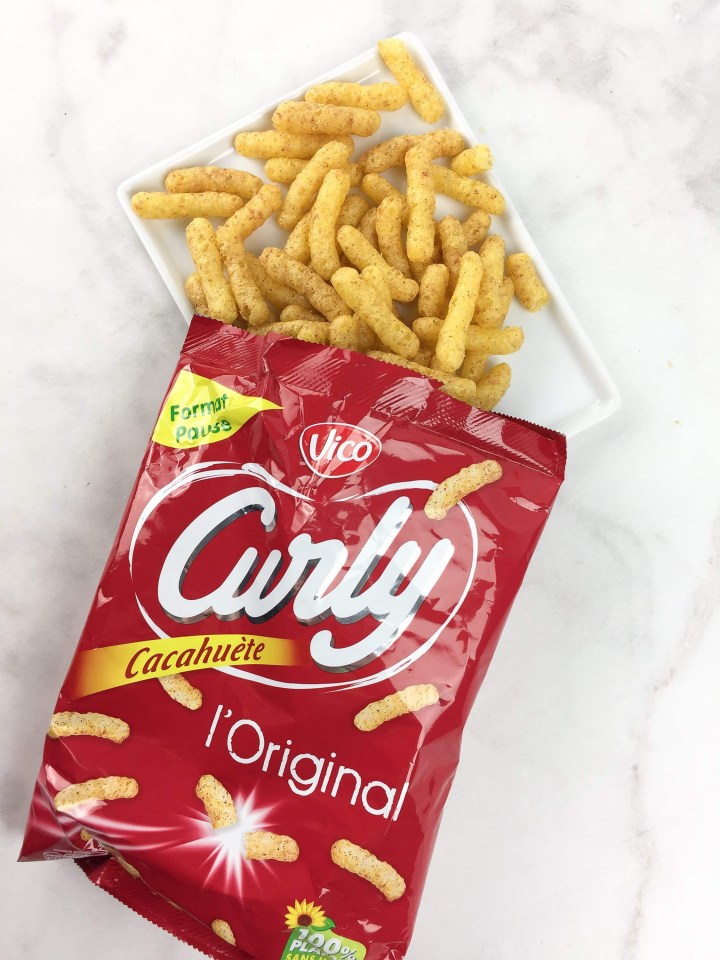 Vico Curley Cacahuete: These struck me as unusual for a French snack, mainly because they are flavored with peanut instead of a more upscale chestnut, almond, or hazelnut. Light and crisp, these have a texture much like a puffed Cheeto, but with a bit more bite. The flavor is sweet and intensely peanut buttery.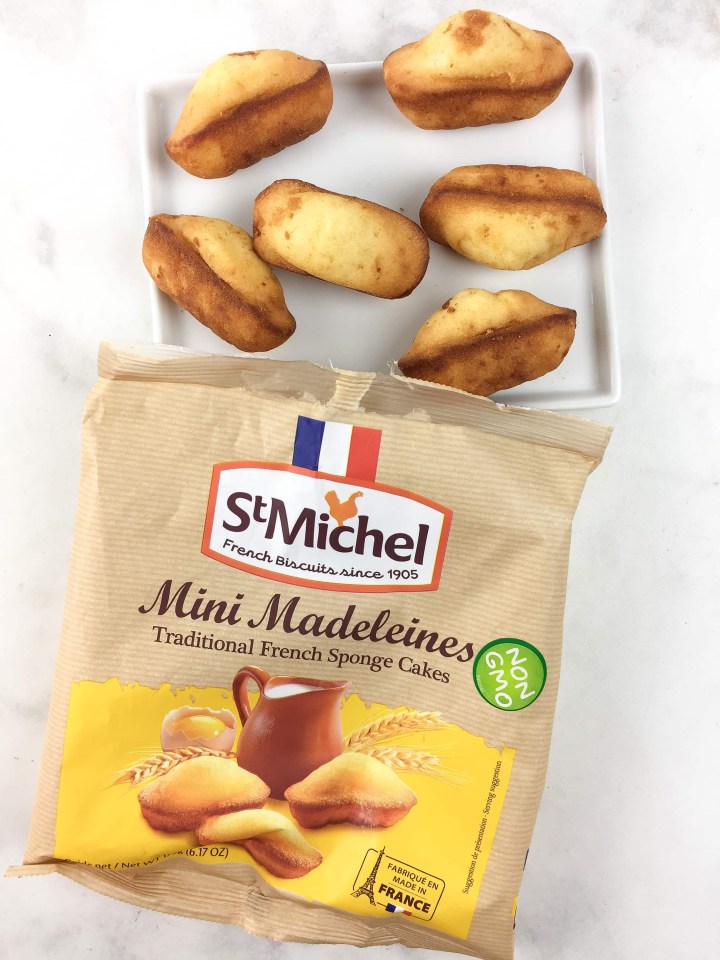 St. Michel Mini Madeleines: These traditional French tea cakes are one of the most famous French snacking innovations. Dubbed "mini," these madeleines are actually quite thick and don't have a footprint much smaller than the iconic, scalloped version. I found them to be rather big, mini-loaves. Delicious, moist, and tender, these are really yummy little cakes!
Treats is always a lot of fun. Some boxes are an adventure – others are more familiar – it just depends on the featured country and your familiarity with its cuisine. With great quality and great curation, every box is a treat!
Have you tried Treats yet? What did you think of the box?