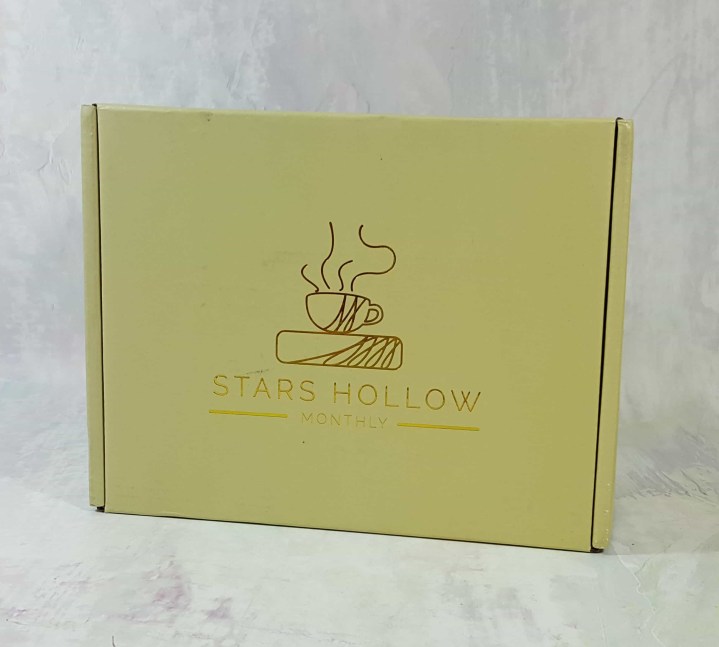 Stars Hollow Monthly will feature 3-5 products which are inspired by the Gilmore Girls and the fictional town of Stars Hollow. (Inspired by, meaning items that relate to, are inspired by, or are artistic renderings of the show and its inhabitants/characters.)  For $34.90, you can expect anything from tee shirts (on occasion), home decor, fashion accessories, bath & body items, and much much more.
The goal for the Stars Hollow Monthly Box is to send subscribers items they will adore as fellow Gilmore enthusiasts, but also items anyone would enjoy – high-quality items that won't gather dust in a drawer somewhere.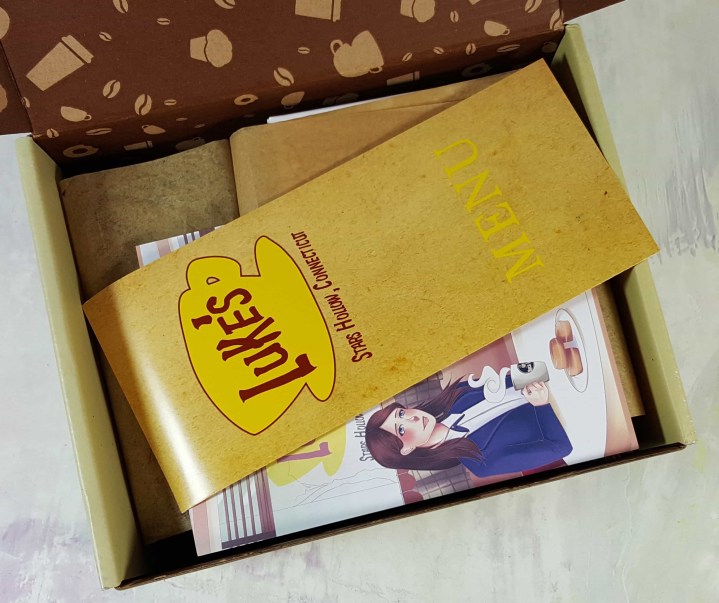 Whoa! Luke's menu has grown since last month.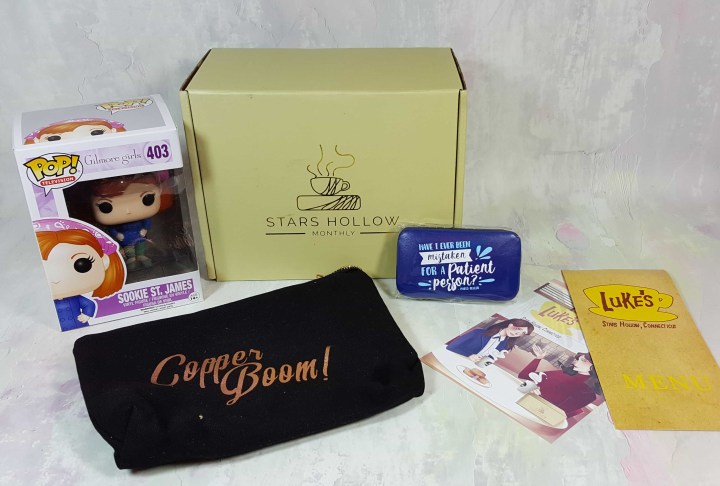 Our January Stars Hollow Monthly Box. Happy dance happening over here!!! I SO wanted the Sookie POP!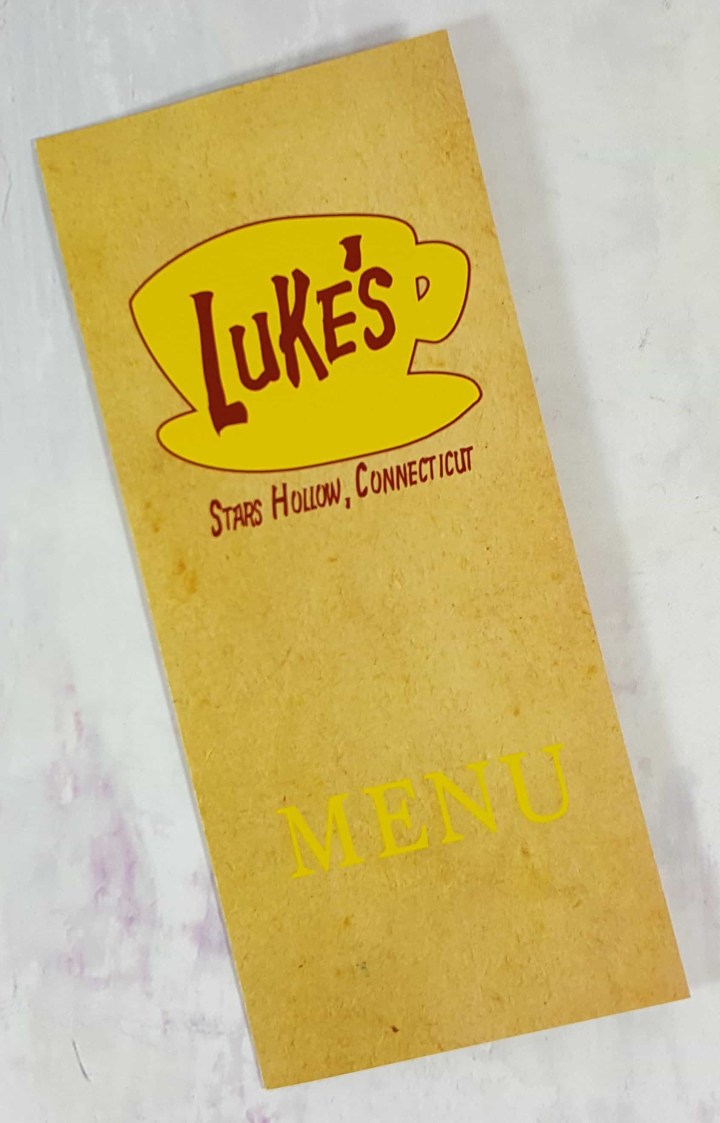 This month, Luke's menu is oversized. Hmm… wonder why. This is actually a fold out information sheet for the box.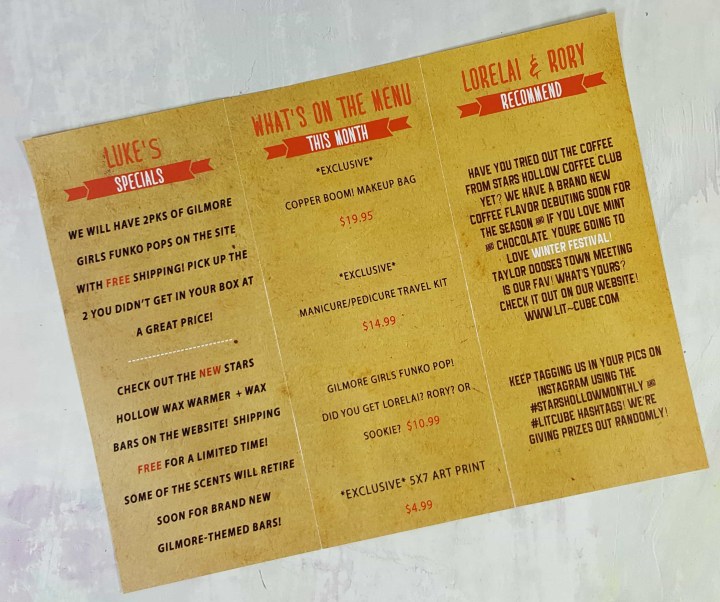 The inside of the menu contains a list of the box contents with pricing, as well as discount codes for some of the items.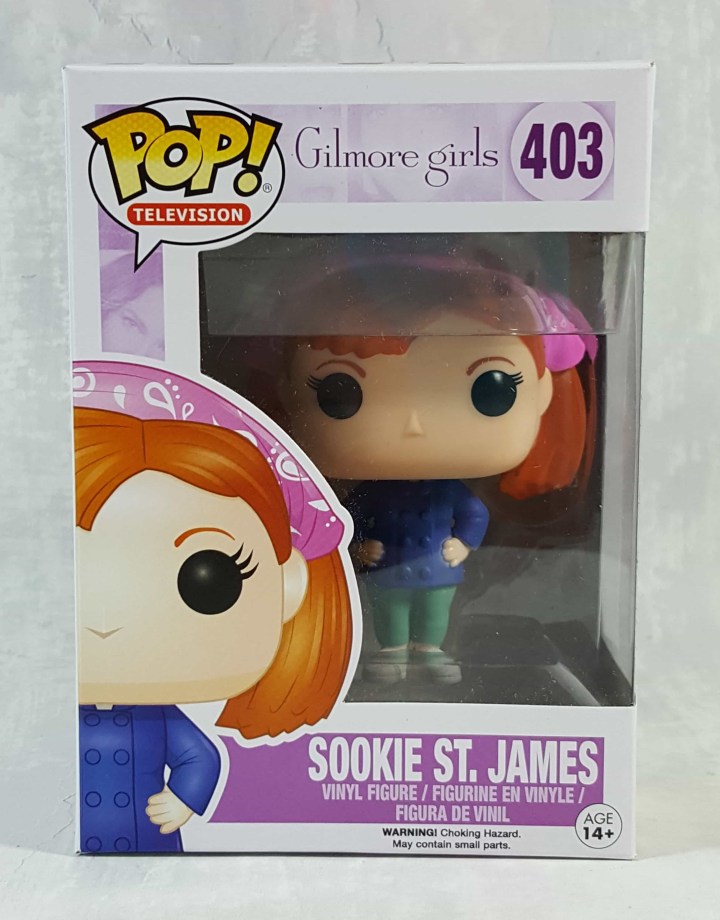 Gilmore Girls Funko Pop! – Sookie St. James ($8.21): Sookie is one of my favorite parts of Stars Hollow. I love her innocence and loyalty. She is such a great BFF to have in your corner. Plus, Melissa McCarthy just rocks!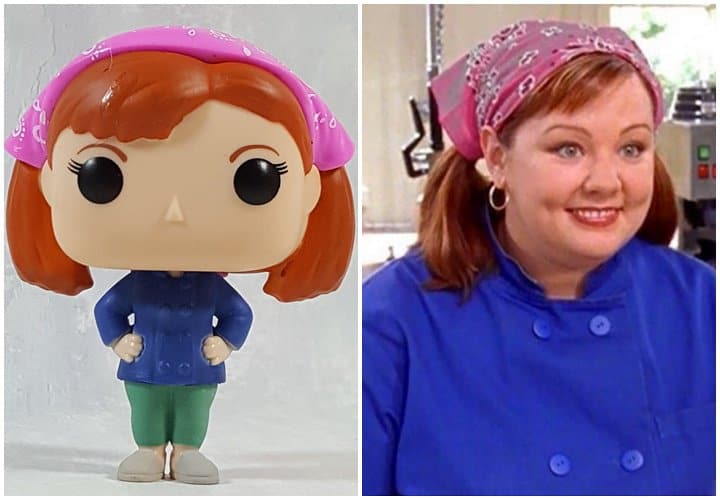 The resemblance is uncanny.
*EXCLUSIVE* Copper Boom! Makeup Bag ($19.95): What happens when you mash up Coppertone and zip, bam, boom?!? Copper Boom! of course. Now get a move on. LOL This is an oversized canvas makeup bag featuring the Gilmore inside joke.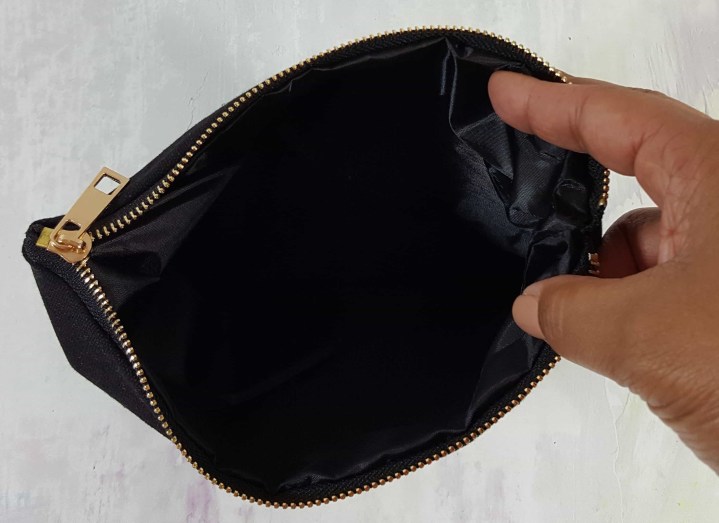 The interior of the bag is fully lined, making clean up easier.
*EXCLUSIVE* Manicure/Pedicure Travel Kit ($14.99): I love the quote from Paris on the front of this case. I think we all have a Paris in our lives who can relate. This is a 6-pc set featuring two clippers, scissors, nail file, cuticle pusher, and tweezers. As this is an exclusive, I've linked to a similar item for price reference.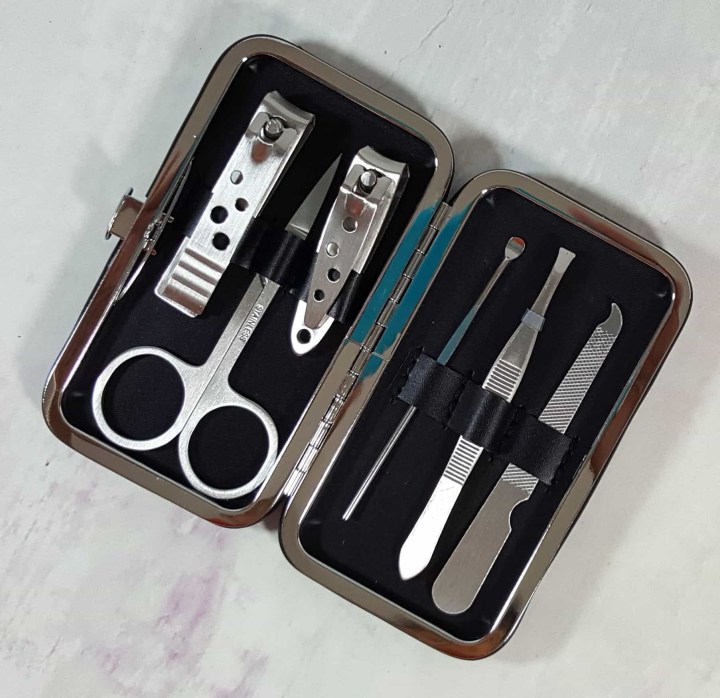 Here's a look inside of the kit. Everything has its own slot for organized storage.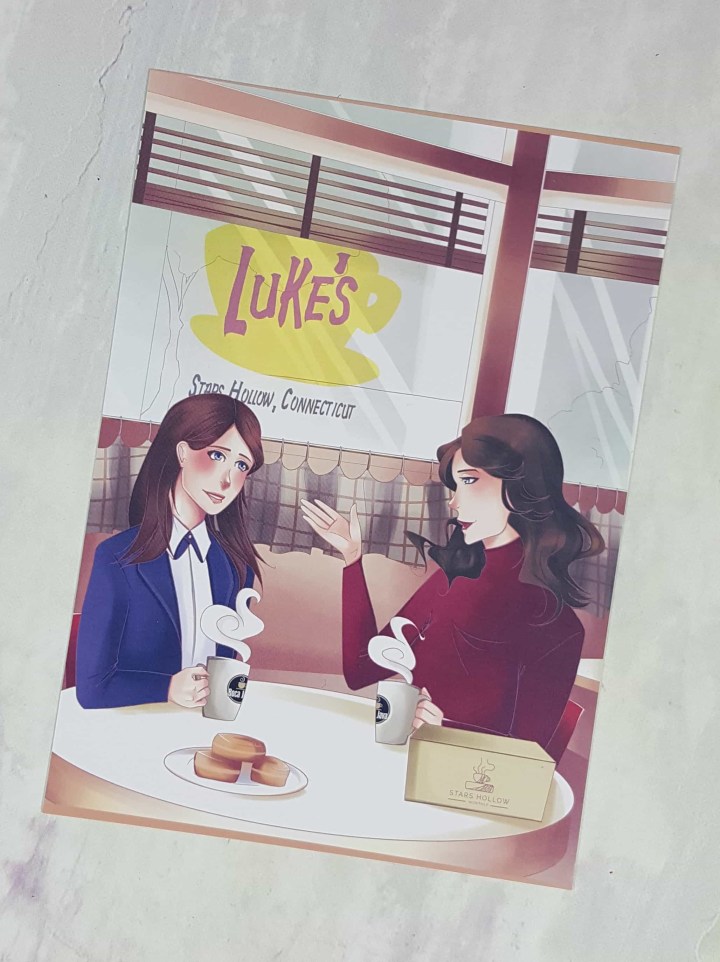 *EXCLUSIVE* 5×7 Art Print ($4.99): This print features the same artwork as last month's ornament. Frame it and celebrate the Gilmores year-round.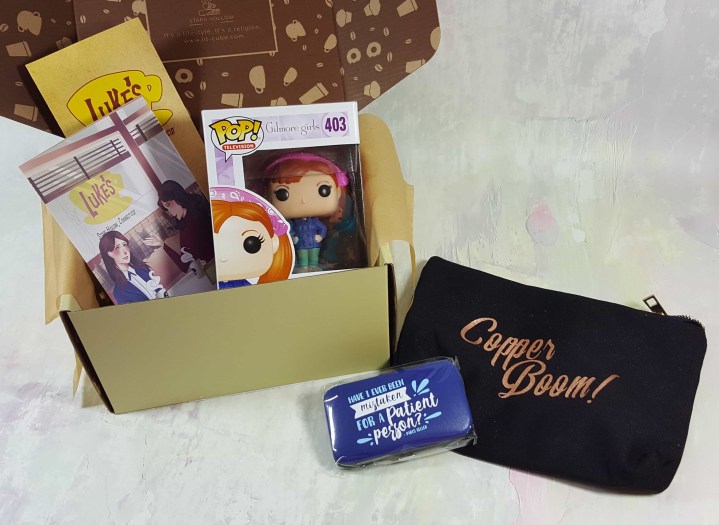 January's Stars Hollow Monthly Box was valued at $51. While that is more than the cost of the subscription, I would like to see a bit more. Regardless, I was happy with the items in this month's box. The mani/pedi kit and makeup bag are practical, while the POP! and print will be nice additions to my office. Now to sit back with a cup (or two) of coffee and my new Gilmore Girls box set (Merry Christmas to me ?). Copper boom!
What was your favorite item this month? Leave a comment below and share your thoughts.