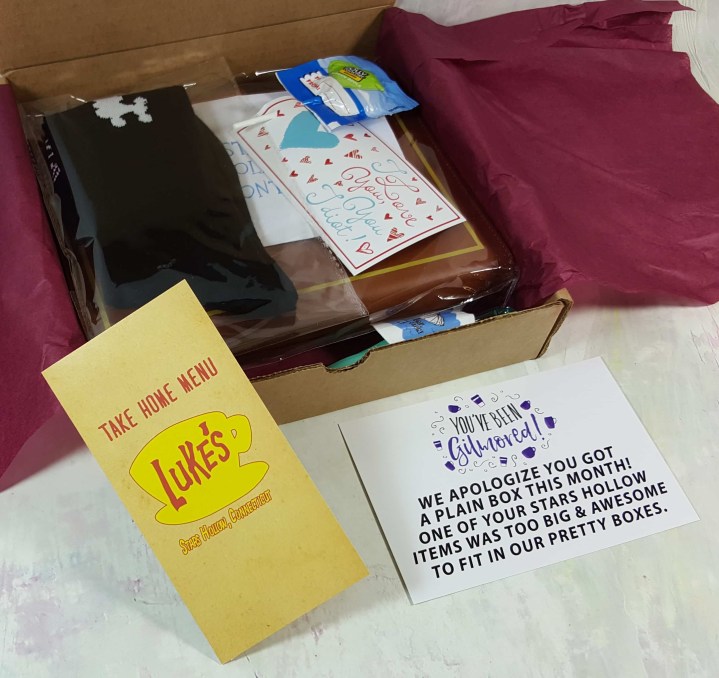 Stars Hollow Monthly will feature 3-5 products which are inspired by the Gilmore Girls and the fictional town of Stars Hollow. (Inspired by, meaning items that relate to, are inspired by, or are artistic renderings of the show and its inhabitants/characters.)  For $34.90, you can expect anything from tee shirts (on occasion), home decor, fashion accessories, bath & body items, and much much more.
The goal for the Stars Hollow Monthly Box is to send subscribers items they will adore as fellow Gilmore enthusiasts, but also items anyone would enjoy – high-quality items that won't gather dust in a drawer somewhere.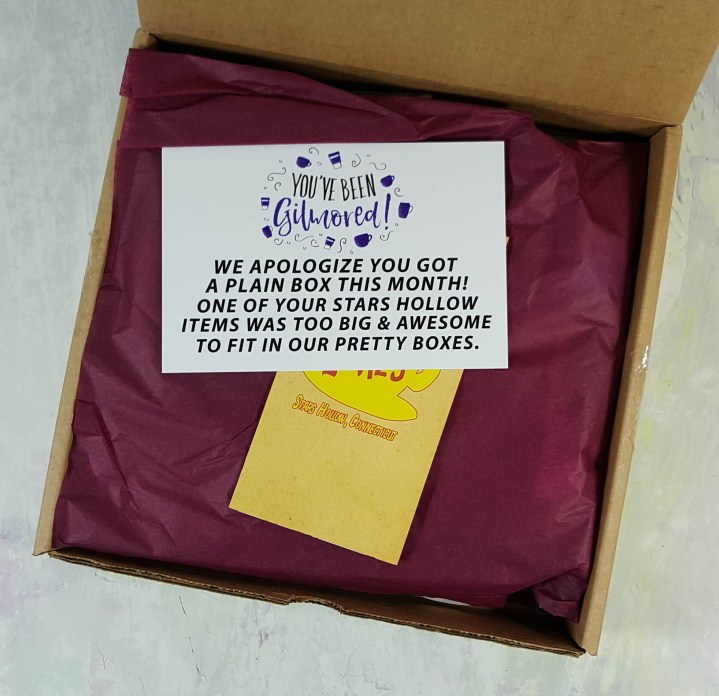 I was so confused when this box arrived because it wasn't in the normal Stars Hollow themed box. Can't wait to see what was so big that it didn't fit in the regular box.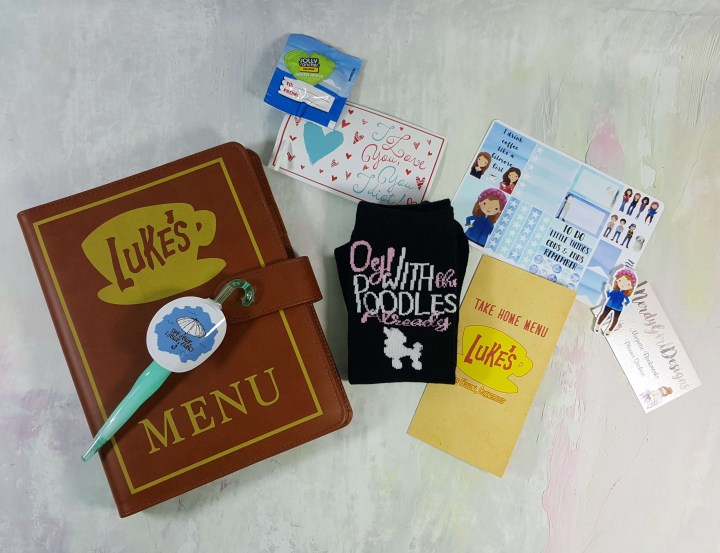 The February Stars Hollow Monthly Box. OMG, I love the Luke's Diner planner!!!
So the Luke's menu is back to it's normal size this month, and we have new outer ads! With Lane taking over her parents' antique shop and Gypsy running Hewes Bros. Gas, it seems like we are getting a head start on recognizing Women's History Month (March).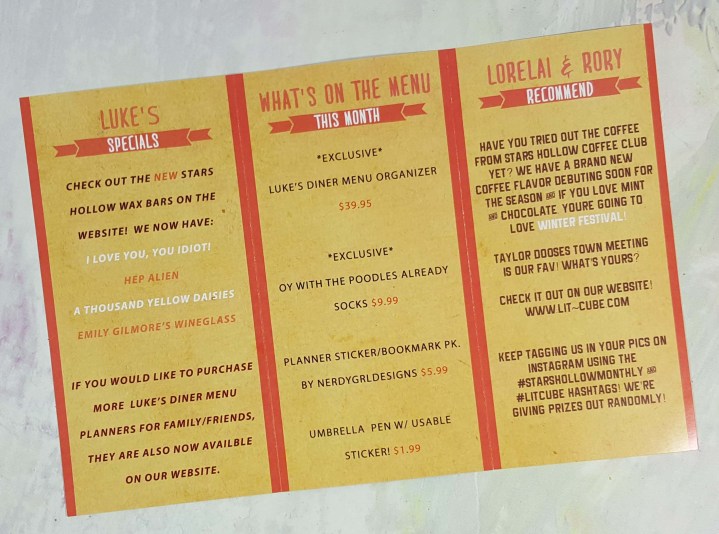 The inside of the menu contains a list of the box contents with pricing, as well as discount codes for some of the items.
Gilmore Girls Valentine: Every Gilmore fan remembers Rory telling Dean, "I love you, you idiot!" It was nice of Stars Hollow Monthly to show subscribers love, and they added candy to the mix!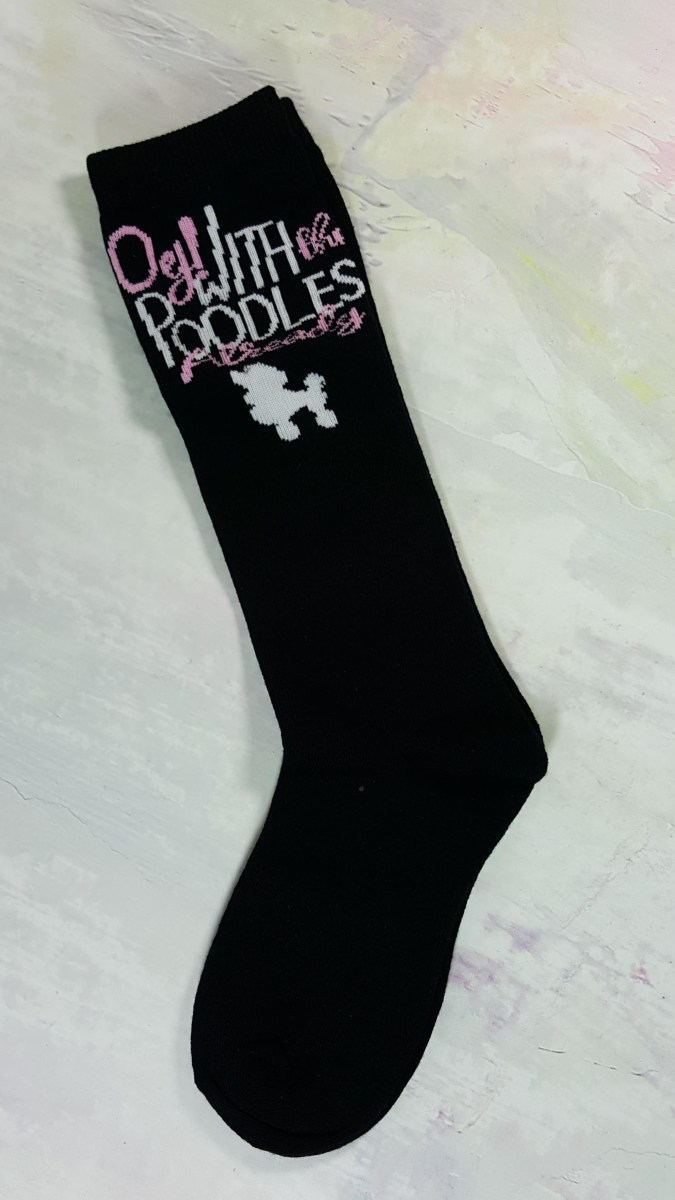 *EXCLUSIVE* Oy With the Poodles Already Socks ($9.99): These are soft, trouser length socks featuring the quote, "Oy with the poodles already" and a cute poodle. They are great inside of boots or just wear them when you're feeling a little sassy. Since these were an exclusive item, I couldn't find them online but linked to a similar sock for reference.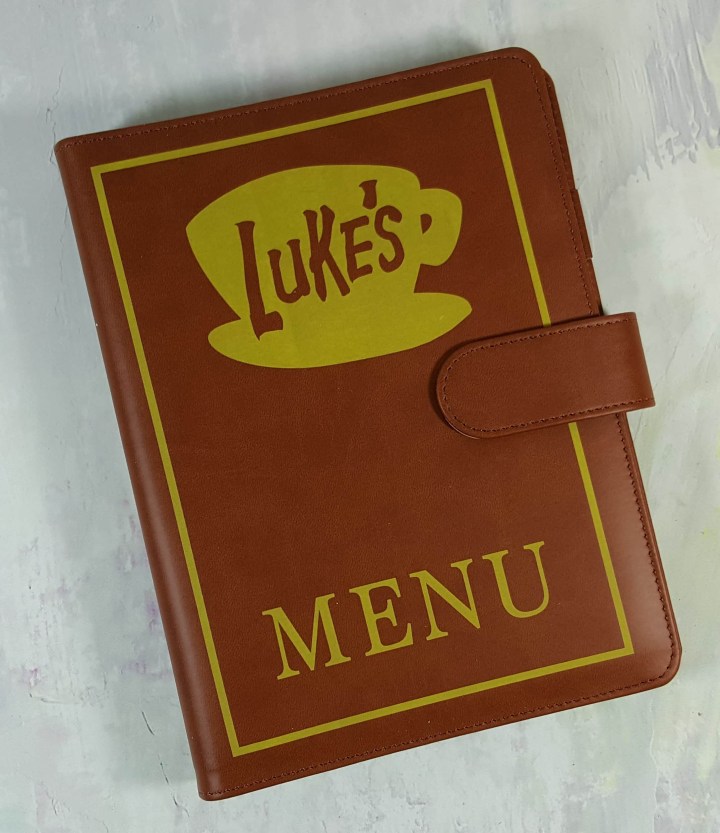 *EXCLUSIVE* Luke's Diner Menu Organizer ($39.95): This is an A5 size planner with PU covers. Although this is missing the back cover ads from Stars Hollow businesses, it still has all the feels of a Luke's Diner Menu. I know so many girls at the office who are going to be jealous.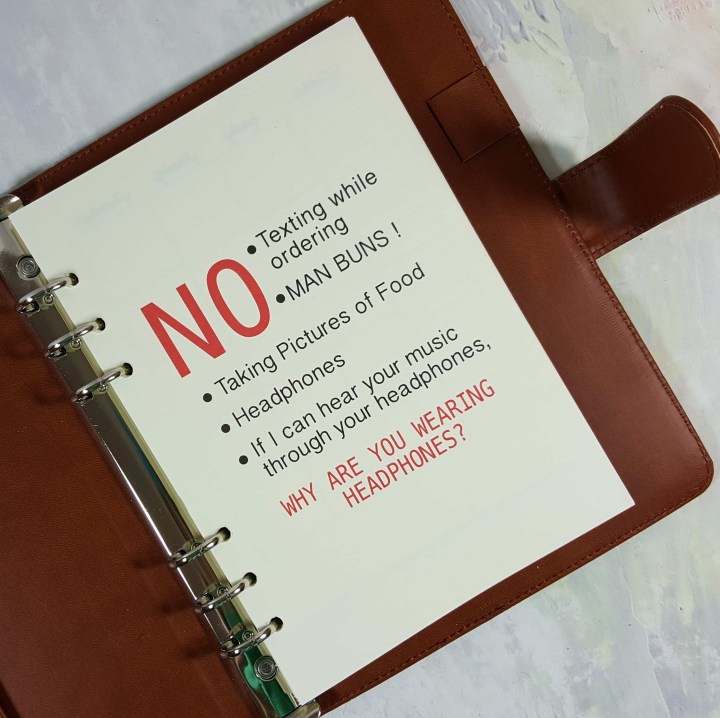 I actually laughed out loud when I saw this. I can totally hear Luke saying this to a customer.
Here's a look at some of the pages. This has monthly goals, weekly agenda, and notes pages to keep you on top of everything.
Planner Sticker/Bookmark Pack | NerdyGrlDesigns ($5.99): In case you didn't catch it in last month's review, Sookie is probably my favorite Gilmore character. I was super excited to see her as my magnetic bookmark and as one of the featured planner stickers. I really like the watercolor artwork on these. This is a fun pack to get you started as you personalize your new Luke's Diner organizer.
Umbrella Pen with Usable Sticker ($1.99): This is a gel ink pen. I like that the color matches back to the planner stickers, so everything is coordinated. This pen also comes with a bonus "You jump, I jump, Jack!" sticker. I don't think that I would have been as brave as Rory to take on the challenge of the Life & Death Brigade.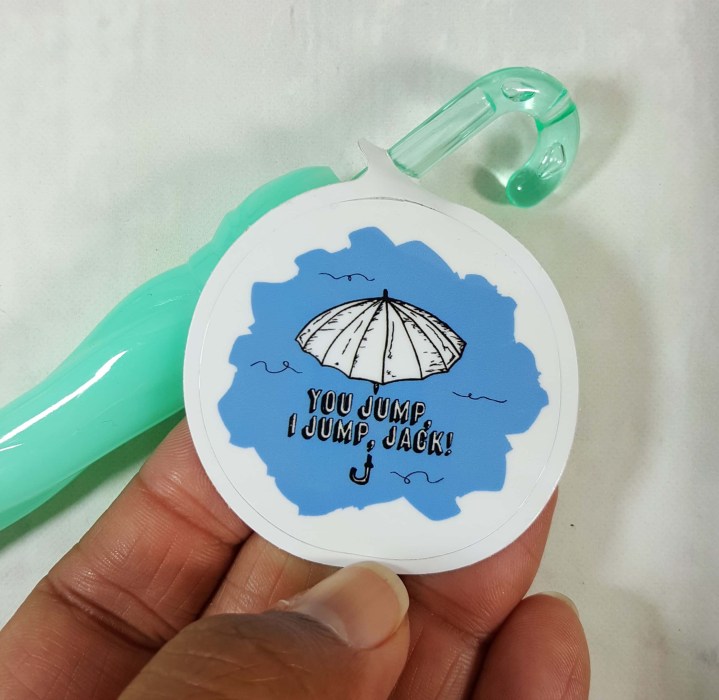 Here's a closer look at the sticker. And below is a look back at the scene that inspired these pieces.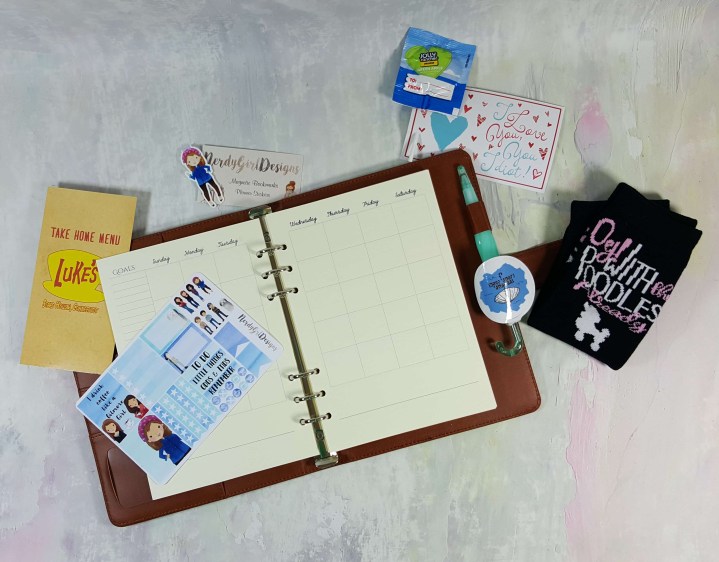 February's Stars Hollow Monthly Box was valued at $58. I haven't used a paper organizer in years, but I am so in love with this one that I am going back to using hard copy. I think that I am going to need more of the stickers, but that's an easy fix. Not sure how next month can top this.
What was your favorite item this month? Leave a comment below and share your thoughts.