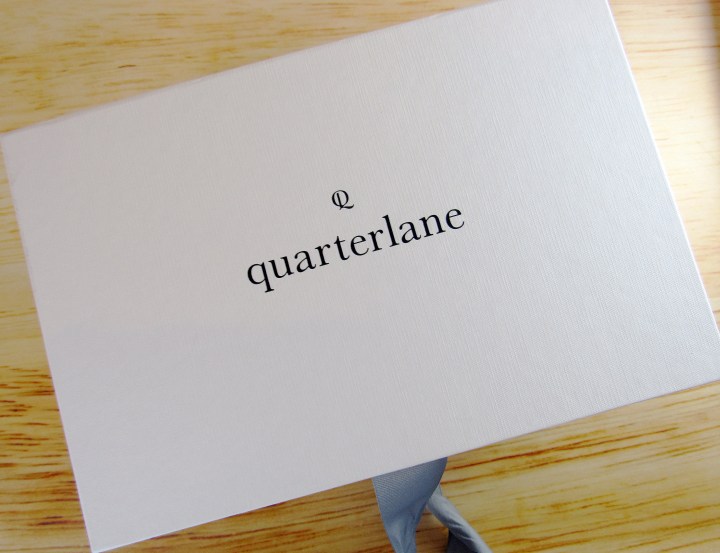 Elizabeth Lane, the founder of quarterlane books, has created a book subscription that speaks to your soul and delivers the most celebrated books of the season to your doorstep. quarterlane offers three fiction reads and seasonal takeaways and custom artwork created by the artist-in-residence. Shipping is included in all three subscription levels which are The 2 Season Pass ( 2 quarters of books), The 365 (every quarter), or The Quarterly Reader (a gift subscription of four quarters). A 10% discount code will be provided for your next box if you donate your books to the library or send them back to quarterlane. quarterlane books will send a return envelope and shipping tag at your request if you wish to donate your books.
quarterlane also offers one-time boxes, which are curated based on a theme (The Classics, The Bookends, etc.,) or the season (Fall, Winter, Spring, Summer), with prices starting from $75 per box. This is the review of the January 2017 Wellness Box.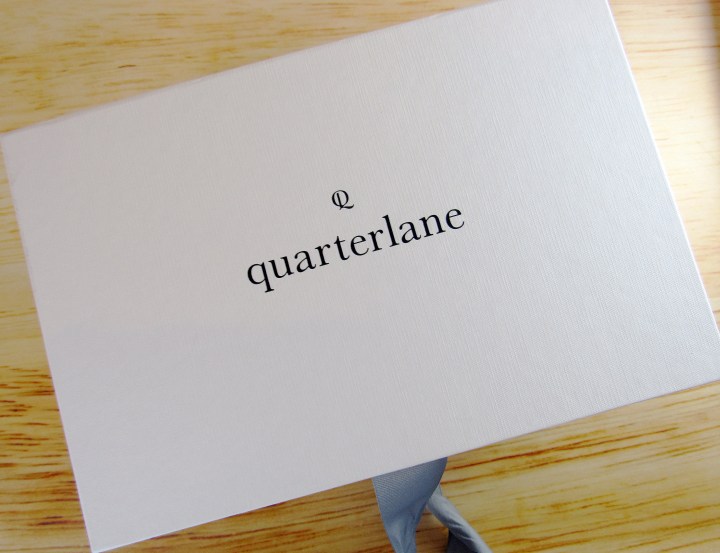 quarterlane books box distinguished itself from other book subscriptions by placing the items in a beautiful, reusable box that was shipped inside a shipping box. I was delighted when I opened the box and saw another sturdy box complete with ribbon.
It was as though I was opening a gift! The grey ribbon gave the box an elegant presentation. It was almost too beautiful to untie.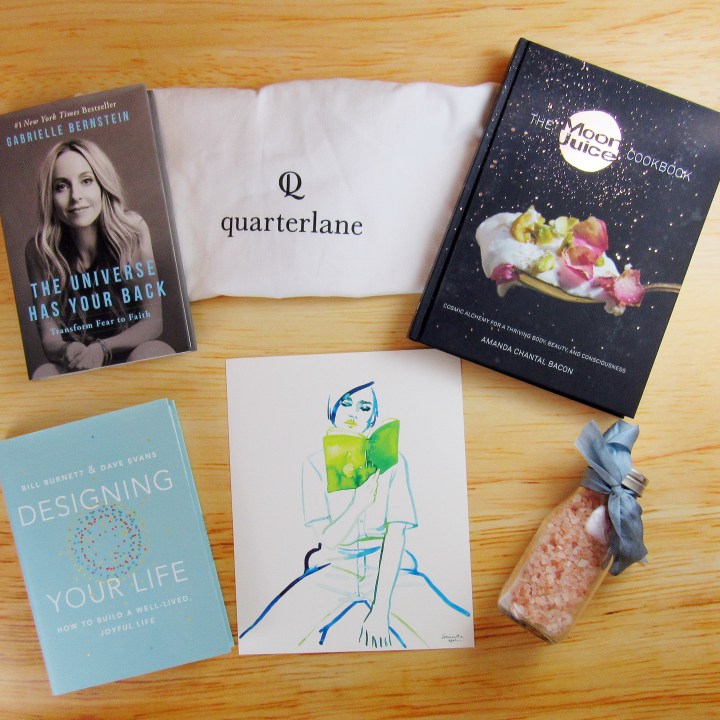 Here are the items in the quarterlane Wellness Box 2017 which is a special edition. The description on quarterlane's website described it as
As we embrace the depths of winter as a commitment to self-renewal and rest, the month of January is especially a time for reflection.  So in the spirit of wellness and hitting the reset button in 2017, we are excited to relaunch our Wellness Box with the same edit of books to inspire, uplift and bring more joy into your life for the New Year.
I NEED this in my life! I am hitting the reset button on my health this year. I could not wait to learn more about the books and items included in the box.
The presentation of this box is amazing.
The lovely bow makes it such a joy to discover the books included in the Wellness Box.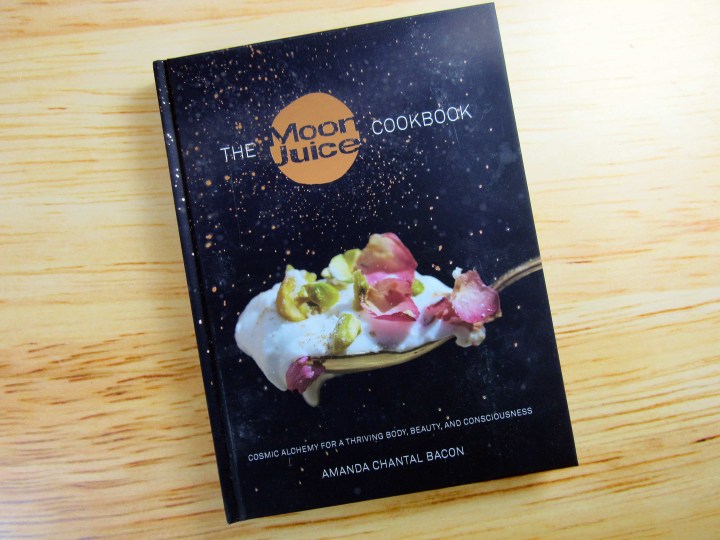 I can't wait to try the recipes from the The Moon Juice Cookbook: Cosmic Alchemy For a Thriving Body. Beauty. and Consciousness (LP $30.00, $23.21 on Amazon) by Amanda Chantal Bacon.
Since Amanda Chantal Bacon founded Moon Juice in 2011, it has evolved into one of the nation's fastest growing wellness brands, and in The Moon Juice Cookbook, she artfully distills her powerful approach to healthy living, sharing over 75 recipes for the brand's most popular healing beverages and provisions. Amanda's recipes harness the healing properties of adaptogenic herbs, raw foods, and alkalizing ingredients to create potent drinks, snacks, and sweets that deliver a multitude of benefits, including sparked libido, glowing skin, and boosted immunity. She begins by guiding readers through the fundamentals of the Moon Juice kitchen, teaching them how to stock the larder with milks, juices, cultured foods, and "unbakery" doughs and crèmes—all of which can be mixed and matched to create nutritionally turbo-charged meals with minimal effort—and the essential time- and money-saving strategies they'll need to make their new kitchen practices stick. With recipes for healthful, delectable indulgences like Strawberry Rose Geranium Bars, Hot Sex Milk, Savory Tart with Cheese and Tomato Filling, Pulp Brownies with Salted Caramel Sauce, Yam Julius Milk, and Chocolate Chaga Donuts, The Moon Juice Cookbook is the stylish yet pragmatic roadmap readers need to achieve optimal wellness in a natural and delicious way.
I am familiar with the ideas behind the cookbook and can't wait to learn more about them. The cookbook also provides detailed information about the hows and whys of the healing behind the foods.
The photos are detailed. The above photo is a picture of making coconut kefir which I never realized it existed. I'm familiar with kefir made from cow's milk. I will be delving into this cookbook now that my schedule has settled down.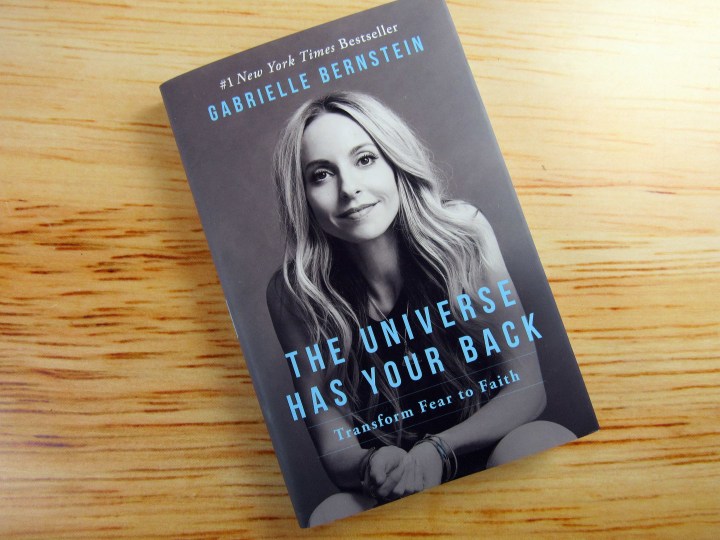 I believe that healing from difficulties result in increased wellness. The Universe Has Your Back : Transform Fear to Faith by Gabrielle Bernstein (LP $24.99, $13.20 on Amazon) encourages us to move forward.
In her latest book, The Universe Has Your Back,New York Times best-selling author Gabrielle Bernstein teaches readers how to transform their fear into faith in order to live a divinely guided life. Each story and lesson in the book guides readers to release the blocks to what they most long for: happiness, security, and clear direction. The lessons help readers relinquish the need to control so they can relax into a sense of certainty and freedom. Readers will learn to stop chasing life and truly live.

Making the shift from fear to faith will give readers a sense of power in a world that all too often makes them feel utterly powerless. When the tragedies of the world seem overwhelming, this book will help guide them back to their true power.

Gabrielle says, "My commitment with this book is to wake up as many people as possible to their connection to faith and joy. In that connection, we can be guided to our true purpose: to be love and spread love. These words can no longer be cute buzz phrases that we merely post on social media. Rather, these words must be our mission. The happiness, safety, and security we long for lies in our commitment to love."

When readers follow this path, they'll begin to feel a swell of energy move through them. They will find strength when they are down, synchronicity and support when they're lost, safety in the face of uncertainty, and joy when they are otherwise in pain. Follow the secrets revealed in this book to unleash the presence of your power and know always that The Universe Has Your Back.
I'm not easily offended by other ideas and was able to relate it to my personal belief system. It's a wonderful book to read in the time of crisis or when feeling stuck in life.
I've been feeling out of sorts with my older son graduating from high school this year. I do believe that Designing Your Life: How to Build a Well-Lived, Joyful Life by Bill Burnett and Dave Evans (LP $24.95, $13.97 on Amazon) will help me figure out my next season in life.
Designers create worlds and solve problems using design thinking. Look around your office or home—at the tablet or smartphone you may be holding or the chair you are sitting in. Everything in our lives was designed by someone. And every design starts with a problem that a designer or team of designers seeks to solve.

In this book, Bill Burnett and Dave Evans show us how design thinking can help us create a life that is both meaningful and fulfilling, regardless of who or where we are, what we do or have done for a living, or how young or old we are. The same design thinking responsible for amazing technology, products, and spaces can be used to design and build your career and your life, a life of fulfillment and joy, constantly creative and productive, one that always holds the possibility of surprise.
I am working my way slowly through the book which has exercises that assist you in creating a fulfilling life. I'm seriously thinking about buying my older son a copy as he enters his next phase of life.
One of the unique features of Quarterlane Books is that there is an artist-in-residency that creates custom artwork. The winter artist-in-residency is Samantha Hahn. The green accent is a reminder to me that spring is on its way. The print was boarded and wrapped in plastic.
https://www.instagram.com/p/BQqqdPMl7u2/?taken-by=quarterlane
Here's a picture of Helen Dealtry, the spring artist-in-residence, working on the upcoming spring print.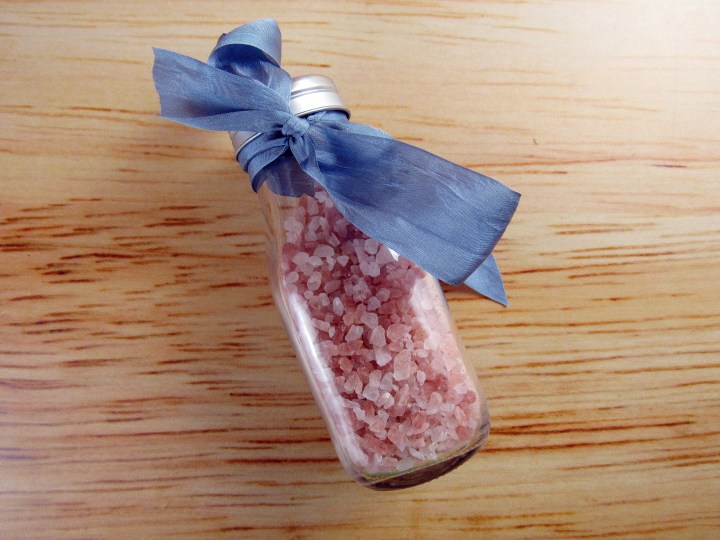 The Mauli Rituals Himalayan Healing Salts (15.9 oz, $47.66) is blending with 13 therapeutic oils. I can't wait to take a relaxing bath and enjoy the soothing qualities of the salts. I love the use of the grey bow which matches the book bow and the box bow.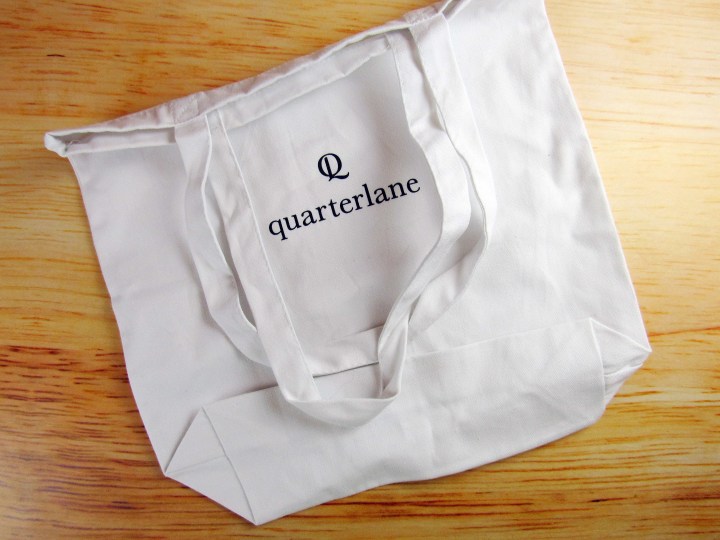 The quarterlane Tote Bag is a sturdy bag that can hold groceries, books, and more. It will be well-used in our household.
It was a wonderful experience opening up the quarterlane Book Wellness Box. The beautiful bows and reusable box was unexpected and much appreciated. I found the book selection to be balanced and will jumpstart my health while the Himalayan Bath Salts will help heal it. I love the green accents on the print which reminds me of spring. The value of the box is approximately around $120.00. I am thoroughly impressed with the curation, the quality of the items, and the book selections. quarterlane Book Box is an excellent choice for subscribers looking for books that speak to their soul.
Visit quarterlane to subscribe or find out more!