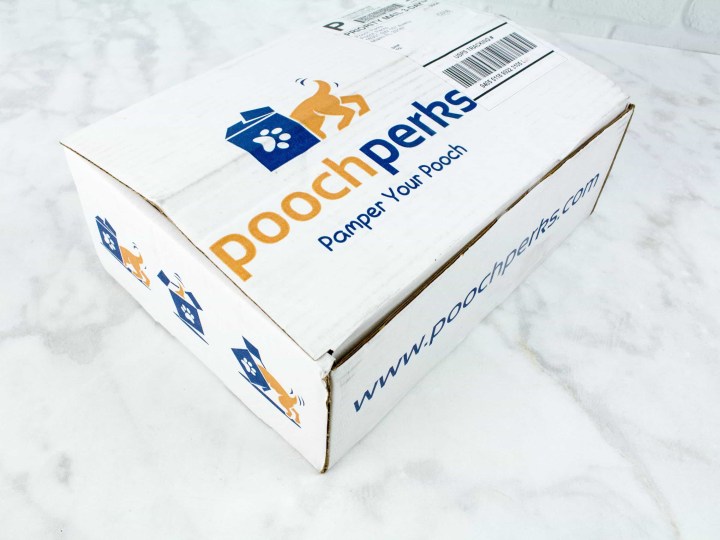 Pooch Perks ships a selection of gourmet dog treats and hand-selected toys to your favorite pup. Pooch Perks has recently relaunched and discontinued their PennyPincher, Popular and Pampered boxes. You now have the option to fully customize your subscription, or get their standard Popular Pooch box. This is review of the standard Popular Pooch box.
DEAL:Get 10% off your subscription length! Use coupon code FRIEND10.
The theme this month is Welcome to the Circus.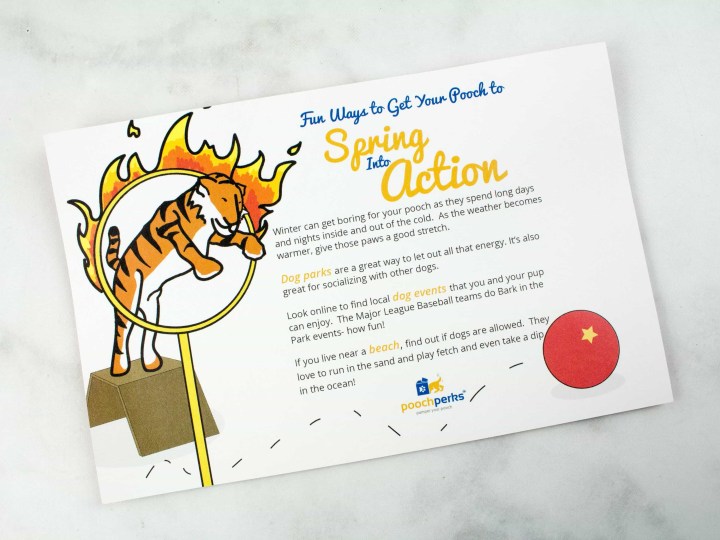 The opposite side of the card features a short article about ways to make pooch spring into action after the long winter days.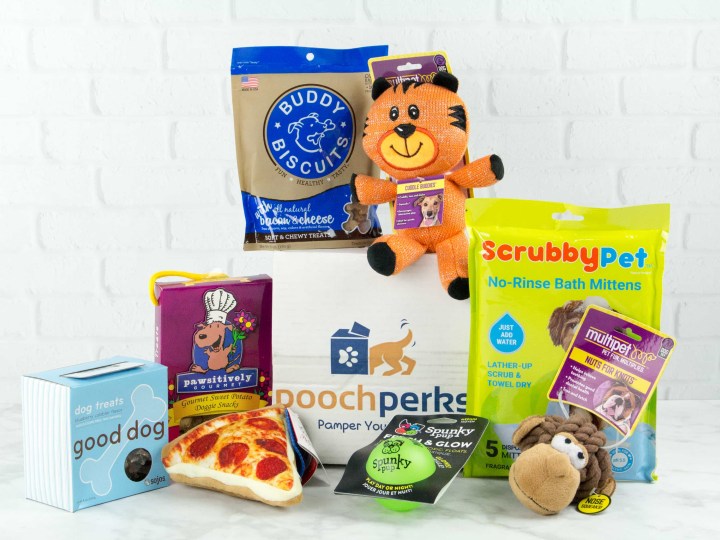 Everything in the box.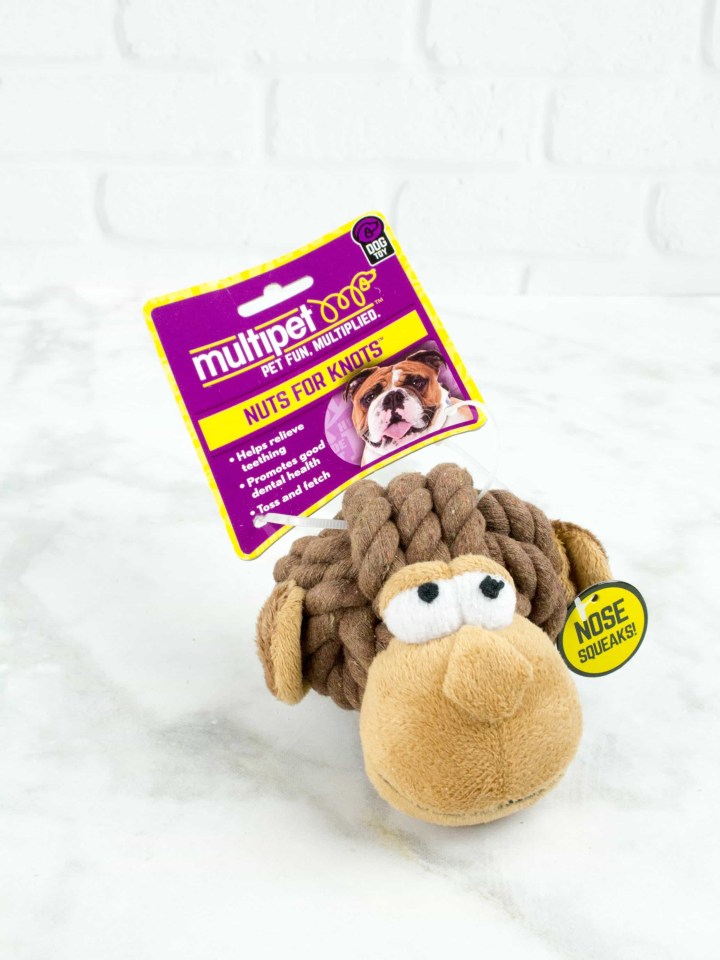 Multi Pet Monkey Rope Head Dog Toy ($8.49): This adorable little chimp combines two toy genres into one! His head is constructed from tightly wound rope, great for tossing and chewing. The nose and ears are plush, with a squeaker contained in his nose. This is definitely one of the cutest rope-made toys I've seen.
Lulubelles by Huxley & Kent Pizza Dog Toy ($13.36): This washable squeaker has a photorealistic image of pizza on its top surface.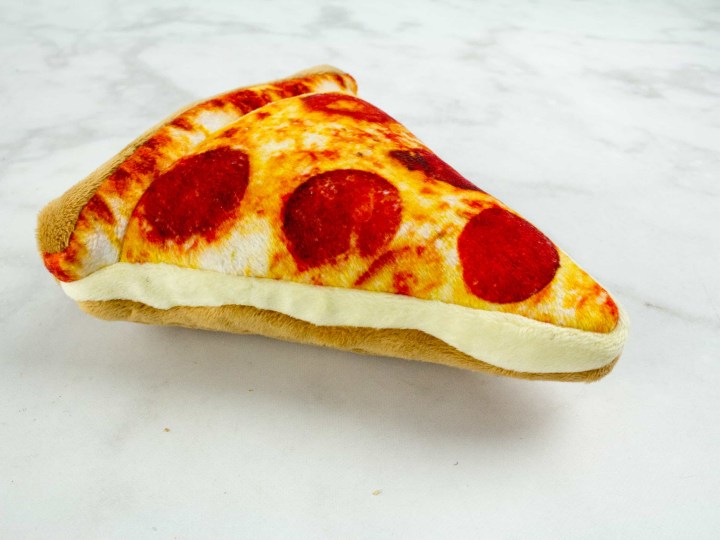 The image is quite high quality – were it not so puffy, I think I would constantly find myself alarmed at seeing a slice of pizza laying around on the floor!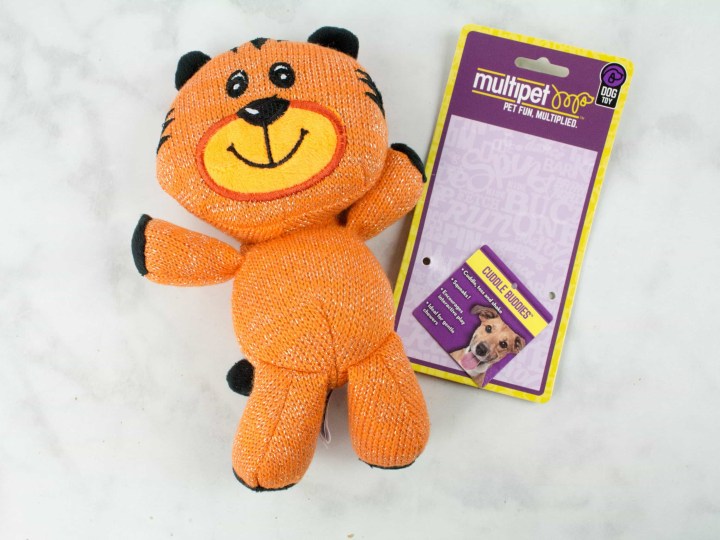 Multi Pet Tiger Cuddle Buddies: This little guy has a knit construction with stitched details. The fabric contains sparkly threads, giving it a fun, shimmering look. He's super-cute, too! A little squeaker is contained inside for extra enjoyment.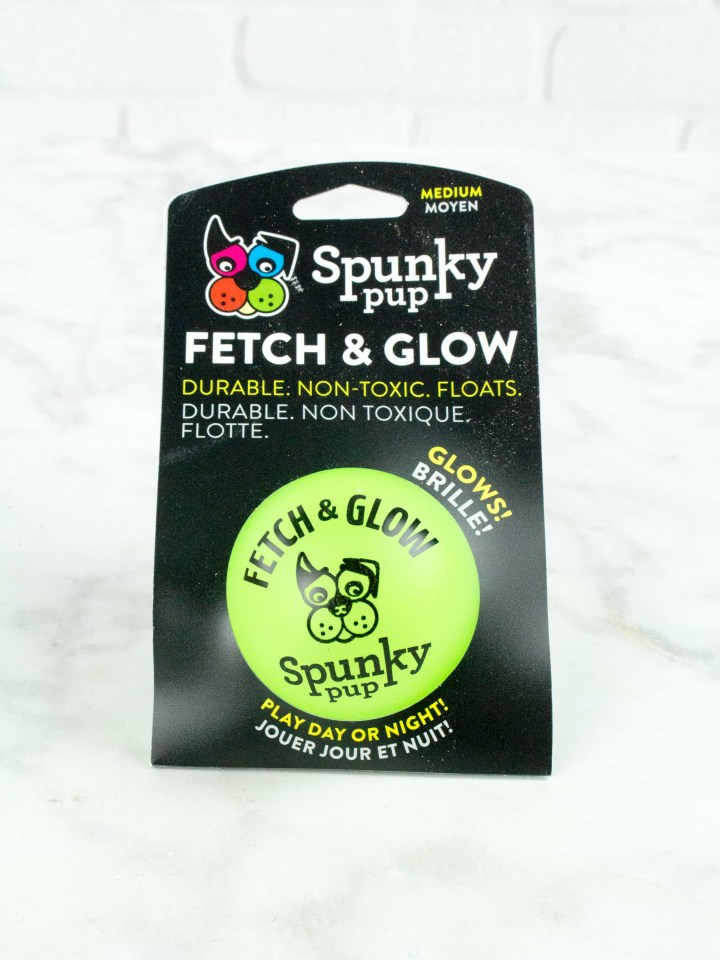 Spunky Pup Fetch & Glow ($5.19): My dog always seems to decide she wants to play fetch just as the sun is setting. This ball makes evening play no problem – The bright glow extends play hours as late as you want! It floats, too, so no excuses for losing this ball.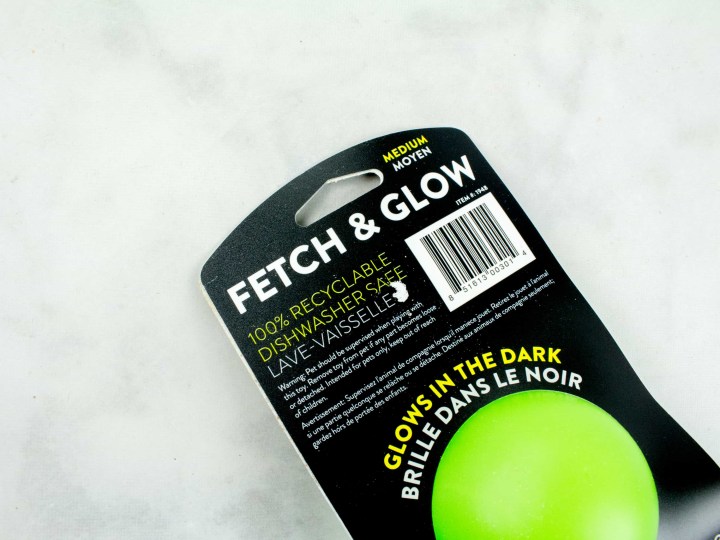 The extended training hours will help you perfect your tricks for the big three-ring show. When your dog is done with it for the day, you can toss it in the dishwasher or recycling bin.
Scrubby Pet No Rinse Bath Mittens: These handy mitts are an easy fix for bath-wary pets. The pads already contain soap, so all you need is water to start scrubbing.
No rinsing is needed, just towel dry! I think these are great for camping and other outings where your dog is sure to get filthy and rinsing off would be difficult or frowned upon.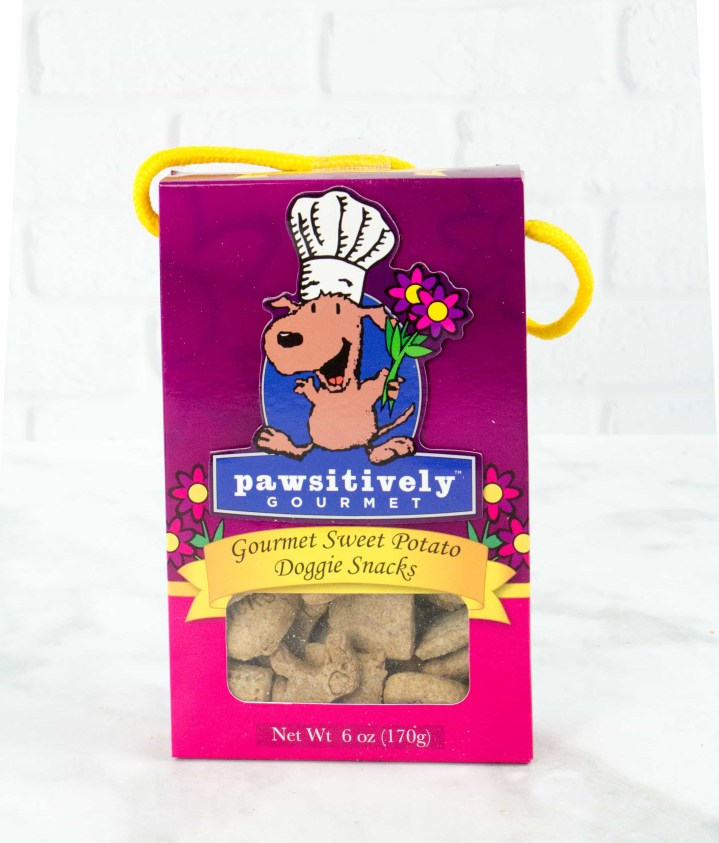 Pawsitively Gourmet Sweet Potato Doggie Snacks ($13.20): These crunchy biscuits incorporate sweet potato, a dog favorite.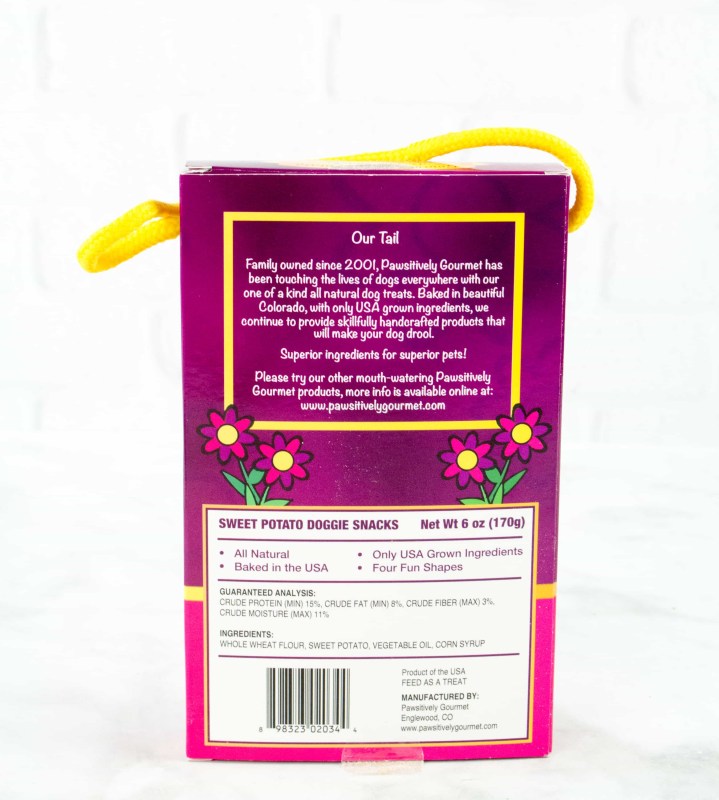 Made in Colorado from all natural, USA-grown ingredients, these have a very short ingredient list. They do use corn syrup as a sweetener, though, so they are definitely best used only as a treat.
They come in four shapes – two sitting dogs and a couple message hearts.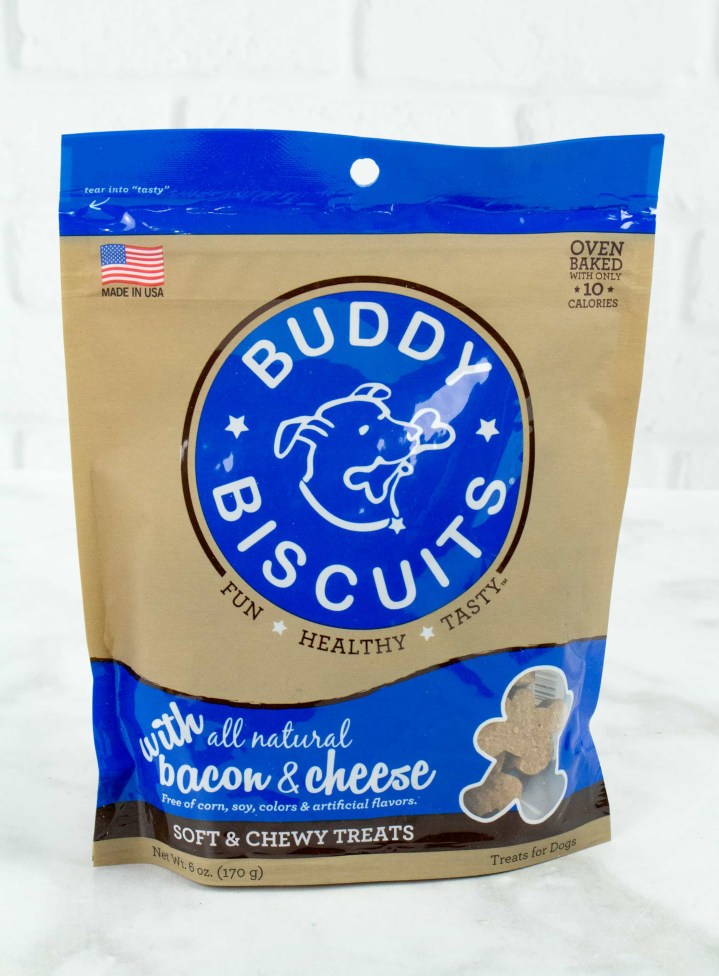 Cloud Star Buddy Biscuits With All Natural Bacon & Cheese Dog Treats ($1.64): My dog loves this style of treat! They are soft and bendy, and they retain enough moisture to not be crumbly or hard.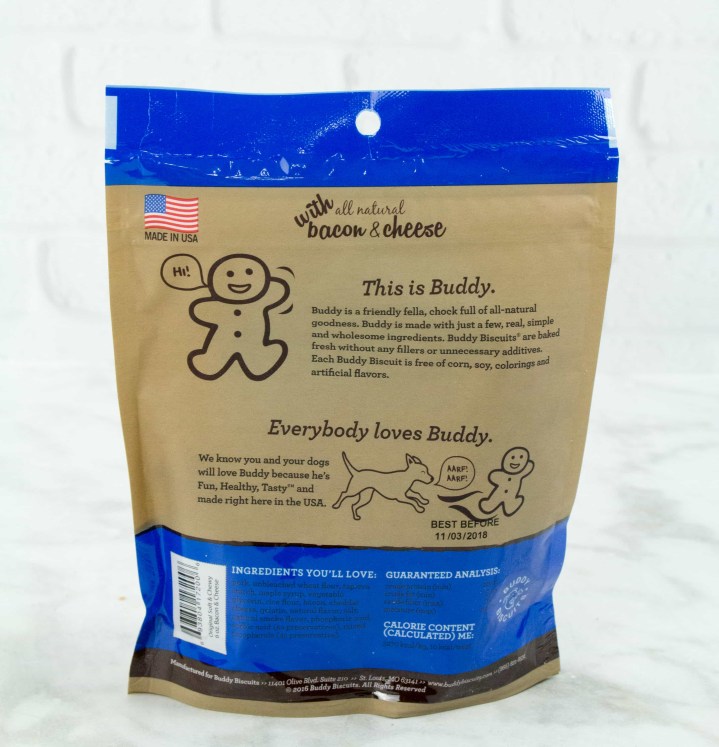 This bag is Bacon & Cheese flavored. I love that they aren't made with corn, soy, or artificial ingredients.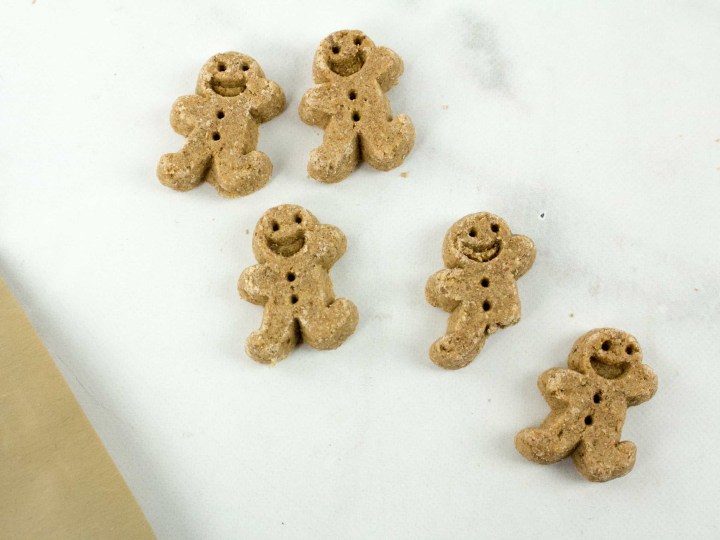 They are very cute, and the size is wonderful for either general treating (a few at a time) or training.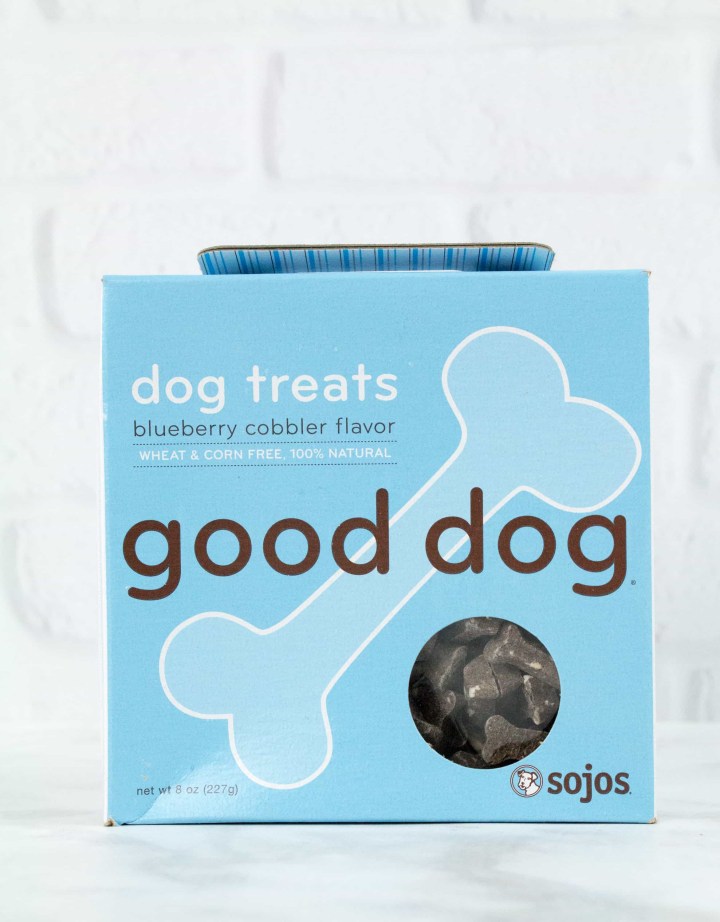 Sojos Good Dog Blueberry Cobbler Dog Treats ($8.35): These tiny, bone-shaped treats are also great for training.  They are crunchy, but not rock hard.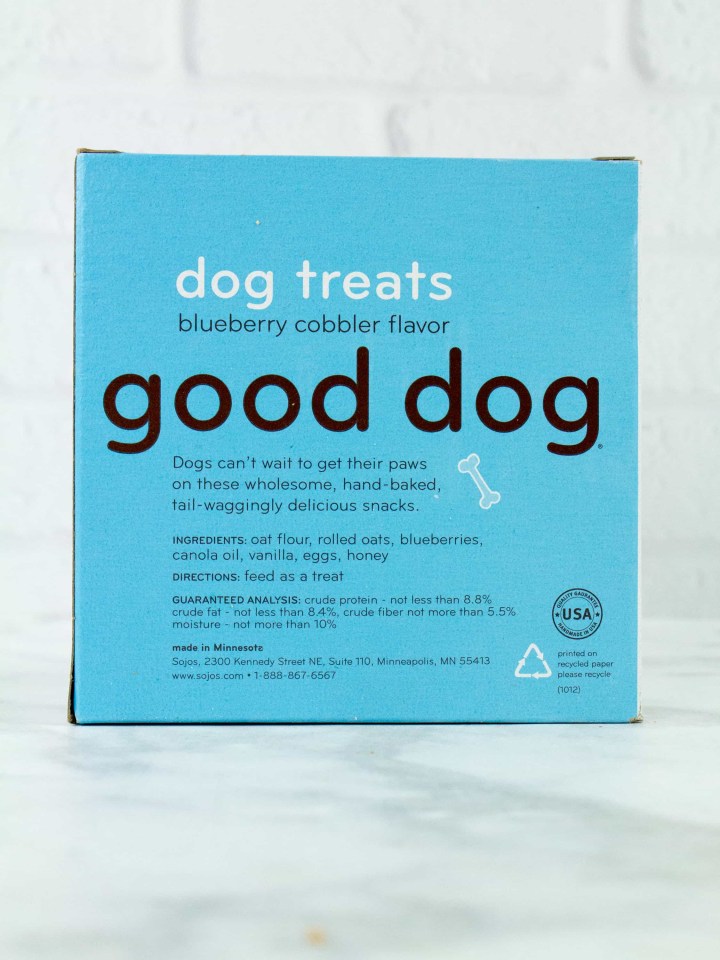 The Blueberry Cobbler flavor is made with ingredients you might find in a tasty dish whipped up for human consumption – oats, blueberries, oil, eggs, honey, and vanilla.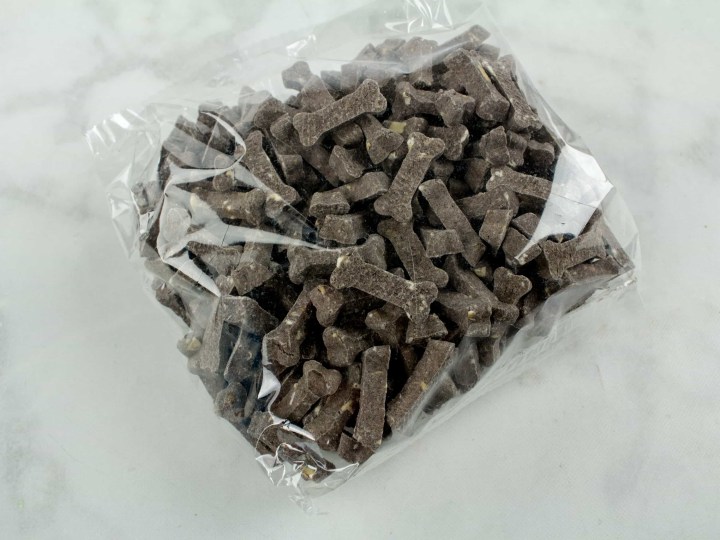 I like the ample size of the bag – our pup is a bit of a treat hog, and it's nice to have a big bag of little treats, so we can give her small servings frequently without overfeeding.
This month's Circus theme was evident in our toy selections (at least the adorable animals). The treats were tasty selections, but they didn't really fit the theme. It's OK, I don't think our pup will mind!
[Note from Brandy: they totally do – it's a SMORGASBORD!]
What did you think of this month's Pooch Perks?