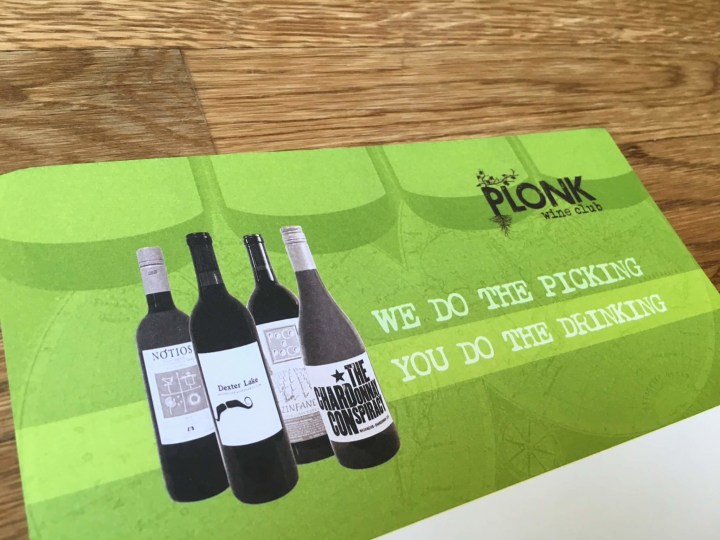 Plonk Wine Club is a wine subscription box offering 2, 4, or 12 bottles per month in either a red, white, or mixed shipment. Plonk specializes in curated artisanal, small batch, rare, and sustainably grown boutique wines.
March! March in the South is a great place to be – it's warming up, the azaleas are in full bloom, and there's no disgusting grey slop of melting snow shoved in every corner. Plus, college basketball! It's not QUITE as fun as it used to be, when I would skip afternoon classes and stay up obscenely late for hours and hours of televised basketball. But the good news is, I can now afford better wine to go with it. Let's get started!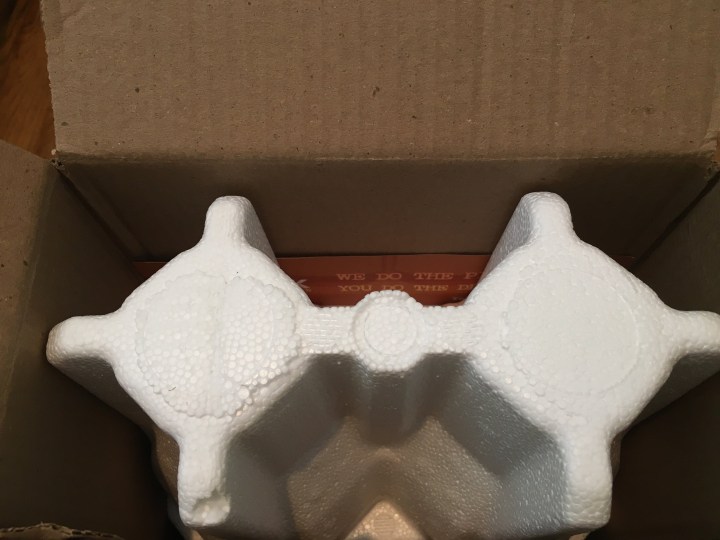 DEAL: Save $10 on your first box! Use coupon code NEWMEMBER.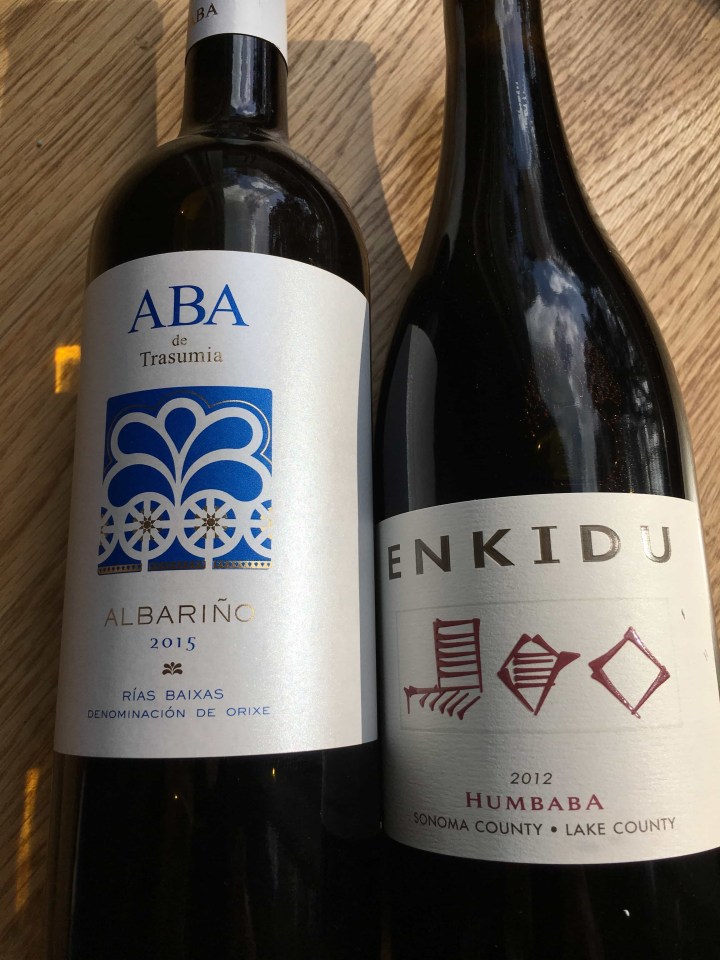 This month, I received the 2-bottle mix. Plonk prides itself on finding small batch, organic, and other interesting wines that you might not discover on your own. Each wine comes with informative tasting notes and recipe ideas, which now come in postcard form instead of a printed sheet. You can get full recipes at the Plonk website.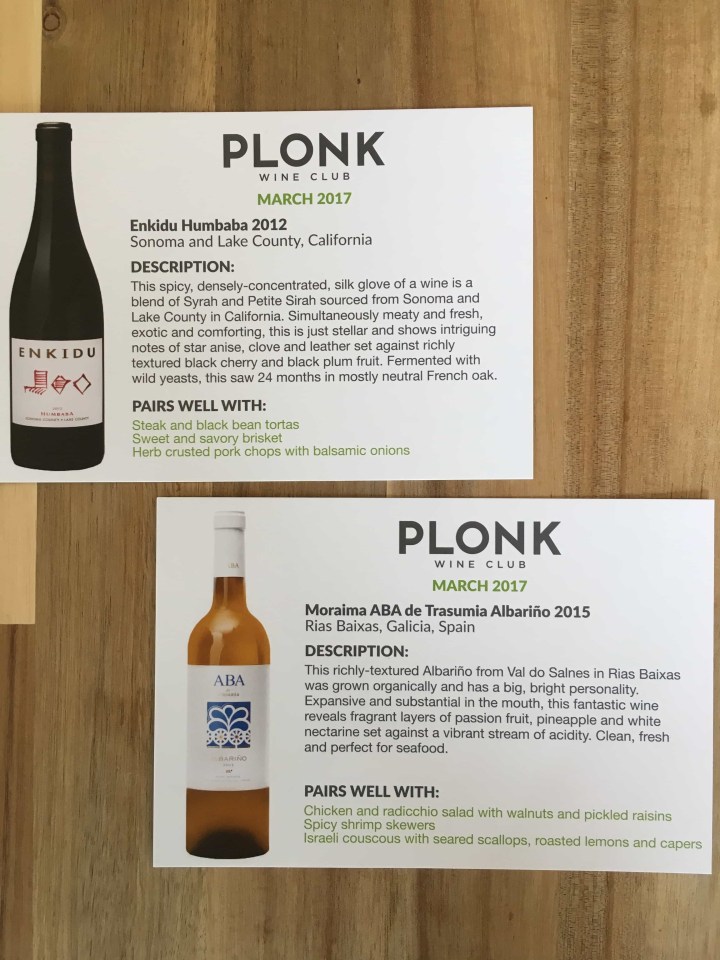 The first wine was the 2015 Moraima ABA de Trasumia Albarino.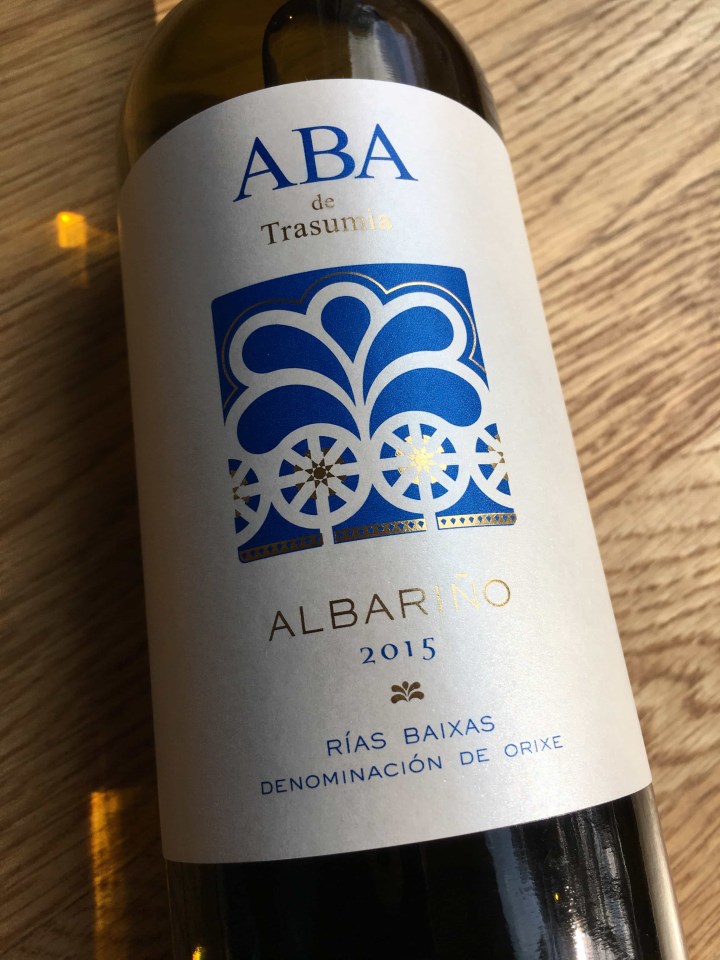 Albarino is a Spanish wine, made of the same grape that is used for the hugely popular Vinho Verde.  The Albarino is like the serious older sister of Vinho Verde–no bubbles and less sweet, but more upstairs once you get to know her.  I probably pushed that metaphor too far.  Anyway, the ABA is characteristically straw-colored with that barest hint of leafy green.  The mouthfeel is more substantial than we expected, with a delicious bright citrus to start which shaded into stone fruit and then finished cleanly with a hint of saline.  This is such a tasty wine!  We drank it with spicy tilapia, and it complemented the fish perfectly.  It would also be great with chicken or (natch) tapas.  It is just the perfect wine for spring before you hit the roses and Vinho Verdes this summer.  Drink it cold, but it's fine in the glass as it warms up.  So good!
Our next wine was the 2012 Enkidu Humbaba.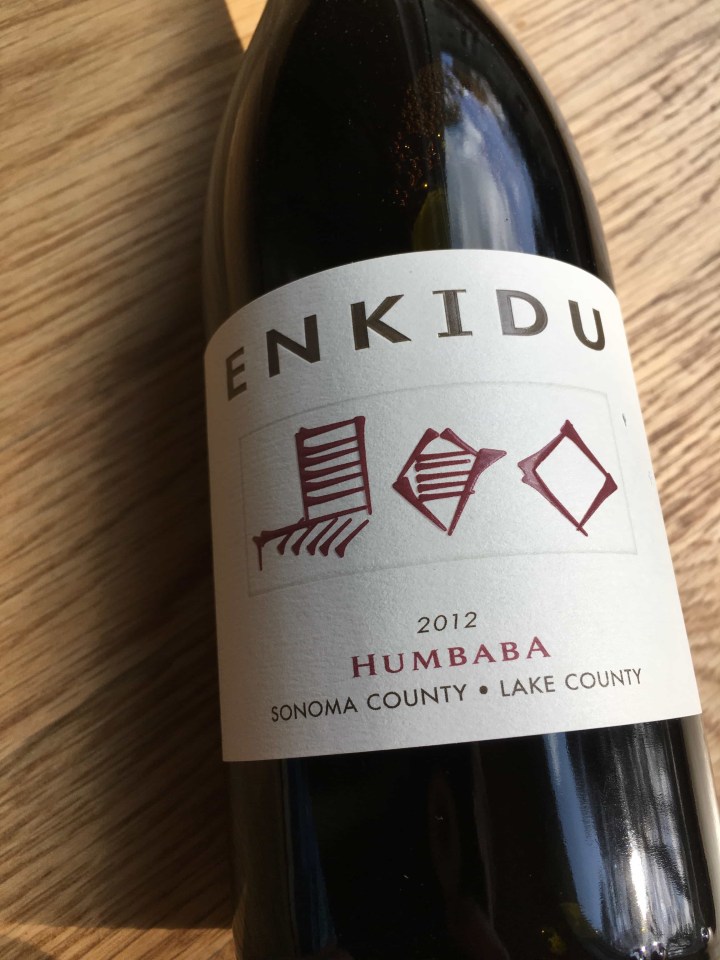 This wine, in spite of the funky name, is really just a Syrah/Petit Sirah blend.  Syrah is a good food wine, because it has a nice fruitiness to it but also some structure to hang it all on.  The Humbaba was no exception.  This is a dark, dark purple in the glass with a slow swirl that tells you you're about to get hit with a fruit bomb.  Which you are.  This is fat on the palate and leads with strong, jammy cherry and earth flavors.  As it finishes, it adds a bit of clove to the back end and finishes with a nice hit of tannin.  This is a big, big wine, people.  If it didn't have the nice structure to the back, it would be too sweet, but it is nicely balanced in flavor and heft.  I don't drink a ton of Syrah on my own, but that is one of the benefits of Plonk–it stretches out my "usual" into new areas.  This wine would complement red meats or dark beans, and also would do well with a more complex food, like pizza (!!).  You could definitely stick this one in the back of the closet to age for a couple of years, or you could drink it now, but it improves as it airs out in the glass, so don't rush it.  We drank this barely off-chill.
And that was our March Plonk selection! Two wines, two nights, two busted brackets.  Well, at least the wine and company were good.  I really look forward to getting my Plonk box each month for the thoughtful and interesting wines. I can't wait to see what we get next month!
What do you think about Plonk? Did your bracket survive the first weekend? Tell us in the comments below!