The Planner Addict Box is a monthly subscription box for planner decorators. The box is filled with planner products you can use for any type of planner. You can expect products from well-known designers, Etsy shops, and Planner Addict Box exclusives. Planner addict has had a lot of exclusives recently and then things created just for them from Etsy shops. This is such a fun box to get each month and play around with all the goodies.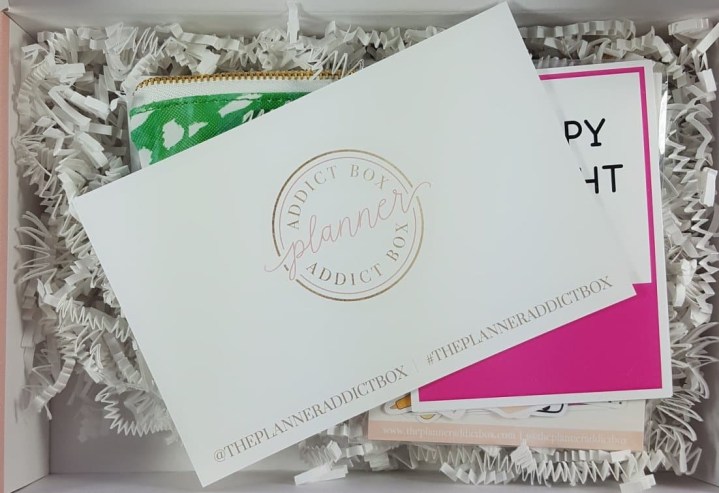 The boxes are full of squiggles to hold all the goodies inside without too much moving around during transit.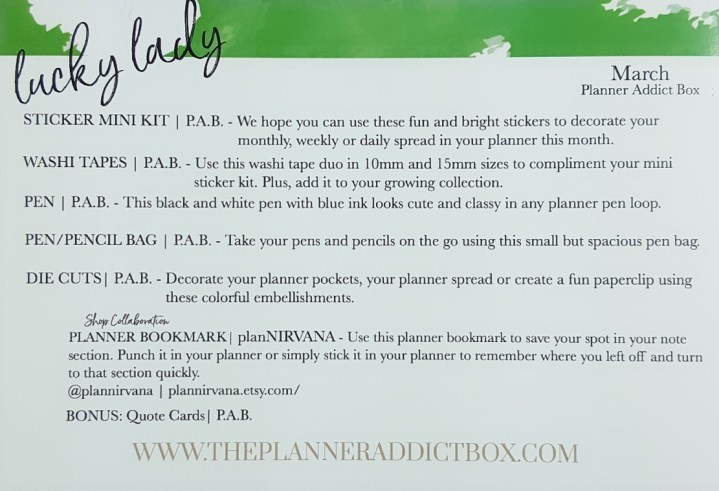 The theme for my March box is "Lucky Lady." The info card tells you a bit about the items in the box and then any links for collaboration stores. Look at that gorgeous green on the card. I couldn't wait to see how that worked into the products this month.
Everything included in my March box.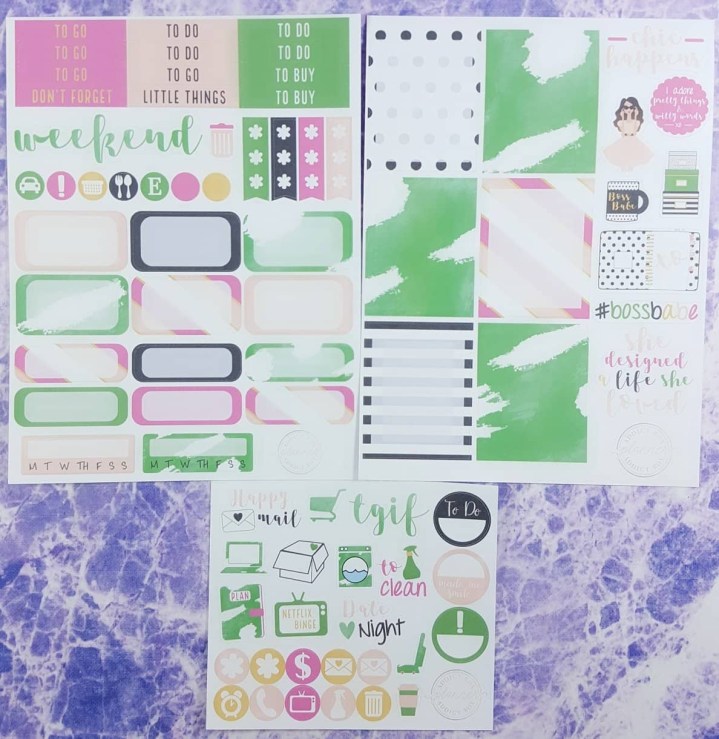 Gorgeous stickers this month. I love the pinks and green and how preppy and fresh these look. Lots of open boxes so I can fill in as needed on my days and plans. I love these kinds of stickers and being able to add color and pattern and still fill in. I am a big note taker and list maker so I need these open spaces.
WOW, this washi is stunning and so versatile! I can't wait to work this into a design and plan to use it on my planner and on some scrapbooking pages.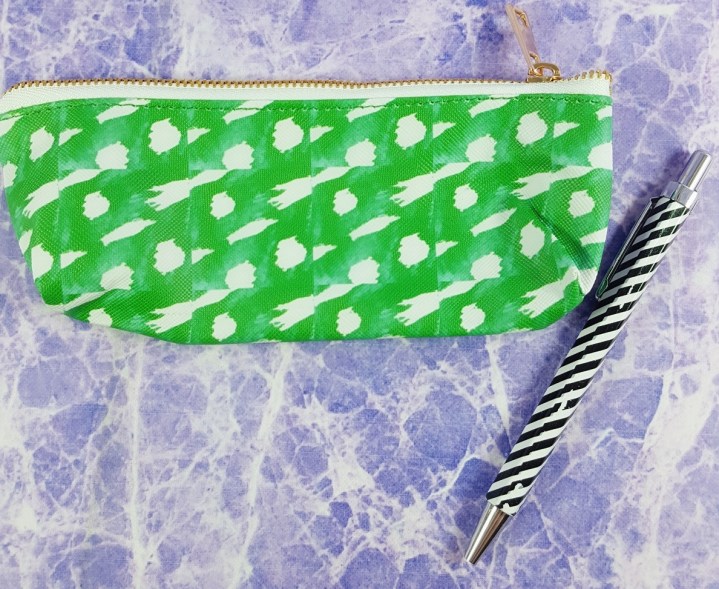 Each month, we get a pen to write in our planners and some extra goodies. This month one of those goodies was a pen bag. The bag is a tyvex type on the outside and then cloth on the inside. It is on the small side but will hold a couple of go-to essentials and I'm already planning to toss this in my purse for spring.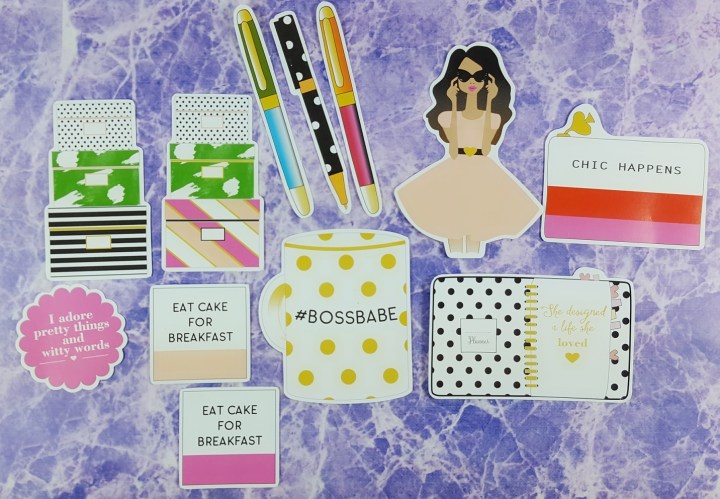 I'm just going to squeal a little bit here and say I LOVE these die cuts. I mean really aren't they gorgeous? Of course, my mom just booked us a cruise for this summer and when I see the colors and then the storage boxes which I plan to use at luggage I just can't help but think vacation. It is so cold here right now I NEED my brain to think warm thoughts.
Planner Addict Box also sent some bonus quote cards and paperclips this month. I have some bow tie clips that are fun but I don't have any tie ones or as I'm looking at it maybe it's an exclamation point. Either way, I'm loving the gold and you can never have too many clips around.
They also included a planner bookmark from PlanNirvana. I love that this is laminated so it will hold up and you can mark your planner page or use it in my book. Since I'm currently using an Edward Cullen bookmark for reading I might swap this one out for that.
Another fantastic box from Planner Addict Box. If you couldn't tell I'm loving the colors and included items this month. While I think these would be great for spring break and Easter I'm going to hold on to them for my vacation this summer. They just really scream that to me and the layout will be stunning for sure.
Have you tried Planner Addict Box? Do you love the pink and green this month?