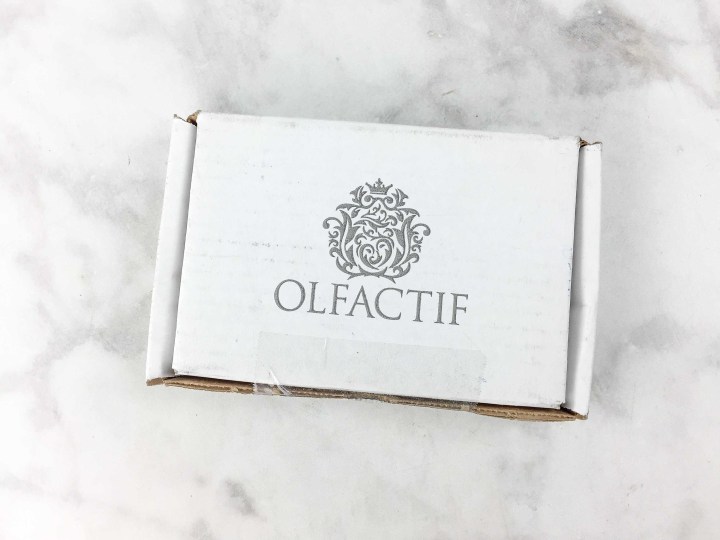 Olfactif for Men is a monthly fragrance discovery subscription box featuring more distinctly masculine scents than their unisex flagship subscription. You'll get 3 samples in your box, each containing 15-20 "wears" of an independently designed cologne or eau de perfume. With every box, your account will be credited with an $18 voucher to use on fragrances from the store. Olfactif for Men prides itself in selecting niche offerings incorporating higher quality and hard-to-find ingredients.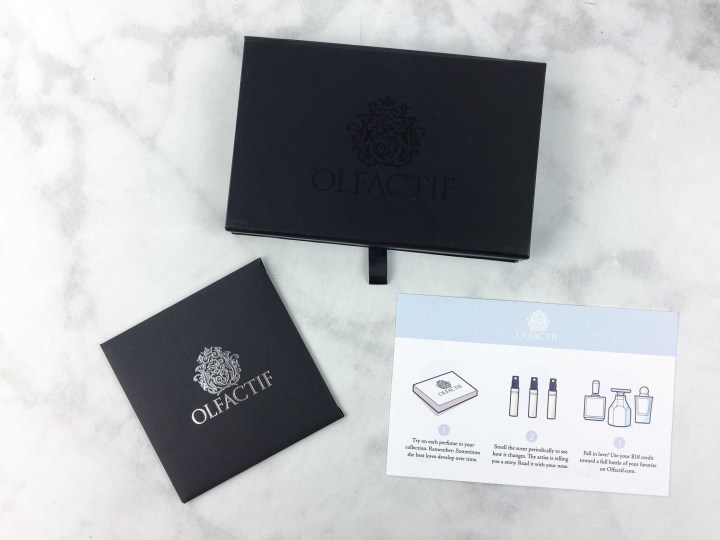 The regular Olfactif box is unisex and meant to be worn by women and men who enjoy niche fragrances. Because it features fragrances intended to be wearable by both sexes, it only occasionally indulges in the heartier scents typically associated with Men's fragrance. The Men's box is centered around traditionally masculine fragrances, all from the niche world. You will still see the same creative spirit and defiance of convention, but the focus will be on the yang.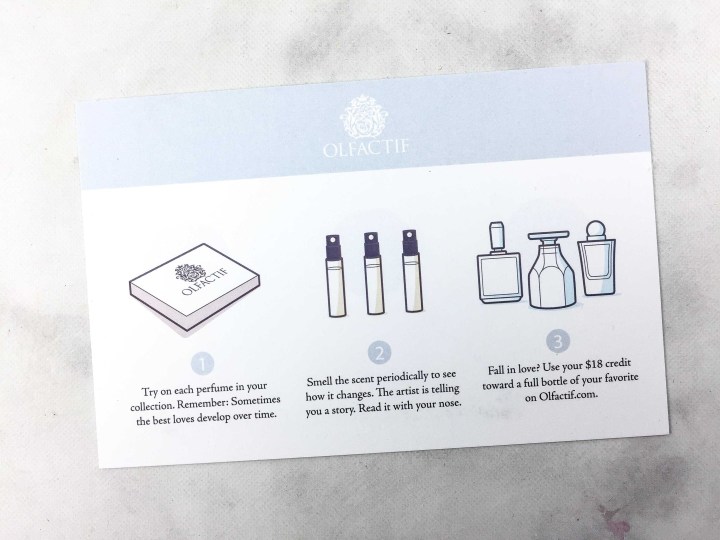 Olfactif Men's comes in the same cool packaging as their flagship subscription. The instructions, theme, and individual fragrance information cards are tucked inside.
The theme for this ensemble of men's fragrances is "Warmth."
The cards have been updated with a more elegant image. They identify the fragrance and maker, list the primary scent notes, and provide a glimpse into the inspiration and essential qualities of the fragrance.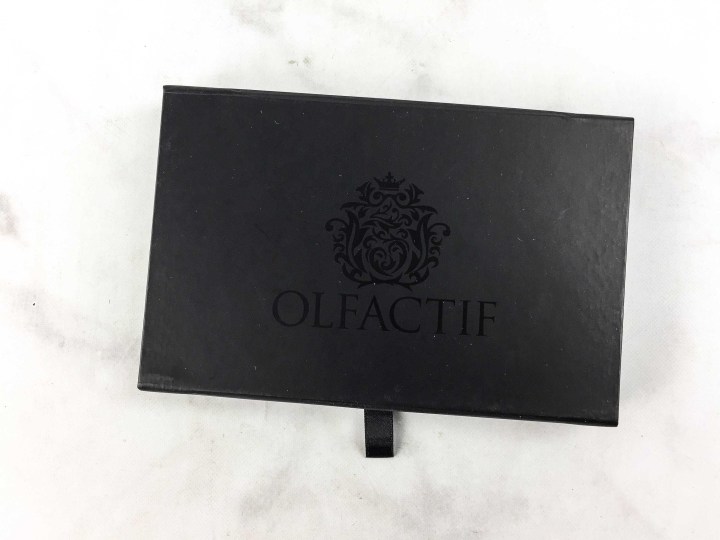 The flap top box bears the intricate Olfactif logo in shiny relief.
The three fragrances come tucked neatly within the very cool case. The bottles are testers, but with up to 20 wears each, they are perfect for keeping around for a change of pace well into the future (but make sure to take advantage of the subscription credit towards purchase and pick up a full size of your favorites!). The box now comes with a trio of test strips so you can get a sense of the fragrances before choosing one to wear first. I go ahead and spray them on my skin – I think that's the best way to see how it wears.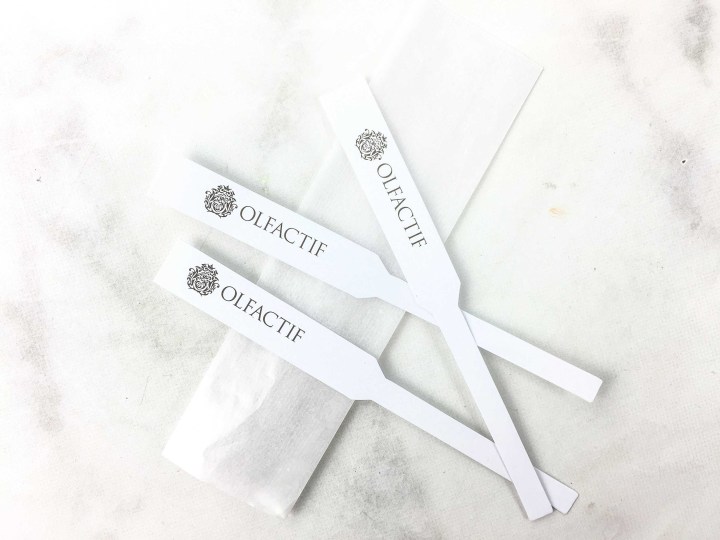 The strips have the Olfactif logo, a fancy touch.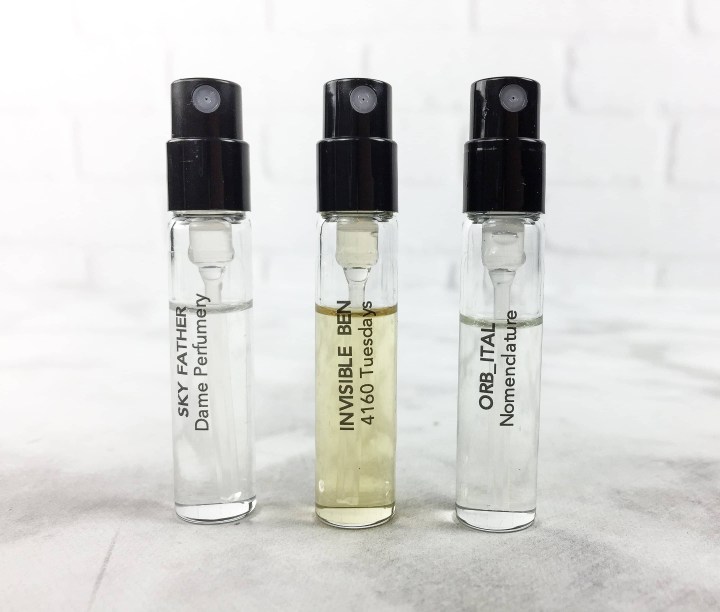 March 2017 Olfactif Men:
Dame Perfumery Sky Father: Though this fragrance is very vegetal, I found very little in the way of woodsy scents.  It is an accord of baking spices, floral notes and garden herbs, and sweet citrus – bright, soft, and very sweet. As it mellows, the cinnamon, clove, and geranium prove to be the most resilient players. I don't get the sense of wooded isolation with this fragrance – I instead envision a country garden or estate, replete with flowering plants, kitchen herbs, and a citrus grove.
4160 Tuesdays Invisible Ben: This fragrance hits the skin with a flash of hot alcohol, but it quickly transforms into a very sweet and bright candy scent. Early in its dry down, it mimics orange flavored vitamin C lozenges, with an intensely saccharine and orange presence. The coffee, sandalwood, and other base notes remain mostly hidden, serving only to meld the brighter notes to the natural tone of the wearer's skin. The bright citrus prevents this from being truly invisible and mimicking any conceivable natural scent of a person, but the undertones are well-controlled and blended. The top notes coalesce into a scent that is distinct and familiar, yet took several moments to identify: Fruit Loops cereal – it smells exactly like Fruit Loops (likely the opoponax) – I think Ben must have a bowl with his cognac!
Nomenclature Orb_ital: Floral accents and rich, peppery notes dance around a dry base of Orbitone. The main pillar of the scent is a slightly sweet smokiness that combines hints of cedar and pipe tobacco (like a fragrant Cavendish in its pleasant, unsmoked form) with the mildly sulfuric jab of burnt match. It mellows well, falling into a pleasant sweet/dry balance. This is one of the least acerbic treatments of smoky notes I've experienced, and it makes for a sophisticated central note.
I found this collection to be very wearable. The fragrances were certainly niche, with innovative approaches to their respective genres. While the common theme was "Warmth," I felt the more noteworthy binding element was the fantastic restraint exercised in employing what would normally be the dominant notes. Whether it be vibrant florals, arid woods, or acrid smoke, each tamed these elements sufficiently to create a balanced and inviting accord.
Have you tried niche fragrances yet? What did you think of this month's Olfactif Men's collection?
Visit Olfactif to subscribe to the Men's box or find out more!