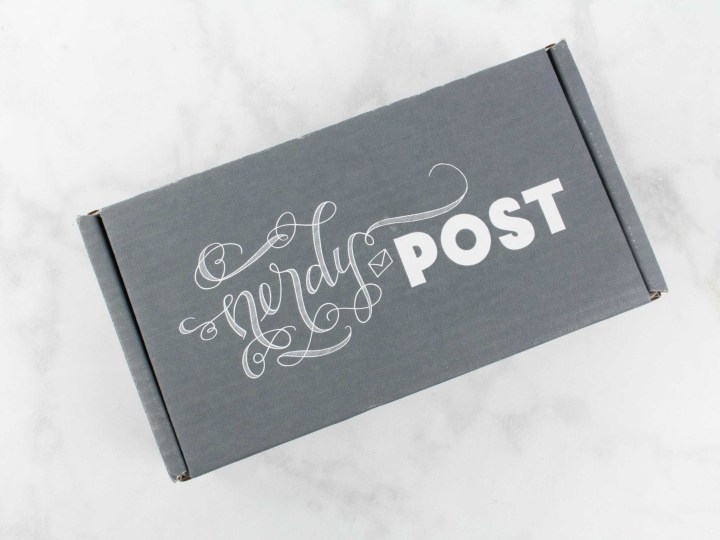 Nerdy Post is a subscription that sends original, hand lettered stationery, posters, prints, stickers, and other paper ephemera around a different theme each month! Not into that month's fandom? You can easily skip your shipment. While most items are created by Alexis Lampley, the owner of Nerdy Post, they've been including items from other artists and shops, too!
They now have Nerdy Tees, too, a matching shirt subscription. We're hoping to see the tee as an add-on option to this subscription soon! See the tee for March here!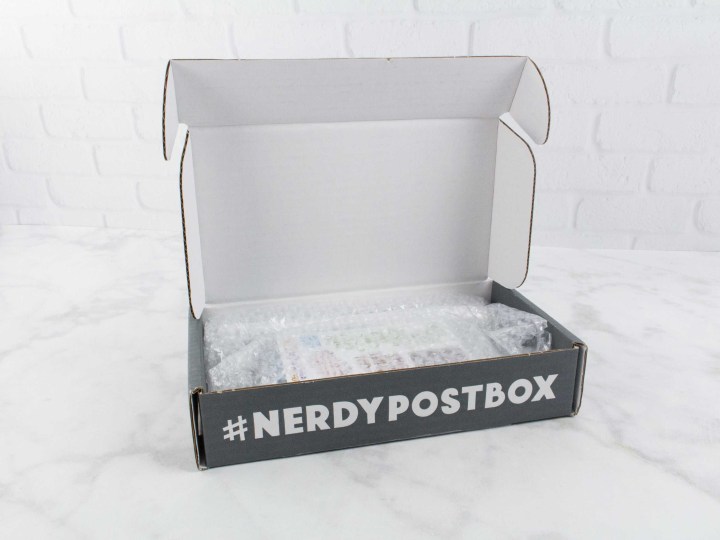 Everything is packed nicely into a box to protect all the contents.
DEAL: Save 10% on your first month of Nerdy Post! Use coupon code NERDYNEWBIE. Does not apply to Nerdy Tees box.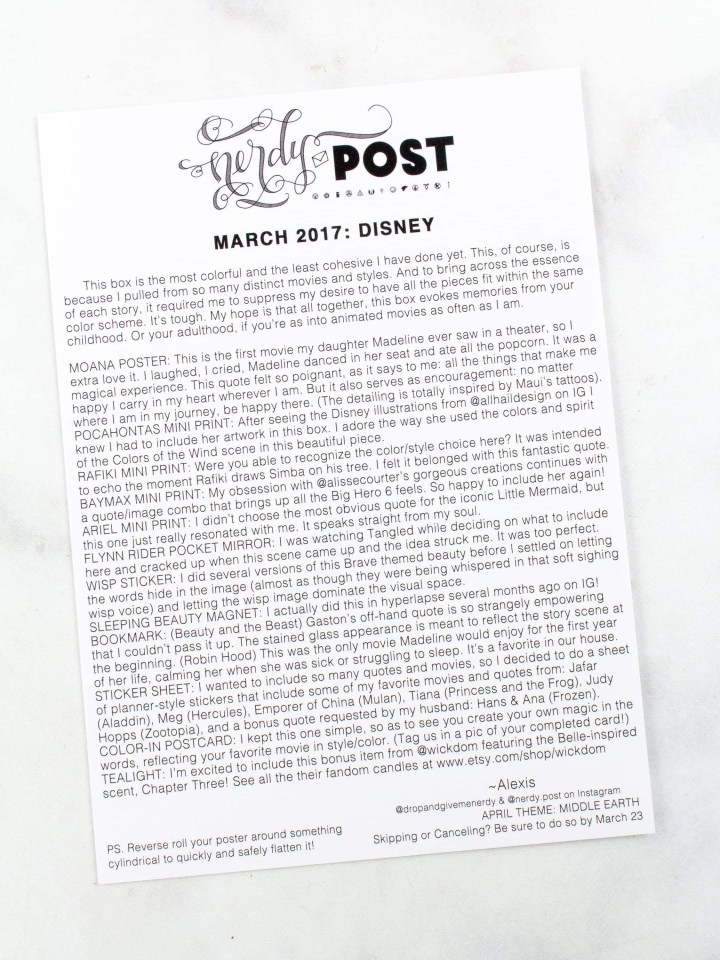 The theme for March is DISNEY! The information card gives you a list of all the items in the box and a bit of an idea into the creation process.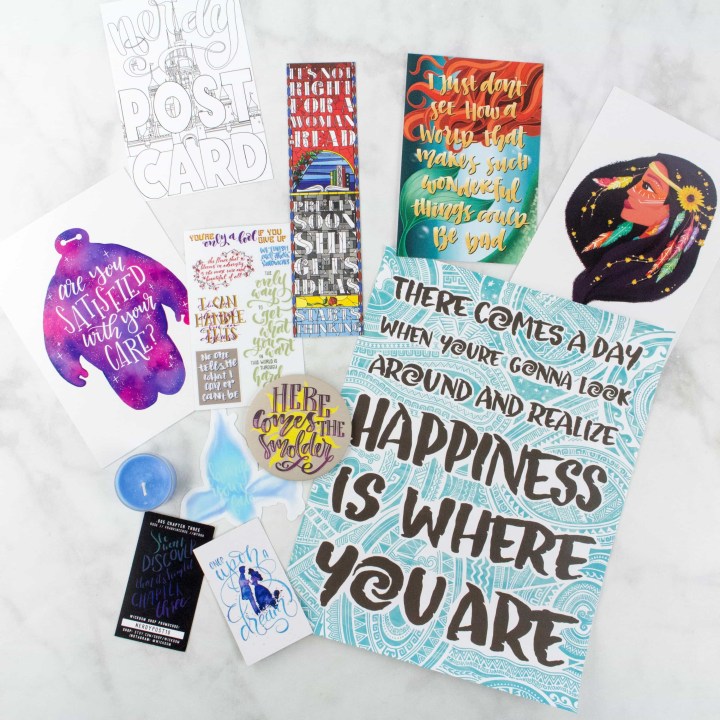 Everything in my March box! As the card notes, this box is much less cohesive in terms of color and style than prior boxes, as Alexis drew inspiration from the many stories in the Disney catalog.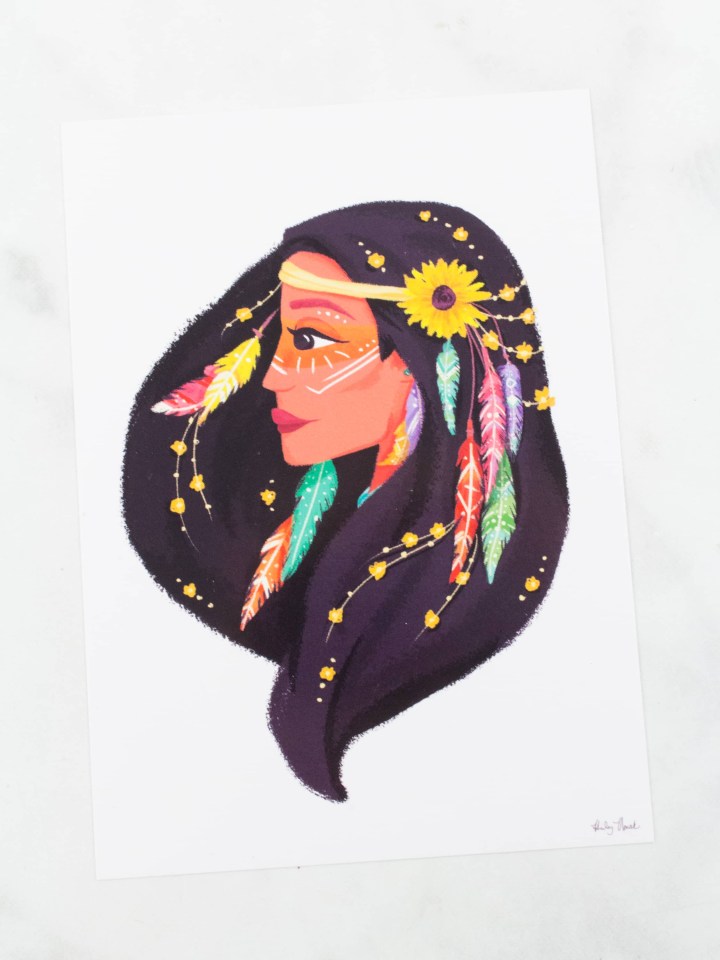 Pocahontas Mini Print – This one is for the 90s kids, a colorful illustration of such an admirable heroine! Can you believe that it's been more than 20 years since the Pocahontas movie was released? This is so beautiful and a fun, fresh modern illustration. Perfect in my girl's bedroom. Or mine!
This mini print is the back of the information card – I really like that they use every possible side where it makes sense – I think it maximizes my fandom dollar! The print is from Hail Nowak.
The poster is rolled and bagged for its protection, and bubble-wrapped too. This to me is a huge improvement over the earlier boxes.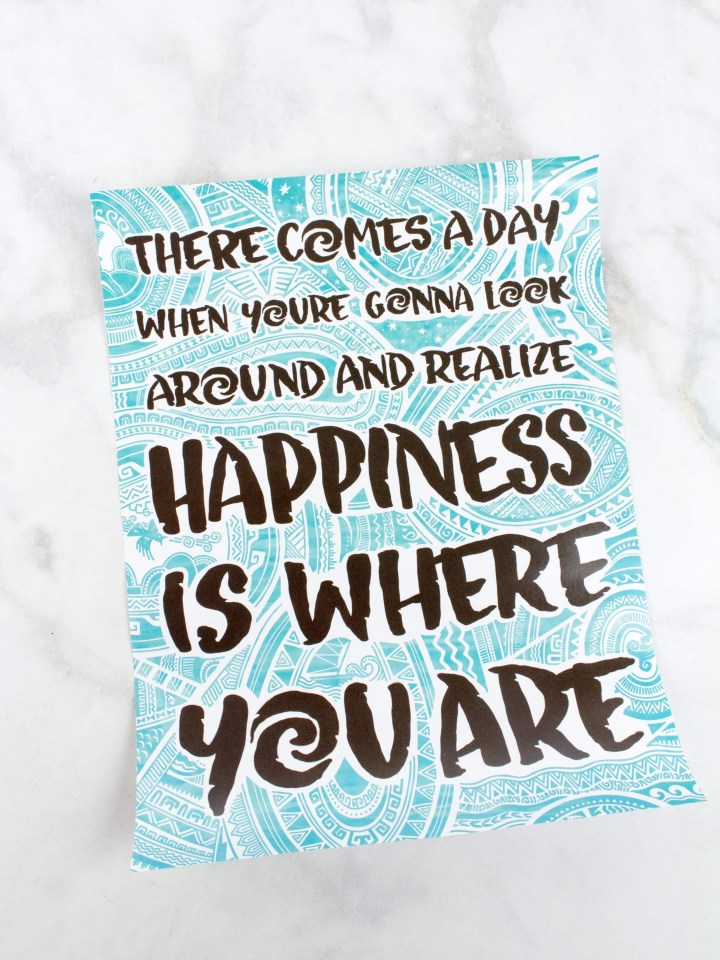 Moana Poster – I like this quote. It deserves to be framed and displayed in a nice corner somewhere in the house!
The aztec print at the background is nice too – it's inspired by Maui's tattoos.
The next two "items" are actually 2 sides of the same card.
Rafiki Mini Print – Isn't Rafiki wise? Aside from the profound quote from the well-loved monkey from The Lion King, I'm also loving the purple hues on this print!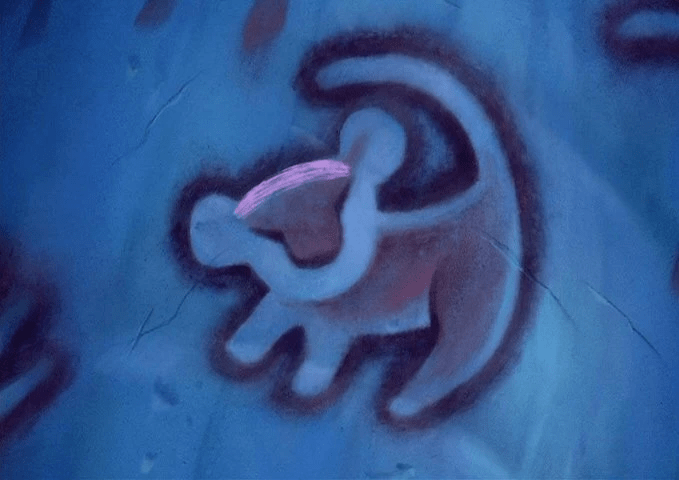 The card says it's drawn from when Rafiki draws Simba on the tree.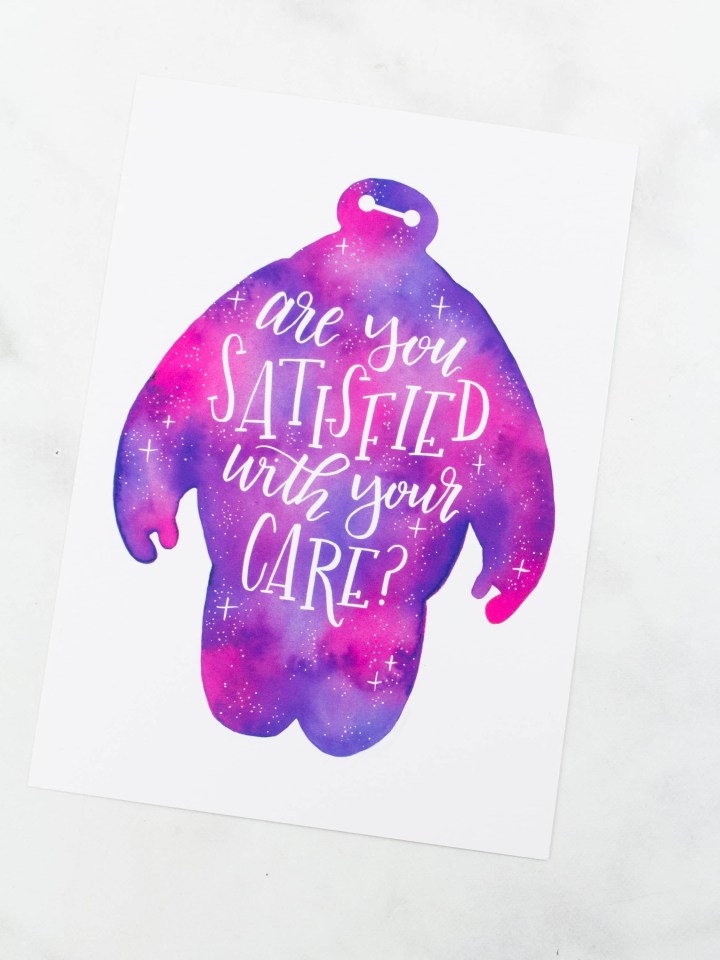 Baymax Mini Print – Baymax!!! Who doesn't love this huggable creature? Our favorite robot was made colorful in this print from Alisse Courter on the other side and we're definitely loving it and everything else she (also a fabric designer!) is making. Her patterns are ?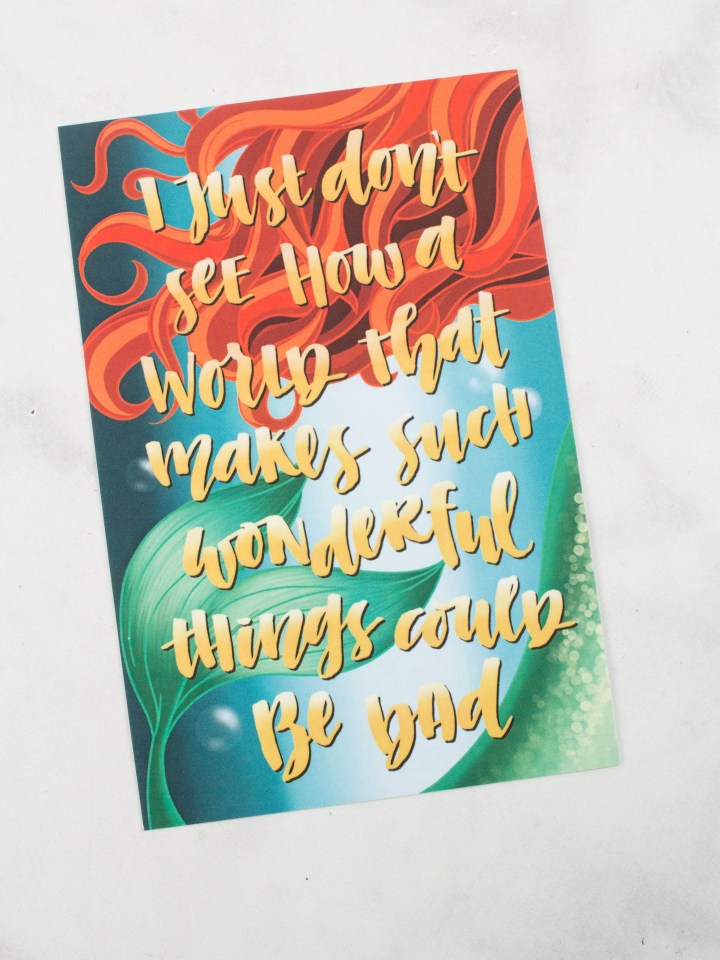 Ariel Mini Print – Adding this to our collection of mermaid-related stuff! So many great quotes from this movie, and the illustration is beautiful.
The quote has a 3D effect on it. So cool! Really hard to capture but definitely visible in person with a nice semi-gloss accent.
This bookmark is also two-sided: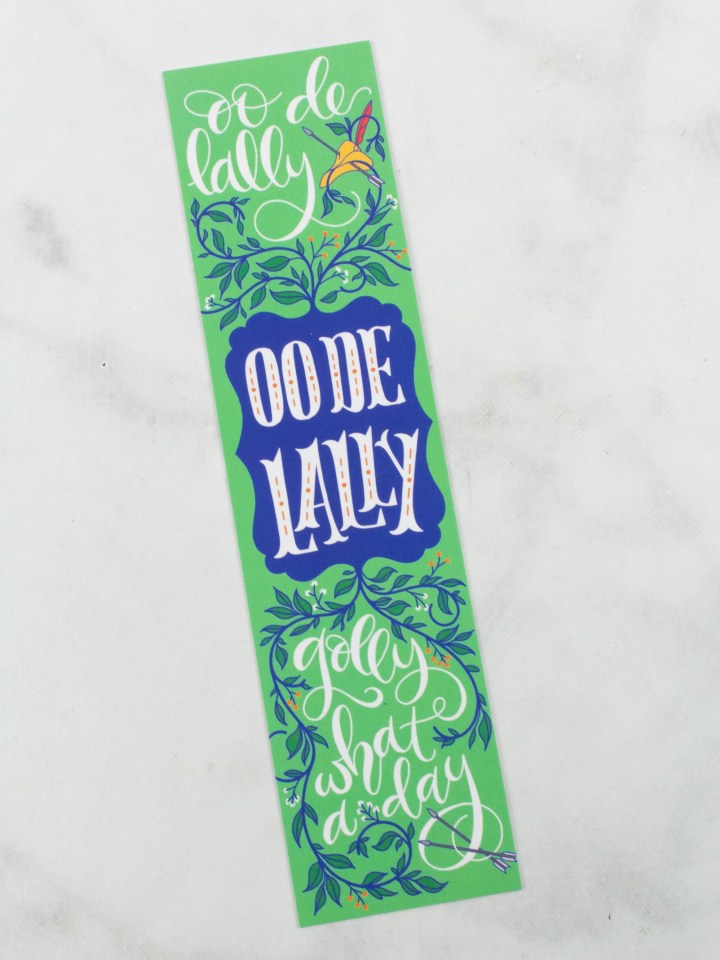 Robin Hood Bookmark – A pretty bookmark which is actually good enough as a display. The details are just so eye-catching! Glad they drew on some classics for this box!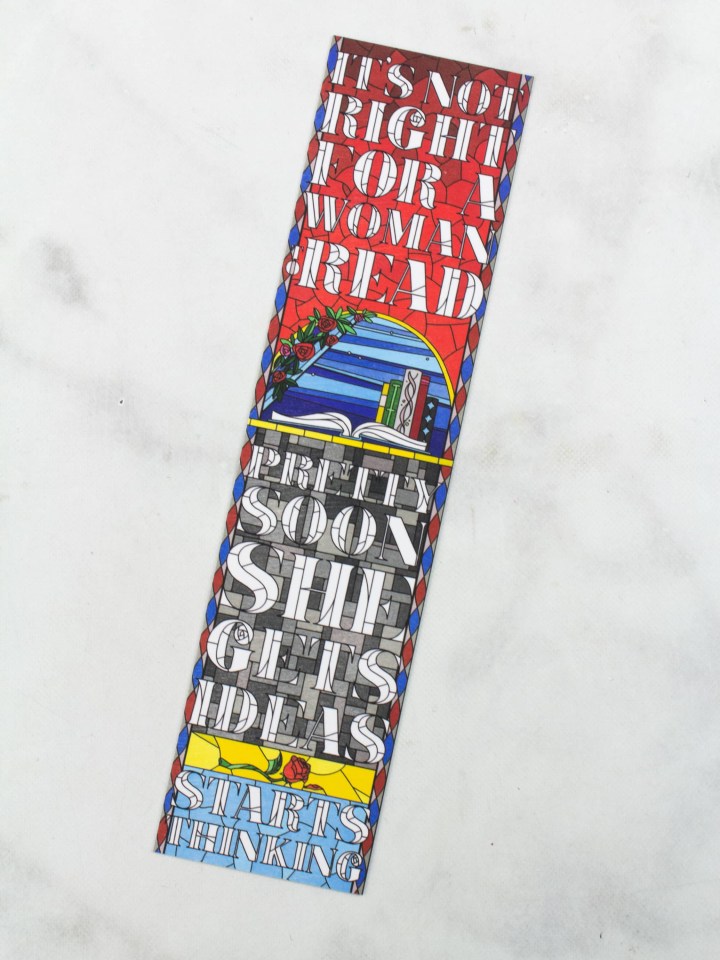 Beauty and the Beast Gaston Bookmark – There's no such thing as too many bookmarks! And this Beauty and the Beast bookmark just came at the right time. Have you seen the movie yet? My 8 year old daughter cackled over this one – yes, we're flipping the intent of Gaston's words! We both absolutely adored the stained glass motif.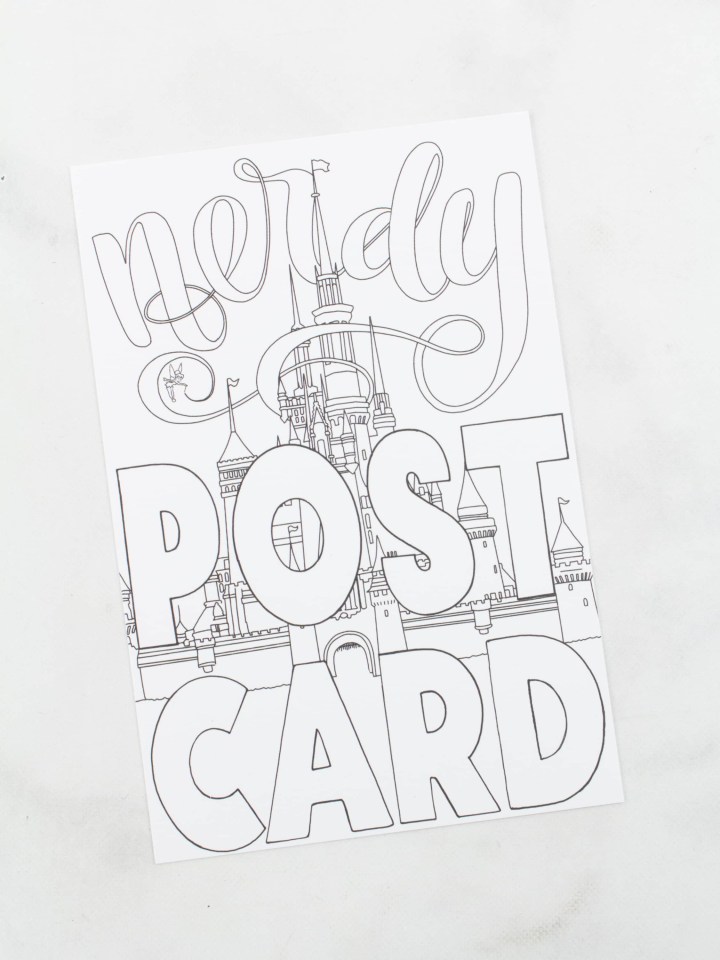 Color-In Postcard – Every month Nerdy Post includes a color-in postcard to fill in with your own colors and design! Whether you call it Cinderella's Castle or Mickey's Castle (like my kids do) everyone will recognize this house!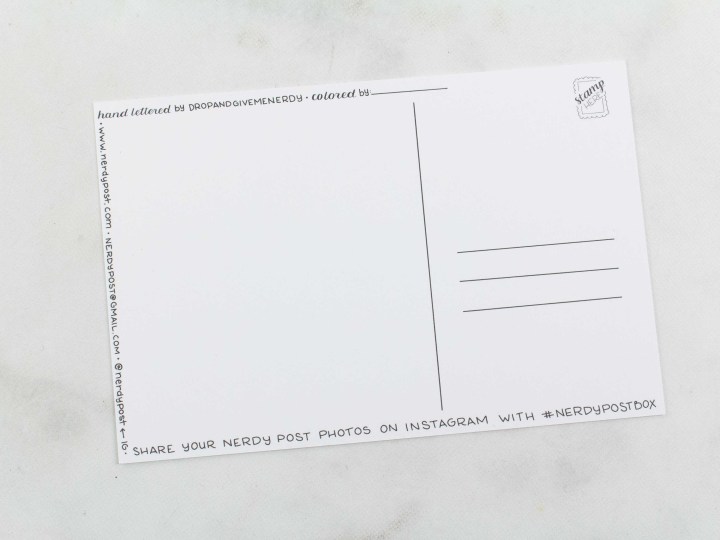 Something to keep the kids (and kids-at-heart) busy! My daughter has dibs on this one (and she's already surpassed my sad coloring skills).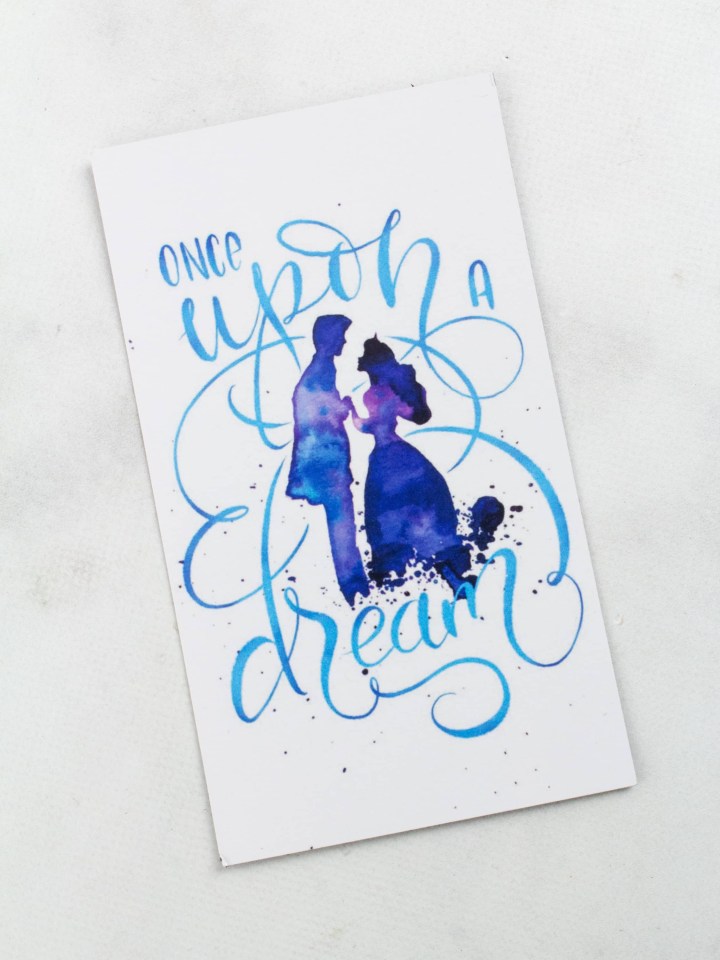 Sleeping Beauty Magnet: Definitely for the princesses at heart! Just a simple fridge magnet for decoration – it's not strong enough to hold anything up.
Sticker Sheet – One can always use a bunch of lovely quote stickers! This is fun for planners or scrapbooks or journals. This was one of my favorites from the whole box! I thought the selected quotes were empowering, though I had trouble with reading the purple and gold quote.
Wisp Sticker – "Change your fate." This quote is a great reminder that we have the power to control our own destiny. The colors make it look slightly unreadable in the photo, but it's pretty much how it looks in person – the card notes that the words were intended to hide in the wisp!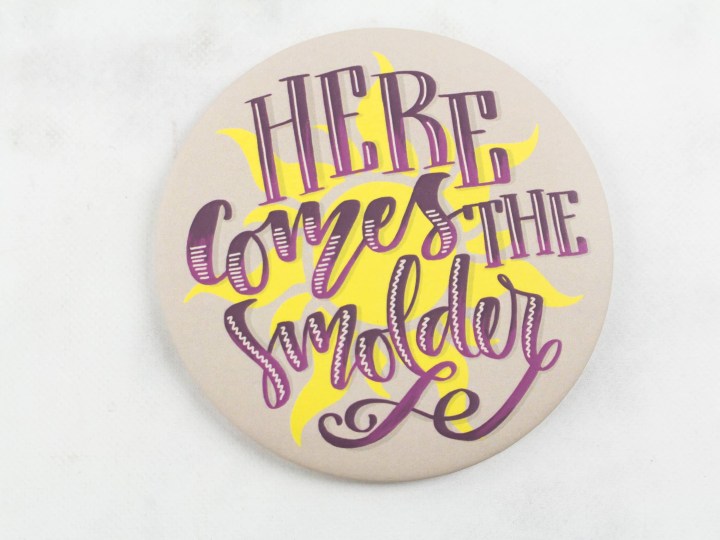 Flynn Rider Pocket Mirror – Remember that guy from Tangled? He's hilarious and we're delighted to see this item in the package!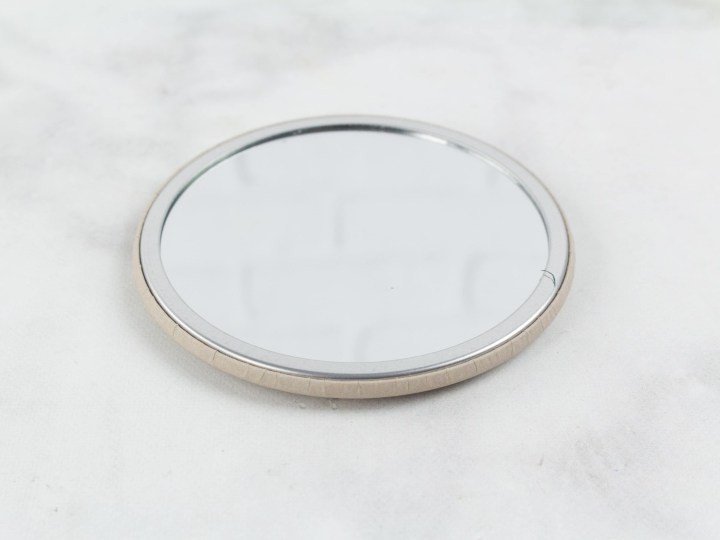 It comes in just the right size which you can easily slip into a purse or bag. And obviously the quote is total perfection on a hand mirror!
Bonus! Wickdom Tealight Candle – A Beauty-and-the-Beast-inspired soy candle! It smells of rose, myrrh, and frankincense and the scent is called Chapter Three, in honor of Belle!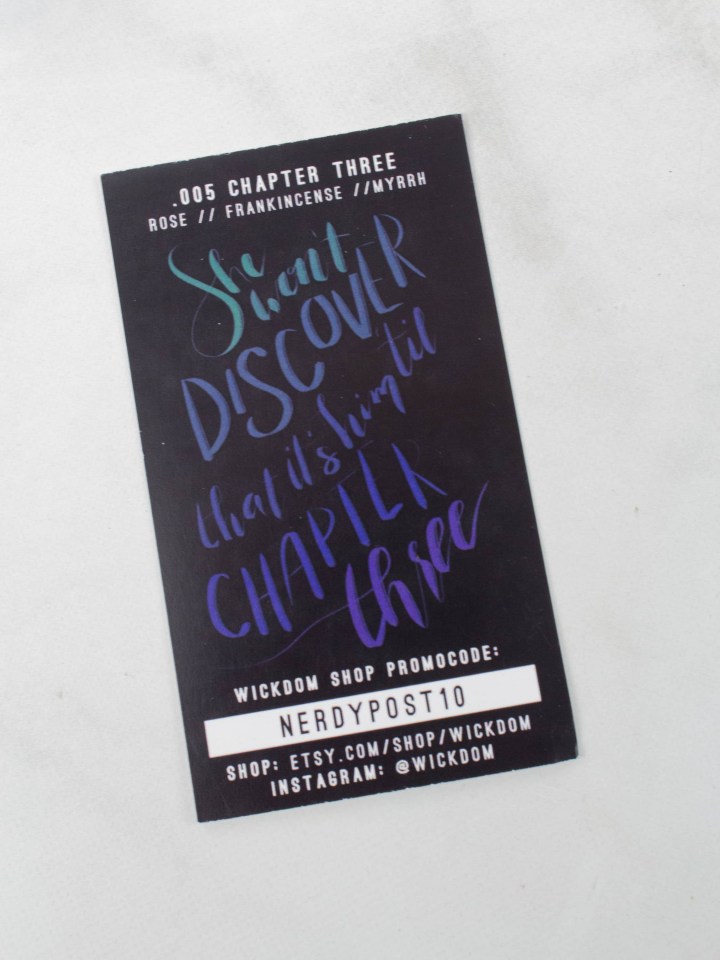 We also got a promo code for Wickdom Shop, an Etsy shop that specializes in making fandom-inspired scented candles.
Nerdy Post is always a fun subscription, but this month's package was extra special because of course, it's Disney! The prints all arrived in good condition, plus all those quotes gave mad feels and made us think of Disney classics, as well as new favorites. Already looking forward to next month's theme!