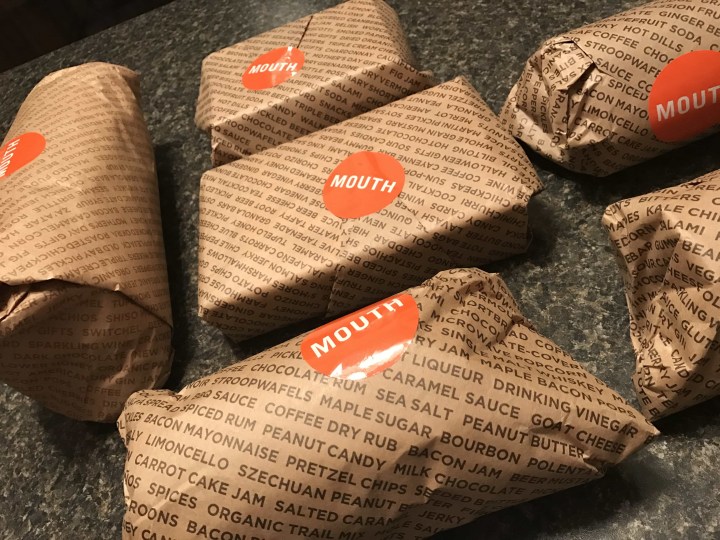 Mouth: Cocktail Hour Every Month is a monthly subscription from the Mouth family. Depending on the duration of your subscription, you will get almost everything you need for a delightful cocktail hour (just add cheese and a little alcohol) for $72-$82 per month. Each box contain six curated items ranging from sweet to savory, which, when combined together, equal a tasty gathering for you and a few friends.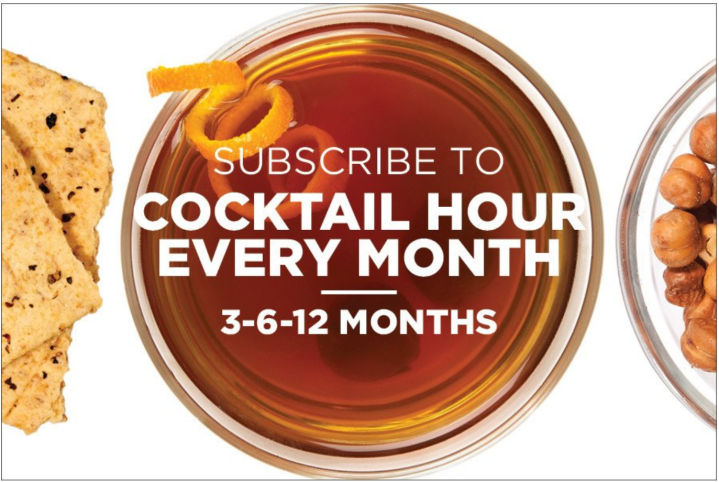 I love to keep a variety of meats and cured cheese around and then pull out a quick spread for friends. This box caught my interest as a way to broaden my horizons and spice things up (pun intended).
DEAL:  Save 20% on your subscription! Use coupon code SUBSCRIPTION20.
Enter, the Mouth: Cocktail Hour Every Month subscription. I generally love to shop local, but it is also nice to get some variety and see interesting items from other regions. I am quite happy to let someone else wade through the dozens, perhaps hundreds, of options that are out there.
How it works: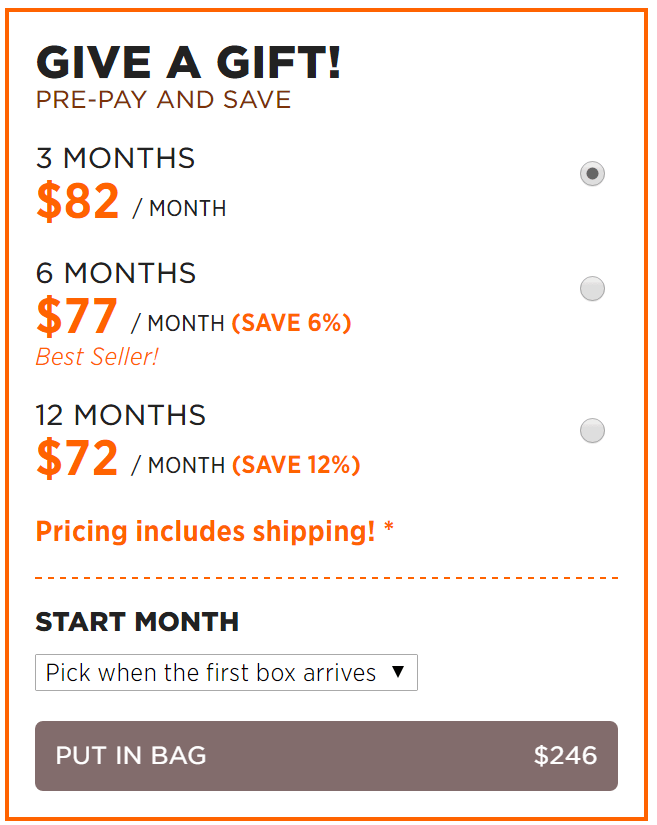 Choose the duration of your subscription. The longer you go, the better the deals. I'll talk about the value in this month's box later on.
After receiving a confirmation message and welcome certificate with the details of your subscription, sit on your hands and wait for your first bottle. If you order before the 3rd, you'll receive your first box that month.  If you order on the 4th or later, your first box arrives the next month. Subscriptions boxes are shipped around the middle of each month. Boxes take 1 to 5 business days to arrive, so you can expect to receive yours between the 16th and the 25th. Shipping is included in the cost of the subscription.

My Experience 
I have all of my Mouth packages sent to work (some of my subscriptions contain alcohol, so someone who is over 21 needs to sign for them). The cocktail hour subscription doesn't contain alcohol, so it could just be sent home, but then how would I make my coworkers jealous? They all get curious when one of my Mouth boxes shows up.
The Mouth packaging is really great. Heavy duty bubble wrap, with foam or more bubble wrap at either end of the box. Each item is individually wrapped in bubble wrap and brown paper. A list of the items and descriptions is also included.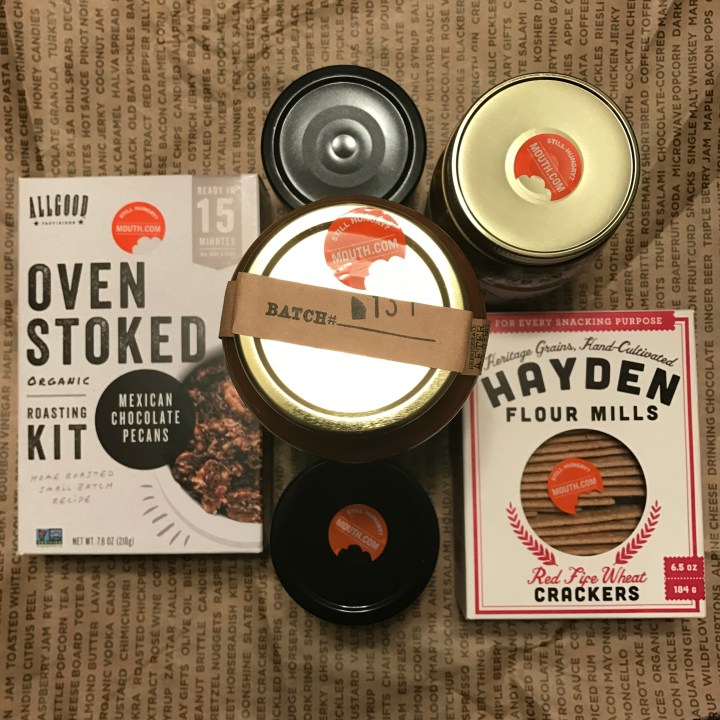 I couldn't have asked for better timing on this delivery. I was heading to my friends for the weekend and this came along with me. We made a delightful little spread for a light lunch while we were baking king cake (it was almost Mardi Gras)!
Red Fife Heritage Grain Crackers ($8.50) OK, so crackers aren't the most exciting this to start with, but they are the base of your party! You need something solid for all of your cheese and tapenades to rest upon. These crackers are very sturdy but not tough, and they have a nice grainy taste without being too strong. They were in pretty good shape (about 15-20% breakage), given that they traveled in a container with several heavy glass jars. They are produced in Arizona by a father-daughter team and were very tasty. I would buy them again.
Gracious Gourmet Black Olive Tapenade ($10) I love black olives. I love green olives. I love olives. My boy does not love olives, so more olives for me! This tapenade starts with olives, but adds on capers and lemons for a more unique flavor. It was very good (though, I'll admit not my favorite tapenade ever), and it was tasty with the crackers and some cheese.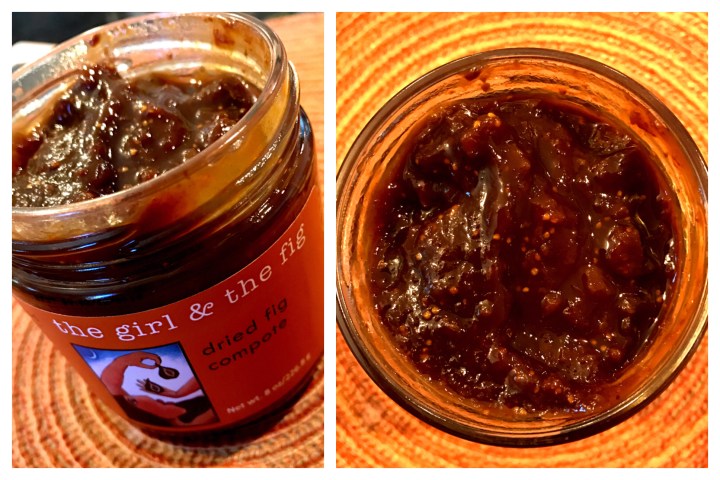 Dried Fig Compote from The Girl and the Fig ($11.75) Ages ago, one of my jobs was on a college campus, and tucked away behind the old apartment buildings from the 1970's (where no one wanted to live, of course) was a fig tree. My boss and I used to wait for the brief fig season and go harvest as much of the fruit as we could and then make preserves. Sometimes we pickled the figs, sometimes we went sweet. Either way, figs with cheese is one of my favorite combinations, so I was happy to see this jar in my box.
This is a very good compote – Sweet but flavorful. I have been eating the leftovers all week on some cheese (Comte, in case you're wondering, and yes, I am snacking on it as I write this).
We used the olive and fig toppings and the crackers to create a spread with some cheese (Comte and Parrano) and some cured meat. My friends have gorgeous hand-painted dishes from Italy, so my spread looks even more fancy than if I had composed it at home.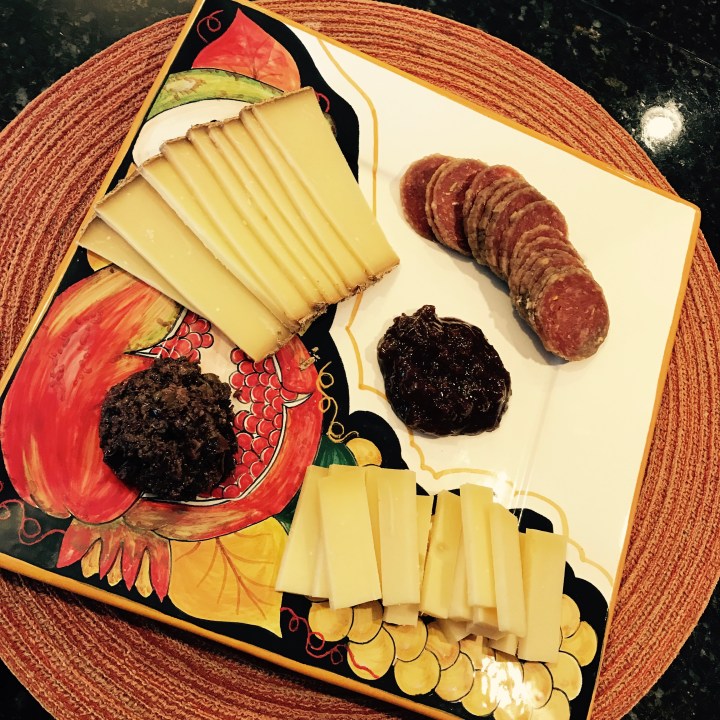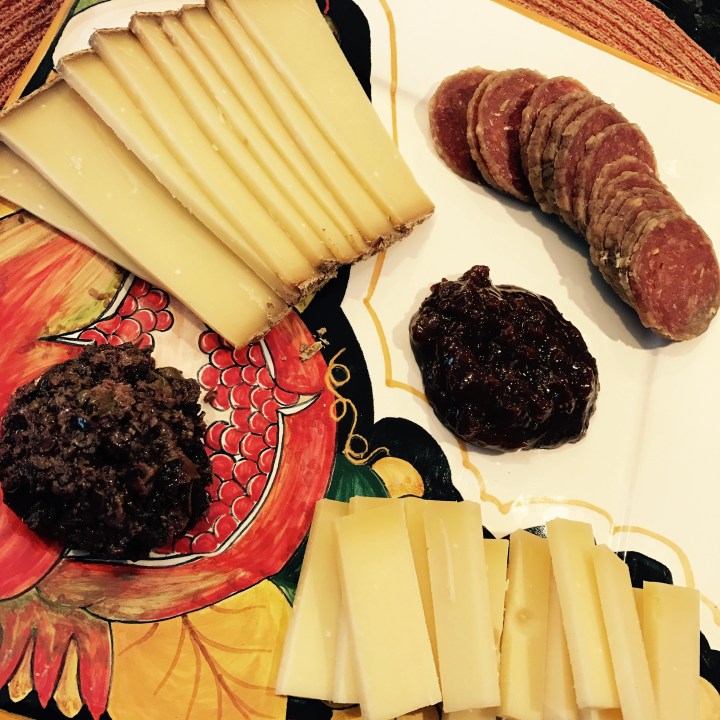 I pulled together some combinations of meat, cheese, tasty toppings, and then I dug into the next jar… Smokra!
Rick's Picks Smoky Okra Pickles, aka Smokra ($14.75) It's like they read my mind. I love pickled okra. I make some every year, and then I get all precious about it and don't eat it because I don't want to run out of it. I know, I know. Just eat it.
I have never made okra like this before – super smoky flavor from the smoked paprika. The jar has a sludge of it as I pulled the spears out. They were not messing around when they made this stuff. Delicious!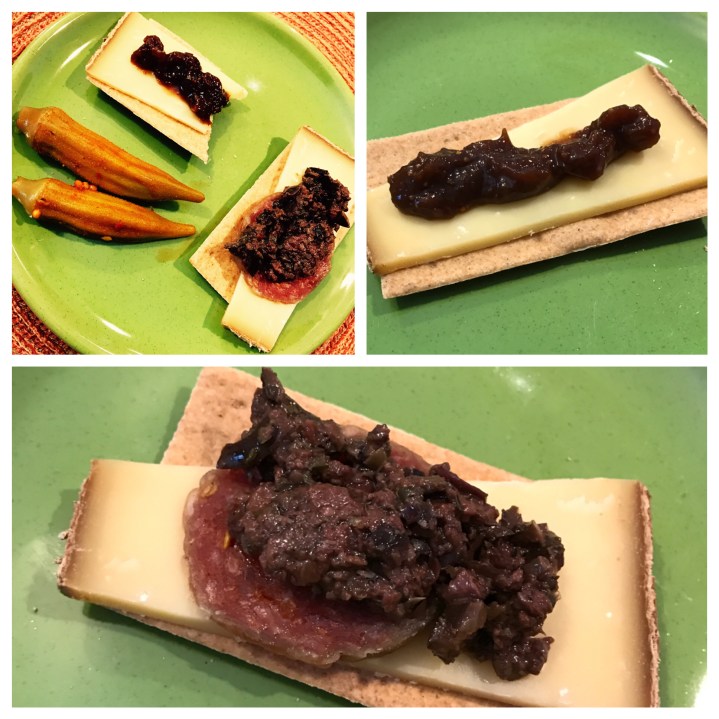 I put a few on plate, but I saved the really big ones for the Bloody Mary's….
Dill-Ish Bloody Mary Mix ($15) I commend them on their accurate pun. This stuff was dill-icious. Very dilly, somewhat horseradishy. Spicy, but not undrinkably so. We mixed it with the Dorothy Parker Gin I received a few months ago in my Gin Every Month box, and garnished with the smokra. The jar had the perfect amount for 4 generous drinks.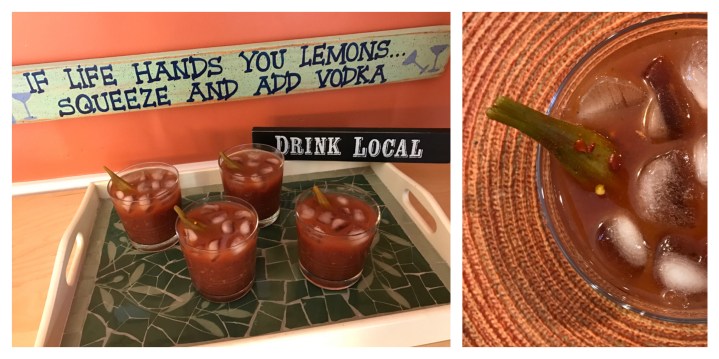 What would a party be without nuts, though? Gotta snack on something while you're snacking on everything else.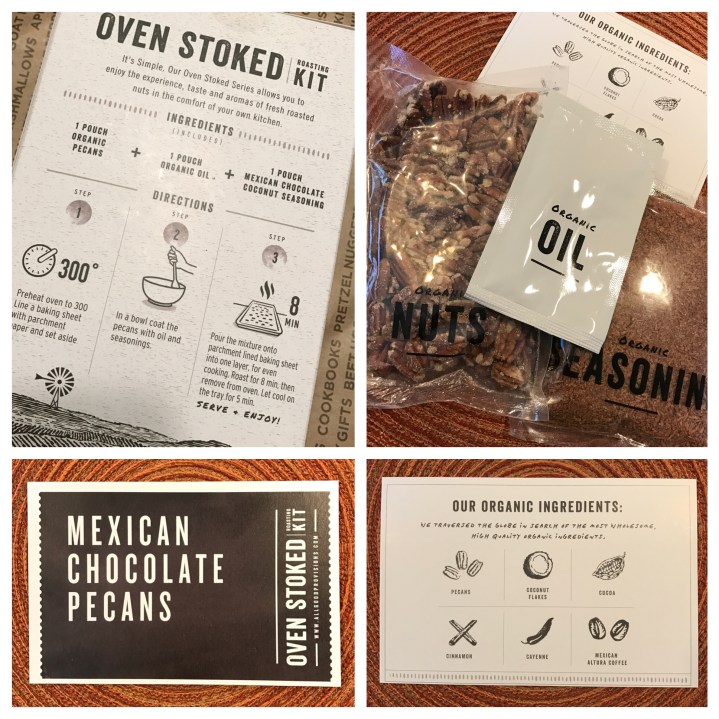 Roasted Mexican Chocolate Pecans Kit ($10) This was my favorite thing in the box. They were just sooo delicious. I couldn't stop eating them. The kit comes with a pouch of pecans, a pouch of spices, and a pouch of oil. Toss the nuts in the oil, and then toss that in the spices. Spread on a sheet and bake. The quantity fit in a large toaster oven, so we didn't need to heat up the whole house to make it smell HEAVENLY while these were cooking.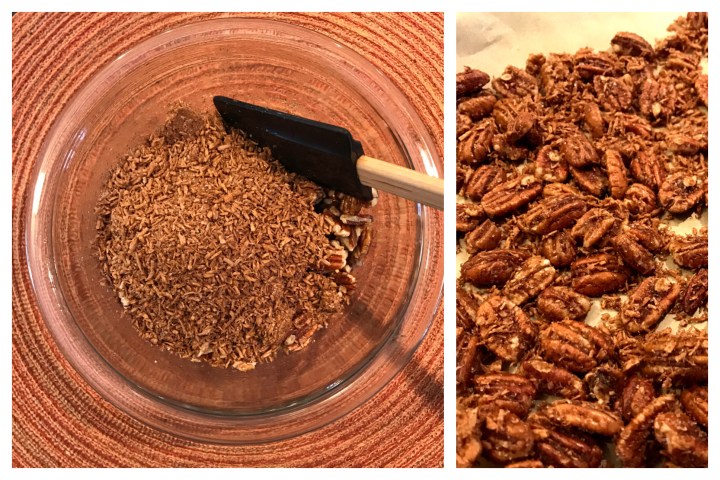 The spices included chocolate, cinnamon, ginger, some cayenne, and coconut. There was so much I went and found more pecans and toasted another batch, then still had enough left to put on my yogurt the next day for breakfast. I thought it was a nice touch that the smell from the nuts made it seem like I was really preparing to have a party. it definitely was inviting.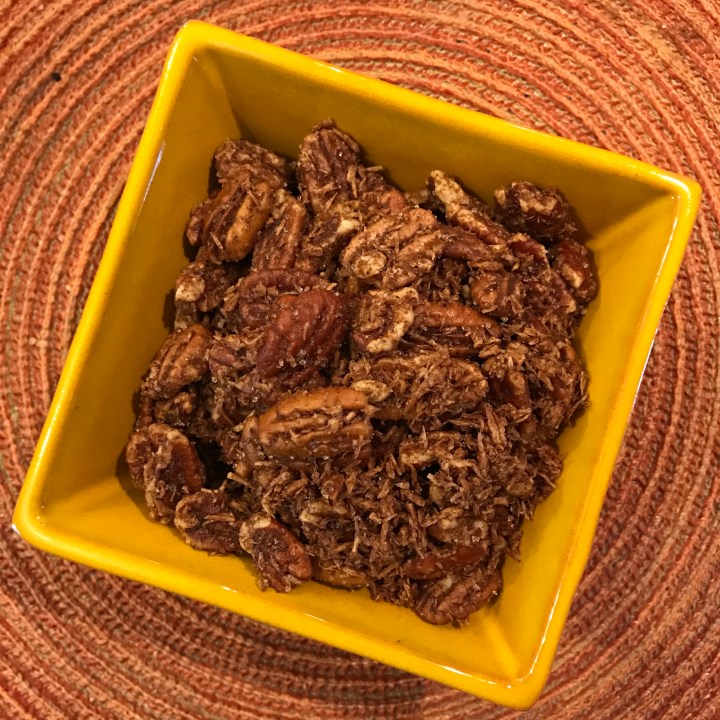 Why I like my Mouth: Cocktail Party Every Month Subscription
Well, for starters, I like food, and I like drinks, and I like sharing them with friends. I also like having things magically appear on my doorstep. When I think about how much I could spend hosting a get together, the cost of this box isn't far off.
Once you factor in shipping and your time to track down all of these treats, it's a pretty good deal. I think this box would make a fun gift for the cocktail party throwing friend in your life, or for yourself!
I am looking forward to next month's box already!
Visit Mouth: Cocktail Hour Every Month to subscribe or find out more!