MorpheMe is a monthly makeup brush subscription that promises at least $30 worth of Morphe brushes each month for only $19.99. This is a great way to quickly build up your brush collection! You can sign up for a 1, 6, or 12-month subscription and all subscriptions automatically renew until you cancel.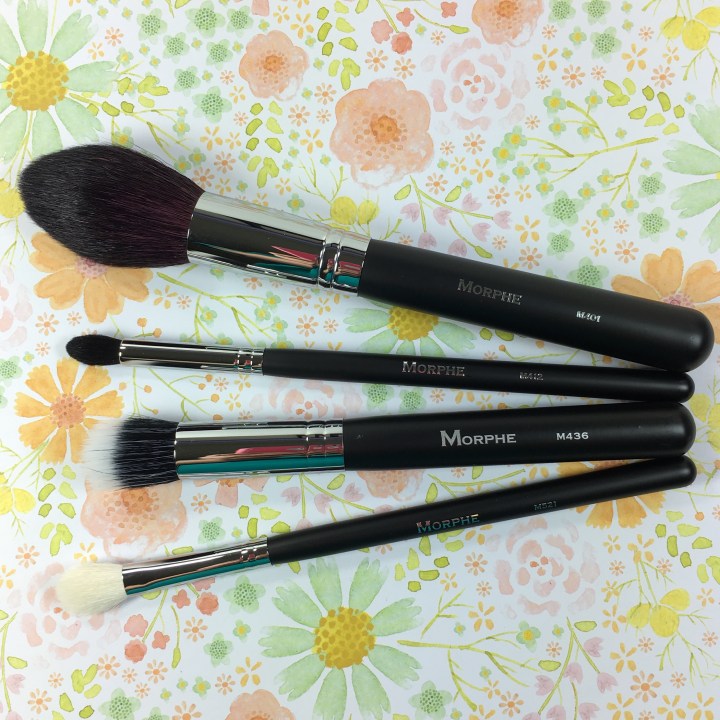 My March brushes! My MorpheMe brushes arrived in a padded mailer and I received 4 brushes in the March bag. MorpheMe sends 3-7 brushes per month and they state that the total value will be at least $30. They also included a foldout brochure that had info on the brushes and a coupon code for a shop purchase. They offer a rewards program and you can exchange your points for extra brushes, makeup, etc.
DEAL: Get a free brush when you use this link, no coupon code required! Plus, save $5 on a 6 month subscription and $20 on an annual!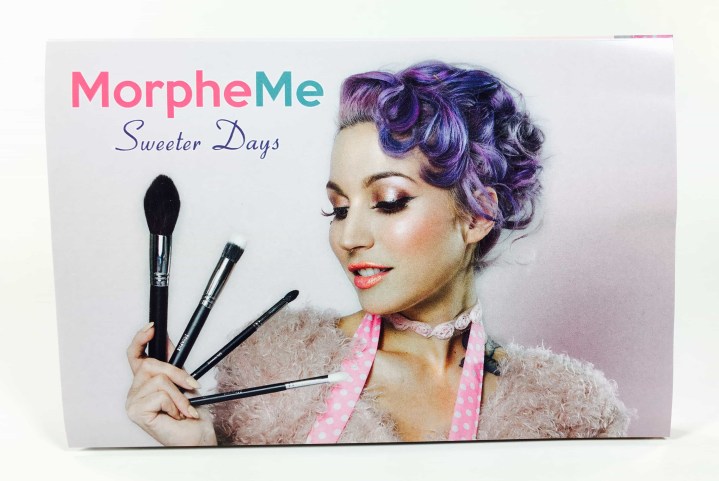 The product info card is a fold out brochure. This month's theme was "Sweeter Days."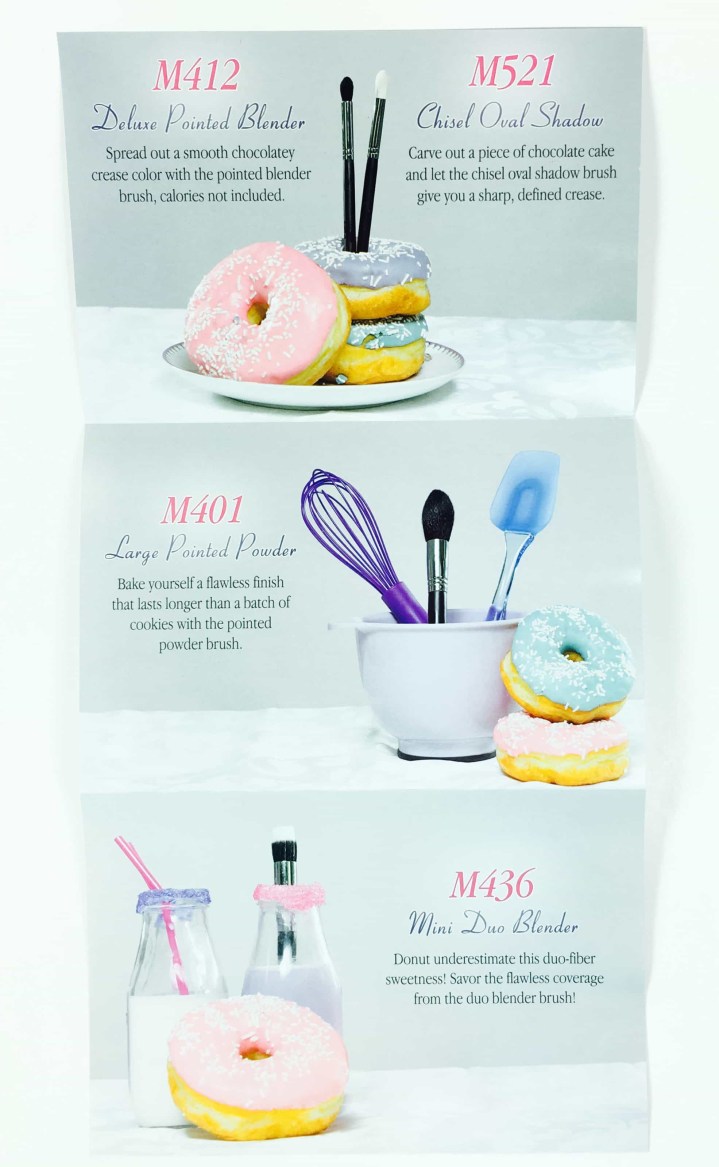 The flyer showed which brushes were in this shipment and featured a hint about using them but you have to go to their website for the full deets. They also put out a monthly video that shows different ways you can use your monthly brushes. They are really good at demonstrating that each brush can have multiple uses, as seen here.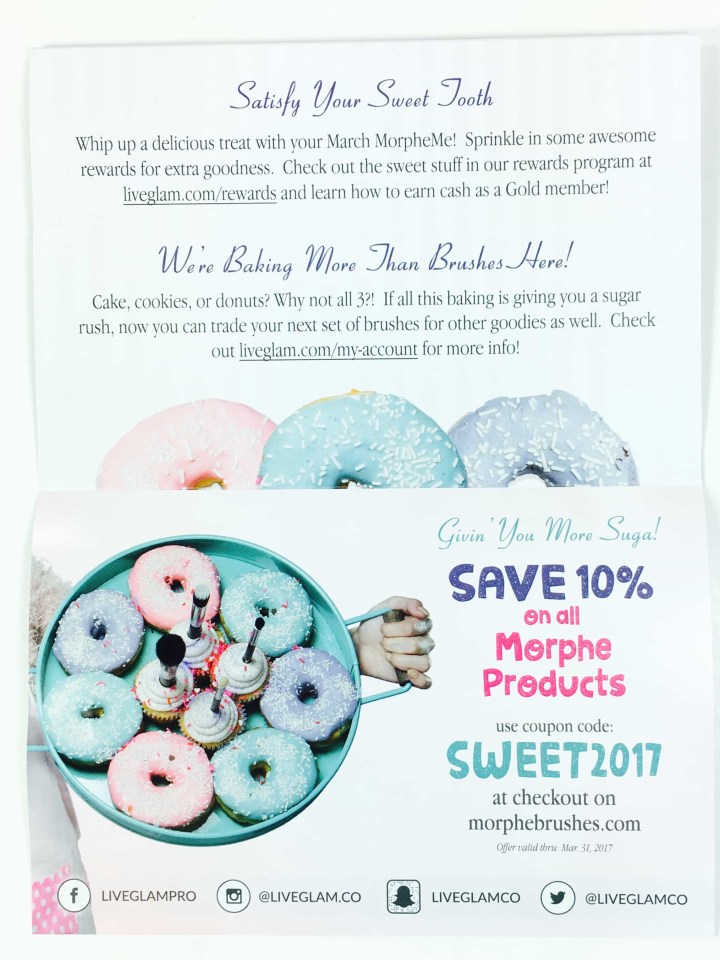 MorpheMe has recently made some changes. If you feel like your brushes are a bit repetitive, then you can change your shipment. Plus they now have two new subscriptions – KissMe sends three lipsticks while PolishMe sends three gel-like nail polishes. So you can swap a brush for a polish or lipstick, or add items from different brands!

I always receive a sticker, which makes a cute bookmark.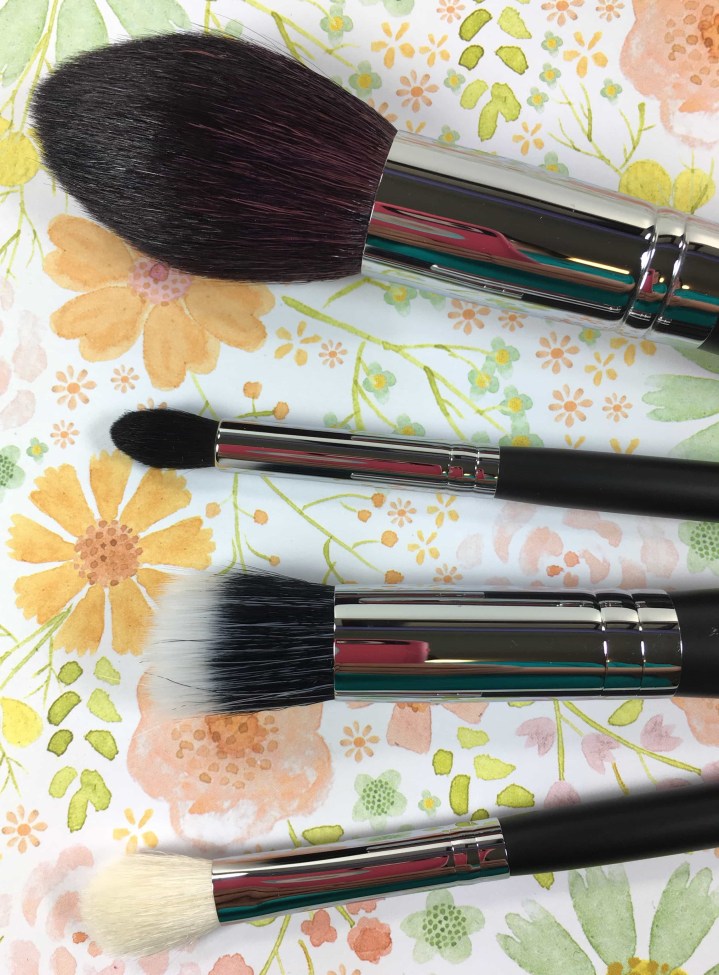 The brushes this month are from the Flawless Collection and feature natural bristles and sturdy yet lightweight handles.
M401 Large Pointed Powder ($13.99) features sable hair bristles and is perfect for helping contour the face with its defined tip. This can also be used to apply foundation all over or powder under the eyes with that pointy tip.
M436 Mini Duo Blender ($6.99) features natural and synthetic bristles and works well with liquid concealer or highlighter.

M412 Deluxe Pointed Blender ($5.99) has sable bristles and can be used to apply shadow to the crease or outer corner of the eye. You can also use it to apply highlighter anywhere you want a precise placement.
M521 Chisel Oval Shadow ($5.99) I used this goat hair brush to apply shadow to my lids and then used it again to blend, blend, blend. When in doubt, blend!
My March MorpheMe shipment had some pretty cool brushes for my face and eyes! I liked the selection and they have upped my makeup application techniques greatly. The brushes are nice quality and I haven't had any problems with them at all. March's shipment had a value of $32.96, which surpasses their $30 value goal. I have been getting this shipment for several months and I now have a wonderful variety of brushes and am always surprised when I find something that I didn't have before and can't imagine living without! Plus, the ability to trade brushes or add lipstick or nail polish means that this subscription is evolving and can be personalized to your choices!
What do you think of MorpheMe brushes? Let me know in the comments, along with your favorite type of brush!