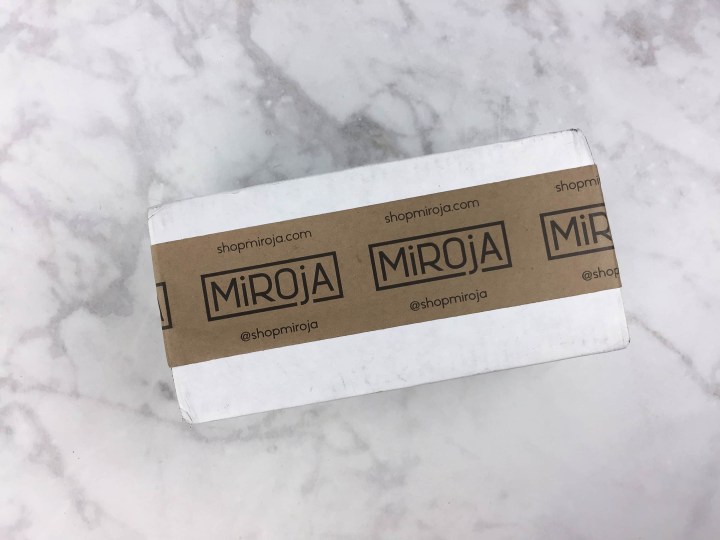 Miroja is a monthly plant subscription box that contains a succulent and plant accessories, starting at $29.99 per month. Every box focuses on simple + natural design, and makes a perfect gift for those who love plants.
There are multiple available plans! Currently available are the cactus, succulent, and marimo moss ball gift boxes ($24-25) with one small cacti/succulent/3 nano moss balls, one small vessel, soil and finishing rocks and the small surprise gift box ($29.99) with one plant or plant accessories and one home goods, and the small home goods surprise gift box ($30) with 1-2 home items
The box below is a small surprise gift box!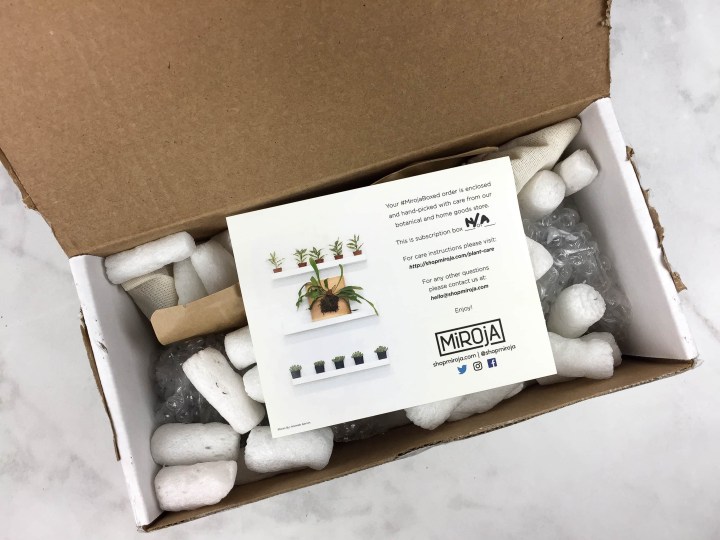 A short welcome note. It also serves as an info card, and comes with a link to the website for care instructions.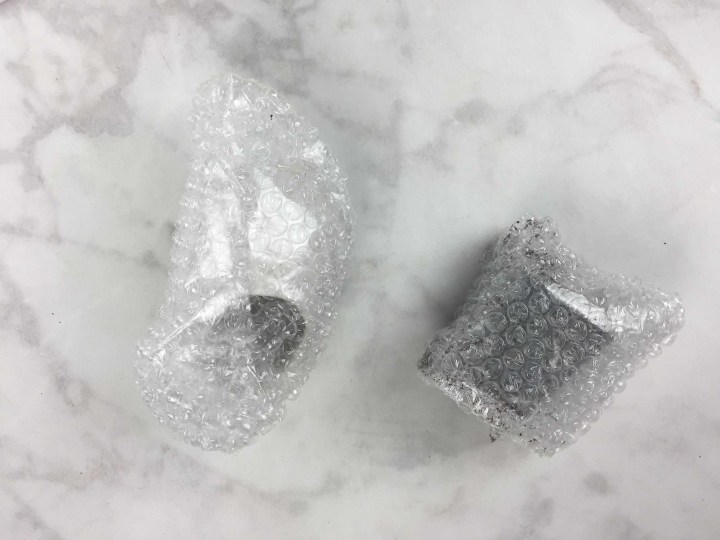 The items are very well protected. They're either wrapped in bubble wrap or encased in a pouch.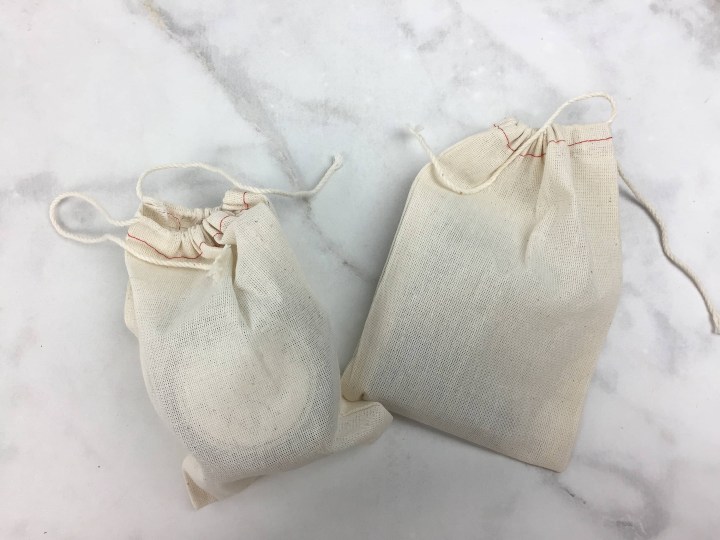 I was really excited to open everything!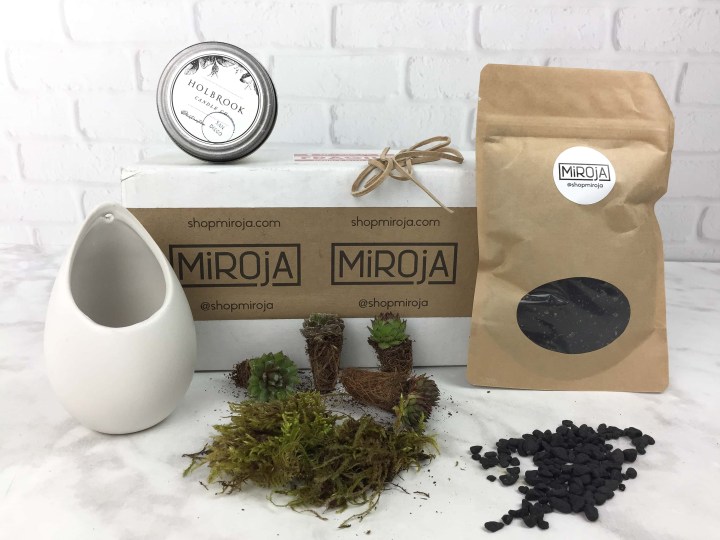 Everything in my Miroja Box!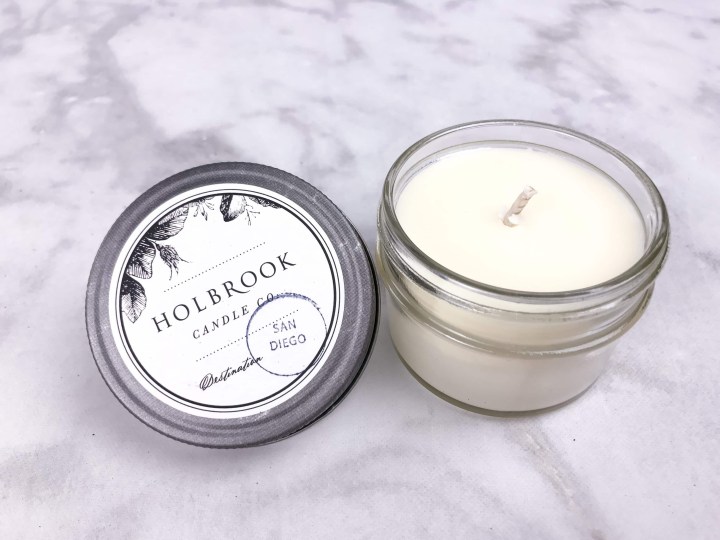 Holbrook Candle Co. San Diego Candle ($12) This isn't the first San Diego inspired candle I've ever received! Something about sunny Southern CA!
While walking through a neighborhood in San Diego, close to the Sunset Cliffs. I was taken a back but the intoxicating scent of orange blossom and gardenia.  I noticed a plant with large white Jasmine like flowers and these beautiful red plums.

It's called Natal plum and it grows all over San Diego. It often goes unnoticed until your nearly stopped in your tracks by the scent when its blooming.  This candle with its notes of Orange Blossom, Gardenia and Sea Salt is sure to bring you to a place of calm like a beautiful afternoon walk in San Diego.
The scent of gardenia in the candle was readily apparent! This is a great multi-layered scent and after the initial blast of gardenia I can definitely detect the orange blossom and sea salt, too!
Now onto my succulent goodies!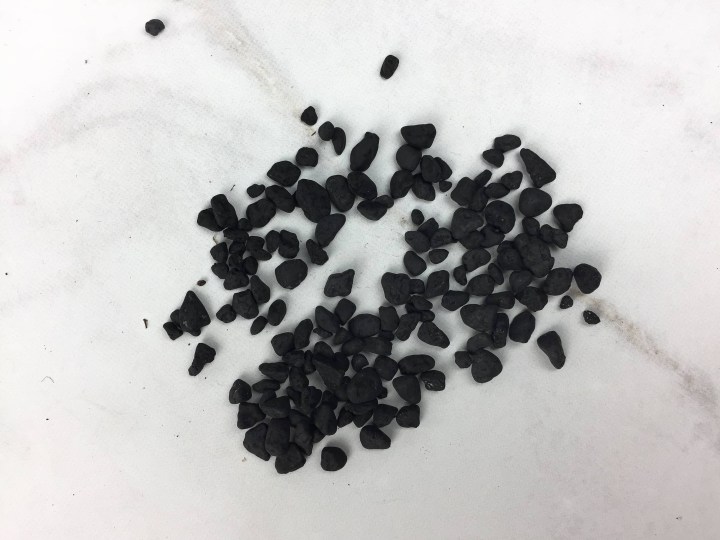 Drainage Rocks: Not the most exciting thing, but super necessary! Place these at the bottom of your container for proper drainage.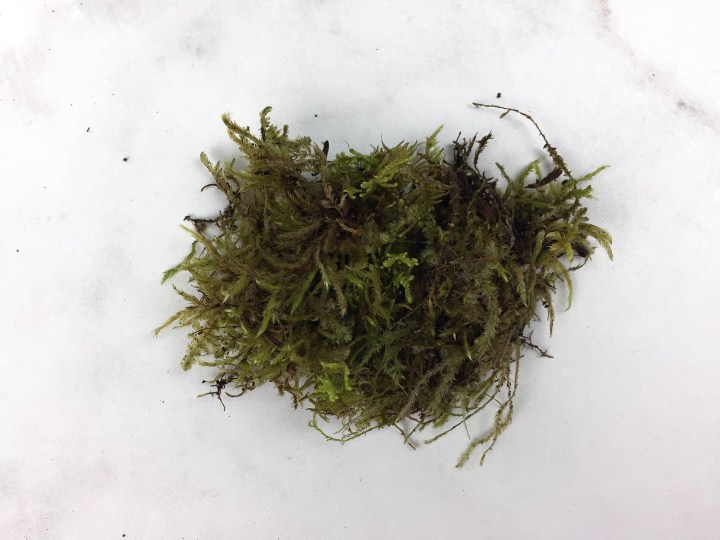 Moss: To surround your succulents!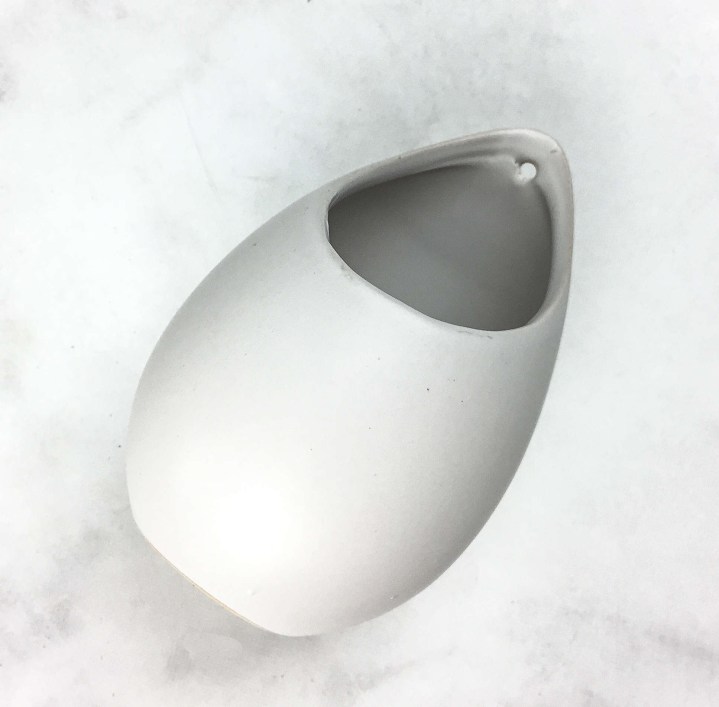 Egg Shaped Ceramic: An egg! What a lovely design, and completely unexpected. I was really getting excited by this point!
Leather Lace: A leather strap was included to hang the ceramic egg. Do we love the contrast of this warm, organic texture against the smooth egg? YES!
Soil: To plant the plants!
So either I deleted or didn't take a shot of these plants nicely protected in a green planter container. You can see it bubble wrapped in the fourth picture in the review. Whoops!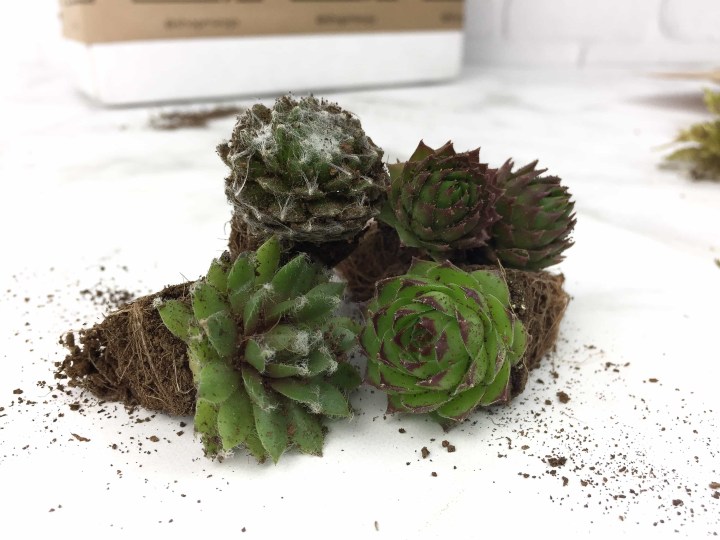 Succulents: The information card said chicks & hens were in this month's box, but didn't mention anything about their spiderwebby appearance.  Totally normal, I found some explanations here.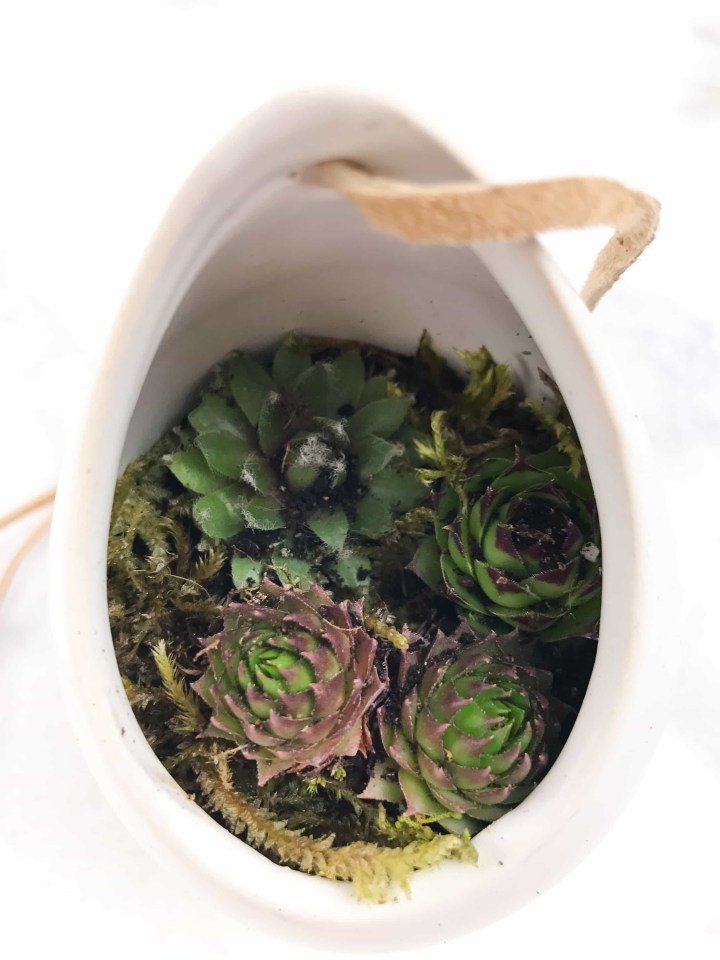 I packed up my new egg by placing the rocks, plants, soil, and some moss around them. There were too many for the pot, I'll show you what I did with it below.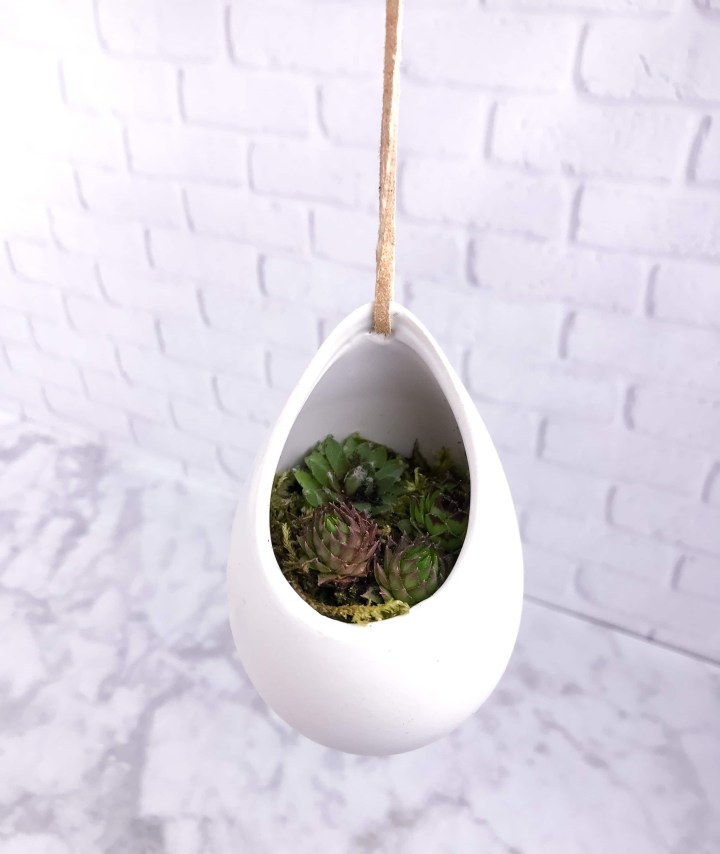 Here's my finished object! I'm thinking it will be perfect hanging in my purple dining room.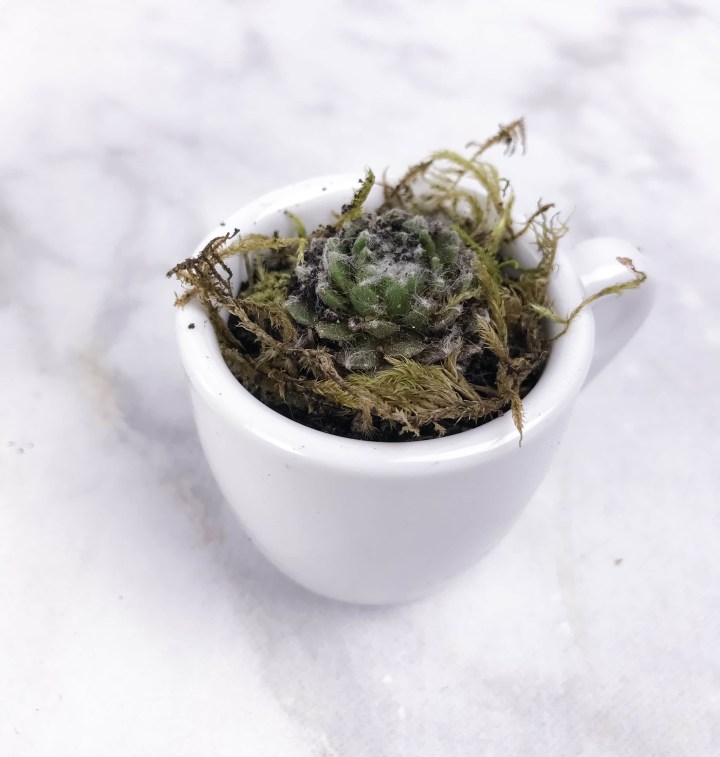 Here's my extra chick! I had a random tiny mug hanging around, so I planted this little guy here.
My second month was just as great as the first (and my cactus from last month has grown beautifully well, despite leaving for 2 weeks, or perhaps because of!). I think this is a perfect home decor and goodies subscription and I love everything I've been getting. Have you tried this one out yet?