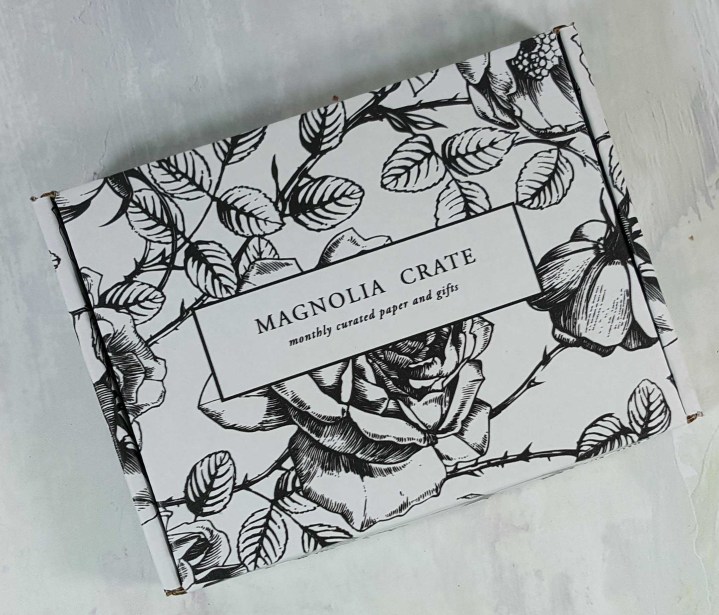 Magnolia Crate is all about the feeling you get when you send and receive mail. There's something about a hand addressed letter, a beautifully colored envelope, or a unique card that you've never seen before. Not only are you provided with gorgeous stationery and cards to send to others, but you also get to be giddy with excitement each month when your new box arrives! Each signature box comes with of 4-6 paper goods, including greeting cards. Additional items may include stickers, gift tags, magnets, and more.
DEAL: Get 1 month free off a 3, 6, or 12 month subscription with coupon code HELLOSUBS OR Get free shipping on the first subscription and not pay for shipping again until your subscription renews (if you get a monthly sub you'll get one month free shipping, but free shipping on all 6 boxes in your first 6 month subscription, etc.). Use coupon code HELLOSUBSFREESHIP.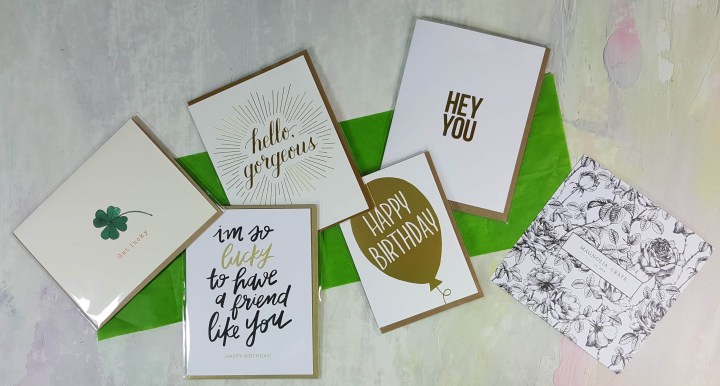 I love the gold theme to March's Magnolia Crate.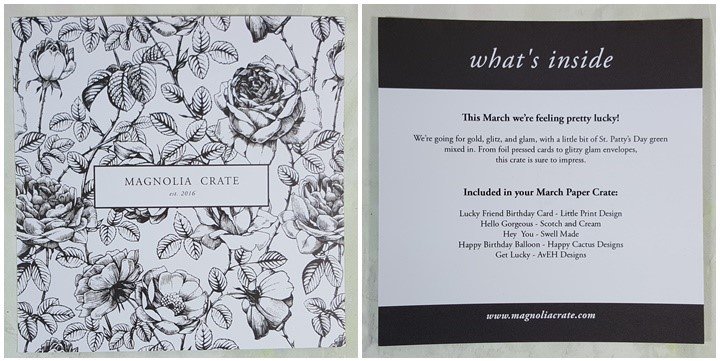 The information card not only lists the cards in the box, but it also provides insight on the inspiration behind the items.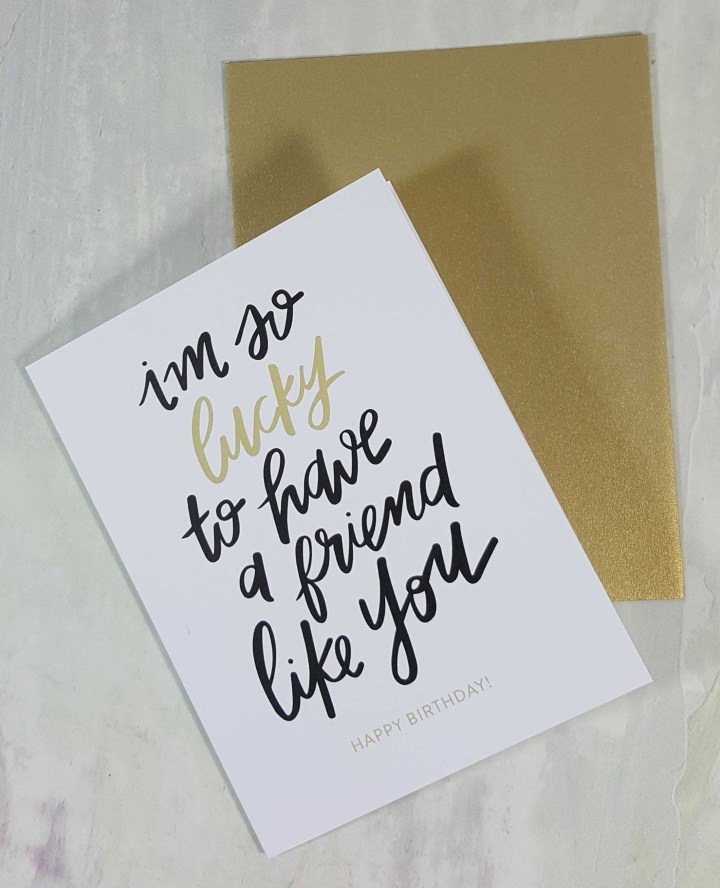 Lucky Friend Birthday Card | Little Print Design ($4.50): This is an A2 sized card (4.25″x5.5″) that is paired with a shimmer gold envelope. The front of the card is a nice reminder to your friend of how much they mean to you. Fill the blank inside with a heartfelt birthday note. This card made me think of a song we used to sing in elementary school about making friends… "Make new friends but keep the old, one is silver and the other gold."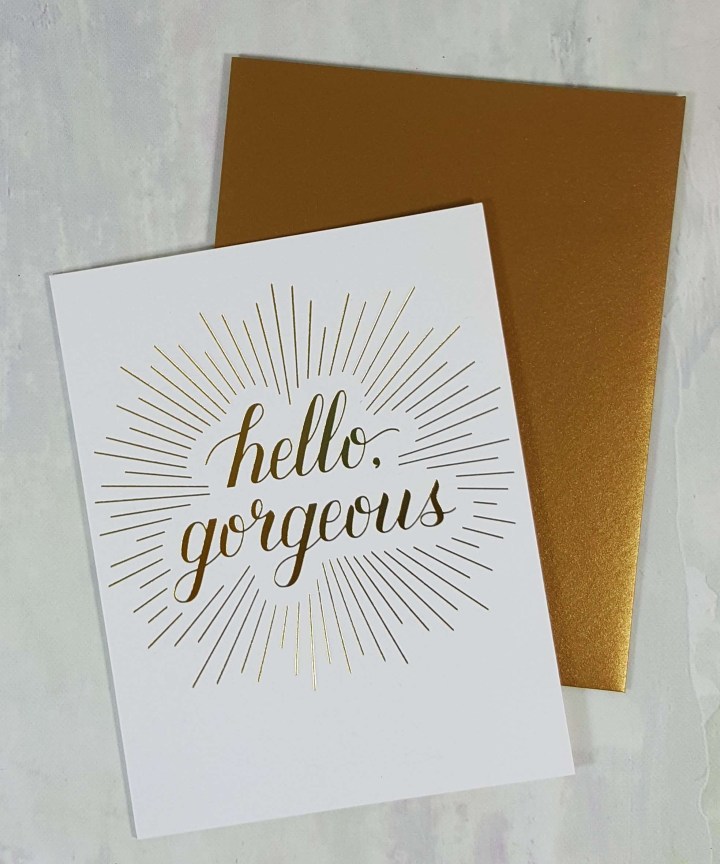 Hello Gorgeous | Scotch and Cream ($4.50): This is also an A2 sized card. It features a gold foil stamped design on the front and a matching gold envelope. This will come in handy as a "thinking of you" card for one of my besties who needs a smile. The blank inside is perfect for reminding the recipient of why you think they are gorgeous.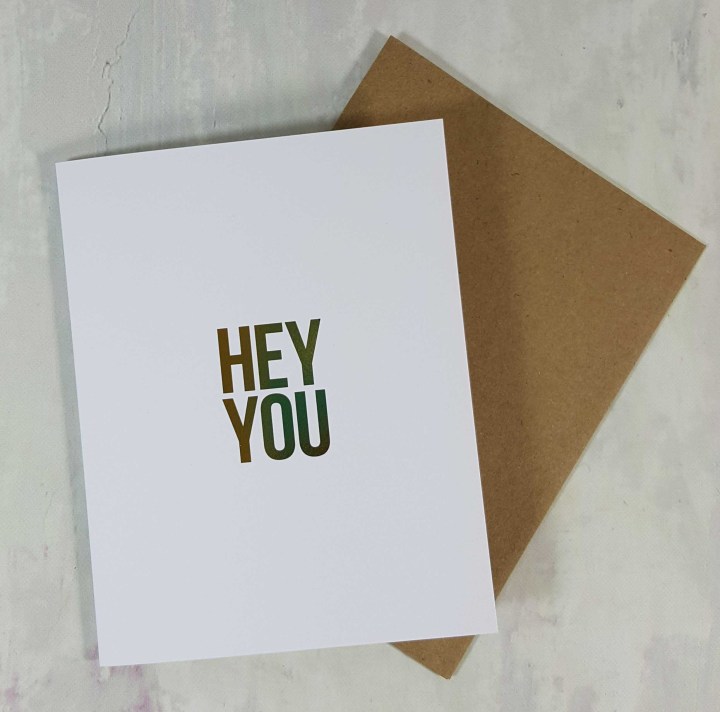 Hey You | Swell Made Co. ($3.74): Swell Made Co. has a 6-letter Sentiments collection that this card belongs to. As they say, "Who says you can't speak volumes with only six letters?" Get someone's attention with this gold foil stamped card because Hey You can mean so many things. LOL. This is an A2 card with a kraft envelope.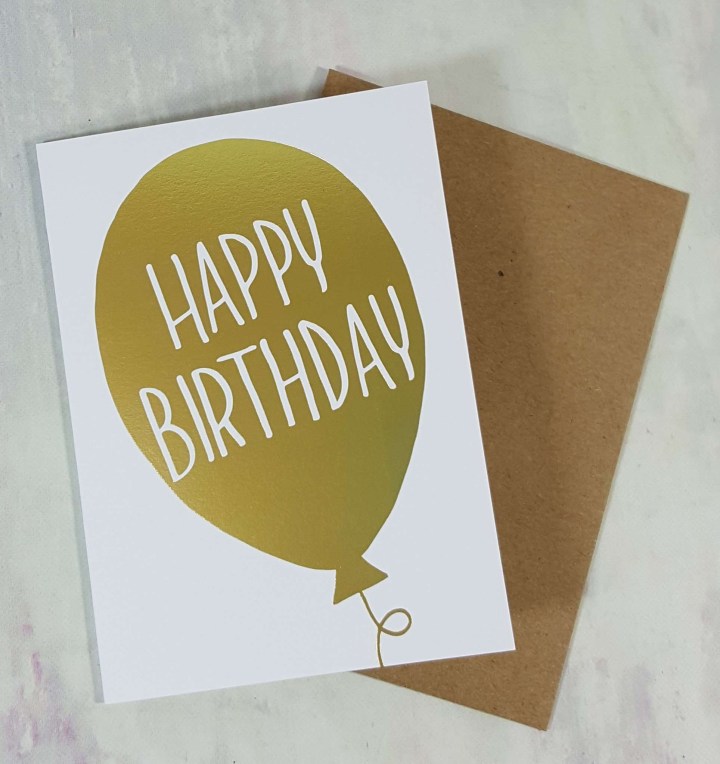 Happy Birthday Balloon | Happy Cactus Designs ($5.00): This card features "Happy Birthday" hand-lettered inside of a hand-drawn gold foil stamped balloon. Not only will you feel good sending this card, but you can be green too. This A1 sized card (3.5″x4.9″) is printed on FSC certified paper and is paired with a 100% recycled kraft envelope.
Get Lucky | AvEH Designs ($4.50): Send out St. Patrick's Day luck with this watercolor 4-leaf clover design. This handmade A1 card is also printed on FSC certified paper and comes with a recycled kraft envelope. The blank inside lets you personalize all of your best wishes.
In this digital age, I still get excited about getting a card or letter in the mail. This subscription allows you to spread that same joy to your friends and family with attractive cards. Save yourself a trip to the store and let Magnolia Crate deliver a little joy to your door!
Visit Magnolia Crate to subscribe or find out more!