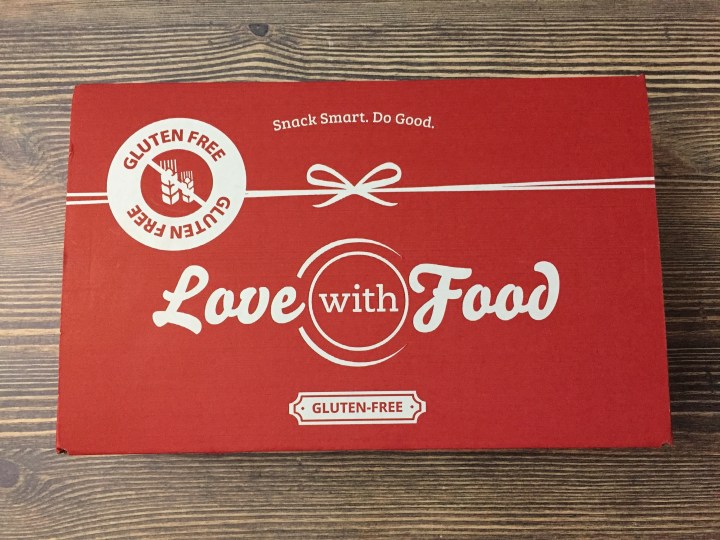 Love with Food is a popular snack subscription that also carries a gluten-free option! It is a fun snack discovery subscription available in three versions: classic tasting box, deluxe/family size, and gluten-free. This version is the gluten-free box, but you can see our reviews of the other versions too. You might not know it from all of the more adventurous Japanese snack boxes I review, but I actually do have a sensitivity for gluten (along with a laundry list of other ingredients) so I have to be careful how much of it I consume. When Love With Food started shipping internationally, this was great news for me!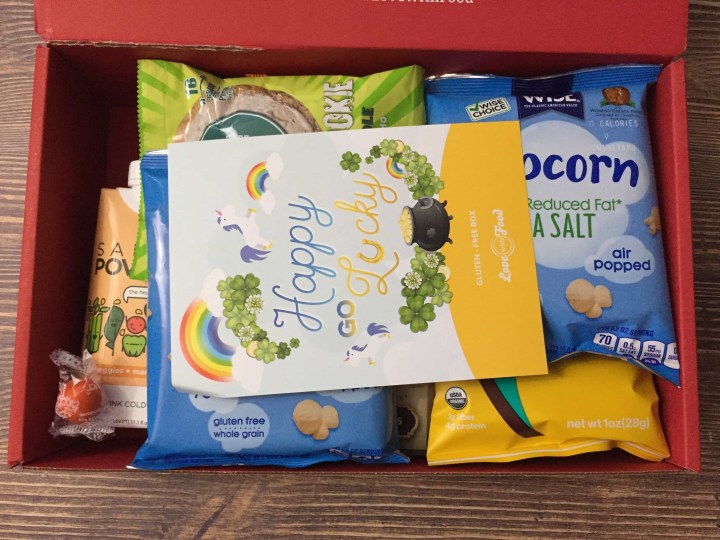 DEAL: You can save 25% on your first Gluten-Free box by using this link, no coupon code required!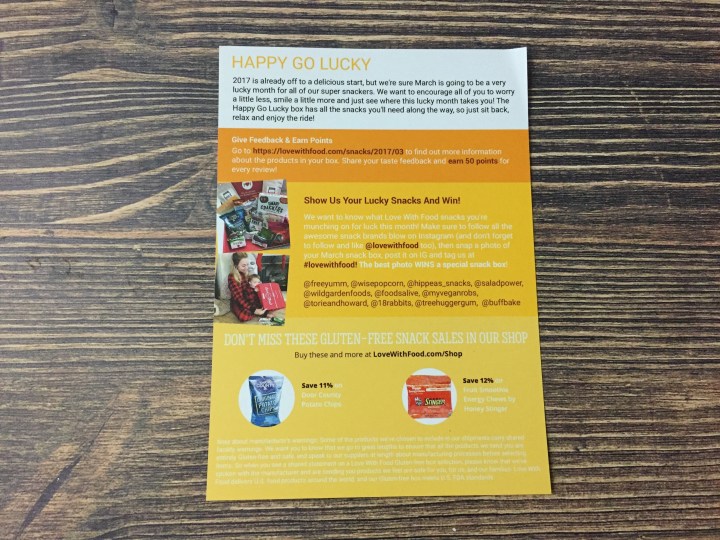 My box always arrives mid-month. They don't include details on the product card, but the info is available on their website.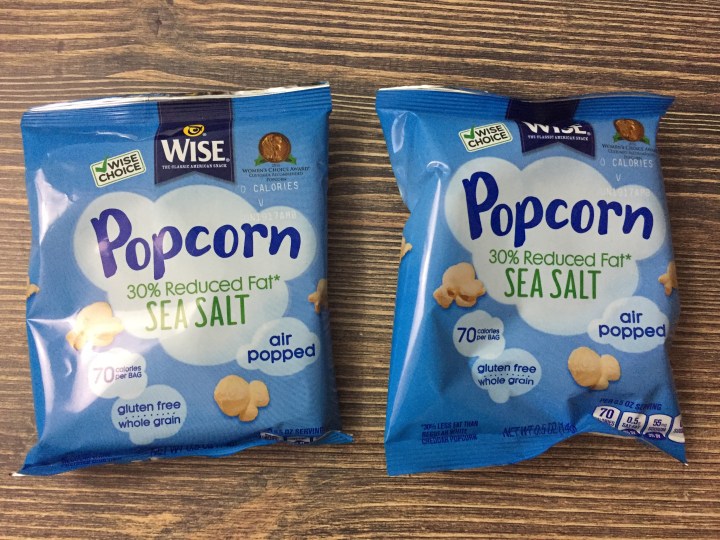 We were sent TWO bags of Wise Popcorn – these are air popped and lightly salted. The size is a perfect savoury snack.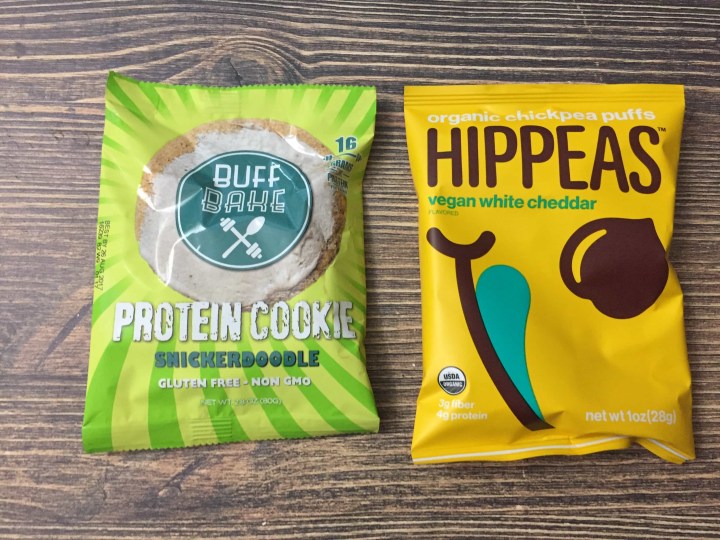 Buff Bake focuses on healthy eating and lifestyle – the Protein Cookie is made with coconut flour as its base and has 16g of protein. The Hippeas are a much lighter fare – chickpea puffs that are supposedly "vegan white cheddar." I have never understood how things could possibly ever taste like cheese without, well, CHEESE. These just tasted of garlic and onion powder.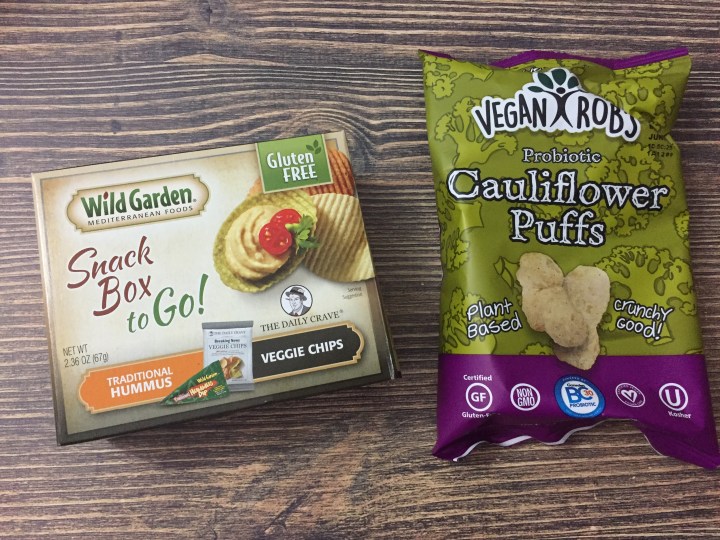 When I saw the Wild Garden snack box, I was hit by a wave of nostalgia. The first time I went to New York to meet my best friend who I met online, I left my laptop cord behind. She shipped it out to me along with one of these snack boxes! It contains veggie chips and hummus. The Probiotic Cauliflower Puffs are actually really tasty as well – they have garlic seasoning and a nice crunch.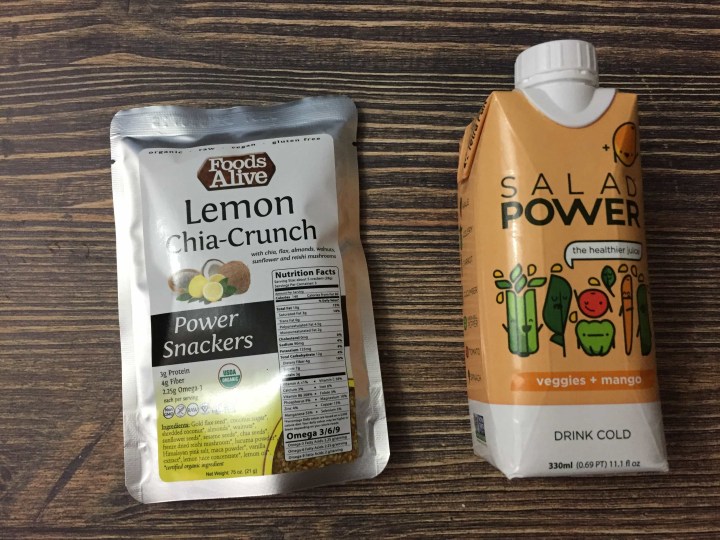 At first, I was digging the sound of the Lemon Chia-Crunch… until I read there are dried mushrooms in it? EW. Insta-pass (and internal vomiting) and I will not be sampling these. The Salad Power drink box was also not something I enjoyed. I mostly tasted red pepper and carrot – it didn't taste like mango at all. This would be good in a caesar with vodka, maybe…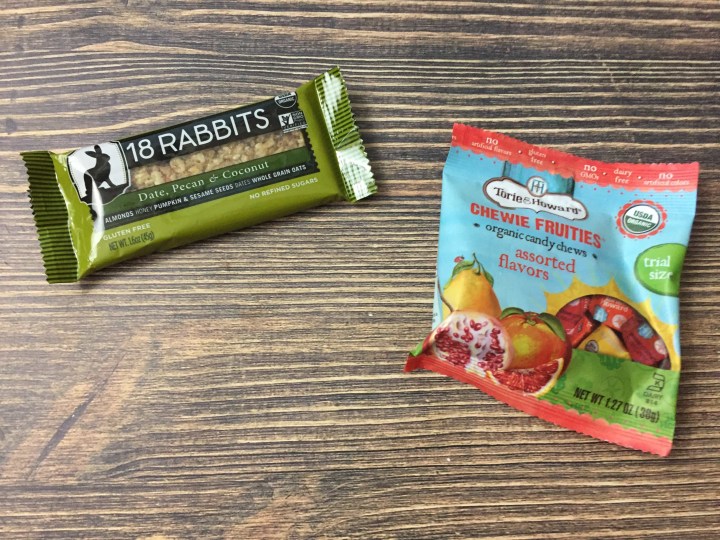 The 18 Rabbits Date, Pecan, and Coconut bar sounds interesting – it's sweetened with honey and maple syrup, and all the ingredients are organic. The Chewie Fruits also sound like a perfect sweet treat.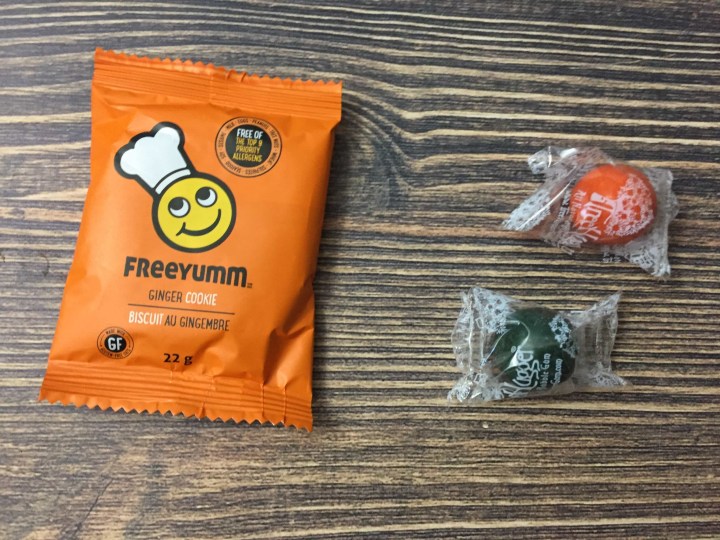 I have gotten to try a few flavors of the Freeyumm cookies, and the ginger cookie was not bad! The flavor isn't too strong, though. And to top off the box, some all-natural fruit gumballs! They are sweetened with cane sugar and contain fruit juice.
This month's Love With Food had some misses for me personally, but I like the variety of items we are always sent. I like taking my snacks to work to stock up my basket in the lunch room – having a healthier option when I'm feeling peckish is definitely a good idea!
What is your favorite Love with Food item from this month's box? Share below and let us know!