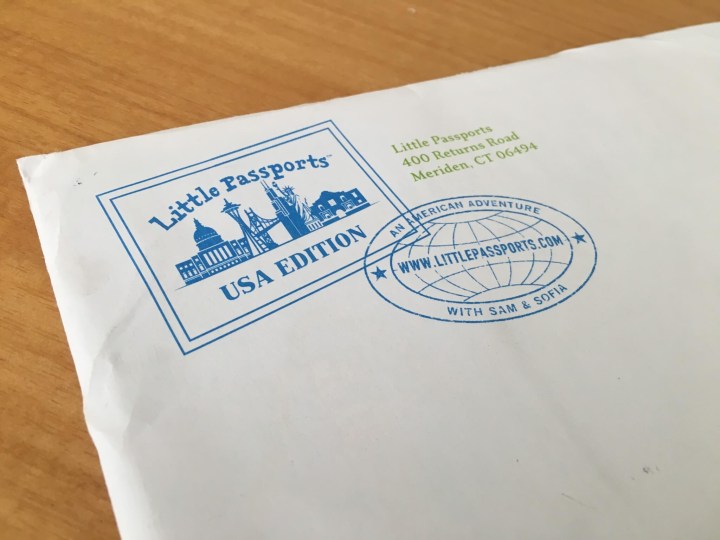 Little Passports (USA Edition) is a kids' educational subscription with crafts and fun activities about the fifty states.  This box is designed for children 7-10, but any bright kid 5+ would like it. Your kids will learn about the geography and culture of the United States with the USA Edition.
This month, Sofia and Sam visit California and North Dakota. The box contains a cute double-sided activity book, postcards from each state, stickers for your field guide, and two stand-up models.
The postcards, stickers, and models are brightly colored and fun.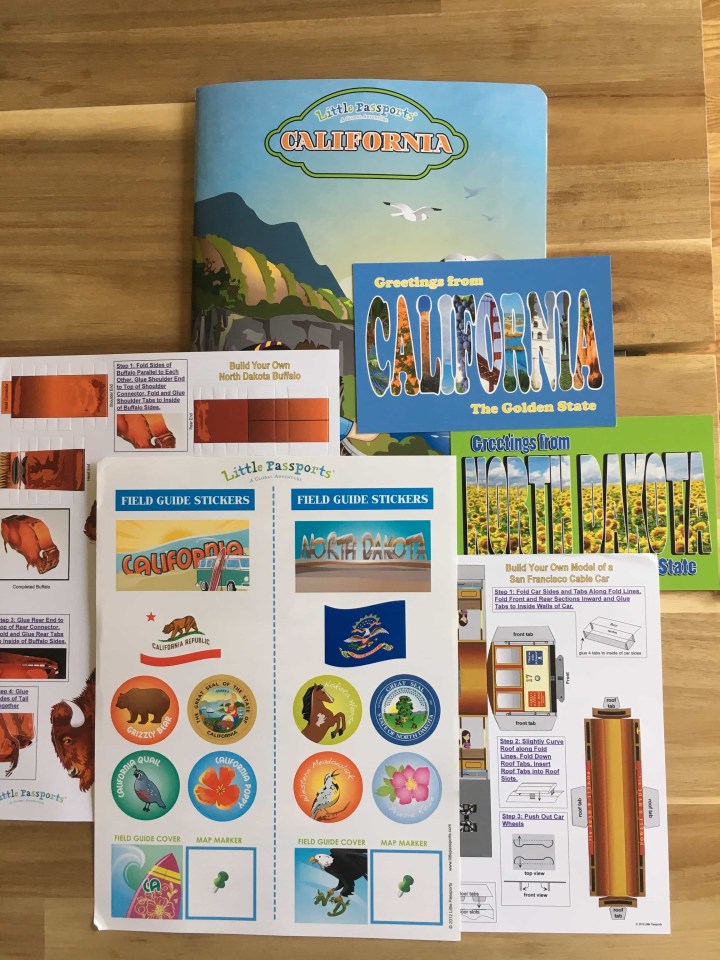 DEAL: Save $15 on annual subscriptions! Use coupon code WELCOME15.
The stickers are for the Field Guide (you DID save the Field Guide, right?). They also cover the state bird and flower and so on. There are even "pushpin" stickers to mark the map poster (which you also saved?). Nice, quality stickers. The state animal of North Dakota is the "Nokota Horse," which sounds like a fake horse name if I've ever heard one.  Might be a spy… or a Trojan Horse?!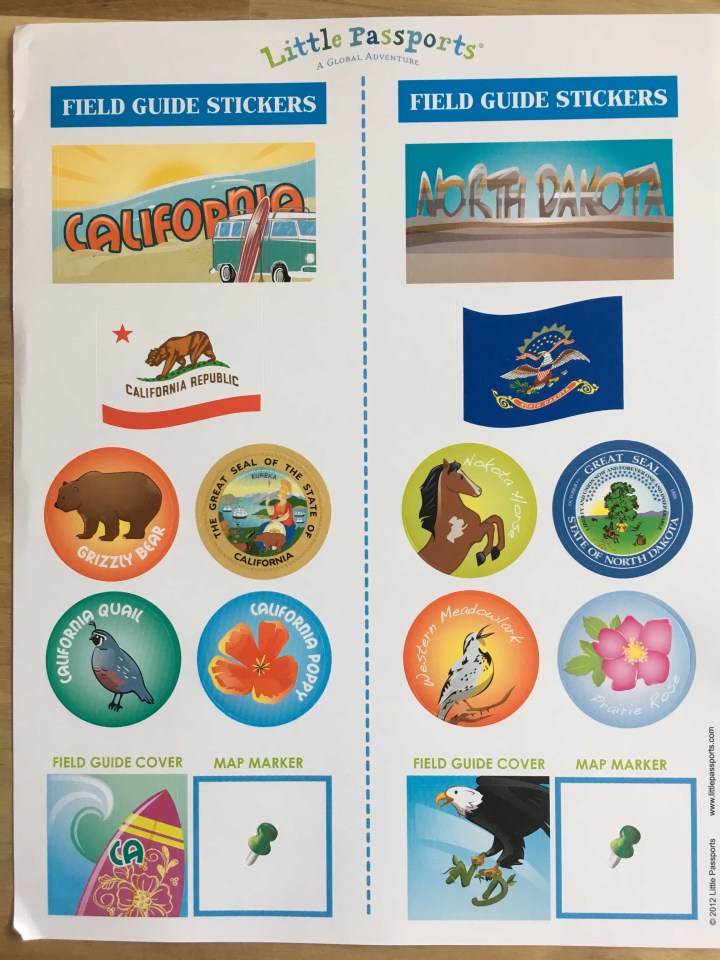 The models are punch-out coated paper and this month features a tolerant-looking buffalo and a cable car. Ding ding!
Up first, California, which features Sam taking pictures of the side of the mountain while Sofia gives us side-eye about his ridiculous behavior.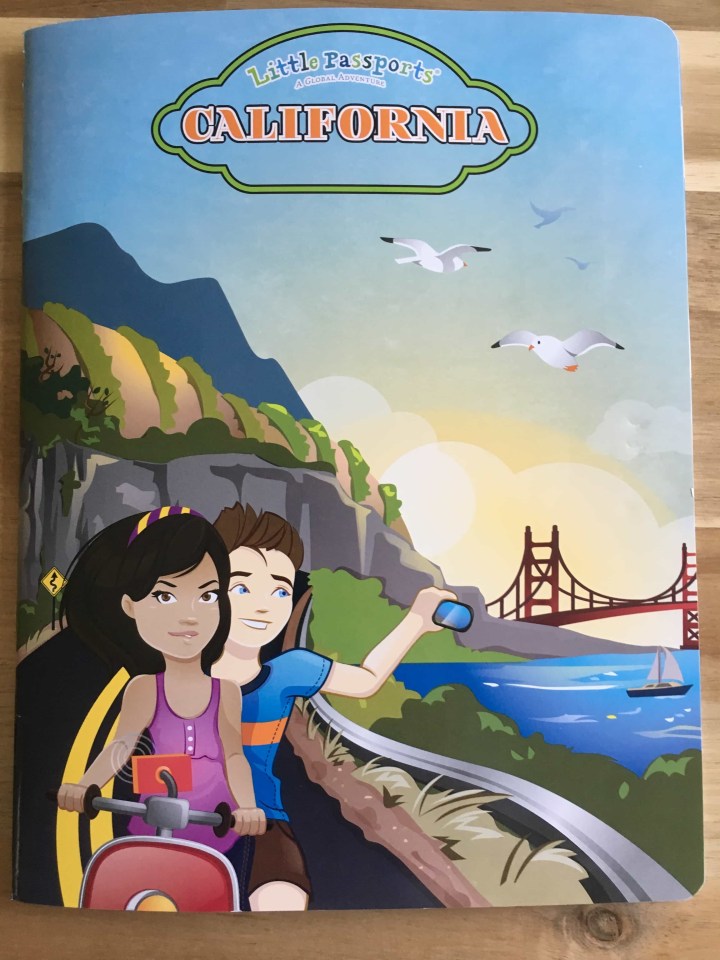 The activity book flips over and upside down to cover both California and North Dakota. It's a glossy, colorful, 32-page activity book with fun facts and games about the states.
Some of the highlights of California include Sam and Sofia's note and map, a weirdly empty beach seek-and-find, a cute flip-book project, and a recipe to make your own tortillas that, awesomely, does not assume 9-year-olds can't use a stove or a knife.
On to North Dakota, where Sofia just killed a sunflower. The North Dakota highlights include the letter and map, farming science, dinosaurs and the oil they turned into, and a shout-out to Sacagawea.
Another quality box! The activities are fun and age-appropriate, and they do a good job highlighting some interesting aspects of the states. Non-readers will need help, but older kids can do everything on their own. We can't wait to see where they go next month!
This would be a great-grandparent or aunt/uncle gift, or a supplement to a homeschool curriculum, especially ahead of a road trip or visit another part of the country.
This subscription also has an add-on option. From your account, you'll be able to order a selected add-on for some themes. For the Little Passports World Edition Intro Box package, you can order the California Activity Booklet.
What do you think of this month's box?