Literary Vacation Club is a book subscription box that will bring you a reading experience to tantalize all your senses. There are two levels in this subscription: the Holiday ($29.99) where you'll receive 1-2 indie books, items for the five senses and a bonus item, and the Weekender ($14.99) which will bring you 1 indie book, 1 item to see and 1 item to either touch or smell. This review is for the February Holiday Box.
Everything in the box is well wrapped in Valentine's Day theme bags! It's lovely and nothing was able to move in transit!
DEAL: Get 10% off on your first month! Use coupon code WELCOME10.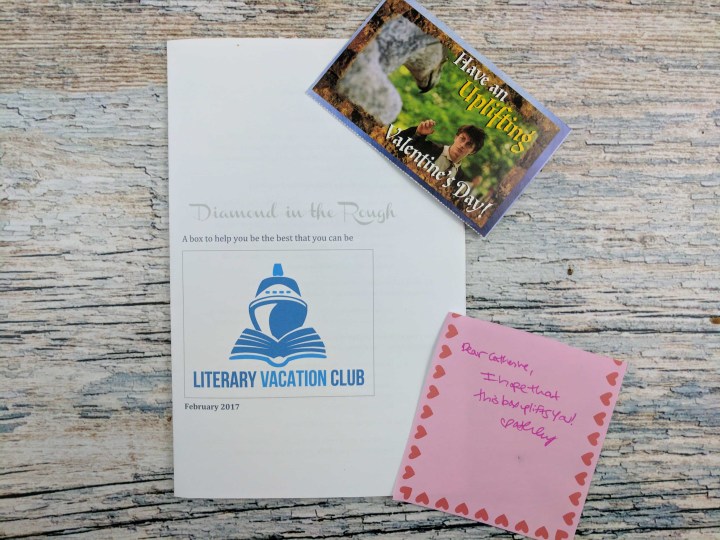 The box came with all the information in a folded sheet of paper. This month's theme is "Diamond in the Rough."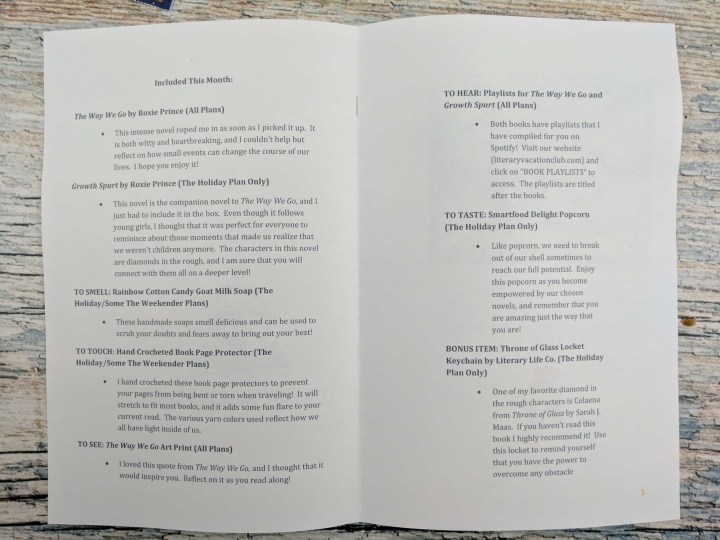 Everything is well explained in the info sheet. I really like to know why certain items are included in boxes.
Only the item "To Hear" is not physically included in the box, but it's made available on Spotify. I don't use this service, but I appreciate the effort put into compiling playlists for readers!
This month, we received two books from Roxie Prince.
The Way We Go  ($11)
Lindsay Picou is sixteen going on thirty. She's been forced to not only take care of herself but to raise her little sister, too, because their mother, Gloria, is a part-time prostitute and a full-time wanderer.

Then, Gloria meets Ben. He not only changes her life for the better but Lindsay's, too.

These changes come with a set of challenges Lindsay isn't equipped for; she has to learn to be a student, a friend, and a daughter. In short, she has to learn how to be herself in a completely new world, and she is forced to learn things about the people in her life that both hurt and free her.

Just when she starts to feel like she's getting a handle on things, she meets Micah, Ben's best friend, and things get a lot more complicated.
Sounds like a nice coming-of-age, rags-to-riches story! Looks interesting.
Growth Spurt ($11)
Two years after the end of The Way We Go, the debut novel by Roxie Prince, Growth Spurt picks back up with Katie Sterling and her friends as they turn thirteen and enter the confusing era of their lives wherein they are unsure whether to start growing up or to cling tightly to their childhoods.

Katie grapples with her boycrazy peers, and her inability to connect with them. As a member of the Young Debutante Society, she has her "coming out" party to prepare for, but her friendships and her identity come into question as the event approaches.

Michaela's family is in turmoil over her parents' divorce, and she and her brother rebel. Michaela tries to find solace in chaos, but her desire to grow up too fast puts her in a terrible position, leaving her feeling more alone than ever before.
This is the story of Katie, Lindsay's little sister from the Way We Go. I haven't started it yet, so I'm not sure what to think of a story with such a young main character!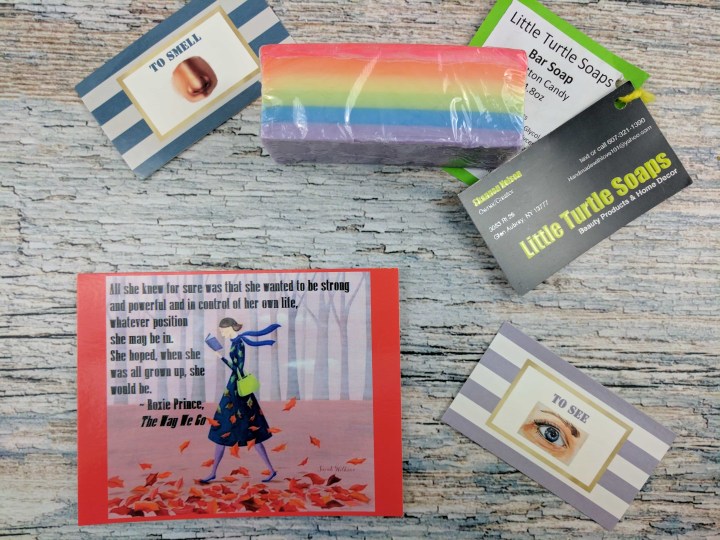 Every bag had a little card telling us which sense is involved. To smell is a nice Rainbow Cotton Candy Goat Milk Soap by Little Turtle Soaps and it smells great! To see is a cute art print with a quote from "The Way We Go."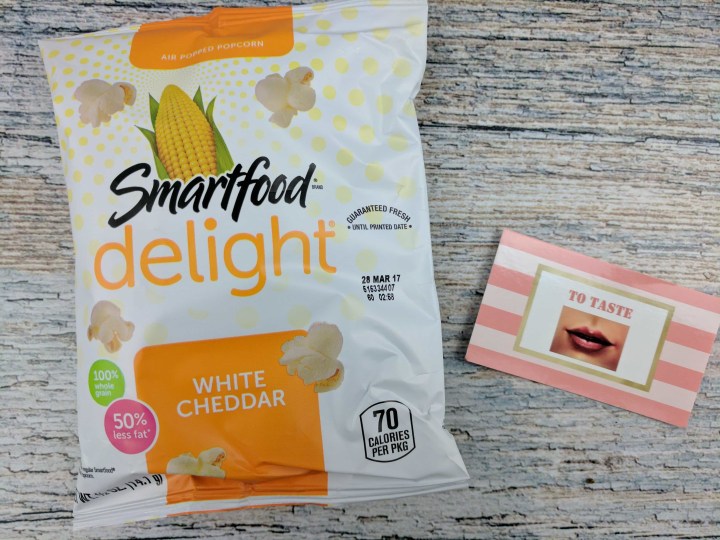 To taste is a little bag of popcorn, a reminder to break out of our shell sometimes to reach our full potential. I like that!
To touch is a hand-crocheted book page protector. This is to prevent the pages from being bent or torn when traveling. I'm not exactly sure how to use it, but here goes my take on it!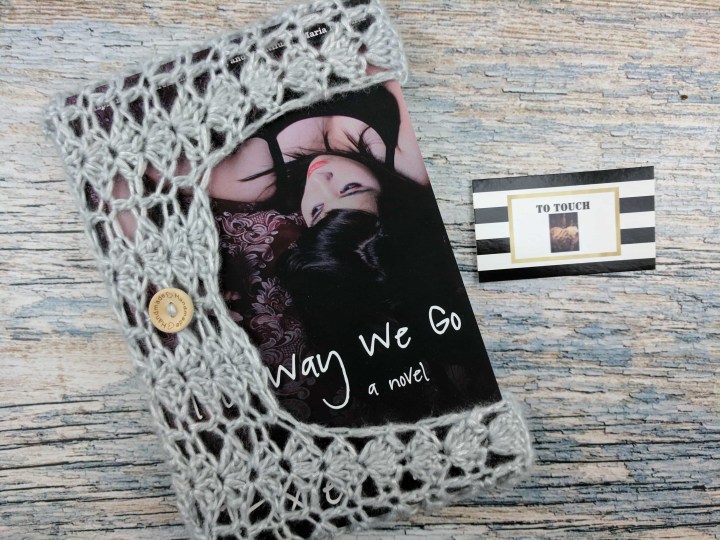 It can fit a large book with a bit of stretch. It's a cute pattern and I like the neutral colour that I've received.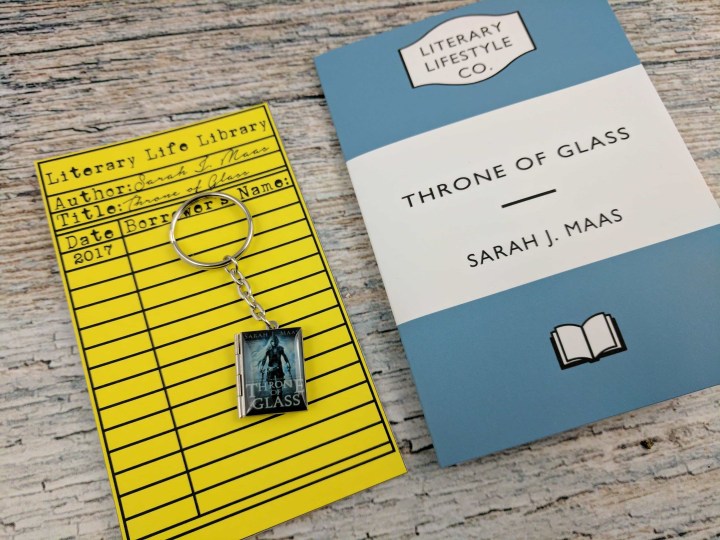 The bonus item this month was a Throne of Glass Licket Keychain by Literary Lifestyle Co. This is a very cute little locket and I like that it comes in the form of one of those old library cards! It's very nostalgic! Sadly, I haven't read Throne of Glass or any of the books by Sarah J. Maas.
This month's Literary Vacation Club was a really nice YA book box. The items are nice, and the bonus item is a great addition! March Theme is Norse Mythology and April Theme will be Destination: Hogwarts.
What did you think of this month's box from Literary Vacation Club?
Visit Literary Vacation Club to subscribe or find out more!