Kidstir is a really fun kids' monthly cooking subscription box. You get a themed cooking kit sent to your door every month. Every box includes 3 recipes and accessories for each – 2 kid-sized tools and a special extra. On an annual plan, your first box comes with a great recipe binder to store all the recipes in so you can revisit your favorites. My youngest is my kitchen helper and he is loving getting all these kid-size tools to use!
DEAL: Save 20% off on the first month of your subscription! Just use this link and coupon code AFHELLO20!
Plus, when you subscribe to an annual subscription you'll also get a FREE cookbook binder! Plus all subscriptions get a bonus 2 years to select print magazines!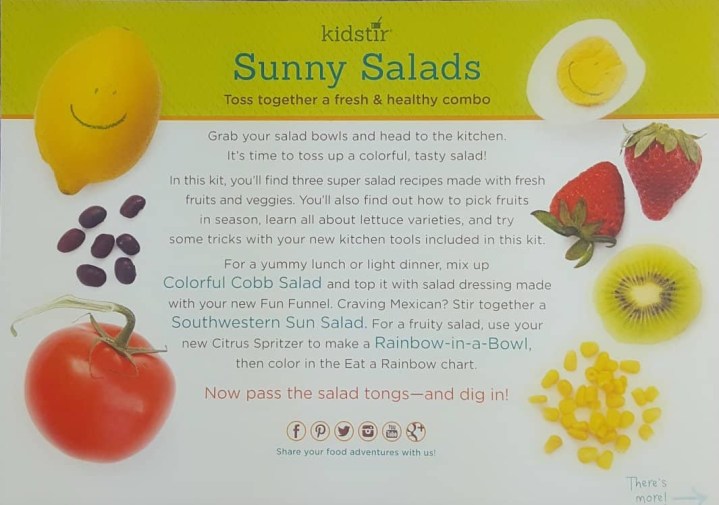 The theme for March is Sunny Salads! I love salads so getting some in our box makes me hopeful that my boys will give one a try too.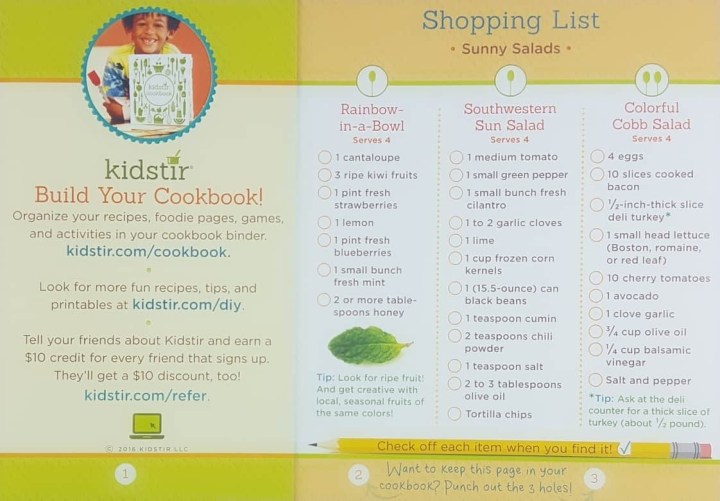 The back of the information card lists a shopping list so that you can grab all the ingredients you need for each recipe. This makes shopping for the ingredients very easy.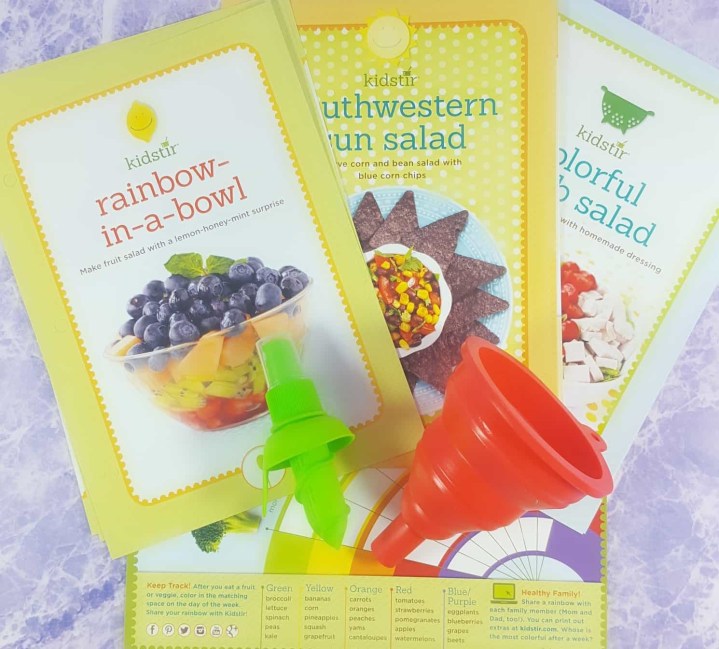 Everything in our March KidStir box.
The first recipe is Rainbow-in-a-bowl and my mouth was salivating just looking at it. We are huge fruit eaters in my house and as my older son tells me the category is Fruits and Veggies and he is just going to eat the fruit part. Yep, that's my son right there. You can make this recipe with all kinds of fruit and really just mix it up with what you have on hand.
The extra with this recipe was a Citrus Spritzer. This is one of those items that is awesome and I did not know that I needed it. Spraying a bit of citrus juice on your fruit will help it from turning brown and while I've always kind of done this and just made a mess with my hands this is a much cleaner and better way for my little men to help.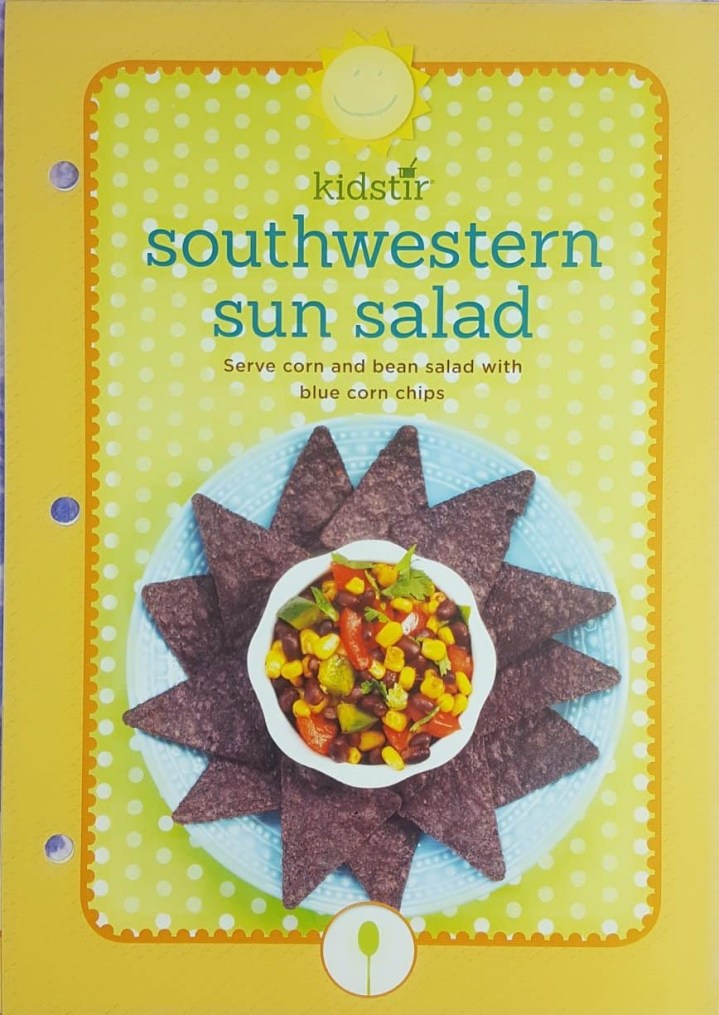 Next up is a Southwestern Sun Salad and I was drooling. I love salsas and pretty much anything with a tortilla chip. This will be a great recipe on hand to make when people are coming over and to take when going out with friends.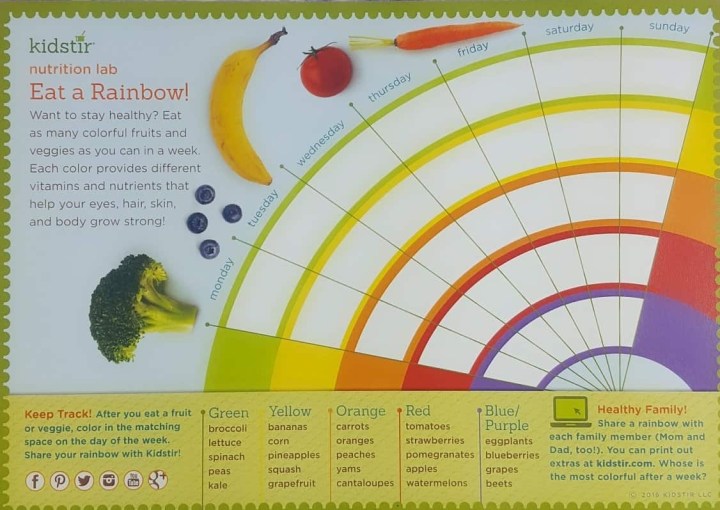 My kids love being able to mark things off and this one is going to be fun. I'm saving it for a week when I know I will be home all week so that I can make sure we have things for them to try on hand but we will be using this soon. It is actually printed on both sides so each of my boys can have their own page to write on. That is always a plus when you have two kids.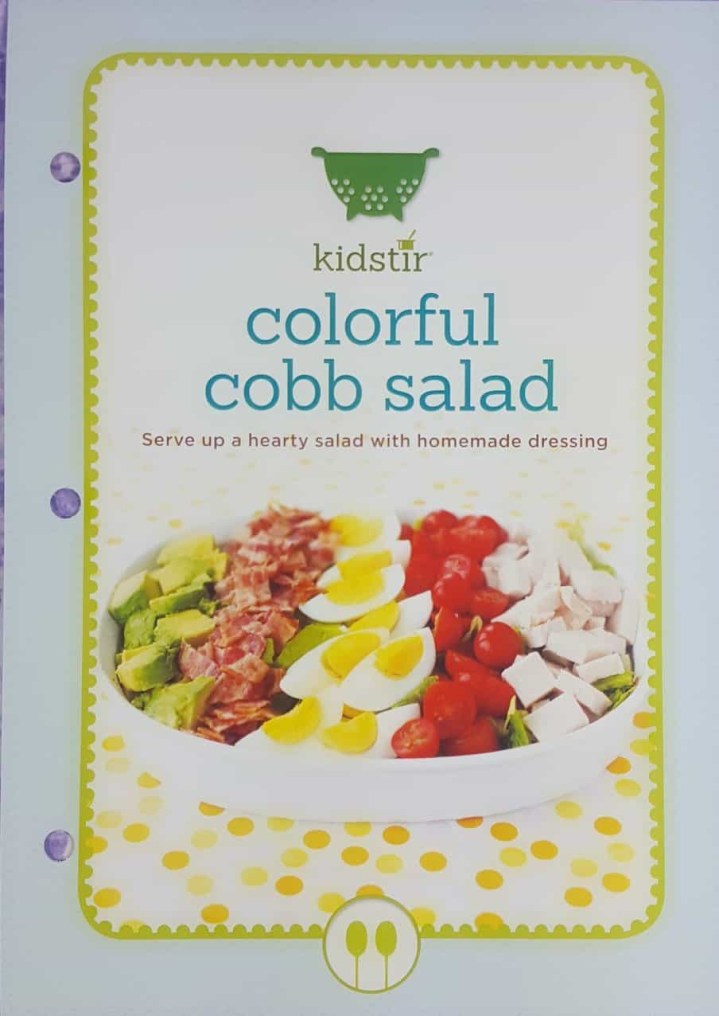 Another yummy recipe in this one. I love a good Cobb Salad and I would love my boys to eat this but I don't realistically think they will. Well they would pick some pieces out of here but wouldn't eat the whole thing. It is a goal to keep working on.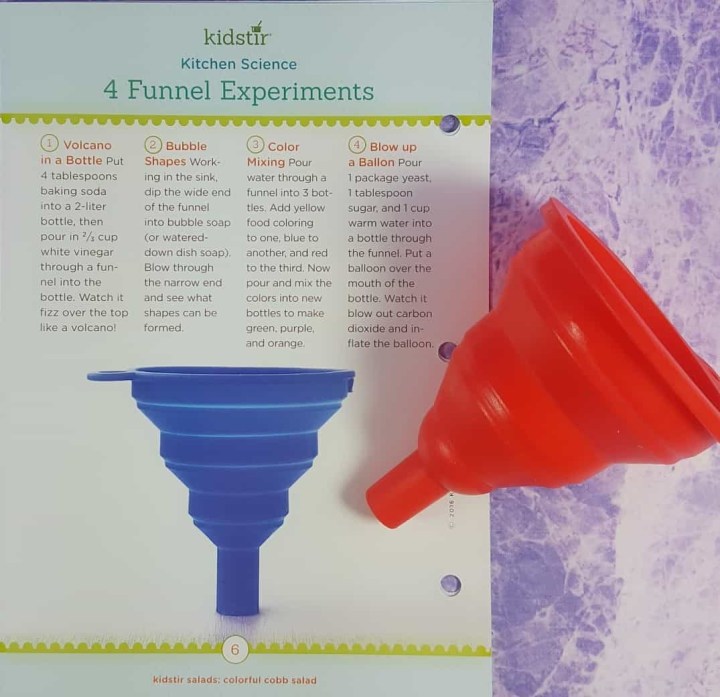 The kid utensil with this recipe is a funnel. For the recipe it is used to help make the vinaigrette but I love that they sent some other ideas on what we can use the funnel for. My boys want to make the volcano in a bottle. They both told me that they have seen that at school but haven't done it themselves yet. I see a science day coming up in my future.
KidStir sent another great box this month.  With me being a big salad eater I would love to instill it in my boys and it is something we are working on. While they are salads in here they show all the different varieties of ones that can be made. A great way to mix things up when cooking at home.
Have you cooked with KidStir? What is your favorite type of salad?