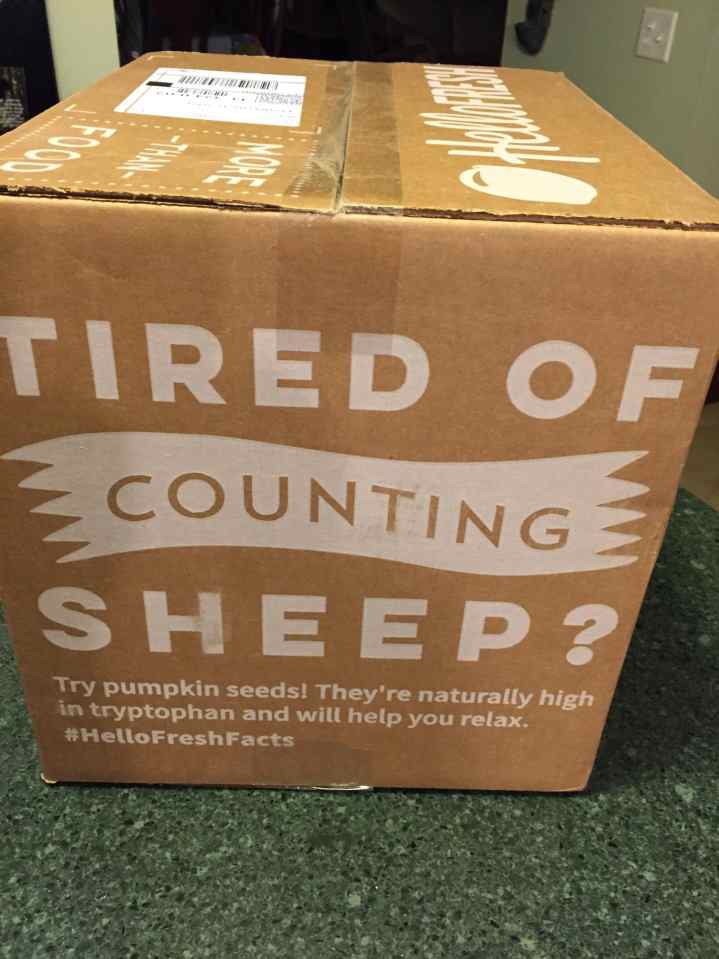 Hello Fresh is a meal kit subscription box with complete recipes and ingredients to make 3 meals every week, with each meal feeding either two or four people, depending on the plan you choose.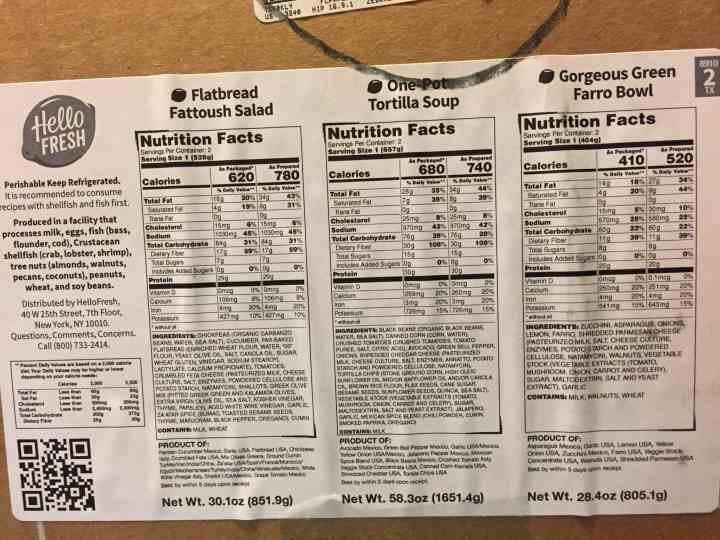 Though it is a subscription, you can pause your deliveries when needed – whether you are out of town, have other dinner plans, or just aren't in love with that week's selections. The standard subscription provides high-quality meats (free-range chicken, antibiotic meats, etc.) to use in the recipes.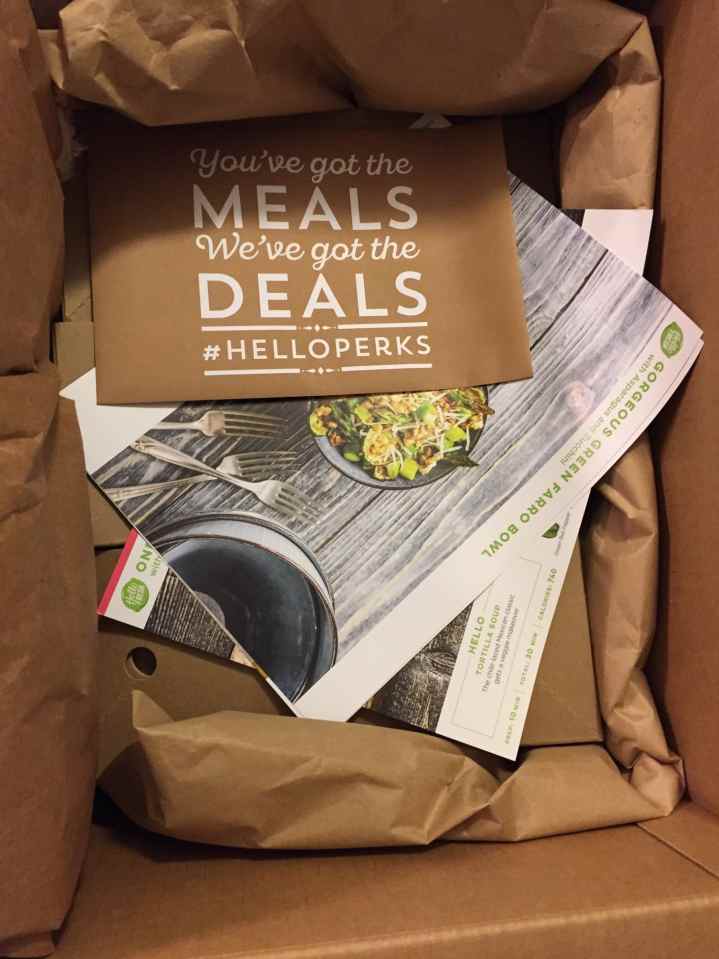 DEAL: Currently, you can save $40 off your first box with coupon code 7UT7K8.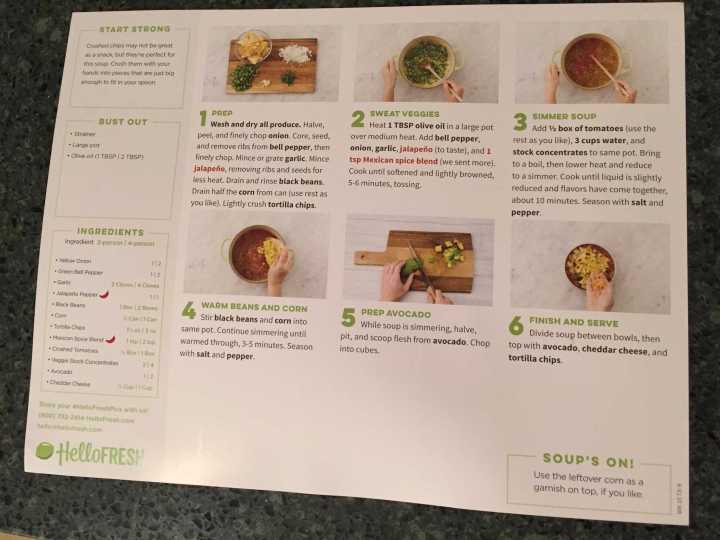 Hello Fresh has great instructions, and they are easy to follow even if you are an inexperienced cook. There are even some kitchen tips included in the information card.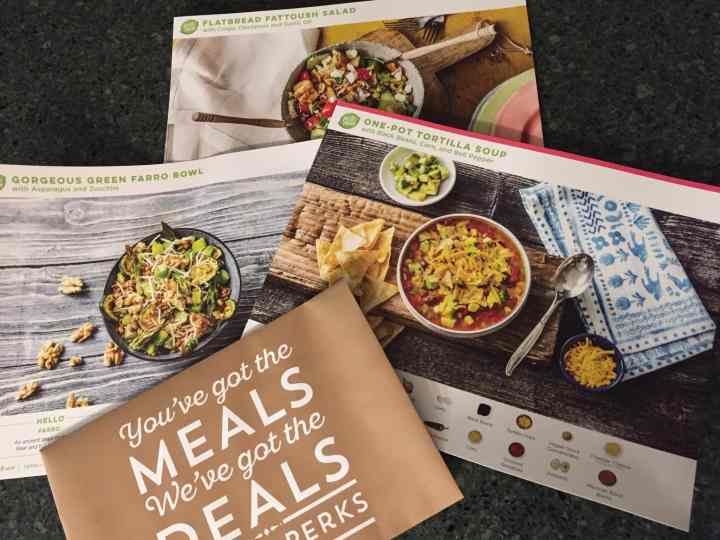 Though we do eat meat, we cook vegetarian three times a week. Thankfully, Hello Fresh has a vegetarian subscription for both casual and dedicated vegetarians.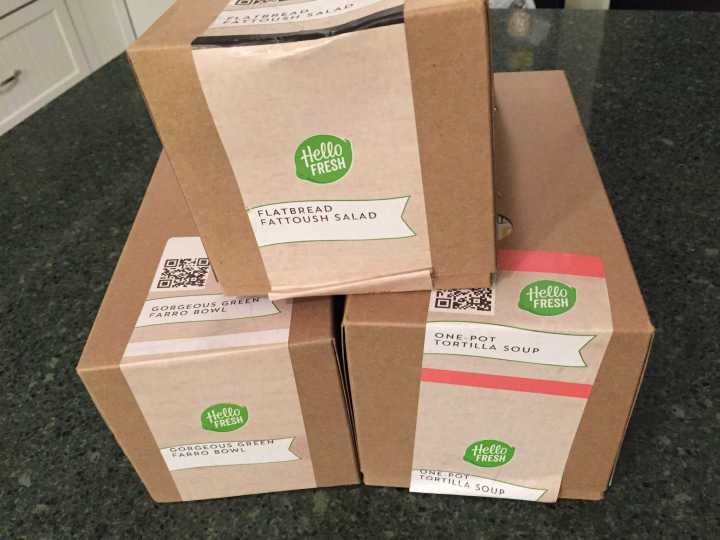 The boxes used by Hello Fresh keep all the ingredients for the recipes in order, and they stack nicely in the fridge. Within each box, everything but the largest vegetables is separately packaged and is packed at the bottom. Condiments and canned goods are provided in high-end, commercial packaging. Hello Fresh usually provides spices in their own, pre-measured branded packaging.
Gorgeous Green Farro Bowl With Asparagus And Zucchini. 40 minutes, level 1, 520 calories per serving.
If you're Irish this would be a good recipe to serve on or around St. Patrick's Day.  Why?  Because it's gorgeous green!  It's beautiful green!  And it's delish!  I just can't decide whether I liked the roasted asparagus or the boiled asparagus better.  They were both wonderful, cooked just the right amount of time.  But what I really loved were the zucchini slices that I sliced way too thin and browned, well they were like chips.  And you know how a good chip is…you can't eat just one!  I ate all the slightly browned ones and they didn't make it into the pictures.  I need to bake a whole batch of those.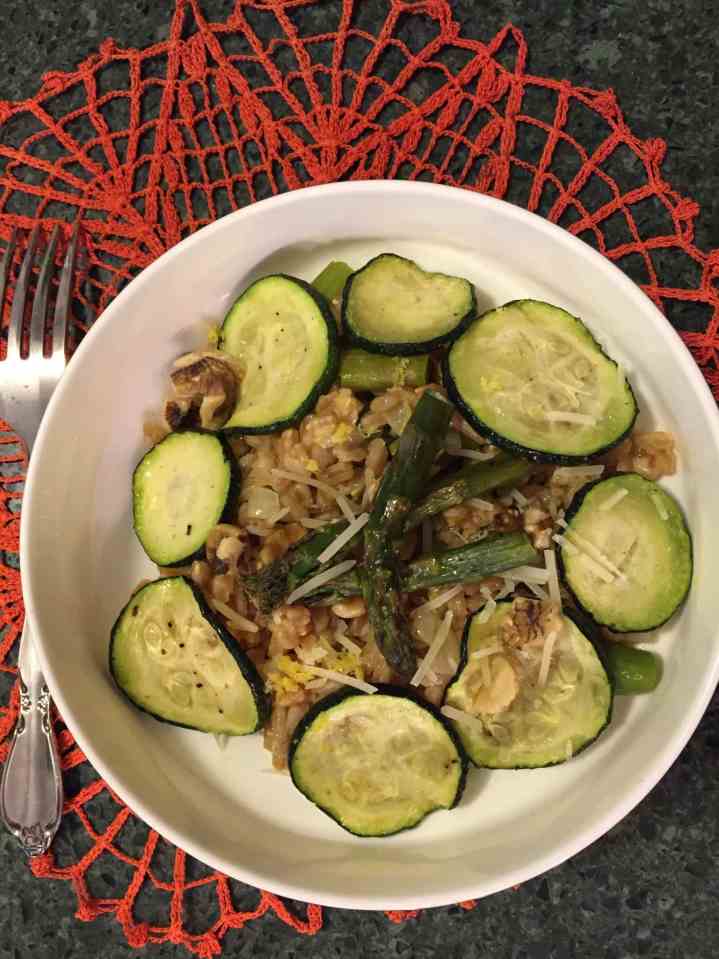 We are now fans of farro, it's filling and full of flavor.  Added with the lemon zest and juice along with the parmesan cheese this meal was fit for an Irish king!  Can you tell I'm gearing up for St. Patrick's Day?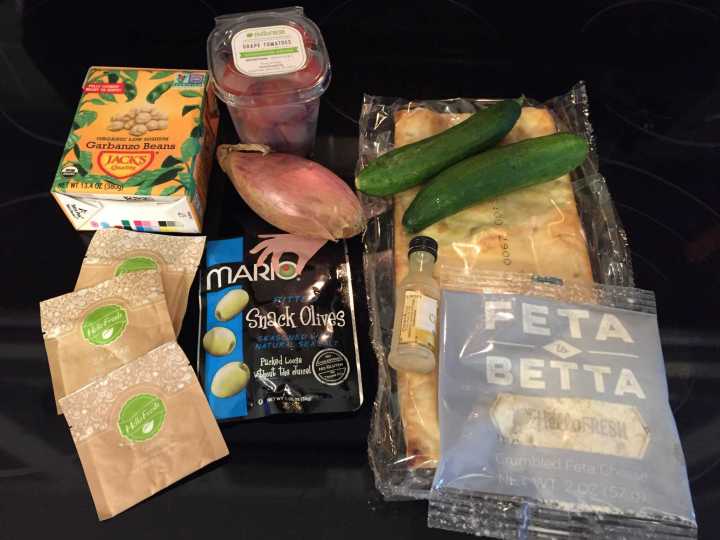 Flatbread Fattoush Salad With Crispy Chickpeas And Garlic Oil. 35 minutes, level 1, 780 calories per serving.
Fattoush is a bread salad made by mixing fried or toasted bread to vegetables.  It's from the area known as Levant.  I had to look all that up as this was a new one to me and my husband.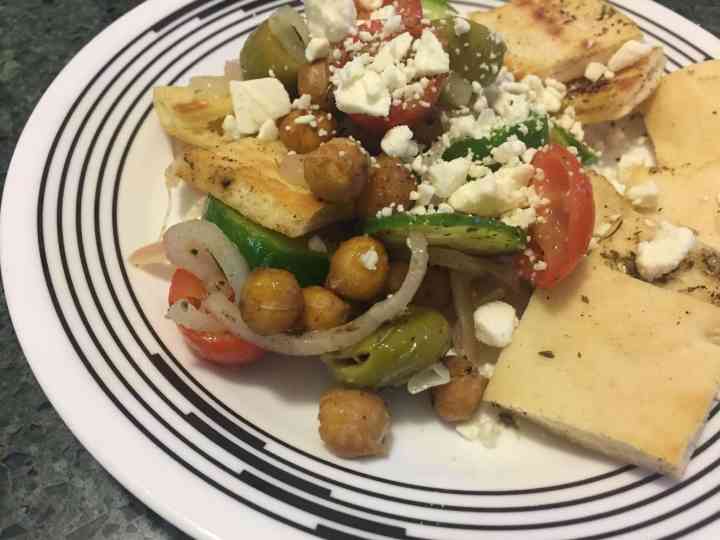 I've never cut up pita bread before and roasted it.  They turn out nice and crisp and with the Za'atar spice (mixture of spices from the Middle East) they were just down right delicious.  Add tose to the vegetables, feta and oil/vinegar mixture and you have a wonderful Middle Eastern salad.
Why do I love having Hello Fresh?  One reason is, it's so easy to adjust to your life style.  I'm currently losing weight on a national known weight plan.  I want to cut down on my fat intake.  This recipe called for 2 tablespoons of oil and I simply cut it in half and the salad was still very tasty.  I also sauteed my shallots.  Simple changes!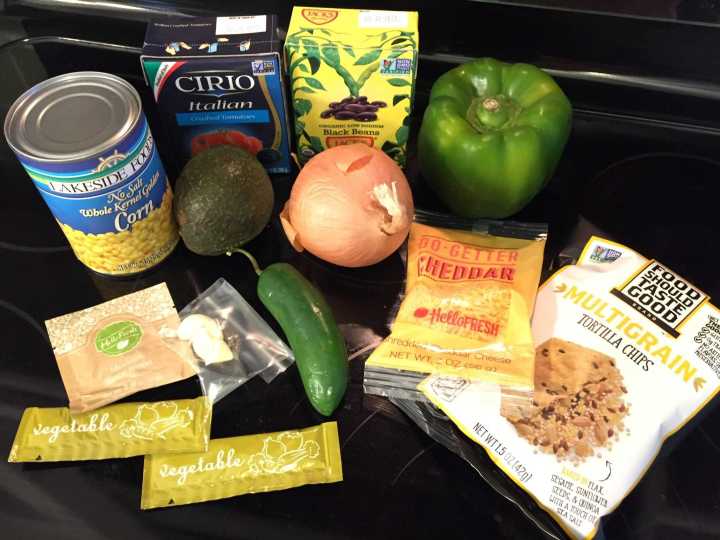 One-Pot Tortilla Soup With Black Beans, Corn, And Bell Pepper. 30 minutes, level 1, 740 calories per serving.
This is one of my favorite soups!  I order it all over the place when I see it.  Sometimes it's good and sometimes, not so much.  This one was a winner.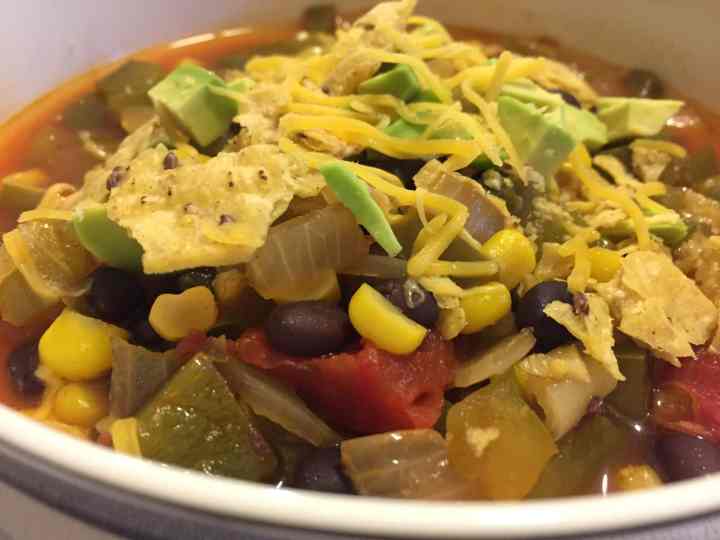 The ratio of vegetables to broth was just right for me.  And the flavors of the Mexican Spice blend was very good, we liked it enough that we added all of the spice to the soup.  I've eaten this soup with tortillas that have been cut into strips which gets soggy in the soup.  So this take of crushed tortilla chips was a wonderful variation. Most of the soups I've tried didn't have the black beans or any beans for that matter.  I do like black beans and as a bonus it adds fiber to your diet.  We decided to add all the jalapeno and suffer the consequences!  Not to worry it wasn't too hot at all.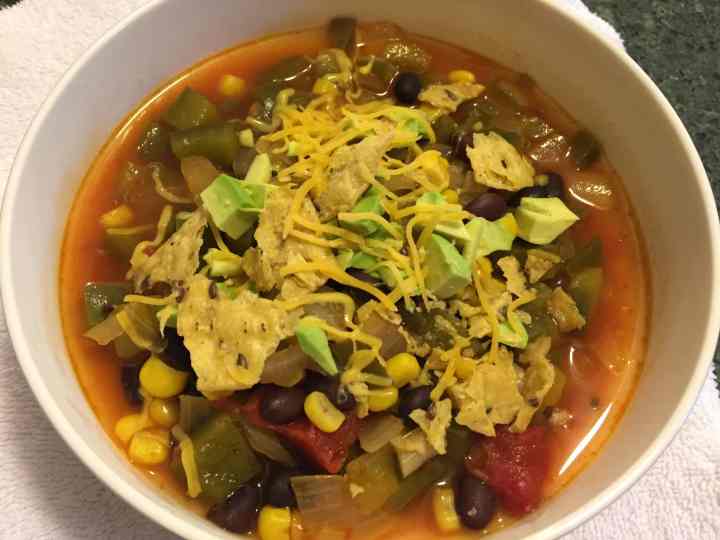 This was a very good soup, the only note I'm going to add it to through in some cilantro. This is a big thumbs up.