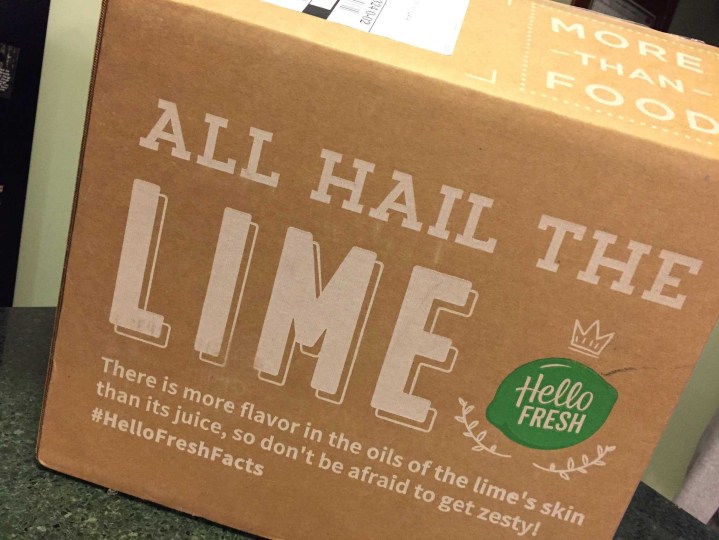 Hello Fresh is a meal kit subscription box with complete recipes and ingredients to make 3 meals every week, with each meal feeding either two or four people, depending on the plan you choose.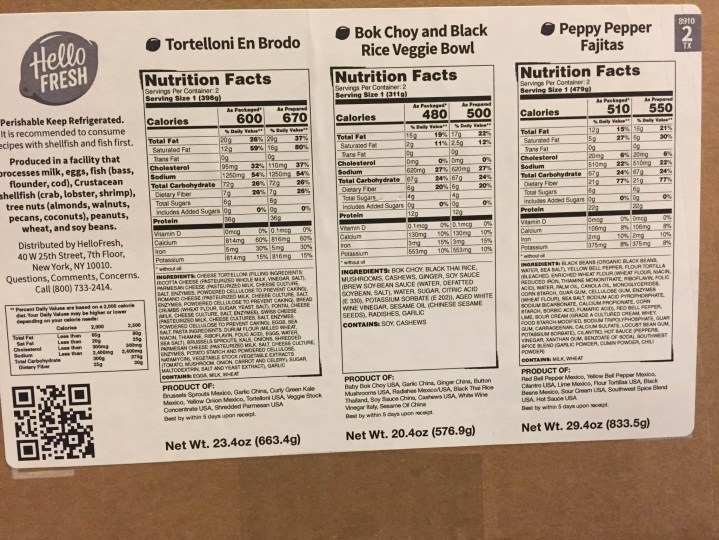 Though it is a subscription, you can pause your deliveries when needed – whether you are out of town, have other dinner plans, or just aren't in love with that week's selections. The standard subscription provides high-quality meats (free-range chicken, antibiotic meats, etc.) to use in the recipes.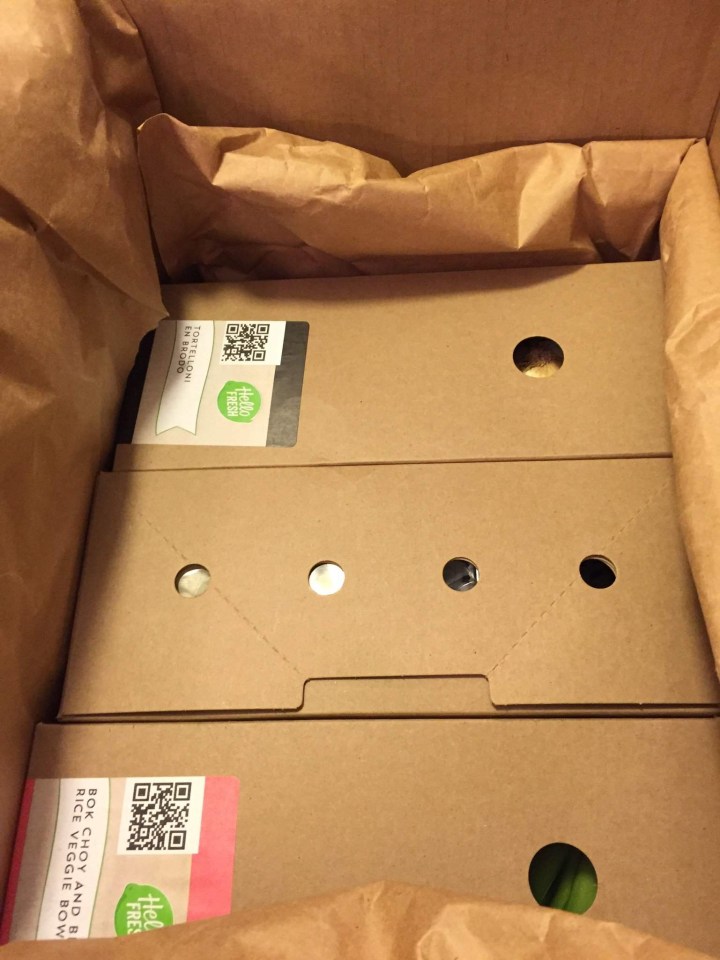 DEAL: Currently, you can save $40 off your first box with coupon code 7UT7K8.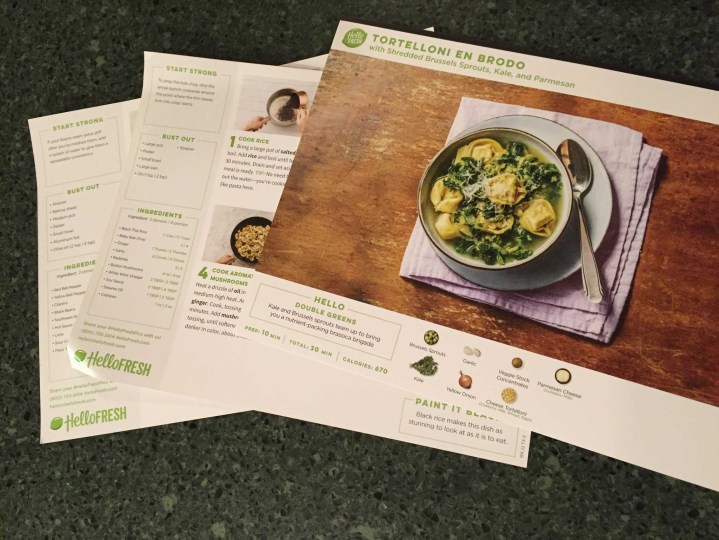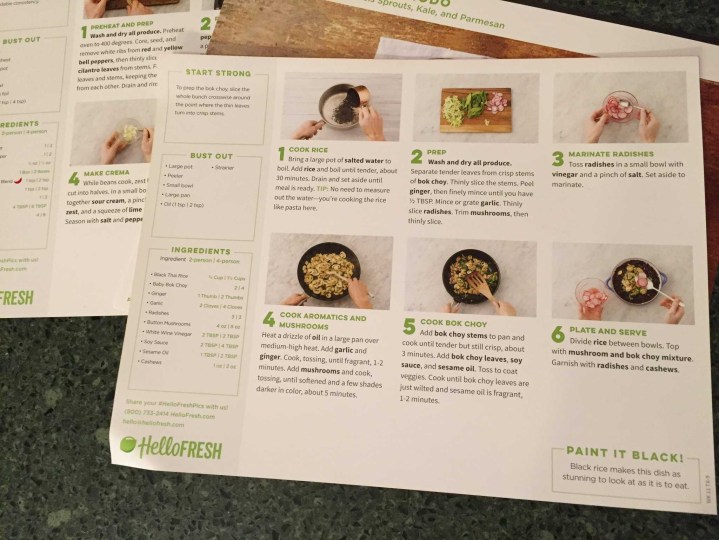 Hello Fresh has great instructions, and they are easy to follow even if you are an inexperienced cook. There are even some kitchen tips included in the information card.
Though we do eat meat, we cook vegetarian three times a week. Thankfully, Hello Fresh has a vegetarian subscription for both casual and dedicated vegetarians.

The boxes used by Hello Fresh keep all the ingredients for the recipes in order, and they stack nicely in the fridge. Within each box, everything but the largest vegetables is separately packaged and is packed at the bottom. Condiments and canned goods are provided in high-end, commercial packaging. Hello Fresh usually provides spices in their own, pre-measured branded packaging.
Peppy Pepper Fajitas With A Black Bean Mash And Lime Crema On Spinach Tortillas. 30 minutes, level 1, 550 calories per serving.
Fine!  Just fine, I'll admit it, I was wrong!  I looked at this recipe with flour tortillas (fairly plain tasting), black beans (another fairly plain tasting food) and 2 peppers (not too exciting taste wise) and thought, this is going to be blah.  So I took salsa and queso dip out of the refrigerator.  I figured we'd use them after the pictures.  This is something I've never done before, thinking a Hello Fresh meal would be so blah that we'd cover it with a condiment.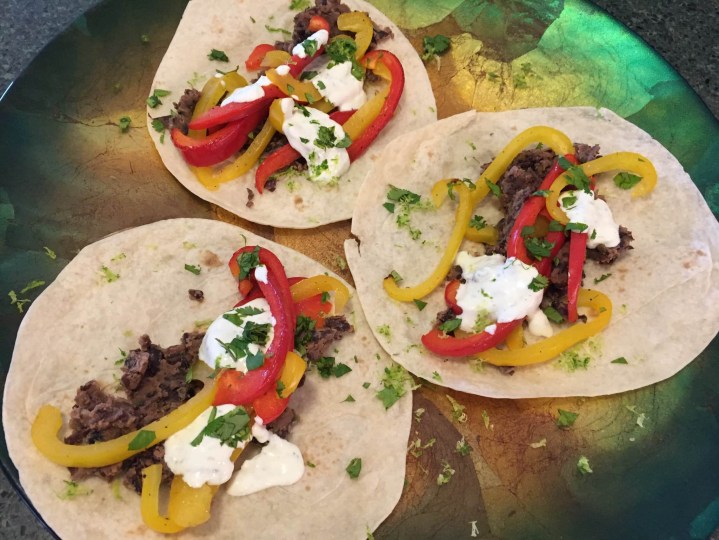 We  both agreed to at least try a bite before adding anything and man oh man are we glad we did. That little bit of lime zest and juice in the crema really brought out the flavors.  We oohed and awed the whole darn meal.  It was that good.  We only added 1/2 of the hot sauce, perfect.  I just can't tell you enough how good this dinner was.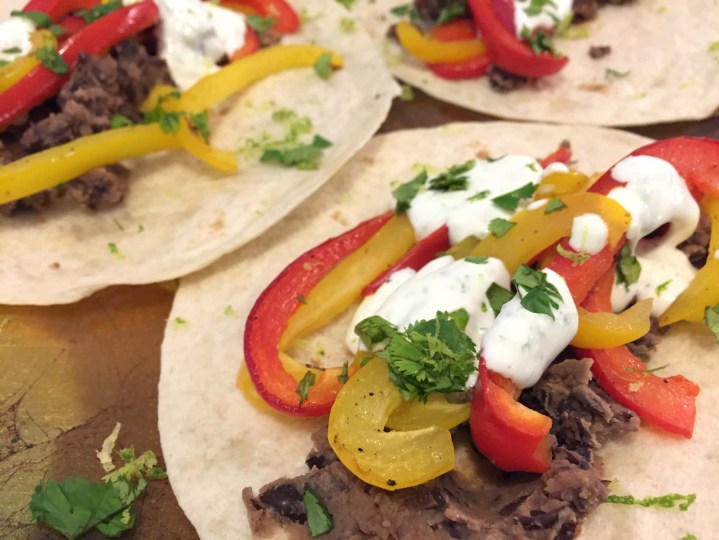 I'm looking forward to eating my leftovers for lunch tomorrow!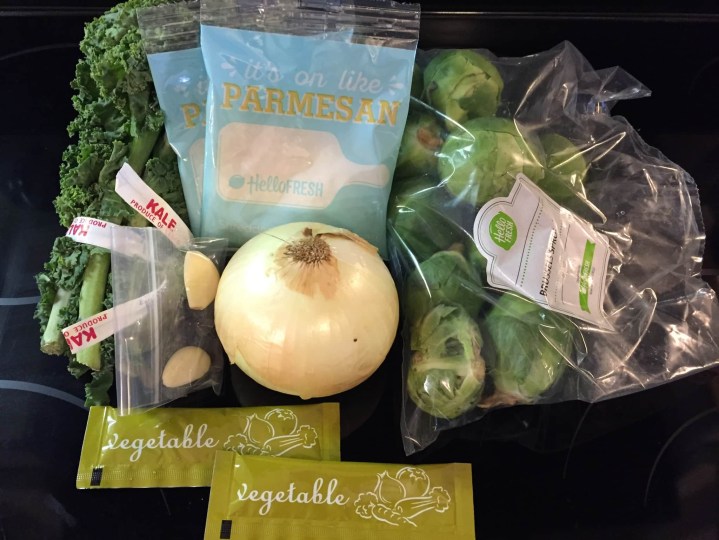 Tortelloni En Brodo With Shredded Brussels Sprouts, Kale, And Parmesan. 30 minutes, level 1, 670 calories per serving.
Hello Fresh DID NOT send the tortellonis.  I did look in the bottom of the box.  They normally send a note on top to look in the bottom but that wasn't there either.  So we ran to Walmart and all they had were 20 oz packages of tortellonis. Hello Fresh compensated us with a $20 credit on our next box.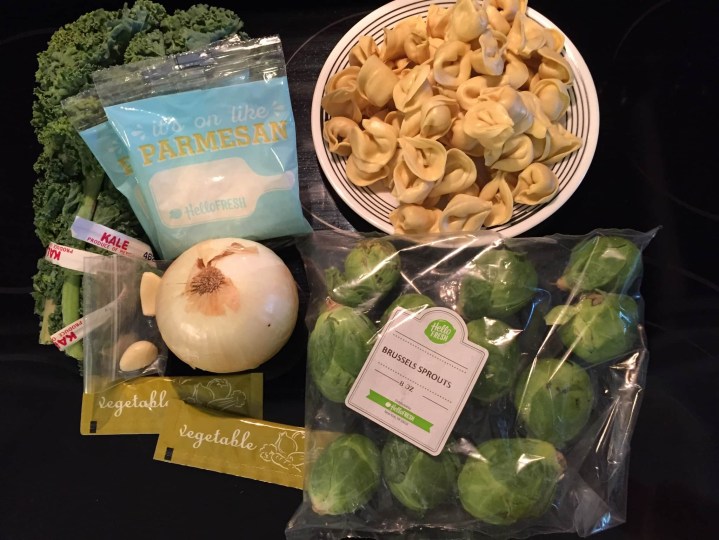 Another recipe title I had to look up. What's the difference between tortelloni and tortellini?  Tortelloni are the bigger ones.  En brodo means in broth.  This recipe only calls for a few ingredients  so it needs to have some really high quality ones and Hello Fresh delivered on that.  Normally, my husband isn't too fond of kale because it's not all that tender but the way it's cooked in this soup it was very tender so he enjoyed 2 bowl fulls.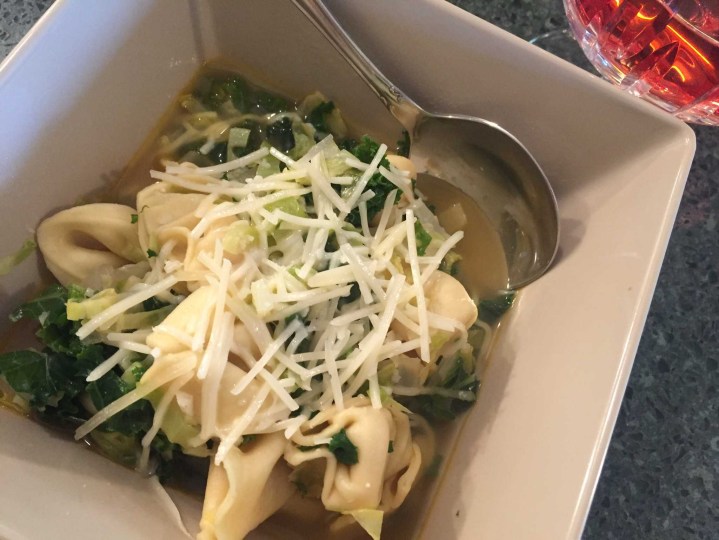 I like a really good soup, with a few ingredients and the cold weather (cold for here anyway) we had today, this was a hit.  I served it with the bread I made yesterday and wowsers!  Perfect meal.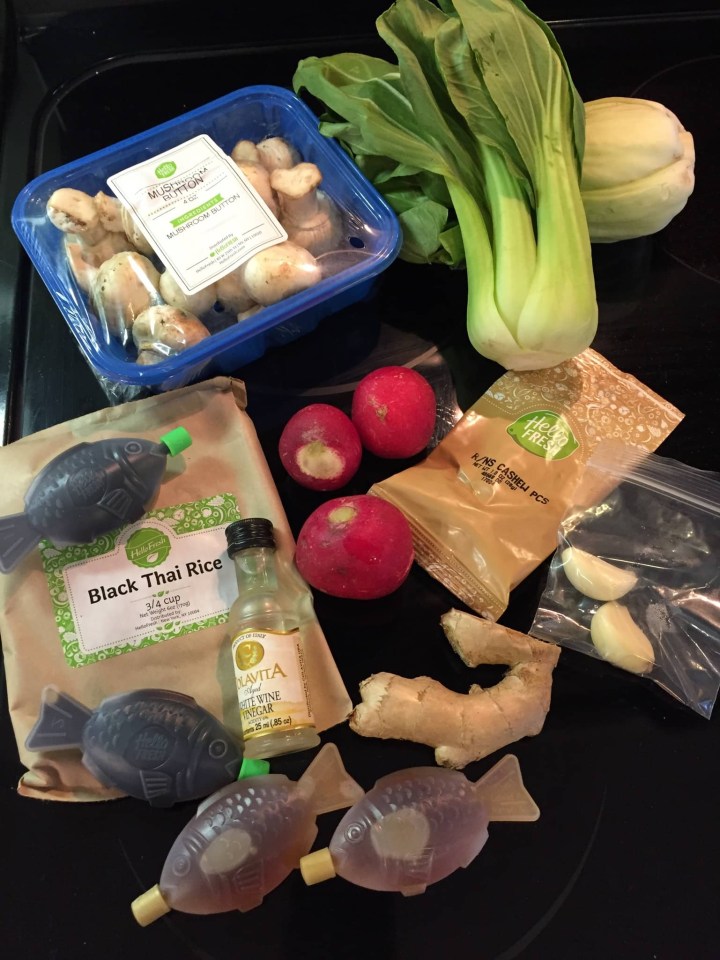 Bok Choy And Black Rice Veggie Bowl With Marinated Radishes And Mushrooms. 35 minutes, level 1, 500 calories per serving.
If you look at the pictures of the finished product I'm sure it looks like a fancy cereal bowl and a spoon.  It's actually a large serving bowl with a big serving spoon, this was a lot of food. The bowl is antique as it was my grandmother's bowl, nothing says "homey" like your grandmother's dishes. So use those old dishes and enjoy the memories.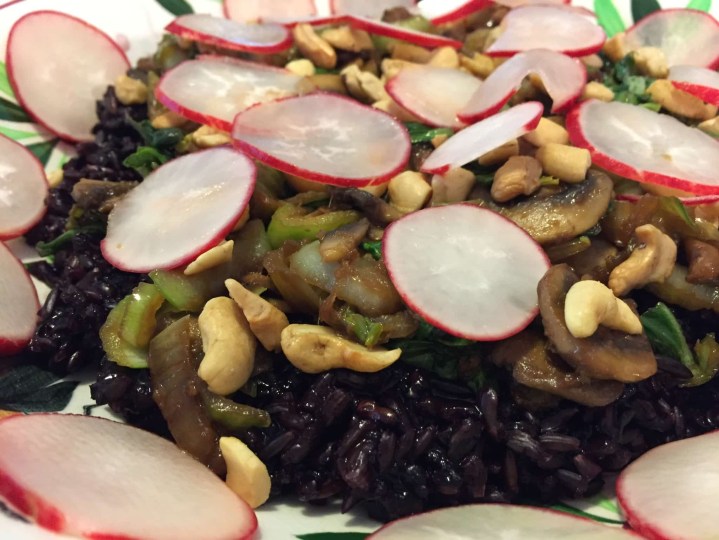 On Saturday evenings my parents, my husband and I usually go to our elderly friend's house and eat with her and her daughter.  Tonight was one of those nights and I took this dish along with some brie and crackers, meatballs, salsa and chips.  A real ethnic meal.  And you know what…it was great.  My mother let me know right away that she didn't like radishes because they are just too strong for her but I explained how these were marinated with a pinch of salt and some vinegar.  Talk about good and not very strong tasting at all.

I just love how easy Hello Fresh meals are to prepare.  Today we also had a 60th wedding anniversary to go to so I just wasn't sure how much time I'd have to make this meal.  I prepped all the veggies at lunch time, threw the rice in the rice cooker and off we went to the anniversary party.  Got home and thanks to pre-prepping, cooked the food in no time and off we went again.
Thanks Hello Fresh for an easy to cook, great tasting meal.