Mommy Mailbox is a women's lifestyle subscription box with 4-6 surprise items. The name of the box evokes images of pacifiers and diapers, but the box is simply curated to satisfy any hardworking woman, which is really all of us isn't it?
Each monthly Mommy Mailbox edition has been curated by a different guest blogger – this month it was curated by Elena Sanchez.
"Elena Sanchez is known for her natural, romantic style in her artistic creations and her beautiful photography.  Filing your world with a bit of romance does wonders for your mood.  She's filled our February box with love in the form of chocolate, cupcakes, date night essentials and the perfect locket frame to help keep your loved ones near."
DEAL: Take $5 off the first box with a month-to-month subscription Use coupon code HELLO5.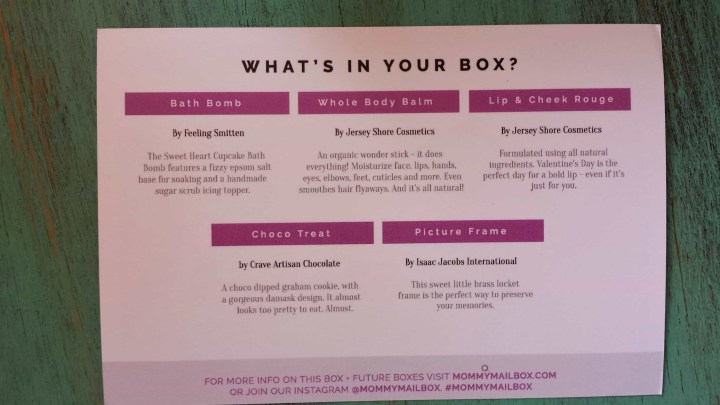 The information card gives bite-sized details on each item in the box!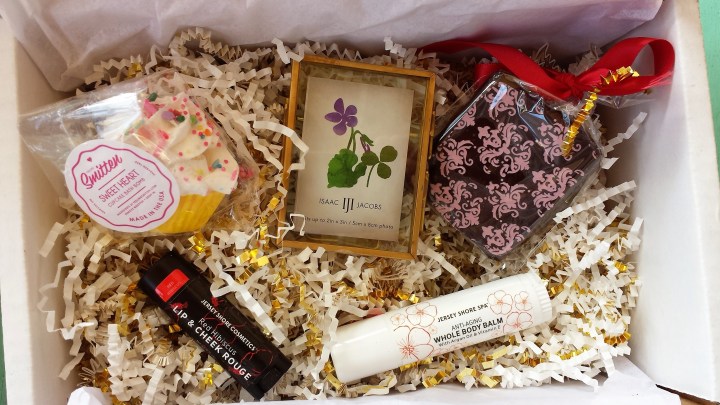 Our box had 5 full-size goodies in it. Each Mommy Mailbox subscription box promises 4-6 items for $33.95. But, the retail value will be 2 to 3 times the price of the box! Cha-ching. And, shipping is free within the U.S.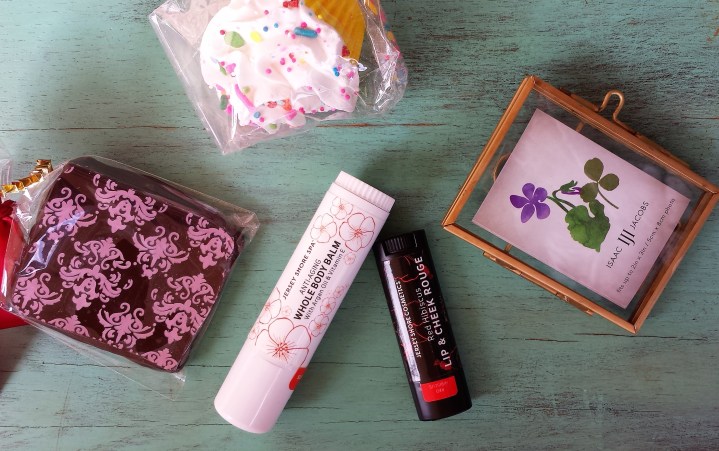 Everything in the February Box!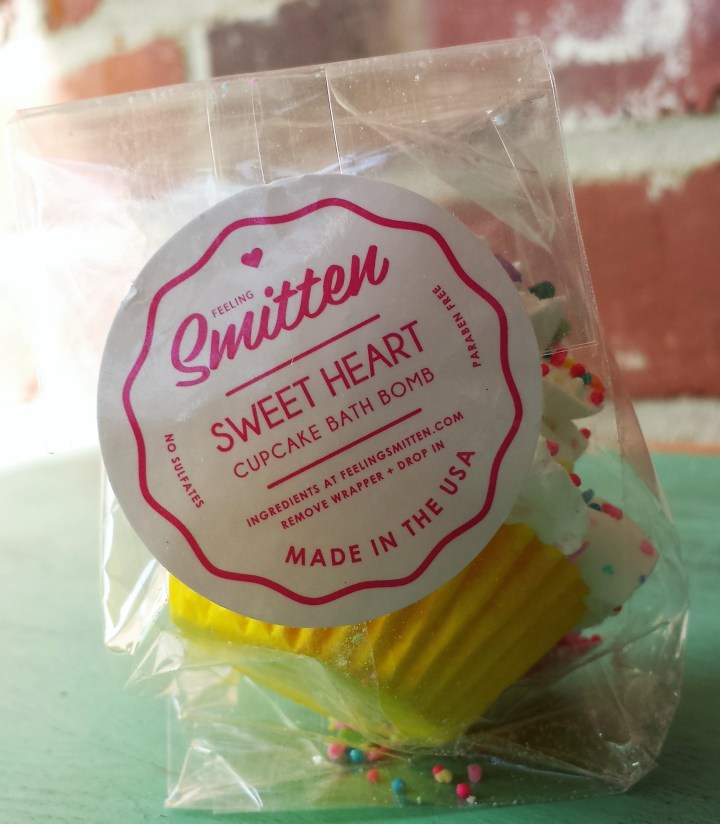 Bath Bomb by Feeling Smitten ($5.50) – "The Sweet Heart Cupcake Bath Bomb features a fizzy epsom salt base for soaking and a handmade sugar scrub icing topper."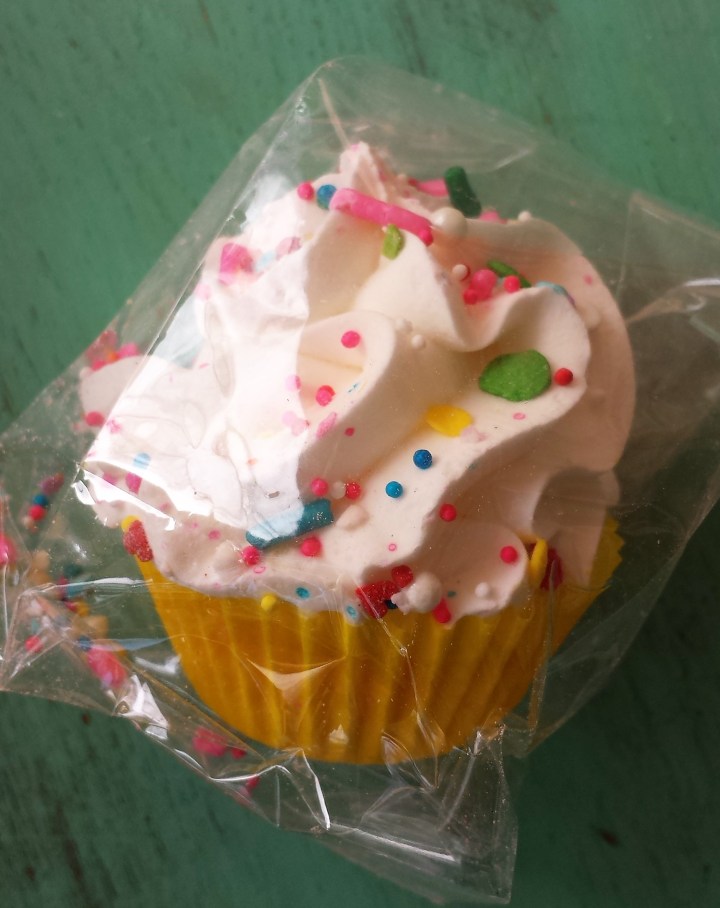 Doesn't it look good enough to eat? It looks so real! My teenage son was very disappointed that it wasn't actually a cupcake! But, I love a good bath bomb, plus it won't make you fat. 🙂 And, it's cool that the top of the cupcake is actually a sugar scrub. I love how soft my skin feels after using a sugar scrub.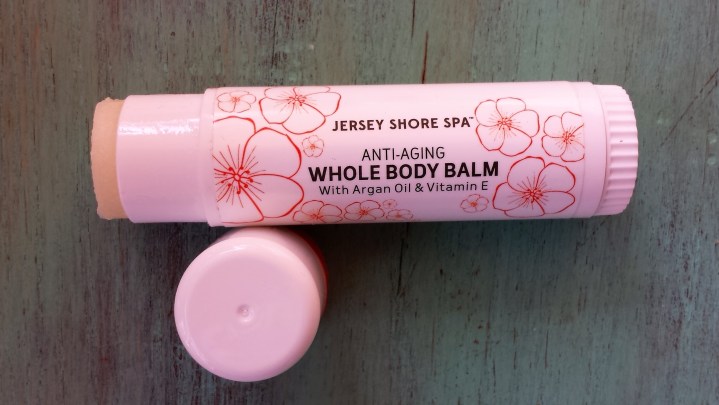 Whole Body Balm by Jersey Shore Cosmetics ($45) – "An organic wonder stick – it does everything!  Moisturize face, lips, hands, eyes, elbows, feet, cuticles and more. Even soothes hair flyaways. And it's all natural!"
This stuff is lovely. I have been painting with house primer and that stuff is rough on your hands! Mine were so dry that it hurt. I had been using lotion, but it just seemed to soak in and then they were dry again in a few minutes. This wonder stick did the trick! My hands are back to being baby butt soft. Love it.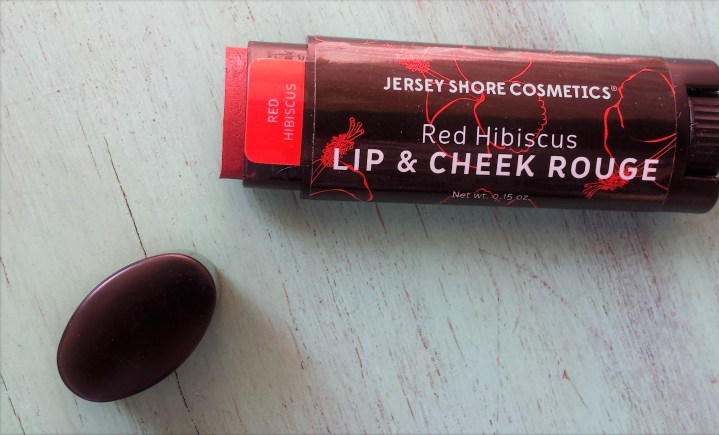 Lip & Cheek Rouge by Jersey Shore Cosmetics ($30) – "Formulated using all natural ingredient. Valentine's Day is the perfect day for a bold lip – even if it's just for you."
Again, lovely stuff. It's vegan and cruelty-free. When they say that is naturally richly pigmented they are not kidding, a dab in the center of your lips provides a beautiful sparkly red hue that will cover your lips when you rub them together. I love the color!
Choco Treat by Crave Artisan Chocolate ($4) – "A choco dipped graham cookie, with a gorgeous damask design.  It almost looks too pretty to eat. Almost."
They had me at chocolate. I really had to read the label on this to realize that it was chocolate and edible. The pink damask printing is really too pretty to eat. But, I did. And, it was delicious. The cookie was still crisp and covered in an ample amount of chocolate to put a smile back on your face.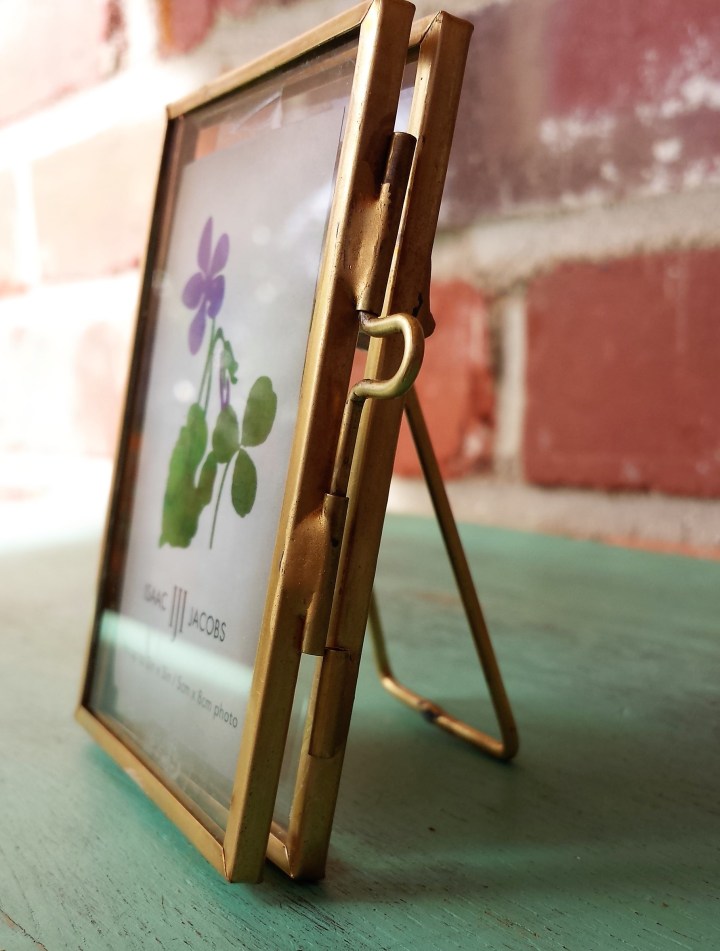 Locket Picture Frame by Isaac Jacobs International – "This sweet little brass locket frame is the perfect way to preserve your memories."
I like that this looks kind of old. If you peeled the stickers off it could pass for 100 years old. There are no plastic pieces, it's all soldered metal. You slide the latch down on the side to open it and sandwich a picture or memento between the panels of glass.  I am thinking that it will be perfect to keep and display a pressed flower from a special moment.
I loved everything in this month's Mommy Mailbox and the value of the items over the price of the box is really impressive. I also like that the box is curated by a different person every month. It promises a lovely variety not seen in all boxes.
What do you think of Mommy Mailbox for this month?!