Fortune Cookie Soap now has a monthly subscription box in addition to their quarterly box! The FCS of the Month Club features full sized products including past scents making a revival, current releases, and at least one brand new product for us to be guinea pigs with! I love FCS's products and I am so excited to see what they have chosen! The box is $28 a month and shipping is calculated at check out based on your location.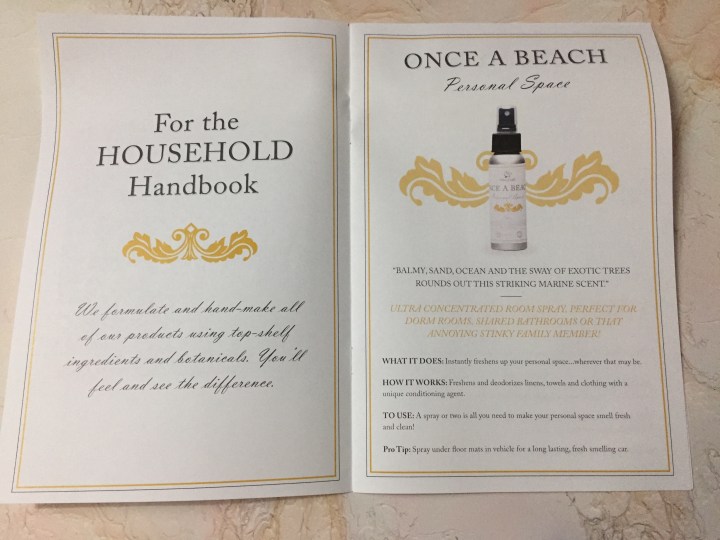 Each month the FCS theme is revealed for next month, and you have the option to skip it if the theme isn't your cup of tea. March's theme is HOUSEHOLD!
The packaging for the month's items is redone to match one another, so they're lacking the fun labels of the original. Makes sense, since some of these scents are from older collections and have been brought back!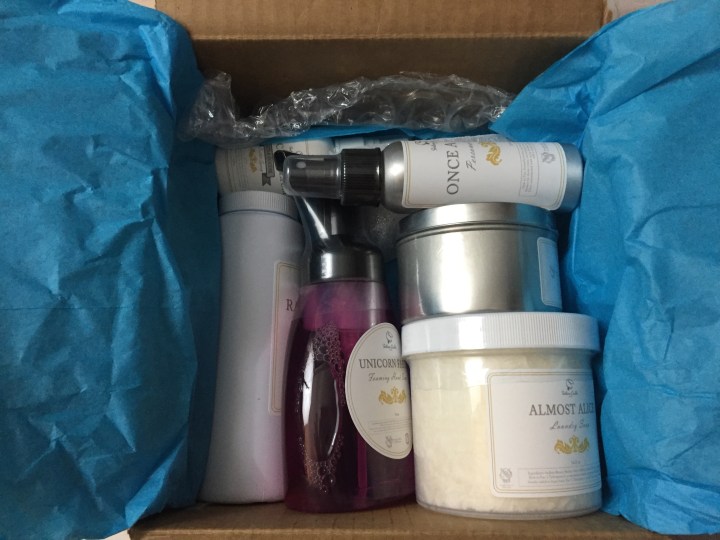 Everything is packed safely in tissue and bubble wrap. You can see everything is also sealed with plastic as well to keep lids secure and leak-proof.
Raggedy Man Carpet Deodorizer ($8.99) Of course this arrives the week after I finally dragged out my vacuum to clean! Raggedy Man is from last year's Doctor Who collection. Raspberries and lemon curd along with soft florals. It does not smell like fish fingers and custard. And now I need to go rewatch Series 5… You can also sprinkle this in your shoes and leave it overnight to soak in to freshen them up.
Unicorn Farts Hand Soap ($6.99) What do Unicorn Farts smell like? Mums (the flowers!) and cotton candy, apparently. I've had my bottle of foaming hand soap since I moved into my house like seven years ago — I think it's time for an upgrade.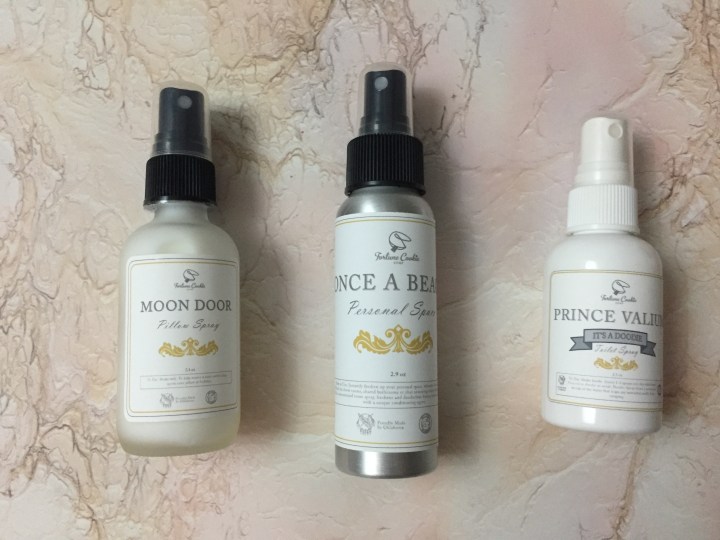 Moon Door Pillow Spray ($9.99) A blend of juicy pear, hydrangeas, and lavender. Spray on your pillow at bedtime to help drift off. I love the idea of this product but I don't like the scent. Lavender is a traditionally relaxing scent but I don't like it. Would love to see this with maybe chamomile or something instead. This product and scent is from the previous Winter Has Come collection.
Once A Beach, Always A Beach ($8.99) I sprayed this in my bedroom, which is behind a closed door to the living space with my computer. The scent travelled all the way down the hall through the bathroom's open door and over to me. That's how strong this is! It's a gorgeous marine scent, tropical without being too sweet. I love it.
Prince Valium It's A Doodie! ($9.99) Scent-masking products are weirdly trendy right now. I've never used one before but I will give this a try. The scent is very, very sweet — cotton candy, lemon drops, caramel, raspberry and lavender. I would expect more of a clean/fresh scent from a product like this but I like it! This is a new FCS product and we are the first to try it!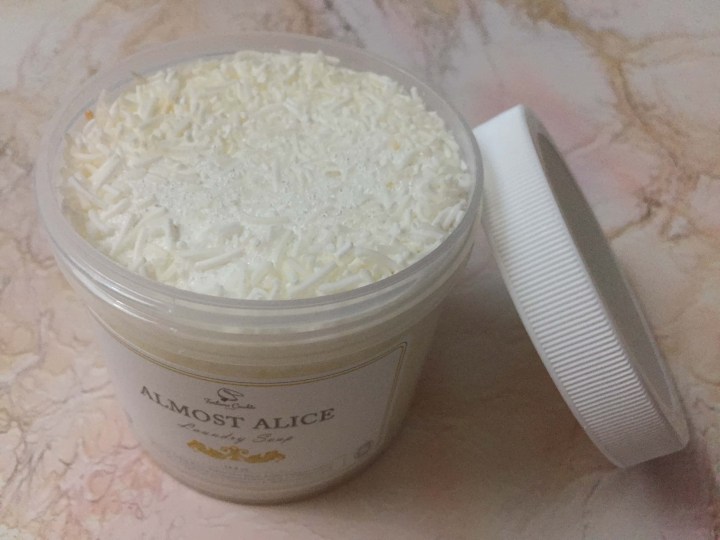 Almost Alice Laundry Soap ($11.99) I love the idea of a laundry soap scented with FCS goodness. I use a special mild detergent for my delicates, and Tide for everything else. I'm excited to try this. The scent is rather light, but is floral without being too feminine. Green snap peas, pears, sweet pea flowers, and ripe berries is the official description. One tablespoon for top-loading washers, 2 if it's a bigger load. 1/2 a tablespoon for front loaders/HE machines. This will last a while!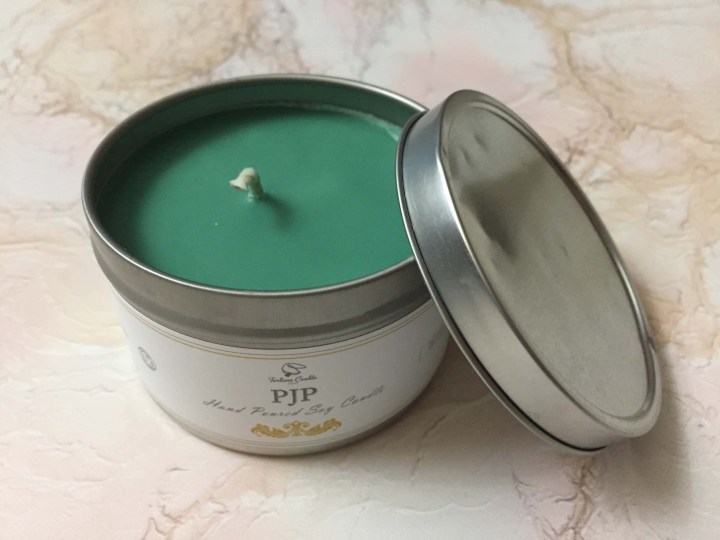 PJP Hand-Poured Soy Candle ($12.99) This XL size candle is scented with one of FCS's most popular scents, PJP — Polyjuice Potion! Orange, grapefruit, strawberries, melon, peaches, and kiwi. I am not a huge fan of this scent but the size is huge! It will burn 25-35 hours.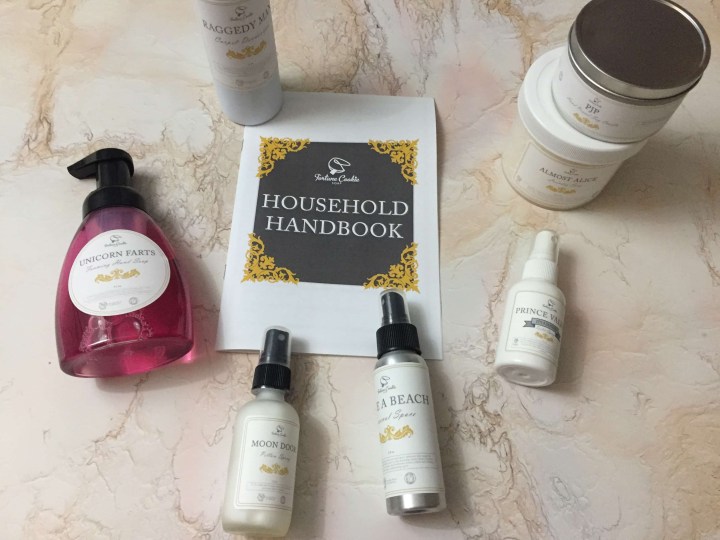 This month's FCS box had an incredible value of around $70! FCS has done another great box full of wonderful items in full and large sizes. The household theme was a nice change from the skincare products they are most known for. April's theme is SHOWER — I'm hoping for a shampoo/conditioner and some shower steamers — and May's theme will be FOOT/PEDI.
What did you think of the Household box?
Visit Fortune Cookie Soaps FCS of the Month Club to subscribe or find out more!