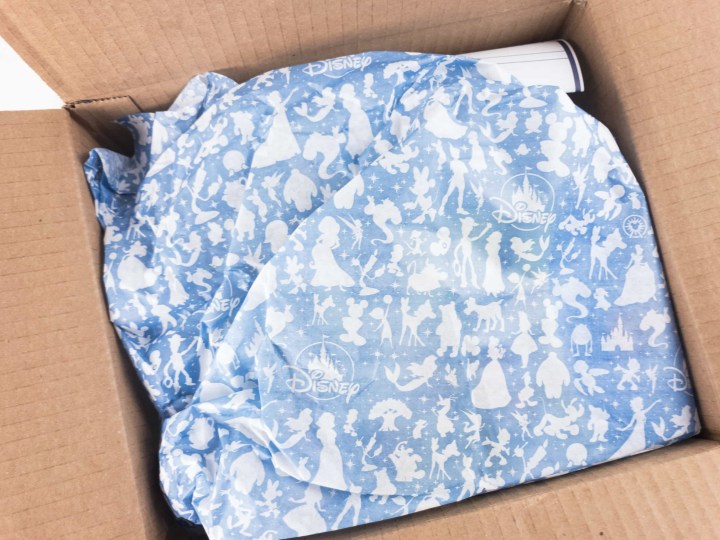 Disney Park Pack – Holiday Edition is a monthly Disney ear hat ornament subscription box from the Disney Store.
Every month, you'll receive a fully-sculptured ear hat ornament with the bottom of the ornament featuring the month's artist's signature. It also comes with a satin ribbon for hanging. Subscriptions are available for $29.99 per month.
The box comes in a special blind box presentation package and has limited availability. The top closure looks like the outline of a hat ornament! It's a super pretty box and fun to open.
The outer box unfolds to reveal the ornament. Disney Mickey Ear Hat Ornaments are crafted from resin and feature iconic elements of the characters and themes they represent. The regular ear hat ornaments are typically $24.99 and can be quite elaborate.
This ornament packaging is great – save them all to store your ornaments neatly when it's not the holiday season (they are molded to fit that particular ornament!).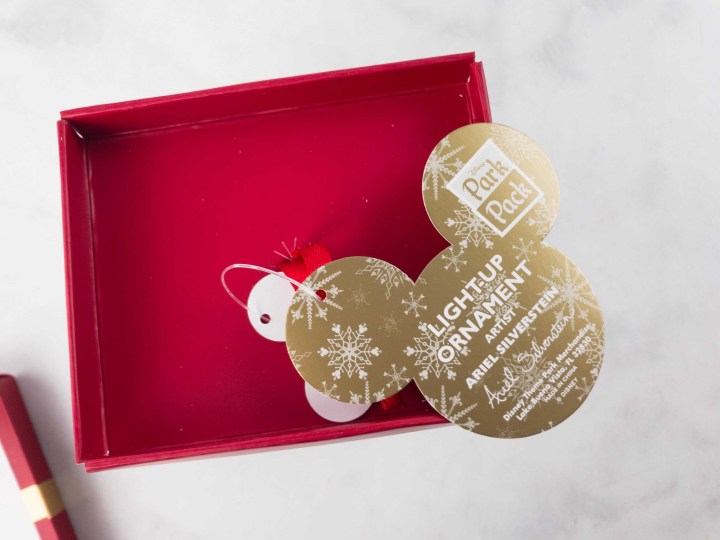 The inner box has the satin ribbon through the top. And this month it's a light up ornament!
Like the last light up ornament, the artist's signature is not on the ornament itself, only on the tag, which I think is a little lame.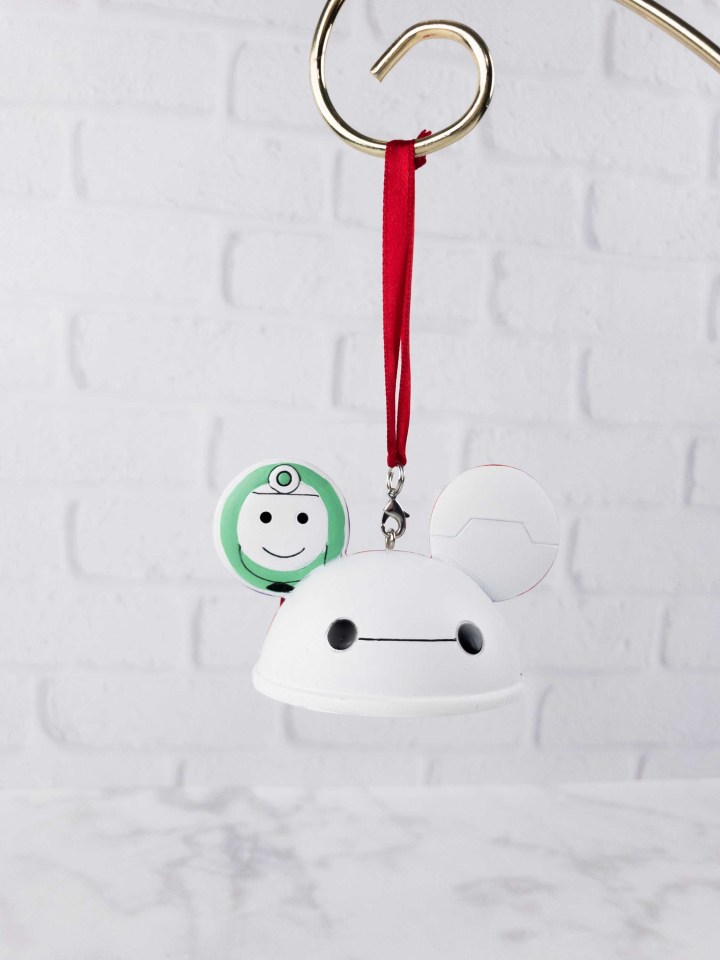 This month's ornament is Baymax!
The satin ribbon attaches to the top of the ornament with a little lobster clasp and you can remove it if you would like to display it on a shelf. Are you satisfied with your care?
He glows red! His ear on the right is the chip slot that accepts the chip that holds his personality and memories.
The left ear symbolizes the chip itself.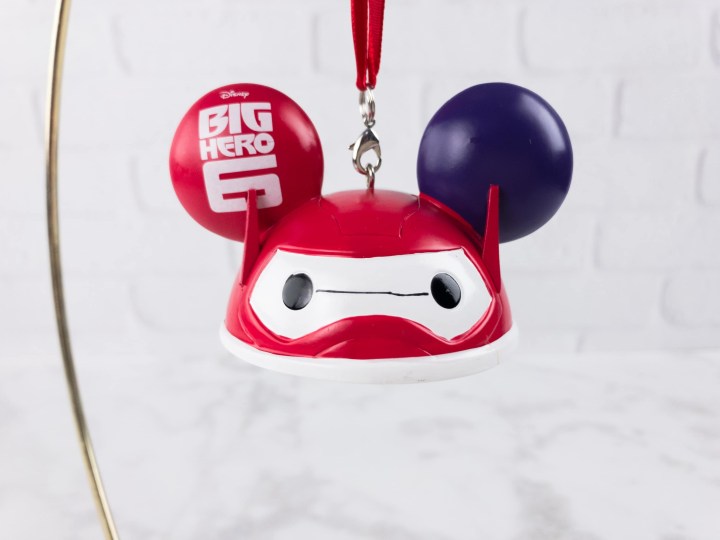 Another full design on the back! I think Disney is starting to get the hang of the super special designs for the subscription thing! The back features Baymax in his red battle armor with a purple ear that's both reminiscent of Hiro's suit and Baymax's armor on the belly part.
I am satisfied with my care. ?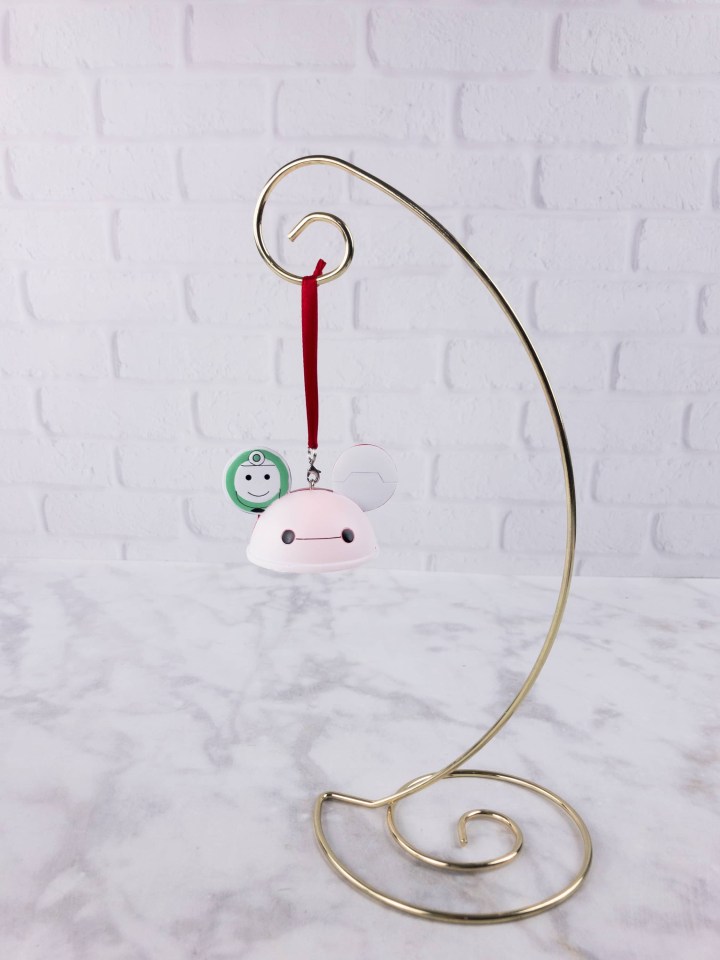 I picked up this fab ornament holder for $8 on Amazon. It's quite large and perfect for keeping a monthly ornament out for display, and enjoying them all year round!
In general, the regular ear hat ornaments are a much better deal – 3 for $59.99. They're much more elaborate than the monthly subscription ornaments. However, they've been juicing up the monthly hats with fun features like lights and they're 100% exclusive to the subscription, so if you're a serious collector or just want a new ear hat ornament every month, it's a fun subscription. This ornament was particularly sweet and well, just was all the feels!
Visit Disney Park Pack – Holiday Edition to subscribe or find out more!