Darby Girl is a product of the DarbySmart DIY site (in conjunction with Girls' Life magazine). Aimed at tweens and early teens (Girls' Life is directed to 10 to 15-year-old girls), this subscription box provides "dazzling DIY materials, cinchy step-by-step instructions, awesome inspiration, and more." Sent every other month (February, April, June, August, October, and December), Darby Girl sends craft projects "from fashion accessories to room decor and more" and is "carefully curated just for GL readers and inspired by our favorite new trends." The cost is $19/box with discounts for paying for 6 months or 12 months at a time.
My 12-year old daughter loves art!  She is super crafty and has really enjoyed most of the previous Darby Girl boxes.
This month's project – Doodled Banners! So much fun!
DEAL: Get 1 month free with an annual subscription! Deal applies automatically, just visit and subscribe.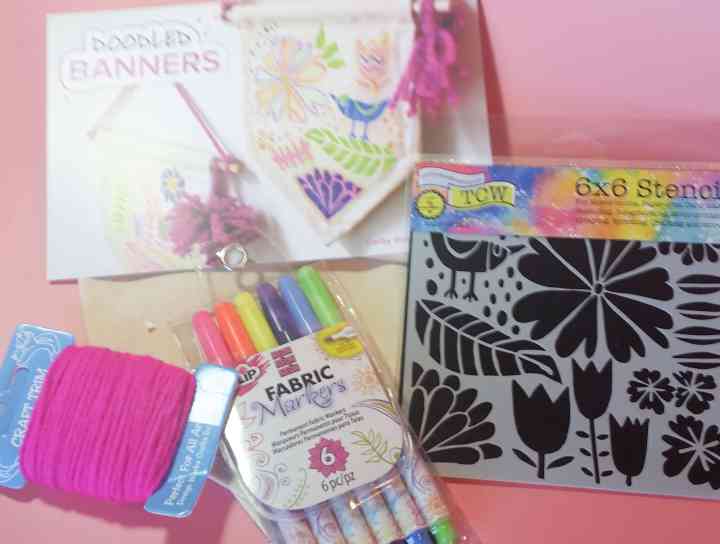 Here's a look at everything in the February box.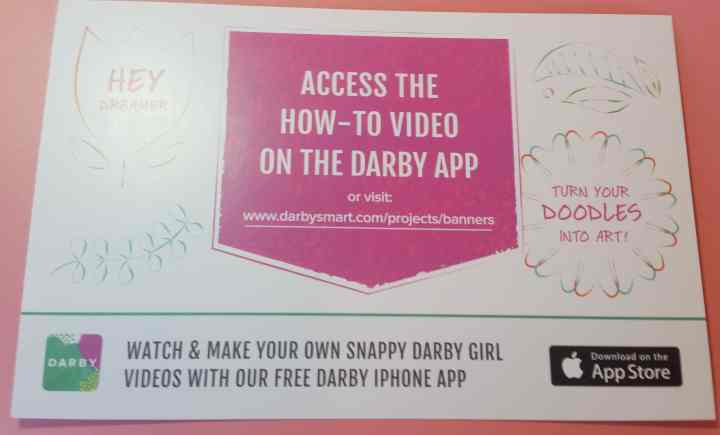 Darby Girl boxes don't come with instructions. Instead, the front of the information card (shown above) provides some great inspiration in the form of full-color pictures and the back of the information card directs to a website (or app) for how-to videos and other details. My daughter easily accesses the instructions on either her iPod or our home laptop. Super easy.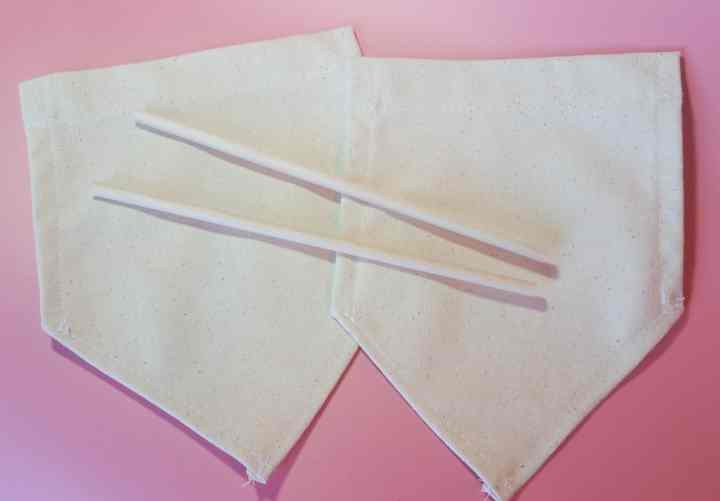 Banners & Rods: There were 2 pre-made banners and dowel rods included for this month's project. The banners are actually fairly simple. I think it would be possible to replicate these with some purchased muslin and rods if my daughter wants to make more than 2.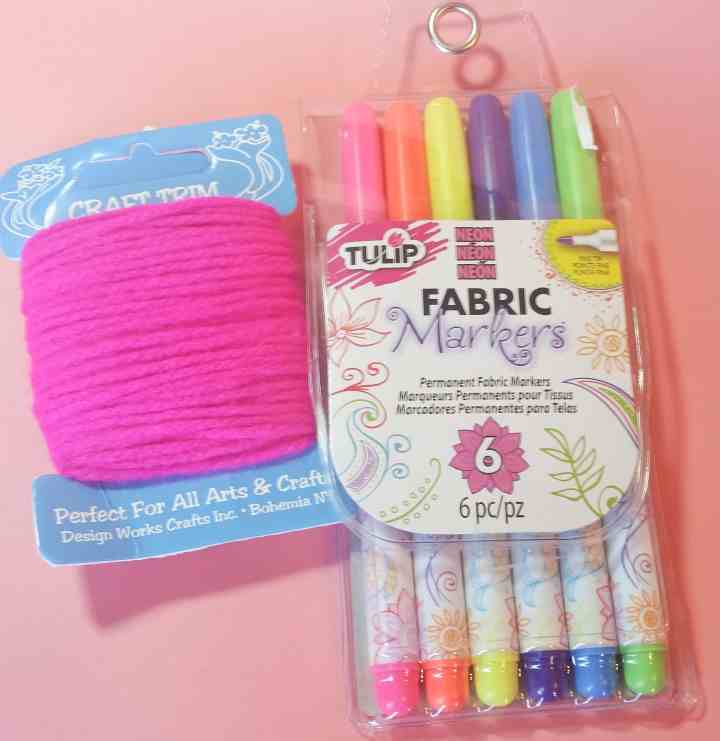 Markers & Yarn: To decorate the banners, the project includes yarn (poppin' hot pink!) and markers. The markers are permanent fabric markers in six fun colors. There is enough yarn to make more than the two included banners, and of course, the markers can be used over and over.
Stencil: Finally, this awesome stencil card with flowers, leaves, and bird designs. Perfect for spring and lots of fun.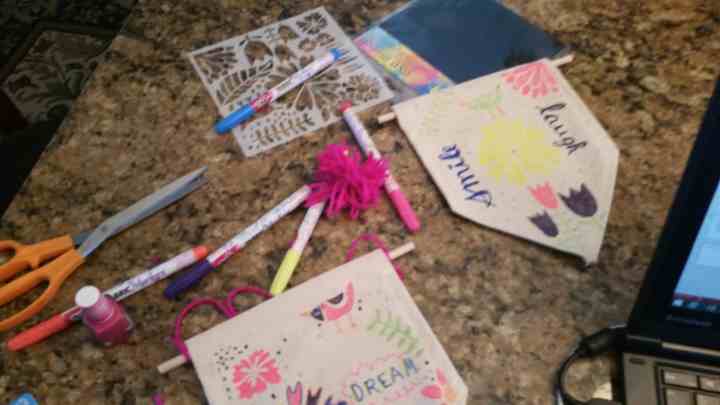 My older daughter (aged 15) also got in on the fun, so each girl made one banner. Here is their work in progress…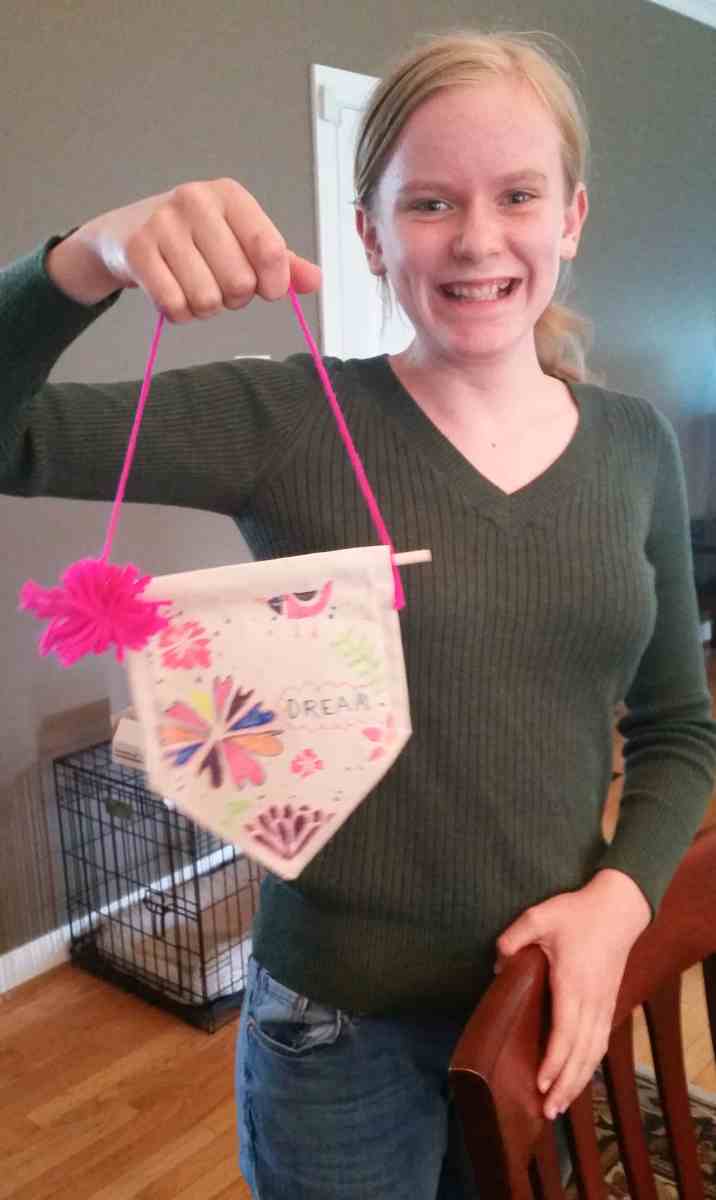 And here's my younger daughter posing with the final product. The smile on her face says it all. The project was fun and she liked the way it ended up.
Bottom line: Just like past boxes, this project was another great one for the suggested age range. We have really enjoyed the variety of projects we've received – both in the final product as well as the techniques/crafts involved.  This is a great craftsy box for tweens and early teens.  My daughter loves when our Darby Girl box shows up – your craftsy girl will too!
Have you tried Darby Girl?